How to Make Powerful Email Marketing for Real Estate Agents to Boost Conversion
1. Types of real estate email marketing campaigns
2. Best real estate newsletter ideas
3. Email marketing tips for real estate agents
4. 9 real estate email marketing tools to grow your production
5. 5 real estate email templates
Buying a house is the largest purchase a person will probably ever make. And it's very important for people to have a high level of trust in those who will guide them through the purchasing process. That is why building a good relationship with clients is a must for real estate professionals.
Email marketing in real estate is one of the most effective tools to establish connections with the audience. But how do realtors write such emails that stand out from the hundreds of others that reach your potential customers' mailboxes daily? Let's find out.
Types of real estate email marketing campaigns
Many people believe that only large companies whose databases include millions of addresses can use email marketing efficiently. But that's not true. Email marketing for realtors is not about the number of contacts, but about how and what you write to them. The eight emails below will help you earn your way into your potential customers' inboxes.
#1 Introduction email campaigns
The first email your subscribers should receive is an introduction email. Make it short, friendly, and professional. In this email, you can say thank you for signing up for your email list and tell people what to expect from future mailings.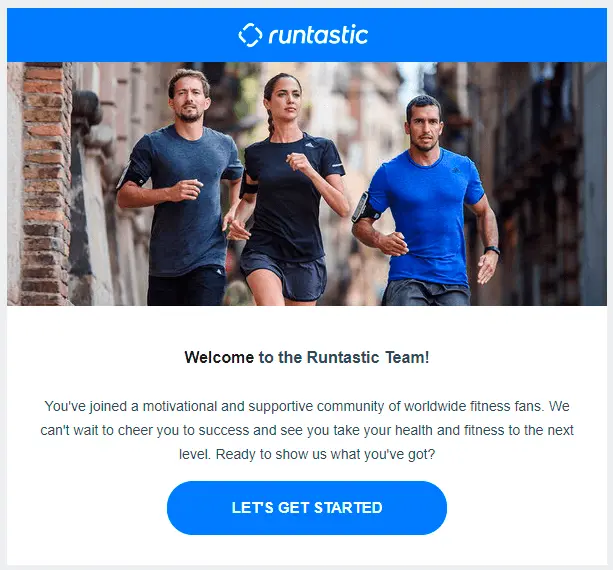 source: runtastic
Cold campaigns are emails that realtors send to potential clients whom they haven't communicated with before. So, if you know that someone is looking for a house, don't miss the chance to introduce yourself as a professional who can guide them to make the right choice.
Read about 20 key mistakes to avoid in your cold emails.
#3 Content email campaigns
Provide value to your subscribers by using different types of content. You can send the content email in the form of a regularly scheduled real estate newsletter.
#4 Referral or testimonial request campaigns
Although customer testimonials are a valuable tool to prove a realtor's professionalism, most agents forget asking a lead for feedback after making a sale. Contacting satisfied clients via email is the quickest and easiest method to get reviews for real estate agents.
You should have a drip campaign (a series of automated emails) to keep in touch with your clients when you aren't working with them daily. For instance, if you have an upcoming listing in a neighborhood, you can send an email to those subscribers who have viewed properties in that specific neighborhood.
Send targeted realtor email campaigns to a certain group of your leads, based on demographics, location, or interest. For example, an agent can choose to send an email only to people aged 60+ highlighting homes for retirement.
#7 Open house and event campaigns
Hosting an open house? Use email to encourage people to attend your event and interact with you directly.
Remember to follow up if you want to win more business and sell more real estate. Consider sending open house, after listing presentation, post-transaction, referral, and other types of follow up.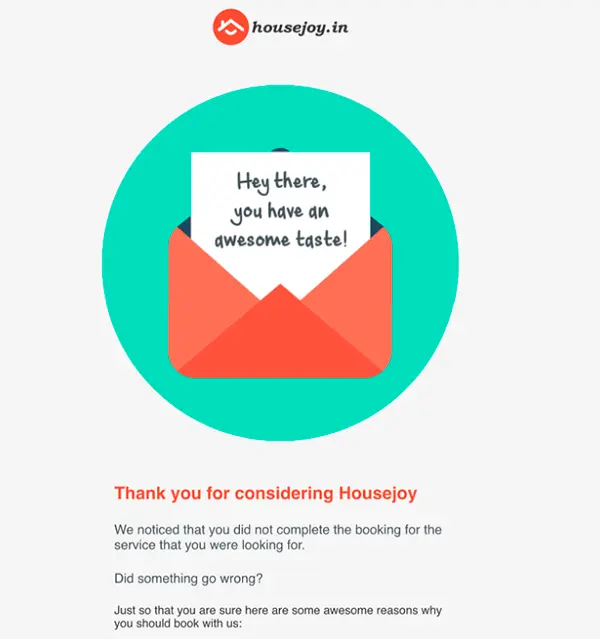 source: webengage
Best real estate newsletter ideas
Think of email ideas in advance. We prepared some good real estate newsletter ideas to keep your emails fresh and exciting all year long.
People trust in numbers. So you can share some interesting statistics in your real estate newsletter.
Good realtors usually know where to buy quality furniture or where to find the best landscaper. If you don't, try to find out when and where the best deals happen and share a list of such deals with your subscribers. People like this kind of content.
Be a local event expert for your subscribers. Create a list of good places to go, interesting upcoming events, and food recommendations.
Each season, know a list of holidays coming up and kinds of activities people prefer to do this time of year. For example, in winter you can create some content about the ways to decorate home for the holidays in [insert area] style; or tell about 2019's trending kitchens, bathrooms, outdoor spaces, etc. in [insert area].
You do have a lot of knowledge to share with the audience that you have picked up over your years of being a real estate agent. Now it's time to put that to work. Offer to help them with the following things:
Contractor advice

Home upgrades

Insurance help

#6 Personalized thank you notes
Thank you notes are an excellent way to show your appreciation and make people's day. Keep in mind that the more personal you make your message, the more it will stand out to the recipient.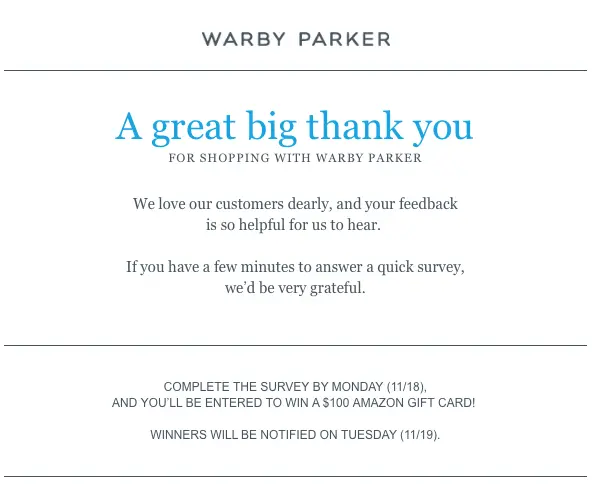 source: klaviyo
You may also see unique real estate marketing ideas you can implement now.
Email marketing tips for real estate agents
For your real estate email marketing to be effective, be sure to understand and follow these ten rules.
Tip #1: Personalize your email
Personalized emails are more than just an addition of a recipient's name in the subject line. You can and should personalize your content as well. For instance, you can put your subscribers into groups based on their budget. Next time when you send out emails with listings, choose them based on these budgetary groups.
Tip #2: Make a good first impression
Take care of your grammar, words you use (aren't they spammy or salesy?), valuable, relevant content, and quality images that accompany your email. Never make any false promises.
Like all successful marketing emails, real estate messages should end with a prominent call to action (CTA). This can be an invitation to follow your page on Facebook, an offer to schedule a call/view luxury listings/get a free online market evaluation/etc.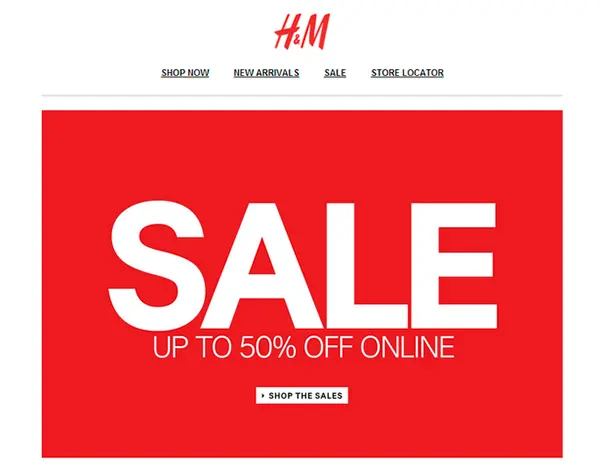 source: h&m
Tip #4: Make your emails entertaining
Your newsletters should be short, easy-to-scan, and engaging. If you want to turn your emails into something people will enjoy, spice them up with infographics, personal stories, memes, GIFs, and marketing videos for real estate.
Tip #5: Create an attractive subject line
To open or not to open, that is the question. It doesn't matter if you send out the most amazing content to your real estate agent email list if no one even opens your email. A subject line is the first thing recipients see when they receive an email. That's why you have to master it. In brief, it is important to keep your subject line simple, make it personal, give the reader a reason to feel special, put action verbs at the forefront.
Tip #6: Don't sell your services
In real estate business, it's okay to sell your services through email, but don't make it the focus of your newsletter all the time. Make sure to educate and entertain your subscribers too.
Tip #7: Educate your audience
As an experienced real estate agent, you probably have a lot of useful information to share with your potential customers. For example, you can educate people by sharing content that reveals the most common mistakes clients should avoid when buying a house.
Tip #8: Build relationships
Your relationships with people are the foundation of your business. Here are several tips that will help get you started: 1) communicate with your subscribers as often as possible and don't forget about former clients (they could be a good source of new leads); 2) provide them with valuable resources (a blog post, helpful tips, event recommendations, etc.); 3) show your customers how thankful you are.
Tip #9: Add an email signature
Having a professional email signature can help you get your real estate business in front of more prospective buyers. They will be able to easily see who you are and what services you offer. Create your free email signature.
Tip #10: Analyze and respond
Make sure to track which ideas work best and which ones need to be improved.
9 real estate email marketing tools to grow your production
Real estate agents can leverage various software tools to simplify workload and increase productivity. And of course, we have prepared a list of some helpful tools to try out.

This simple tool allows realtors to create beautiful emails and newsletters without the need to hire a designer or developer. With MailChimp, it is also possible to create drip sequences to nurture your subscribers with your best stuff in time.

If you need a professional email signature, consider using this free signature generator. Simply choose the template you like from a wide range of professional signature templates highlighting your designation with expertise. NEWOLDSTAMP guarantees that your signature will be compatible with all leading email vendors such as Gmail, iOS, Outlook, Thunderbird, and so on.

How can you make cool images for your mailings if you are not a professional designer? Use Canva, a free multifunctional service for creating graphics. Canva allows creating different types of documents: posters, presentations, menus, business cards, invitation cards, flyers, and more. It also provides a wide range of templates for creating graphics for social networks such as Facebook, Instagram, Pinterest, and Twitter.

Boomerang allows users to schedule email messages to be sent at optimal times, snooze emails, get read receipts & follow up reminders if a recipient doesn't respond to your email.

With the Open Home Pro app, realtors can keep track of all of their leads, keep notes on anyone who has visited their open house, and also send automatic follow-up emails to them. The cost to use all the features and functionality of the app is $25/month for a monthly subscription and $20/month for an annual subscription.

Folio helps busy professionals like real estate agents better organize and manage their work right from their email inboxes. Connect the Folio extension to your Gmail/Outlook and get all your emails, files, and contacts organized into smart folders. With Folio, you'll never search for a document, email, or file again. Magic!

It is quite likely that one day you would need to find out if someone has read your email or not. This is possible with Bananatag. Besides the open tracking function, Bananatag can also display statistics on clicks on the links that you added to the email.

According to BombBomb website, "To be successful, you need to connect with your prospects and clients truly. But in today's inbox, basic email just doesn't cut it. The BombBomb app puts you back into your sales process, and gets you face-to-face with the people who matter most!" Save time by talking instead of typing - send video emails instead of text.

Do you want a CRM for real estate agents with an email system that also has a chat? Try out ActiveCampaign, the all-in-one solution that will help grow your audience faster and convert more customers.
Read our blog post about best real estate tools for agents.
You may also like "The ten best real estate email marketing platforms you can hop on now."
5 real estate email templates
Create templates for each type of email you need to have in your realtor toolkit. Rather than writing a new message from scratch each time you need to take one of these actions, consider creating pre-made email templates for your welcome, content, buyer lead, event, follow-up, and other emails.
Hi Aaron,
Huge thanks for signing up to my email newsletters. The best content (how-to posts, educational guides, home sale, price, & value reports, info on local events, businesses, & people, and much more) will appear in your inbox each Tuesday. I would appreciate valuable comments from you. And if you have any questions at all, please don't hesitate to ask.
I am looking forward to helping you achieve your real estate goals.
Best,
Joe
[Insert your professional email signature, which we recommend you include on EVERY email.]
#2 Content email template
Happy Friday!
A brand new post about The Best Ways to Avoid Overpaying for a Mortgage just appeared on my blog. I hope that it gives you a couple of valuable tips to help you save the most money possible.
Also, you'll see I did something a little different with my blog design. Let me know in the comments what you think of the change.
Cheers and happy Easter!
Natalie
[Insert your professional email signature, which we recommend you include on EVERY email.]
#3 Buyer lead email template
Hi Magda,
I wanted to send a few great properties in the North Scottsdale area to you that may pique your interest. See more photos of these homes on our website here. You should be receiving updates on our new listings as well as listings that have recently reduced their prices.
If the information provided isn't relevant to you, please let me know if I should make some adjustments to your search criteria.
Feel free to call, text, or email me at your convenience.
Keira
[Insert your professional email signature, which we recommend you include on EVERY email.]
Hi Janice,
[Event name] is only two weeks away. We hope you're getting excited about the event.
Check out our agenda at a glance:
10am-1pm - [insert planned activities]
1-4pm - [insert planned activities]
How to get to the event:
[add the address, transport information, etc.]
We look forward to seeing you there!
Best regards,
Amanda
[Insert your professional email signature, which we recommend you include on EVERY email.]
#5 Follow up email template
Hello Robert,
I hope you have a fantastic start to the week. It was a pleasure meeting you at [insert the address] last Friday. I hope you like the house and appreciate the [insert the benefit of the home such as a huge pool, cozy bedroom, fantastic view & location]. Let me know if I can answer any questions.
If you would like to check another property available in the neighborhood, please feel free to give me a call any time this week. I'd be happy to set up a private showing for you and your wife.
Regards,
Andy
P.S. Have you seen my client success stories? [insert a link]
[Insert your professional email signature, which we recommend you include on EVERY email.]
Conclusion
Email marketing for realtors is not about the number of contacts, but about how and what you write to them. Combine various types of emails, and you will earn your way into your potential customers' inboxes. Use introduction, content, referral or testimonial request, open house, event calendar, and other emails. We also recommend you to personalize your messages, add clear calls to action, create attractive subject lines, educate and entertain your subscribers, use an email signature. Catchy emails for realtors are usually spiced up with infographics, personal stories, memes, GIFs, and video. Furthermore, you can benefit from using modern tools that will increase your productivity and simply make your life easier. These are just a few: NEWOLDSTAMP, Canva, MailChimp, BombBomb, Open Home Pro.