Awesome Real Estate Email Address Ideas That Always Work
Useful tools:
1. Newoldstamp - Email signature marketing
2. Mailstrom - Tool for cleaning your inbox
3. Reply.io - Personal email outreach, calls, and tasks
4. Mailtrack - Email link opens tracking
5. Shift - Desktop app for streamlining all of your email and app accounts.
Email marketing is, without any doubt, one of the most effective ways to keep prospective customers engaged with your real estate brand. Of course, you don't have to take our word for it, because we have some impressive stats to share with you:
According to realtor marketing statistics published by Benchmark, 63% of real estate businesses are involved in email; 22% are planning to do so soon.
More than 60% of customers would like to receive promotional emails weekly. And almost 40% would prefer to see such emails in their inboxes even more frequently.
For every dollar you would invest in email marketing, you can expect an average return of $38.
We already covered effective real estate marketing strategies in our blog, so feel free to take advantage of our advice on how to promote your real estate business. And now we are going to talk about the importance of the right email address for real estate agents.
Why do you need to have a proper email address?
Many things play a significant role in creating your image as a real estate professional. While you may concentrate mostly on the bigger stuff like launching a website or producing print materials like business cards, some of the smaller details like choosing the right email address might slip through your fingers. And while some realtors may think that an email address is just a formality, it can tell a lot about you as a professional and can serve as a first impression to your leads and prospective buyers. A well-thought email address increases credibility, open & response rates, improves brand recognition, decreases unsubscribes, and easily passes through spam filters.
Rules for creating a professional real estate email address
So now we provide you with a few simple rules for creating a professional email address for your real estate business.
Rule #1: Ideally, you need to use your own domain and then add a standard email format that looks professional.
By the way, a GoDaddy survey found that 75% of respondents think that having a domain-based email that matches a business website is a critical factor when trusting an online company.
Keep in mind that domain names should be short, simple, memorable, easy to spell and pronounce.
Rule #2: Go for .com domain extension
Although a traditional .com domain might look a bit longer than you would like, it remains the most popular domain extension and is well-known to all of your potential clients.
Rule #3: Test new domain extensions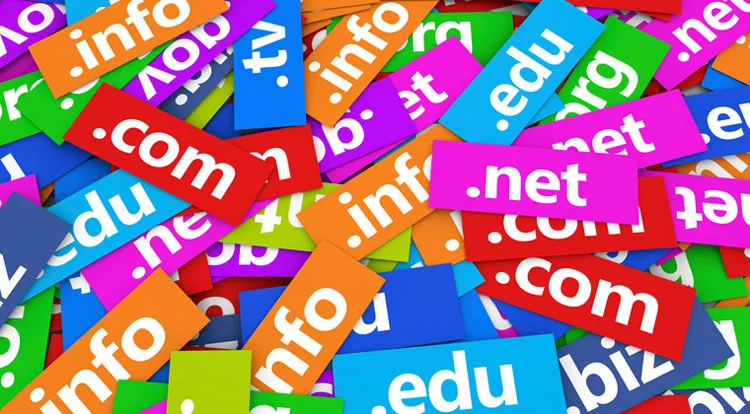 Has someone already taken the .com version of your domain? With a pinch of ingenuity and creativity, you can find a domain that works even better than the traditional .com extension. If you're a real estate agent, check out these domain extensions: .net, .house, .homes, .realtor, .forsale, .agency, .expert, .services, .solutions, .property, .properties, .sale, and many others. And if your target audience is located in a specific country, you might choose to go for a local extension like .dk (for Denmark), .au (for Australia), .de (for Germany), and so on.
Rule #4:

It's OK to use Gmail, but NEVER send from AOL, Yahoo, and Hotmail
If you need customers to take you seriously, do not use AOL, Hotmail, and Yahoo addresses. Firstly, your clients might think that you are behind the times and probably not-so-tech-savvy. And, secondly, people who use AOL, Yahoo, and Hotmail addresses generally have no company website. But if you are in the real estate business, it is crucial to launch a site and keep it up to date. If you have no website, you are missing out on opportunities.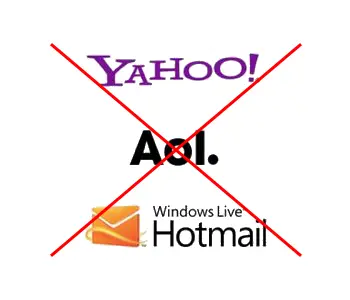 Rule #5: Avoid nicknames or numbers
Besides your domain, another key element of your email address is your username. It is the "CameronDiaz" part of CameronDiaz@YourDomain.com. Since we are talking about business, brand, and professionalism, it's needless to say that a simple username like "CameronDiaz" is more appropriate than "CoolGirl1988" or "cutelassie11." You just need to decide whether you will use your first name only, your full name, company name, or some other combination like your initials, etc.
Real estate email address examples
After all the theory, let's move to practical examples.
#1 Name-based email addresses (pros and cons)
This username format is one of the simplest and most widespread. It is easy to remember, and besides, it is good for establishing a personal connection with clients, because they know your name. On the downside, you will have to break the format if a new employee with the name John joins your team.
This one is a good option in the case with two or more employees who have the same first names.
It is the second most widespread format after "first name only." There's less of a chance of your company hiring two namesakes with the same first names. This is also a pretty good option for people who have a name that's hard to spell. On the downside, employees might not like such a format of email address, as it doesn't allow them to maintain privacy.
If you consider your full name a brand, this email format is a perfect fit for you.
Bonus tip: Read our blog post about a professional email signature as a branding opportunity for your real estate business.
#2 Role-based email addresses (pros and cons)
Each team member should, of course, have their personal email addresses which they can use on a daily basis for internal communication or when they make personal connections with someone outside the company. However, it is useful to set up a few email accounts you will be using for mostly administrative, support, billing purposes. For example:
These types of email usernames look good when displayed on your website. They look professional and keep your business better organized, but they are not very friendly or personable. Besides, some websites like Facebook might not allow you to use the info@ email address. And you are more likely to be flagged as spam with generic email addresses like info@, sales@, admin@, etc.
Final Words
Surprisingly, a lot of realtors believe email address is not the thing they should take care of in the first place. However, having the proper email address is essential for your real estate business, because it is one of the first things potential buyers notice when they receive a message from you. So if you want your email address suit your branding and marketing efforts, be sure to know the rules of creating a professional real estate email address. Ideally, if you set up a branded address on a website domain. It is the way more solid than using the old-fashioned AOL, Yahoo, and Hotmail. Don't be upset if the .com domain extension is already taken. Experiment with domain extensions like .net, .house, .homes, .realtor, .agency, .expert, .services, .solutions, .property, .properties, .sale, and many others to craft the best real estate domain names. And, of course, keep in mind that your username should look professional and shouldn't contain nicknames or numbers like "CoolDudeMike1991."