How Do You Add a Hyperlink to an Email Signature
1. What is a Hyperlink?
2. How to Make a Hyperlink in Email
3. Why Use Hyperlinks in Email Signatures?
4. How to Insert a Hyperlink in Your Email Signature
5. How to Create Hyperlink in Email Signature Using Newoldstamp
What is a Hyperlink?
A Hyperlink is a text or picture on a webpage that you click on to visit a new page or to jump to a new area of content. Hyperlinks, or just "links," are common on Web pages but can be found in other hypertext documents, mail apps, and email clients.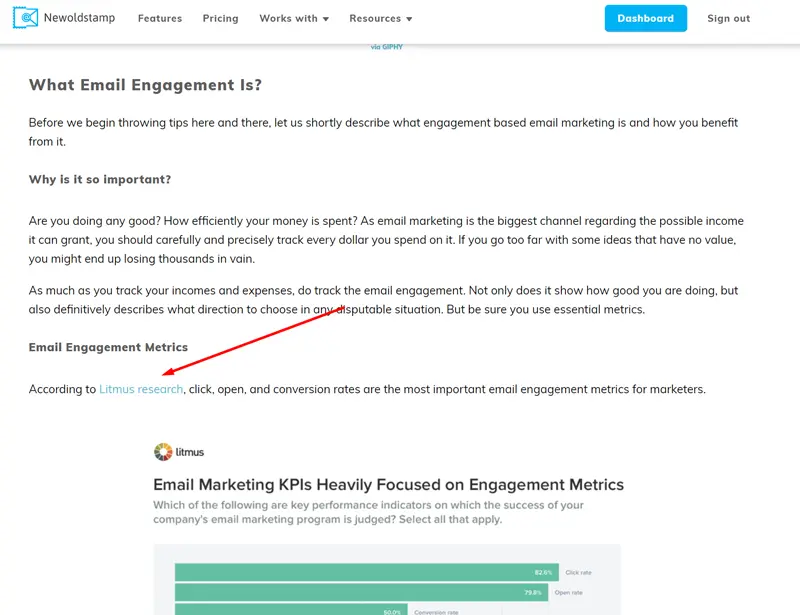 How to Make a Hyperlink in Email
The fastest way is to select some text or images that you want to make clickable, click right button, choose "Insert link," and enter the URL. For example, here is a guide on how to do it in Gmail:
Step 1
Open your Gmail account and click Compose.
Step 2
Select the text or image you want to add a hyperlink.
Step 3
Click the "Insert link" icon (you can find it at the bottom).
Step 4
Enter your URL to the link popup and click OK.
Why Use Hyperlinks in Email Signatures?
If you want to have clickable elements (text or picture) in your signature, you should hyperlink them. Often, Email signature links are used to promote your business. There is a lot of places in the email signature where you can insert a link. Here are the most popular:
1. Websites (promote your company web address, landing pages, or blog)
2. Social icons (to promote your media profiles)
3. Logo/photo (could redirect you to a website, portfolio, or social media profile)
4. Address (tapping on the link may show your address on Google Maps)
5. Banner (the best way to advertise events, discounts, specials, related articles and more)
6. Clickable CTA (it could be text or button with a link that shows CTA message to your recipient. For example, book a demo, schedule a call, let's chat, etc.)
When Should Hyperlinks be Used in Email Signatures?
It must be in an email signature all the time! Because without hyperlinks email signature will be just a branded personal card at the bottom of your email. So, keep in mind adding and checking all your links before sending emails.
How to Hyperlink an Email Address
If you find yourself wondering how to hyperlink an email address, you can add a link to your email signature. In this way, recipients will be able to contact you right from the email footer without composing an email. Just add mailto: tag before your email: <a href="mailto:name@example.com">Your Email</a>
How to Insert a Hyperlink in Your Email Signature
You can do it in different ways. First of all, it depends on how you create your signature. If you want to add a hyperlink to your email signature, go to the signature settings of your email client. For example, for Gmail signature just add or change your hyperlinks directly from the General tab in the signature section.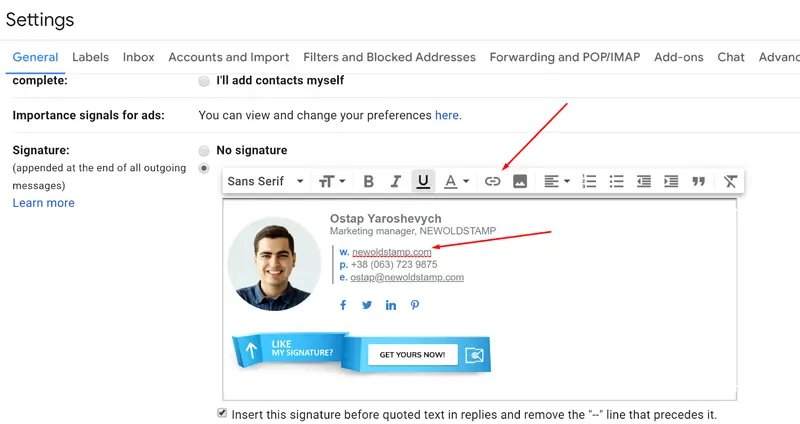 There are 5 most popular methods to create an email signature:
1. Try to use email signature generators, like Newoldstamp or Mysignature.io. The simple editor gives you the possibility to add all information, images, and links in 2 minutes. There you can track your links, run banner campaigns and manage all signature in one place. Also, it will be working perfectly in all email clients and devices.
2. Just use Fiverr to buy an email signature with your links. It is a simple way to get what you want and save your time. However, you will get just an HTML file that you need to copy and paste in your client. Also, all control over your email signatures would be on your vendor.
3. Use a text editor. This method is free, but you can make a lot of mistakes and your signatures may not be working properly in all email clients.
4. Design your email signature in Photoshop or use other image editors. This method allows you to insert a hyperlink only for the whole image, so you get 1 link instead of 10+. So, your email signature won't be interactive and may confuse users.
5. Code HTML email signature and add your hyperlinks to source code during the process. It may take you some time and HTML coding skills (or hiring a developer). Also, the time spent to test your clickable email signature in all email clients could be too long.
How to Create Hyperlink in Email Signature Using Newoldstamp
Newoldstamp email signature editor allows adding hyperlinks to pretty much any content. You can easily add links for all your images using direct fields. The same works with your contact information. Just put a link in the right field and your text will open a hyperlink dialog box on every tap on it.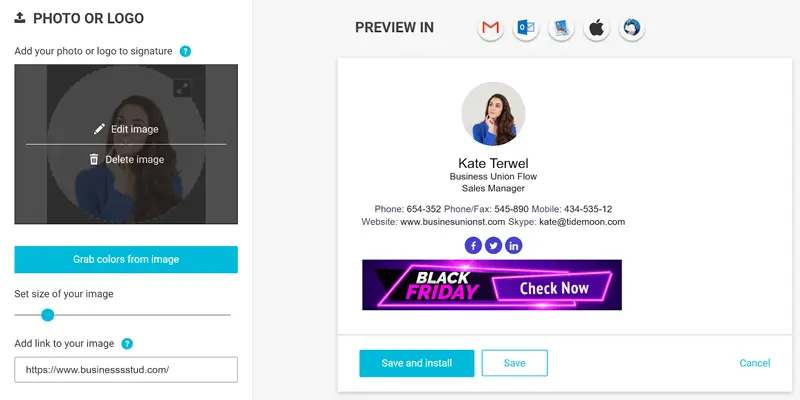 Also, Newoldstamp allows adding links to CTAs (engaging messages and buttons). It helps you grab recipients' attention and get more leads, demos, meetings, downloads, subscribes, etc.
Don't forget about links on social media icons as well. These will help you promote your profiles faster and get more followers.

Conclusion
Adding hyperlinks to your email signatures is a nice way to promote any content or website. With a professional email signature editor, it is easy as pie.