10 Email Marketing Strategies to Boost Sales for the Holidays
With the holidays fast approaching, consumers are more eager than usual to spend money. From gifts for loved ones to decorations or reigning in a new year with new items, holiday spending remains one of the most profitable seasons for business owners.
And because of the COVID-19 pandemic that has forced people to shop online, many consumers will likely stick to their newly formed online shopping habits, even as we return to the old way of doing business in brick and mortar stores.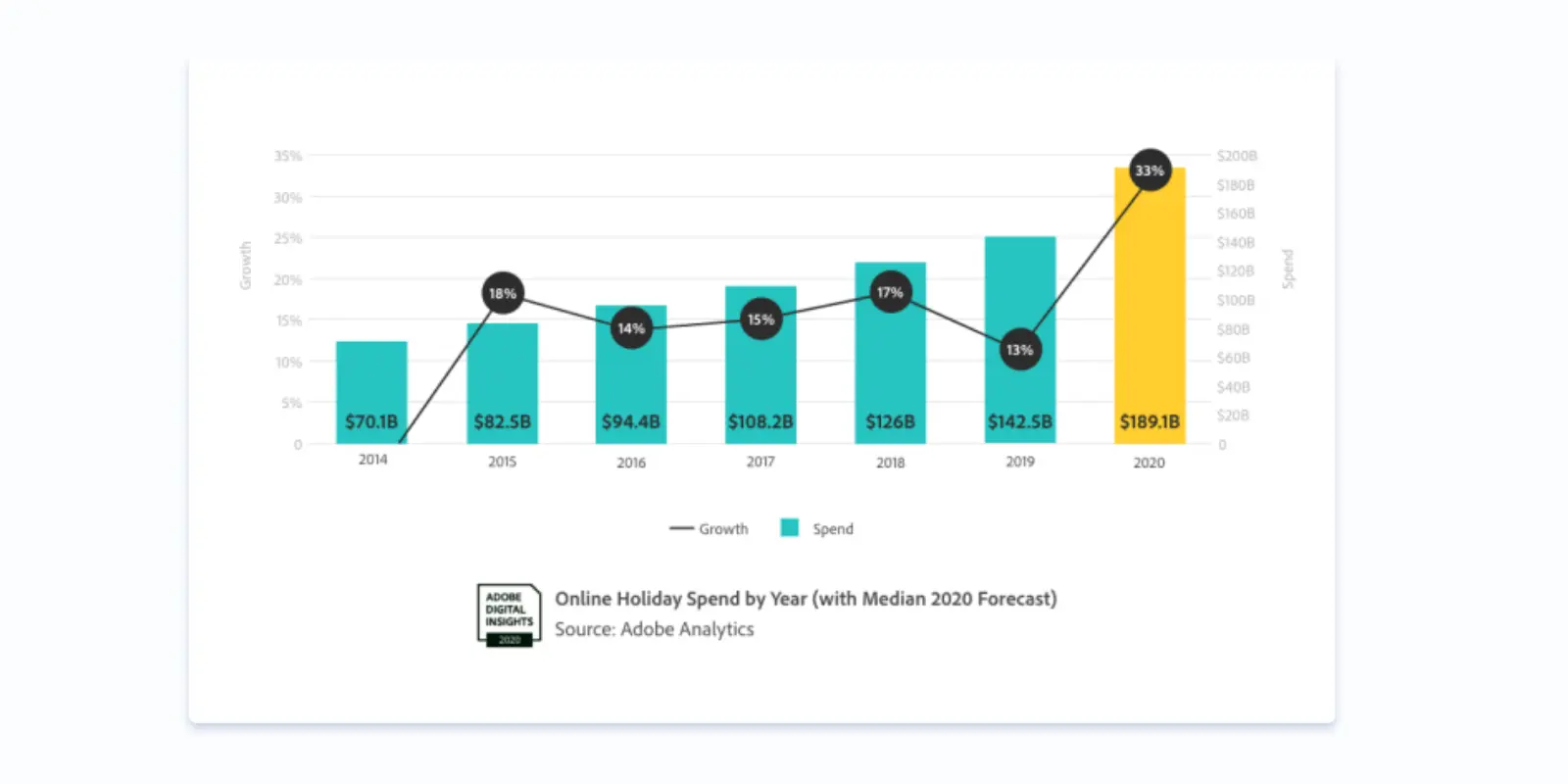 source: Techcrunch
Given how people have become more adept and willing to make purchases online, now is the perfect time to create a successful holiday email marketing campaign that will boost sales.
But the holidays are always a difficult time for marketers who need to find new ways to stand out from the competition, especially when many shops and retainers are vying for customers' eyes — and especially wallets.
This difficulty is further magnified when email marketing efforts are curtailed by recent updates in Google's Gmail and Apple's iOS 15, where privacy policies may make it harder to collect, track, and monitor customer data.
With stricter mail privacy protection on the rise, it'll be difficult for businesses to get emails into subscribers' and potential customers' inboxes. It may be harder still to accurately monitor your campaigns, especially if we see changes in how email providers track open and click through rates.
But this does not mean you should abandon email marketing altogether. It's actually an opportunity to step up your holiday marketing strategies in ways that delight your customers.
Read on to learn more email marketing strategies can help boost your sales in the holidays.
How to Boost Holiday Sales Using Email
1. Ensure Your Website Can Handle the Surge
With email campaigns, you can reach more people in a shorter amount of time. However, some businesses do not know how to prepare their websites for when they kick off an email campaign.
You must prepare your website for the influx of site visitors. If your web hosting can't handle the spike in traffic, your site can crash, which can result in customer dissatisfaction. With poor customer experience, you can lose potential sales.
Web hosting companies have improved their speed and reliability over the years. However, not all servers can handle a sudden surge in site traffic. This is why it's crucial that you look for a robust web hosting company that's able to provide enough bandwidth to accommodate future growth or at least allow for adjustments should they experience higher than expected traffic.
Do you use a website builder? Make sure that this is optimized so that your site and store load quickly. The best website builders are built for performance and speed, so make sure you're investing in the most reliable tools to handle the surge.
Check for bandwidth limits and resource allocation for your web hosting provider; the more allocation you get, the better your site performs. So check for the best value provider based on your needs.
2. Simplicity is Key
Text-based emails are quicker to compose and send. Short and concise messages are likely to make their way into the recipient's primary inbox and be opened and read.
Plain-text messages are less likely to get filtered by email service providers and moved to a secondary inbox or, worse, spam folder.
More often than not, complex HTML and image tags attached to emails are flagged as a promotion, a social media notification, or spam. So, they are filtered away from the primary inbox and remain unread.
If you absolutely must use custom HTML and images in your emails, keep them simple and sparse. When possible, use only one image. This may be a banner announcing your holiday sale or promotions. Or it might be shopping images pulled from your ecommerce store featuring any products that lead directly to your product pages.
Have one clear call to action, e.g. check out an existing promotion, browse through the holiday catalogue, or learn how to send items from the store as a gift to loved ones.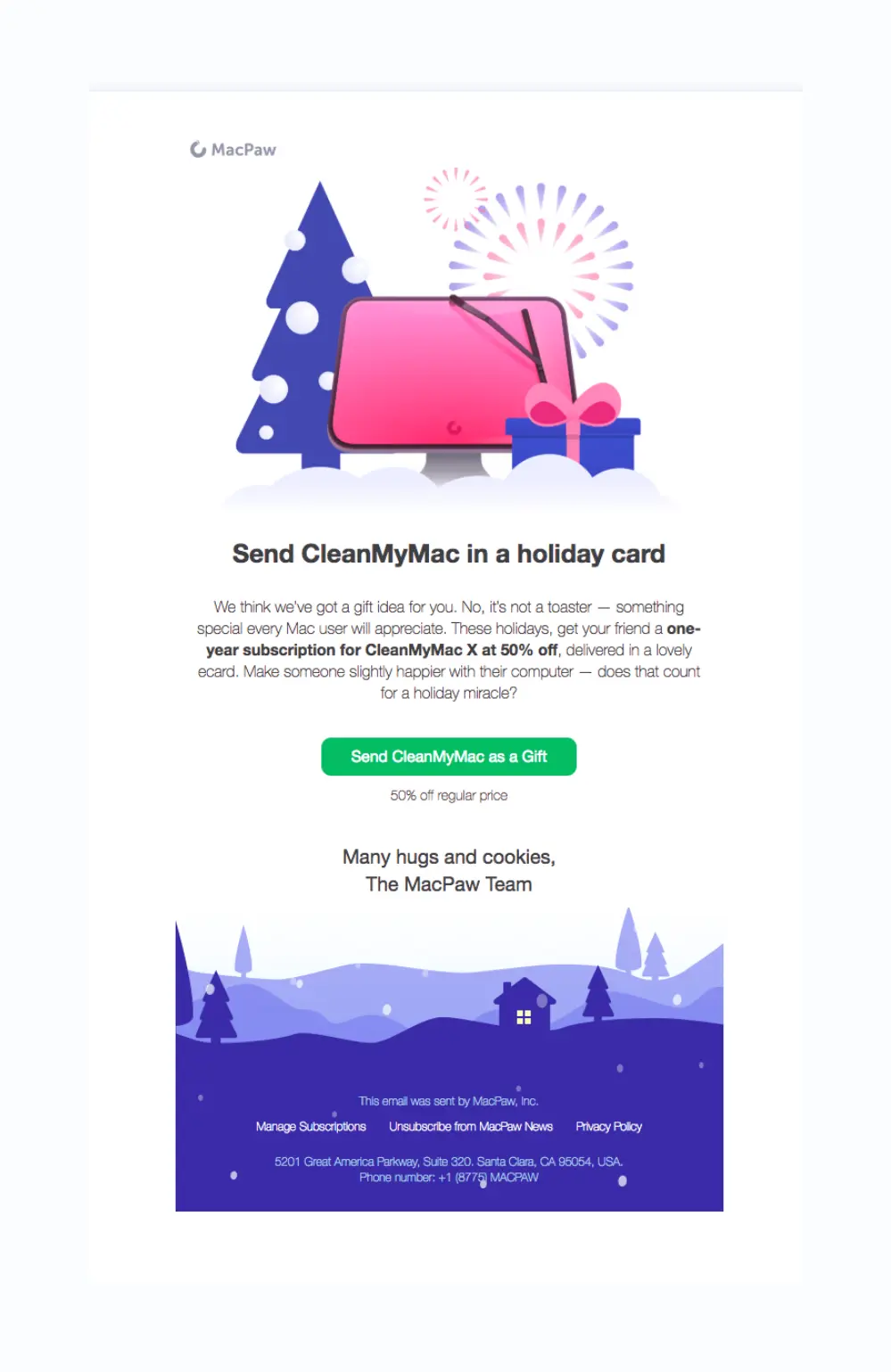 source: Emma
3. Take Advantage of the Preview Text
One important feature that has been added to email services is the preview text. It's the first few lines of text that will appear when someone receives the email. It shows email recipients what's in store for them before they click open. The preview text in an email can be a great tool for enticing people to open an email.
You can use this to your advantage by crafting an engaging email preview. It can dramatically influence customer engagement by adding personality and urgency to the messages. The more engaging email previews are, the better customers will respond to them.
Most email marketing providers allow you to edit the preview text as you build your campaigns. But in case yours doesn't, you can simply make sure your first few lines of text in your email campaigns are the text you wish to have as preview text.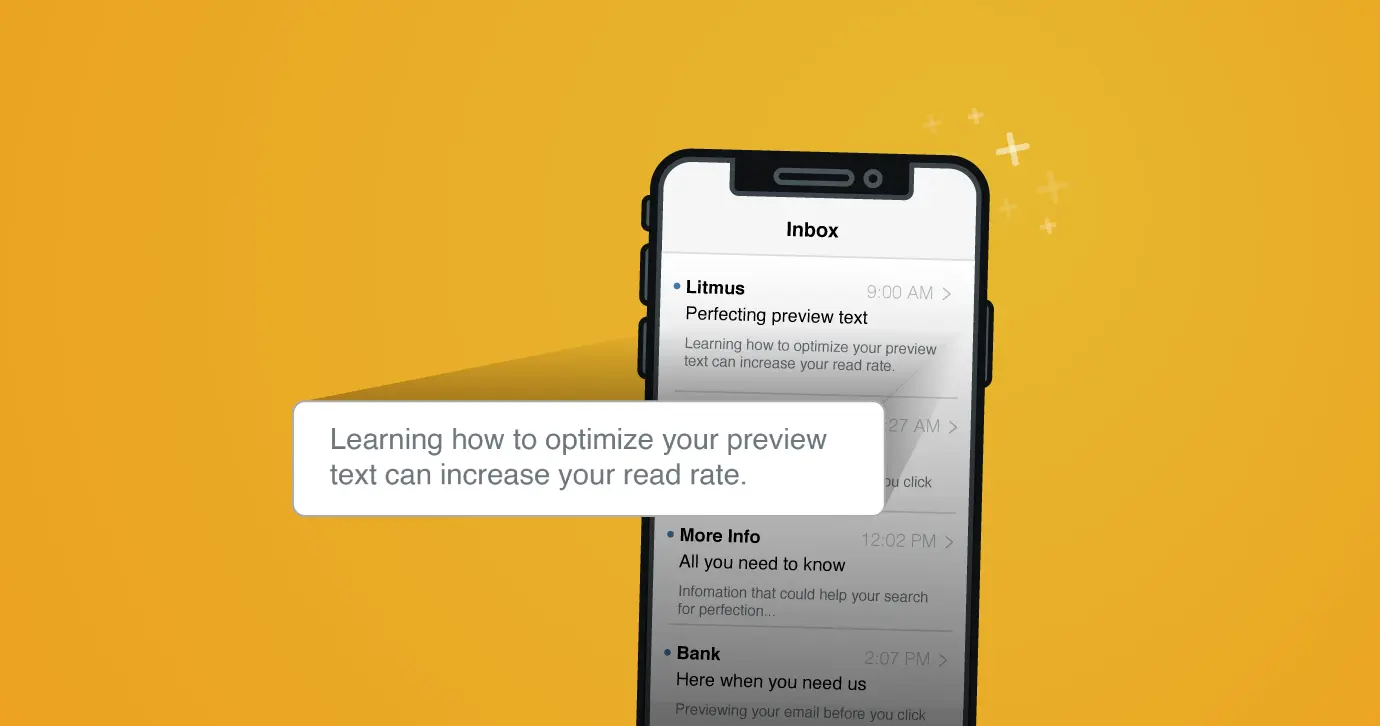 source: Litmus
Never underestimate the power of some compelling preview text in your email.
4. Hyper personalize through audience segmentation
Hyperpersonalization is a key factor that can help your business find more success in email marketing. This strategy consists of audience segmentation which divides users into separate categories based on their demographics, preferences, or purchasing habits.
When important data is collected, you can tailor marketing content and materials to a specific audience in order to increase engagement rates and overall company revenue. This means that an email will contain information only the recipient would find interesting or relevant to them.
Here's a practical example.
If your store carries items for both men and women, then you will want to send personalized emails for each that features items from specific catalogues. A woman subscriber might receive items from your women's catalogue; or you might send them items from your male catalogue to encourage them to buy gifts for their male friends and family.
You can also use previous purchase and frequency as a basis for personalization. For example, if a customer is known to purchase or repurchase specific items, such as refills for a product and the like, you might send them promotions on this product or its product category.
source: Dynamic Yield
The email example above is a Gifts For Her campaign. For female subscribers, this is a fantastic nudge to treat themselves and their female loved ones. For male subscribers, it could become a nudge to purchase gifts for their female friends and family.
5. Upsell Using Your Receipt
With Google Docs, you can create a receipt and invoice system. Just create your receipt and invoice using templates from templates from Freshbooks and use Google Drive to edit, share, and store the document. As a business owner, you can also track expenses and generate reports on specific purchases with Google Docs.
It's also a chance for you to upsell or cross-sell related products. Instead of sending their email receipts to the Trash right after shopping, many consumers may save these email receipts to take advantage of the upsell and cross-sell offers found inside these emails, such as any exclusive promo codes for their next purchase.
You can customize your receipts to offer complementary or related products that your customers may be interested in. As a sweetener, you can offer an upgrade, a voucher, or a discounted price if they buy the product you are offering.
This tactic works because it targets customers who are at the point of purchase and are still making decisions about other items they could buy.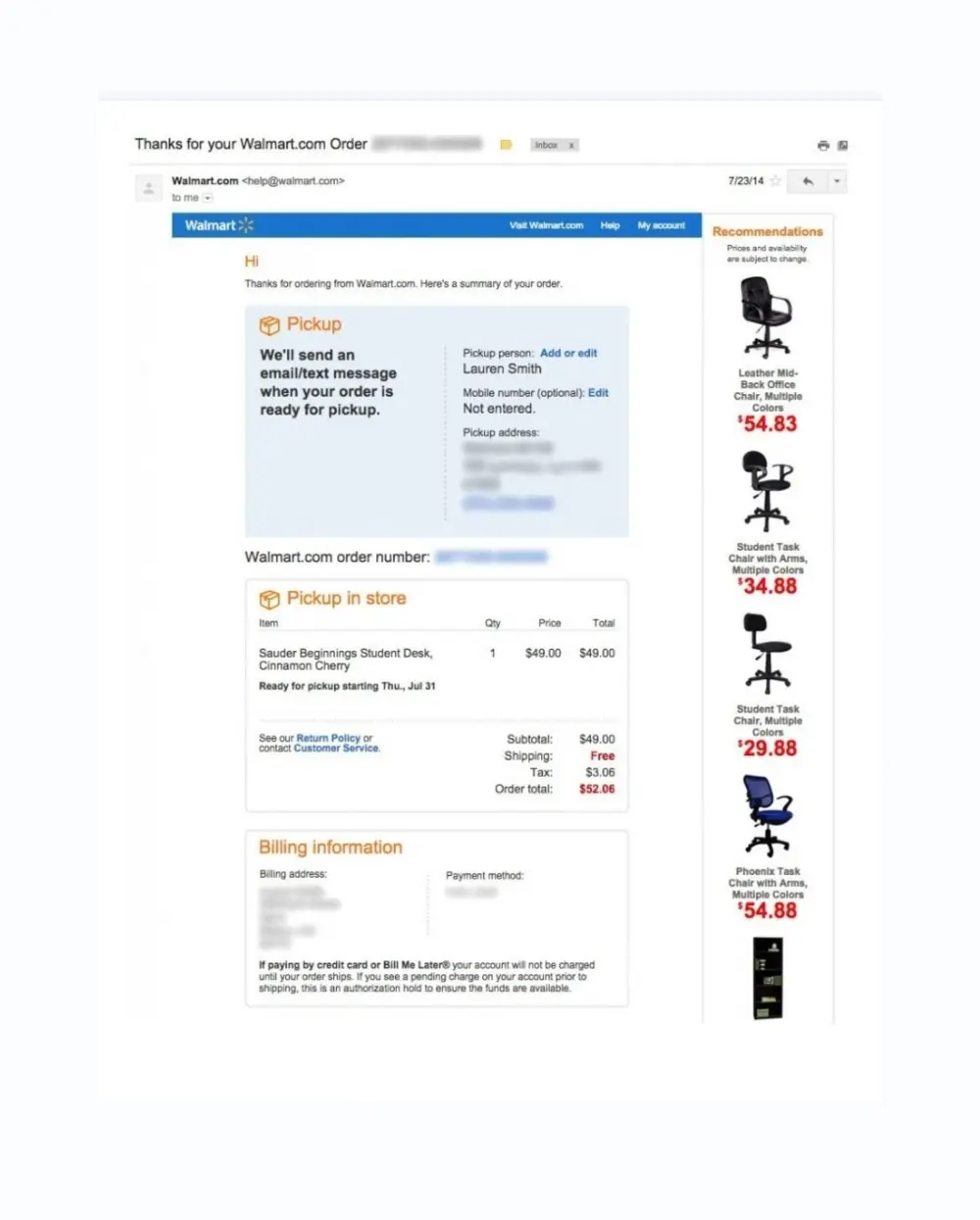 source: Avada
Walmart's email receipt and order confirmation emails contain upsells and cross-sells to check out related products that the subscriber might enjoy.
6. Turn Your Signature as a CTA
In your email marketing strategy, you can get people to take specific actions by incorporating a call-to-action (CTA) into your signature.
It can be a link, an image, a banner, or any other clickable elements that will compel customers to visit your site, make a purchase, or take action that can help your business achieve email marketing goals.
Your message can be powerful and persuasive, but a CTA in your email signature will serve as a reminder for people to buy, avail of a service, sign up for future emails, or take any action that can lead to sales conversion. It also gives you the opportunity to keep in touch with them. Create email signatures that become powerful calls to action with New Old Stamp.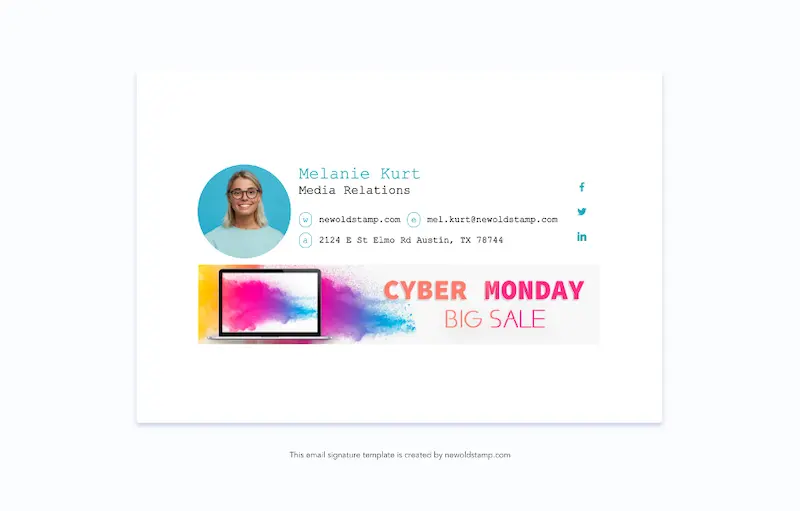 7. Share User-Generated Content (UGC)
User generated content (UGC) is an effective way to convert leads into actual customers. It can take many forms, such as testimonials, reviews, and product pictures posted on social media. Integrating user-generated content on e-commerce websites can increase conversion rates.
You can create a UGC campaign using email marketing. One way to use this is to create a newsletter using user generated content so that you are marketing directly to your customers.
This type of newsletter will have insight from both your company and users or customers that you have already reached out to. User generated content combined with email marketing is a great way for companies to keep their company top of mind with their customers.
8. Create a Sense of Urgency
One effective email marketing strategy is to create a sense of urgency for people to purchase or sign up for something. It triggers their "fear of missing out" perception.
The key to making it work, however, is that you have to be careful not to sound too pushy. One effective way is to create a time-sensitive offer. It can be a discount, a limited-edition item, or an opportunity that's so hard to pass up.
By implementing a time-limited email marketing campaign, you can increase click-through rates and improve customer engagement. When people feel as if they are running out of time, they will become interested in the offer to try to get it done as soon as possible before it ends.
9. Retarget Abandoned Carts
In e-commerce, a significant chunk of shoppers abandon carts before completing their purchase. Your job is to compel them to come back and complete the checkout.
Using email marketing to retarget abandoned carts is an effective way to encourage the would-be customer back into your online store so that they complete their purchase. It's one of the strategies to lower your cart abandonment rates and turn those abandoned shopping carts into sales.
Beyond that, you can also use abandoned cart emails to collect valuable data about customers who never completed their transactions.
Once you know what products they are interested in, you can make tailored offers and then create push messaging to send to them directly through email marketing or social media.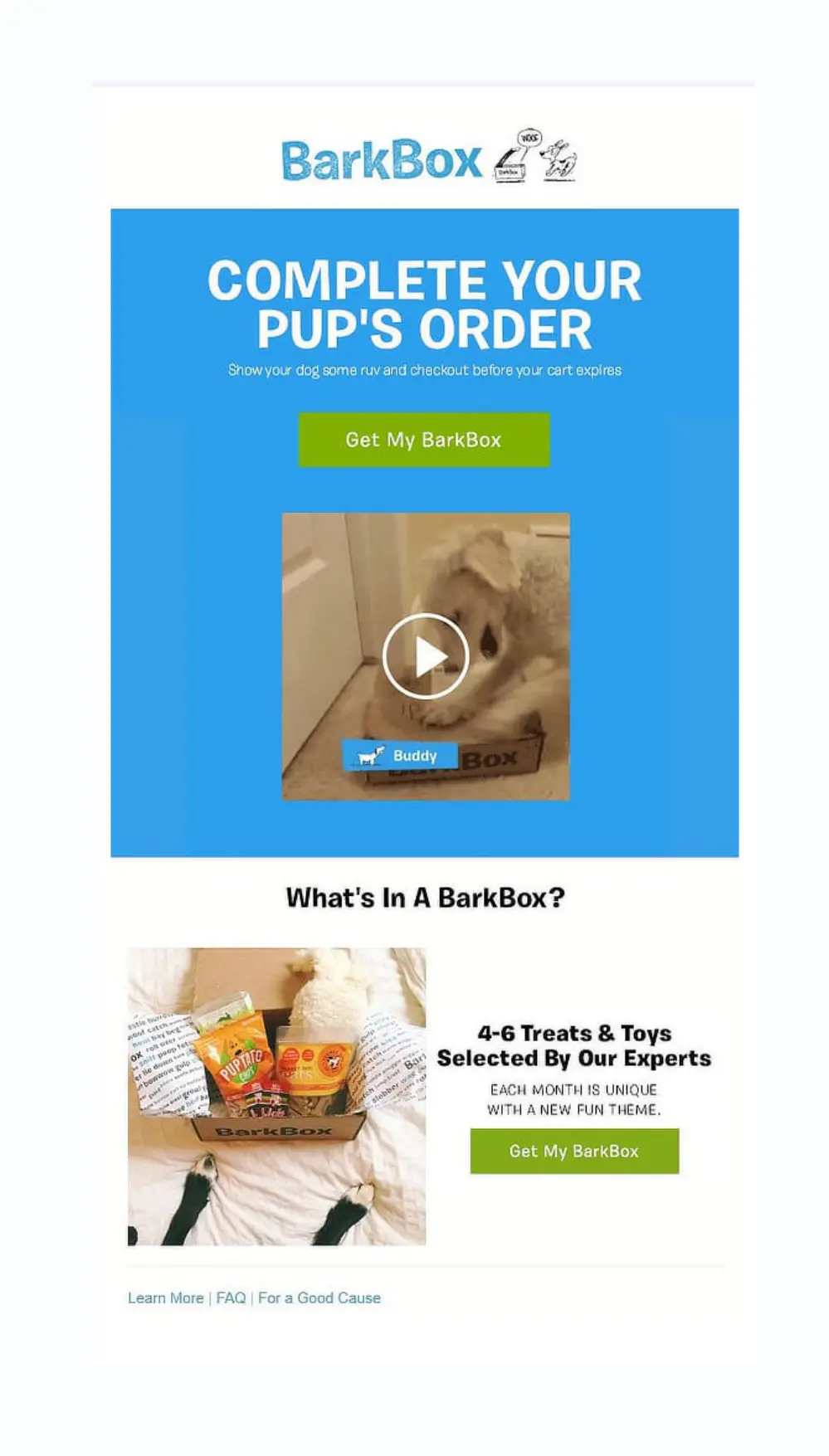 source: optimonster
10. Make Testing a Habit
How do you know if your email campaigns are successful? You can use metrics, such as open rates, click-through rates, and conversion rates, to track your results.
Keep in mind that not all email marketing strategies will work as well as expected. So, it's important to test the types of emails that are more successful at driving click-throughs, registrations, sign-ups, and conversion rates.
Testing email marketing efforts is a crucial part of marketing because it allows you to maximize engagement rates and budgets.
Here are some things you can test in your ongoing email efforts:
Call to actions

Images

Content length

Email subject lines

Preview text
Key Takeaways/Conclusion
Email marketing is undoubtedly a powerful tool for reaching your target audience, driving sales, and promoting your brand.
A successful email marketing campaign for the holiday starts with a well-thought-out plan with clear goals and specific steps with calls-to-action. It would then have to be implemented together with a robust, well-designed website that provides a seamless customer shopping experience.
When the recommended strategies are properly implemented, email marketing can help boost sales for the holidays. Create your own holiday-themed email marketing campaigns today, and use tools like NewOldStamp to create custom signatures that do more.