Business Email Signature: How People Use It
1. They underline their corporate belonging
2. Marketing opportunities are also counted
3. Blogs get additional traffic
4. More people follow them on social media
5. They attract new opportunities
A business email signature is the feature of high professional competency and respect to your recipient. It shows out the level of your culture and etiquette. However, these are not the only benefits of it. How people use it? Let's take a look.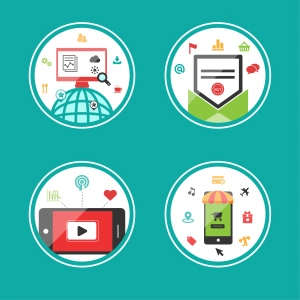 They stay out of the crowd
A business email signature is not a constant, and you can modify it up to your needs. Online software for making it mainly offer some standard templates to fill.
However, using an upgraded version, you can create the real masterpiece which will impress your addresses and will capture their attention to its owner. Using unlimited layouts, images, fonts and colors, you can design a unique mail footer which will say your addresses that you are the outstanding person.
They underline their corporate belonging
Moreover, mainly people try to figure out who they are from the professional point of view. Which company do they belong to? Which role do they perform there?
All these features are available for a professional business email signature. You can use your company's colors, logotype, website link and much more to skip the attention to the institution you work for.
Marketing opportunities are also counted
Try to understand why you are using your business email signature and which results you expect from it. You may really try to design it as a marketing product, delivering some proper message to every your addressee.
Do you sell clothes? Add a banner and tell about that.
Does your company have a principle it follows the most? Include it into a quote.
Would you like to emphasize your professionalism and dignity? Make minimalistic design.
Blogs get additional traffic
If you are a blogger, that is your golden chance. Links from mails get many clicks, and according to the stats, mail marketing is very powerful.
Therefore, include a link to your blog to get more readers. But make sure to underline it with color, size or any other way.
A business email signature is not a magic wand, but it may work for its owner, delivering nice results.
More people follow them on social media
80% of professionals who incorporate email signatures in their business communications, include clickable icons to their accounts in social media. Inserting the links to your Facebook, Twitter, Instagram and so on, you may be impressed by new followers you get. Maybe, some of them are your new partners? Or your future employers who could view your impressive profile on LinkedIn?
They attract new opportunities
In professional communication, every detail tells something about you. If you made a proper footer, you transmit the correct message to your recipient, therefore, he or she will view you as a good specialist. Following that, they will always keep you in mind.
If you are looking for some assistance or partnership, you may show that in your signature or in links which lead from it.
Do you want to create your own business email signature? Use our service and you will check all these benefits by yourself.