Effective Communication Strategies: the Ultimate Guide
1. So what is a communication strategy?
2. Сommunication strategy types
3. 3 phases of creating a communications strategy
4. Communication strategy examples
We need to build and maintain relations not only in our personal lives but also in the workplace with our colleagues, partners, and customers.
In 2023, when everything goes online due to a pandemic, effective communication is key.
In this article, you will learn how to create communications strategies, why you need them, and what you can do to improve them (+ a list of books to read).
So what is a communication strategy?
This is a detailed plan that outlines a company's target audience and the messages they need to receive to drive desired business results.
Why develop a strategy to improve communication?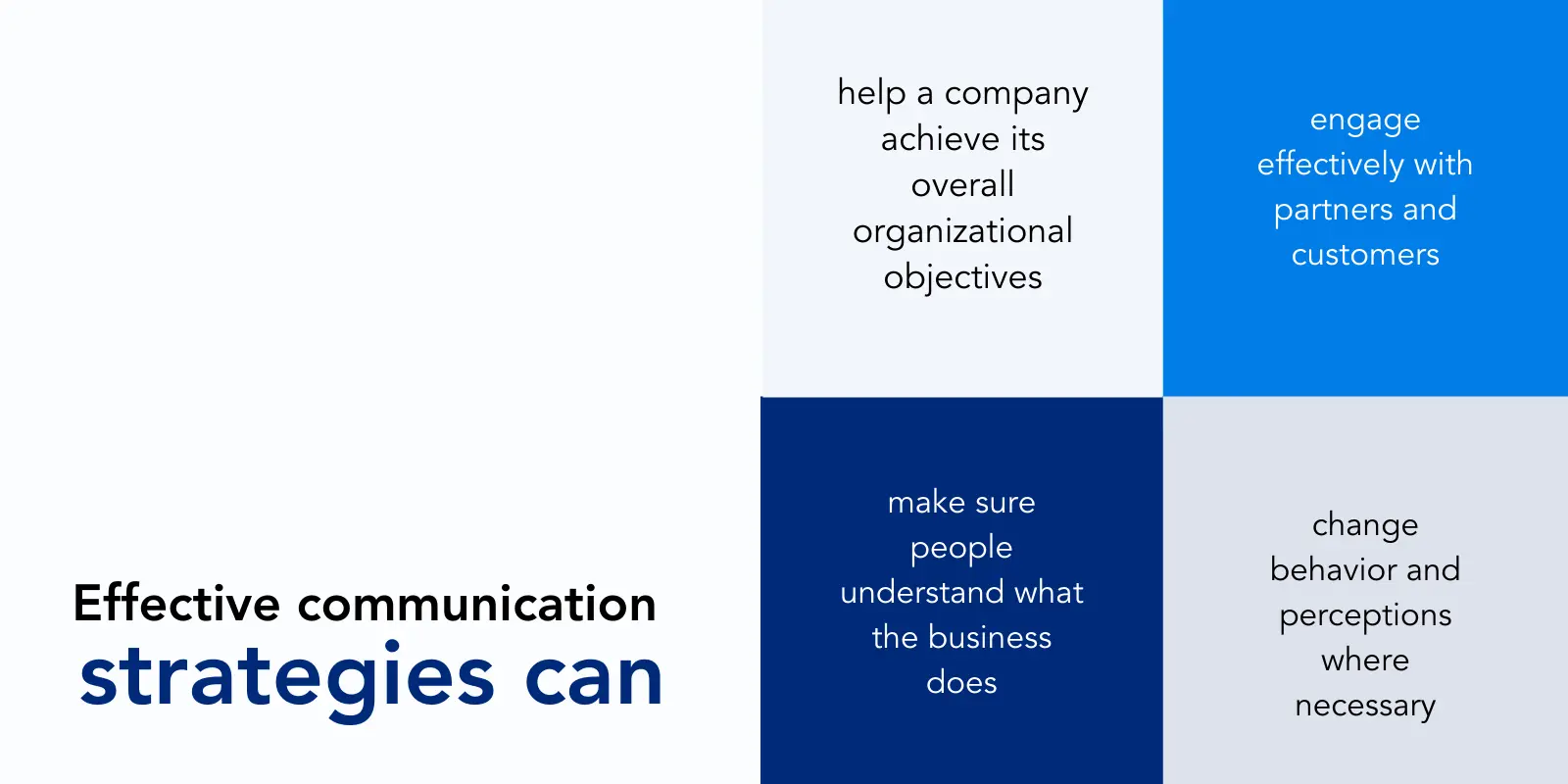 Сommunication strategy types
In general, there are several types of communication that individuals can use to exchange information with each other. However, the four most common types companies use are as follows:
Visual communication strategies consist of web pages, pictorial interpretations, and everything that can help a speaker remember important topics, give the recipient something to look at, etc.
Verbal communication strategies. This type of communication can be broken down into written and oral communication. Email, traditional handwritten documents, SMS, and chat belong to the first category.
The effectiveness of written communication may depend on vocabulary, grammar, clarity, and the writing style.
Phone calls, video chats, face-to-face conversations belong to the oral communication category.
Despite advances in technology, it remains one of the most successful forms of communication.
Non-verbal communication strategies include facial expressions, eye contact, body language, the physical distance
between the interlocutors, or voice tone. You probably already noticed that the proper use of non-verbal signals can create trust and transparency between you, your colleagues, and customers.
A mixed strategy is a combination of multiple forms of communication that make the information more understandable.

3 phases of creating a communications strategy
In a highly competitive marketplace where the fight for consumers' attention is tough, it is crucial to stand out from the crowd to achieve success. Therefore, developing a compelling communications strategy is a must-have for every entrepreneur. So here we outline the three essential phases of building a strong communications strategy.
Phase #1 - preparing
Do the research and collect information
Research is an essential component of a well-planned communications strategy, so try to get and analyze as much information as possible. Monitor all current events and trends affecting your industry, keep an eye on posts and discussions on social pages used by your target audience, conduct surveys. Look at what your competitors are doing.
Situation analysis
Briefly outline what your company does, what its major functions are, and in what place it operates. What are your company's communication strengths and weaknesses? Where are your biggest opportunities to make communication better in the future?
Sum up your expenses and incomes
A budget is a critical part of any business strategy. Here are some examples of costs to consider: video & audio production and editing, printing & design costs, car rentals to attend the event, etc.
Phase #2 - creating
Confirm your mission and goal
Your mission statement is the ultimate goal that your organization wants to fulfill for your customers. Write what services your business provides, and think about how your communications strategy should benefit this goal.
If you don't have your mission statement yet, try using this simple template: "Our company exists to provide people with (benefit), (benefit), and (benefit) through (product/service)." For example, Newoldstamp's goal is to make communication by email more personal and alive.
Build a strategic framework
The communication strategy framework defines each of the groups you need to influence and describes the relationship you want to develop with them. For example, your team members and prospective employees should feel that your company is a great place to work. Current and prospective clients should believe your products and services meet their needs. Partners should understand that working with you is beneficial for their business. And investors should be confident that your organization is well-managed and has a very good development perspective in the future.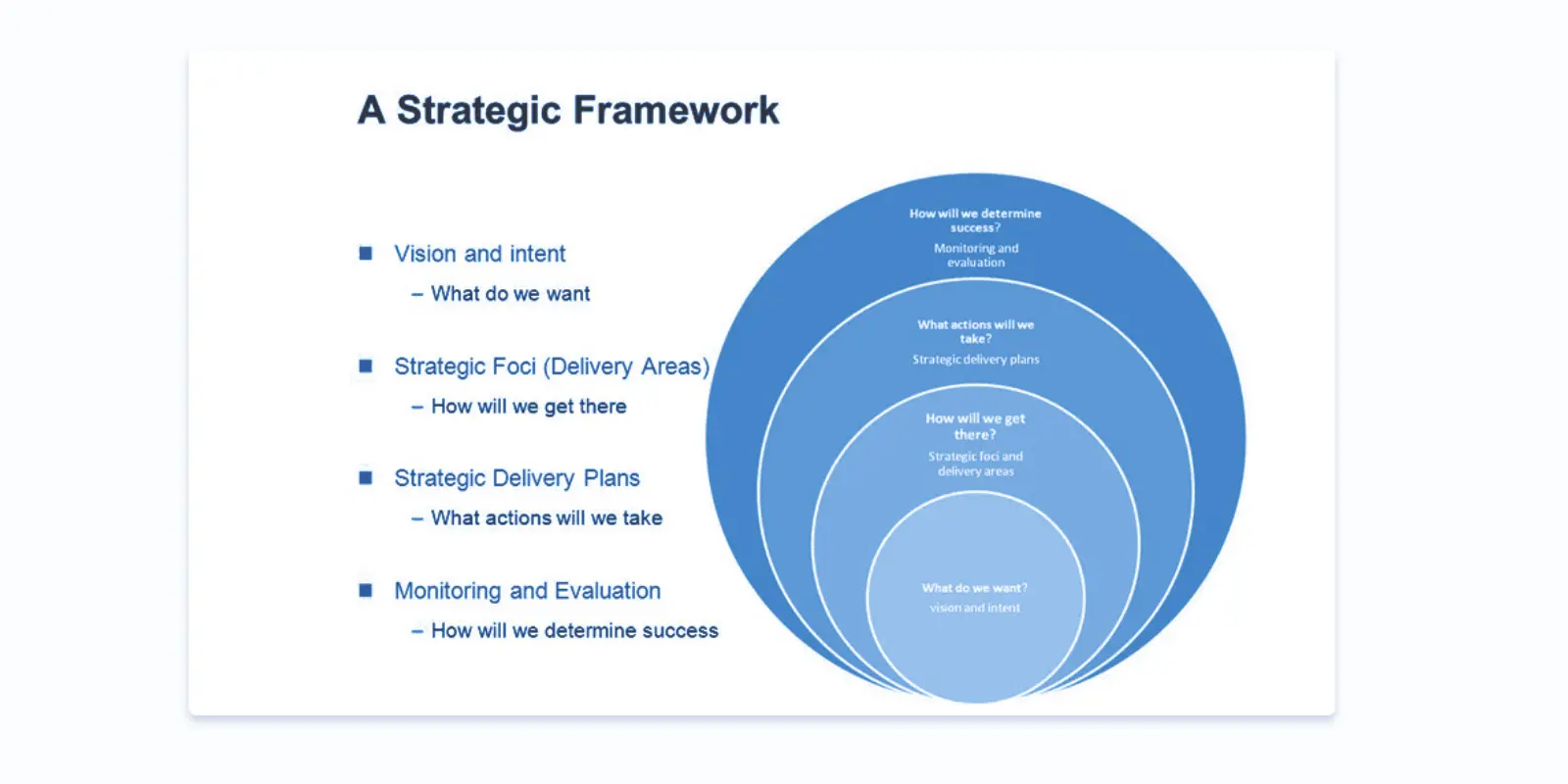 Choose the audiences
The next logical step is to research your target audience (consider both the external and internal ones). Indeed, partners and clients are important but don't forget about your internal audiences – staff, board members, and so on. Internal communication is an essential thing to consider when working on communication strategies.
Use Google Analytics to learn more about your website visitors, investigate social media followers of your competitors, survey your current customers. Then segment the audience.
Create messages and content
Once you do that, the next task is to start creating messages that connect with people. When working on the content, ask yourself what you want them to know, think, and do.
Make sure all your messages are relevant and appropriate to the audience. Probably, you will choose to speak to your partners in much more forthright language than you would use for customers or staff.
Work on SMM
Build your presence on social networks. Here are some useful facts about the most popular platforms:
Facebook sends more site referral traffic than any other social media platform;
Instagram isn't the best choice for driving blog and website traffic; however, it is a great tool for forming a strong visual brand;
Twitter is an optimal choice for those who mostly share blog posts and promote website content;
LinkedIn is well-suited for sharing industry articles and general professional content;
Pinterest is an excellent place to look for inspiration for projects.
Run target email campaigns
When you send the relevant email to the right recipient at the right time, it may even not feel like marketing. Rather than sending the same message to your entire list, be sure to send only targeted emails that people can't ignore.
The best way to connect with supporters is to personalize your email campaigns.
Note that a well-designed professional email signature can also add value to your emails and improve your overall results.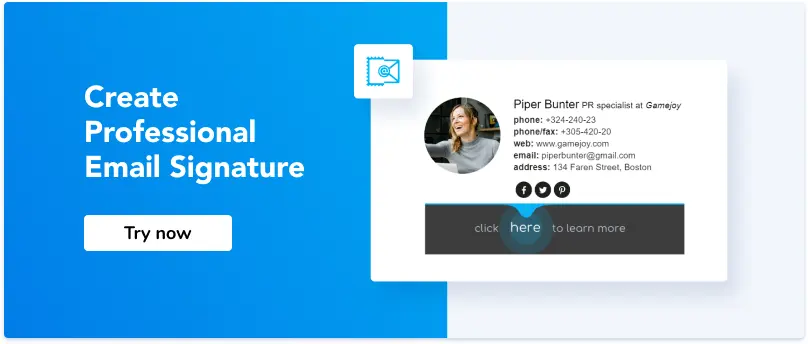 Add your name, position, company name, or even a headshot to show people that there is a human on the other side of the screen.
Use events as a channel
Visit conferences, launch events, perform public speeches, etc. There you can have conversations with attendees to better understand what is important to them specifically. Then your content team can utilize this knowledge for developing content and setting topics.
Speak with your customers
Use website chats, email, contact forms to deliver value and know your audience better. Just like with event attendees, you need to listen to your supporters to be able to create more great content.
Create your strategy map or strategic graphic model.
A strategy map is a one-page graphic portrait of your company's strategy. This map will help you and your team capture, communicate, and manage your plan better.
Create a timeline
Decide when you will need to communicate over the next six, twelve months. List the key dates and describe each key event or activity that will require communications (incl. launch of a report, forum, conference, etc.). This will allow you to measure clear steps towards your goals for effective communication.
Phase #3 - testing and using in practice
Launch your strategy
So what's next? Once you have created your communications strategy – you need to start the process of engaging your organization. Remember that the strategy is for everybody in your team!
Evaluate your strategy
Don't fall into the trap of doing an excellent job of communicating at the very beginning.
Just like with any other strategy, you need to check what's working and what's not.
It is essential to choose your method for measuring the results of your plan. Analyze website visitors, messages in social networks, use feedback forms, etc.
You might consider answering the following questions:
Has my audience received my message?
When and how does my audience access the information?
Have the recipients taken the desired action?
How can I improve my communications?
Systematic success monitoring will allow you to detect your weak points and change the strategy accordingly for more effective communication.
Communication strategy examples
To sum it up, we put all the essential information mentioned above into a template.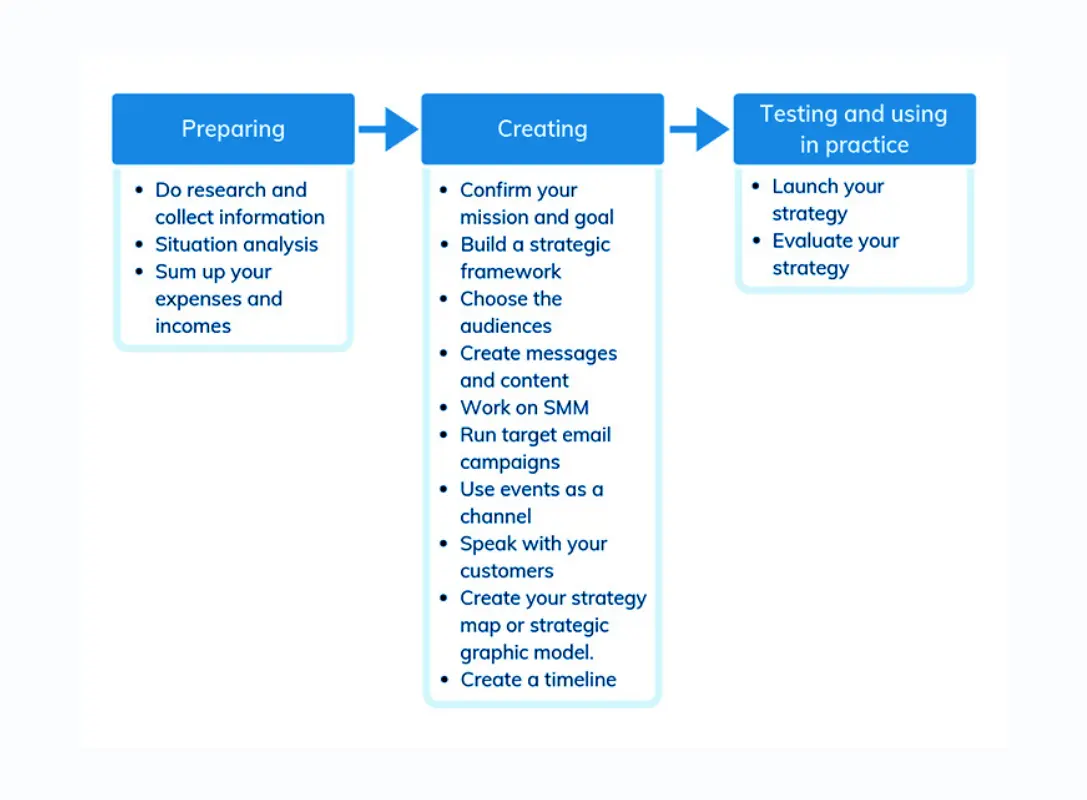 Phase #1 - Research
Identify your strengths, weaknesses, and opportunities;
Perform surveys among your key audiences;
Learn lessons from competitors' experiences;
Estimate your expenses.
Phase #2 - Creating
Define where you're now and where you'd like to go;
Confirm your mission statement and goals;
Choose and categorize your audiences;
Think about the content (What do you want people to know, think, and do?);
Select the most appropriate communication channels (social networks, email, events);
Draw a graphic map that depicts your communication strategy elements;
Make a timeline according to your planned key activities.
Phase #3 - Testing and using in practice
Distribute the plan throughout the organization;
Identify means of evaluation;
Improve.

As promised, here you have a list of the top 10 books to improve your communication skills and build a decent strategy. Enjoy!
#1 "Positioning: The Battle for Your Mind" by Al Ries & Jack Trout
#2 "The Startup Owner's Manual" by Steve Blank & Bob Dorf
#3 "The Essential Drucker" by Peter F. Drucker
#4 "Start With Why" by Simon Sinek
#5 "Words Can Change Your Brain" by Andrew Newberg & Mark R. Waldman
#6 "Brand Media Strategy: Integrated Communications Planning in the Digital Era" by Antony Young.
#7 "Crisis Communications: The Definitive Guide to Managing the Message" by Steven Fink.
#8 "Advising Upwards," Lynda Bourne, Gower 2011
#9 "Strategy-In-Action: Marrying Planning, People and Performance" by Thomas D. Zweifel.
#10 "Communicating Risks," Stig A. Nohrstedt, Nordicom 2011
To sum it up
An effective communication strategy is essential for becoming successful in both life and business.
Whether you are communicating with your team or with partners and customers, you should follow a specific strategy to take your conversations to the next level.
Obviously, good communication skills aren't enough. You need to analyze your audience and adjust your message to each segment. Furthermore, you can't ignore the fact that different audiences prefer different communications channels (that's why you need to embrace as many of them as possible). And on top of that, remember that no strategy will work if you don't listen to people. Attend and organize events, conduct surveys, speak with your customers, continuously analyze and improve.
Before you go, we want to share a great quote that emphasizes the importance of building a strategy:
"Communication works for those who work at it." What do you think?