19 Best Email Clients for Mac in 2023 to Keep Your Inbox Clear Every Day
1. Airmail
2. Apple Mail
3. Canary Mail
4. Edison Mail
5. eM Client
6. Kiwi for Gmail
7. Mail Pilot
8. MailMate
9. Mailplane
10. Mailspring
11. Microsoft Outlook
12. Mozilla Thunderbird
13. Newton
14. Nylas Mail
15. Polymail
16. Postbox
17. Spark
18. Spike
19. Unibox
Useful tools:
1. Newoldstamp - Email signature marketing
2. Mailstrom - Tool for cleaning your inbox
3. Reply.io - Personal email outreach, calls, and tasks
4. Mailtrack - Email link opens tracking
5. Shift - Desktop app for streamlining all of your email and app accounts.
When it comes to email on your Mac, you're probably using the Apple Mail app, which is installed by default. Of course, there is nothing wrong with it, but it might not necessarily be the best fit for your needs.
A new email app can change the way you read incoming messages, browse your inbox, organize mails, and craft your responses.
In this blog post, we've rounded up the best email clients for Mac, which can give you a bit extra compared to the default Apple Mail app.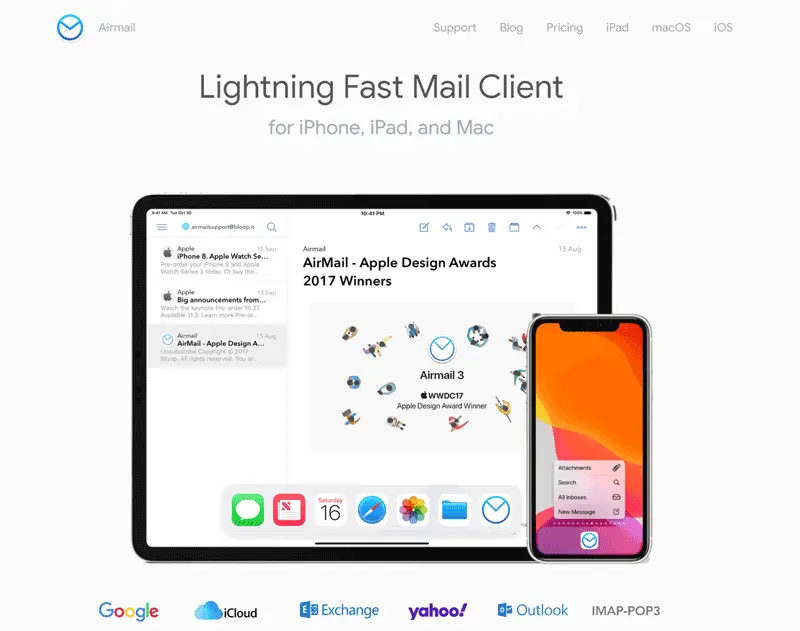 This email app is marketed as being a "lightning-fast," and it doesn't disappoint. Airmail is not only extremely quick but also well-polished and beautiful.
Airmail features per account notifications, email snoozing, offline email access, smart mailboxes, custom global shortcuts, cloud storage support. It also lets you add multiple email accounts of any type.
Airmail loads more messages than Apple's native mailbox does (almost 55,000 messages versus 47,000), but finds far fewer emails when searching.
It integrates with many third-party services. You can also benefit from using Airmail on various devices such as mobile, iPad, and Apple Watch.
The tool has a clean Apple-inspired user interface. It just looks and feels like a native Mac application.
There are two subscription options to choose from. You can pay $2.99 monthly or $9.99 yearly. Pay attention that many of Airmail's features are free.
Does it support HTML email signatures?
Yes.
Apple Mail is a default email client for Mac users. The application has all basic features and is extremely easy to use so that many users won't ever need anything else. But that is also the thing that limits the Apple product. Due to its ease of use, Apple Mail produces quite basic functionality.
Apple Mail can handle all your email accounts in one place. We also liked the VIP option that allows choosing senders that you want to be interrupted by only, smart spam filter, fast and precise search. Another great thing is that you get outstanding integration with macOS and iOS.
The client has a basic design that lacks customization features. It would be great if Apple added high-powered organizational tools.
Apple Mail supports third-party plug-ins and can be used on Mac or iOS devices.
It has a clean, user-friendly interface that's in line with all the other Apple products.
Free.
Does it support HTML email signatures?
Yes. See how you can create your signature in Apple Mail.
The Canary app is beautiful, smart, and secure. In just one click, this tool ensures your recipient is the only one able to read your email.
If you want to integrate the app with other email providers and manage all your files, events, and tasks in one place, no problem, Canary can do that for you. One of the most significant benefits of this email client is it won't make you choose security over design. We also liked the block feature that stops others from tracking you. Among other useful specs are the focused inbox (Canary highlights the most important messages), convenient natural language search, a snooze feature, email templates, and more.
According to user reviews, Canary's syncing is a bit slow.
Canary integrates with your favorite apps such as Google Drive, Giphy, Dropbox, etc. Available on both macOS and iOS, this email client gives you the ability to use the same application at work and on the go.
According to user reviews, Canary is the best-looking email app they've ever tried.
Canary for macOS & iOS must be purchased separately and will cost you $20 for each.
Does it support HTML email signatures?
Yes.
Edison Mail (formerly known as EasilyDo Mail) is a much-loved email client for iOS, which is now available for macOS too. It looks and functions similar to the iOS app and can do all the important things its mobile sibling does.
One of Edison's headline specs is the Assistant, which scans your email and sorts the appropriate ones as Travel, Packages, Bill & Receipts, or Entertainment. This way, you can clearly see the things that matter to you. Other useful features include the one-click unsubscribe from junk, block sender, unified inbox, and many more options.
Unfortunately, Edison's Assistant doesn't really work for non-US users.
Edison Mail is suitable for use with Gmail, IMAP, iCloud, Office 365, and Yahoo! Mail accounts. You can take advantage of both desktop and mobile versions.
Using Edison Mail, you can enjoy a clean, uncluttered interface that makes good use of swipe gestures. The email client also supports a dark mode. And a Unified Inbox lets users combine their inboxes from the most popular providers. Edison Mail is ads-free.
Free.
Does it support HTML email signatures?
Yes.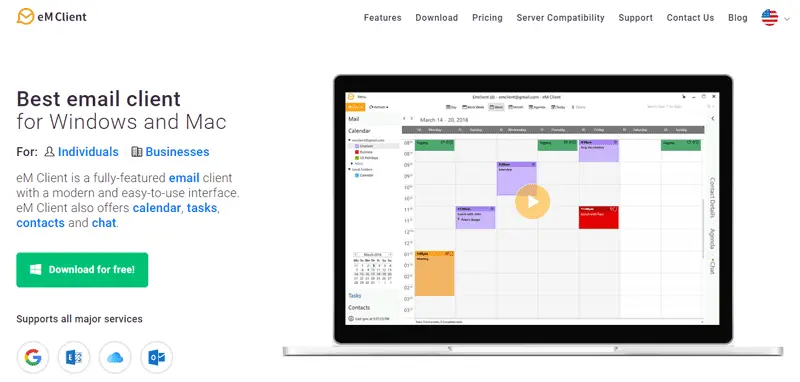 eM Client is a free, user-friendly app that will let you manage your contacts and emails very easily. This email client supports all the major services like Gmail, iCloud, Exchange, Outlook, and more.
eM Client automatically groups your emails into relevant conversations to make your mailbox as clean as possible. Other useful features include the delayed send, email translator, spell check, mass email, smart paste, templates, and signatures.
With a free version of eM Client, you can connect only two email accounts. If you want to connect more accounts, you will need to switch to a paid Pro version. Plus, the free version lacks dedicated support. Users also disliked a lengthy initial setup procedure.
The program is compatible with G Suite, iCloud, Microsoft Office 365, Microsoft Exchange, Outlook, and more. You can use both desktop and mobile versions of eM Client.
Multiple themes and color coding provide users with a gorgeous layout to work on. On top of that, eM Client is very user-friendly and customizable.
As mentioned before, the program comes in two editions: a free one and a pro one. The Pro version is available for $49.95. This is a one-time payment.
Does it support HTML email signatures?
Yes.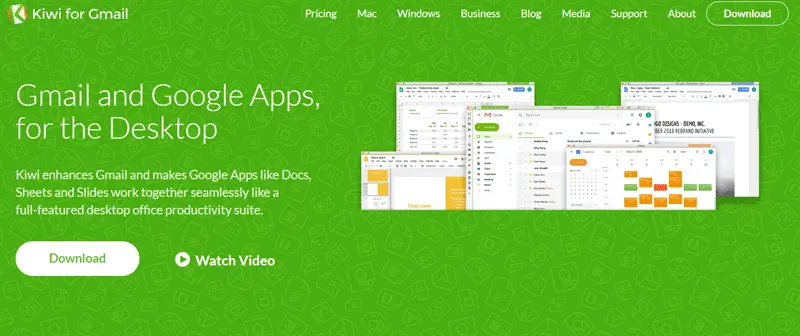 When it comes to choosing the best email client for Mac, Gmail users might like the program called Kiwi (formerly Gmail for Mac). It looks and feels just like Gmail but has even more powerful enhanced features.
One of the handiest features of Kiwi is the ability to run G Suite applications such as Google Drive, Docs, and Sheets outside of your browser. It will also let you organize your mails by date, importance, attachments, and more. And if you want to enhance productivity, take advantage of Kiwi's "Do not disturb" mode.
As the name implies, the program doesn't support non-Gmail accounts. And the Lite version (which is free) will let you connect only two Gmail accounts.
Kiwi supports such third-party plug-ins as Boomerang, Yesware, Rightinbox, Rapportive, Contactually, and will be adding more in the future. Besides, you can even use Google Hangouts and Calendar inside Kiwi. Pay attention that this email client is suited for desktop only.
We loved that Kiwi lets users give each account a different color. This way, it is easier to stay better organized and identify the accounts at first sight.
Kiwi has three versions to choose from: Kiwi Lite ($0), Kiwi Full ($29.99), and Kiwi Enterprise (price not specified by the vendor).
Does it support HTML email signatures?
Yes.
More reads you might like: "The Best Gmail Tips and Tricks [Updated 2023]"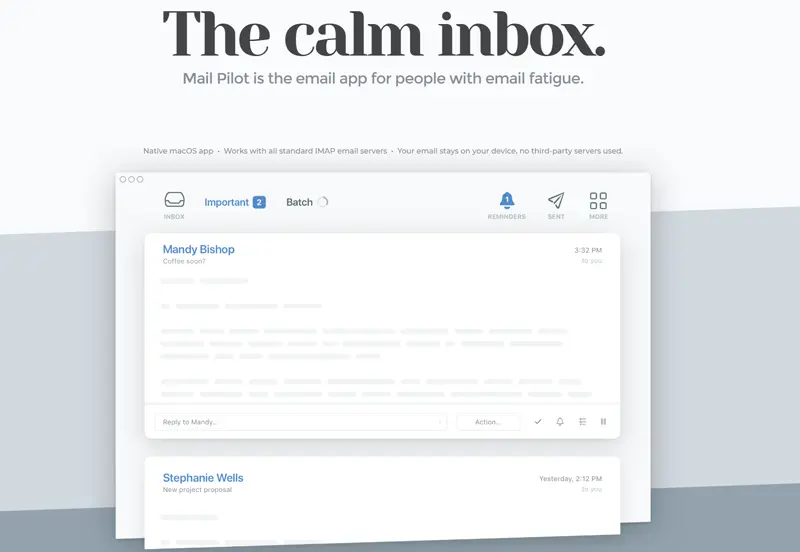 The software is a combination of a to-do list and an email client, which makes it a good fit for those who need to manage and nurture leads better.
The core feature of Mail Pilot is that it presupposes that all kinds of emails are associated with an action. Basically, the software serves as a to-do list, where a user can mark emails as tasks that have been done, which automatically archives those emails reducing clutter in the mailbox.
The tool may not be suitable for everyone's workflows because it is mainly focused on turning messages to tasks.
Mail Pilot supports Gmail, iCloud, Yahoo, AOL, Outlook, Rackspace, and Google Apps. The program is compatible with macOS, iPhone, iPad, and Apple Watch.
You'll love Mail Pilot's minimalistic interface that makes it easy for you to read and organize your correspondence.
A mobile version of Mail Pilot is available at $9.99. And the email client for the desktop will cost you $19.99.
Does it support HTML email signatures?
Yes.
While MailMate isn't the prettiest email client in this list, it has great searching capabilities and is standards-compliant. Some reviewers say MailMate is a very nerdy software. So it's definitely not for everyone.
Rather than focusing on ease of use, the developer of MailMate created the email client that is keyboard-centric, text-based, and powerful. It provides users with such functions as extensive keyboard control, Markdown email composition, smart folders, advanced search conditions, the ability to schedule messages to be sent later, and more. Another great benefit of MailMate is that it has a smaller user base compared to other email clients for Mac. Thus, you can actually expect a reply if you face any problems.
The email is pretty expensive. Also, it might be interesting to a specific user group only.
There is no MailMate version for iOS.
The app is known for its clean and no-fuss interface.
You can buy MailMate for $50, and there is a free trial available.
Does it support HTML email signatures?
Yes.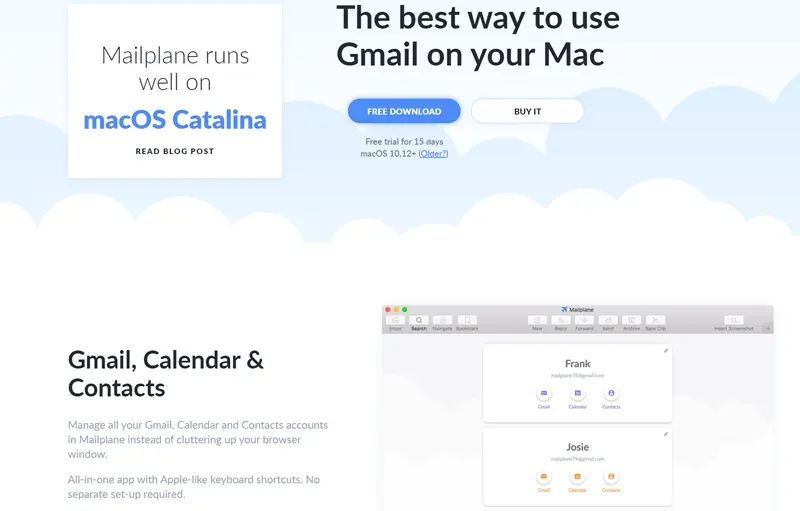 This email client is perfect for fans of Gmail because it runs the Gmail web app inside of an application wrapper. Thus, users can utilize the complete library of Gmail-supported keyboard shortcuts and various Gmail plug-ins (like Boomerang).
Now, let's talk about what makes Mailplane belong to the top email clients for Mac. For starters, check out the feature called Search Everywhere, which enables you to search all of your connected inboxes at once. If you have multiple Gmail accounts, this feature is a real time-saver. Further, the app comes with a Mac menu bar widget, which shows unread messages. Also, Mailplane is fully localized in five languages: English, German, French, Japanese, and Spanish.
If you are tackling emails on your phone when on-the-go, you'll need to look for some other apps compatible with iOS as Mailplane is designed for desktop only.
It plays nicely with such apps as Grammarly, Boomerang, Gmelius, Hiver, Zoom, FullContact, and more.
For Gmail users, Mailplane's UI looks and feels almost the same as the one they used to.
Prices start at $29.95 per user.
Does it support HTML email signatures?
Yes.
It is a desktop email app with a wide range of modern features.
Mailspring has all the typical things average users would look for in an email application: support of multiple accounts, a snooze option, unified inbox, advanced search, various kinds of reminders, link tracking, and much more. Apart from that, Mailspring is localized into nine languages.
Some of Mailspring's features are limited to a paid subscription. Also, the app doesn't support Exchange accounts.
Mailspring integrates with iCloud, Gmail, Office 365, Yahoo, and Outlook. There is no iOS version of Mailspring.
The user interface is clear and focuses on a simpler and more convenient perception of content. The appearance of the client is customizable. You can choose from their six ready-made themes or even create your own one.
You can use it for free or purchase a pro edition for $8 per month.
Does it support HTML email signatures?
The app allows using professional HTML email footers with images to leave a lasting impression on recipients.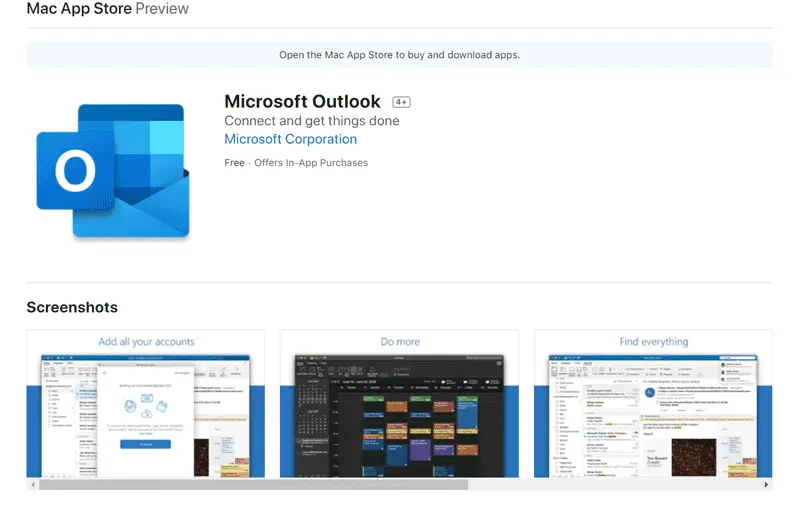 If you want to find an application that feels like Apple Mail, check out Outlook email for Mac.
The software works well for business-oriented users as it offers many teamwork options. With Outlook, it is possible to tag colleagues in emails, purge distractions with its Focused Inbox, and even create collaboration groups for your teams. On top of that, Outlook allows working on various accounts, including iCloud, Gmail, Microsoft Exchange, and Yahoo Mail.
Microsoft Outlook also provides contacts and calendar options within the email application. It is very convenient for users as it becomes extremely easy to keep the address book and schedule appointments inside the app.
This mail app can only be purchased as a part of the Microsoft Office suite. However, if you depend on the Office as part of your computing life, it won't be a problem for you at all.
You can use the Outlook email client on your Macbook and iPhone. However, some users complain that on Mac, the application is lacking a bit in design since it looks a little different from other Mac programs and more like Outlook app on Windows.
Setup for Outlook is simple enough but isn't as clear and intuitive as it could be. Also, the email client can be a bit overwhelming for Mac users that are used to polished Mac-style interfaces.
As mentioned before, you can only get Outlook by purchasing the complete Microsoft Office Suite. The Business Premium package will cost you $139.99 per user per year. Or you can consider using a basic, web-only version for free.
Does it support HTML email signatures?
Yes. Learn how to install the email signature in Outlook for Mac.
Learn more about the Outlook email app for Mac: "How to Use Outlook to Skyrocket Your Productivity. The Best Tips and Tricks."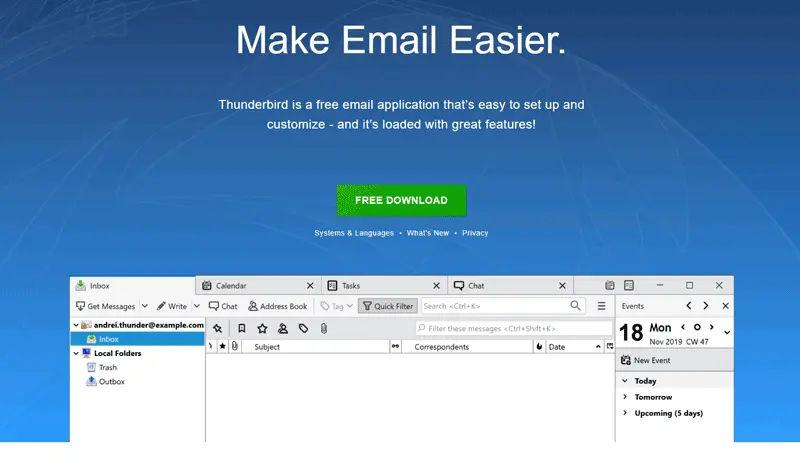 Despite being known as not so attractive email client, Thunderbird Email for Mac is worth trying because of its open-source nature (this means you can take the code and build it up yourself), support of a wide range (1000+) of third-party extensions, and convenient tabbed user interface that lets users accomplish more in a single window.
The best features of Thunderbird include a flexible filtering system, attachment reminder, powerful search tools, smart folders, and more.
Frequent user complaints range from the outdated user interface to too slow development that only focuses on security and stability.
Thunderbird is available for desktop only.
Thunderbird's UI is a bit uglier than most modern email clients, but if its look doesn't bother you, give it a try, and you'll discover some very handy features.
Free.
Does it support HTML email signatures?
Yes. See how to install the email signature in Thunderbird.
You might also like: "Mastering Thunderbird or 20 Tips to Become Thunderbird Pro."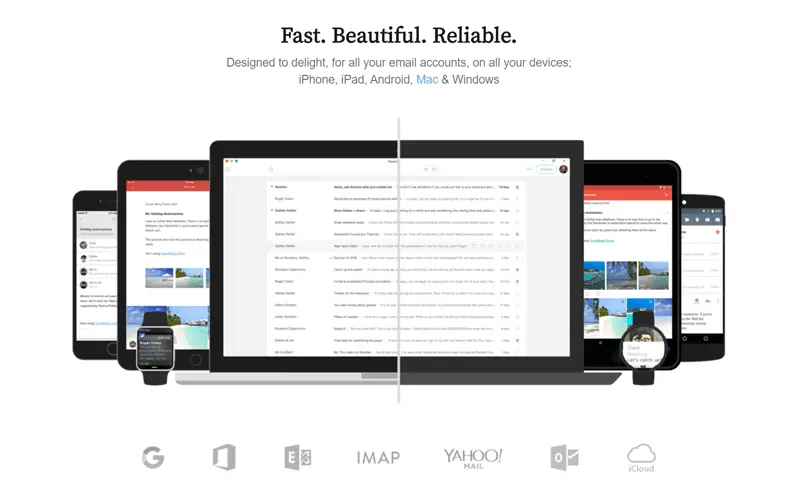 This email client can be a good fit for your needs if you have to manage many accounts or go through a lot of messages each day. Shortcut buttons make your inbox management much easier. In addition, Newton supports a wide range of best email providers such as Gmail, Outlook, Hotmail, Exchange, iCloud, Office 365, Yahoo Mail.
The program offers a number of great features such as universal read receipts, email tracking, email scheduling, the ability to undo sent messages, and a useful recap function.
Newton pricing is slightly higher than competitors.
Newton Mail works with such apps as Google Drive, Dropbox, iCloud, Todoist, OmniFocus, Slack, Evernote, MailChimp, Salesforce, Trello, and more. The program works across iPhone, iPad, iPad Pro, and Mac.
Newton Mail for Mac offers a minimalist, neat, distraction-free design, and intuitive UI that helps manage and navigate your inbox.
Newton email app is available with a subscription, priced at $49.99 per year.
Does it support HTML email signatures?
Yes.
Nylas Mail is an open-source email client that can be connected to any inbox in the world, providing users with a uniform interface across different email platforms.
Nylas offers a ton of useful features such as unified inboxes, various kinds of reminders, email snoozing, a send later option, email tracking, offline support, signatures, and more.
For us, another smart inclusion was the ability of Nylas to gather all relevant contact information from social media and other sites to make it instantly available so that users could better distinguish important messages from those that can wait just a while longer.
Billing isn't transparent enough. Users who don't like the SaaS model might not appreciate the program.
Nylas Mail is suitable for use with all email providers, so you are covered wherever you get your mail. However, there is no Nylas version for iOS.
Nylas Mail's interface is clean and easy to understand. Also, it is convenient that you can choose between a Gmail-like view and an Outlook-like view with a side panel.
Nylas is available in Basic and Pro editions, but you need to contact the vendor to calculate the cost.
Does it support HTML email signatures?
Yes, the app allows using professional HTML email footers with images to leave a lasting impression on recipients.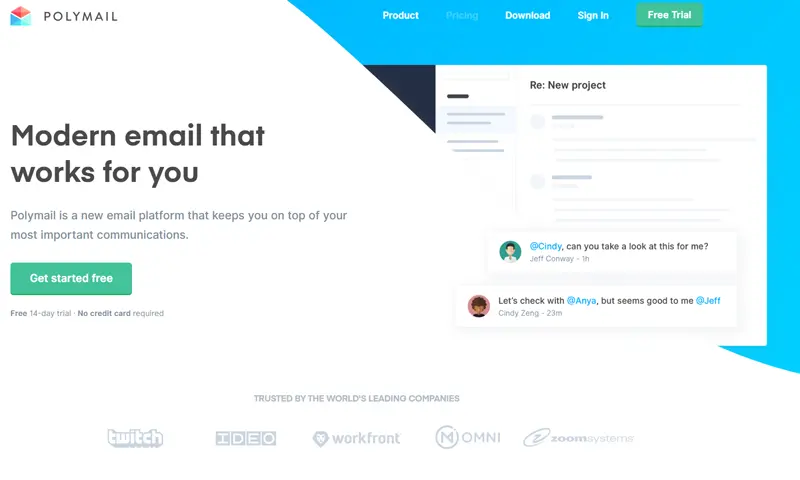 Polymail is the best email app for macOS designed for teams as it allows them to communicate in real-time using mentions and inline comments. Also, you can even turn any email into a shareable web link for your colleagues to collaborate on.
What makes the software really interesting is its built-in automation and email sequence features. By automating tasks such as email follow-ups or scheduling appointments, teams can focus on the work that matters most. Email sequence software allows sending out multi-stage email campaigns right from the application and even provide users with detailed reports showing who opened, clicked, unsubscribed, or replied to your emails.
With Polymail, it is possible to manage all of your email accounts easily as the app works with Gmail, Outlook, iCloud, Yahoo Mail, or any other IMAP account.
Even a basic edition of Polymail is a bit expensive for individual users. Besides, many of the app's winning features are available only to subscribers who use a Premium version.
The program is currently available on the web, as well as on applications for macOS and iOS.
The app is ultra-sleek and looks somewhat like Slack.
Prices start at $10 per user per month for the Basic edition. Users who want to benefit from Polymail's collaboration features can either choose the Premium edition at $16 per user per month or the more capable Enterprise edition at $49 per user per month. However, if you decide not to upgrade after your trial period expires, you can continue using the app for free with a limited set of features.
Does it support HTML email signatures?
Yes.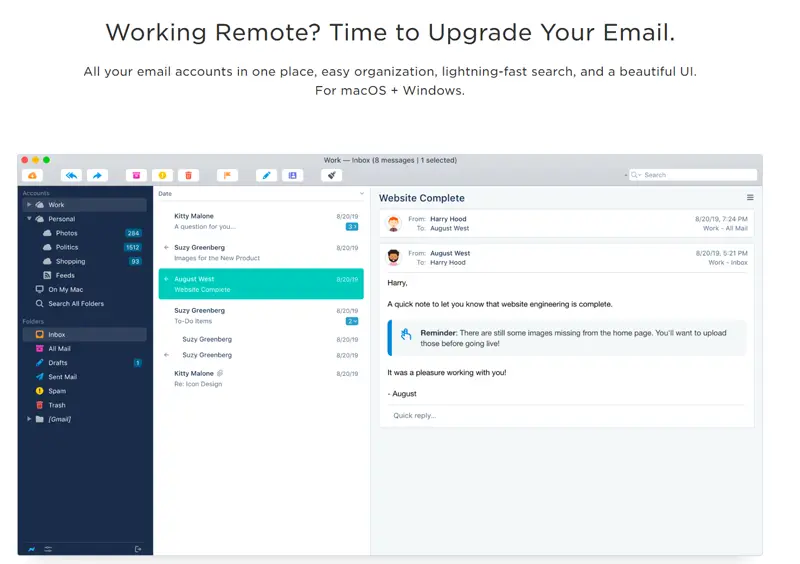 Manage all your mail accounts in one place, organize your inbox conveniently, search faster, and enjoy a beautiful UI.
The key benefit of Postbox is its simplicity as the app largely focuses on receiving email messages and presenting them in a straightforward manner.
Also, Postbox email client features a smart email categorization system, lightning-fast search, the ability to assign a topic to a message, various reminders, smart address auto-complete, 24 beautiful themes, 70 professionally written email templates, and more.
One of the biggest cons of Postbox is its poor educational database. The guides and tutorials available on the web are too basic. And if you face any issues, keep in mind that their helpdesk charges $8 per request. Also, managing, inserting, and resizing of images work awkwardly. And lastly, the price for Postbox annual subscription is too high for long-term home users.
Postbox is compatible with macOS and isn't compatible with iOS.
The app has a clear, uncluttered, and colorful interface.
Postbox is available at $29 for a 1-year license or $49 for a lifetime license.
Does it support HTML email signatures?
Yes. Create your professional email signature to present you in the best light possible with this free email signature generator.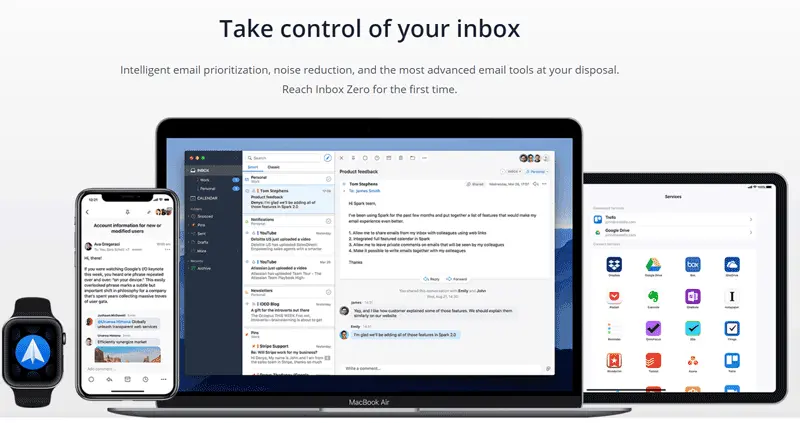 Spark email for Mac will automatically sort all your messages based on their content so that you are always sure that you haven't missed any important business-related emails.
Spark provides all the typical things you'd look for in an email app and beyond: a smart inbox, advanced search, snooze email option, quick replies, multiple accounts, reminders, etc.
The app also works great for teams, allowing multiple people to compose messages together in real-time. The entire email threads can be shared on Slack, your team CRM, or any other medium.
Spark requires more of your data compared to other email clients. However, many users would be happy to offer that in return for such convenient features. So, if this notion doesn't bother you, give it a try.
You can use the app on your MacBook, iPad, or iPhone.
Spark has a clean, modern design.
Spark is available in two versions: free and premium. You will have to pay $6.39 per active user per month for Spark Premium.
Does it support HTML email signatures?
Yes. See how you can create and customize your Spark for Mac signature using Newoldstamp.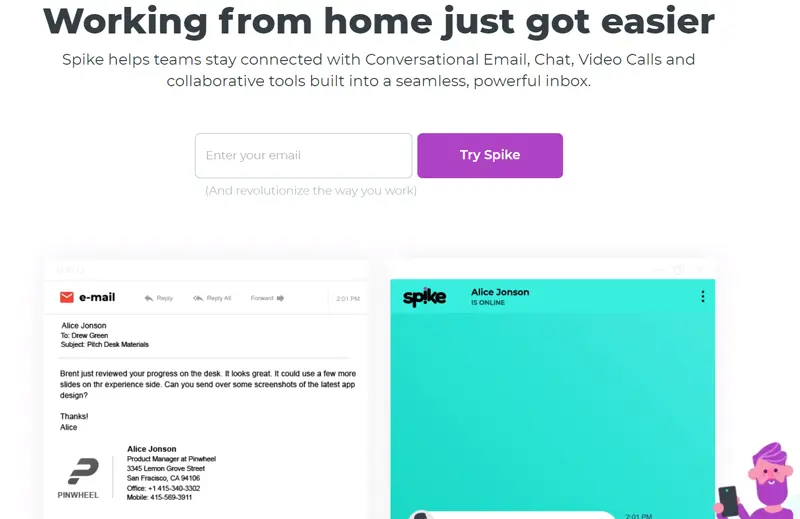 If you aren't satisfied with your native email app on Mac, check out Spike - the best do-it-all conversational email program. It is one of the most unusual but extremely useful in today's fast-paced world mail clients.
You'll like Spike if you belong to those people who get lots of simple, short messages by email. The application will only show you the content of the email by default, leaving greetings, subject lines, and signatures out.
Spike also offers a smart priority inbox so you can separate the most important messages from the promotional ones. Apart from that, the application allows you to collaborate with people by forming separate groups for work, college, family, etc.
If you prefer traditional email with company logos and headers to be displayed all the time, then Spike isn't the best option for you. Also, pay attention that the free version only allows a maximum of ten group chats.
You can get Spike on various devices, including your Mac, iPhone, and iPad. In case you forgot your mobile or computer, it is possible to access your email just by logging in via their web browser.
The design of this app resembles that of a simple messenger like Facebook Messenger or even iMessage.
The app is free for personal use, but you have to pay a small fee if you need it for business purposes.
Does it support HTML email signatures?
Yes.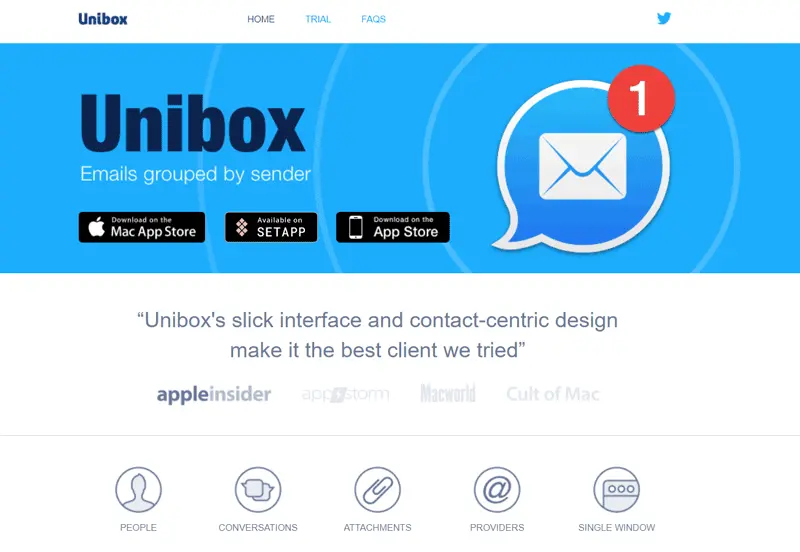 Unibox is a people-centric email app for Mac.
Instead of grouping by message, the program groups your emails by a person. This makes Unibox the best email app for Mac users who need to manage and nurture leads better. With this email client, it becomes very convenient to keep track of new messages and old conversations because every person only appears once in the main inbox list.
Always viewing your messages sorted by the sender as opposed to by date can make you forget about recent emails that require action.
Unibox is compatible with the majority of email providers, including Gmail, Outlook, iCloud, Hotmail, Live.com, Yahoo Mail, and many more. You can get Unibox on various devices, including your Mac, iPhone, and iPad.
The program has a clean and confident interface. The key design elements appear only when and where you might need them.
The Unibox desktop version will cost you $15.99; the iOS version is free, but you can upgrade to a pro version for $4.99.
Does it support HTML email signatures?
Yes.
FAQ
Why would you want to change your Mac email client?
Why would you bother with any other email apps for Mac when you already have a decent one on your computer? Well, there are some significant reasons, especially if you prefer to customize your apps.
Some email clients are faster and more stable than Apple Mail. Some handle Gmail accounts better and integrate with more applications and services. Many also offer a lot more features, including the ability to snooze messages and treat them as tasks or memos.
How to change the default email client on macOS?
If you want to use any other email app like Unibox, Spark, Airmail, etc., the default Apple Mail can be easily changed. To do so, launch the Mail client on your Mac (see the Applications folder), go to Mail > Preferences. Then click on the General tab and look for "Default email reader." Now, you can select another email app from the drop-down menu. Then just close the Preferences window for your change to take effect.
How to switch to a new email client with the same email address?
You can easily switch to a new email account with Airmail, MailMate, Kiwi for Gmail, or just about any other service you like, without missing any messages sent to your old email address. It is even possible to carry on using your old address to send emails if you want.
Once you've signed up for your new email account, consider setting up email fetching. Once done, your new email program will periodically grab all new messages from your old account.
Also, many email clients allow connecting accounts with different email addresses. So, you can manage your Gmail, Yahoo, etc. in one place.
Conclusion
There is no shortage of great email clients for Mac users. If you need an alternative to your default Apple Mail app for some reason, Airmail, Spark, Polymail, MailMate, and many more all deserve high marks.
Keep in mind that most email applications are aimed at particular types of users. For example, Thunderbird is great for technical people. Those who want their emails to look like messages in Facebook's Messenger will probably love Spike. Polymail would be a perfect choice for teams.
What's your favorite email client for Mac?