It's a tumultuous time to launch a successful marketing campaign and promote your startup. In other words, with the technologies available today you can equip yourself with the trendiest and proven tools for being a leading digital marketer or a competitive entrepreneur.
In this blog post, we're going to focus on a list of productivity tools that every marketer should know in order to create the best work. However, you won't need all the listed tools, you can find a few that work for your startup and invest efforts into using these technologies. Here's a comprehensive list of our favorite tools to build your marketing efforts and prevent business madness!
Google App Tools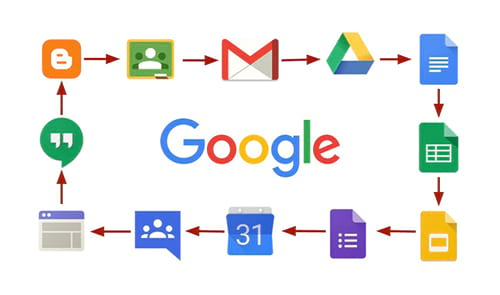 Google offers massive benefits and tools, so your marketing team can work together productively. Your team can share, edit and store docs, calendars and files automatically and at the same time, arrange video meetings and much more:
Google AdWords – it is a powerful paid marketing tactic. PPC Marketing can use this tool to create unique and SEO friendly articles, ads on any keyword related to your business. AdWords makes your marketing task a whole lot easier by bringing huge per click traffic through the use of proper keywords.
Google Docs – it might be a very interesting marketing tool. If you work on a project with other marketers, then Google has some great tools you can try in place of typical software on your desktop. Your team can use Google Docs for Word documents, for Excel spreadsheets, for PowerPoint presentations, etc.
Calendar – to get organized and become a more productive marketer, you can install Google Calendar. This tool will help to finish out your project and accomplish all your goals in time, organize your day, keep track of meetings.
Google Analytics – this tool can give analytical answers on all important questions. It is absolutely necessary for marketing experts, as it is a great way for tracking online marketing campaigns, website traffic to understand how users are finding your website.
Content Marketing
Feedly – if you want to perfect your content marketing strategy and build a strong social presence, that's where Feedly comes in use. It is an excellent tool for content curation that is making it easier to search and organize or read your favorite content.
CoSchedule – now you can write awesome social media headlines that your audience will love. You can run your headlines through CoSchedule's analyzer to brainstorm a ton of great ideas and create catchy and engaging titles.
Buzzsumo – if you are looking for the trending topics, then this tool is the number one instrument for you to get insights in a quick, simple view on what is getting shared and trending.
Wistia – it's an awesome video marketing tool built for businesses. It is an important instrument of the content marketing strategy, as it also offers analytics, automation and a spot to host your videos.
Canva – it is a free visual tool that makes design simple for marketers. With Canva, you can enhance your images and achieve brand consistency.
Lumen5 - a fantastic online video maker that turns text into stunning social media videos in minutes. It does this automatically by analyzing the text through AI and putting the best music, video, and images together accordingly.
Email Marketing

Hatchbuck – using a Customer Relationship Management (CRM) technology gives businesses a lot of power. Platforms like Hatchbuck help too. Hatchbuck is a low cost, simply marketing CRM and automation tool that is created to organize marketing activities and drive higher response rates.
NEWOLDSTAMP – every email that your employees send is a marketing opportunity. This tool helps to create an optimized email signature with member's contact details, links to special promotional events, built-in banners and social accounts. This tool makes it possible for your business to manage all aspects of your employees' email signatures.
Litmus – if you're an email marketing professional, then this tool is for you. Litmus is an essential tool for marketing automation teams that helps to test your emails across different platforms before sending them out.
SalesHandy – This solution allows you quickly engage with your prospects due to tracking their activities. It will help you not only merge emails and automate follow ups but also track documents.
Fitsmallbusiness.com chose their favorite from email marketing software based on hours of research and testing. In this article, they compare each top pick with two competitors within their category in order for you to see the full range of options.
Management and Social Networks
Shift – the best way to streamline all your email and app accounts. With its beautiful design and intuitive UX, Shift is the ultimate workstation for productive people. Browse from its over 500 integrations with the top apps and extensions, to streamline your workflow and get things done.
Slack – if you need a platform to help you with project management, Slack helps teams to organize projects by bringing collaboration into first place. Teams can share docs, comment on files, and integrate with other apps. Not to mention the other features it includes. Plus, it's free for almost all businesses, unless you need a premium account.
Asana – it is the best task and project management tool. The new Asana interface is fantastic. It's a clear, professional, and appealing service that gives you a holistic overview of personal or professional to-dos. For professional and freelance projects, teams can use this great tool to collaborate and keep things on track.
Hootsuite – a beneficial tool in your professional career that can save you time in your social media efforts. The amazing reporting and filters allow you to monitor mentions of your brand across social networks. The tool helps to manage multiple social content streams providing free up to three social profiles and scheduling.
Bitly – it's a top free marketing tool and custom URL builder that helps to manage links. Bitly is not just a shortening tool, it tracks clicks and other analytics, and it helps to measure shared links across the web.
Conclusion
To survive your first months or even years as a new company, a startup founder requires gathering a creative and passionate team. You need to encourage and support the ability to empower your employees to do their best work. Put all the time and energy you have into building brilliant products and services that help you attract and retain leads. However, without the support of solid tools and instruments that help you scale your efforts and build a sustainable business, you'll never make it in the long run. To unleash the full work productivity for your business, you can use the marketing, analytics or content tools to measure the results and see what's working and where are the opportunities for growth.