58 Best Productivity Tools For Marketers [Updated 2023]
1. What are productivity tools
2. Email productivity tools and CRMs
3. Analytics tools
4. Project management
5. Social networks tools
6. Content marketing tools
7. File hosting tools
8. Productivity tools to avoid distractions
Useful tools:
1. Newoldstamp - Email signature marketing
2. Mailchimp - Email builder and sender
3. SEMrush - SEO research and audit tool
4. Mailtrack - Email link opens tracking
5. Canva - Online tool for making designs
6. Dyspatch - Email template builder
We all want to do more for less time. We all want to do better with less effort. And it's safe to say that we all can benefit from an increase in productivity. But there is a common problem among the business community - even with multiple to-do lists, calendars, and plans, people often feel like they aren't doing as much as they would like to. Everything is moving slow.
To make the life of marketers easier, here at Newoldstamp we regularly compile lists of best resources and tools to keep track of. In one of our articles, we covered the best marketing blogs recommended by experts (make sure to take a look if you haven't done it already!) and today we are going to share with you a handful of useful services that will increase your productivity and make you do more in less time.
What are productivity tools
Hopefully, there is a ton of intelligent productivity tools that can guide you to more effective and meaningful days. Some of them can help you automate various tasks and understand where your productivity falters. Others are perfect for collaborative work. But there are just so many apps and services around. So, how do you choose the best one? In this article, we gathered 55 best productivity tools for entrepreneurs you might also take advantage of. For your convenience, we divided the list into the following groups: email productivity tools and CRMs, marketing analytics tools, project management, social networks tools, content marketing tools, file hosting tools, and productivity tools to avoid distractions.
Email productivity tools and CRMs
Email productivity tools and CRMs help you get rid of email overload, prioritize your workflow, and organize your communication efficiently. Let's see which of them are worth trying in 2023.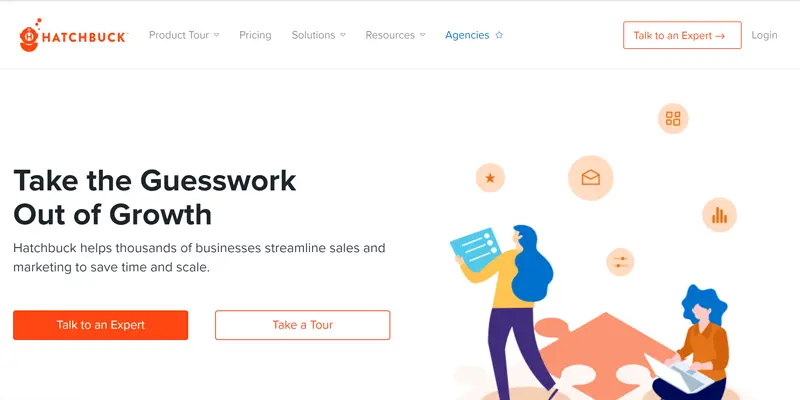 This is a sales and marketing platform for small and midsize businesses that simplifies managing contacts, improves follow-ups, and helps win more customers.
Free version: No. Prices start at $39/month.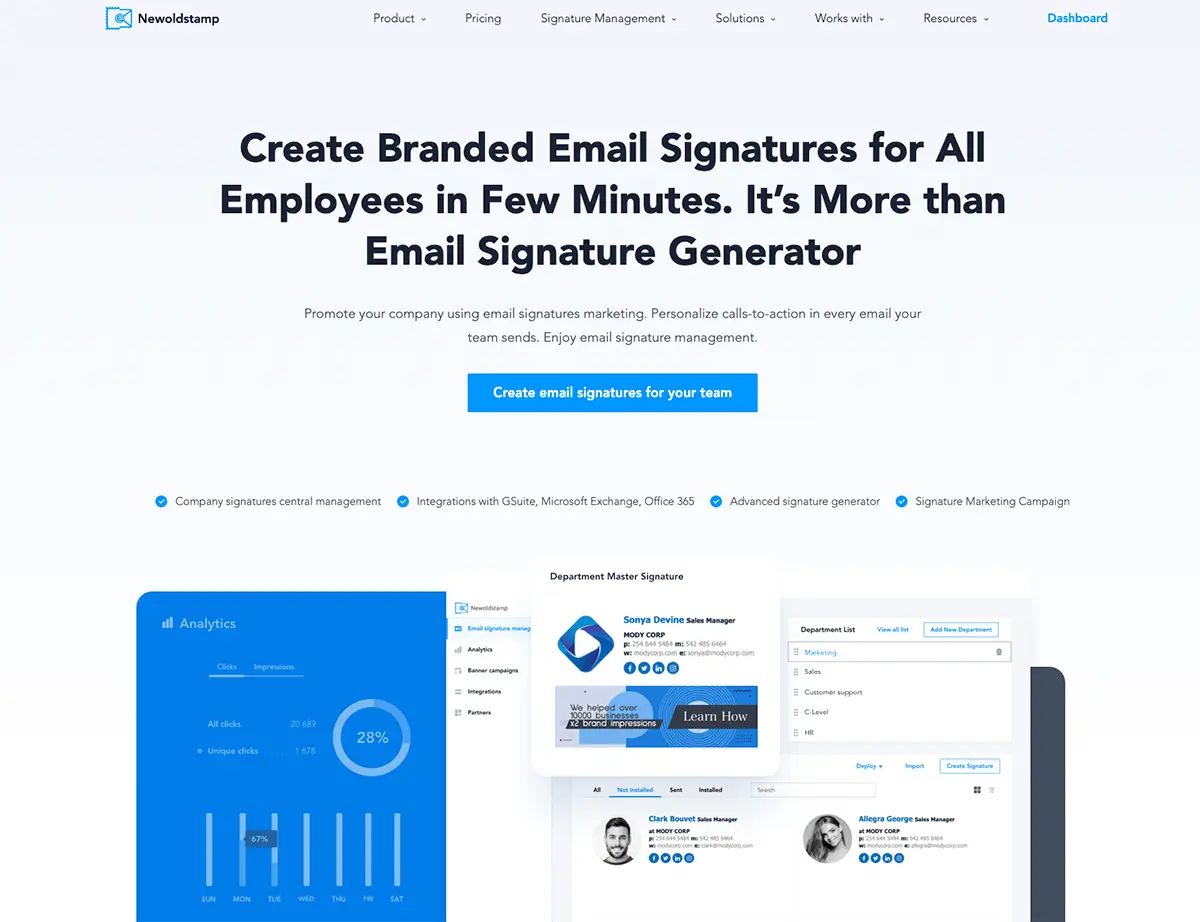 Today, if you want to get sales, it's no longer enough to send a great email campaign to prospective customers. Since people are bombarded with dozens of emails daily, you need yours to be different. And here is when professional email signatures can help you stand out. With signature generators like Newoldstamp, you can create attractive email footers for your team to revitalize your business email communication. And it takes only a few minutes.
Free version: Yes.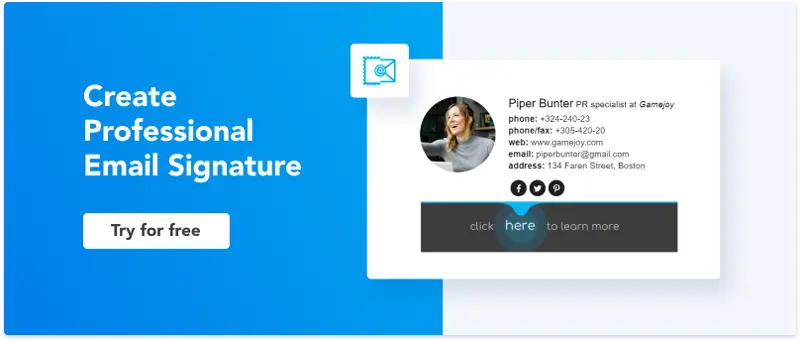 It is a highly versatile solution for creating great commercial email campaigns, monitoring, testing & analyzing them. Litmus will let you preview emails in over thirty email clients and devices, check the IP-address and domain for the presence in the "black" lists, analyze and improve the code for better compatibility, track recipient behavior with your emails, and more.
Free version: No. Prices start at $99/month.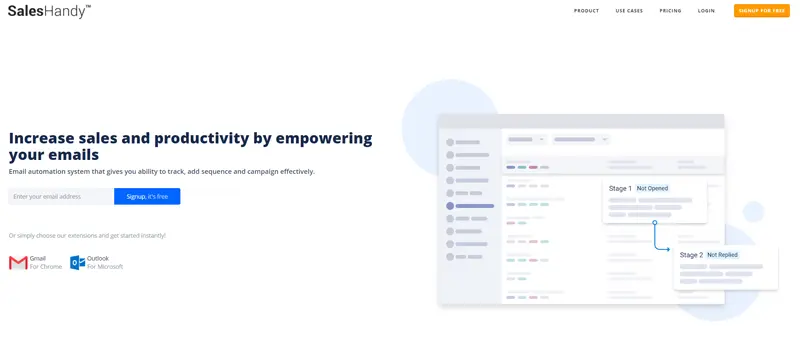 With this tool, you can track emails and get insightful data about your recipients. In addition to the tracking feature, Saleshandy offers its users such great features as email templates, distribution scheduling, document tracking, auto follow-ups, and more.
Free version: Yes.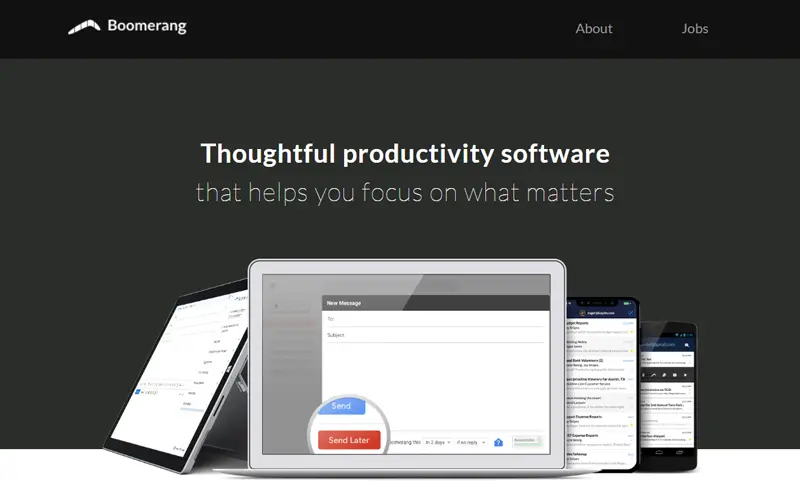 This productivity software allows users to schedule email messages to be sent at optimal times, snooze them, get read receipts & follow up reminders if a reader doesn't respond to your email.
Free version: Yes.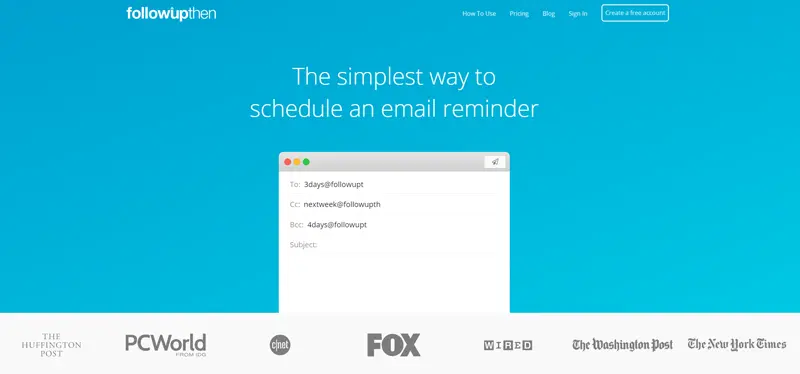 Never forget to follow up. And even if you tend to forget, the app will do the work for you. It also can clear up your inbox or transform it into a to-do list.
Free version: Yes.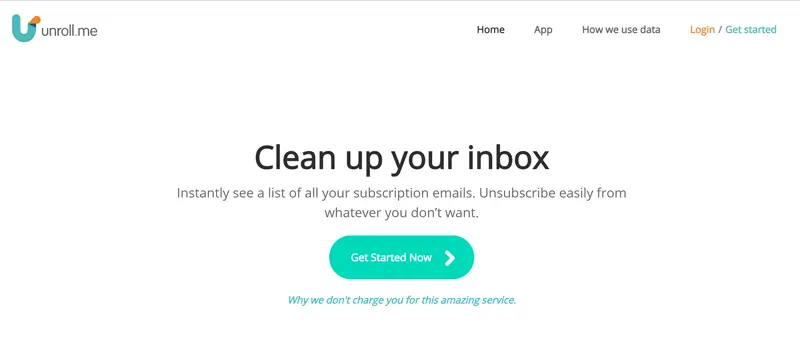 Live a more organized and efficient life with Unroll.Me.The tool lets you clean up your cluttered inbox quickly and easily. It will provide you with a list of all your subscription emails so that you could unsubscribe from whatever you want. Once you are done with this task, Unroll will offer you to combine all your favorite email subscriptions into a beautiful digest.
Free version: Yes.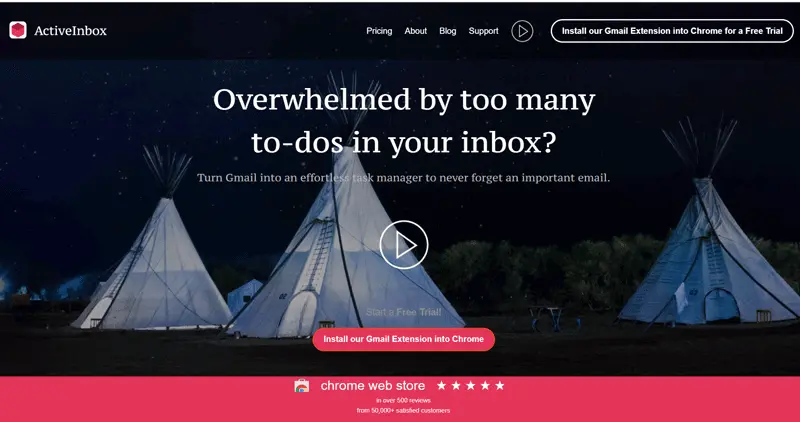 ActiveInbox is another great solution in our list of the best productivity tools for work. With this tool, you can easily turn emails into tasks, track emails until recipients respond, create sub-tasks and notes based on your emails, and more.
Free version: No. Prices start at $4/month.

MailChimp is a marketing and automation tool with a very intuitive user interface, great email builder, and simple tracking & analytics features. Basically, it has all the necessary tools that enable you to attain a professional vibe for your brand when sending emails to your customers. And with integrations, like Mailchimp to Google Sheets, you also can collect data and improve performance analytics.
Free version: Yes.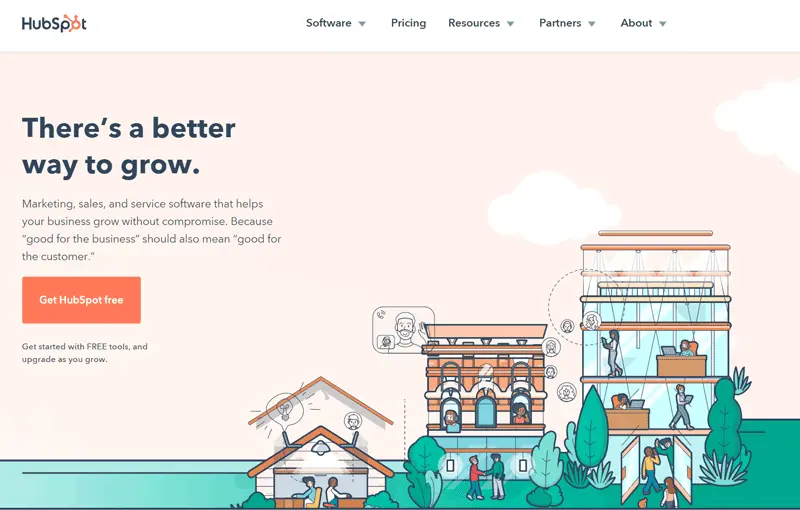 Hubspot CRM is one of the most full-featured free solutions in the CRM market. It allows users to maintain a database of contacts, organizations, and transactions, keep in touch with clients, make appointments/calls with customers through the site, create and place forms and pop-up windows on the website to collect emails/contacts/other user data, and much more.
Free version: Yes.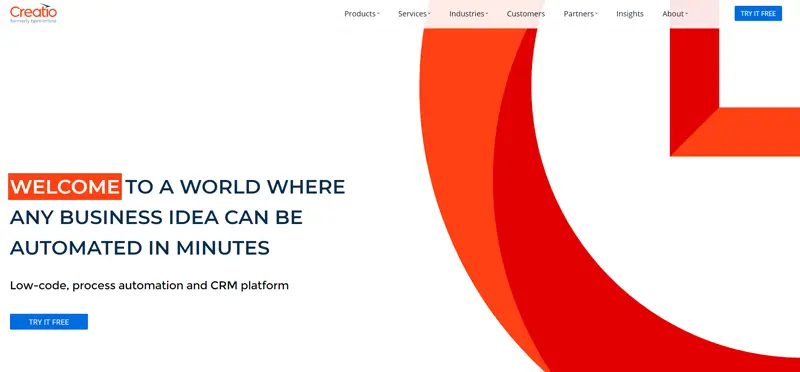 Creatio is based on a powerful business process management platform that allows you to customize processes of any complexity using custom tools. Automate your own sales management processes, and the system will lead users step-by-step to the expected result. With Creatio, you can create a single database of your customers, suppliers, partners, and company employees. Then download data from social networks and automatically receive information from open sources thanks to intellectual data enrichment. Also, it is possible to save a history of communications and segment customers. And the ordered client base will allow you to quickly find the information you need and build the right tactics of interaction.
Free version: No. Prices start at $25/month.

Another good CRM system for managing sales of small businesses is Pipedrive. It lets you plan and track transactions, manage sales funnels, and analyze orders. The tool is easy-to-use and can be easily customized for your business.
Free version: No. Prices start at $15/month.
Check out how to add an email signature to PipeDrive.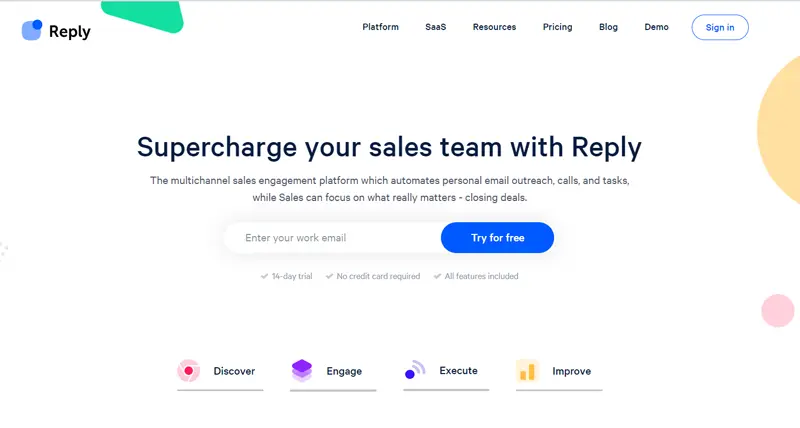 This is a service for automating inbound and outbound sales and a platform for optimizing email operations. Reply.io is extremely beneficial for businesses because it lets the sales team focus on what really matters - closing deals.
Free version: No. Prices start at $55/month.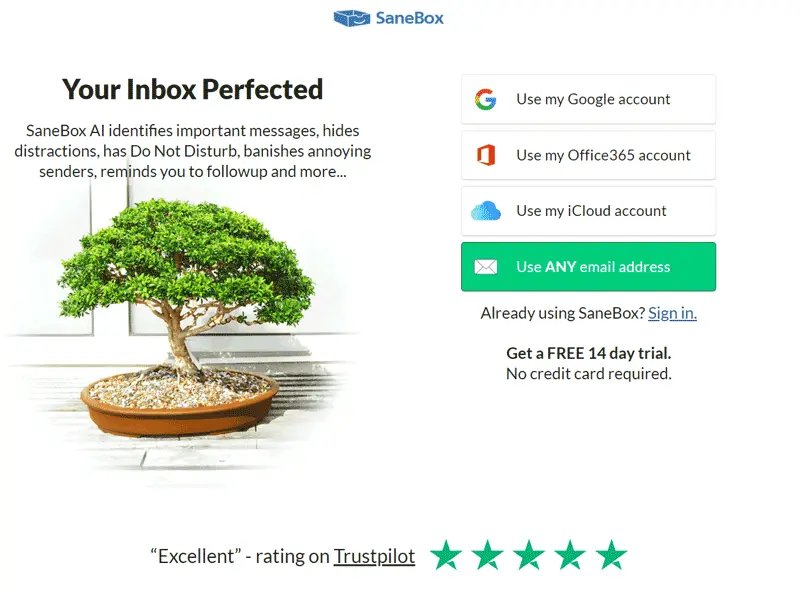 Hey, it's time to declutter your mailbox. But it's boring and takes a lot of time. So, you will probably not going to do it manually, right? Try Sanebox. This app will clean up your inbox for you. Using artificial intelligence, Sanebox identifies important messages, unsubscribes from unwanted emails, and hides distractions.
Free version: No. Prices start at $7/month.
You might also like: "53 Tools That Every Small Business Should Use in Their Daily Marketing Activities [Updated]."
Analytics tools
It is essential to track and analyze data to improve your productivity. Also, if you want to be effective with SEO, you must use the right tools.
Use this service if you want to understand what kind of content is currently trending in your industry. SEMRush knows everything about your competitors. And once you use it, you'll know too. Try out the service and explore the opportunities that could help grow your business.
Free version: Yes.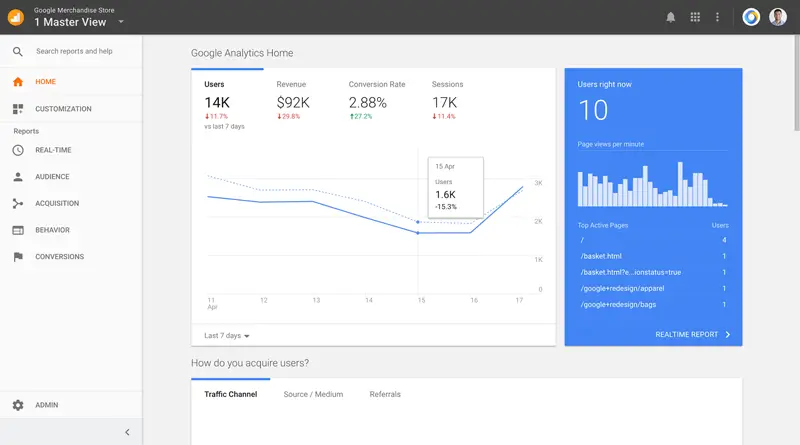 This tool hardly needs any introduction. Google Analytics is probably the most popular analytics service all around. Being powerful, flexible, and easy to use, this tool provides companies with rich insights into their sites, audiences, and digital marketing.
Free version: Yes.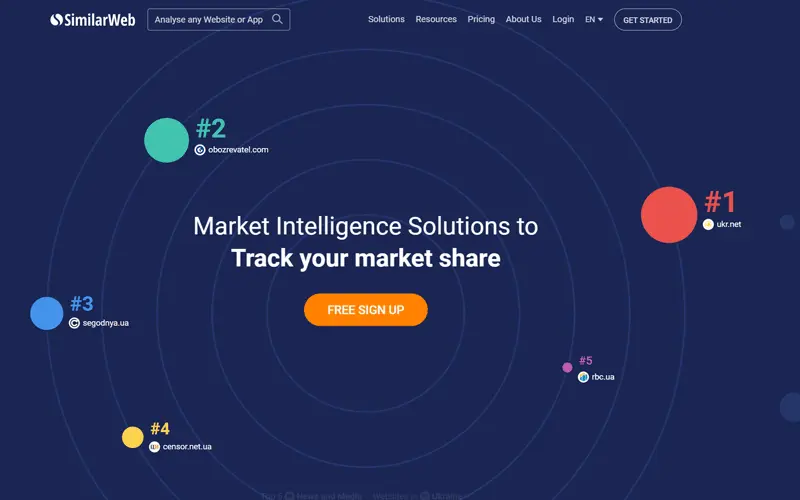 SimilarWeb is a powerful tool for a comprehensive analysis of your site and conducting research on competitors. With its help, you can identify the "main players" in your field and discover the channels they use for promotion.
Free version: Yes.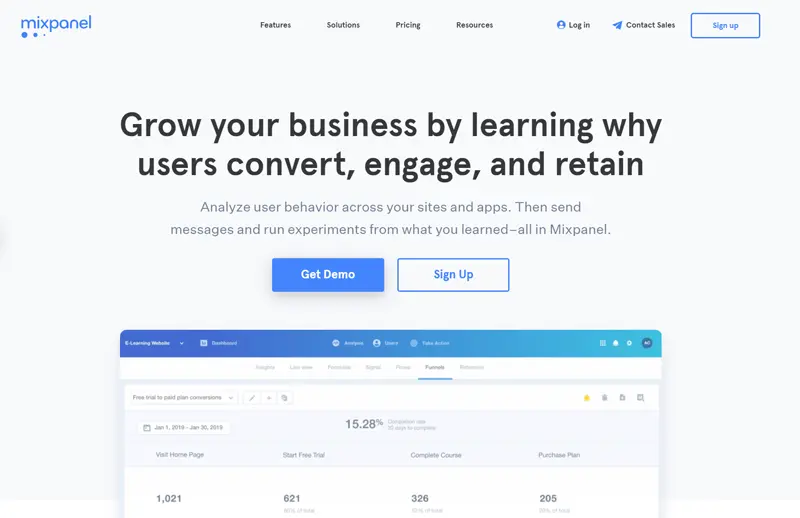 This tool lets you analyze user behavior and measure engagement on your website. Mixpanel can also analyze log data from your apps (both mobile and web).
Free version: Yes.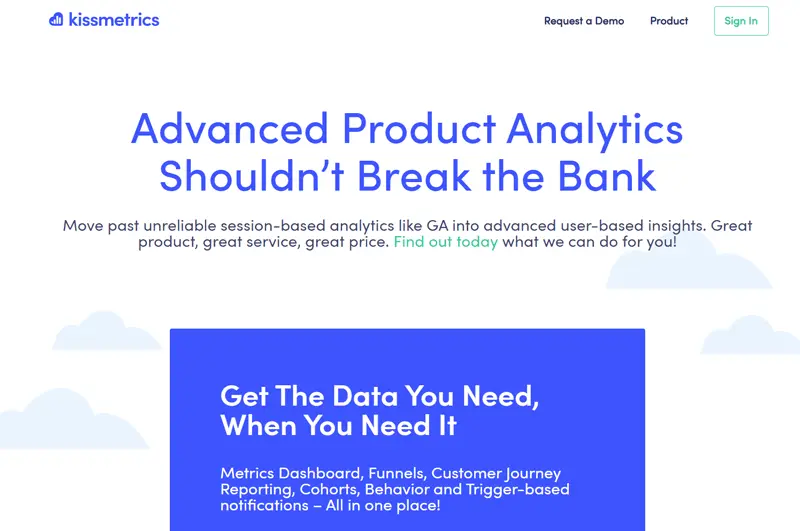 It is an advanced, user-friendly tool that provides analytics features to help businesses drive conversions across all channels. Also, it gives helpful funnel reports.
Free version: No. Prices start from $200 per month.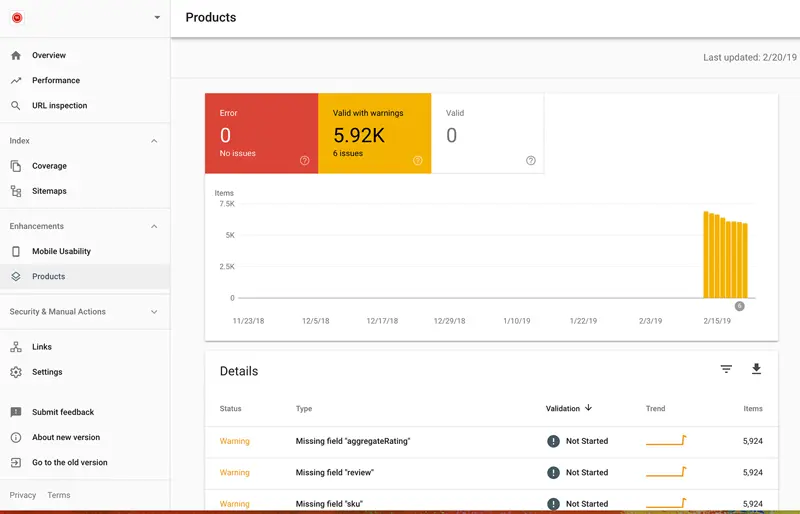 The tool is a 100% must-have for those who own blogs and websites because it gives you a fair idea and keywords for which your web pages are ranking for. Also, the Search Console provides multiple data points and suggestions for resolving issues you may not have even known about.
Free version: Yes.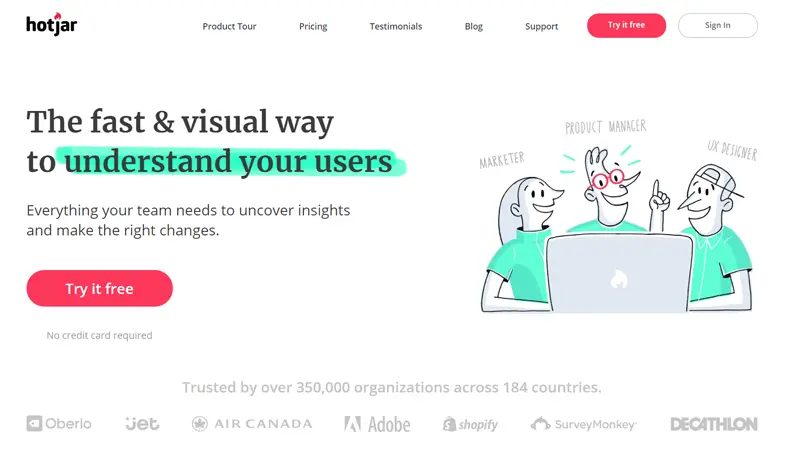 Hotjar is really helpful with suggestions for improvements on your website with heatmaps, user recordings, and conversion funnel tracking.
Free version: Yes.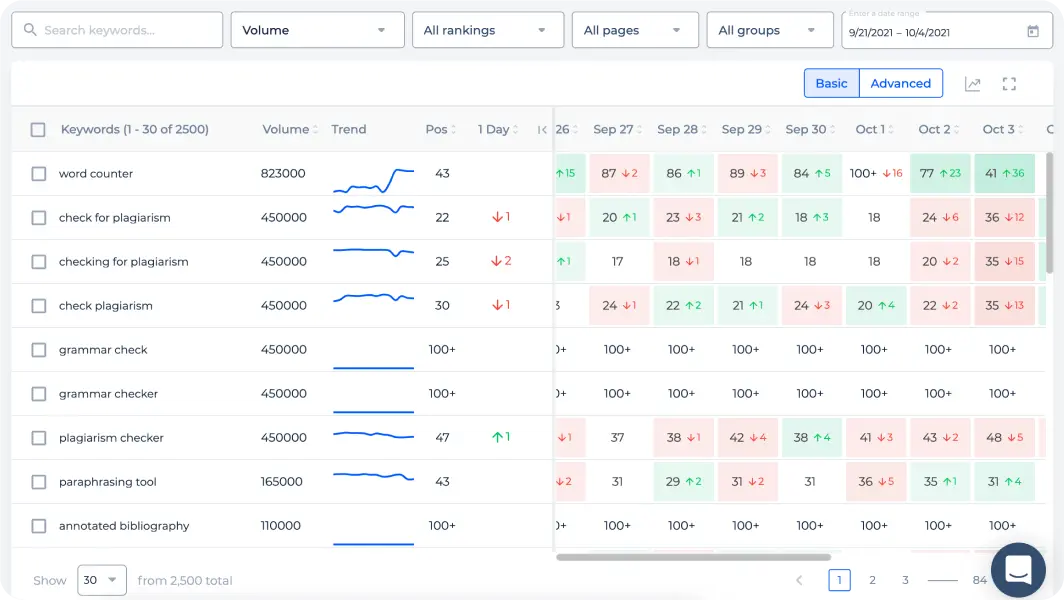 Rank Tracker by Sitechecker is an exceptionally useful tool for anyone looking to closely monitor their keyword ranking progress. Not only does it provide users with dynamic data on changes in rankings and indexing, but also gives valuable recommendations on how to improve those positions.
With Rank Tracker, you can monitor your positions in the four largest search engines (Google, Yahoo, Yandex and Bing). By using the service, you can customize your tracking settings and receive accurate data that is relevant to your needs.
Free version: Yes.
Project management
Project management tools are vast, varied, and serve many different functions. And they directly influence our work productivity.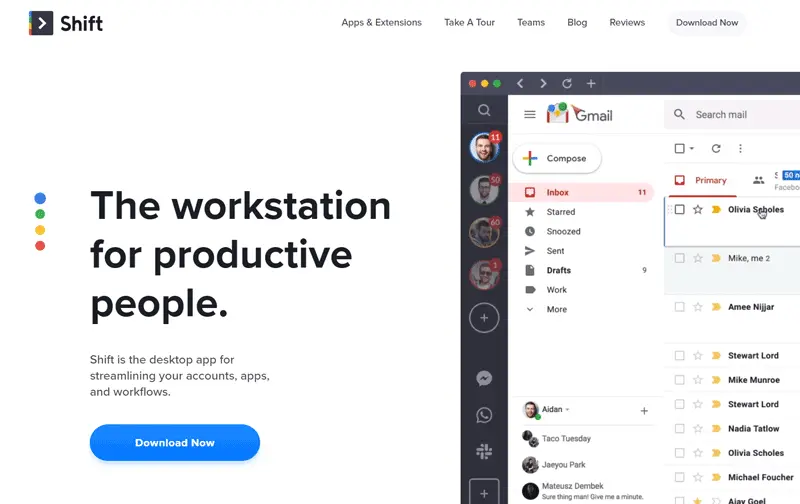 Shift is a productivity tool that helps entrepreneurs, CEOs, designers, freelancers, etc. streamline and optimize their workflow, in one beautiful place. With Shift, you can easily toggle between multiple Gmail, Outlook, and Office 365 accounts. It is also possible to connect all of your email accounts, your favorite web applications, and other tools to Shift.
Free version: Yes.
Teamwork is a project management tool that is ideal for marketing teams, agencies and other teams that want to improve productivity and increase accountability. With Teamwork, you have a single source of truth, meaning that all team members are on the same page. Marketing campaigns are easier to plan and execute with all tasks mapped out and every team member knowing what tasks they need to complete.
Free version: Yes for up to 5 projects.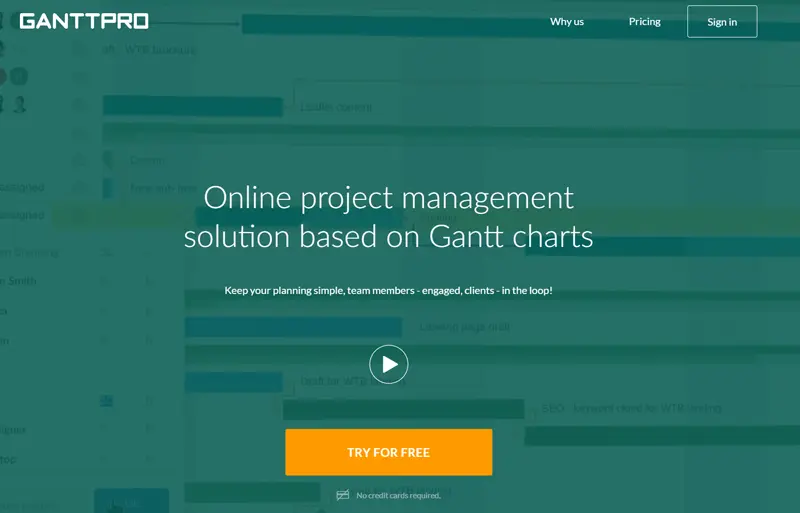 When managing a team, it is crucial to be sure all of its members keep track of tasks. The GanttPRO software provides you with an immediate picture of how the plan is progressing. It is possible to work alone or create a workspace for multiple project participants. With GanttPRO, you can set roles, assign tasks to other people, monitor project progress, add attachments & comments, and more.
Free version: No. Prices start at $5.90/month.
Slack is a popular messaging platform to help you communicate with all your team members easily. The tool allows creating different channels for different projects and topics and inviting all the relevant people to join these channels. It is very convenient if you need to exchange images, videos, or other files with multiple people at a time. Another good thing about Slack is that it allows you to integrate 1,000+ other apps and services, such as Google Drive, Jira, Hubspot, DropBox, and more.
Free version: Yes.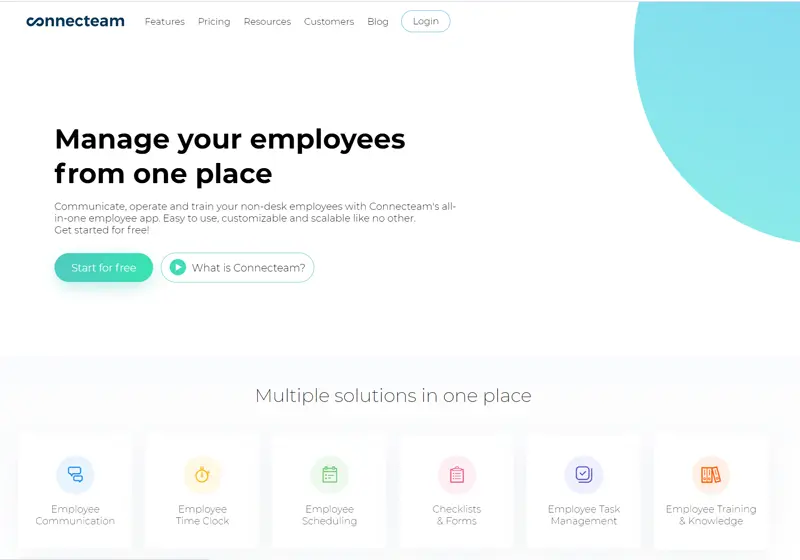 Connecteam is an all-in-one employee management app that streamlines the management of remote teams. With robust features, you can keep everyone on the same page, enhance engagement, set tasks, track hours, and celebrate success, all under one roof.
Free version:
Yes.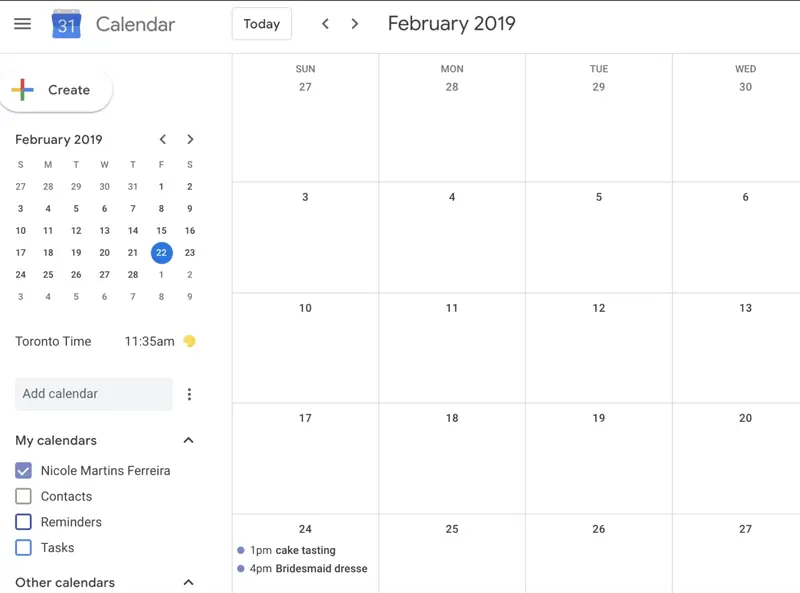 If you are looking for a simple yet powerful tool that can create and maintain a weekly schedule for your entire team in a few mouse clicks, try Google Calendar. Simply enter your tasks by day and hour, and Google Calendar will notify you (or other team members) when it's time to start working on something. The tool will also let you know if a deadline is near.
Free version: Yes.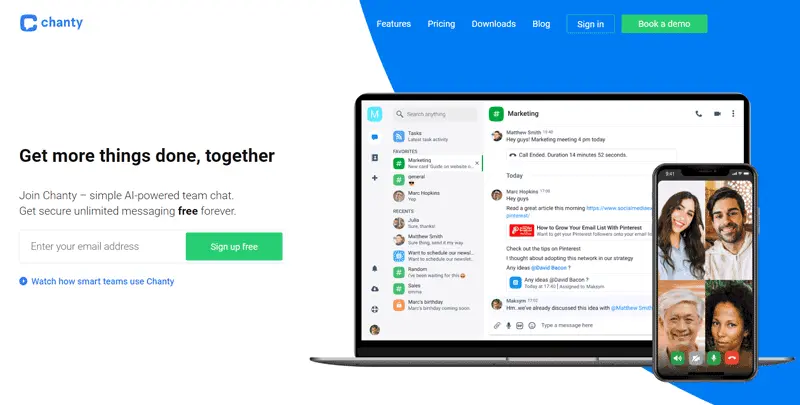 Chanty deserves a good place in our list of productivity tools for business. The Chanty chat was designed to improve collaboration in teams and reduce the time you spend on emails, meetings, and communication with colleagues. It is fast, easy to use, and smart (this chat is powered by artificial intelligence). When compared to Slack, it is more affordable, offers twice more storage, and has no message history limit.
Free version: Yes.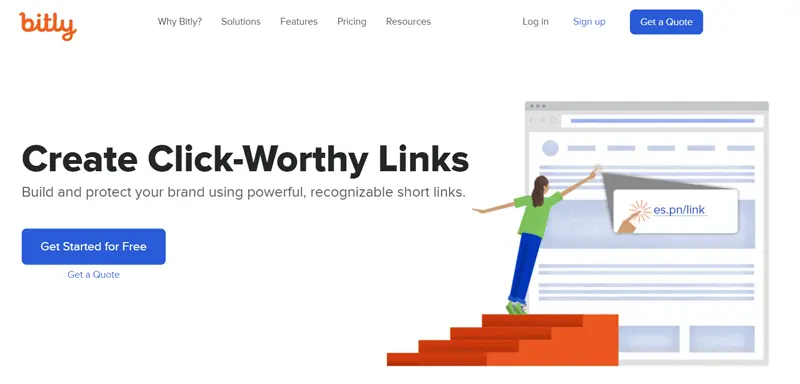 Bitly is a handy tool to shorten long URLs from your website, share, and track them.
Free version: Yes.
This software helps users keep track of all their time and provides them an insight into their performance in terms of productivity. With Clockify, you will always know whether you are productive, or spend too much time on unimportant activities. It is possible to track time individually or in a team. Furthermore, Clockify integrates with over 50 web applications to make your life easier. Those include Google Calendar, Trello, Jira, Gmail. Hubspot, etc.
Free version: Yes.

TeamViewer allows teams to connect remotely, so they can hold online meetings, make various presentations, provide remote support, and engage in online teamwork. Once the user gave permission, TeamViewer lets you access all data on the user's computer. You can share files and use a live chat to communicate easily.
Free version: Yes.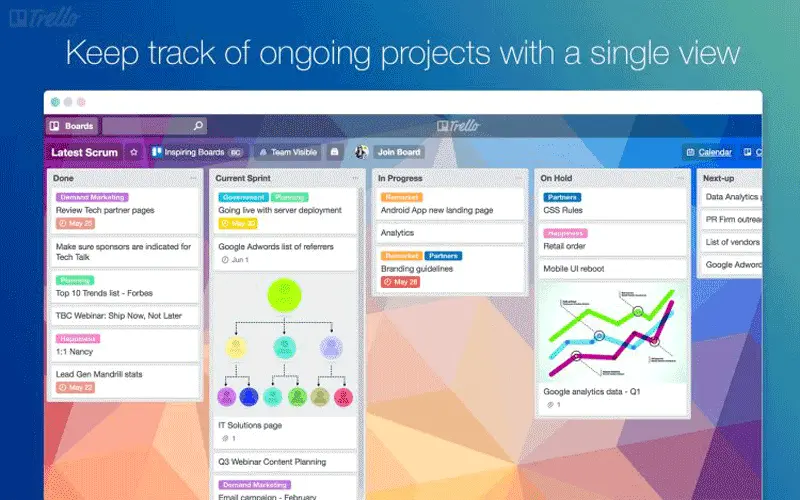 Trello is great for collaboration and team communication. There are some boards in this project management tool where you can add cards that represent tasks. Then, it is possible to add people to these tasks and track the progress. Also, you can create various to-do lists, indicate what tasks you are currently working on, discuss projects & tasks, vote on ideas, upload attachments, set deadlines, and more. If you want to power up your workflow, be aware that Trello is compatible with multiple modern tools. Here are just a few: Google Calendar, Gmail, Dropbox, Litmus, Slack, and more.
Free version: Yes.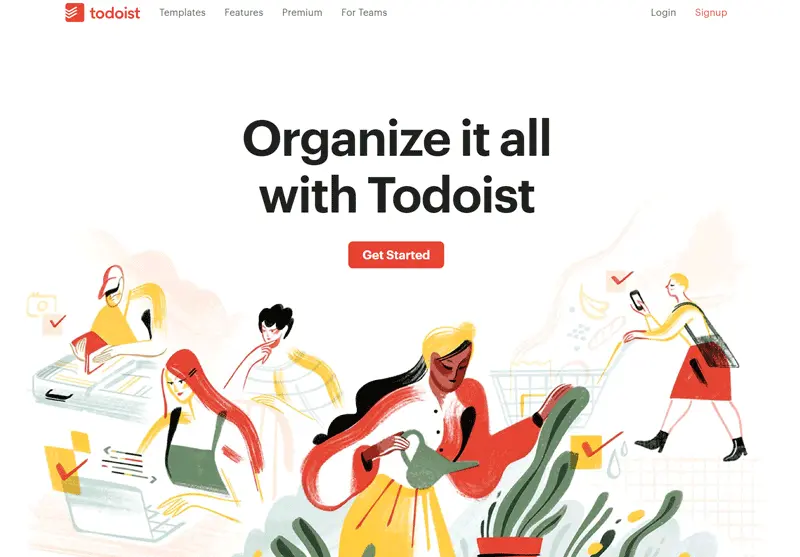 Create to-do lists on your computer, and then access them from your mobile device. Using the Todoist app, it is also possible to invite other people to join your lists. Another useful feature of Todoist is notifications sent by the app when it's time to work on something important.
Free version: Yes.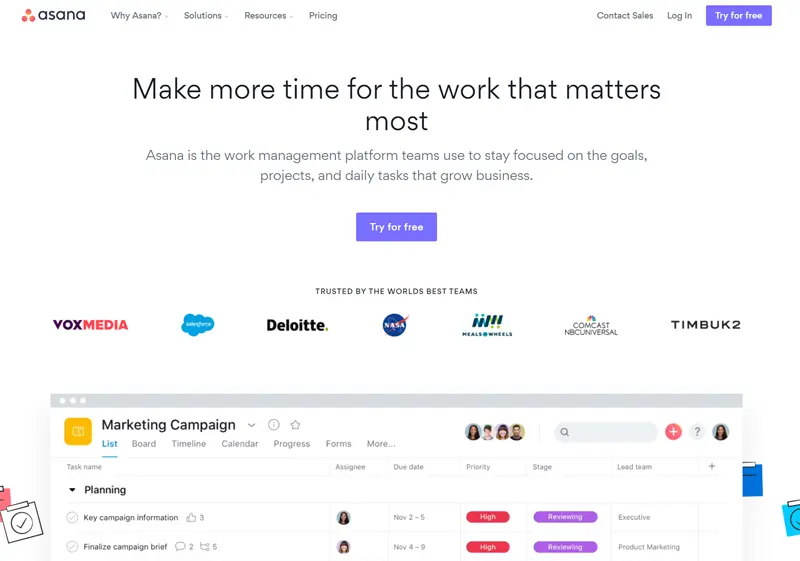 The tool gives individual users and teams everything they need to stay in sync, hit deadlines, and reach their goals. The core features are time tracking, collaboration tools, to-do lists, calendars, custom templates, etc.
Free version: No. Prices start at $10.99/month.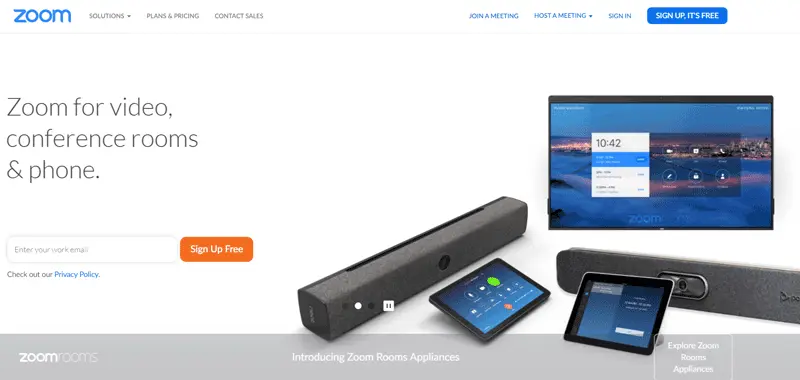 It is a service for video conferencing, online meetings, and creating group chats. Zoom is able to accommodate up to 1,000 participants and 10,000 viewers at a time.
Free version: Yes.
Social networks tools
Manage and grow your brand on social media with these tools.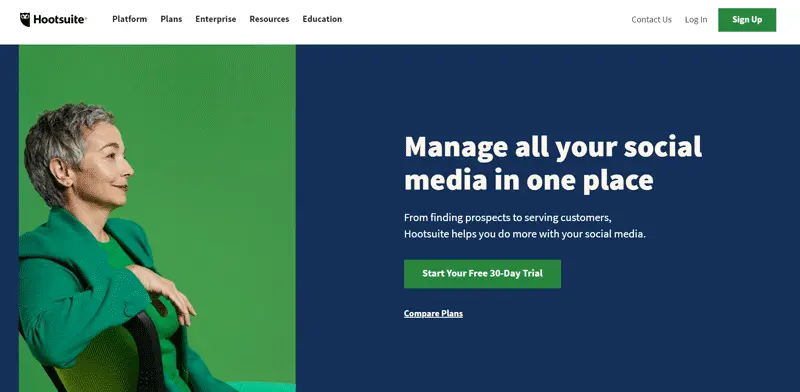 If you need to manage multiple social media accounts, then the Hootsuite tool is definitely worth trying. It saves you time because it can schedule all your posts to appear on multiple platforms at a set time. Another great feature of Hootsuite is the ability to monitor all mentions of topics relevant to you on social media. You can also choose to get notifications only for mentions from experts on the topics.
Free version: No. Prices start at $19/month.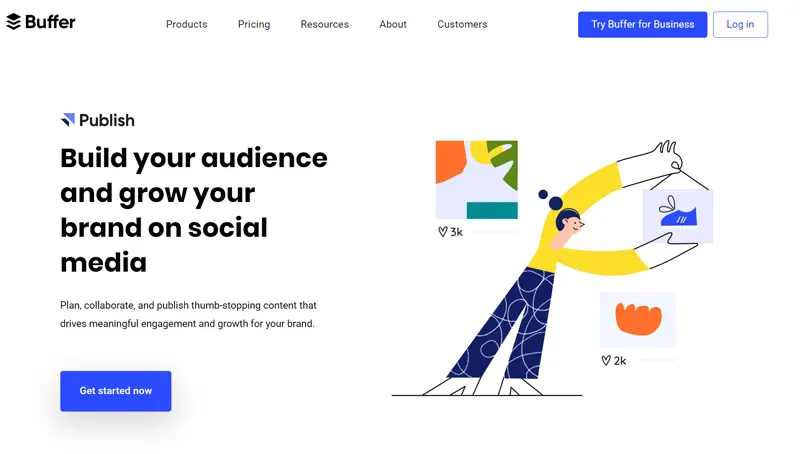 If you are looking for a tool to schedule social media posts for your business, check out Buffer. In addition to the scheduling feature, you will be able to create tailored posts for each social network, respond to social conversations from a shared team inbox, and analyze your social media performance.
Free version: No. Prices start at $15/month.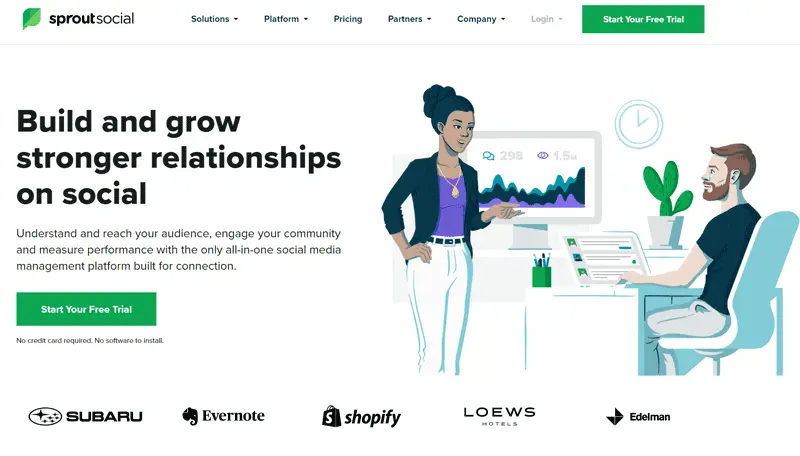 Sprout Social is another popular yet a bit pricey solution to manage multiple social networks from one dashboard. There is an ability to share and delegate tasks amongst a team.
Free version: No. Prices start at $99/month.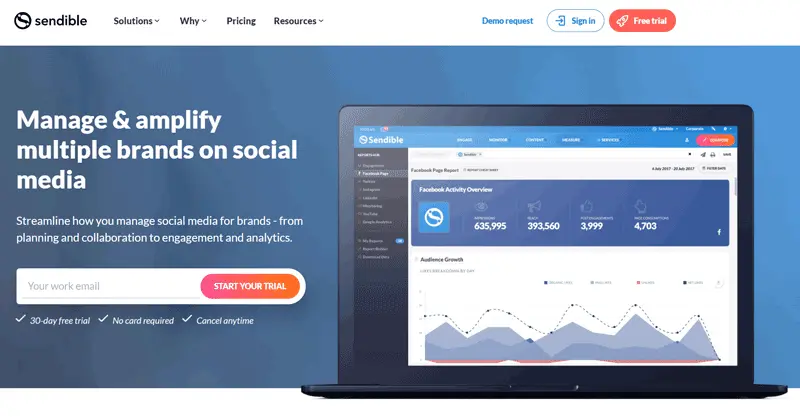 Sendible has succeeded in the analytics field due to its comprehensive process management. So if you are seriously engaged in analytics, the tool will be a good choice to dive even deeper into this process. With Sendible, you can not only manage social networks, but also track advertising campaigns by email and popular social bookmarking sites such as Delicious.
Free version: No. Prices start at $29/month.
Content marketing tools
Content is one of the most powerful things for marketing. Here are the best tools that help you increase the quality of your marketing materials.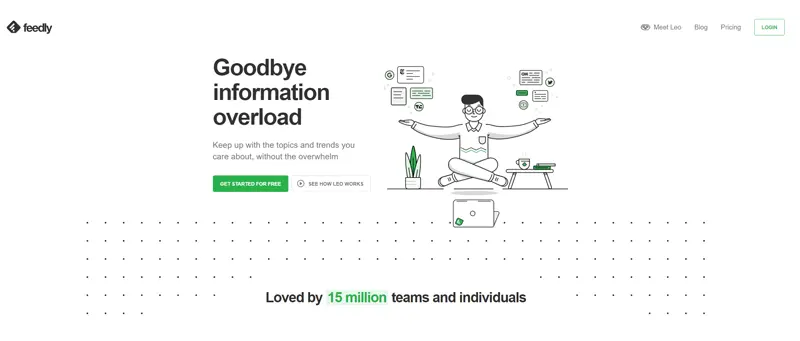 Instead of visiting multiple sites to find the publications that matter to you, try Freedly to see all new content in a central source. Also, the tool lets you share what you read with your colleagues and networks.
Free version: Yes.
Get organized with CoSchedule using its business productivity tools such as Content Organizer, Work Organizer, Social Organizer, Asset Organizer, Editorial Calendar, or All-In-One Marketing Suite. All these solutions will keep your content-related tasks at optimal health and performance.
Free version: No.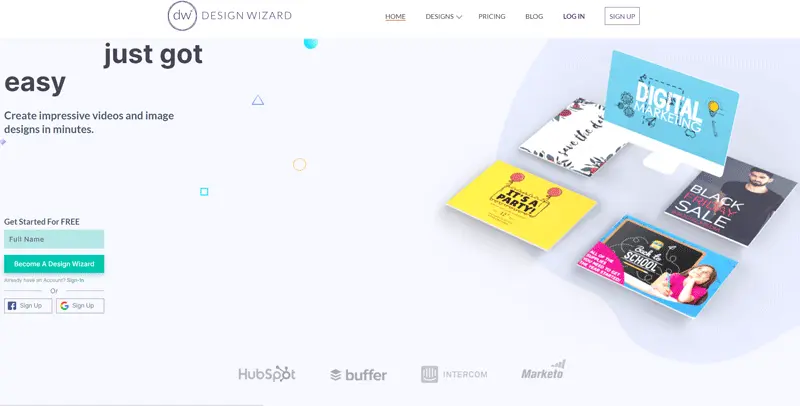 Design Wizard is a really unique content creation tool. Think Canva, Promo and Shutterstock all on the one platform. This is what you get with Design Wizard:
An easy-to-use image editor + premium template library

An easy-to-use video editor + premium template library

Free video and image stock website - completely copyright free
Free version: Yes.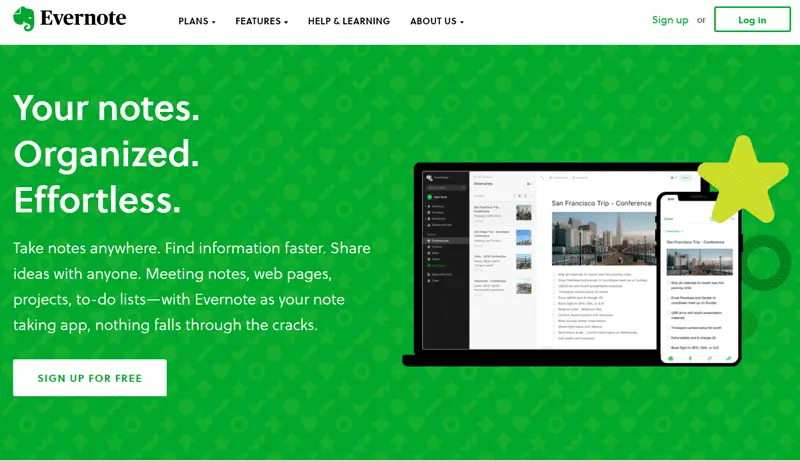 Share information and take quick notes while you work. In addition to notes, you can draw diagrams, charts, arrows, and more. It is possible to access the Evernote notes from any device and co-edit them with other team members in real-time.
Free version: Yes.
What about creative productivity tools? This advanced solution discovers and analyzes multiple pieces of content, making comprehensive and reliable data accessible to businesses of all sizes. Buzzsumo gives insight into what type of content is working, why, and which influencers can amplify it.
Free version: No. Prices start at $99/month.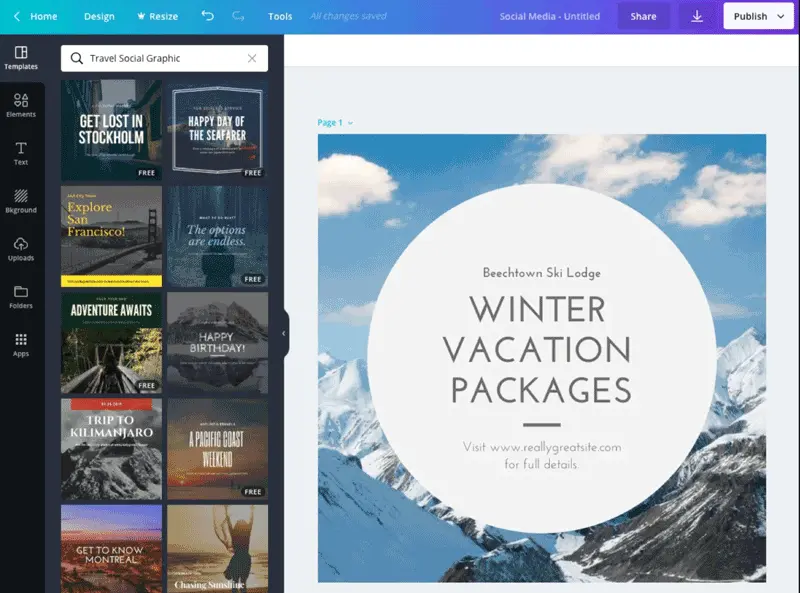 If you need to create professional-looking images for your web content without hiring a designer, you need to try Canva. The software offers a variety of images, icons, and other templates to choose from. With Canva, you can design everything: posters, flyers, logos, presentations, business cards, infographics, resumes, brochures, invitations, book covers, and many other things.
Free version: Yes.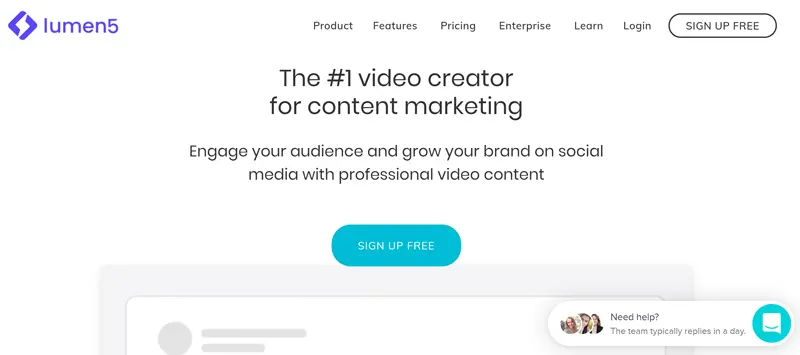 Create professional video content in minutes with little effort. With Lumen5, you can even save time by repurposing text content into video. Quickly and easily.
Free version: No. Prices start at $19/month.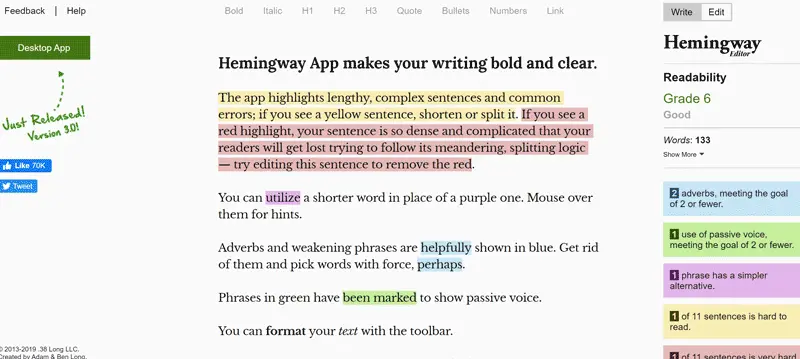 Hemingway is a great app that checks your texts for grammar mistakes and highlights potential sentence danger zones as you write.
Free version: Yes.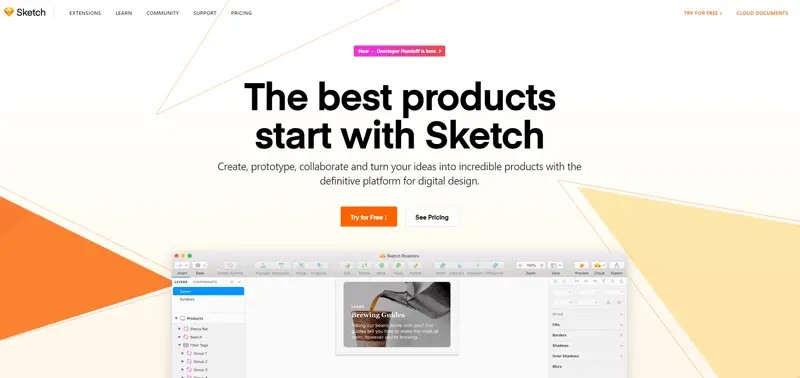 Sketch is known as one of the most useful productivity tools for Mac aimed at designers. It is easy to use and offers features such as vector editing, prototyping, and collaboration.
Free version: No. Prices start at $99/year.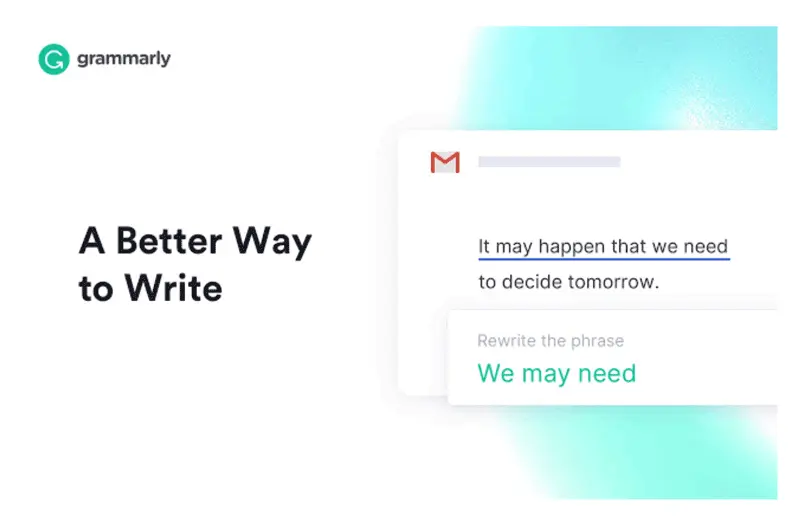 Grammarly is one of the best tools for both professional writers and everyone who wants to write better. The tool checks grammar and spelling. It also provides context-based suggestions that help improve your blog posts, press releases, and any other documents.
Free version: Yes.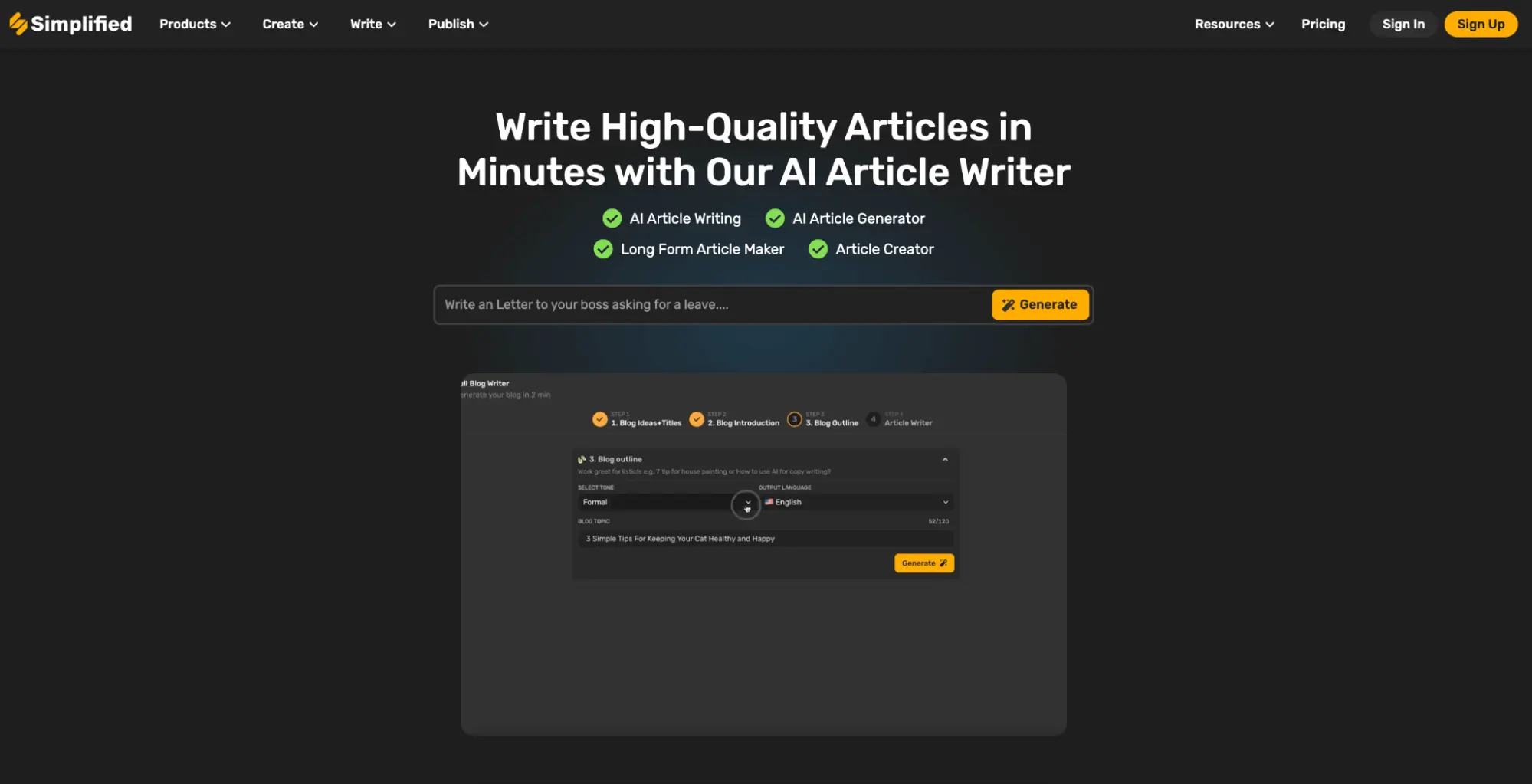 Simplified's article writer is a powerful tool that leverages artificial intelligence to generate high-quality articles in a quick and efficient manner. By using advanced algorithms and natural language processing, it allows users to effortlessly create compelling written content for various purposes.
Free version: Yes.
Google Docs, Sheets, Slides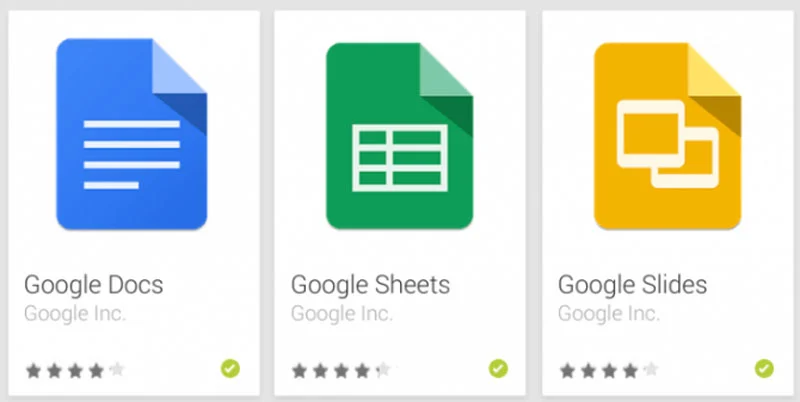 Use this free, web-based office suite to create and edit multiple documents, spreadsheets, and presentations online while collaborating in real-time with other users.
Free version: Yes.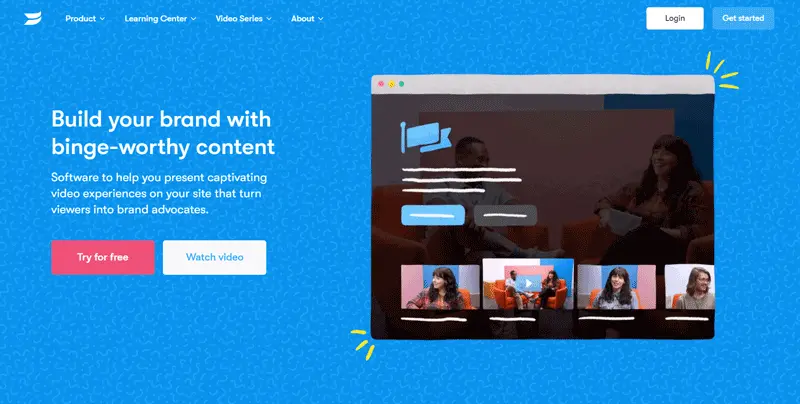 If you are looking for some good video content marketing tools, be sure to check out Wistia. This software is designed to help businesses build real connections with their audiences. With Wistia, you can create, manage, and share video content with your colleagues, customers, and partners. It is also possible to add your logo, modify the controls, and even change the player colors to match your brand. Furthermore, you can even include CTAs, links, email gates, and track how viewers watch your video and for how long.
Free version: Yes.
Motionbox is a video design platform that features an arsenal of tools that cuts down the effort of creating any visual content. It features a huge library of templates that can be used as is, or may serve as the foundation of your design. It also has a collection of fonts and multimedia files that include audio, images, and videos, most of which you may freely use for your project.
Motionbox is quite easy to use, thanks to its drag-and-drop interface that brings creativity out of its users. With features such as music visualization, GIF resizer, video trimmer, and video calendar, it offers an unlimited possibility when it comes to design.
Free version: Yes.
File hosting tools
Keep all marketing material in one place.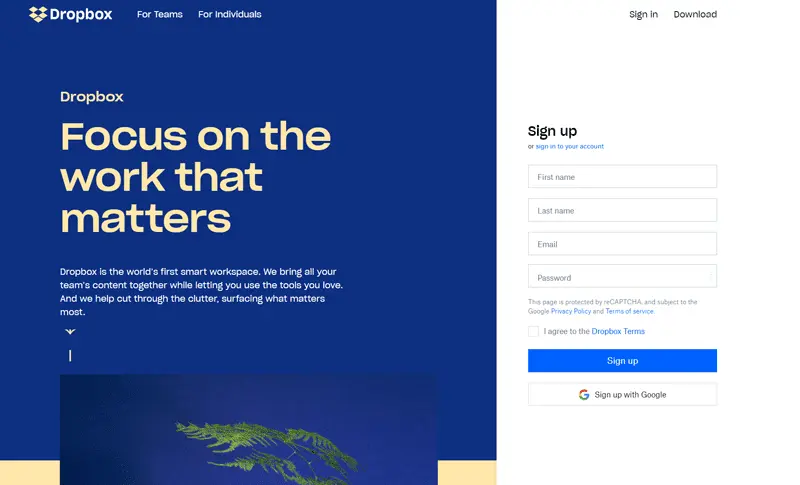 The tool allows storing all your documents on a cloud securely. You and other team members can access those documents from different devices anytime you need to. With Dropbox, you can even restore files you have accidentally deleted.
Free version: Yes.

If you need to create documents, edit, and share them with other team members fast and easily, try Google Drive. It works perfectly for collaborative projects because all of your colleagues can make edits and offer suggestions in the same document at the same time using their own devices. You can also store and share your photos, videos, and other files in the Google cloud. Your first 15 GB of storage are free.
Free version: Yes.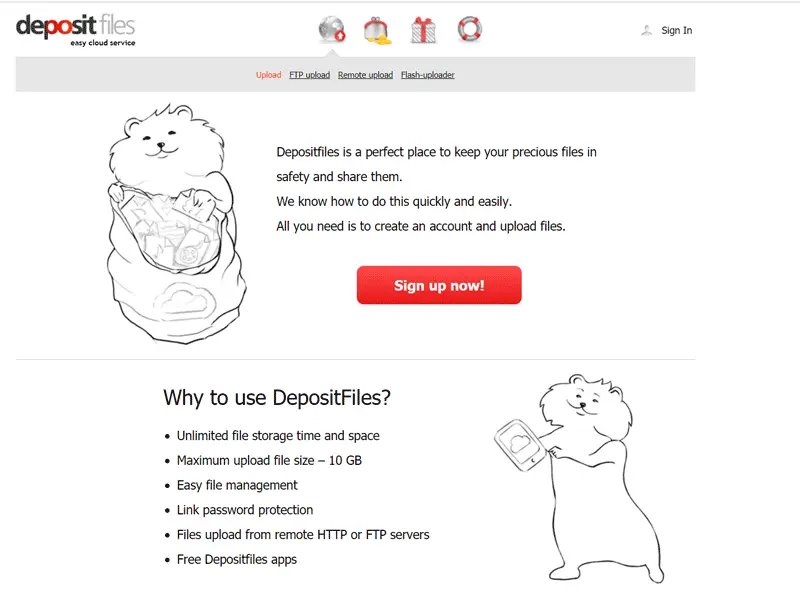 Depositfiles is a perfect place to keep your important files safe and share them with others in a few clicks. Simply create a new account and get unlimited file storage time and space.
Free version: Yes.
Productivity tools to avoid distractions
Often, it might be hard to avoid every kind of distraction at work. These tools may help you stay mindful and concentrated.
If procrastination takes away a lot of your time, don't hesitate to try Freedom. The tool will help you minimize the time wasted on your phone and distracting websites. Freedom is compatible with Windows, iPhone, Mac, and iPad. You can also sync all your settings across all of your devices. With Freedom, it is possible to block both websites, applications, and even the entire Internet, create block-lists, and schedule blocks to start automatically.
Free version: No. Prices start at $6.99/month,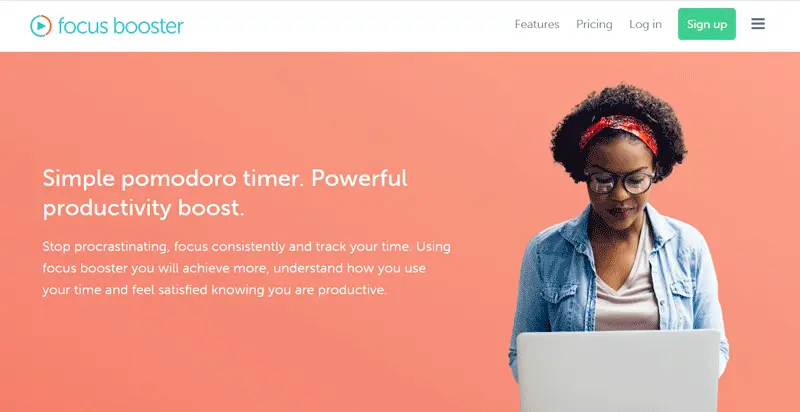 With this productivity tracking tool, you will keep distractions at bay. All sessions will be recorded in your timesheets automatically so that you don't have to recall where your time was spent.
Free version: Yes.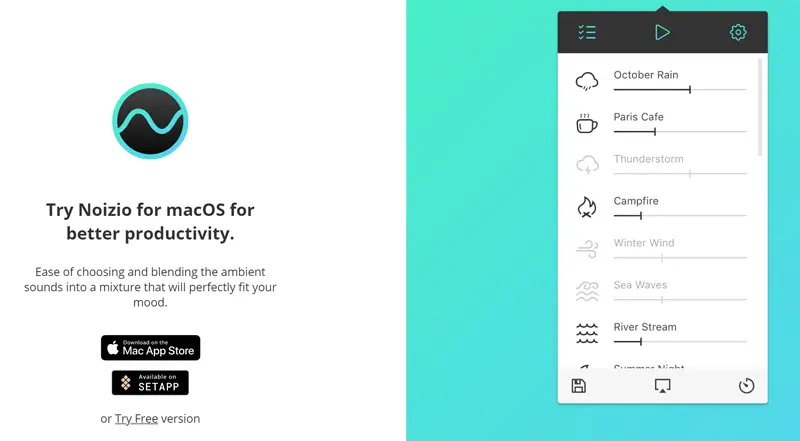 Surround yourself with beautiful and calming sounds of nature while working to stay focused and concentrated. The Noiz.io app is compatible with macOS and iOS.
Free version: Yes.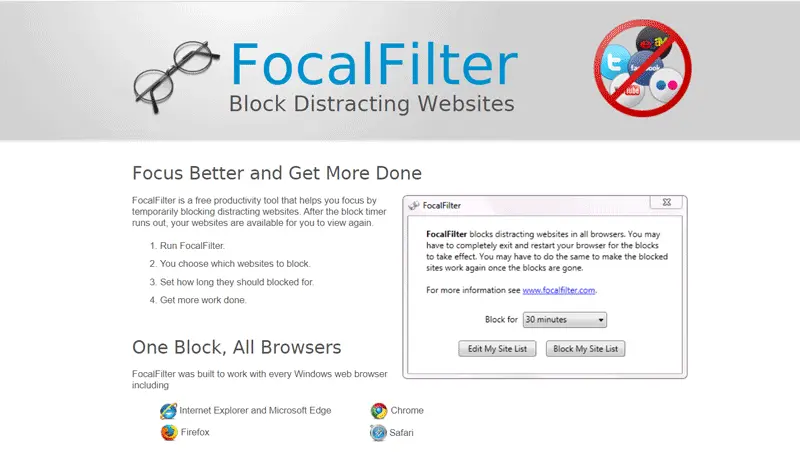 For many of us, it is hard to concentrate on important things when we sit behind the computer. Sometimes, we just can't do anything until we block distracting websites. With FocalFilter, it is possible to block as many websites as you need and even to indicate for how long you want to block them. Also, it is impossible to change your settings until the blocked time has expired.
Free version: Yes.
Conclusion
To survive your first months or even years as a new company, a startup founder requires gathering a creative and passionate team. You need to encourage and support the ability to empower your employees to do their best work. Put all the time and energy you have into building brilliant products and services that help you attract and retain leads. However, without the support of solid tools and instruments that help you scale your efforts and build a sustainable business, you'll never make it in the long run. To unleash the full work productivity for your business, you can use the marketing, analytics or content tools to measure the results and see what's working and where are the opportunities for growth.