The 11 Best Email Clients for Linux
1. Evolution Linux
2. Mailspring
3. Geary Email Client
4. Claws Mail
5. KMail Email Client
6. Sylpheed
7. Zimbra Desktop
8. SeaMonkey
9. Mutt
10. Thunderbird
11. Hiri
Looking for a reliable Linux mail client? In this article, we're going to show you eleven of the best Linux email clients.
List of top Linux mail clients
Due to the ability to always view all of your email messages anywhere with just a browser and login credentials, webmail use is on the rise. However, many of us rely on desktop mail clients for checking our emails as well. So let's take a closer look at them to find out their advantages and disadvantages. Please note, the list is not in any specific order to choose the best desktop email clients.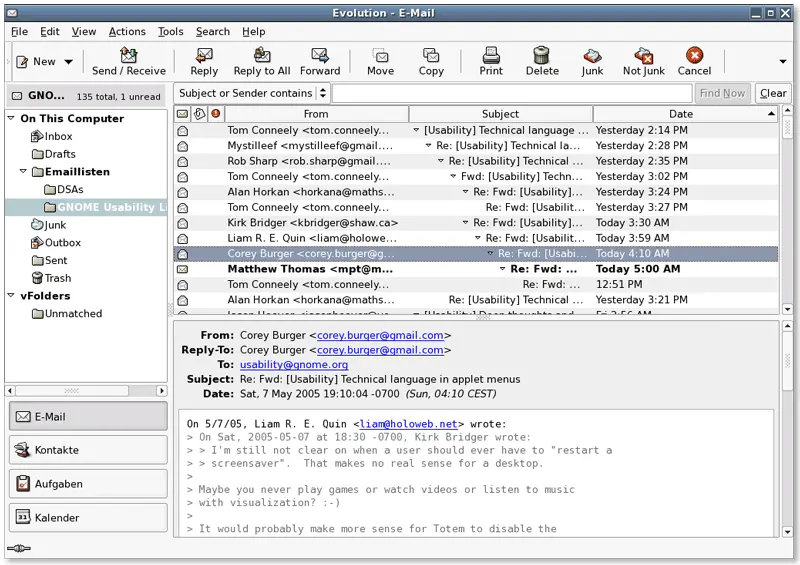 image source: evolution
It is a free Linux email client that features a calendar, time planning system, address book. It supports all common email protocols - IMAP, POP3, SMTP with TLS authentication. The program supports both OpenPGP and S/MIME for secure messaging, has junk and spam filters. It can also be used to read newsgroups and be integrated into a clock on the Gnome desktop panel, allowing you to access user tasks with a single mouse click. Another great and important option is the ability to set up a signature for your emails. As for disadvantages, Evolution doesn't support format=flowed messages, which can cause unexpected and unwanted line breaks.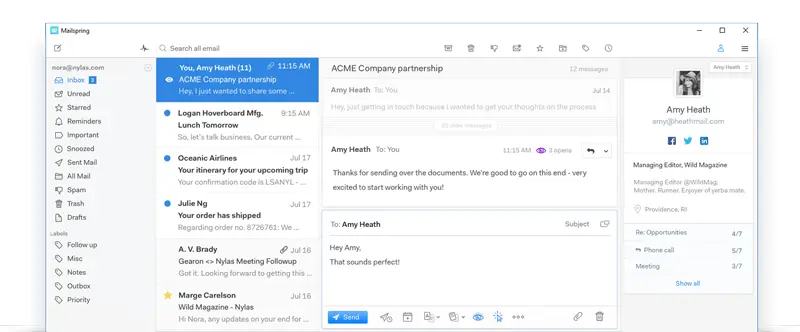 image source: mailspring
Mailspring is a desktop Linux email client with a wide range of modern features, such as a unified inbox, a snooze option, different reminders, templates, offline search, and others. The email client also has built-in dark themes and "ubuntu" themes, so you can customize it to fit your desktop. Mailspring is a free client that supports all IMAP providers, including Gmail, Office 365, and iCloud. However, it doesn't support Microsoft Exchange ActiveSync. Mailspring allows using professional Linux email signatures with images to leave a lasting impression on recipients.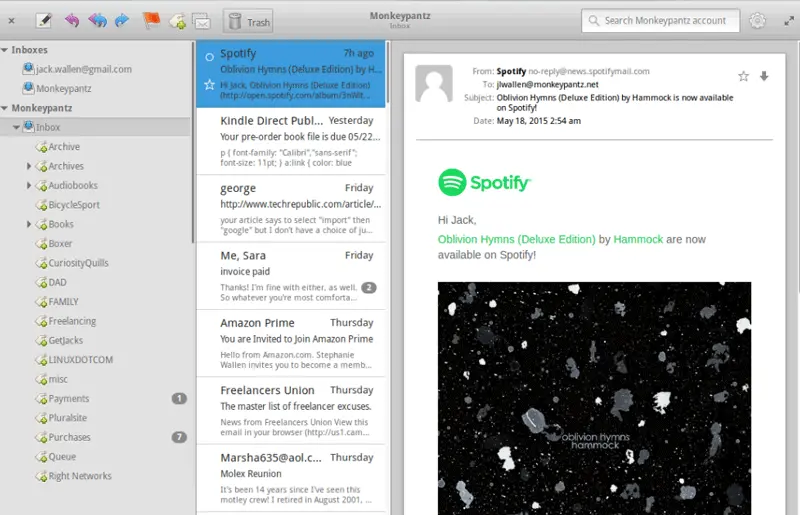 image source: geary
Geary is a relatively "young," developing application produced by Yorba Foundation, known for its Shotwell photo management app. The primary idea of this project was to create a modern, stylish, easy to use, and fast Linux email client. That is why Geary has a basic set of functions, but for some users, it's more likely to be an advantage rather than a disadvantage. It supports Gmail, Yahoo! Mail, Outlook.com, and such IMAP servers as Dovecot, Cyrus, Zimbra, etc. Unfortunately, there is no support of the email signature feature yet, but this email client has a lot of promise in the future.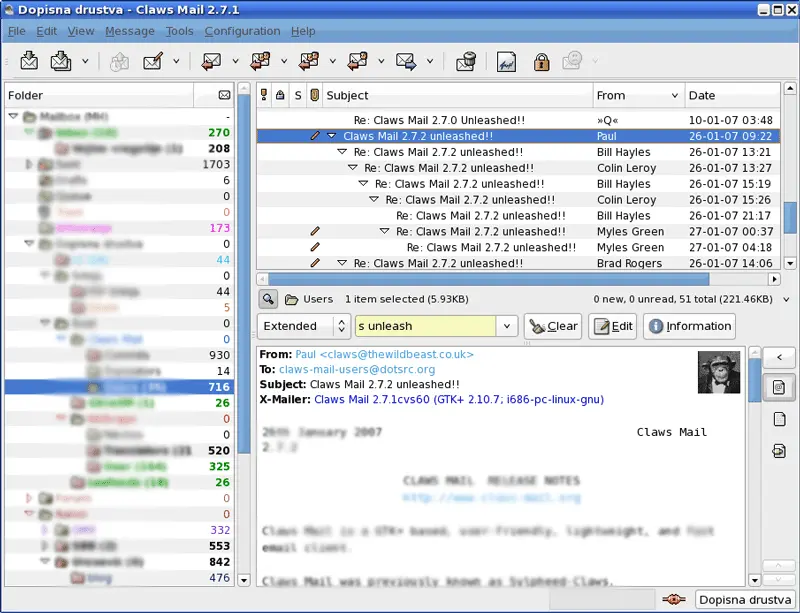 image source: claws
Claws Mail is a powerful open source multifunctional email client (formerly known as Sylpheed-Claws). The program is extensible through plug-ins that allow using such additional features as support for other storage formats, calendar, mail filtering, etc. Pay attention that Claws Mail is not suitable for HTML emails. Developers did it on purpose because they felt like HTML email was not a good thing for some business environments.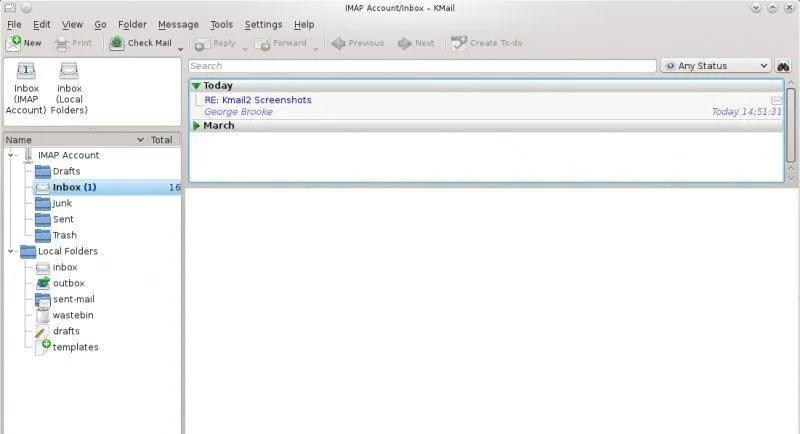 image source: kmail
KMail is known for its powerful search & filter options, flexibility, and security. Although KMail was primarily designed for the KDE desktop, it works nicely in GNOME, Unity, Xfce, LXDE, and MATE. As opposed to Claws Mail, KMail can display HTML emails. It also can transform them into simple text. Although the software is entirely free and open source, donations are always welcome and appreciated.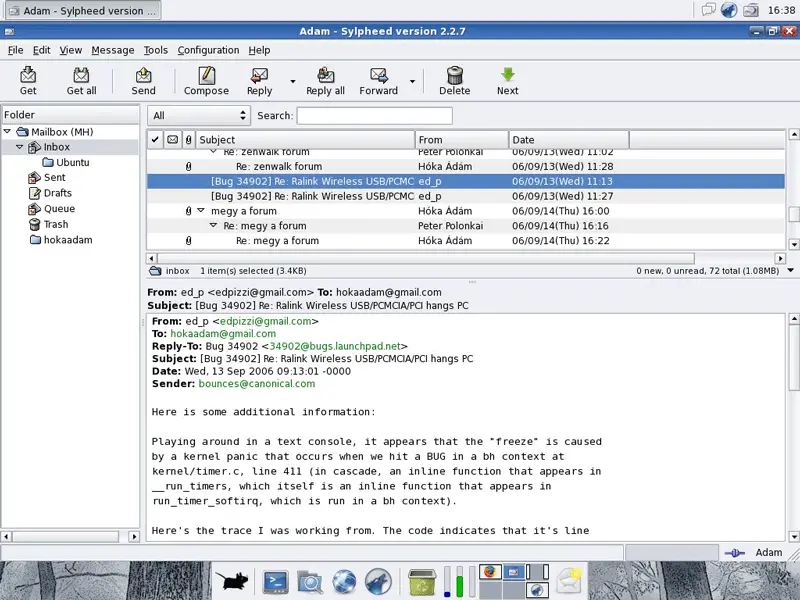 image source: sylpheed
Sylpheed combines simplicity, power, rich functionality, and security. This email client was originally created specifically for Linux, and later, migrated also to Windows, Mac OS, and BSD. It supports flexible message templates, labels, and virtual folders for organizing your mail. It also supports multiple mail protocols such as POP3, IMAP4rev1, SMTP, NNTP (NetNews). The bad thing about Sylpheed is that it doesn't support HTML formatting, so all email messages display as text. However, when it comes to internal communication, and you just need to send a lot of emails on a daily basis, and also maybe you don't have a lot of system resources to spend, then Sylpheed is going to be the one you'd want to check out because of its lightweight and the core set of powerful features. Sylpheed is also an open source email client.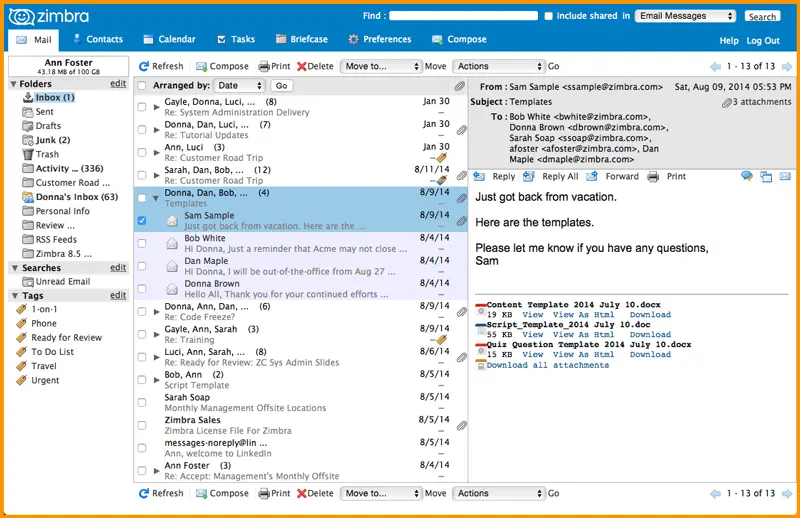 image source: zimbra
Zimbra Desktop is a free open-source multifunctional email client developed on the basis of the Mozilla Prism technology. It offers a wide range of great tools and applications for everyday use which include organizer, task manager, virtual portfolio, calendar, and more. Zimbra Desktop will let you manage mail accounts from various providers such as Gmail, AOL, Yahoo Mail, etc. Moreover, Zimbra is one of the few email clients which can be launched in offline mode. Zimbra Desktop also supports integration with Twitter and Facebook. If you're a person who understands the value of email signature which can be added at the bottom of every mail you send, you would appreciate the ability of Zimbra Desktop to set up signatures.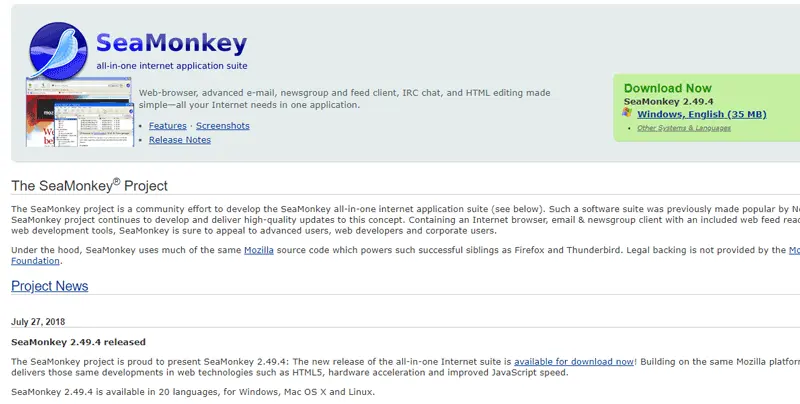 image source: seamonkey
SeaMonkey is Mozilla's all-in-one internet software suite which includes a web browser, email and newsgroup feed clients. Because SeaMonkey shares code with Mozilla suite, it is considered as powerful as Firefox and Thunderbird Linux email client. SeaMonkey Mail supports multiple accounts, has junk mail detection, message filters, address books, HTML message support, and many features.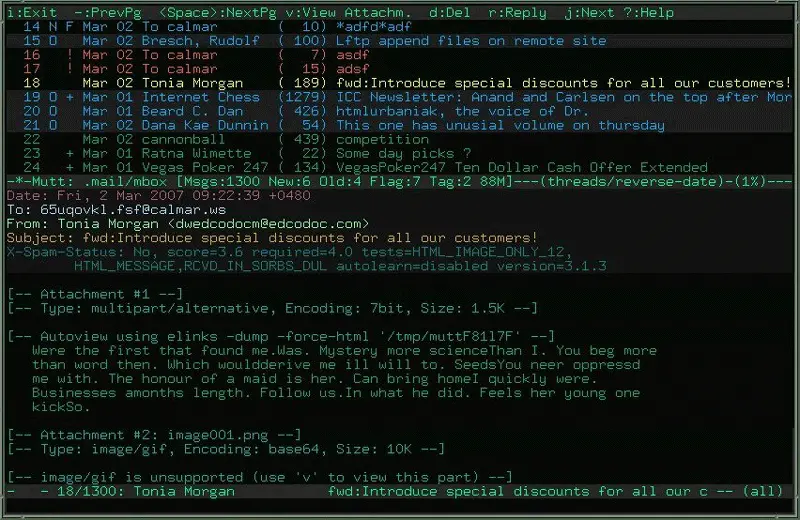 image source: calmar
Mutt is a Linux client to send mails from the terminal. The application is very user-friendly. It supports many mailbox formats like maildir, mbox, MH, and MMDF. Mutt offers message threading, color coding, availability in 20+ languages, and lots of configuration options. There are also different patches and extensions to add functionality. Since Mutt runs inside the terminal, it cannot display HTML email, fonts, or graphical elements.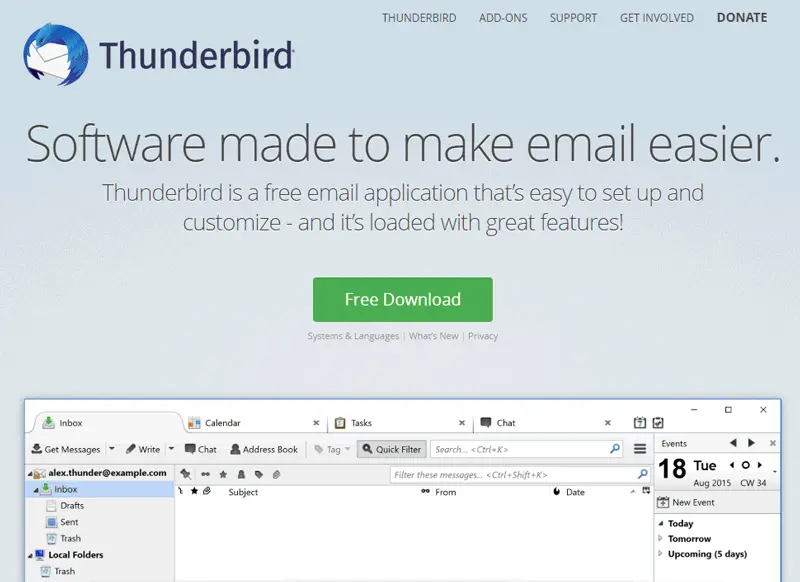 image source: thunderbird
Thunderbird is a free open source full-featured email client with a wide range of features. It is easy to operate, powerful, and highly customizable. Thunderbird supports IMAP and POP mail protocols, as well as the creation and reading of emails in HTML format. Built-in support for RSS, powerful and fast search, advanced filtering of incoming messages, task manager complete the range of features of this mail client. Moreover, there is a huge amount of extensions available to expand the usability and options of the client. On the negative side, users often complain about Thunderbird's outdated and unpleasant interface.
Tip: Read our blog post to become a Thunderbird pro in no time.
image source: hiri
Hiri is a cross-platform email application that offers its users clean and intuitive UI, action filters, reminders, Office 365, Outlook and Microsoft Exchange synchronization, high level or security, offline email access, HTML support, and more. The main disadvantage of Hiri is that the application does not have open source code and is not free. After your trial period expires, you will have to pay either up to $39 per year or $119 for a lifetime license.
Conclusion
Sometimes it's hard to choose from a variety of email clients available on the Internet. While some offer a set of admirable features and tools, others attract us with their fantastic, modern design. Personally, I liked Geary for its UI, but it doesn't quite have the features that I need yet. Therefore Thunderbird is the best Linux mail client for me. It is quite fast, lightweight and allows sending HTML. Thunderbird can be a good choice for both, personal and team or company use. Choose wisely and good luck!