How to Add Signature in Yahoo Mail
It appears that there is a fairly large number of people out there who use Yahoo as their primary email service. And no wonder! Just as all other email clients do, Yahoo mail suggests an option of adding an email signature to the account, so you can utilize it effectively and benefit from the asset. Yahoo mail signature installation is available both on web browsers and mobile apps.
Below are the key steps that outline how to add an email signature to your Yahoo account.
Add a signature to the Yahoo mail in a web browser
1. Assuming you already registered a Yahoo account (otherwise you wouldn't be here, would you?); please log in and click on the 'Settings menu' icon in the top right corner. Go to 'More settings'.
Note, if you still use the old Yahoo mail version, move the mouse over the 'gear' icon and from the dropdown menu select 'Settings'.
2. In the opened window, select the 'Writing email' tab from the menu, on the left-hand side.
3. Add to the signature box all the details you wish to represent your personal brand or company you work for. An email signature can include any details you want: photos, social media links, all kinds of contact information. You can enhance your mail signature and insert an image or a logo of your company. Did you know you can even share your tweets in the email signature?
Moreover, there is an option to insert the signature you have generated before. If you are using NEWOLDSTAMP service, copy the signature from your dashboard and paste it in an appropriate space using 'Ctrl+V' for Windows or 'command+V' for Mac users.
For the old version of Yahoo mail, there is a slightly different process.
1. Get on the 'Accounts' tab and choose an email address you want to associate a signature with.
2. In the following window scroll down and find a 'Signature' section, insert a copied signature or add yours.
3. Make sure you tick the 'Append a signature to the emails you send' checkbox if you wish it to appear automatically at the bottom of every email you create.
4. Click on 'Save' button to confirm the changes.
Add a signature to the Yahoo mail on your mobile
In the Yahoo mail application, open the menu, click on 'Settings' and scroll down to select 'Signature' from the drop-down list. In the appropriate section, 'Sent from Yahoo Mail for iPhone' could be deleted and you can insert your mail signature. You might encounter an issue installing the signature created in a service. The reason is that Android does not support HTML-based designs and the exported signature comes out as a text.
Now, you are probably wondering how to install a signature from your online signature generator in the app.
In that case, send a test email with previously added signature to yourself using Yahoo mail account on your web browser. Open an email in Yahoo mail app. Select the signature, copy it and paste in the relevant space, following the steps described above. You are all set! Enjoy promoting your brand both from your browser and a smartphone.
Today we experience the diversity of email clients with their functions and agile capabilities. Although, all of them are aiming to respond to our needs in the most convenient way. Yahoo mail can be challenging, especially when it comes to embedding email signatures created on other platforms. One of the examples is a mentioned previously issue with Android and embedding a service generated signature.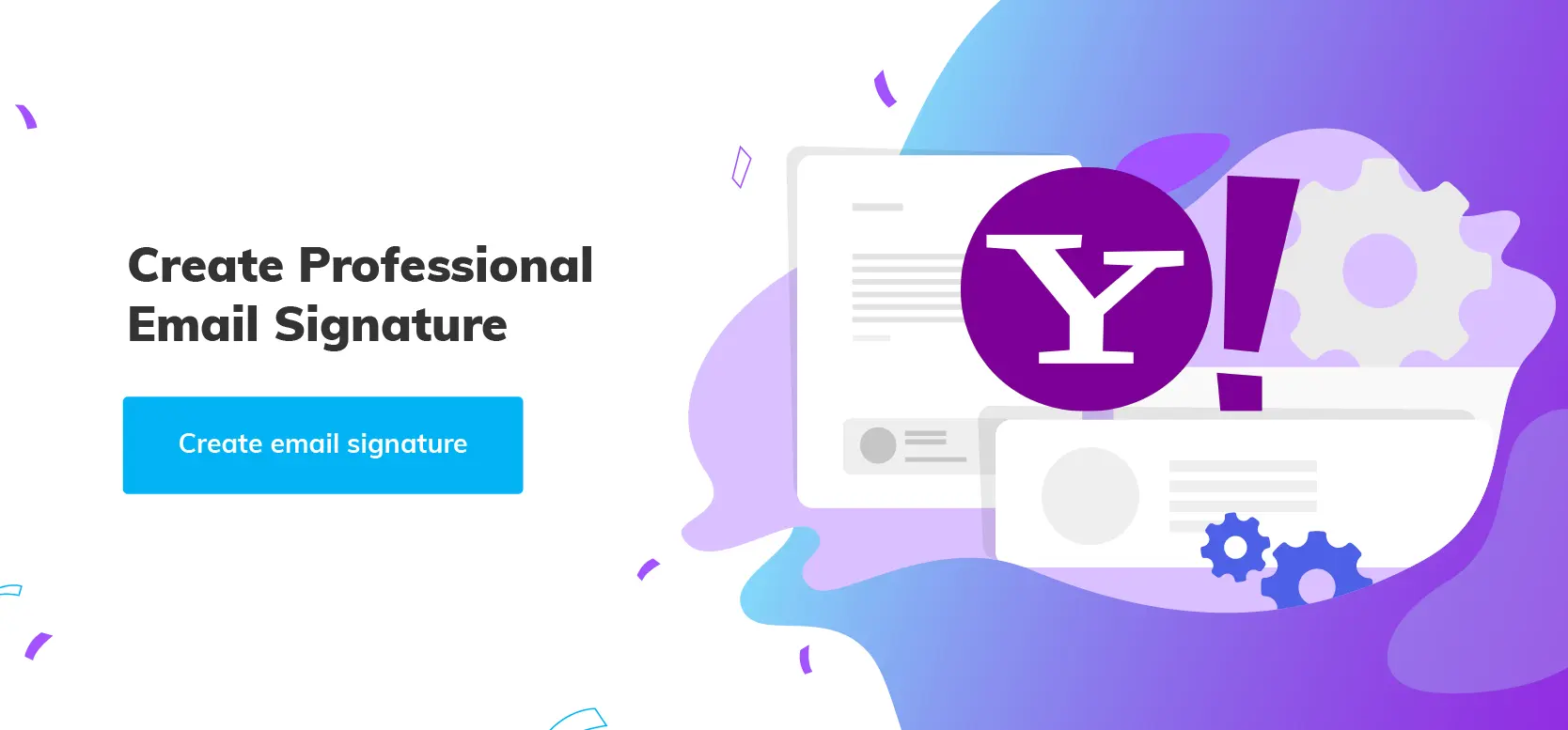 Thus, using Newoldstamp service will ease the efforts for your mail signature management to get the most of it professionally. Significant benefits of this tool are:
No need to operate with an embedded Yahoo signature generator. Just press Ctrl+C, Ctrl+V.

Easy fonts, styles, and photos management.

The ability to add social media links.

A huge library of promotional banners.

Neat analytics to track how your signatures are doing.

Centrally managed signature distribution.
Newoldstamp is well in hand on optimizing your Yahoo email signature, so it works accurately in most cases.