30 Amazingly Cheap (or Free) Marketing Tools for Nonprofits You Can Start Using Now
If you think that your nonprofit organization doesn't need to use any marketing tools, then I have to tell you that YOU'RE WRONG! The latest marketing technology can help you increase donor base, raise awareness, plan fundraising campaigns, improve communication with the public and in general meet your goals. The best thing about them is that they're cheap or even free so you can save some money for a good cause.
Before you start using the following services, make sure to take a look at the top advice from marketing experts we shared in our previous article. And here's a list of 30 free tools for nonprofits which will maximize your marketing success and will cost you nothing (or almost nothing).
Tools to create online forums and communities
Building an online community is the next best thing after face-to-face communication for your nonprofit company. There's also a bonus that you can reach this way a larger number of people. But be aware that creating and nurturing online forums and communities takes time. So you have to accept the fact that you're in it for the long run. On the other hand, the online community is an unlimited source of insights into the concerns and pain points of your members. You can use this knowledge to increase the value of your nonprofit's work.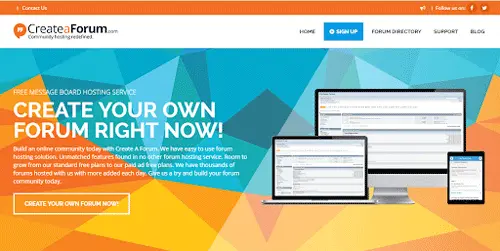 CreateAForum is a forum hosting platform, where you can set up and build your own community with unlimited posts, topics and boards. Apart from that, it allows you to create photo galleries, supports e-commerce, and classified systems for auctions. Free for general users, with pricing starting at 5$ per month.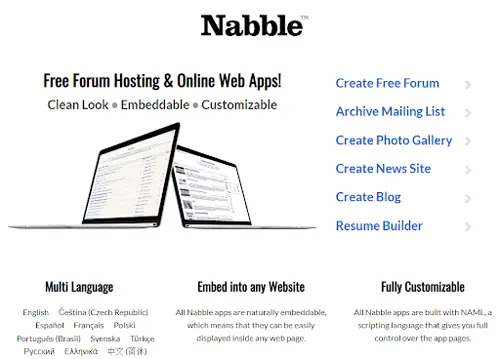 Nabble is a free forum hosting platform which also offers naturally embeddable online apps. You can completely customize the forum and build it according to your community needs, by adding a photo gallery, choosing different languages, creating blogs and news sites.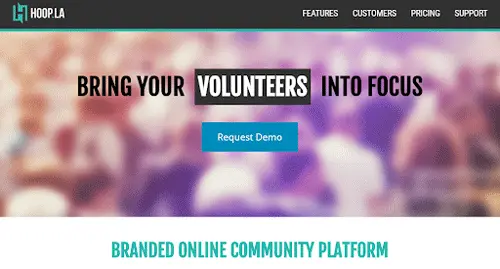 Hoop.la provides a cohesive environment for your branded online community, where members can share their opinions, interact, and provide feedback. It can support public or private communities of any size, gives you total ownership and control over your content and members' information. The pricing for core platform with standard terms starts just at $2,599 per month.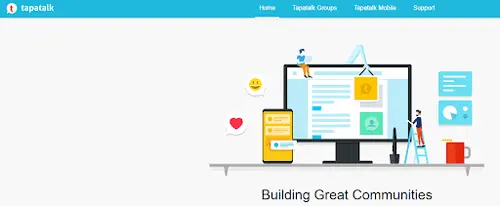 Tapatalk is a mobile-first community platform. It allows you to start a new community or connect your members within the existing community. This app is compatible with all the major community software, so by layering on top of your community software, it will provide your members with a seamless native mobile app experience. Apart from that Tapatalk Groups offer you the whole infrastructure of tools you might need, such as cloud hosting, programmable newsletters, payment system with donations, which could be very handy for a nonprofit organization raising money for an important cause. Tapatalk can save you time so you'll be able to focus on nurturing a great sustainable community.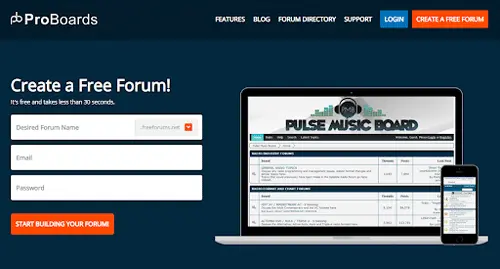 ProBoards is the largest free host of forums on the Internet. It's easy to use so you can set up your own discussion forum in a matter of minutes. Here size really doesn't matter, you can create as many categories, boards, members, threads, topics, and posts, as you like. ProBoards have also created their own app so that your members could stay connected even when they're on-the-go. But the list of the perks they offer doesn't end there, there's a built-in analytics, social media integration, and 24/7 support. And that all is totally free for nonprofits.
Tools to manage and schedule events
Organising events is a great way to attract new members for nonprofits, but the planning can be extremely overwhelming and stressful. So if you want a hassle-free preparation process, you should have a look at the following event apps for nonprofits, which can simplify registration, payment processing, attendee communication and altogether your efficiency.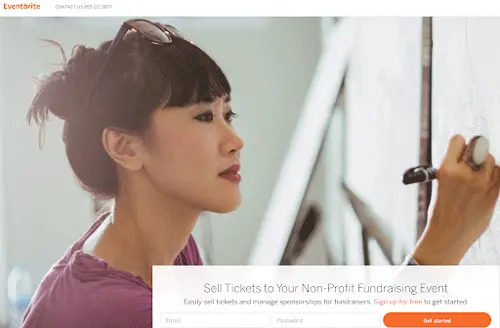 Eventbrite can help you start fundraising in minutes with their simple set-up process. You can then grow your fundraiser with Eventbrite's built-in event promotion and social sharing tools. It also gives you an opportunity to manage and track your donations in real time with 24/7 access to your data, reports and check-in tools on any device. It's free to get started with pricing starting from 1%+$0.99/paid ticket only when you make a sale.
Event Wizard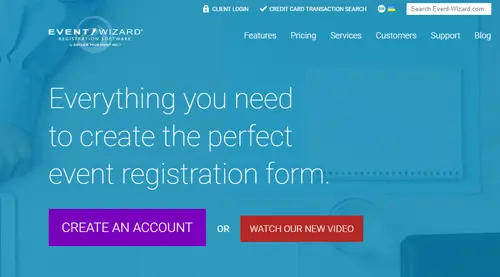 Event Wizard provides you with all the necessary tools to create, launch and manage professional registration presence for any type of event. You can create registration forms, which will be totally customizable to your brand marketing and promote your event with their built-in social tools. Apart from that, you can manage your event attendees with report tools and specially designed mobile apps. Event Wizard's pricing is based on a registration fee. It means that when somebody registers for your event, you're charged a registration fee ($3.45 per person).

RegOnline is a web-based event registration and management software, which provides you with all the functionality you might need to run events from start to finish. This includes creating event websites, online registrations, payments, housing, email, and social marketing, reports, etc. And the icing on the cake is that they have special discount offers for nonprofits.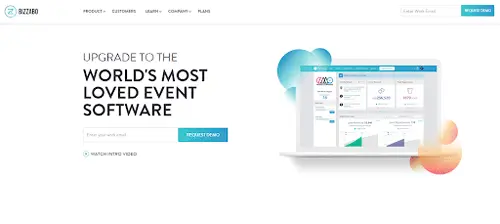 Bizzabo is an event software which allows you to fully streamline your event planning process. It is a go-to technology if you want to automate all of your events with their easy drag-and-drop website editor. You can connect your own data to any system, as Bizzabo is configurable by using their API. Additionally, you can drive your brand recognition at every event touchpoint by utilizing their branding features and deliver a consistent interaction that delights your attendees.
Tools to manage email marketing
Communication for nonprofits is the key to success. So in order to manage an ever-growing contact list, you need to utilize comprehensive email marketing tools. They will help you to keep track of all your contacts, send automated email campaigns and see the proof of your hard work in the number of opens and clicks.
ActiveCampaign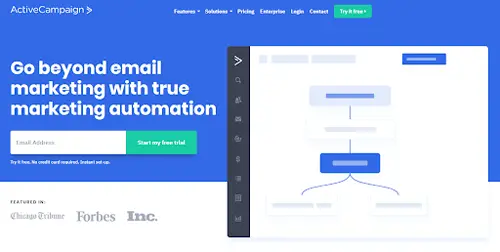 ActiveCampaign offers you an array of solutions to make communication with your contacts a breeze. This email marketing tool is perfect for welcome campaigns, drip campaigns, it creates automated workflows, schedules campaigns at a specific date and time. You can customize each campaign to match your needs by utilizing their simple drag-and-drop designer with a large selection of templates. Apart from that, you can send a single email campaign with different content, it would change depending on which user you're sending this email to, and their behavior on the website. Thus you'll be able to personalize your email campaigns and better segment your contact list. To top it all off, ActiveCampaign offers you a way to test which campaign is the most successful with the help of their advanced split testing feature. And they don't stop at email marketing, you can find much more features which will help you communicate effectively with your contacts. The pricing starts at $17 per month, with a free trial option.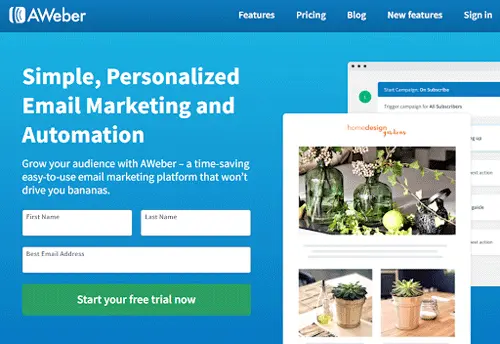 AWeber is an easy-to-use email marketing automation platform which will make your life easier and won't drive you nuts. It is aimed more at small business owners and entrepreneurs who are always pressed for time. With the help of this versatile tool, you can launch automated email sequences, tag and segment subscribers based on their behavior, send promotional emails or newsletters, track your progress, and in general boost marketing for nonprofit organizations. You can start a 30-day free trial to see for yourself, and then you'd have to pay $19 per month for up to 500 subscribers and an unlimited amount of emails.
Constant Contact
Constant Contact helps you to make email marketing easier and faster with its beautifully designed templates, drag-and-drop editor, powerful list-building tools and expert support. All their templates are mobile-optimized and easy-to-customize which ensures that your email will stand out from the clutter of inbox and get opened. You can grow your contact list by collecting email addresses on your website, from Facebook or through mobile and thus reach and involve more people in your cause. The pricing starts after a free 60-day trial at $20 per month for up to 500 subscribers.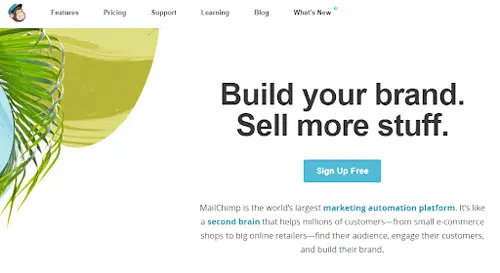 MailChimp is the world's largest email marketing automation platforms. It allows you to create email campaigns to spread the news or share some story and reach as many people as possible. You can do that by using their highly efficient automation tools, which not only remove manual tasks from your to-do list but also keep your emails personalized by making the most of user data. This way you'll have more time to focus on strategy and analyzing your progress. They have a pricing plan that fits any budget, even the completely free option.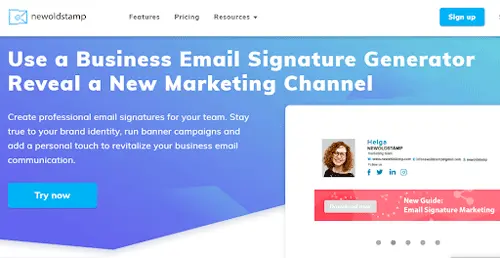 Newoldstamp is an email signature generator tool. Although it's one of the most overlooked email marketing channels, it's a very powerful one. You can promote your nonprofit and all the upcoming events with every email you send. With the help of this tool, you can not only create a professionally looking email signature with all contact details and photo but also run banner campaigns, add social icons, CTA buttons, and your personal touch. Newoldstamp has made it simple to create multiple signatures with the help of master signature, and they are compatible with all major email clients so that your email signature always looks good. Apart from that, they offer premium support no matter how much you pay, with prices starting at only $9 per month. And for NGO's Newoldstamp has a special offer - what's not to like?

Sharpspring is a one-in-all marketing automation tool which helps you to grow your contact list by identifying and tracking your website visitors. This enables you to send dynamic content and more targeted email campaigns based on your customers' interests and behavior. Sharpspring allows you to drive more conversions with their dynamic web content and make informed decisions with accurate and relevant data.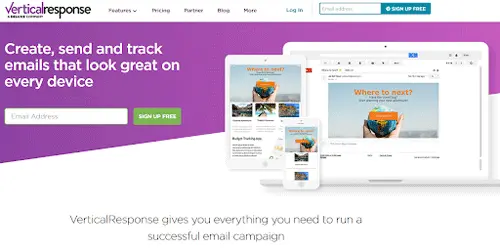 VerticalResponse provides you with a selection of templates which can be customized to reflect your brand and resonates most with your subscribers. The simple in use editor will help you to build smart looking landing pages which will help you to convert more leads. Additionally, you can monitor your campaign's success and test your email campaigns to know which one works best. VerticalResponse offers a special nonprofit program which includes 10,000 email credits per month for free or 15% off a monthly subscription plan.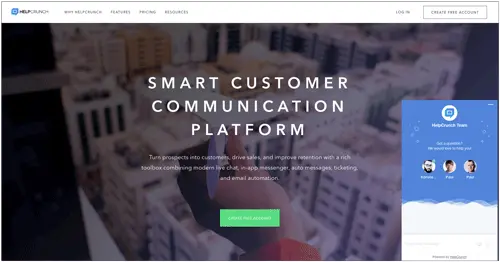 HelpCrunch is an all-in-one customer communication software for businesses of all sizes. It's a trendy Intercom alternative offering a more affordable toolset for marketing, sales and customer support. If you're a non-profit or an early-stage startup, HelpCrunch's $0 forever live chat plan may especially come in handy.
Tools to create presentations, video, and other multimedia
In order to get noticed in the today's world, nonprofits need to create visually engaging campaigns. The reason is not just that it is aesthetically pleasing but also visual content gets shared more and is better remembered. The good news is that you don't have to be a designer or hire one, to create an appealing leaflet or newsletter. Even if you are a small nonprofit with a limited budget, you can still use these free or cheap tools to make and share stunning designs, videos, and presentations.
Canva for Nonprofits

Canva has created a completely free premium version of its tool specifically designed for nonprofits. It is empowering change by helping nonprofits to create beautifully crafted content with their simple drag-and-drop functionality, brand kits features and team templates. Canva for Nonprofits provides you with access to their library of more than one million images. You can use this nonprofit app to produce fundraising collateral which will educate your supporters and communicate your organization's mission.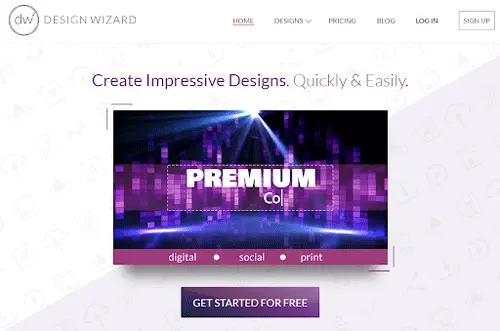 Design Wizard is a graphic design tool which can help you create impressive designs without the need for technical or artistic talent. It offers a huge catalog of images and templates to choose from to make your posts, images, and videos more attention-grabbing. Apart from that Design Wizard allows you to magically resize your designs, upload fonts, logos, and create custom color palettes to make your design more brand consistent. This will make your nonprofit more recognizable, raise the awareness level and the number of supporters. The basic package is free with a pro account starting at $9.99 per month.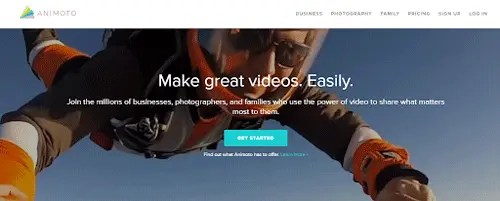 You can easily and quickly create a fundraising video with Animoto. By using their pre-built storyboards and adjustable video templates, you can make eye-catching videos in no time and then adapt them to suit your mission. The next step would be to customize the video by editing text, fonts, colors and adding songs from the library of licensed music. Once you're finished editing, you can share the video on social platforms to raise the number of supporters. Pricing starts at $8 per month with a 14-day free trial period.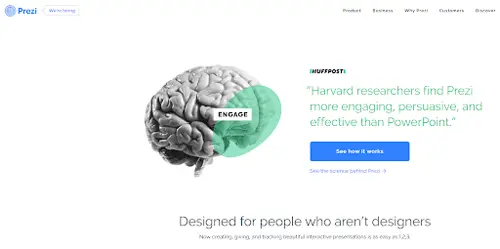 As a nonprofit organization, you need to be able to professionally pitch your idea, raise the awareness of your cause and educate people. Prezi can help you achieve that. By using their simple, intuitive interface, you can create a visually stunning presentation which will transform some boring report into a captivating story-telling. While presenting, you don't have to sit in front of the laptop, you can move in the audience, using your phone or tablet as a remote clicking device. You might think that after the presentation you're done, but this is not true. Prezi provides you with their inbuilt analytics to see what really resonated with your listeners. Thus you have an opportunity to get better results in the future. The basic package is free, with pricing starting at $5 per month for individual use, which makes Prezi a very cheap software for nonprofits.
Tools to work with social media platforms
If nobody hears about your nonprofit, it's doomed. So you have to actively promote it on all social media platforms. These social media tools for nonprofits will help you to create more clickable posts, find and connect with the most popular influencers, schedule your posts and analyze their effectiveness.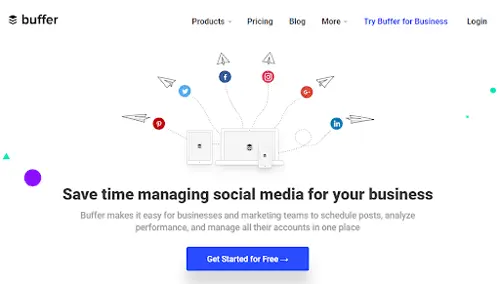 Buffer is a social media managing tool which helps you to manage all your social accounts in one place. You can schedule sharing social media posts for the time which will get maximum exposure and Buffer will do it automatically. Moreover, with Buffer, you can track and analyze how your posts are performing and what could be altered to get better results. You can get it totally free for 3 social accounts on 5 main social media platforms, which is more than enough for small nonprofit organizations.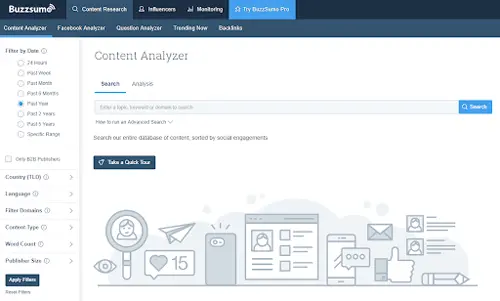 With the help of this tool, you can find out which of your posts perform best on social media. Buzzsumo can track not only your own but also competitors' posts, to analyze which stories are most successful. You can find inspiration for your blog content by searching through their large database of real questions asked in quora or other forums or just look through "Trending Now" section. Buzzsumo will also help you to stay on top of things, by monitoring your competitors, brand mentions, and backlinks. You can start a free trial with pricing starting at $99 per month.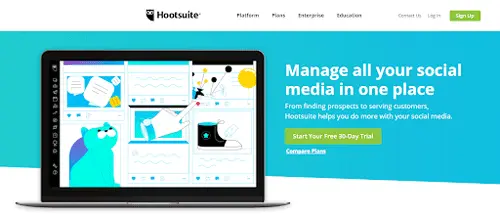 Hootsuite will ensure that you can keep your social presence active 24/7 with their automatic scheduling feature which can be scheduled to post across all your social media accounts at once. You can also find and filter social conversations that you need by a keyword, hashtag or location to find out what is popular in your industry, what your competitors are posting, where your nonprofit is mentioned. Hootsuite can also create reports which show the impact of your social campaigns. There is a free plan which is perfect for a small nonprofit.
MeltWater
MeltWater is a global social media monitoring tool. It combines the power of AI and the social media database, which allows you to monitor your own brand, seeing it through the eyes of your audience. Apart from that AI helps you to optimize your marketing efforts by bringing you insights derived from online content. You can also benchmark your success against the competition by keeping an eye on their performance. Another feature which is integral to the success of your campaign is analysis, you can take the guesswork out of the picture and see clearly which campaigns worked and why.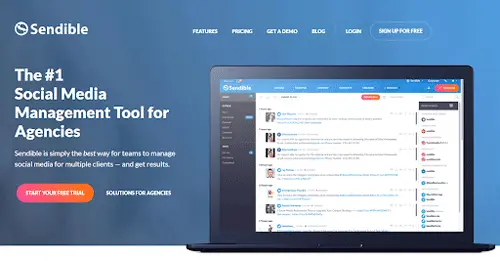 Sendible is a social media management tool which can help you streamline your social media processes from one centralized hub. It means that all your social messages get into a unified social inbox so that your team can transform them into actionable tasks. You can create a hassle-free environment at your workplace by building workflows and post scheduling calendars. Sendible can also suggest you which new content you should post, by analyzing your profiles and competition. This tool will make social analytics data more understandable for you and your managers by creating dynamic reports to show off your success.
Tools to build websites, blogs, and manage content
If you are a small nonprofit organization with a tight budget but a big mission, you have to find a way to build your website, without going through the pain of hiring a site developer or learning to code yourself. Nowadays there are tools which can help you create your own website with no deep technical skills required. When you're choosing a website building software, you need to analyze whether it provides you with the key features any nonprofit membership-based organization must have: a custom domain, blog, member-only areas, support, price structure, data security.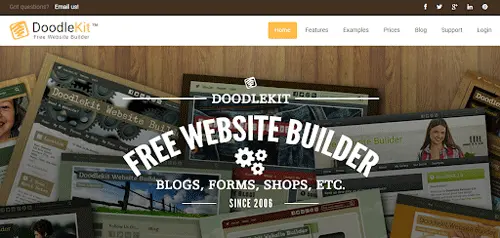 Doodlekit provides you with a full nonprofit toolkit of features which will help you build your website with blogs, forums, shopping carts, custom forms, SEO tools, and website traffic stats. Even if you're a first-timer, you can build and customize your website for your company, by uploading banners, logos, and creating domain-based email addresses. Apart from that, they take your members' security seriously, by creating secure web pages. And of course, as most people use mobile phones for browsing, Doodlekit gives you a possibility to make your website mobile friendly. So it's an easy way how to start a nonprofit organization. Free basic account, with paid plans starting at $10 per month.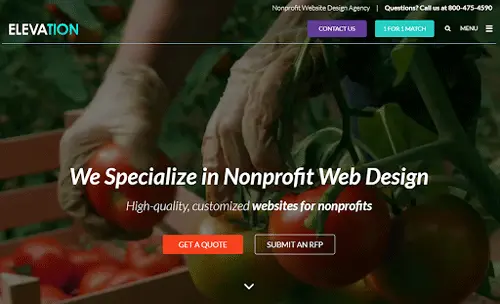 Elevation builds high-quality websites specifically for nonprofits. They create exquisite designs which can help your nonprofit effectively communicate its mission and objectives. You can use this tool to optimize your website according to search engines, and they can even provide you with engaging content to interact with your subscribers and build strong, reliable relationships.
Ethion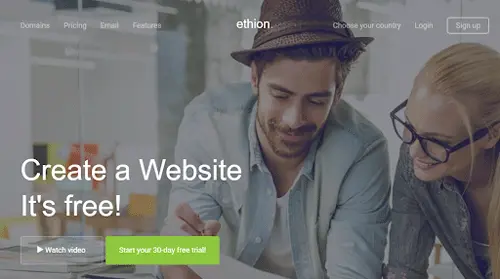 Ethion is a headache-free way of creating a website, where you don't need to have any prior coding or design experience. It's a perfect solution for small nonprofits, which are used to doing everything on their own. Ethion provides you with anything you might need in order to build a website: custom domain with email accounts, superb templates, drag-and-drop builder, free hosting and much more. You can try it for free during the first 30 days, and then choose one of the plans. Pricing starts at €11.50 per month.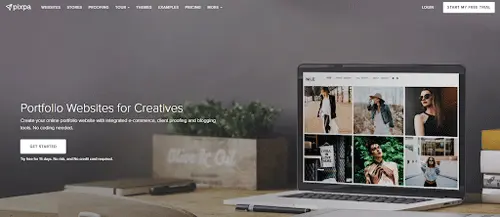 Pixpa is a portfolio website builder. Their easy drag-and-drop editor enables you to create your own website without any coding experience. This tool is totally mobile friendly and comes with all the features you might need to develop and grow your nonprofit. If you have a lot of photos to promote your cause, this website builder is the right match for you. Pricing starts at $5 per month.
RedTim provides you not only with a wonderful design but also with an in-built ready-to-go SEO functions, which will make sure that your website ranks high in organic search. This tool can also help you to expand your reach through social media platforms. RedTim has a set-up analytics feature so you can track and understand how your website is performing and what kind of traffic it generates. Free 30-day trial, pricing starts at $25 per month.
Conclusion
Raise awareness and money to help your cause with these free resources for nonprofits to become the best nonprofit organization, and make the world a better place. You can build your website, design content, promote it in social media and through email marketing, make forums, and create a buzz with these tech tools for nonprofits.