The Guide to Rebranding Strategy for Your Company
1. What is the Definition of Rebranding Strategy and When Does Your Company Need It?
2. When Do You Need to Launch a Rebranding Strategy?
3. Define the Goals of Your Rebranding Campaign
4. Building Beneficial Rebranding Strategy Plan That Works
5. Create a Rebranding Announcement Campaign
Useful tools:
1. Newoldstamp - Email signature marketing
2. SendGrid - Email builder and sender
3. Boomerang - Tool for scheduling emails
4. Mailtrack - Email link opens tracking
5. Canva - Online tool for making designs
There is a strong brand behind every successful company. But what should you do if your brand isn't working? Maybe it's time for you to rebrand? What does rebranding mean, what are its core tasks and steps? When and in what situations do you need to consider rebranding? Does it help a business or harm it? All of these questions will be covered in this blog post. Keep reading.
What is the Definition of Rebranding Strategy and When Does Your Company Need It?
Rebranding is a marketing tool for changing a company's brand: logo, slogan, brand name, corporate identity, brand identity, color palette, packaging design, market positioning, and anything else that contributes to the image. This approach allows companies to change the impression of the target audience for the better and maximize profits. However, the rebranding of a company doesn't always bring positive results. If your global branding strategy is poorly thought out, be ready for failure.
When Do You Need to Launch a Rebranding Strategy?
Rebranding is appropriate in the following situations:
Merging with another brand or being acquired by another company
When two companies merge or are acquired, rebranding is usually needed to assimilate the brand into the new organization.

source: Finchbrands
Your brand has gained a bad image
If your company is struggling to overcome a bad reputation, a name change and rebrand can help your audience see you in a fresh new light.
You need to attract a different audience
For example, a company used to be engaged in the sale of building materials only, and now it is going to expand the area of activities and offer construction and interior set-up services. In such cases, it would be wise to announce the changes with the help of competent rebranding. You might need to perform only partial rebranding.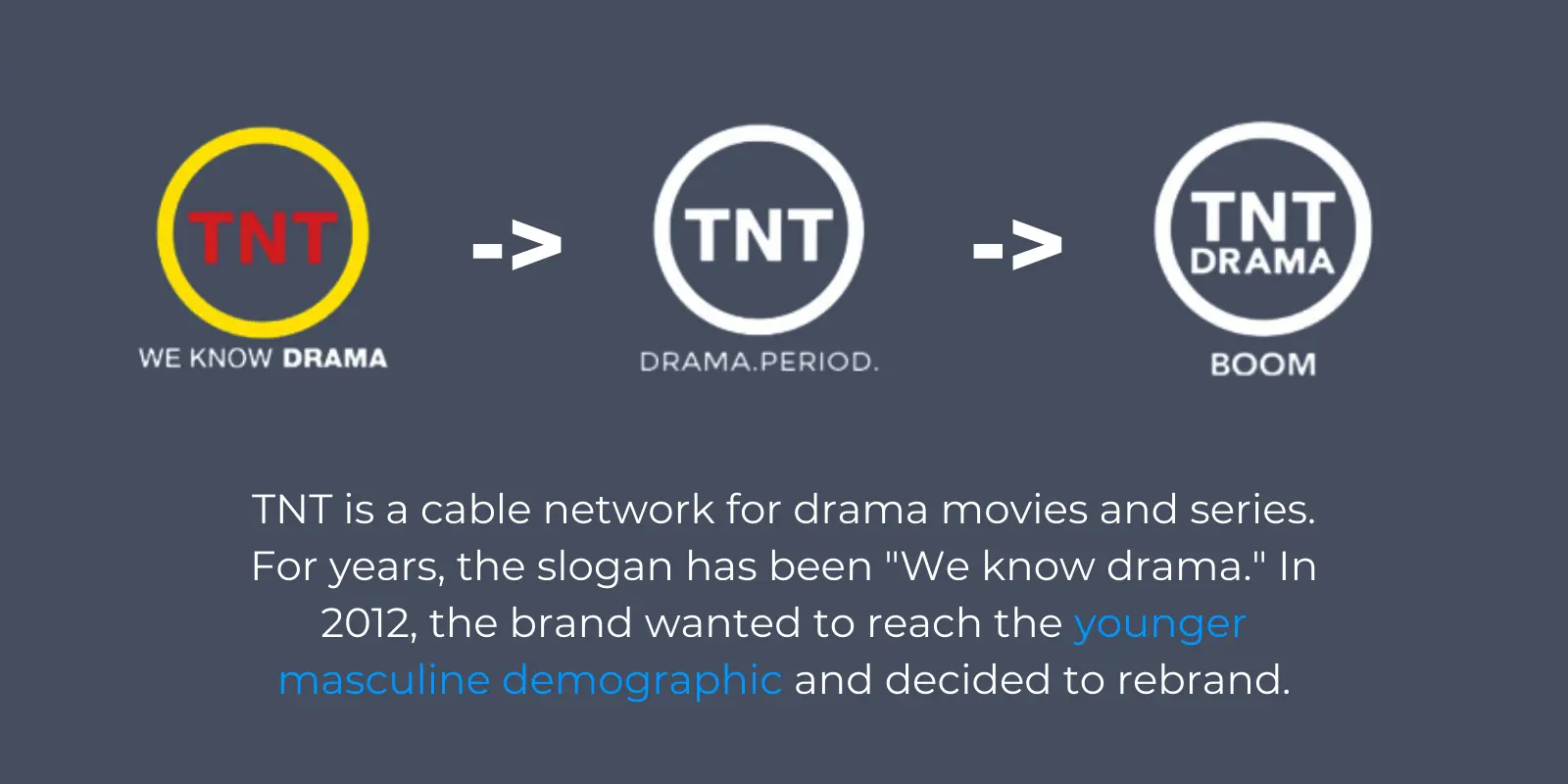 source: Visme
Company goals have changed
New values and goals of the company, another system of working with customers, the appointment of a new leader, etc., are also reasons to rebrand.
Catching up with the market
New products, models of goods, services, packaging, etc., appeared on the market. If a company does not correspond to changes in market trends, then rebranding will help rectify the situation. Or a new strong competitor who has a more appealing brand has entered the market. If you don't want to lose your position in the market and hand over the power to your competitors, you need to start working on a rebranding strategy plan.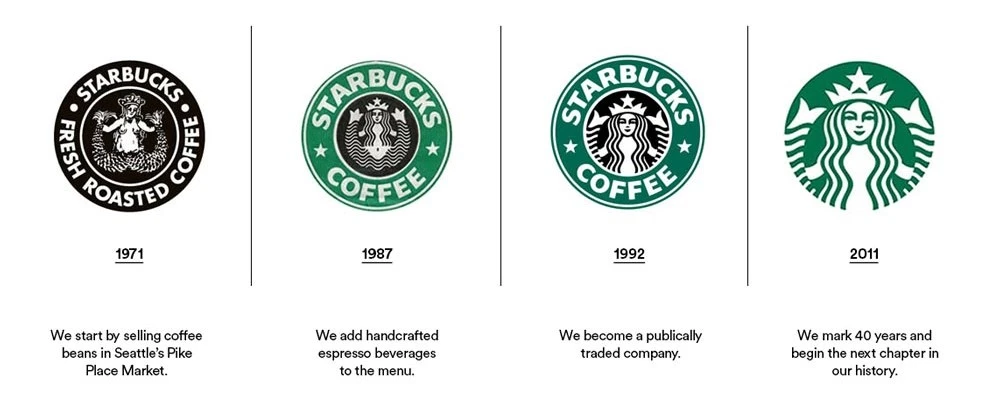 source: Inkbot design
Your brand is similar to another one
In this situation, you should rebrand to better differentiate from the competition.

source: Spellbrand
Making your company international
Different countries' markets may have different expectations. So, if you are trying to sell your products or services abroad, be sure to consider the cultural differences and respect them. In this situation, you might need a rebrand or partial rebrand.
Your company gets a new CEO
New CEOs breathe new life into businesses, and a rebrand can steer it away from failures. In 1997, when Steve Jobs returned to Apple, the company was on its way to bankruptcy. And Mr. Jobs realized that for the shape of the Apple logo to be universally recognizable, they should put it everywhere people could see it. However, the rainbow-colored apple would have looked silly and childish on their iMacs. So he changed the rainbow-colored logo to a more modern monochromatic version. This way, he changed Apple's perception in the public eyes.
Tip: DON'T rebrand because of poor brand awareness or low sales. If these metrics are low, you are probably doing something wrong. Consider revising your current strategy and use different promotional channels. If you still decide to rebrand because of these reasons, the results might be even worse.
You might also like our article "Implement Account-Based Marketing Into Your Strategy to Get the Most Benefits It Can Grant."
Define the Goals of Your Rebranding Campaign
Make your rebranding strategy well-informed with the help of thorough research and clear goals. These goals may sound as follows: a company wants to expand its audience and resist new competitors; a company wants to keep the current audience, but increase their interest in the brand, etc. Why is it important to have clear goals? Rebranding can change your entire brand identity or just refresh it. Once you know your goals, you can choose between two kinds of rebranding to focus on.
Should it be partial or total?
The total rebranding of the organization is carried out in cases when the company changes the area of activity, changes the product or service they sell, or enters a different market.
And if the brand name evokes only positive emotions among consumers, but the packaging design does not fit into the general concept, it is enough to make only minor changes, i.e., partial rebranding.
Also, pay attention to the following things:
1. Changing your company name and/or domain
If you need to do so, use all your media channels to inform your customers about it. You may face significant losses of visitors at first, which is normal in this case.

source: Marketig Mind
2. Redesigning the logo
Companies often devote lots of resources to logos, and who can blame them? This graphic element is meant to serve as a visual representation of a brand. It should be well-thought-out and memorable. However, they often forget the fact that the logo rarely says much on its own. So, when it becomes the focal point of rebranding efforts, which it often does, brands in need of rebranding are missing the mark. If it's not a mistake you will want to make as well, keep in mind that the new positioning should serve as the basis for the development of a new logo for your business.

source: Company Folders
Read our blog post: "Building Super Effective Communication Strategy: the Ultimate Guide."
Plan your desired outcome
Whether you're just refreshing your brand or planning a complete recast, it's always a smart idea to have a clear understanding of the desired outcomes.
Build the steps of a rebranding campaign
Once you know exactly what you want to achieve, you need to put together a plan of action.
Building Beneficial Rebranding Strategy Plan That Works
Whether you want to rebrand a company due to changes in the market or for a new business strategy, make sure you follow the steps below. They should help you create a plan for your new brand and achieve your long-term business goals.
Before making any changes, take the time to get to know your employees (and company), clients, and competitors. If you are attempting to enter a new market, keep in mind that your research should include a new audience as well. Remember, the more you learn, the more effective your rebranding strategies will be. So be sure to:
Research your own company - check all your metrics to know if you're doing good in the future;

Look at the clients you have - define buyer personas and identify their pains and needs that rebranding can solve;

Find out everything about competitors - what they have that your current branding doesn't?
You might also like our blog post: "How to Handle Market Research to Find New Opportunities for Your Business."
Rebuild your value proposition
After conducting the research, define the benefits that make you different from others and rebrand according to them. Create a corresponding value proposition.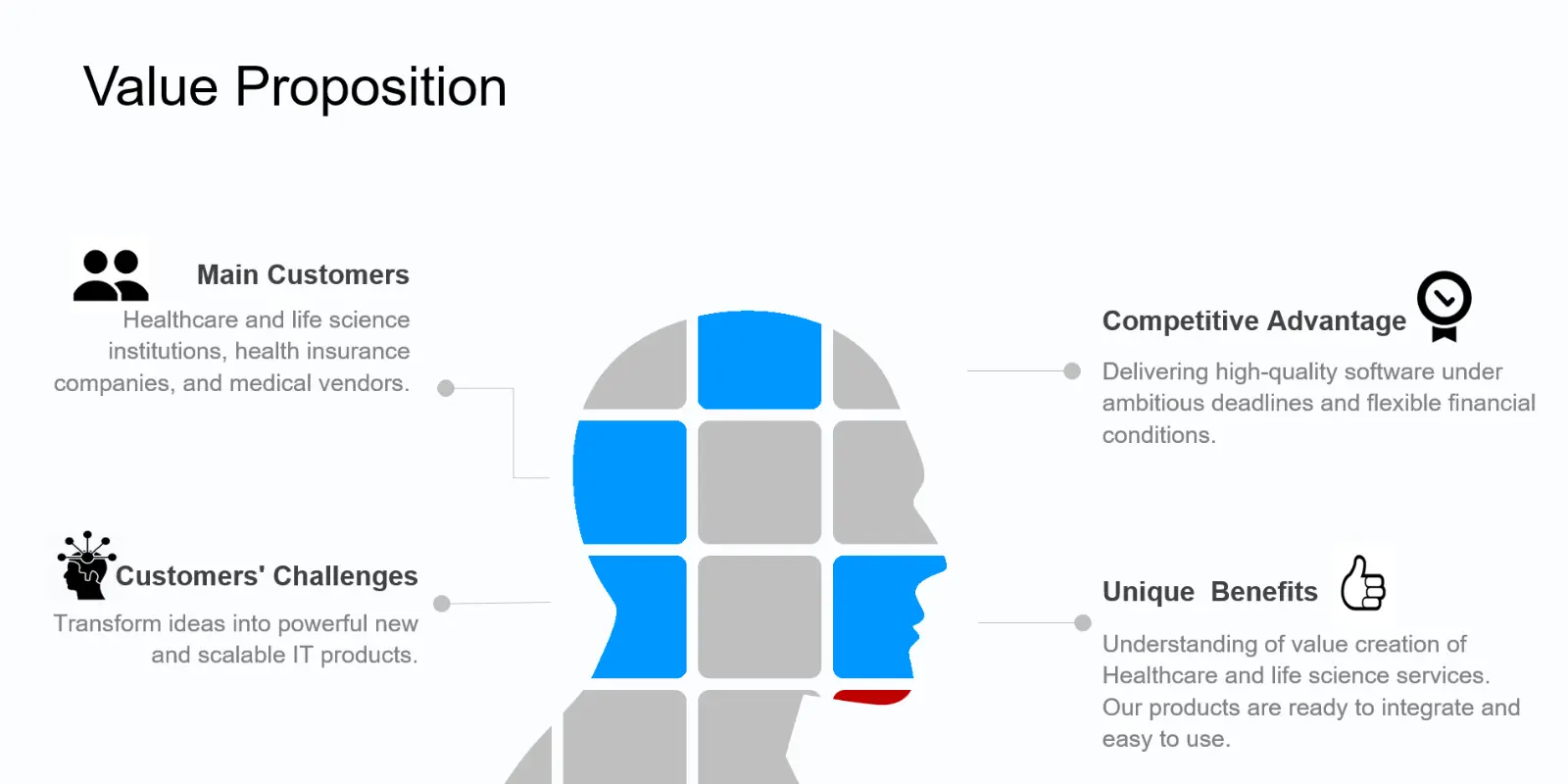 source: clustercollaboration
Gather a special team responsible for rebranding
Rebrands are usually a ton of work. That is why you need to assemble the right team of experts.
Try to combine different specialists.
Rebranding expert as a head;

Business development official to correlate changes with current branding;

Marketing specialist to build new campaigns;

Designer to deal with visual rebranding (new logos, website pages,

color palette

, etc.);

Developers team (if needed) to create new features;

Customer success team responsible for guiding clients through the changes;

And others.

Reorganize the work
To keep up with the changes, everyone in the company should embrace them. Tell your employees about the rebranding and set new goals/create a new brand book if needed.
Explain why you need rebranding
You've worked hard, and now it's time to present your new (or refreshed) brand. However, the hardest part is yet to come, because you need to make people love what you've created. And that's not easy. When you present the changes, be sure to share the "why" and "how" with your customers transparently. Explain that rebranding won't affect your professionalism and service, and that you've become even better.
Don't go all-in with rebranding. In case it ends up performing badly, you might need to get back to your old branding.
Create a Rebranding Announcement Campaign
Once you are done with the processes above, it's time to announce your rebranding.
Inform customers and leads via email
Prepare an email to your supporters letting them know that they are going to see some new things soon.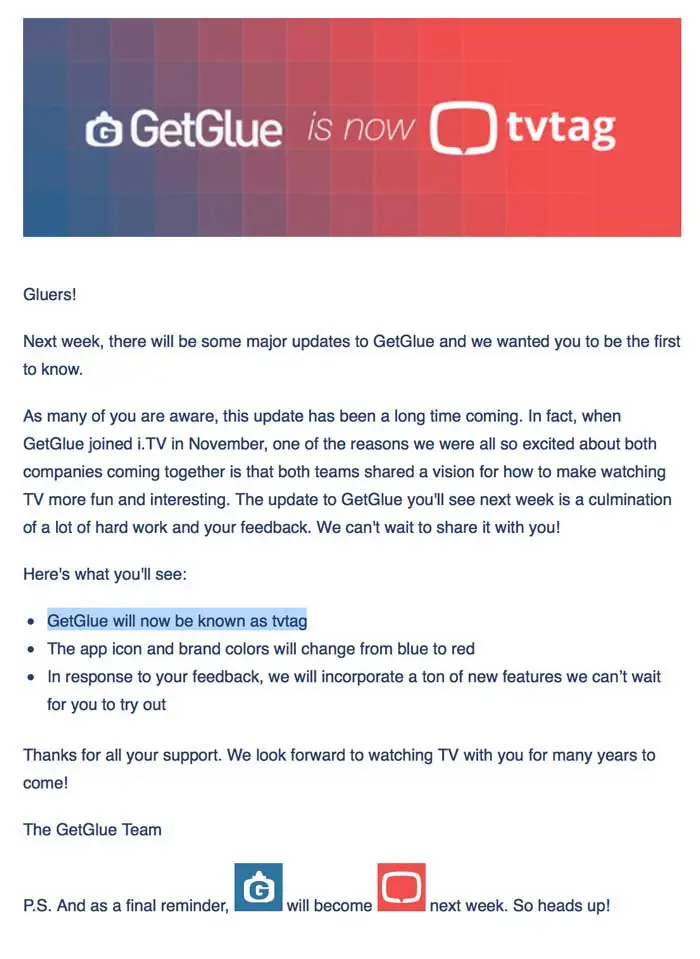 source: Thenextweb
1. Use a simple and clean template
Instead of creating a beautiful email template, make your message as human as possible. As mentioned above, it is essential to sincerely explain why you rebrand.
Related: "Creating a Unique Brand Personality in Your Email Campaigns."
2. Add an email signature banner
You will still be sending different emails, so add a banner to your email signature saying you are about to rebrand. This way, everybody will be notified about your changes beforehand.
Read more about the benefits of email signature in our article: "Ten Ways to Enhance Your Marketing Campaign With the Help of Email Signature."
Make a notice on your website
Place a notice on the homepage where everybody can see it. Consider adding one notice before and another one after a rebranding.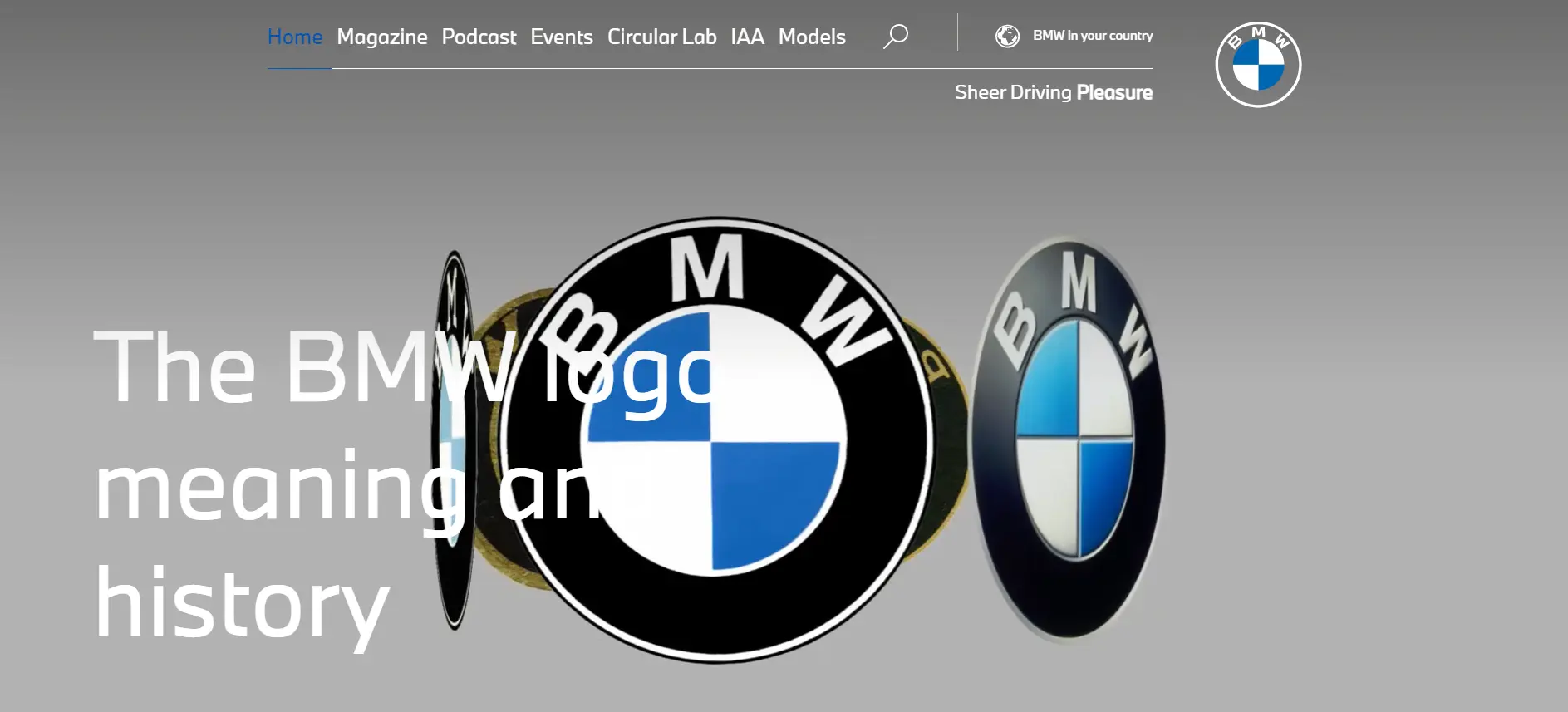 source: BMW
Use social media channels
If you have a fairly active following on Facebook/Twitter/etc., be sure to announce your changes on these platforms.
Create guest posts and press releases
One more great opportunity to announce a rebranding is with guest posts and press releases. This way, you can reach as many people as possible.rf
Successful and unsuccessful rebranding examples
Now, let's take a look at a few rebranding examples of well-known companies. What they did right and what's not?
Do you remember Instagram before rebranding? Their old logo didn't match their main audience's lifestyle and tastes. It was something resembling an antique camera from the 60s. However, after they realized that Instagram was mostly used by Millenials and even younger people, they immediately initiated a rebranding process. Now, their new logo reflects the contemporary nature of their social media platform, which is designed for modern users who are using their cell phones instead of antique cameras.
As we already mentioned, you don't need to rebrand just for the sake of it. As you can see, Instagram did it for a good reason: they chose people to associate their services with newness instead of the retro feeling evoked by the old Polaroid.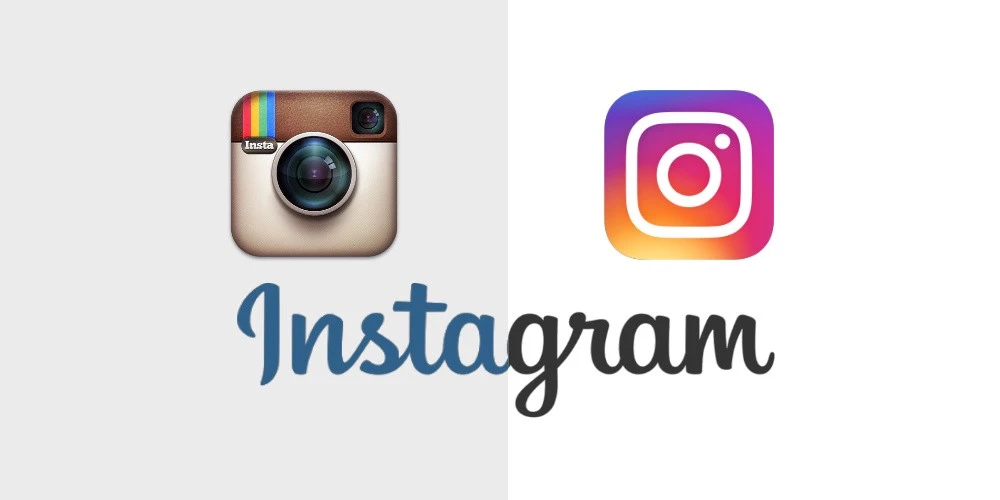 source: Medium
On top of that, Instagram isn't just Instagram anymore. They cooperated with a few brands like Layout, Boomerang, and HyperLapse. That is another reason for rebranding. As you can see in the image below, the entire suite of sub-brands has been unified to have the same look and feel.
As we can see from Instagram's growth, it was a successful rebranding.
And while one company can get great results, others can't avoid a "rebrand fail."
For example, in 2009, the beverage company Tropicana decided to rebrand all elements of their popular product and packaging at a time. They wanted to simplify the packaging, create a new logo design, implement a new color palette, and make new marketing campaigns.
However, after rebranding, the juice packaging looked like a cheap generic beverage, and it was too far from the product consumers loved and purchased.
People failed to recognize their favorite product on the supermarket shelves, which led to a huge decrease in sales.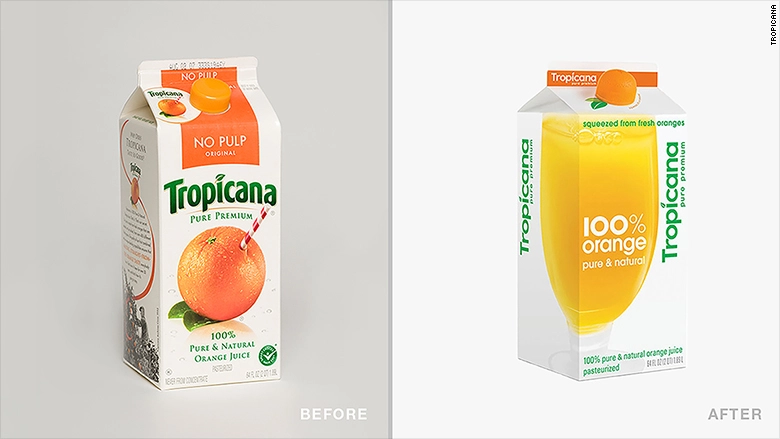 source: CNN
So, consider asking your customers about rebranding your business. Try to figure out what they expect and what they like in your brand. Consider everything: an original logo, email address format, company's mission, old and new names, color palette, images, etc.
Furthermore, keep in mind that changing too many brand elements at one time can even scare your most loyal clients away.
Conclusion
A lot of people think that branding begins with choosing a catchy name and ends with developing a logo. In reality, it's much more than that. Branding affects everything that reflects the company's image. But sometimes, companies need to rebrand. Then they work on changing goals, mission, messaging, style, and anything else that contributes to their image.
When do companies need to rebrand? When they face challenges like merging with another brand, appointing a new head of staff, getting the wrong image in the eyes of the audience, making their business international, or having a need to catch up with the market.
How do companies create successful rebranding strategies? They follow these important rules:
Set out clear goals

Research before rebrand

Have a process planned out

Rebuild a value proposition

Gather a team of professionals responsible for rebranding

Reorganize the work

Explain to people why you need rebranding

Make backups in case new branding ends up performing poorly.