How to Integrate Instagram and Email Marketing for Maximum Impact
Why Should You Integrate Instagram and Email Marketing?
1. Get More Email Subscribers with Instagram
2. Promote Your Instagram Account via Email
3. Leverage the Power of Instagram Influencer Marketing
4. Repurpose Instagram Content for Emails
5. Tease Email Content on Instagram
6. Feature Your Instagram Audience as Social Proof
7. Sync Instagram and Email Campaigns
8. Promote Your Instagram Milestones via Email

Back in 1971, when Ray Tomlinson created the first email address, no one could have predicted it could become one of the most popular digital marketing communication channels. The global number of email users is predicted to reach 4.6 billion by 2025, so this channel is not going away in the nearest future.
At the same time, Instagram is growing at a fast rate. Kevin Systrom launched this photo-sharing app in 2010. Today, the platform counts 2 billion monthly active users. Plus, 76% of Gen Zers and 59% of Millennials are active Instagram users.
If you use both communication channels, that's great. At the same time, if you're treating email and Instagram as separate entities, you're not using the tools to their full potential. Email and Instagram might feel like two completely different platforms, but wouldn't it be great if you could integrate Instagram and email marketing?
The short answer is yes. But let's dive into details.
Why Should You Integrate Instagram and Email Marketing?
Here are three main reasons to integrate Instagram and email marketing:
Give customers more brand communication options. Living in the digital era, people have different communication preferences, so it's important to interact with your customers (both potential and existing ones) on different communication platforms.
If you run email marketing campaigns, take into account that people block unwanted emails and it's a good idea to have an Instagram profile. Or if you have a social media presence, keep in mind that emails generate more leads.
Co-promote your marketing channels. Marketers often use email to nurture existing customers, while Instagram is more for building awareness. These differences are precisely why integrating your Instagram marketing efforts with your email marketing and vice versa is extremely important.
Increase brand reach and loyalty. Working with the strengths and differences between Instagram and email can help boost your campaigns, improve brand reach, and promote customer loyalty. For example, you can retarget your email subscribers on Instagram with ads or show off your Instagram followers in your emails to give other subscribers a solid reason to trust your company.
When you make Instagram and email marketing work in tandem, you get a chance to bring your business to the next level.
So, here are eight ways to integrate Instagram and email marketing for maximum impact.
1. Get More Email Subscribers with Instagram
Your audience spends an average of 29 minutes a day scrolling through Instagram. According to Meta's own data, the platform has 2 billion monthly active users and 90% of them follow at least one brand—there's no better place to give Instagram marketing a try and promote your newsletter.
Your bio is the most prime real estate on your Instagram profile. Use the single link to lead your followers to a signup page. Always include a call-to-action (CTA) so anyone visiting your profile knows what your link in bio is all about. If you have remaining characters, include why people should subscribe to your newsletter.
Popular weekly newsletter Girls' Night In uses Instagram's link in bio tool to get more subscribers. Its only other channel outside of email is the @girlsnightinclub Instagram which has over 133,000 subscribers.

Girls' Night In also posts snippets of its newsletter content on its Instagram page, giving people a sneak peek before they decide to subscribe. When you plan your Instagram feed, it's a good idea to think about email newsletter elements in advance to create a cohesive profile that is eye-catching and informative.
The only other way to add a link on Instagram is the link sticker on Stories, which is a great place to promote your newsletter as well. Businesses reported that their Instagram Story ads have 73% higher click-through rates compared to other formats.
Pro tip: When you build an email list with Instagram, you can get invalid email addresses. To make sure your email list is clean, use email verification tools like Signalhire that allows users to check out emails in bulk.
2. Promote Your Instagram Account via Email
Your email subscribers have signed up to receive your newsletters, which means they have already shown interest in your brand. Since your subscribers have trusted you enough to receive regular emails, you have a higher chance of getting them to follow your Instagram account.
Showing them your feed is a simple and effective way to invite subscribers to become Instagram followers. Sunglass brand Tens invited its email subscribers to follow them on Instagram with a simple headline: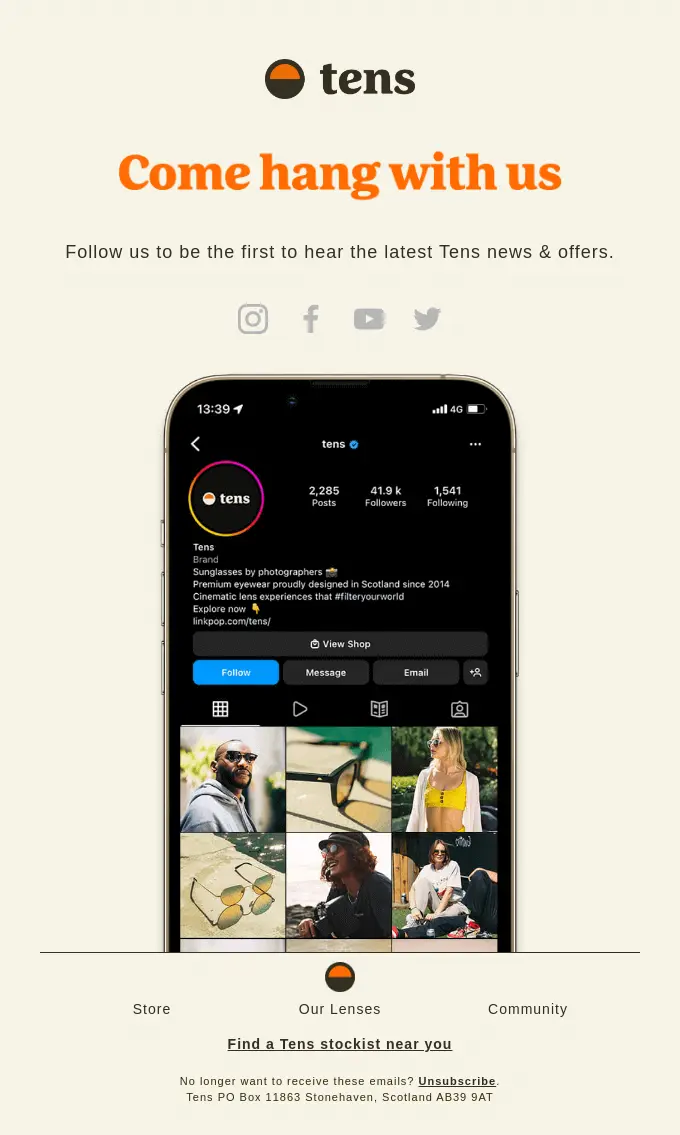 Like Tens, you have to let your subscribers know what benefits they can get from following you on Instagram.
In addition to showcasing your Instagram feed in your emails, another effective strategy is to include an email signature with social media icons. By adding a standard footer to your emails, you can effortlessly promote your Instagram page on every message you send. This non-intrusive approach ensures that your subscribers are consistently reminded of your Instagram presence, increasing the likelihood of them becoming followers. By leveraging your existing email communication, you can regularly promote your Instagram account and boost your following without the need for a dedicated email campaign.

3. Leverage the Power of Instagram Influencer Marketing
Many brands work with influencers to grow their online community and acquire more customers. What is more, 92% of marketers say that influencer marketing is the most effective form of marketing.
This is because influencers have their own engaged niche that trusts their recommendations. Partnering with the right influencer is one of the best ways to maximize your campaign and turn your followers into subscribers.
Here are some examples to help you:
Start a referral program. Provide your partner influencers with unique links so you can track how many new subscribers can be attributed to each partner. To ensure maximum impact, you must reward new subscribers with exclusive discounts or special treats as soon as they sign-up.
How-to videos. Ask your influencer partners to post their own take on a "how-to subscribe" video to grow your email list. The video should include the benefits of subscribing to your newsletter and what they can expect after signing up.
Host an influencer takeover on your newsletter. Since influencers typically have a loyal community of followers, they will likely subscribe to anything the influencer recommends, more so if they are featured in the newsletter or contribute a piece.
If you have an Instagram shop, you can have a portion in your newsletter that features your partner influencers' favorite products, which leads to a special shoppable landing page.
You can also feature your favorite influencers, like earphones brand AfterShokz did in its newsletter: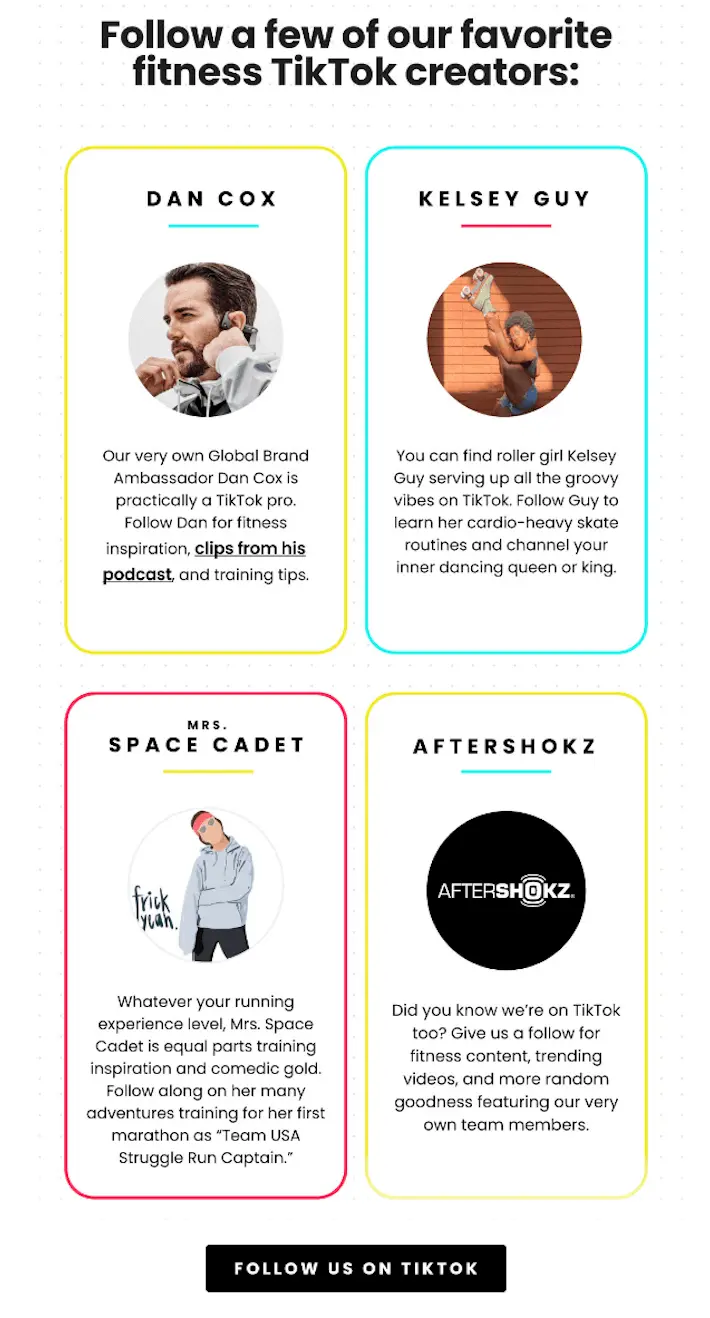 Do something similar for your Instagram influencers and include a CTA button that encourages your subscribers to follow your account. Working with influencers considered relevant in your industry or niche won't just get you more subscribers, but it can also increase sales.
4. Repurpose Instagram Content for Emails
Having to think of brand-new content for every marketing channel can get tiring.
Thankfully, visual-heavy content made for Instagram is always great for repurposing in your newsletter.
Repurposing Instagram content via email can work two ways: It can let your subscribers know about your Instagram account so they can follow it or update subscribers who aren't active on social media.
The good news? It can be as simple as embedding your feed in your newsletter. Those who click on the image will be redirected to your Instagram profile, where they can follow you.
You can also use the raw photos meant for your social media pages and resize them for your email campaigns. When people see other people who support your company and post fan-made images on their social media profiles, it drives customer loyalty.
Ando Money repurposed photos used on social media and resized them to match the newsletter layout. The photos were accompanied by a CTA to invite subscribers to follow the brand on its social media accounts.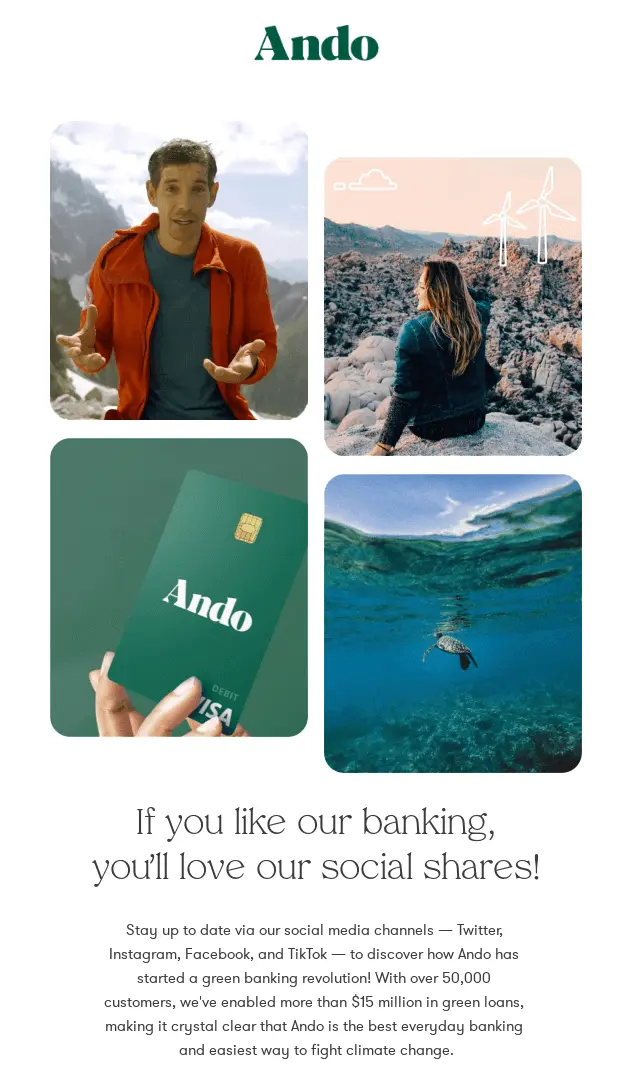 Another great idea is to use data gathered through Instagram Story Polls and questions and present them as infographics in your newsletter.
5. Tease Email Content on Instagram
Share bite-sized versions of your email content on Instagram to give your follower a taste of your newsletter. Don't reveal too much about the content to keep your followers curious.
Isabel Klee of the Instagram account @simonsits recently launched a newsletter. She convinces her followers to subscribe to her newsletter by posting short clips of her life while reading snippets of her essay that will be released in the next issue. Since Isabel just read a short portion of her piece, followers who want more context will have to subscribe to learn more.
Note: Always include a CTA on your caption to remind your followers to take action. With Instagram tools, you can also get access to in-depth analytics and therefore track content performance to see how your email teasers work on the platform.
6. Feature Your Instagram Audience as Social Proof
Social proof is a powerful way to boost your reputation and show your audience that you are trustworthy. User-generated content, such as tagged photos on Instagram, is an effortless way to integrate social proof into your emails. According to the Nielsen Consumer Trust Index, 92% of consumers trust UGC more than traditional advertising.
Reviews or testimonials by customers tend to be more believable compared to messaging created by brands themselves. If you want to convince your email list to follow you on Instagram, featuring your audience is a subtle yet effective way.
Of course, you can also feature your newsletter audience as social proof, like the example below: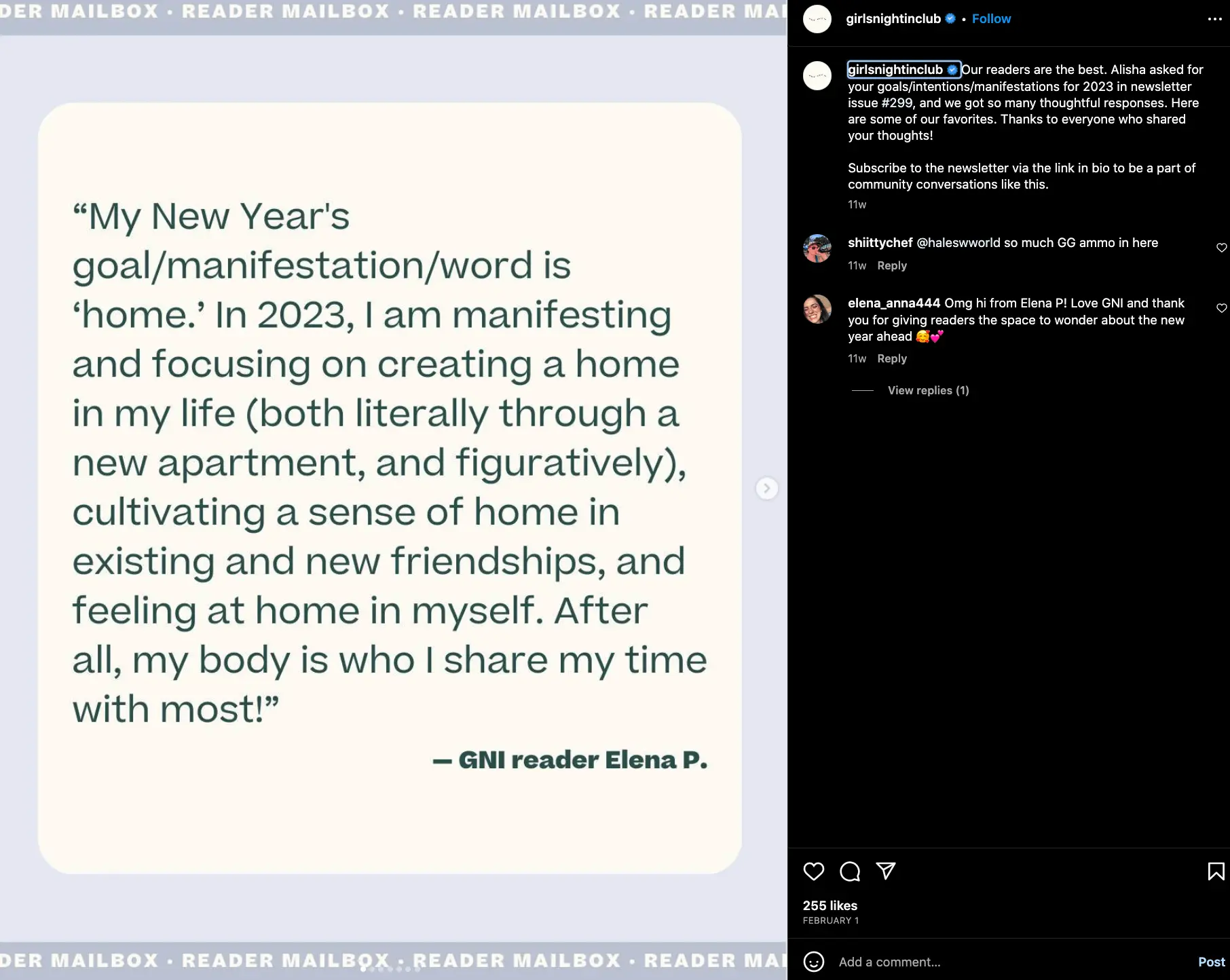 Girls' Night In integrates social proof sent by their email subscribers into their Instagram content calendar. This shows that the Girls' Night In newsletter has an engaged audience, and its content resonates with them.
7. Sync Instagram and Email Campaigns
If you use both marketing channels, social media and email marketing should go hand in hand.
Syncing your Instagram and email campaigns ensures that you have clear messaging across all your marketing channels and that your team is not doing redundant work.
What you release on Instagram can be reworked for your email campaigns and vice versa. Without syncing your marketing plans and calendars, a lot of effort can go to waste. Launching campaigns on both platforms also ensures that you reach your entire audience. Instagram has the numbers you need, while email can get you the clicks.
Let's take Carter's, for example. In honor of its Warehouse sale, the company reached out to its email subscribers with an email campaign that announced the sale and its benefits.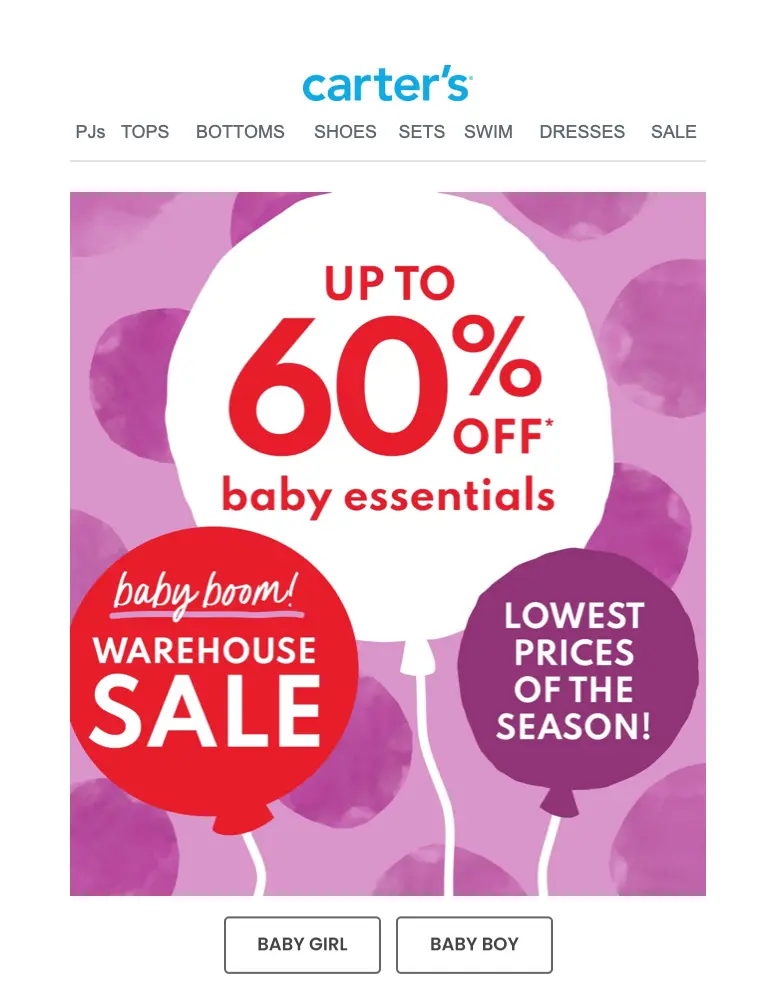 Since not all people check out promotional emails daily and not all Instagrammers are email list subscribers, the company also made an Instagram post that told readers about the sale on the same day: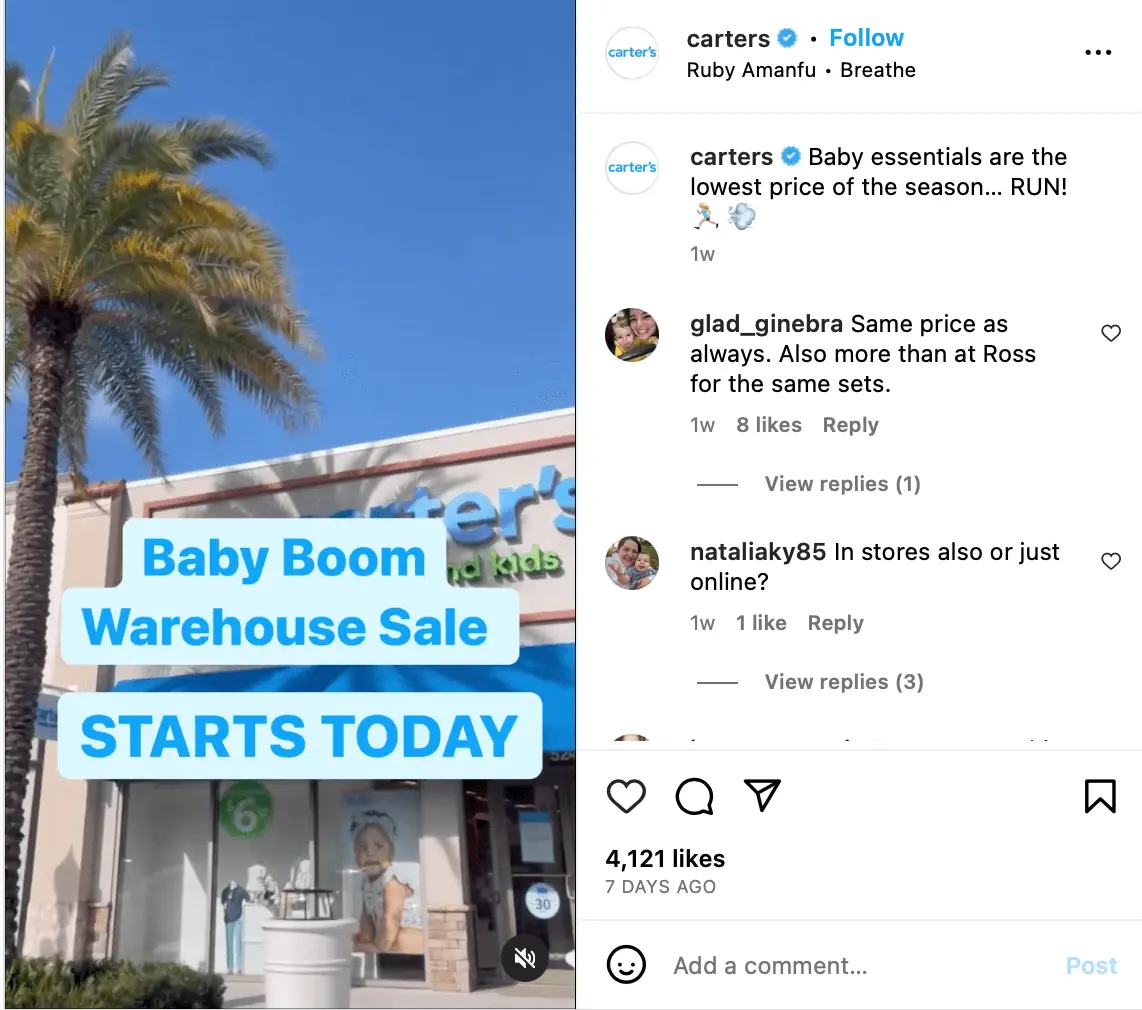 If you take a closer look at the comment section, you can find a big number of interested people who had interest in the Warehouse sale. When companies sync their marketing calendars, it's one of the best lead generation strategies that results in business growth.
8. Promote Your Instagram Milestones via Email

Your email subscribers might not want to follow you on Instagram, and that's okay. However, that doesn't mean that they should miss out on your important milestones or valuable content.
As mentioned above, information and data gathered through Instagram can be shared in your newsletter. The same can be done with milestones like a jump in followers, hashtag usage, contest entries, and more.
Sharing Instagram milestones might just convince the most stubborn of your subscribers that following you on Instagram is worth it. Moreover, when you tell email subscribers about reaching a new following limit, it serves as social proof. People want to be a part of something important, so they are more likely to follow your profile after seeing a significant community of Instagram followers.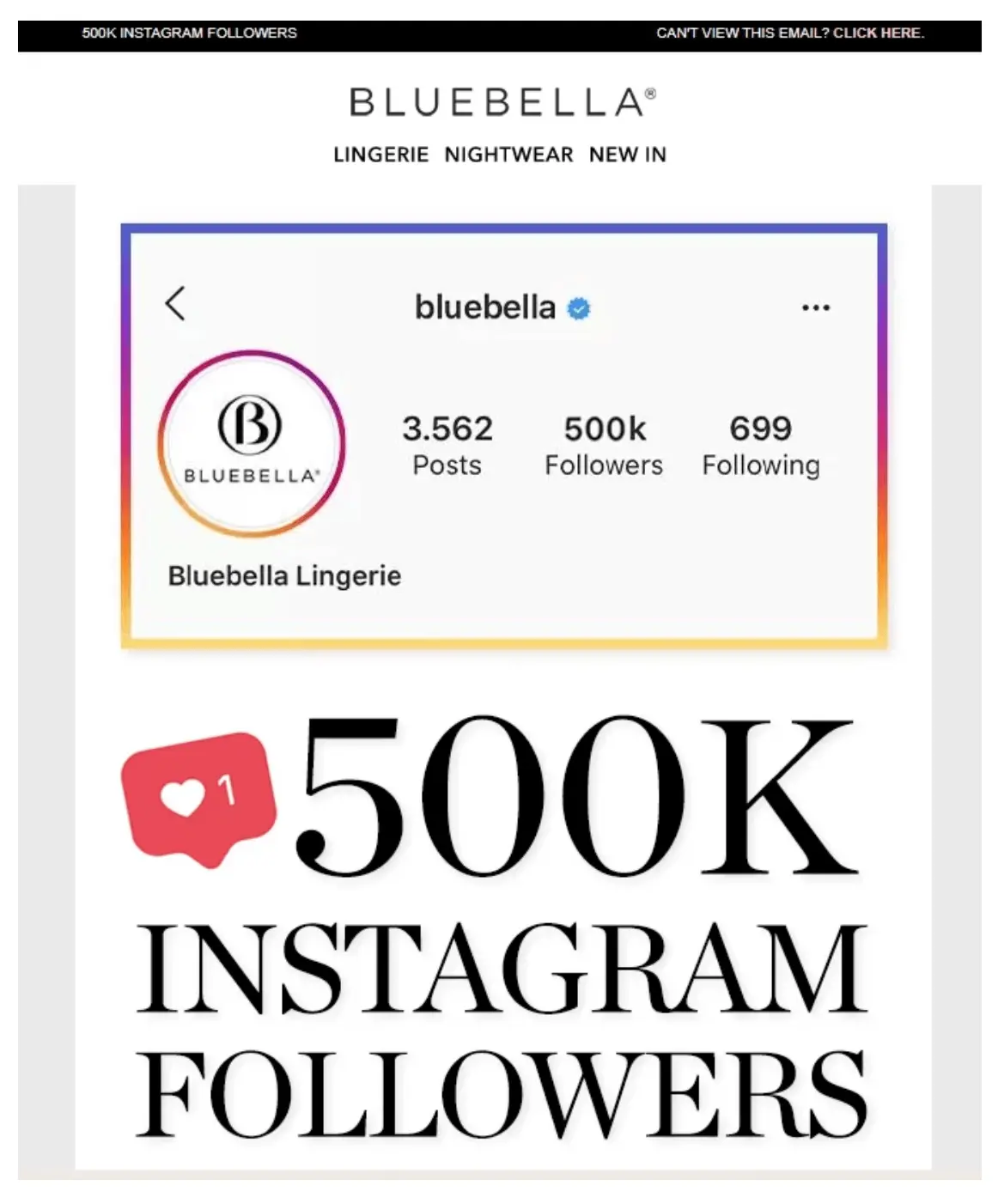 In a Word
Instagram will get you the eyeballs you need, while email can help you improve your relationship with your followers. Leveraging the strengths of both email and Instagram can lead to more effective campaigns and better overall results. Use these tips to help you get started!
Val Razo
Val is a freelance SMM consultant who helps small and medium businesses establish and maintain a solid social media presence. In her free time, Val also writes for digital marketing blogs to share her experience, connect with like-minded people, and acquire new clients.