How to Master Instagram Marketing: the Essential Guide for Your Business Account
1. Do research beforehand
2. How does the Instagram algorithm work?
3. How to create an Instagram business account?
4. What should Instagram posts look like?
5. Instagram marketing post types
6. Writing quality copies in Instagram captions
7. Using Instagram marketing hashtags
8. Plan your Instagram marketing strategy for business
9. Use Instagram Insights
10. Instagram growth marketing tips
11. Use Instagram ads
12. Promote your Instagram for business outside
With almost 855 million global users, Instagram belongs to the top of the most used social media platforms in 2020.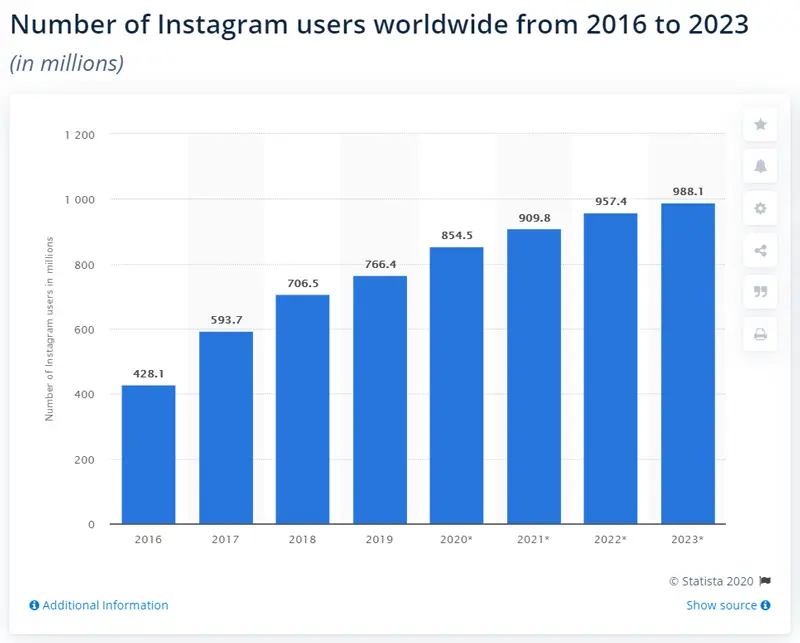 source: Statista
So, whether you work in technology, eCommerce, media, or education, it pays to build a presence on Instagram.
It is now more than just a platform for sharing photos. People come here not just to see how others are doing but to get experience with their favorite influencers and brands. With the right Instagram marketing strategy, you can become an influential brand too.
In this marketing guide, you will find everything you need to know about Instagram and learn how to use it for business.
Do research beforehand
Let's start with research. As a business owner or marketer, you need to carefully select your social media channels and see which would work best for you because, obviously, not each will. For instance, not every successful business is on Instagram. Instead, they might be active on LinkedIn and Facebook.
Create short and long-term goals
Think about what you would like to achieve with Instagram. This might include driving more traffic to your website, increasing brand awareness, growing product sales, establishing relationships with Instagram influencers, etc.
Make sure you have the audience on Instagram
Instagram isn't the first choice for everyone. For example, for the B2B type of IT business, the platform is not enough and will not be sufficient because of the audience.
You might know your competitors in general, but Instagram might be different. Explore their accounts, see how many followers they have, what they post, how they interact with their audience, etc.
How does the Instagram algorithm work?
To ensure your posts are seen as often as possible, you need to understand the Instagram algorithm.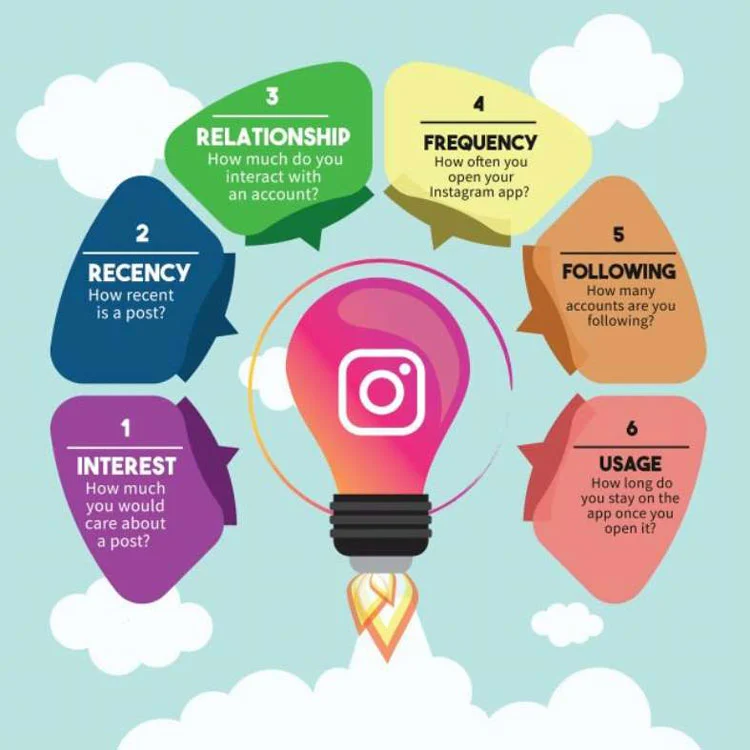 source: Latfh
It's all about the engagement
The more engagement (likes, shares, comments, etc.) your posts have, the higher they rank in followers' feeds.
It's also important how much time your followers spend reading your post. If they leave immediately, Instagram considers your content as irrelevant or not engaging.
Turn followers into friends
If someone regularly views your posts, Instagram shows them your newest content at the top of the feed.
Fresh posts are much more likely to be shown to more people. That's why it's better to post often and regularly.
Relevant content is for relevant people
If your audience prefers viewing fashion or food accounts, Instagram will show them more fashion and food-related posts.
How to create an Instagram business account?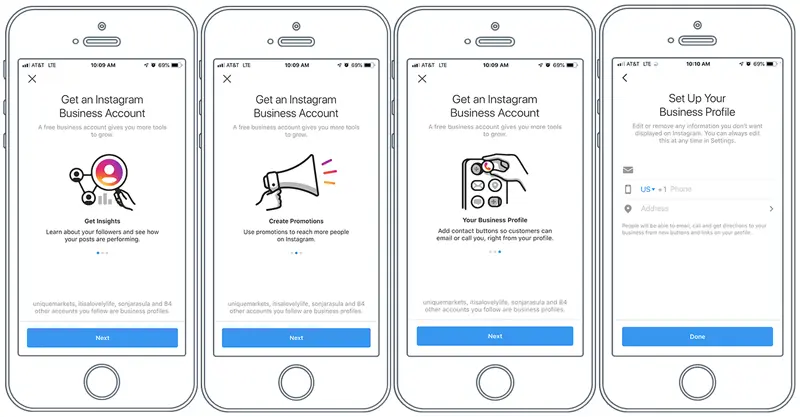 source: Constantcontact
If you want to use Instagram for business, you should better switch from personal to business.
Switch to a business account in settings
Go to Settings > Account > Switch to Business Account. This will have significant benefits for you as a business. This type of profile will allow you to launch ads right from Instagram, view valuable Insights, let your followers get in touch with you via a quick contact button.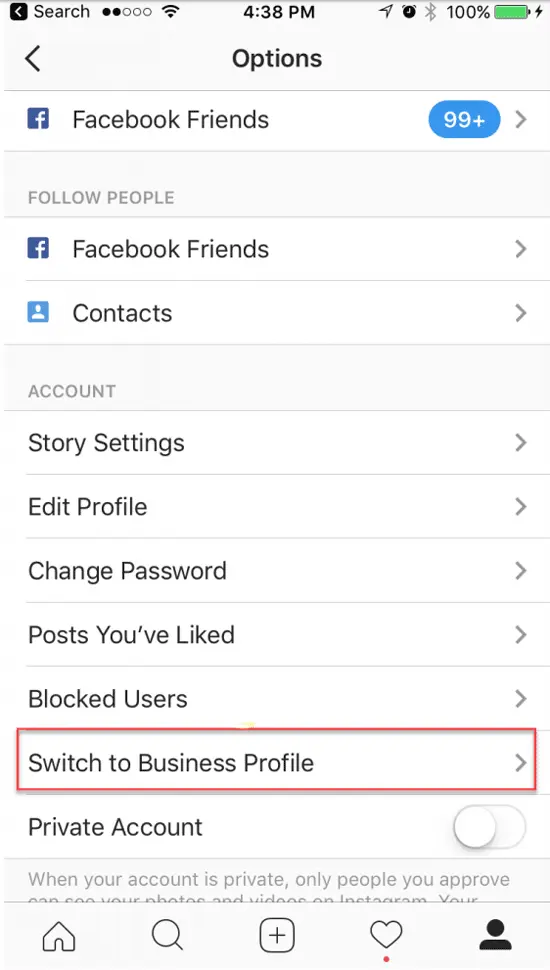 Optimize essential options
In Settings > Privacy, you can also choose who can see and reply to your stories, comment on your posts, tag and mention you, and write you direct messages.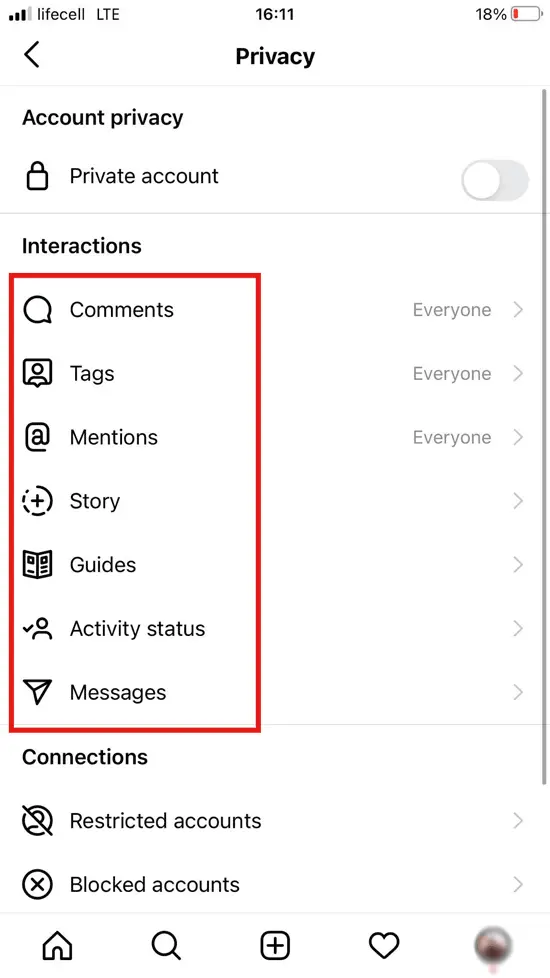 Edit your business profile
On the Main Profile Page, you can see the "Edit Profile" button that allows to enter a name, add a website, write a short bio, choose a category (e.g., Shopping & Retail, Health, Musician, Author, and many more), add contact options, such as email and phone, add action buttons, such as "Book Now," "Order Food," "Reserve."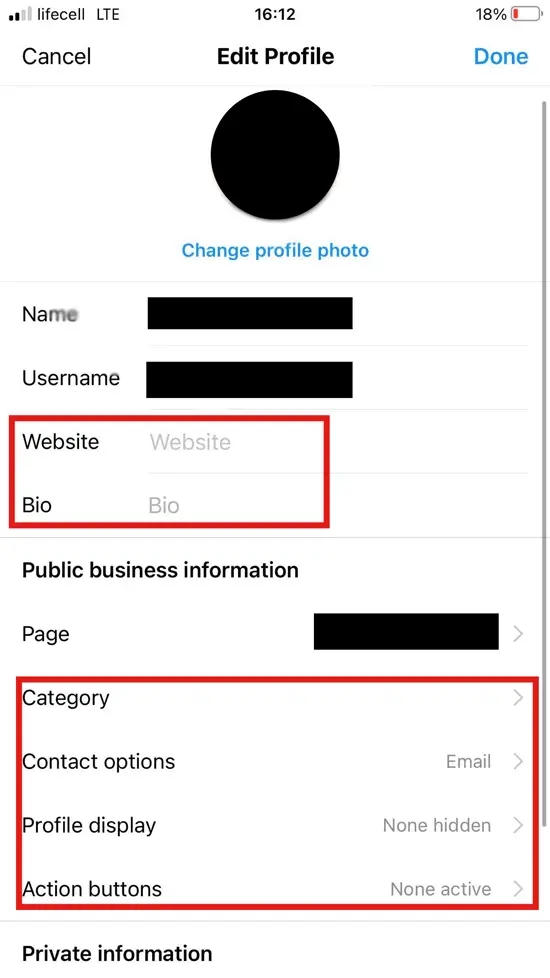 You might also like: "How Can You Develop Brand Consistency And Is It Essential in Communication?"
What should Instagram posts look like?
Gone are those days when Instagram was a platform for sharing selfies. Now, we can use a variety of content to attract and keep people's attention for the longest.
Yes, we can still use photos or images but keep in mind that people now got used to quality content. So, aim to take only high-quality pictures. Most photos require post-editing. You can do it either in some online editor, on your camera app, or on Instagram. Ideally, you should keep your images 1080 x 1080 or 1080 x 1350 pixels.
source: Igstorysize
Writing captions for your posts is another great way to attract people to your content. Mix Instagram marketing posts with something that educates or entertains.
Videos are easier to digest, and it takes people time to watch them. Remember? The longer they interact with your content, the higher Instagram ranks you. If you want a video to appear in your feed, make sure it lasts less than 60 seconds. Longer videos will be automatically uploaded to Instagram's IGTV. However, your followers will still see the video in their newsfeeds.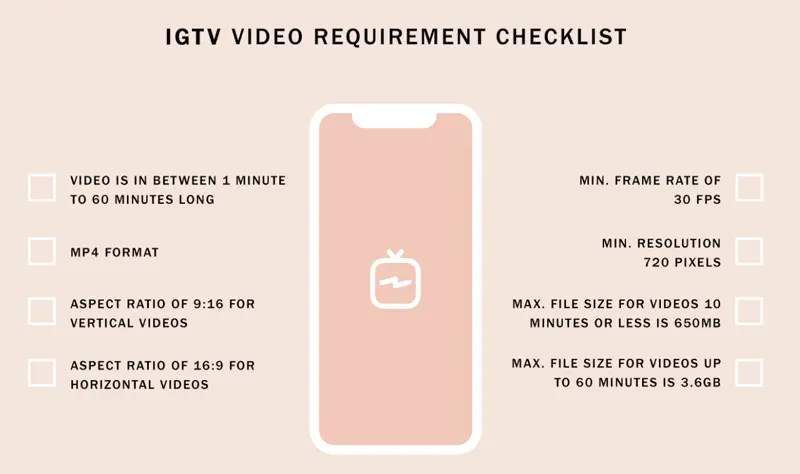 source: Planoly
Most people love watching stories. And if you think that businesses don't have anything to show in stories, check out the profiles of your competitors and see if you like what messages they communicate to their audience. Brands like Oreo, Audi, Google, and many others regularly promote themselves in Instagram stories.
Post photos of your clients using your product, repost reviews, show your team working on a product, or simply say good morning.
Once you post a story, you can save it in a Highlight. For example, Oreo has the following highlights: "Shoutouts from Oreo fans," "Recipes," and a funny one, "Astrology."
To create a story, go to the homepage and click on the icon with your profile photo. You can either take a photo or record a video right from the app or select content from your device.
The COVID-19 pandemic has forced people to isolate themselves from the world, making it harder for brands to connect with their audience. With Instagram Live, brands can easily and naturally communicate with their community live. More importantly, the audience can also interact with their favorite brands in real-time: leave comments and ask questions.
Before you start, it is better to check if you have a reliable Internet connection. Then in the feed, swipe right to open the story camera. Tap "Live" and the biggest round button.
Instagram marketing post types
If you are going to use Instagram for marketing, you need to be strategic about what you post. Mix various types of content and align it with your goals.
Share valuable tips on how to do or make something. For example, brands that sell superfoods often share quick recipe videos showing how to cook a dish using their products.
Let people see what's happening behind the scenes, introduce your team members, demonstrate your products, and how people feel using them.
A motivational post is usually a minimalistic image with an overlaid motivational text. However, you can try whatever you think can motivate your followers.
Regularly check posts with your brand's hashtag and mentions. Those can be an excellent source for user-generated content.
Shoppable Instagram posts
Mix your content with shoppable posts. This will make it easier for users to shop for the items they find on Instagram.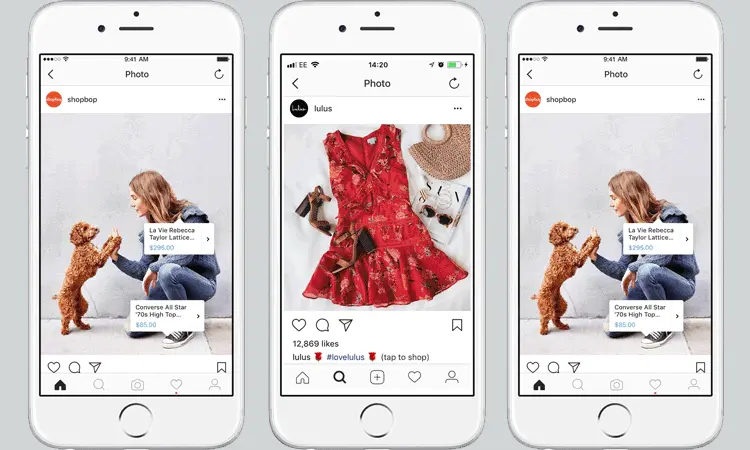 source: Marketingweek
You might also like: "Business Development Relationship Ladder: How to Build a Close Connection With Your Client."
Writing quality copies in Instagram captions
Now that you know what to post on Instagram for business let's look at a few more things to keep in mind.
It's easy to understand the difference between brands like Nike and Manolo Blahnik. Their language, colors, visuals, and style of posting are very different. You should also develop a voice that matches your audience's tastes. Everything from your images and bio to your invitation to become involved should look and feel like your unique brand.
Don't write too much or too little
A brand that focuses only on posting beautiful visuals on Instagram is missing an essential trick — giving the image context and meaning. Speaking of captions' length, try to keep them short. People's attention spans have decreased over the past few years — many are not interested in reading a long text.
But sometimes a little paragraph isn't enough to tell the story of your picture. Obviously, if you have more to say, then say it. In such a case, use paragraphs, emojis, and white space to make it easier for your readers to digest information.
If your caption doesn't provide any value to the reader, there is no point in writing a large amount of text. Don't post on Instagram just to post something.
Just like any other campaign, the Instagram marketing campaign requires adding a call to action to your messaging. In your post, don't forget to ask people to do something with the content you are sharing. For example, write something in the comments, repost your content, visit your online store, tag friends in the comments, follow another account, etc.
Using Instagram marketing hashtags
Using hashtags in your Instagram posts is a chance to get more followers. You can also take advantage of mentions and places.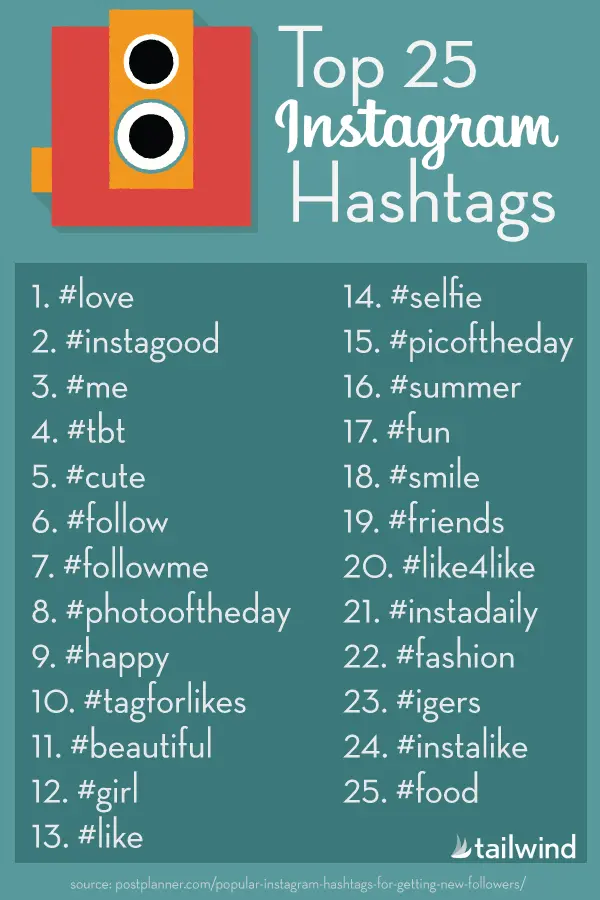 source: Pinterest
Hashtags
Find out what Instagram marketing hashtags your competitors and potential audience are using and select the most relevant ones for your posts. These might be hashtags indicating your product or service. (e.g., #pants or #vegancafe), hashtags indicating your niche in your industry (e.g., #newbornphotographer or #foodblog), hashtags using location (e.g., #donutsnyc, #yogaindubai), and many others.
Tagging or mentioning other Instagram users can be a great way to connect with your community. People that you have mentioned or tagged receive notifications. And this may encourage them to continue connecting with your brand. You can mention other brands, clients, or employees and encourage them to tag you in their posts too.
If you have a physical store, you might also want to create a location for your business and let people use it. Your customers will add the location on their photos when they visit your store, and their followers would be able to discover your business.
Plan your Instagram marketing strategy for business
Let's say you have some content ready to publish, people like your posts, now what?
A social media content calendar is an efficient way to plan and organize upcoming content. Include posts, stories, and collaborations there.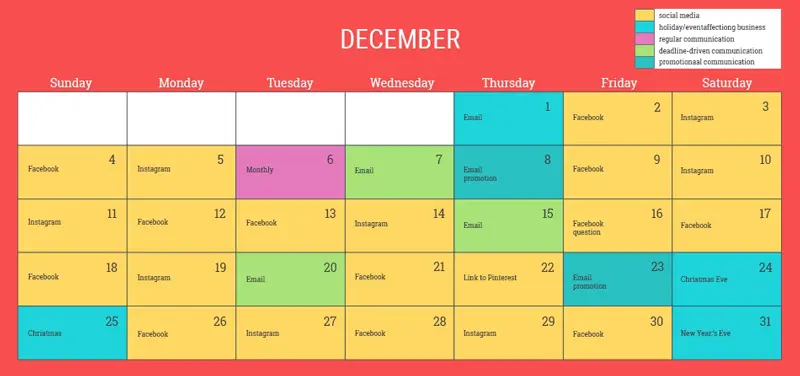 source: Ultraweb
Aim at getting more followers
Getting lots of likes on specific posts is not really beneficial. Instead, try to make people interested in your content. Get more followers.
These might be a swipe in stories, a link in your bio, etc.
Use Instagram Insights
By now, you already know how and why use Instagram for business, but we have a few more Instagram marketing tips left.
Let's look at one great Instagram feature, which is often ignored by users. It's Instagram Insights.
If you want to know what you have done right or wrong, it's essential to track the performance of your content over time.
To view the Insights, go to your profile and tap the Insights action button.
General analytics include accounts reached, interactions with your content, and the total number of followers.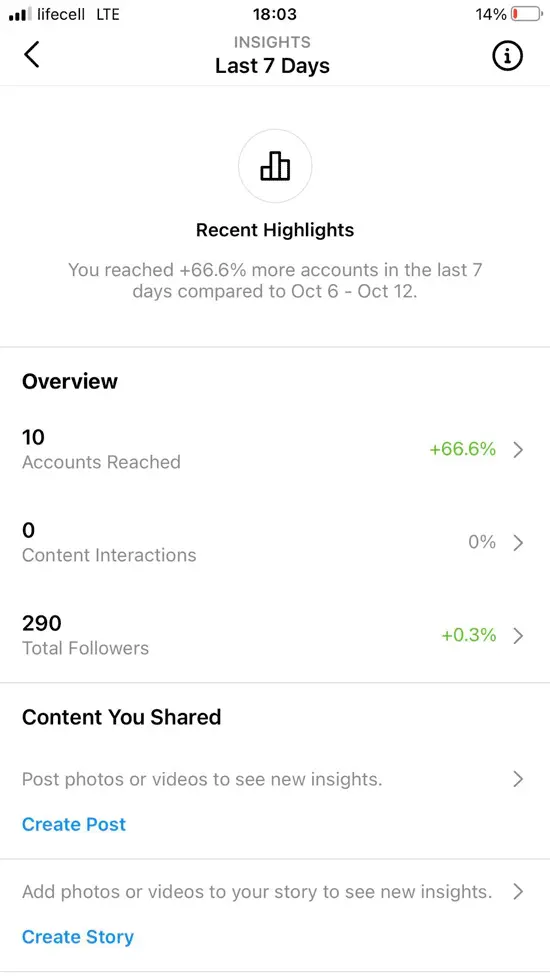 In this section, you can view the number of unique accounts that have seen your content.
This includes interaction data such as profile visits, clicks on the website, comments, likes, saves, etc.
These statistics reflect how many followers you have gained or lost over the last week, plus the average times of day when they are using Instagram.
You can also view statistics for individual posts and stories you have created to see how much they are in demand and how users interact with them.
To view insights for a particular post, go to your profile, select the post you would like to analyze, then tap "View Insights" below the photo.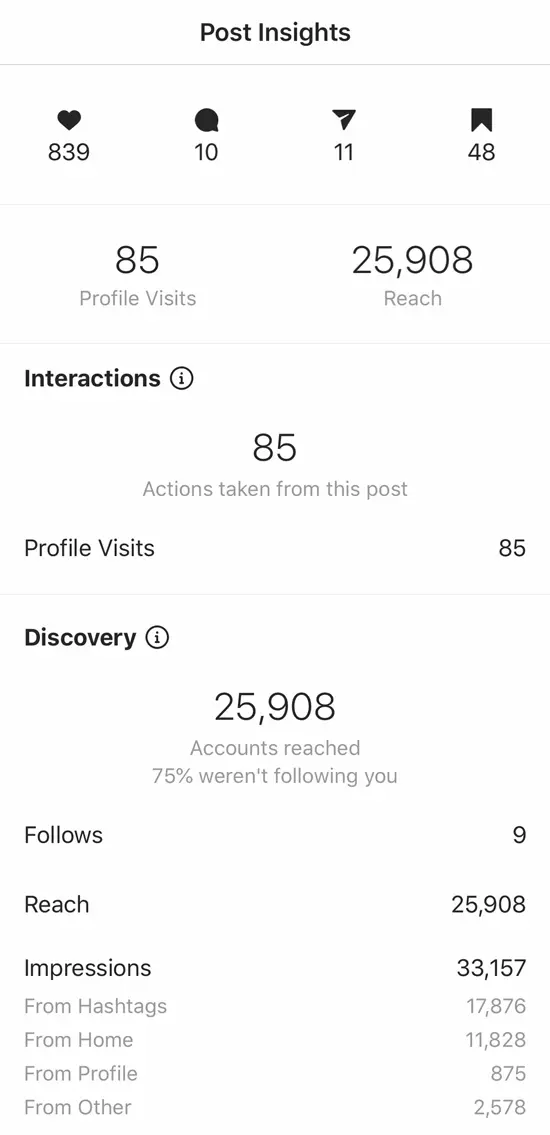 Shows the number of times your Instagram account was viewed.
These statistics show how many people see your content and how they find it.
If you promote your post, you will be able to see how much money you spent, where the reached audience is located, and other details.
Instagram growth marketing tips
We have already talked about what growth marketing is. So we won't focus on the definition. Read this article for more details.
Here are several growth marketing techniques you can use to improve your Instagram statistics.
Cross-post with other social media
Take one piece of content and share it across various social platforms at once. But be sure to optimize content for each network and schedule according to each platform's peak time. This will help you keep your accounts active, save time, and make it easy for people to share your posts widely.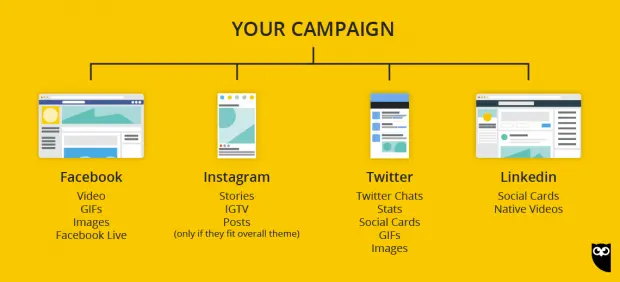 source: Hootsuite
Choose the best time and day to post
Like with almost any other social media platform, there is a right time to post on Instagram. If you have been active on Instagram for a while, it's easy to determine this time by analyzing your statistics.
If not, then post from Monday to Saturday (on Sunday, the engagement is likely to be pretty low). The best times for posting are around 2 am, 8-9 am, and 5 pm. The worst times are 3-4 pm.
Use Highlights to collect and order essential stories
Utilize Instagram Highlights to showcase and categorize the best content you have already posted.
Use your own distinct filter on Instagram
Choose one or a few distinct filters and use them in your stories. This way, people will recognize you easier.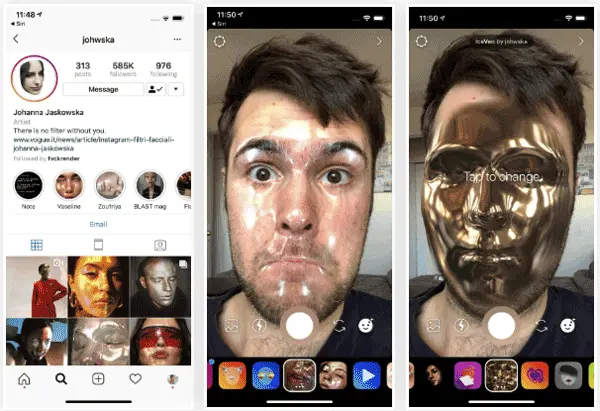 source: Medium
Ask for followers' feedback in posts and stories
People love to tell their opinions. Show them that you care about what they think. In stories, you can utilize the "polls," "quiz," or "questions" options. To do so, go to create a story on the left corner of the screen and tap on the sticker icon.
Unlike feedback posts, engagement posts ask interactive questions like "guess what's on the photo," "find differences," etc.
Use Instagram marketing tools
Choosing the right tools for Instagram marketing can significantly contribute to your marketing strategy and drive more engagement for your brand. For starters, check out the six apps which we like the most.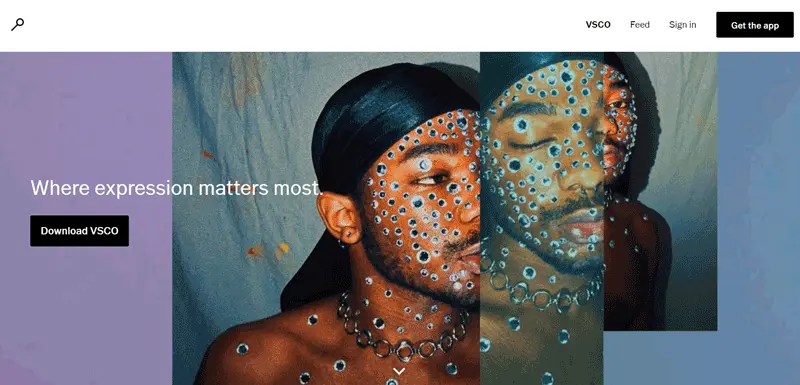 Edit your images and videos for Instagram using a wide range of different filters and presets.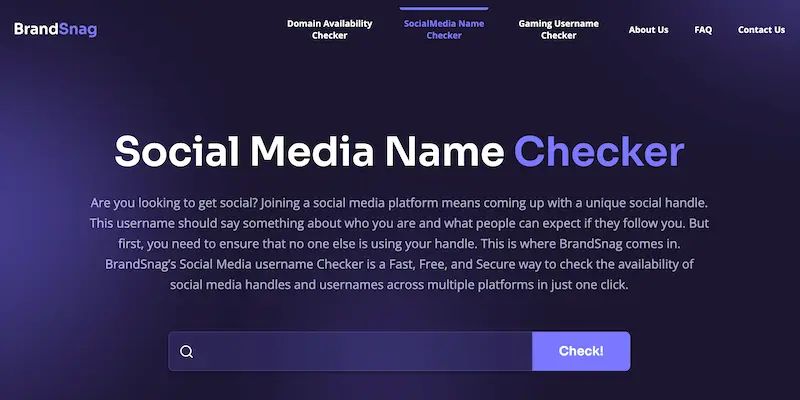 Use this tool to find creative and unique usernames to provide personalized online presence for your brands and personalities.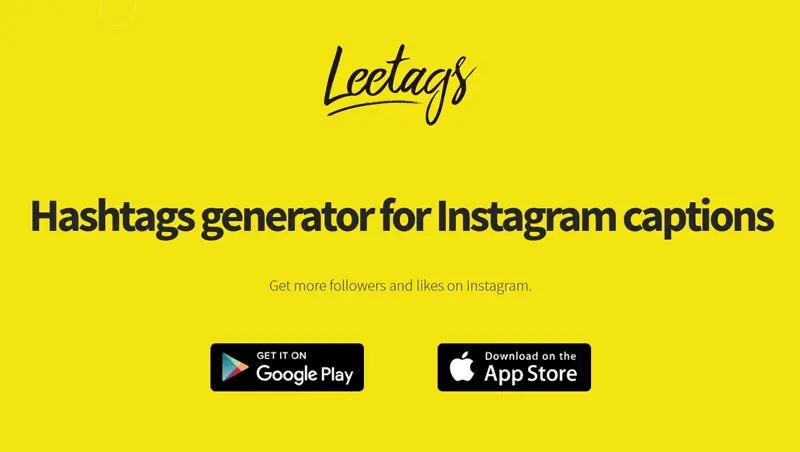 Use this tool to analyze and find top & relevant hashtags for your content.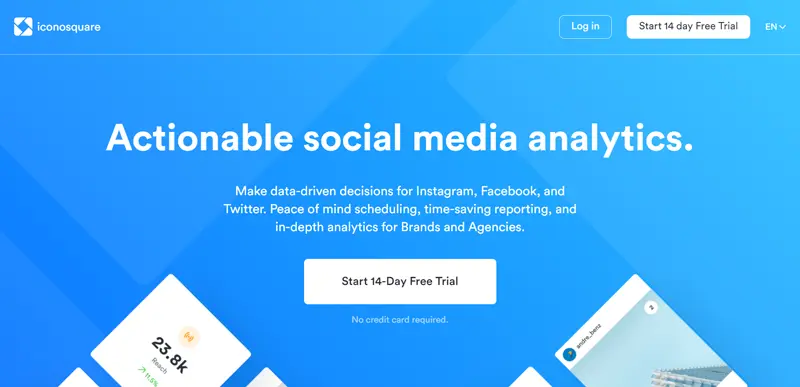 IconoSquare is a useful application for analyzing and managing your Instagram account. A convenient web interface will save you time and help you communicate with subscribers. Through IconoSquare, you can run contests, track their impact, and grow your community.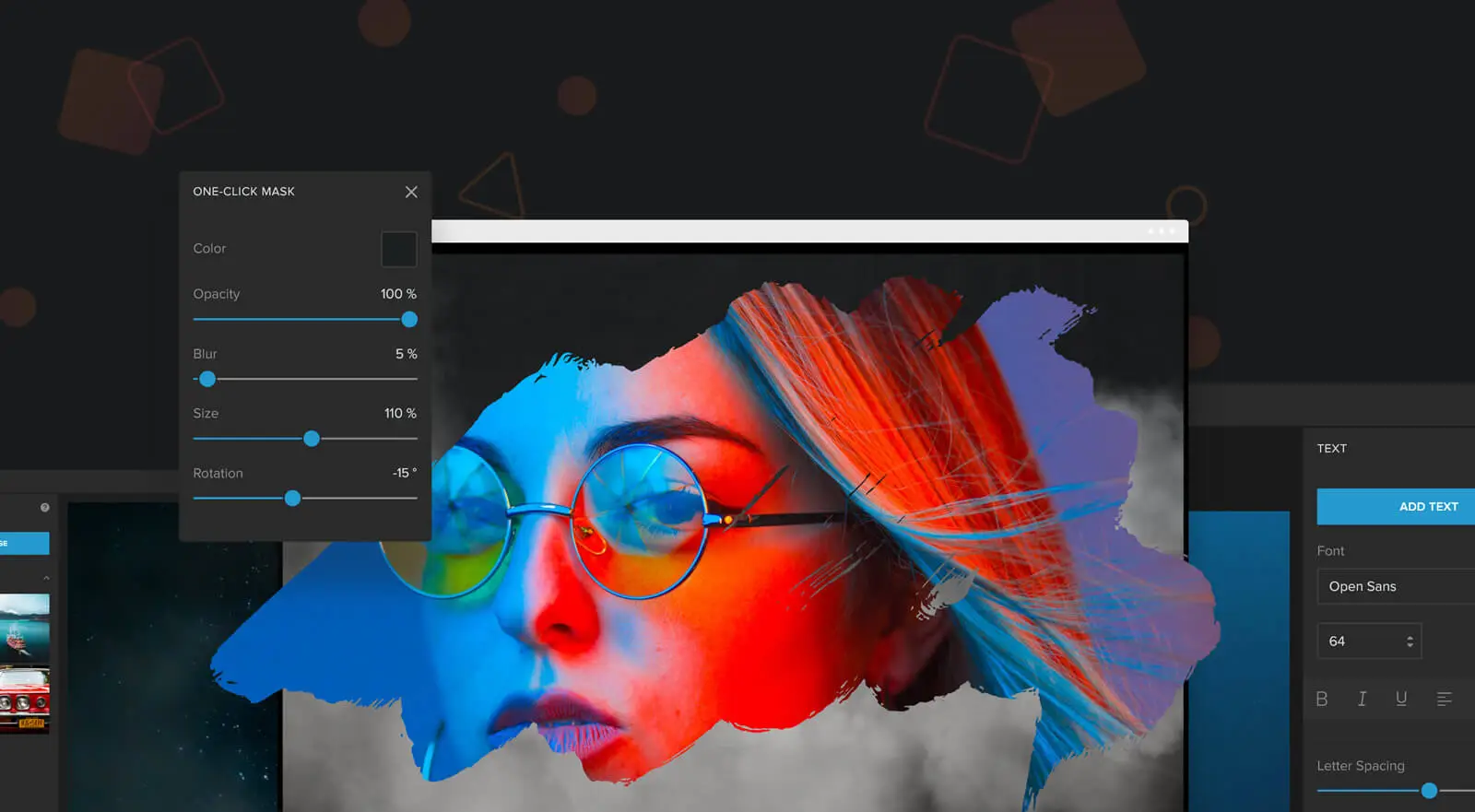 Colorcinchis a web-based photo editor that lets you enjoy the power of AI-based photo effects and editing tools. It comes with a text editor and features a library of stock photos, vector icons, masks, and overlays that you can play around with to craft stunning graphics for your social media.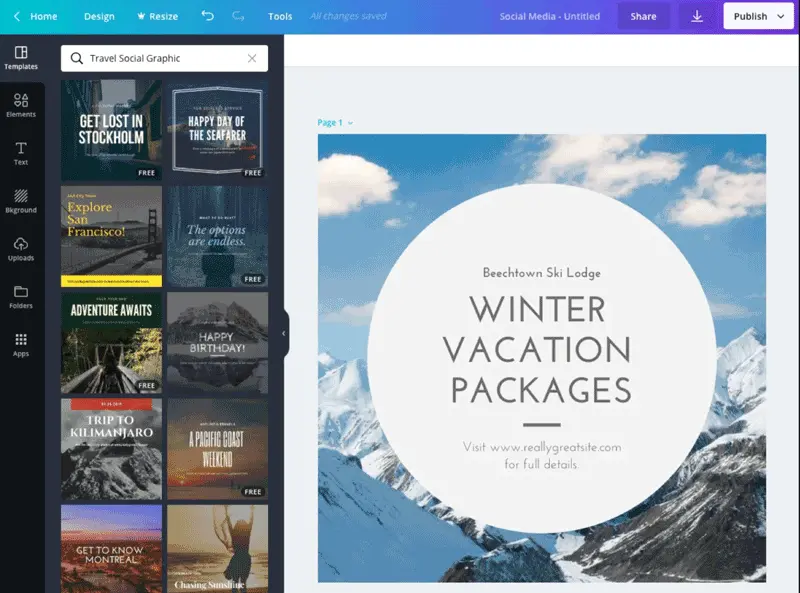 Canva is a popular photo editor suitable for creating various visuals for social networks. It has tons of free images, icons, backgrounds, and ready-to-use templates.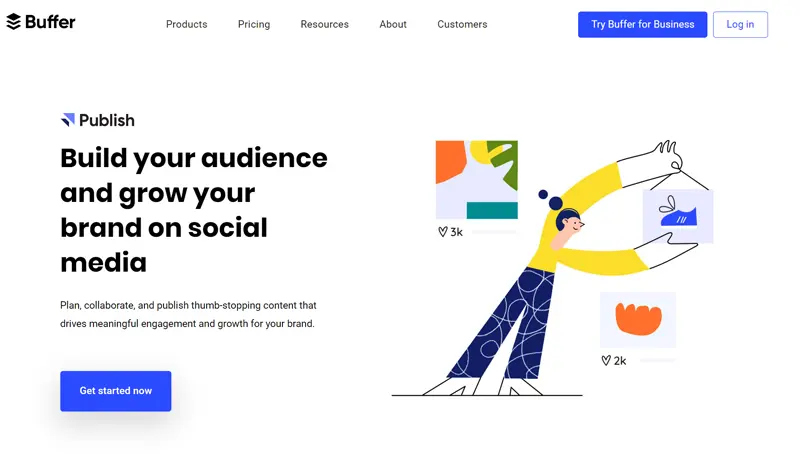 With Buffer, you can plan and schedule Instagram stories, create, save, and organize hashtags to use in your posts, analyze performance, and more.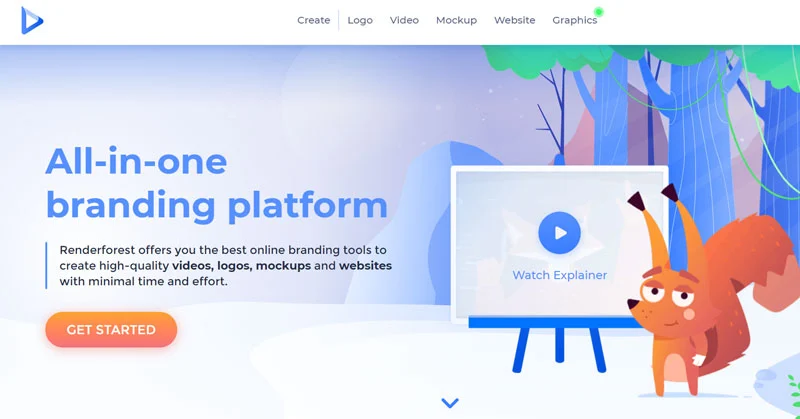 This tool is great for creating eye-catching Instagram stories.
You might also like: "The Best Digital Marketing Tools for 2020."
Use Instagram ads
Promote your content using paid Instagram ads to get more exposure for your brand. You can promote specific posts, stories, videos, or your page.
Promoting specific posts via Instagram
The quickest way to run ads is by promoting the content you have shared on Instagram (advertising within the application). To do so, select a post you want to promote and tap the "Promote" button under the photo.
Advertising your profile using Facebook Business Ads
You can also try Facebook Ads Manager to set up Instagram ad campaigns. This tool is more flexible and provides more options.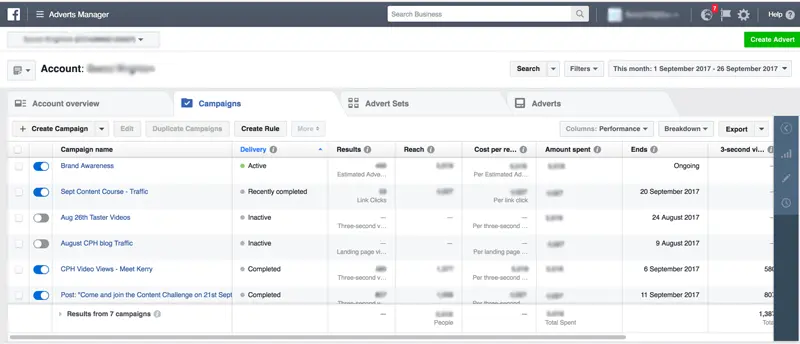 The Ads Manager allows choosing the right placements, making creatives for Instagram specifically, and better optimizing the expenses.
Promote your Instagram for business outside
There are multiple ways to promote your Instagram profile outside the platform. Here a few of them.
Don't limit your marketing strategy to one channel in particular. Chances are you have some followers and engagement on other social networks like YouTube, Facebook, Twitter, LinkedIn, etc. Use these platforms as cross-promotional tools for your Instagram profile.
Emails and email signatures
If you send a lot of emails, it may be helpful to add a few social media icons at the bottom of your marketing emails — or even in your professional email signature for regular email messages. Read how to add social media icons to your signature in this guide.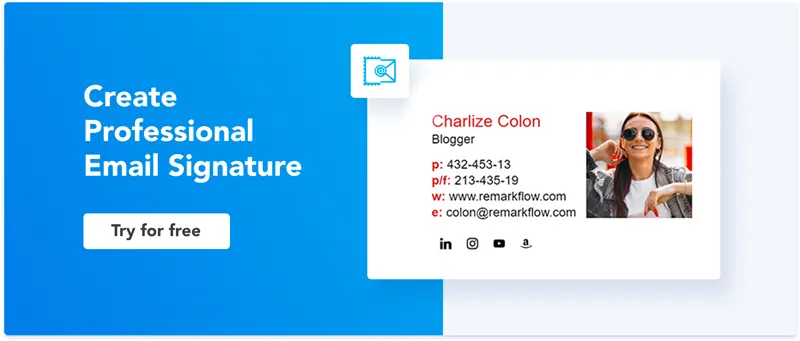 Most businesses have social media icons on their websites. This way, visitors can easily connect with the brand on a social platform that they prefer.
Conclusion
These days, most brands' social media marketing strategies can't be complete without Instagram. In the past few years, it has become a top network for brands, advertisers, and consumers alike.
If you are not present on Instagram, your competitors definitely are. However, just having a business account on Instagram isn't enough, and it surely doesn't necessarily translate to sales.
If your goal is to speak the same language that your audience does and drive sales from Instagram, you need to come up with a well-thought-out strategy. Hopefully, this Instagram marketing guide will help you create one and understand how everything is working.