How Can You Develop Brand Consistency And Is It Essential in Communication?
1. Defining brand consistency
2. Why should you care about brand identity?
3. Essentials of brand identity development
4. Brand consistency in communication
Useful tools:
1. Newoldstamp - Email signature marketing
2. Mailchimp - Email builder and sender
3. Reply.io - Personal email outreach, calls, and tasks
4. RocketLink - Your branded short linker
5. Canva - Online tool for making designs
Brand consistency is vital for any business that wants to build brand recognition and develop trust among its target audience.
Without brand consistency, people won't recognize your company among other competitors. They also won't associate your brand with positive messages and emotions. And they can't be sure that they'll get a consistent experience if they choose to engage with your brand.
Defining brand consistency
Brand consistency can be defined as the process in which a company tries to convey information about a brand and its offerings so that it doesn't detract from the core values, brand strategy, and brand fundamentals.
In the ideal world, every brand should have its own style of creative elements, color palette, font, language, and tonality to convey important messages to potential customers. It gives any trademark a unique personality and distinguishes it from competitors.
Why should you care about brand identity?
Brand identity is not a thing to neglect. Here is why.
Brand image affects all your marketing efforts
If your business brand is not established, it can make you double your advertising efforts. On the contrary, using a consistent, recognizable logo, color scheme, typeface, tone of voice, a company can convey a clear message on any advertising platform. Thanks to the brand identity elements mentioned above (when they are recognizable and consistent), customers can search the brand online, finding all available media related to it.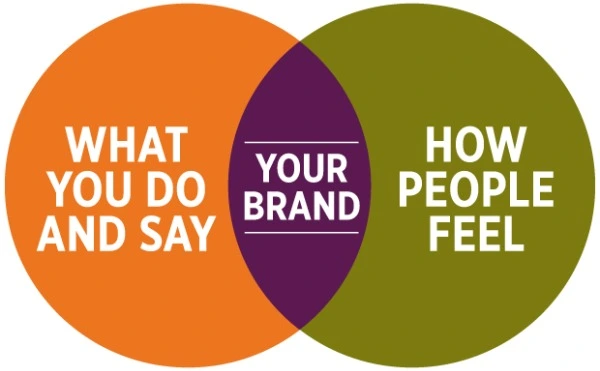 source: Brandingstrategyinsider
Whatever you sell, you sell a brand
When people purchase a product or service, they aren't just paying for the product or service. They are paying for what your brand stands for.
The more credible your brand is, the more customers are willing to remain loyal to your business and become its advocates. Being trustworthy, honest, and transparent are core traits of a credible brand.
Visual brand consistency builds trust among customers
If you want people to trust you, they have to feel like they know you. If you want to make them feel like they know you, they must be aware of you, recognize you, and remember you. If you want to make your audience recognize and remember you, show up in a way that's consistent.
Take a look at one of the best brand consistency examples to get a feel for how consistent branding looks like.
Dove is a personal care brand that has been dedicatedly maintaining its brand personality through its nature of products and packaging designs amongst others. The soap, shampoo, conditioner, shower gel, etc. packages always have a white background with a soft-blue logo demonstrating the brand name in an aesthetic manner. In addition, product packaging and marketing materials of Dove are all designed using similar color shades, typefaces, and play of other creative elements. This way, Dove enables its target audience to recognize their products easily, even without noticing the brand name.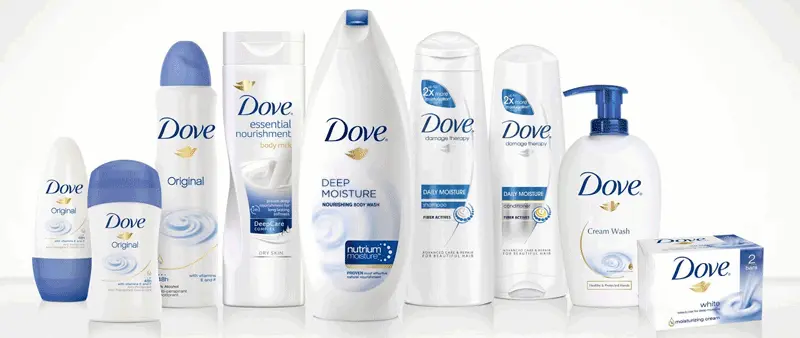 source: Dove
On top of that, consumers know Dove as a brand that shows women as they are, and not as others believe they should be. In their campaigns, they demonstrate their constant support of beauty diversity, imperfections, and different ethnicities.
Essentials of brand identity development
Right now, you might be wondering how you can keep your branding consistent and which elements you should focus on. Keep reading.
Set and follow your strategy and values
Before you start working on your brand consistency strategy, be sure to understand the vision and mission of your company that comprises the key values, objectives, and fundamentals. This way, you will be able to present and promote the brand maintaining the facets of consistency.
Find unique aspects of your brand
Think about what makes you different from your competitors. This could be superior customer service, a great sense of humor, the most luxurious product in your niche, the friendliest staff, etc.
Gather all the guidelines in a brand book
How to ensure brand consistency? Create brand identity guidelines that will help define the elements of your brand and branding rules to keep everyone in your organization on the same page. These guidelines should include your brand's mission, color palette, typefaces (including when and how they are used), tone of voice, photo & imagery styles, and any other information that your team needs to know to maintain consistency.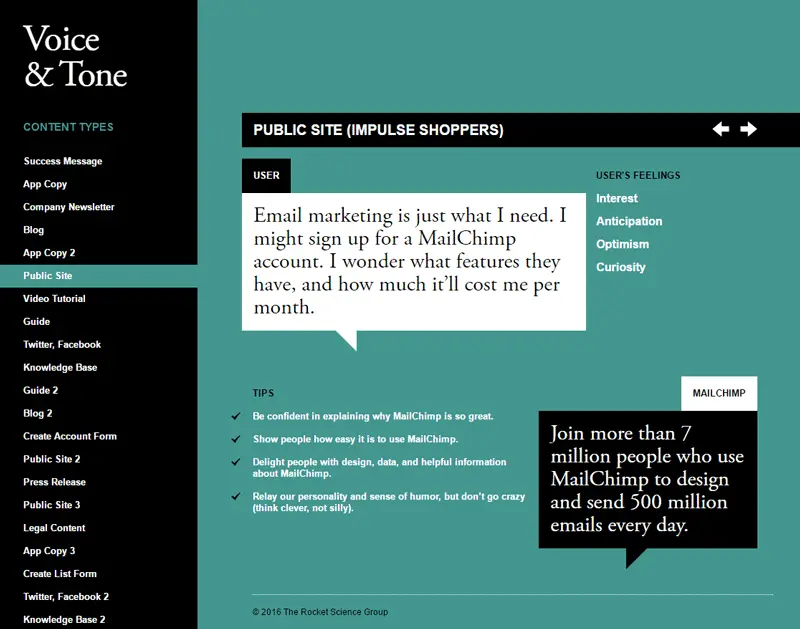 source: Mailchimp
Monitor your brand on the market and see if people associate it with the services you provide. Be sure to explore the following aspects.
These include G2Crowd, Capterra, GetApp, Yelp, and many more.
Go to social networks to check if people mention you in specific groups or forums.
Regularly check if certain respected resources mention your brand. Ask them to do so from time to time.
Engage all company employees
Imagine walking into a good restaurant where every waiter wore whatever they liked, or a book store where no one wore a name tag. How could customers identify who to turn to for help? Obviously, everything should run smoothly in customers' eyes. Everything should be polished and consistent. The opposite of that is chaos.
Providing all the employees with the most up-to-date, approved brand guidelines, which contain logos, templates, images, and even examples of copy goes a long way in ensuring brand consistency.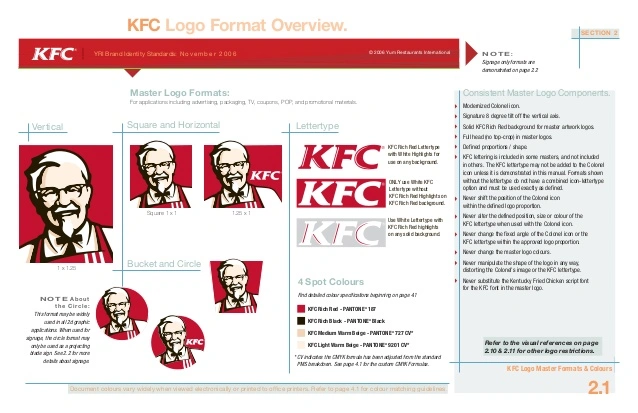 source: KFC
Set internal rules for branding
Ideally, everything should be done according to a brand book. This also applies to things that are only visible inside the company (e.g., email signatures for internal communication).
It's okay to get inspired by other brands, but copying (even a few elements) is not advisable. If you do this, your audience doesn't know what your brand looks like. They can easily confuse it with some other brand.
Think outside the box and try to look at your brand from different perspectives.
Tip: How does one learn to think outside the box? Imagine that you are a young entrepreneur and want to open your own restaurant. Now, when I ask you what the sole purpose of a restaurant is, you probably answer that the restaurant is all about serving food.
Since it is an obvious solution, let's eliminate it. Now you need to look for alternative solutions to still attract customers.
Be careful with rebranding
While the idea of giving your brand a new, fresh look might seem exciting, be sure to consider the impact on brand consistency. Sometimes, rebranding can be done without sacrificing the brand's hard-earned recognition (especially if you haven't already established distinctive brand assets).
But if visual elements of your brand are already established and provoke strong associations with your company, it will be much harder. However, it's still possible to rebrand. In such cases, experts recommend maintaining some key elements of your old identity to ease the transition.

Stick to certain topics in the content
The topics you choose for the content to produce should be consistent with your brand's mission and vision. Think about what field your company has expertise in and write about it in your blog/social media.
Carefully choose the right influencers to represent your brand. Don't focus on the number of followers or deals with well-known brands they have. If the influencer doesn't promote the same values as your brand does, the collaboration will come across as a fake.
Consider offline branding
Pay attention to how some brands decorate their outlets. You will notice that the outlets are not only beautiful but also designed in accordance with the product concept.
When you need to arrange different kinds of events, make sure you use your brand identity book, which will advise you to choose the most convenient format for the event. For example, if your target audience mostly consists of young people, then a fun party would be the best option. An exquisite evening is more appropriate if you are dealing with more elite products.
Brand consistency in communication
Commenting on social media or writing emails to send to potential customers, you may benefit from your brand identity elements either. Every time you are communicating with customers or partners, use your corporate fonts, colors, tone of voice, images of the correct format and style, etc.
For example, use similar corporate email signatures for all employees. It will help recipients recognize your brand no matter who writes to them, Jeff from Sales or Katy from Marketing.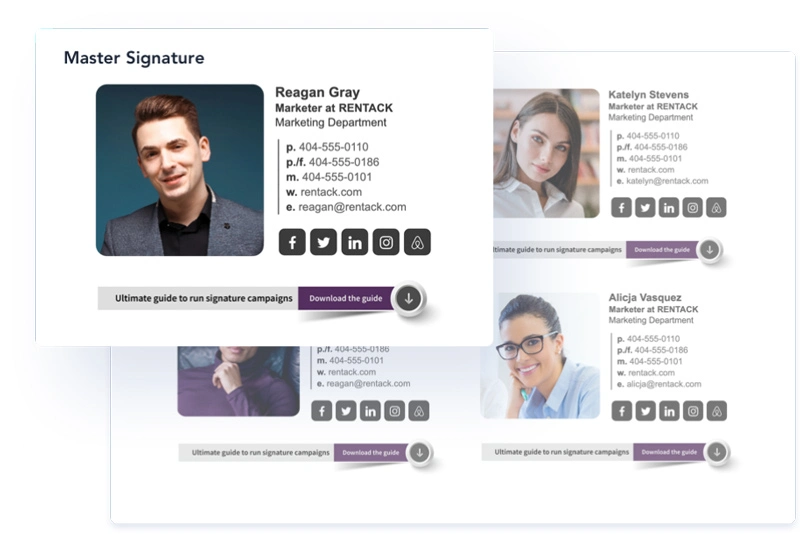 Conclusion
You can probably recognize an iPhone, a ring from Tiffany, or a can of Coca-Cola from afar. And it's not just because of their logos or slogans. To make people easily recognize and associate their brands with reliability and quality, manufacturers went through a lot of work. And you have the power to do it, too.
In this article, we have covered the core elements of brand consistency. Now you know why brand consistency matters and how to create brand identity. Good luck!