10 Ways To End An Email To Get The Desired Response
1. Nurturing a Relationship
2. Showing Gratitude
3. Sending a Reminder
4. Anticipating Good Things to Come
5. Breaking the Norm
6. Personalizing Your Sign-Off
7. Ending With A Question
8. Requesting a Meeting
9. Short and Concise Professional Email Endings
10. Semi-Professional Email Sign-Offs
Useful tools:
1. Newoldstamp - Email signature marketing
2. Mailchimp - Email builder and sender
3. Hubspot Email Marketing - Marketing automation platform
4. MailerLite - Landing page builder
5. Canva - Online tool for making designs
Whether you're sending an email to customers, colleagues, or employees, how you close an email has a major impact on whether or not you get the response you want.
Rather than typing the same email sign-off in all your messages (e.g. kind regards, sincerely, best wishes, etc.), you must tailor each ending depending on the context of your email outreach.
Why is this important? A proper sign-off will not only indicate the end of the message but will also leave the reader with a great impression and motivate them to take action. For example, you might end your email with a question that prompts the recipient to reply instead of simply setting the email aside after reading it.
In this article, we look at some of the best ways to end a professional email to elicit a response from a variety of different targets.
But first, here are some best practices to keep in mind when crafting your email closings.
Format Endings Based on Type of Audience: Format your email endings based on the type of audience you're communicating with, such as new and recurring B2C and B2B customers, professional colleagues, managers or executives, and others.


Use Short and Concise Endings: There are certain universal tactics for ending an email that you can use regardless of the target, but just make sure that the endings are always short and concise.


Be Direct With Your Intention: Whether you want to send a reminder, a congratulatory note, or express gratitude, make sure you are very direct with your intentions to avoid any misunderstandings.


Give Users a Variety of Ways to Connect: Practice good channel management by creating email signatures that offer a variety of ways for users to connect with your brand on different platforms, such as social media, email, phone, website, etc. As part of brand recognition, make sure to use a logo maker to create a professional logo, share your business slogan, etc.


Always Check Your Spelling: Regardless of how sincere your email closing is, the people reading your email won't believe you put any real effort into composing it if it's filled with typos. Also, mistake-filled emails don't inspire much confidence in your recipients about your ability to be dedicated and detail-oriented in case of further collaboration.
Pro Tip:Use a free spell check tool like Quillbot or Grammarly to check your spelling before sending emails.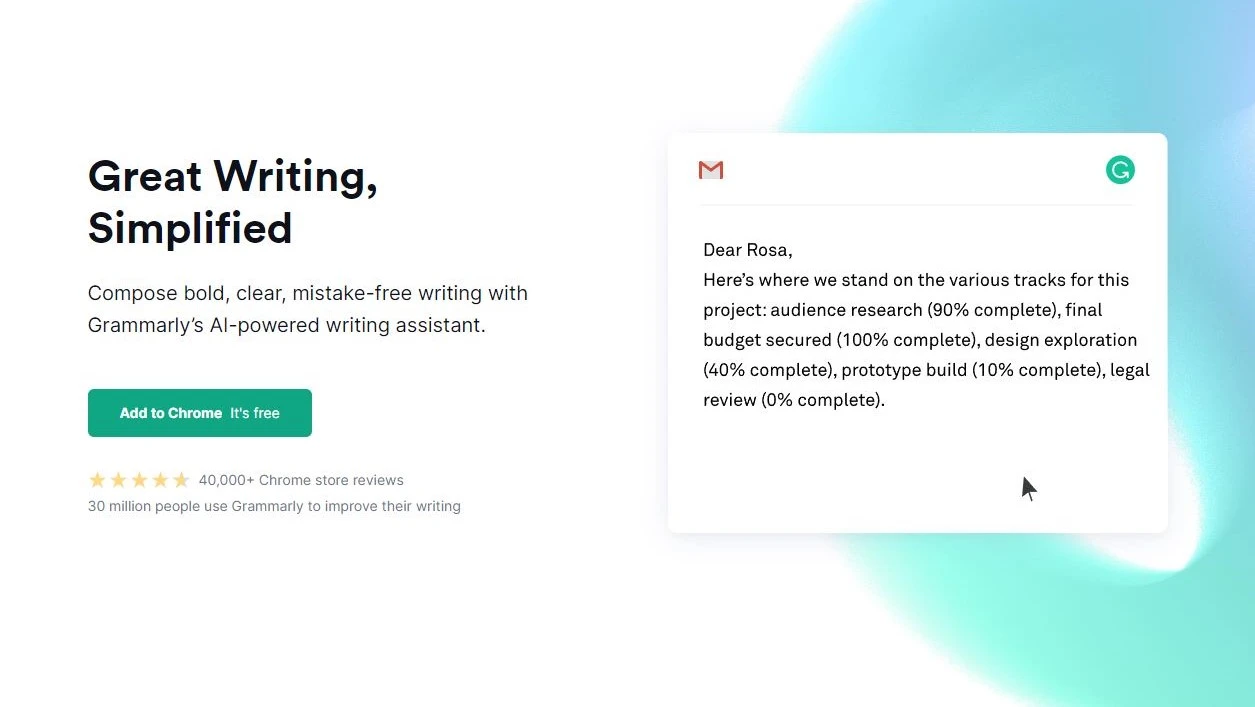 Host Meetings With Team Members to Discuss Email
When crafting a new email ending or any other part of an email, its always best to have other people look at it before you send it.
By bringing together members of your team or employees throughout the company to look at and discuss the email together, you can get a better sense of whether it's really as perfect as you might have initially thought.
One great thing to consider when having these meetings is to host them virtually. This allows everyone to socially distance and ensures that remote and hybrid workers are able to attend.
Additionally, you can use computer screen recording software during the meeting to record what everyone said.
By going back and reviewing the comments and criticism of your colleagues after the meeting, you can be sure to integrate all of their feedback effectively into the final draft of the email.
Now that you have a firm idea of some of the most important best practices for writing effective email endings, here are the 10 ways to end an email message to get the right response.
I've categorized them based on what your intentions are:
1. Nurturing a Relationship
One of the first things to do before deciding on the best email ending to use is to determine what type of relationship you have with the recipient.
For example, when contacting a total stranger, you must sound formal without seeming too uptight.
However, if you've had a long and pleasant relationship with the correspondent, then being too formal would likely hurt that relationship. In such a case, you'd have to add a more familiar and warm email signoff.
If you're not sure how formal you need to be, take the cue from the other person sending emails. Check whether they prefer to keep things professional or if they use a more informal register and do the same.
Here are some great examples for ending relationship-nurturing emails:
Keep fighting the good fight.

Stay awesome!

I appreciate all you do!

Until I hear from you, I hope you are well.
Another great way to nurture relationship is to include "P.S. message" with a link to branded content such as courses you've created on online courses platforms, podcasts on podcast directories, a link to a meme recently shared on Facebook, an engaging TikTok promoting the latest product your brand is offering, and much more.
Instead of just leaving a positive impression in your subscriber's minds, you can also give them something to engage more intimately with your brand while they're still in that mindset. This is a great tactic for building brand ambassadors and evangelical marketers.
Check out the example below which shows the ending to an email designed to nurture a relationship with a customer.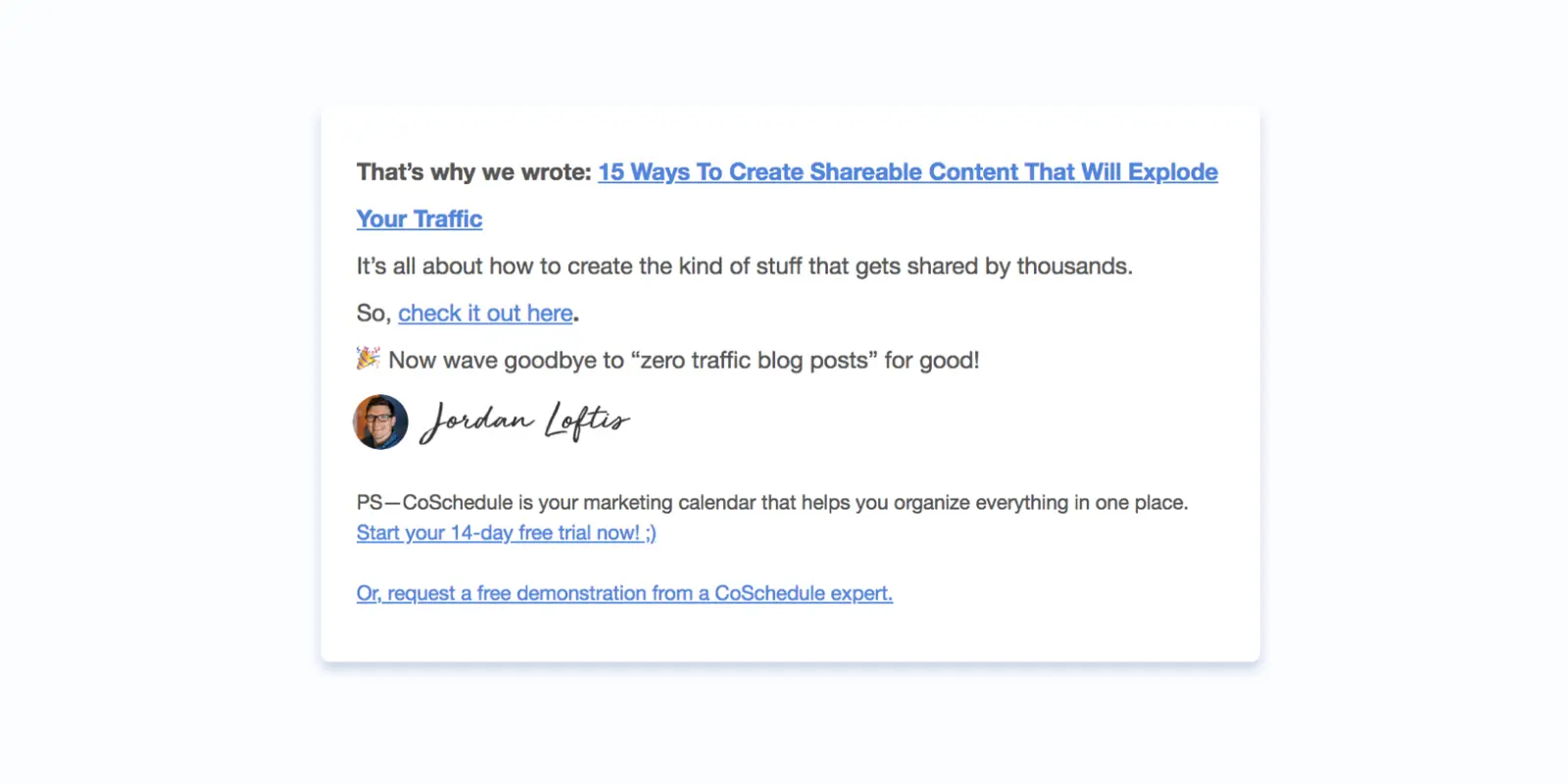 source: Rightinbox
This email provides immense value to the recipient, a proven way to show your customers that you appreciate them and support their efforts to achieve their goals. With endings such as these, it's easy to see how your customers can be persuaded to take the desired action.
2. Showing Gratitude
Showing gratitude in your emails is a great way to improve your response rates. Everyone appreciates being thanked, but don't use these types of closings if the outcome you desire isn't certain, otherwise it may seem like you're being imposing or pushy.
Here are a few typical examples of email closings that convey gratitude:
Thanks for your consideration:

This is a context-specific ending for when you receive some kind of assistance.

Great working with you:

Use this type of email ending for concluding a part of your collaboration and setting up a foundation for possible future correspondence.

Thanks in advance for your cooperation:

Only use this one if you're reasonably sure of receiving a positive answer.
Using an email ending as a way to convery or emphasize gratitude to the recipient is a great option in any professional environment. According to studies, emails that end with some variation of "thank you" get 62% higher response rates than those without it.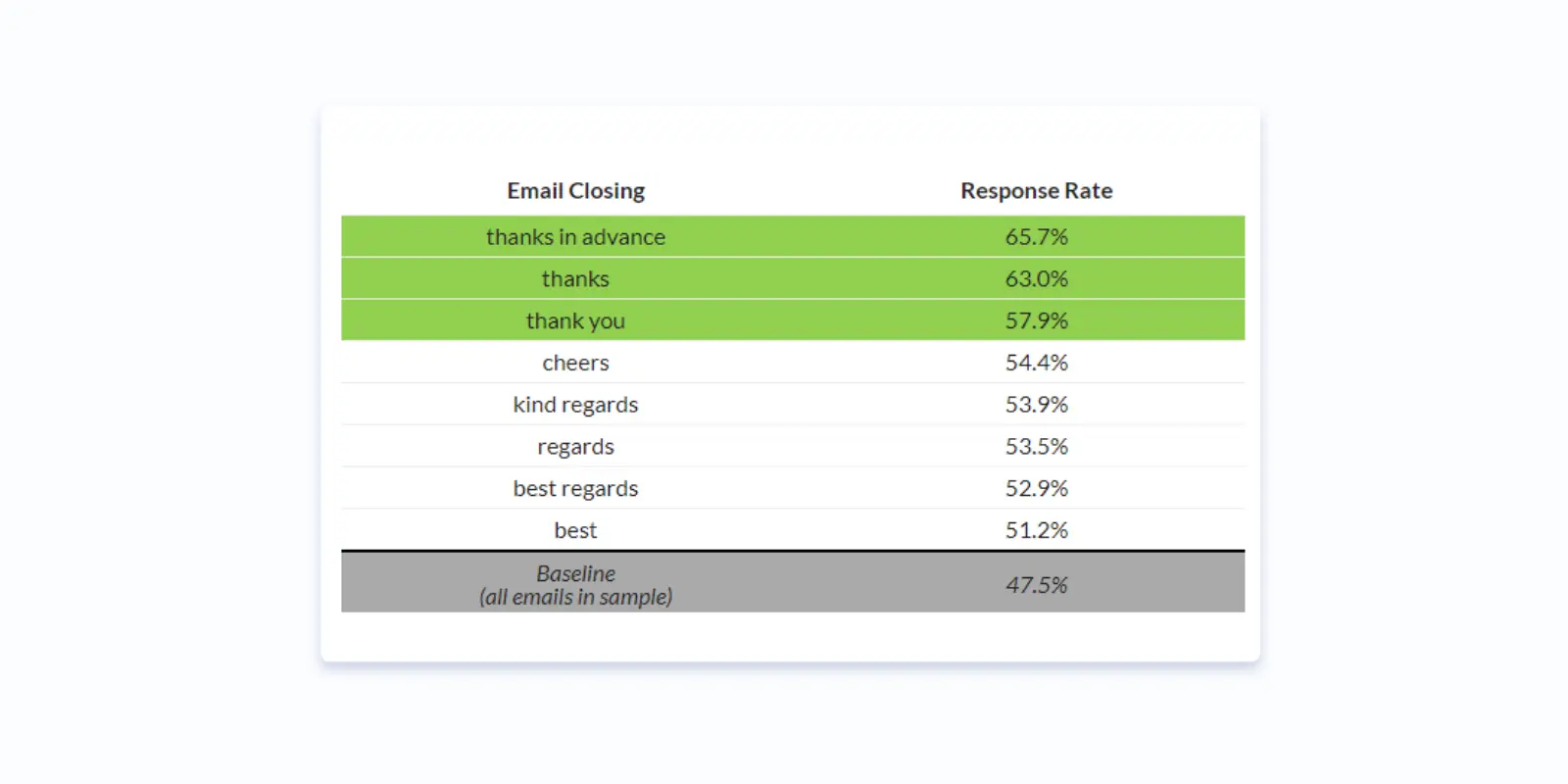 source: Boomarangapp
3. Sending a Reminder
For the most part, people scan emails for main points and if you have to send a reminder, make sure you summarize your main points and highlight the call to action, as in the examples below:
Don't forget to [specific action]

Again, please [desired action]

Just a quick reminder to [call to action]
Just remember to keep it short and to the point. Shorter email endings are more effective and have been shown to have a higher response rate, as evidenced by the image below: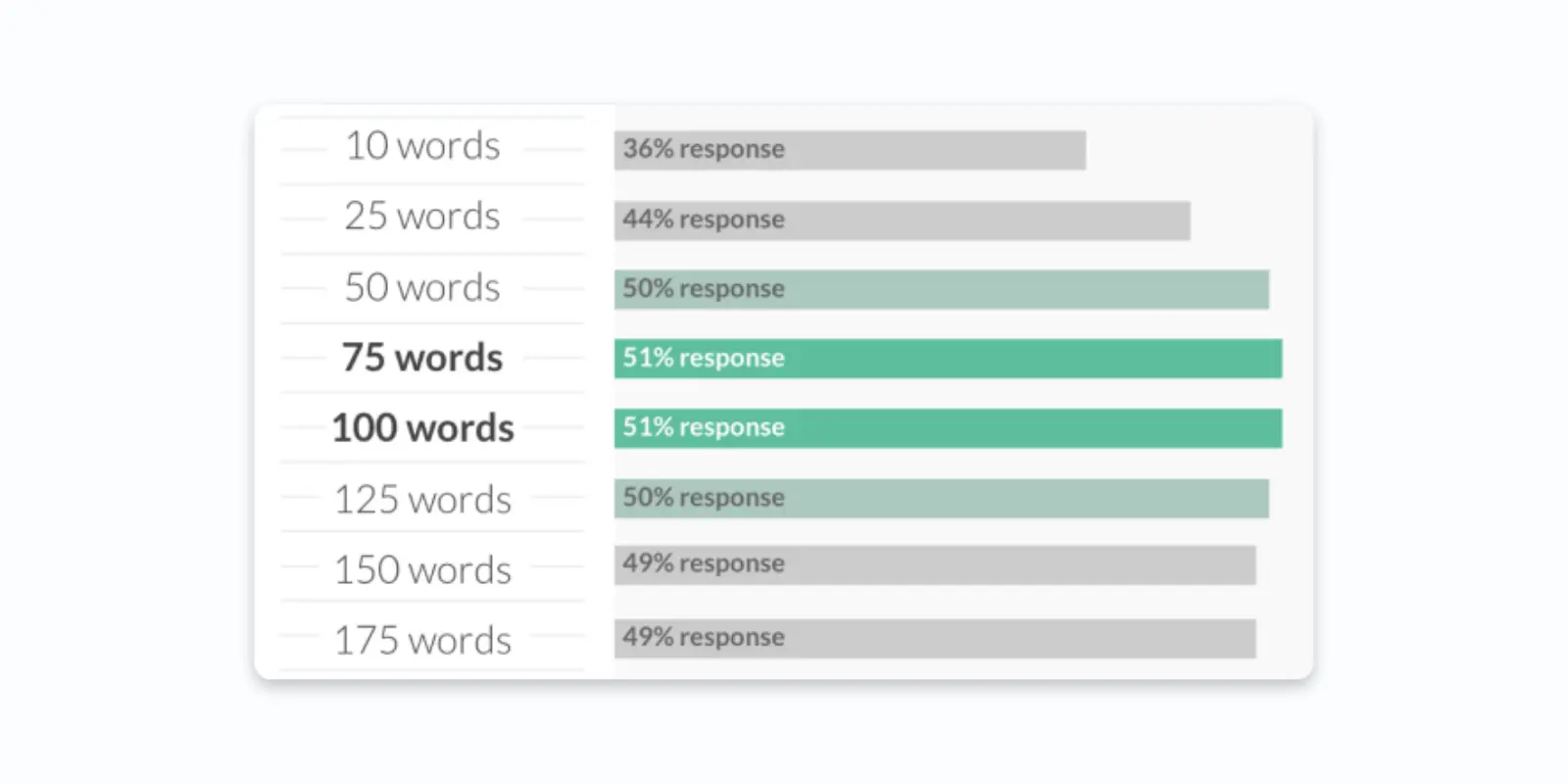 source: Snov.io
4. Anticipating Good Things to Come
As you've seen so far, email sign-offs can double as effective calls to action, particularly when you end your email with a question.
But, you can also achieve this by using the examples below to increase your chances of getting a favorable response.
Looking forward to connecting soon:

This type of ending is ideal if you're not sure which medium you'll likely use to communicate in the future.

Excited to be working with you on [specific project]:

This email ending shows prospects that you're serious about working with them.

Hoping for a spot in your calendar:

If you're yet to begin collaborating, this email closing is perfect for showing your eagerness to prospects without rushing or annoying them.
This type of ending makes increases the chances that the email recipient will focus on the upcoming project or task in a more positive way, making it more likely that they will get back to you with a favorable reply.
5. Breaking the Norm
If you are comfortable breaking the norm, then you might appreciate humorous email closers that can serve as a compelling tool for increasing your reply rates.
Here are a few funny ways to end an email:
This message was made from 100% recycled electrons

Thanks, I'll see myself out

Typed with big thumbs on a small phone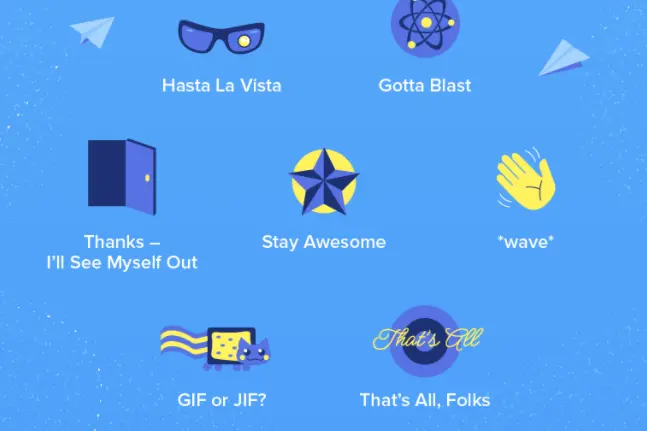 source: Brafton
Anything you can do to veer from the norms and conventions will serve to make your message more memorable to the recipient. In turn, this will help improve your chances of receiving a response from them.
6. Personalizing Your Sign-Off
Most people use email templates to save time and automate many of their marketing and sales processes.
If you do the same, just make sure that you implement at least some personalization into your email campaigns.
This can be as simple as using a signoff that allows you to add the name of your recipient. Using someone's name in an email has been proven to build trust and help them remember your conversation better.
Alternatively, use a template where you can add a personalized message and/or a call to action for the reader to take some type of action.
You can also personalize your email endings according to send time, as in the examples below:
Have a great weekend (for emails sent on Friday).

Hope your weekend is going well (for emails sent on Saturday or Sunday).

Enjoy your holiday!
When you personalize your email messages, it conveys to the reader that you appreciate them. It shows them that you care enough to know their name, birthday, preferences, etc.
Whatever details of their lives you can use to make recipients feel like VIPs as opposed to just another email in your database will help you drive engagement and win a favorable response from them.
7. Ending With A Question
In addition to adding a call to action to your email closers, you can also add a question to the last sentences of your email. Since this is the last thing the email recipient will read, it will be freshest in their mind.
You can further capitalize on this by including something that will prompt the reader to take action.
For example, you might start with a question that reveals their needs or goals (relevant to the subject discussed in the email) and then add a call for them to try out your products or services (as the perfect solution to their problem).
For example, "Are you having any problems with the software onboarding process?", or "Do you need any help increasing your conversion rate?"
Here's an example of such an email ending from Hunter.io: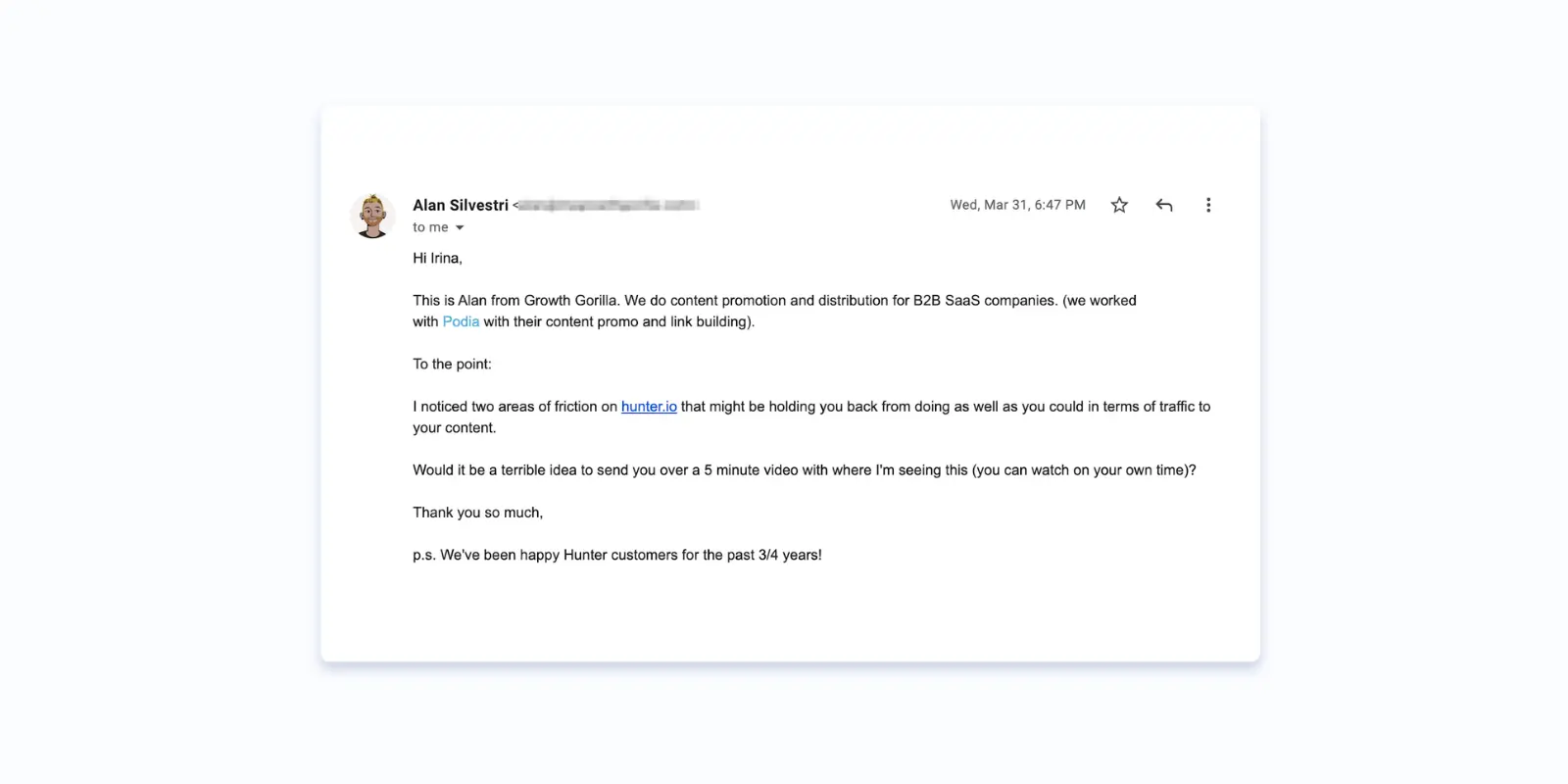 source: Hunter.io
These types of questions increase the likelihood that your email recipient will respond to your message as opposed to simply ending your email with a normal ending, such as "Kind regards".
8. Requesting a Meeting
Whenever you need information or answers from your email recipients, keep in mind that most people scan emails as opposed to reading every single sentence.
This is why it's important to make sure your important information is highlighted to make it easy to get your message across so you get the desired response.
A great way to do this is by adding a "P.S." line to reiterate your point. When asking for a meeting, make sure you include these two important things:
What's in it for them - what value will they get

The short amount of time you're asking for
For example, "P.S. Our service can increase your website traffic by up to 27% in as little as 30 days. All it takes is 15 minutes with me and you'll walk away with a solid strategy."
Using an email ending like this when request a meeting will increase the chances of getting the right response.
9. Short and Concise Professional Email Endings
You'll never falter with short, concise email endings like the ones in the examples below:
Best:

This is a short and sweet, universally recognized sign-off.

Regards:

You can never go wrong with this straightforward email sign-off.

Best Regards/Kind Regards:

This one is ideal if you need to sound a bit more professional.

Sincerely:

Although a bit archaic, this is still a professional signoff that you can use for any email.

As ever:

This email ending assures your recipients that your relationship remains unchanged, giving them a sense of stability.
This type of ending shows the recipient that your relationship is one that is warm, professional, and stable. It's a great way to put someone at ease and make it more likely that they will respond in an equally warm and professional way.
10. Semi-Professional Email Sign-Offs
In addition to the examples outlined above, you can also use semi-professional email sign-offs. These are perfectly adequate closings and work particularly well if the ending of your email is not greatly dependent on the context of the message or the sort of relationship you have with the recipient.
Here are a few examples of universal email sign-offs that are neutral but still pleasant.
Thanks!:

This semi-professional ending is great for ripping up emails where you requested something from the recipients.

Cheers!:

This universal signoff is appropriate in situations where you've already established a bond with the email recipient.

Later!:

Another casual signoff that is best used on people you already know, or else, you risk your sign-off being misinterpreted.
The more casual your relationship to the email recipient, the more appropriate it is to use email sign-offs like these.
According to studies, these types of endings are extremely effective - second only to email endings that convey gratitude, as shown by the graph below: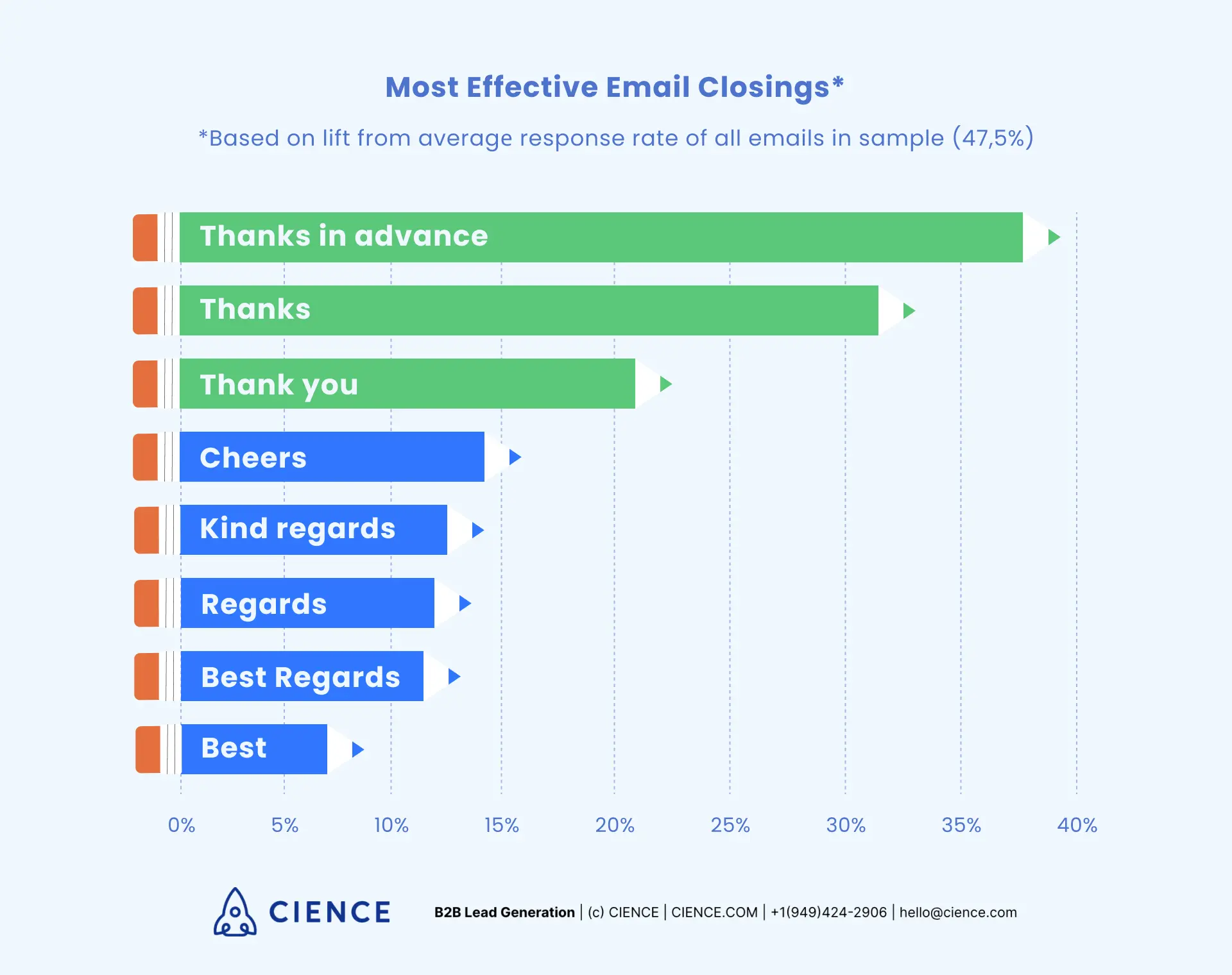 source: Cience
Conclusion
There you go. 10 ways to wrap up your professional emails and elicit the right response from recipients in every situation.
From now on, you can send customized sign-offs to different scenarios and persons instead of the same generic sign-off. And, unless you're sending mass emails, such as cold outreach emails, etc., this is something that will be greatly appreciated by your email recipients.
Over to you. What other email endings do you use to elicit the right response from recipients? Share in the comments below!