5 Ways AI Is Revolutionizing Lead Generation
1. Faster SEO-optimized lead generation content with the help of AI writing tools
2. The ability to batch-create lead generation videos with AI video production tools
3. AI data software integrates with lead generation tools to help businesses make smarter, data-driven decisions
4. AI-powered chatbots help brands collect leads and manage the customer experience
5. Machine learning fuels lead-generating SEO tools
Useful tools:
1. Newoldstamp - Email signature marketing
2. Mailchimp - Email builder and sender
3. Hubspot Email Marketing - Marketing automation platform
4. MailerLite - Landing page builder
5. Canva - Online tool for making designs
AI lead generation tools are becoming smarter with every passing day, and data scientists are working harder than ever to keep up with the pace.
From conversational AI to sales funnel automation, new AI technology helps marketers, sales teams, and business owners optimize the entire lead generation process.
If you've been noticing a change and want to learn more about how AI-powered tools can enhance your organization's lead generation strategy, stick around.
In today's article, we're covering five ways AI advancements are up-leveling lead-gen for good.
1. Faster SEO-optimized lead generation content with the help of AI writing tools
Creating blog posts and articles based on the search intent used to require a considerate time investment and sound SEO knowledge.
But SEO-focused AI writing tools are here to change that.
As one of AI's most important contributions, SEO-friendly AI writing tools use machine learning and natural language processing to generate SEO-informed content that resembles human writing. Tools like Vondy's Story Generator enable users to
create unique stories with ease and help to overcome writer's block and even self-publish ebooks for lead generation.
With these tools, businesses can generate high-quality content for their websites, social media pages, and invitations with RSVP tracking in a fraction of the time.
For instance, with one click, GrowthBar scans hundreds of Google SERPs to generate an optimized outline and can be also used for amazing email marketing campaigns.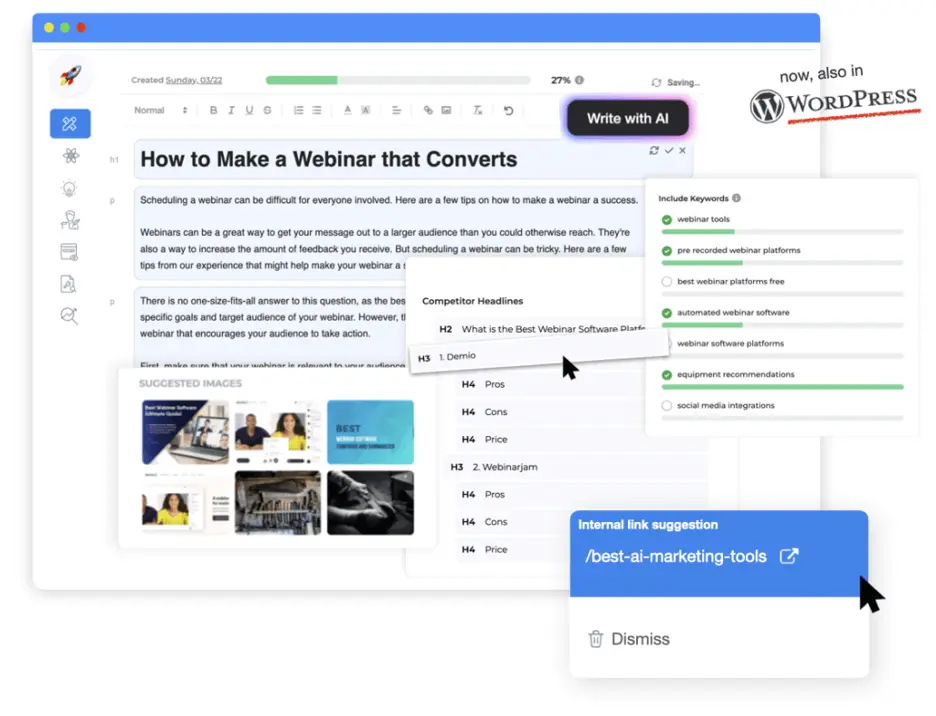 Its SEO-friendly outlines come with optimal word count recommendations, heading suggestions, keywords, internal links, and more. In one more click, you can write your article with the tool's AI writing assistant and even audit your existing blog posts, too.
Editing your lead gen pieces is also a breeze now. With AI editing tools like Grammarly and Writer, you can get smart recommendations to improve your writing's clarity, tone, style, and grammar. You can also make sure your marketing campaigns don't include plagiarized language by mistake.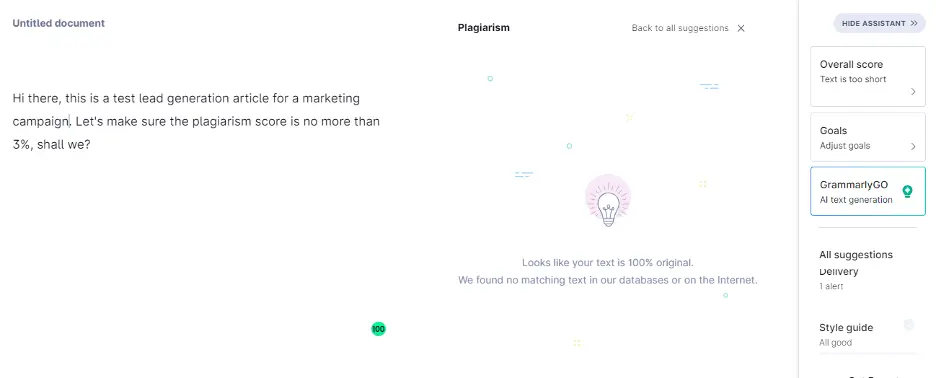 (Image Provided by Ioana using her Grammarly account)
2. The ability to batch-create lead generation videos with AI video production tools
Using videos is becoming a standard sales and marketing practice as brands turn to Reels and bite-sized informational content assets to generate leads.
AI-powered video software has become a game-changer for lead generation, as it enables businesses to produce high-quality videos with compelling audio in a fraction of the time and cost required by conventional methods.
An advanced AI voice generator and video production tool like Lovo enables businesses to generate voiceovers with a natural tone that can captivate viewers and maintain their interest in the content.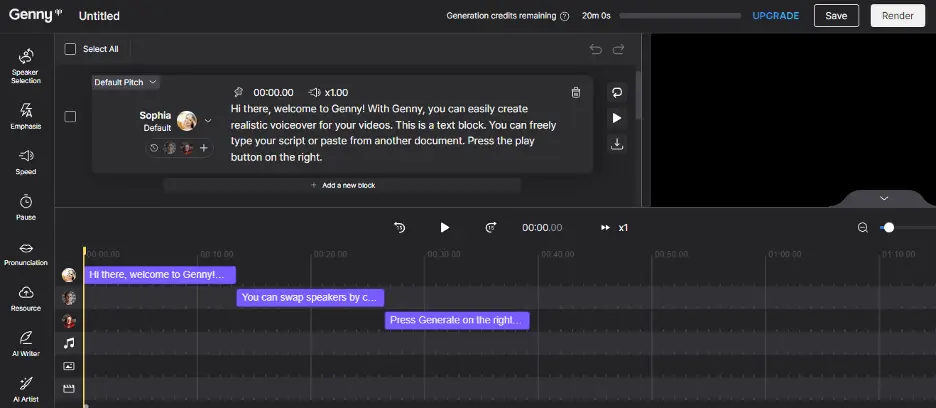 (Image Provided by Ioana using her Lovo account)
Organizations can also use Lovo's text-to-speech feature to turn written text into explainer videos, commercials, or even podcast episodes. The beauty of this solution is you can use it to create new content, or you can turn an existing piece of written content into a video.
For instance, if you create content on legal matters, such as business formation for instance, and dealing with many complicated topics with a lot of specifics. Let's say wrote the following article on registered agents and want to turn it into an explainer video: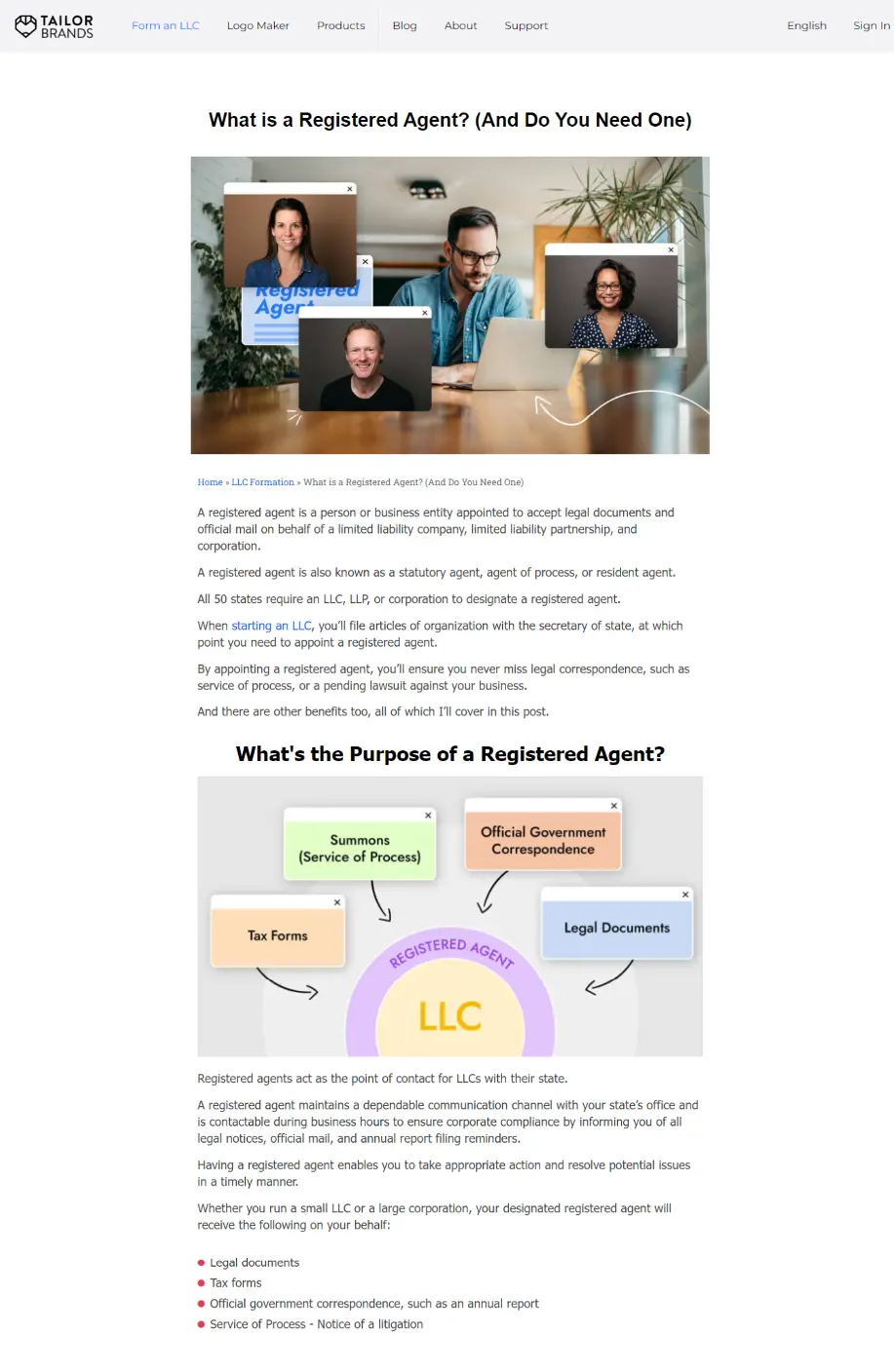 In this case, you can use the text-to-speech feature and the AI assistant will generate the video for you. Simply paste your text inside the fields and answer the required prompts. From there, you can edit your audio, add images, and fine-tune your video until you have the look and feel you want.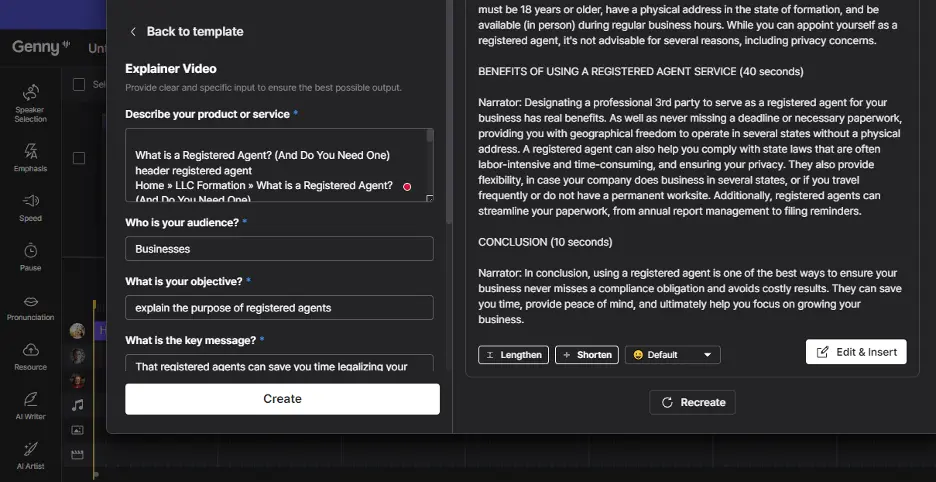 (Image Provided by Ioana using her Lovo account)
3. AI data tools integrate with lead generation software to help businesses make smarter, data-driven decisions
As if cloud-based data systems weren't impressive already, AI data tools can now integrate with lead generation tools to help businesses make smarter sales and marketing decisions.
For instance, with reverse etl, you can feed data directly from your data warehouse into your sales and marketing software to learn how to refine your lead generation approach. For example, you can use insights you derive from the data to understand how to better communicate with a new lead or learn how your sales team can improve their outreach campaigns.
To really benefit from this method, it's important to collect your own marketing data to aggregate performance from different channels and get a holistic view of your efforts.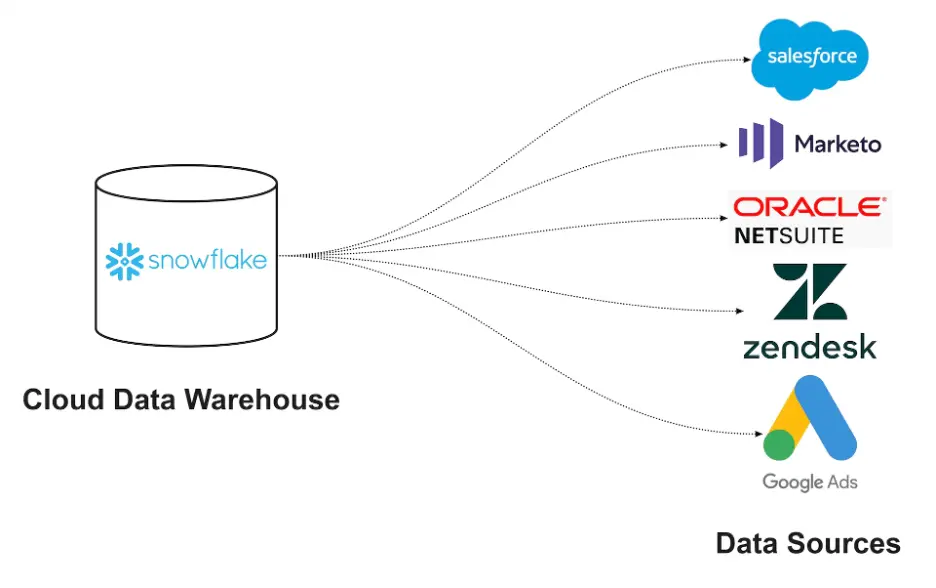 And speaking of improving outreach campaigns …
By leveraging the power of machine learning and predictive analytics, AI tools can analyze vast amounts of data to identify and prioritize the most promising leads, helping businesses save time, resources, and money on manual lead scoring.
For instance, HubSpot lead scoring uses AI to automatically score potential customers based on their engagement with a business's marketing and sales efforts. The tool uses a variety of data points, including website visits, email opens and clicks, and social media engagement, to calculate a lead score that reflects the prospect's level of interest and potential to convert.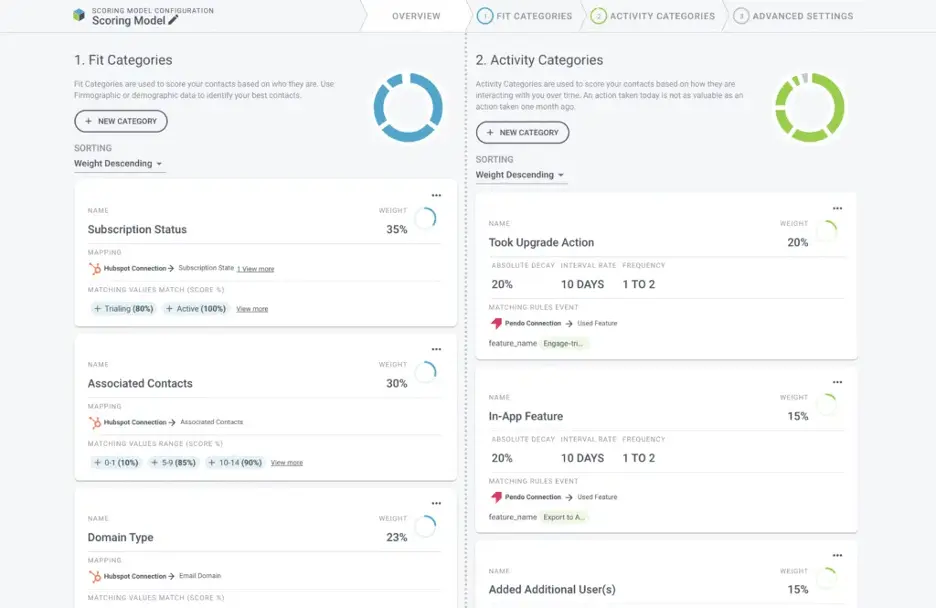 By using AI-powered lead scoring tools like HubSpot, businesses can prioritize their sales efforts and focus their resources on the leads that have the best chance of becoming customers.
Another powerful tool in this realm is BlackPearl Diver, which specializes in identifying anonymous website visitors and providing detailed visitor information, including company name, industry, location, and online behavior data. BlackPearl Diver enables businesses to uncover hidden sales opportunities and personalize their approach to increase conversion rates.
This not only saves time and money, but also helps to improve the overall effectiveness of the sales and marketing process. In other words, you'll never have to let another quality lead slip through your fingers again.
If you ever consider selling your business one day, you can use AI data analysis to identify buyers who align with your core values and exit strategy objectives. By examining various factors such as demographics, financial data, and purchasing history, AI can help you create a targeted list of potential buyers for your business so you can move on to your next big endeavor in a pinch.
4. AI-powered chatbots help to collect leads and manage the customer experience
The use of artificial intelligence is changing the way businesses generate leads. With the help of AI, companies can streamline their lead generation processes, target the right customers, and improve their overall conversion rates.
Chatbots powered by AI can engage with potential leads in real time and answer their questions, helping to build trust and credibility.
An AI chatbot can also connect prospects with the right customer support agent, schedule future appointments, and collect contact information to follow up with the lead later.
From inviting a first-time website visitor to "save their spot" in the chat queue by providing their email address to offering users the chance to score a freebie in exchange for their contact details, chatbots can help organizations build up their lead lists. Businesses can also use chatbots to schedule product demos, sales calls, and free trials.
When a lead is ready to become a customer, chatbots can help them choose the right service or product in line with their needs and head to checkout.
5. Machine learning fuels lead-generating SEO tools
SEO strategists, agencies, and sales teams that prioritize content marketing are using machine learning tools to discover main topics and pull semantic keywords in a matter of seconds.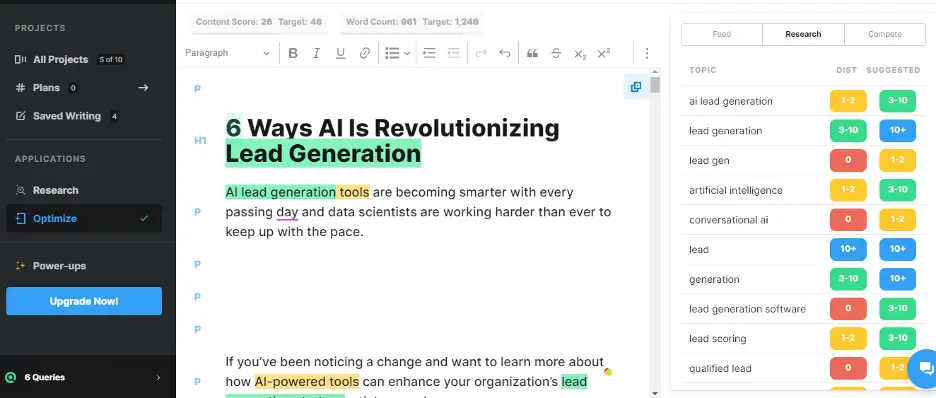 (Image Provided by Ioana)
For instance, MarketMuse and Surfer rely on machine learning to build SEO outlines, generate keyword lists, and compare competitor content scores.
These tools help teams create data-driven SEO strategies that are grounded in competitor analysis and search intent.
With AI SEO tools, businesses can build content marketing sales funnels, rank higher in the SERPs, and become an industry authority in the eyes of their target audience and Google. Over time, this can help a brand raise its website domain score, resulting in more eyes on sales campaigns, more trust-building expertise, and high quality leads.
Just as different industries cater to unique customer needs, the realm of SEO also requires tailored lead-generation tactics to attract specific leads.
In the real estate industry, realtors rely on targeted strategies for lead generation to reach potential home buyers or sellers. AI-powered SEO tools can assist realtors in identifying relevant keywords in their industry or specific location, and optimize their website content to rank higher in SERPs.
This targeted approach to realtor lead generation helps them connect with individuals actively seeking their services and increases the likelihood of converting them into satisfied clients.
Wrap up
From writing aligned messages to supporting your video production efforts to informing your SEO strategy, lead generation software is changing the way businesses find and acquire leads forever.
If you're ready to look for better, more innovative ways to attract and manage leads, begin testing out some of the AI tools we covered today to see which ones work best for your specific business.
While there's more where this came from, we hope these five AI advancements have inspired you to rethink the way your organization approaches lead generation.
That's it for now.
Here's to many years of lead generation success!