How to Create a Powerful and Effective SEO Strategy for Your Company
1. What is an SEO strategy?
2. Why is an SEO strategy so important?
3. How do you help search engines find your content?
4. Technical optimization
5. Content optimization
6. Optimize for semantic SEO and search intent
7. Create SEO backlink strategy
8. Measure and track your performance
9. Improve and update your content
10. Best tips for your SEO strategy
11. 10 best tools for SEO strategy development
If you own, manage, or promote content online, you should be interested in understanding at least the basics of search engine optimization (SEO). Though we can't share any secrets that will automatically rank your website first in Google (because there is no magic pill that works overnight), following the best SEO practices outlined in this article, you will hopefully make it easier for search engines to understand and present your content.
So, in this guide, you are going to learn how to build and implement a powerful and effective SEO strategy for your business, step-by-step.
What is an SEO strategy?

An SEO strategy is the process of planning and organizing your website content in a way that helps search engines understand a user's intent when searching and present them the content that matches their queries the most. By optimizing a website for search (by topics and keywords within these topics), you will improve your expertise in the eyes of a search engine and rank better for keywords related to that topic.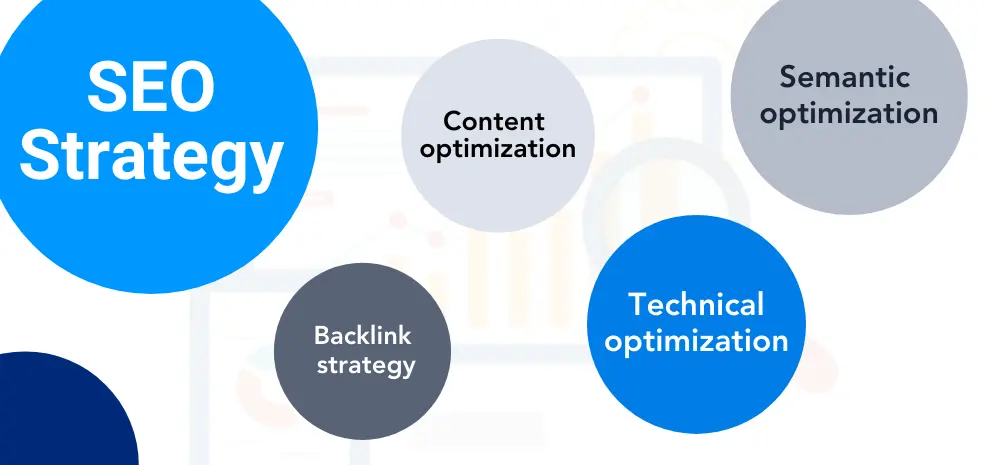 Why is an SEO strategy so important?
An SEO strategy is essential if you aim to generate organic, qualified leads to your website. By better understanding your target audience and creating a well-thought-out strategy for SEO, you can market your content more effectively.
How do you help search engines find your content?
Below, you will find the essential steps to optimize your content for search engines.
Start with creating a list of relevant topics based on what you know about your industry (product, service, business). Chances are, you will find it difficult to come up with a list of the right topics at first. Here is what you can do. Try to put yourself in the shoes of your ideal customer. Think of what type of topics you would search for if you needed to find a solution to your problem.
Let's say you are a company selling hammers. What topics might you need to cover?
Obviously, a person looking for a hammer might want to know its price, quality, etc. But you can't devote each piece of content to the hammer's features. Now, imagine that you are a customer and you might need the hammer for various purposes. For example, maybe you want to build a tree-house for your kids. So here you have your first potential topic.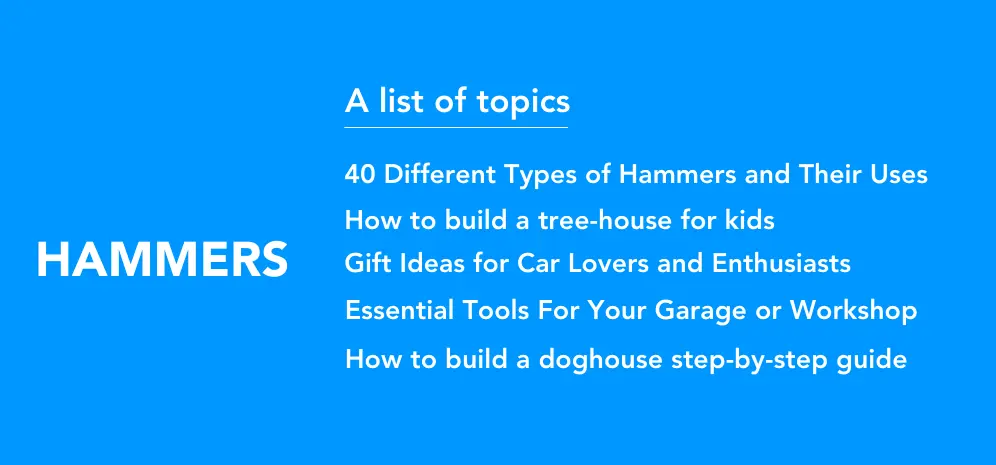 Create a list of keywords
To create SEO-optimized content, you should know what people are actually searching for in Google. This is why keyword research usually belongs to one of the first steps of any legit SEO plan. One of the simplest ways to find keywords that your target audience searches for is using Google Suggest. Go to Google and start typing a keyword into a search field. For example, when you try typing "SEO strategy," it will populate a list of suggestions such as "SEO strategy for 2023," "SEO strategy for eCommerce," "SEO strategy example," "SEO strategy template," and so on.
When you have a list of the most common terms, you can use the SEO tools like SEMrush or Ubersuggest to see the search volume and competition levels for those keywords.
Build pages for your keywords
Now, you need to take the topics you came up with earlier and create a web page for each one providing your prospects and customers with relevant content. Ideally, you should concentrate on long-tail keywords (search queries that have more than three words) mostly because it is not easy to rank well on search engines for popular topics using short-tail keywords alone.

For example, the keyword "landline service" is short-tail, and it's very competitive. And the keyword "landline phone service in North Carolina" has a lower search volume, so you can usually rank for such keywords faster.
Consider every new blog post as a separate web page that gives you an excellent chance to rank in search engines. You can use both short-tail and long-tail keywords but please no keyword stuffing. Google knows when you want to cheat. For new posts that you publish, try to link to them from your other pages that support the same or similar topic.
For example, if you run a tagline generator tools platform, you can speak about slogan making and link to other relevant topics about branding in general.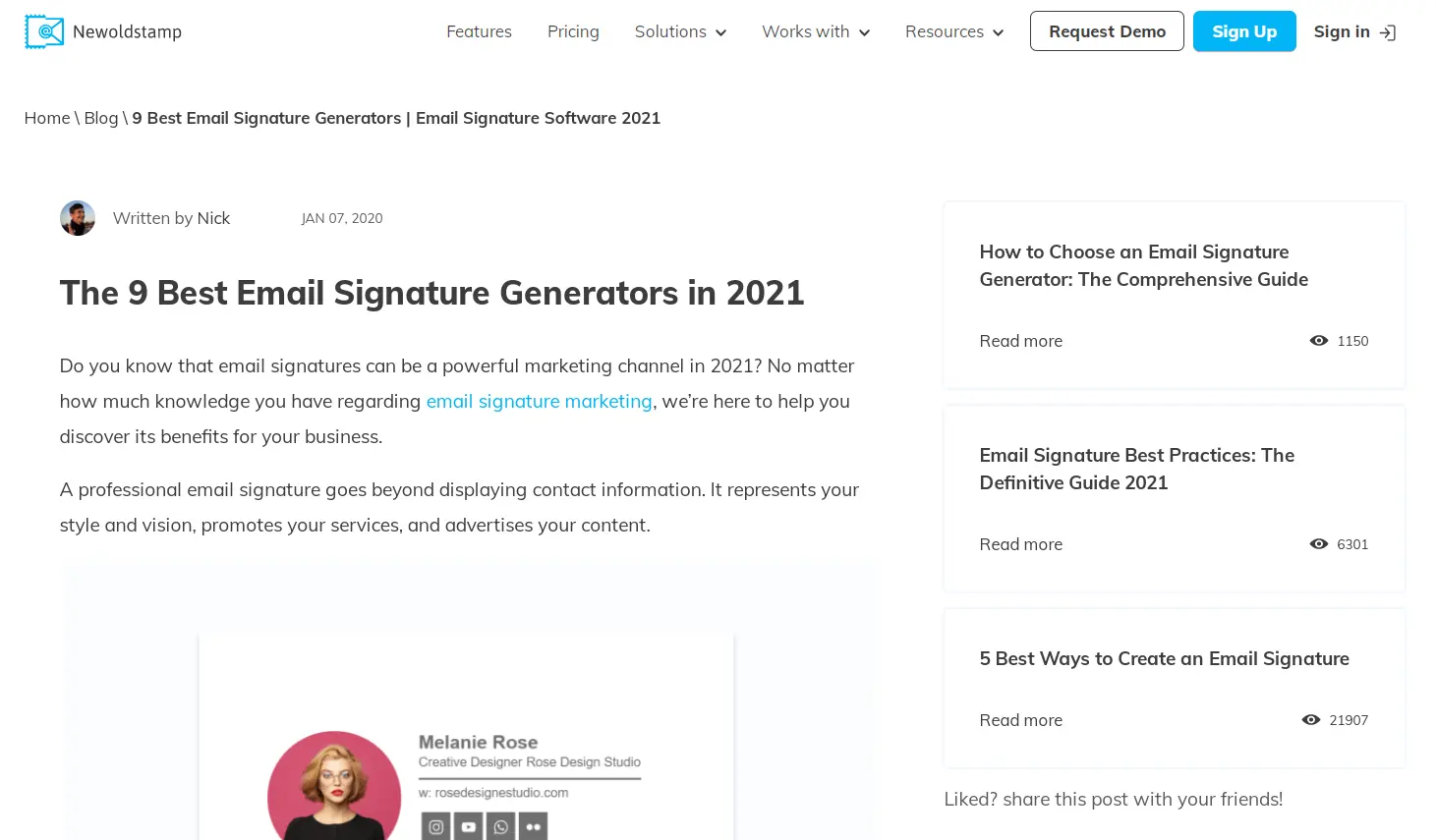 Many on-page SEO articles focus solely on placing keywords on the page - in the title, meta description, in headings, and so on. Unfortunately, these SEO tips are out of date. Today, Google has grown wiser enough to understand synonyms and semantically related keywords. This means it's time to stop focusing your content solely on SEO keywords lists.

For example, if we look at the results for the "best apple computer" search query, we will see that only one of the top ten sites contains the word "computer" in the title. The rest of the pages offer us to "choose the best MacBook," "advice on which MacBook to buy," etc. Google understands that if you are looking for "the best computer from apple," then you want to buy it.
Technical optimization
If you want your webpage to rank higher in Google, it's also important to invest time and resources to optimize its speed and performance.
Users prefer fast websites, so search engines like fast websites too. That is why speeding up server response times is an essential part of on-page SEO. The most common practices include finding a fast, dedicated host, scaling and optimizing images (try to make them less than 200 KB), keeping all plugins and themes updated, and more.
source: Giphy
Check for code errors and correct them. This can dramatically increase your webpage speed.
Reduce redirects and broken links
Broken links are an enemy of the user experience. Too many redirects can also impact your website speed and your SEO rankings. You can use SEO software such as Screaming Frog to identify broken links and redirects quickly.
Content optimization
Content and search engine optimization go hand in hand. When these two are in their prime, they can bring your website to the top of search engine rankings.
Gone are the days when we optimized texts solely to meet the needs of search engines. Today, our goal should be to create a text that is not only built around one keyword, but covers various term combinations and entire keyword clouds in the best possible way.

It is also crucial to write your text with your own voice and never compromise quality for SEO benefit. If you try to jam keywords into your content, you risk being penalized by Google for over-optimization.
Before deciding whether or not to delve deep into something, users usually scan content first. There are some parts that they pay attention to when scanning. Those include titles, subtitles, first paragraphs, bulleted lists, etc. Just like people scan content in a certain way, so do search engines. And if your text is clearly structured, you increase your chance of being ranked well in search engines.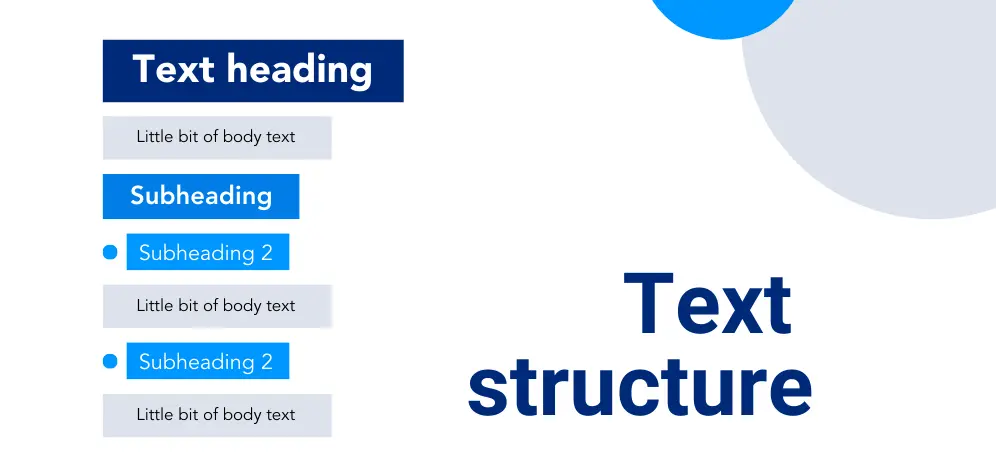 To improve your SEO, be sure to use your keywords and relevant phrases in headings and subheadings throughout your blog post. Also, consider using bulleted points and numbered lists to make your content skimmable.

Strive for shorter paragraphs. And sentences too.
Remember about meta-tagging
A webpage's meta description isn't used directly in search engine ranking algorithms, but it appears in the search results making people want to click or ignore some content. So, for every post, make sure to write MD that captures the user's attention and convinces them to click.
Optimize images and videos
Content can come in the form of an image, video, audio, and more. All of them must be optimized using the right keywords as well. This will help search engines see their value and relevance to the searches. Also, don't forget to edit your videos using online video editors to fit them with your marketing needs.
Include links to other places on your website. For example, if you are writing a blog post about personal branding and talking about email signatures as an important element of branding, add a link to your articles about email signatures. Both your readers and Google use links to find content on your website.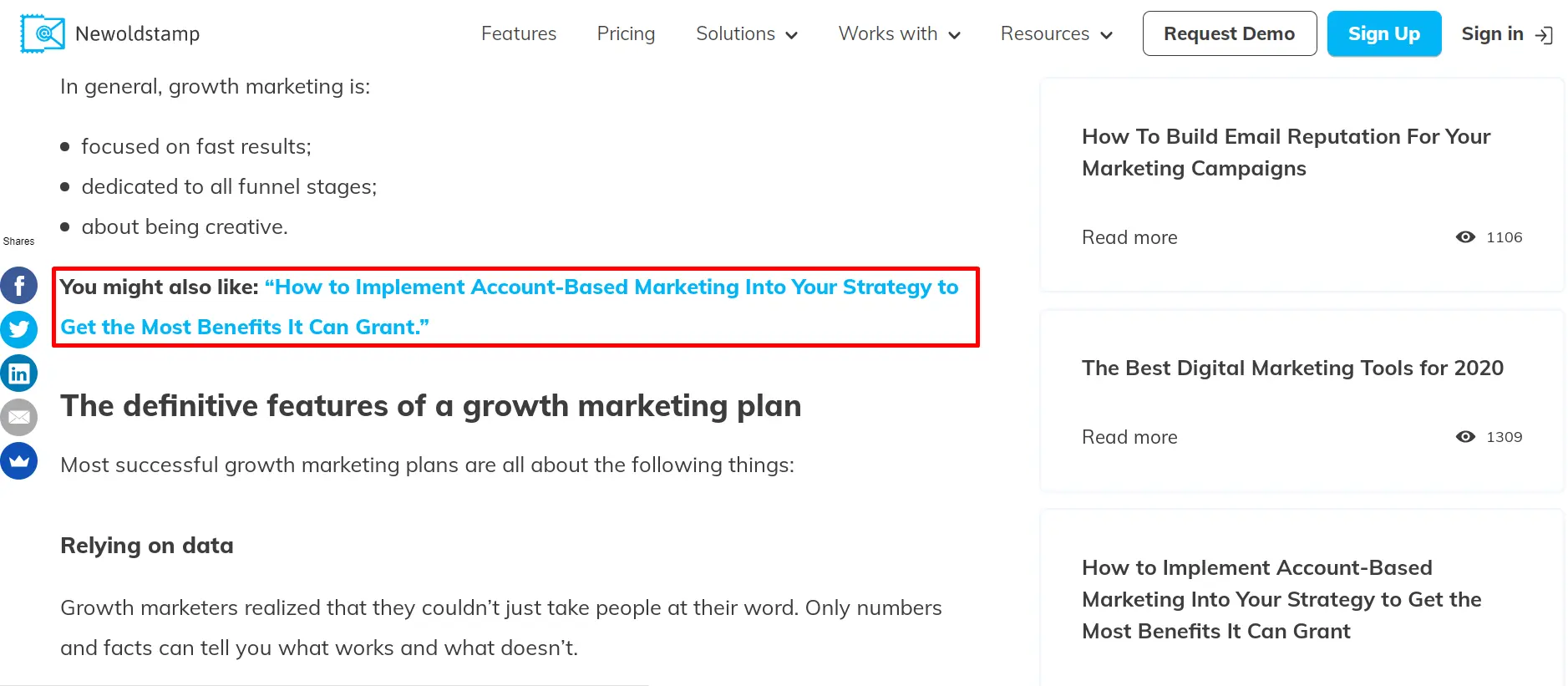 Optimize for semantic SEO and search intent
With the help of semantic optimization, you can give more meaning to the words you use in your text. The most obvious place to look for the phrases that are semantically connected to your main keywords is related searches in Google (see the bottom of the page in Google). For example, if you try searching for "tools for marketers," you will see a list of semantically connected keywords such as "new marketing tools," "digital marketing tools," "marketing tools for small business," "Hubspot," and many more.


Based on the information you find, you can get some valuable insights about the intent of your potential customers. You can assume what they might want to know.

So, in your article, you will not just answer a simple query but also immediately answer the other questions people are interested in. By doing so, you can give more depth to your content and provide more value. Search engines send searchers to pages where users will find exactly what they are looking for.
Create an SEO backlink strategy

You probably heard about the importance of having an SEO linking strategy. In simple words, it's when you have some big websites that refer to your content.

When search engines see your content is linked to various reputable resources across the web, they recognize that your website deserves more respect. That results in a higher rank in search engine results.

There are two ways to build links - Manual and Automated. Manual link building focuses on a hands-on approach, that unfolds gradually but yields efficient results over time. Whereas, automated link building offers a quicker route to generating links but often falls short when it comes to sustaining long-term success. Therefore, to establish a robust online presence in the long run through SEO, manual link-building stands out as the preferred link-building method.
How to get started?
Link building based on competitor analysis

Competitor analysis provides valuable insights into where and how your competitors are building their links. Start by identifying your competitors. Use tools like SEMrush or Ahrefs to compile a list of websites that are ranking well for your target keywords.
Look at the reputable resources in your niche. Do they link to your competitors' websites? If so, you can make a list of these resources and get in touch with them.
Guest posting involves writing content for other websites in your niche and obtaining links back to your own website. It is a powerful strategy to build quality links and establish your authority in your industry.
Start by identifying authoritative websites that accept guest posts. Pitch them a personalised email requesting for article contribution. Provide them with high-quality exceptional content that benefits their target audiences. Ensure that your content is well-researched, engaging, and value-packed. Follow all the submission guidelines mentioned by the websites.
HARO, the abbreviation for "Help A Reporter Out" is a platform that connects journalists with expert sources for their upcoming articles. The journalists receive expert insights and the sources receive a quality backlink in return. It is an excellent platform for obtaining authoritative backlinks from reputable news sources and websites.
Start by registering as a source on the HARO platform and select relevant categories that align with your expertise. Monitor the queries regularly and respond promptly with your valuable insights. Ensure that your responses are well-written and relevant to the query. If your response is selected, the journalist will include your insights in their article and provide you with a backlink to your website.
It often happens that we encounter broken links when reading some blog posts. If we have similar content (or we can recreate it), we can ask a website owner to replace the dead links with ours, which are working.
Measure and track your performance

Google Analytics and other SEO analysis platforms offer so many metrics to track that it becomes easy to get lost. Here we have the essential metrics to keep an eye on if you want to succeed with SEO for websites.
Average session duration (dwell time)
This one is important because it shows if people like your content or not. If they like it, they spend more time consuming it. A simple way to improve it is to write better content and crosslink it together. For example, if you have a blog post about the basics of personal branding and a more in-depth article on the same topic, link those to each other.



source: Bonfire marketing
This one will help you understand which type of content works better.
Percentage of returning visitors. One of the easiest ways to grow is to retain the people who are already on your website. Here are a few things to experiment with if you want to get users back to your website. For example, you can collect emails and reach out to people with updates, experiment with push notifications on your website, leverage online chats, etc.

See where your traffic is coming from, what keywords are driving impressions, what pages are working. Knowing these data, you can get the idea of what you should do more or less.

It is an important metric to measure because it helps you understand what people think about your website. If they leave immediately, it means there is something wrong with your website. Keep in mind that bounce rate is not only about the content; it's also about user experience. For instance, if your website loads slowly, you are going to have a higher bounce rate.

If people are coming to your resource and sticking around for two, three, or more pages, that's a good indicator of a great website with interesting content. If you go to Google Analytics and check out the behavior flow, you will understand where users are navigating. You can improve this metric by interlinking your content.


source: databox
Traffic that doesn't convert into sales is just traffic. By monitoring and improving your conversion rate, you can increase revenue per visitor, get more clients, and grow your business.
Improve and update your content

After you get some analytics, use your findings to improve your SEO content strategy and drive results. Update your older articles as well.
Best tips for your SEO strategy
In this paragraph, we have pulled together some tips for SEO optimization so you can make sure you are doing your best for your amazing content to get visible to as many people as possible.
Focus on local SEO optimization

People are looking for the best products and services near them, but many businesses often neglect to optimize their content for local SEO. If your business is service-oriented (lawyers, doctors, restaurants, plumbers, real estate agents, etc.), try out keyword variations that include location. For example, "lawyers in [city]." Consider optimizing your FAQ page for local SEO too. Add answers to popular local searches there.

Make your website mobile-friendly

Google now considers the mobile version of your website to be the primary one. If you don't have it, Google will still use your desktop website. Obviously, if your website isn't mobile-friendly, you won't rank high.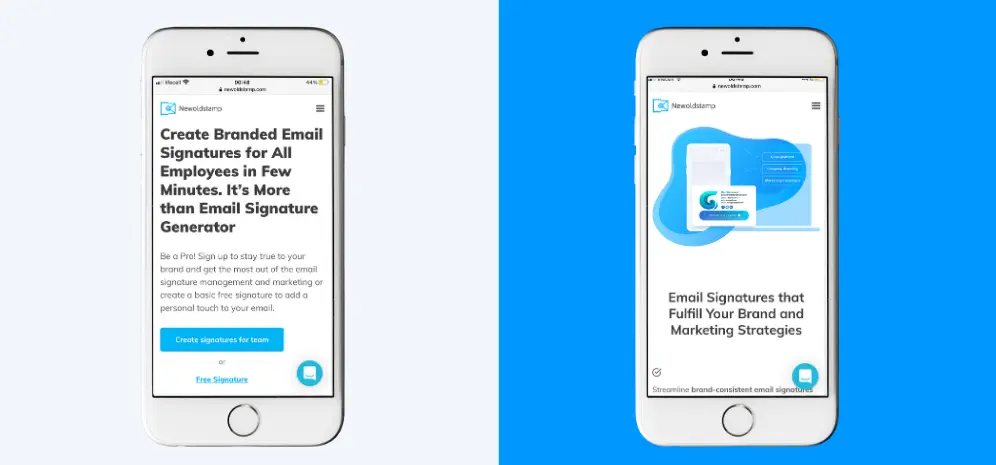 Write high-quality content

As we already mentioned, it isn't enough to write content with tons of relevant keywords. Despite the popular belief, this is not what SEO copywriting is all about. To rank higher, you should write for humans in the first place. After all, it is people who buy from you, not search engines. Forget that search spiders exist when you are creating new content. Instead, write something valuable that will help someone.

Remove anything that can potentially ruin a positive user experience. For example, a slow page can frustrate the user and ultimately discourage them from doing business with you. Consider deactivating unnecessary plugins, optimizing image sizes, and removing any other distractions.

Use keywords in your website page URLs

One of the most important SEO tips that many people still neglect is creating proper URLs for their articles. If users can't understand your links, then search engines may be confused too. Make them short and clear, use relevant keywords.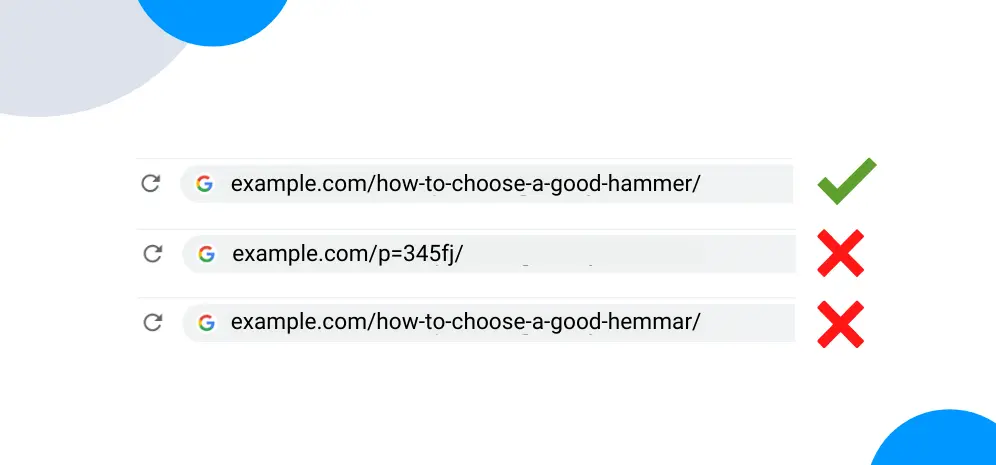 Map customer pain points to keywords

It's interesting how people can often fall into the trap of choosing the most common keywords for SEO with the highest traffic. However, when doing SEO keyword research, be sure to discover customer pain points first. Then, you can map keywords to each pain point.

Analyze Google search query

When you google for something, analyze the first page. It's an excellent opportunity to see what's already working for those keywords.

Stay updated on SEO news & practices

One of the hardest things about SEO is that it's constantly changing. So you should learn new information all the time to be on-trend. Read news and updates from such SEO blogs as Moz, Ahrefs, Serpstat, SEMrush.
10 best tools for SEO strategy development

Mastering search engine optimization can be not easy, especially if you are just starting out. Fortunately, we have prepared a list of the best SEO tools for you.
This is an easy-to-use keyword finder that helps you identify the best terms and the user's search intent behind them.


Using this all-in-one tool, you can do both find the right keywords to use on your website and get great insights into how it is performing. On top of that, you will understand how to improve your content.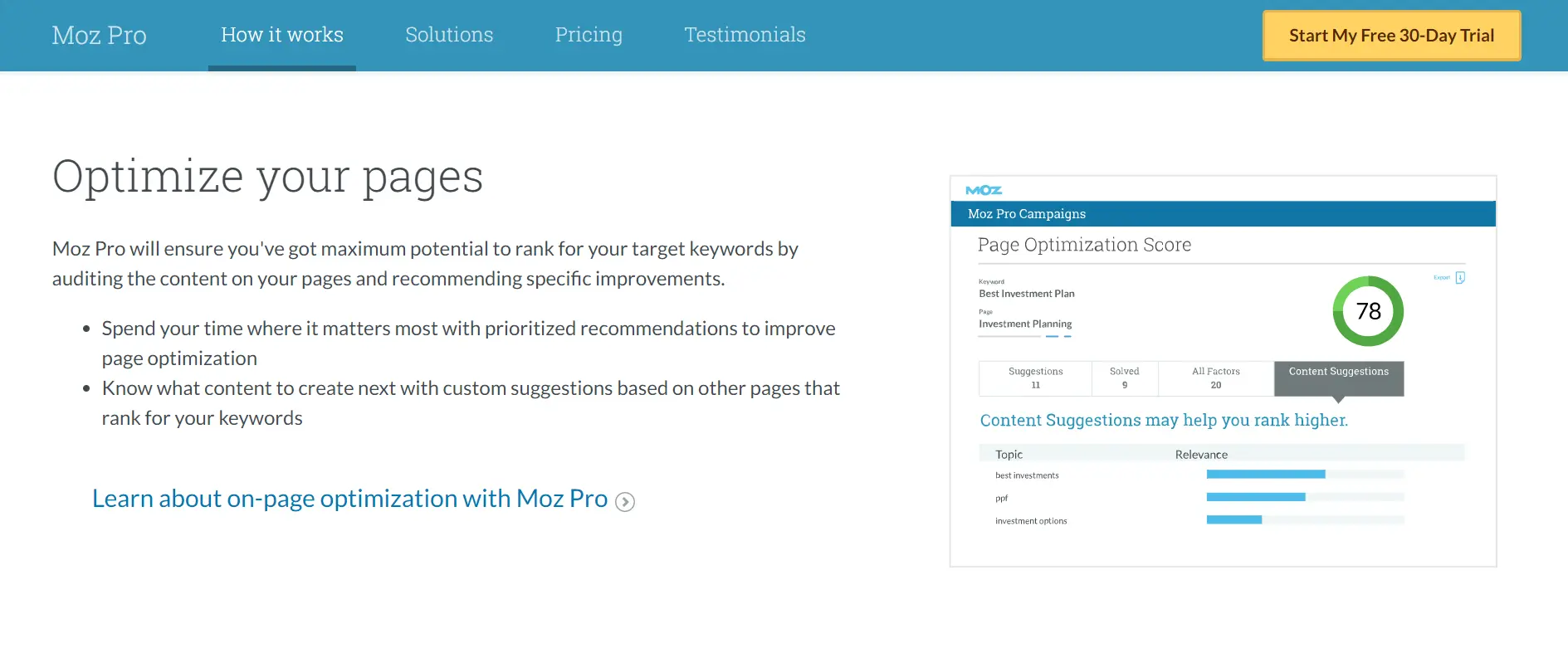 Search Console will show how Google and its users see your website and help you optimize for better performance in Google search results.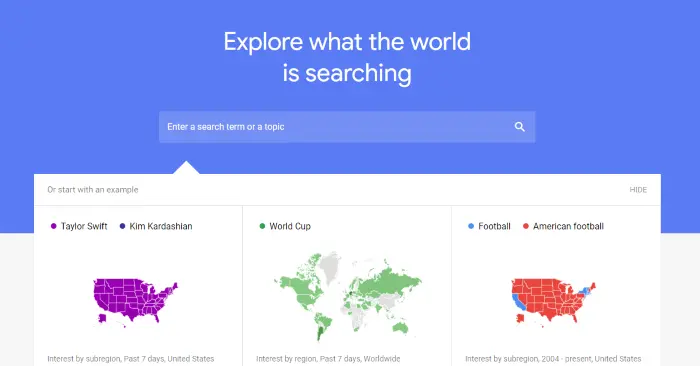 Ahrefs is one of the best tools for understanding what parts of your online resource need improvements to rank higher in search engines. You will probably also like that Ahrefs can determine your competitors' backlinks and find the most linked to content within your niche.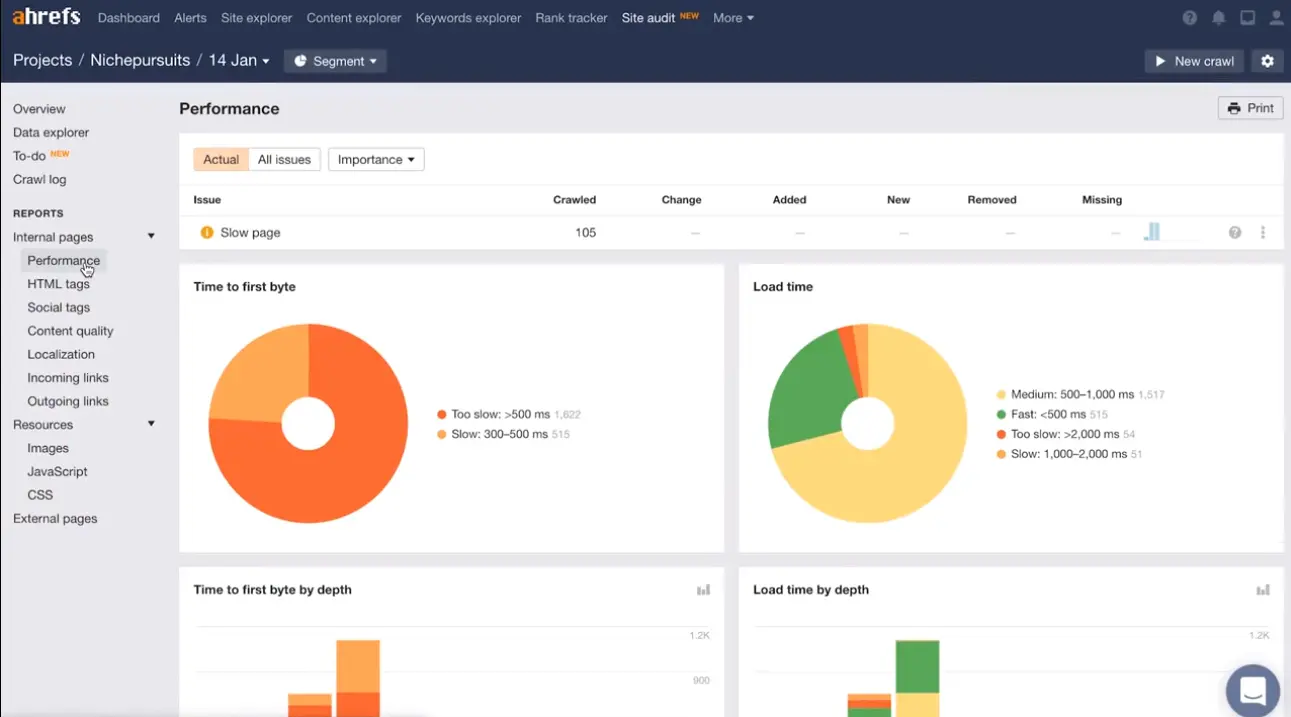 It's another great tool that has lots of useful features, but the top one is the domain vs. domain analysis. The feature allows you to compare your and your competitors' websites.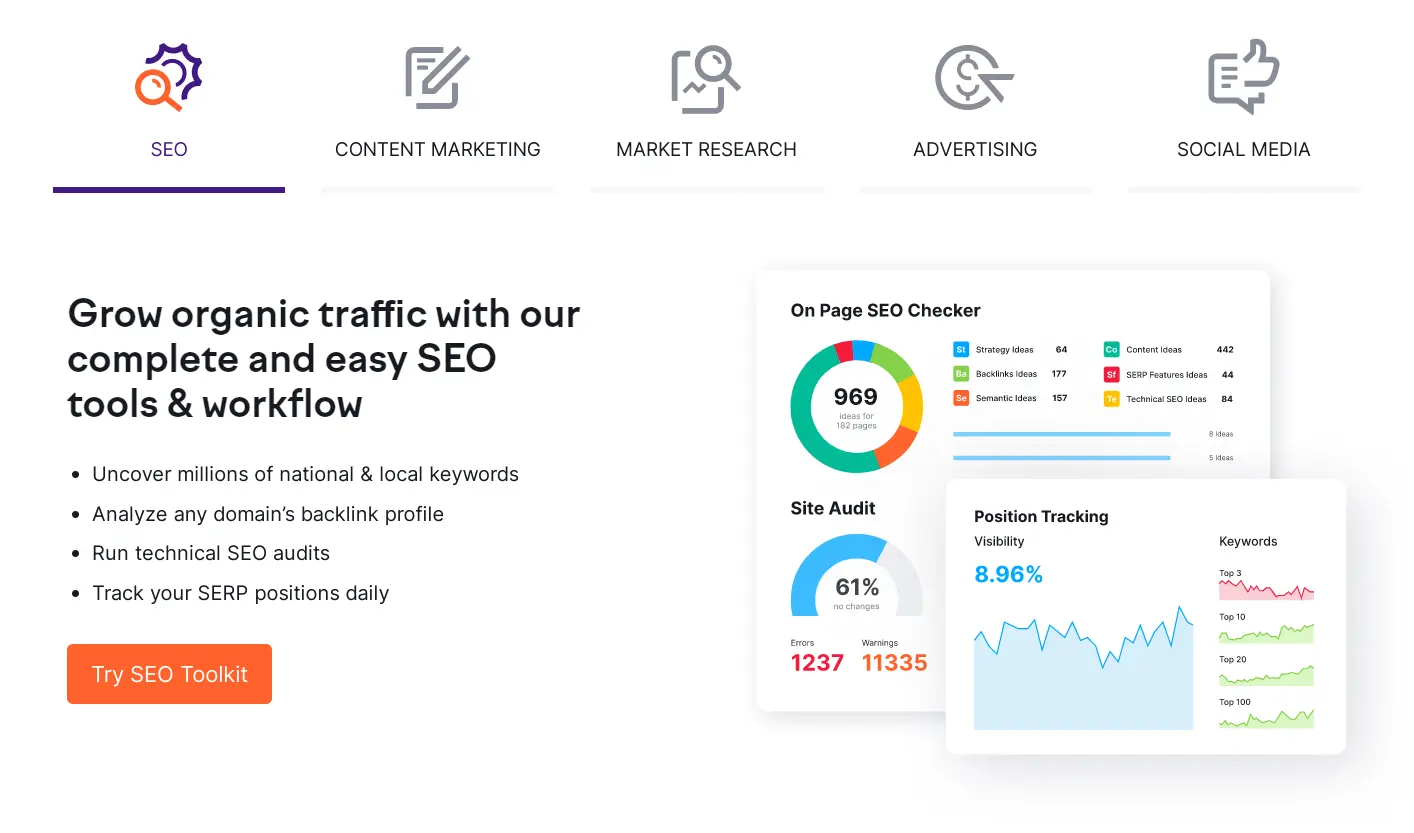 Google Analytics is a completely free tool that allows you to get a lot of information about your website. However, the variety of metrics makes it difficult for beginners to quickly figure out how it all works, and, as a result, few people use the tool's full potential.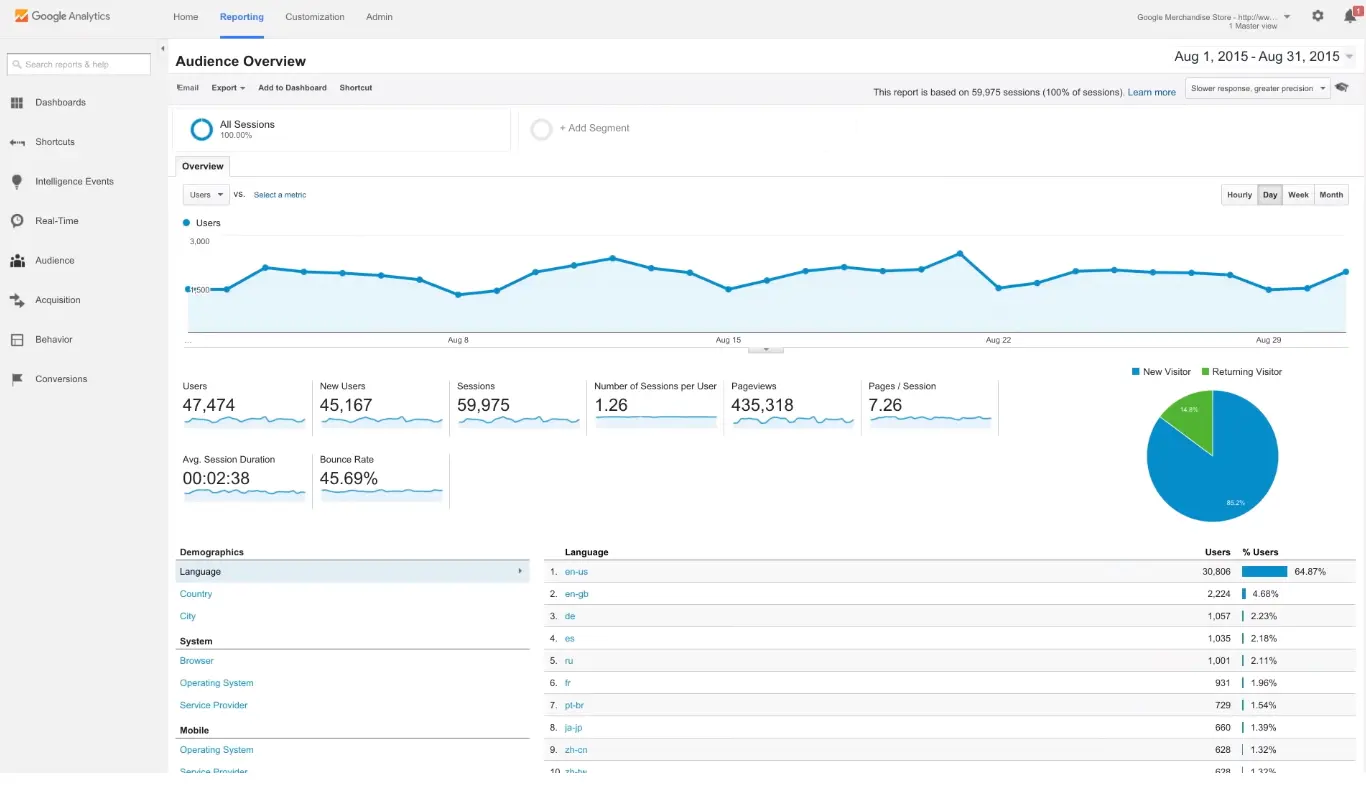 Serpstat is an all-in-one SEO platform with all the features that SEO experts need. The most popular Serpstat's feature is called Missing Keywords. It identifies the keywords that the websites similar to yours are ranking for in the top-ten search results, and you aren't.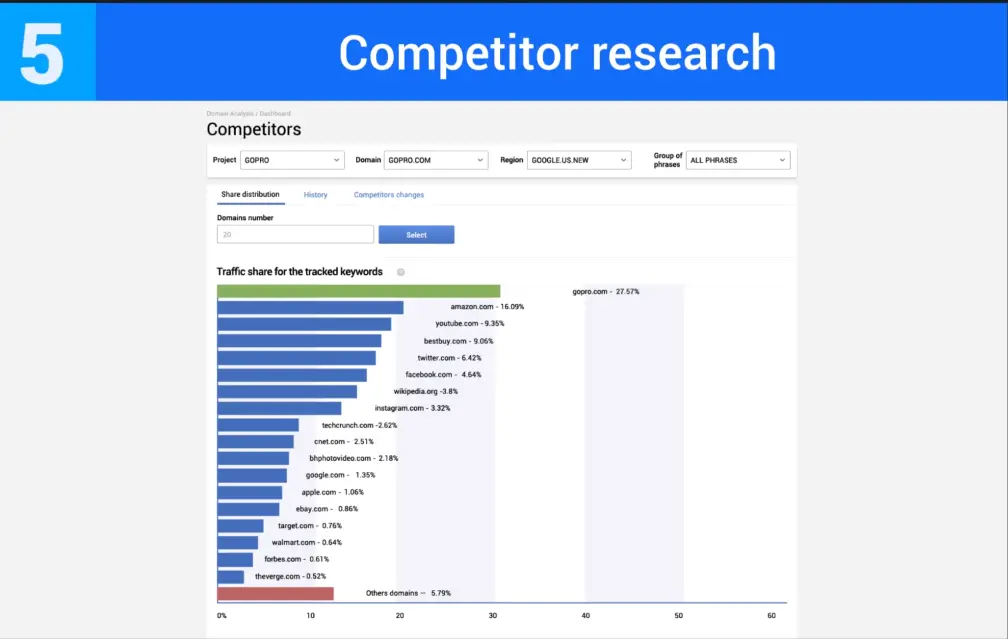 This tool will inform you of duplicate content, and errors you need to fix (broken links, bad redirections, etc.).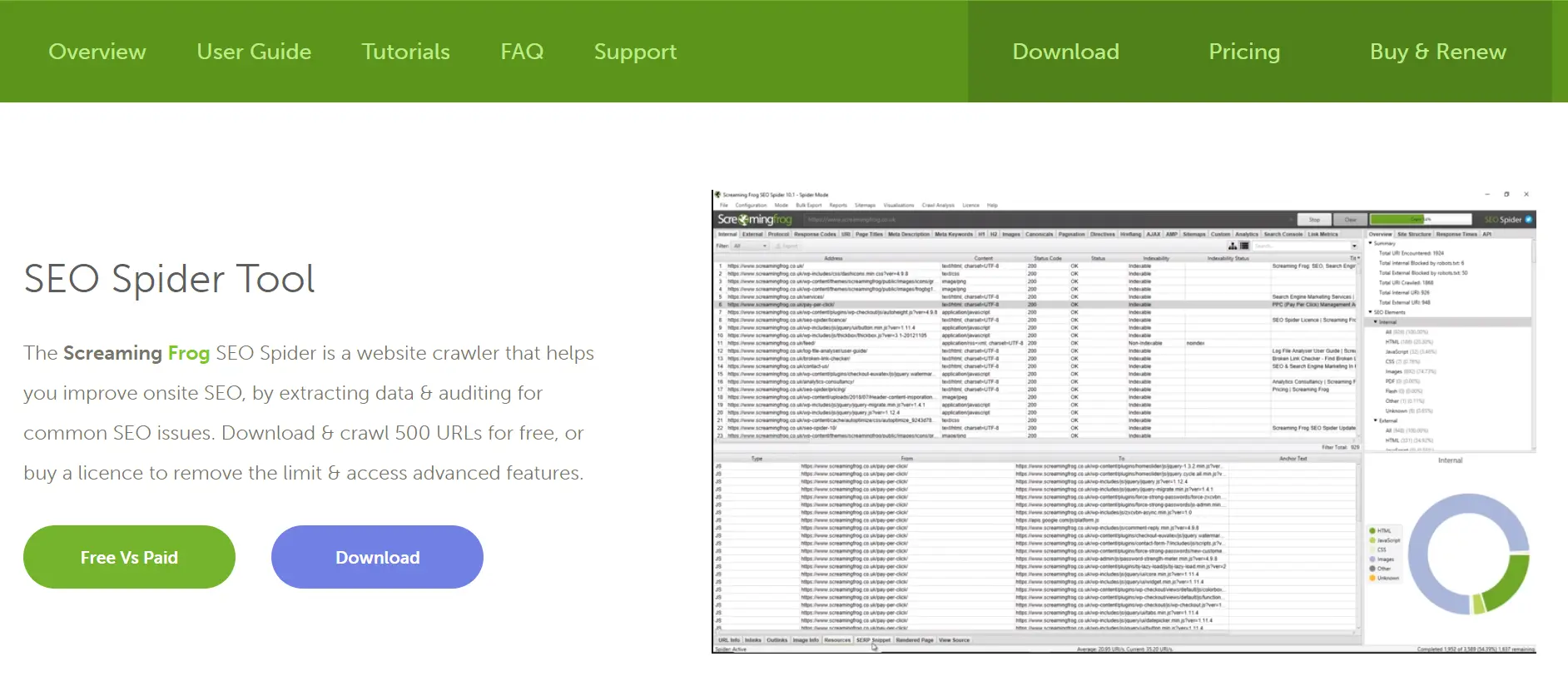 Google Alerts is another free service, the main task of which is to find information according to a person's search queries. As soon as fresh materials that match the user's request appear, Google alerts them via email.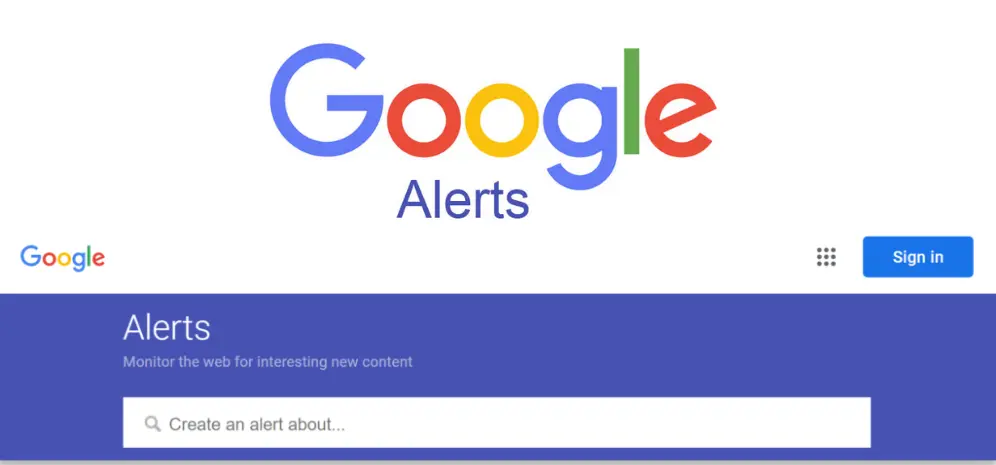 The tool is the best for finding long-tail keywords that have a lower level of competition.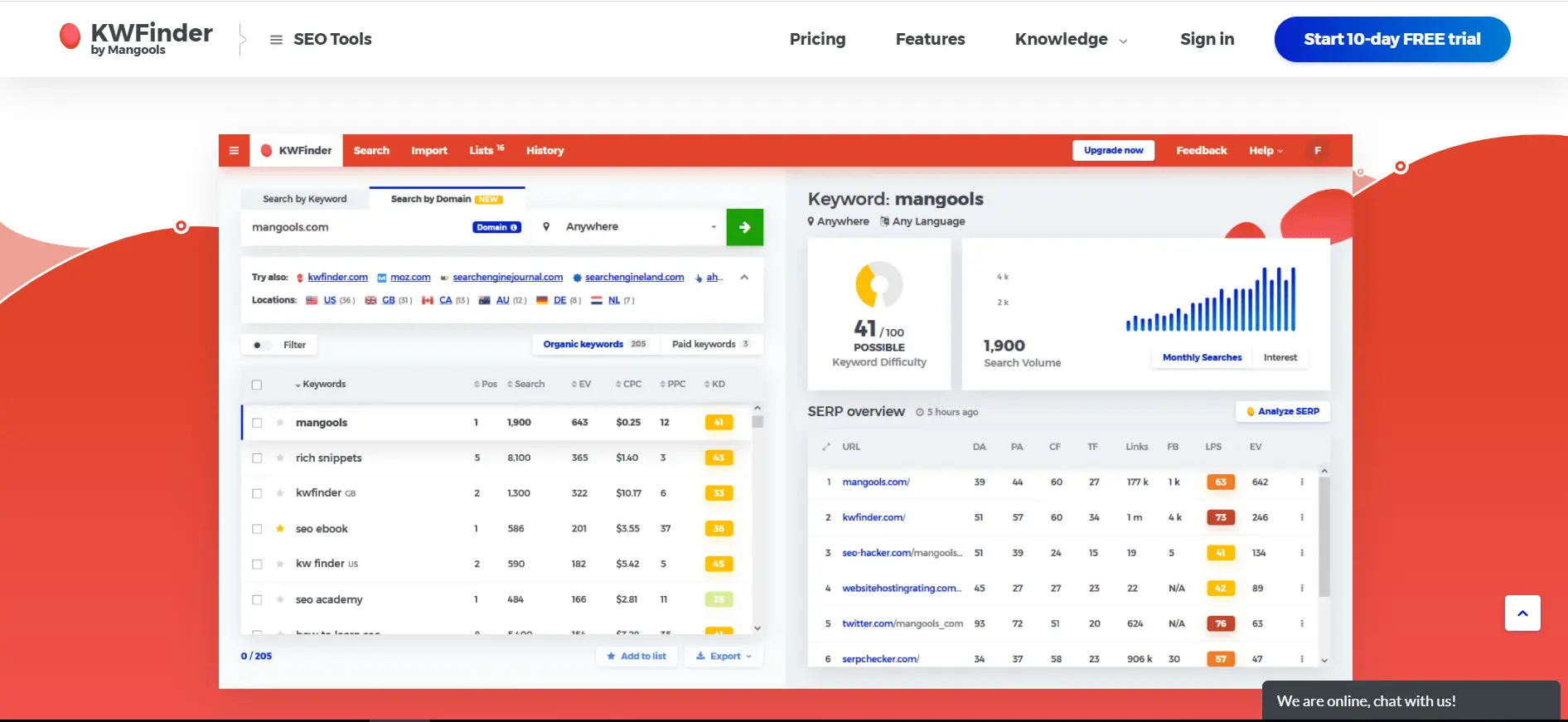 You might also like our article "54 Tools That Every Small Business Should Use in Their Daily Marketing Activities [Updated]."
Conclusion

As a business owner, you understand how vital it is to master search engine optimization strategies to rank high, ideally number one, in search results. You know that you can't just create a website and then sit straight waiting for new customers knocking on your virtual door.

SEO means improving your content, so it shows up more often and on the top of the first search page. But with so many changes to catch on, it's very easy to miss something. And when you miss even a minor detail with SEO, your content might go unnoticed. You don't want it, of course.

Sometimes, it's not easy to know how and where to start if you are not an SEO guru. That's why we created this guide. Like it? Please share it on social media, and let us help even more people.