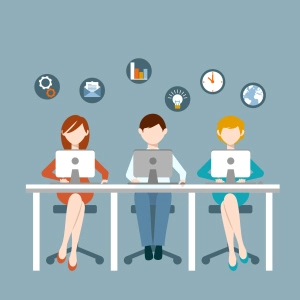 How many email addresses does an average user have? 2-3? We are not sure about that. However, we definitely know the most popular free email services used worldwide. Are you looking for a provider to create a mailbox? Let's take a look at top 10 email services in 2016.
The recent statistics proved that best email service is one responsive to mobile devices as the majority of people use smartphones or tablets to mail. Moreover, it becomes obviously that market share always changes, and some providers grow rapidly obtaining high positions in top 10 email services.
Gmail
Gmail achieved the first place in 2012 and still grows the number of its users. This free email service allows holding letters up to 15 Gb totally. Connecting to Gmail, you do not get a mailbox only, but an access to the diverse range of Google tools, such as Docs, Drive, Calendar and so on. Gmail has a friendly interface and serves the needs of clients perfectly. Do you like it? We do and think that it's deservedly the best free email service.
Outlook
Old school Microsoft software, Outlook is quite popular in the offices. This free email service has an integrated calendar, so its allows to manage your time also. As the usability of Outlook is a big question, many users love it and claim that it's the best free email service ever.
Yahoo! Mail
Another well-known provider, Yahoo! Mail is popular among many people over the world, especially in the US. It's quite simple and popular free email service that gives an opportunity to create and manage mailbox. Many people use it as alter provider if they have more than one account.
Outlook.com
Younger Outlook child, Outlook.com is more developed cloud version of popular software. It has been released in 2012, and now many people upgraded their accounts to use it.
AOL Mail
AOL Mail, or America Online, is the best free email service for personal use. It's simple and clear, helping people to chat with others. It offers such features as unlimited email storage, virus protection, spell checker and so on.
Apple Mail
In our top 10 email services Apple mail occupies senior 6th position. The number of iPhone users reached 75 million last year only in the US. This free mail service worth attention to pay. Despite a fact it has been released only in 2015 and still has many bugs, Apple Mail gained a wide audience and is leading by a number of uploads.
Mail.com
This email client has a long history, therefore, is deserves to be included in top 10 email services. Mail.com was developed by a Germany-based company and gained wide popularity. Now it's used worldwide.
Zoho Mail
Zoho Mail has a simple and clear interface with good usability. Zoho claimed to have the perfect privacy features, and comparatively to Gmail it offers its own docs. Zoho is simple and nice free mail service, especially for personal use.
Yandex Mail
This free email service is developed in Russia, so it mainly covers Russian-speaking audience. Yandex Mail offers usable and simple mailbox. However, using it and this search engine you should be aware of outside programs that may be installed on your computer without permission - Yandex and Mail.ru are inclined to spread their extensions and softwares.
Inbox.com
If you have not picked your best email service yet, Inbox.com can be your handy tool. It covers many features and offers image sharing option, which is perfect for photographers. Its interface is highly intuitive and fast, and up to 5 Gb of storage ensure long mailing.
What's your impression about top 10 mail services? Do you use any of them? If not, pick up and start. If yes, leave us a comment about which one you prefer.