Best Alternatives to Gmail You Can Use In 2023
1. Outlook.com
2. Apple Mail
3. Titan
4. ProtonMail
5. Tutanota
6. Posteo
7. Runbox
8. Mailbox.org
9. Zoho Mail
10. MailHippo
11. AOL Mail
Gmail is one of Google's most successful products and one of the most popular email services worldwide. Indeed, it has many advantages, but for several years now, there has been more and more talk about Gmail's security issues.
When you use it, Google stores information about your contacts to find out if you have pages on various social networks. Gmail also scans your personal correspondence for specific keywords to show you targeted ads.
Many email users prefer their personal data to remain protected and don't want anyone to spy on them. That is why they look to switch for alternative email providers.
This blog post will guide you through the best Gmail alternatives and the features that make them the best.
Although this email client looks a tad overdid on the interface, it is a perfect Gmail alternative for people looking for seamless integration with different email accounts and all the productivity tools in one place.
Advantages: smart filtering, superior email management features, a distraction-free mode, encryption features, over 200 plug-ins.
Disadvantages: some actions can take more steps than Gmail users are used to; the Outlook user interface might look a bit overwhelming. It's not ads-free. The ads are very subtle, though.
Price: personal use of Outlook.com in your browser is free.
The number of Apple products users grows rapidly year after year. This free mail service is worth your attention. Apple Mail gained a wide audience and is leading by a number of uploads. If you use an iPhone or a MacBook, consider switching to the native email service.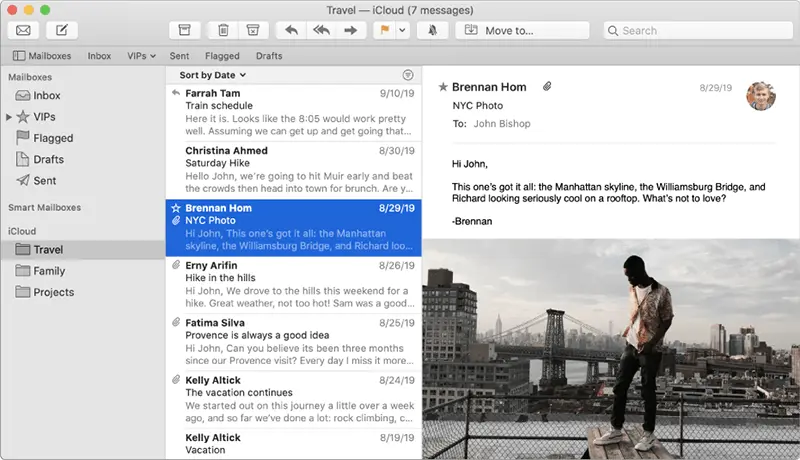 Advantages: easy integration with all Apple products, simple and clean interface.
Disadvantages: somewhat limited features, works best on Apple products only.
Price: free.
Titan's business email is developed for small businesses to build strong customer relationships. It provides a business email address at your domain, a shareable calendar, and up to 50GB of storage. One-of-a-kind features like Read Receipts, Follow-up Reminders, Send Later and Priority Inbox are included to help Titan users streamline productivity.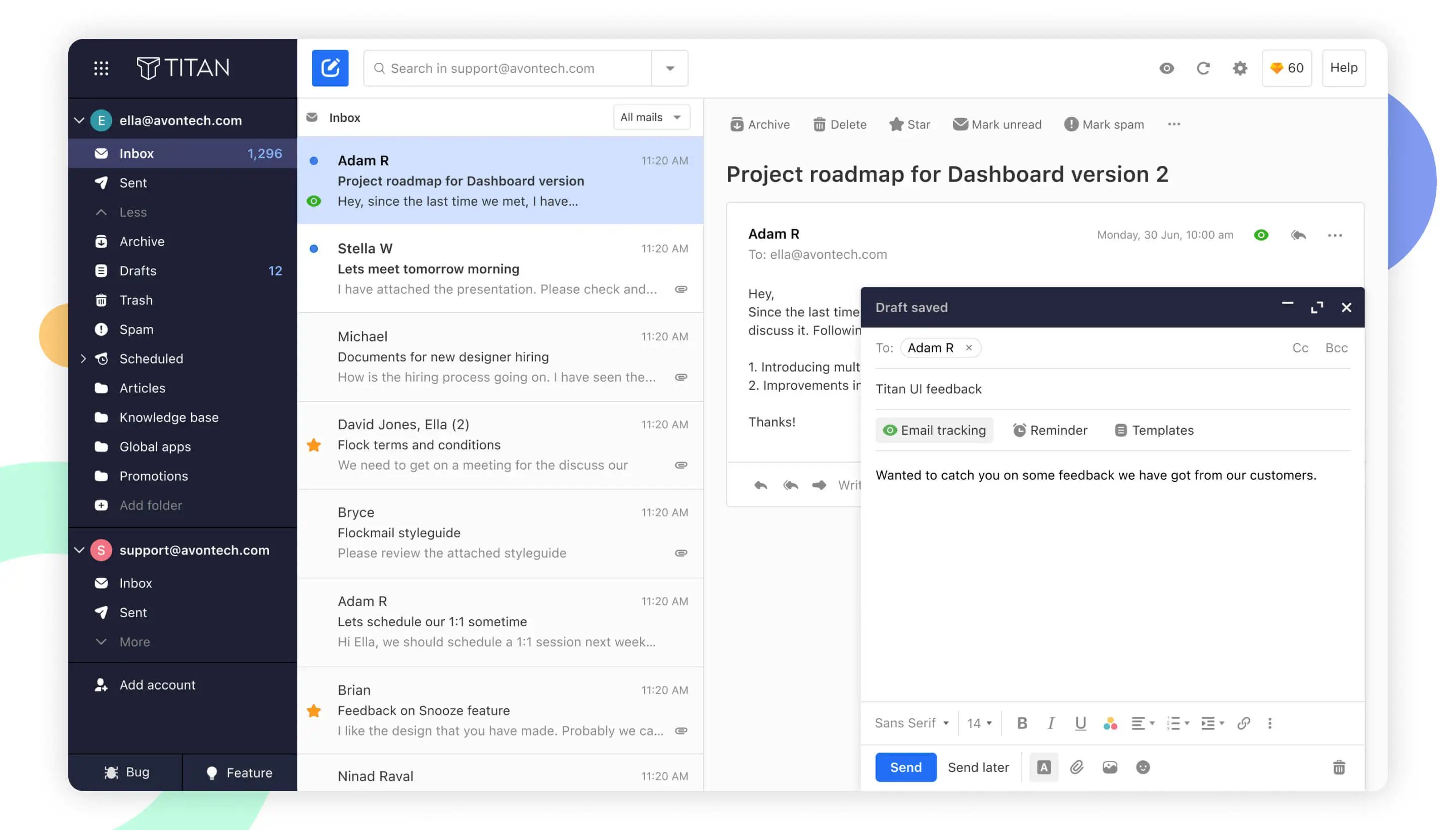 Advantages: User-friendly interface, cost-effective
Disadvantages: Does not offer email marketing service, email does not work offline
Price: Through various Titan partners, Titan offers a free trial and has two pricing plans.
Titan Business Pro at $2 per month
Titan Business Premium at $2.45 per month
ProtonMail was created by former scientists of CERN (European Organization for Nuclear Research). Its servers are based in Switzerland, a country with strict privacy laws. Unlike most other secure email providers, ProtonMail is the most user-friendly. Its interface is built very similarly to Gmail - with shortcuts, filters, and folders.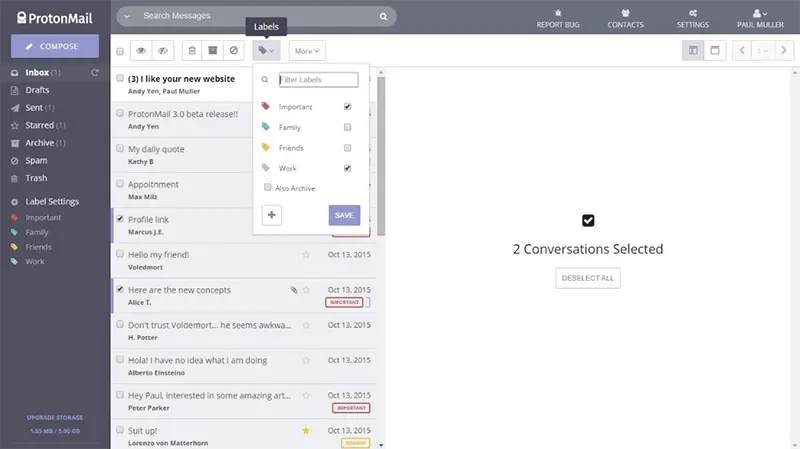 Advantages: high security, convenient web interface, ability to set emails to expire after a specific date, smart filtering, superior email management features, a distraction-free mode, over 200 plug-ins.
Disadvantages: limited search features, not great for organizing emails, complex integration with other email clients.
Price: free or from $8 per month when paid annually.
You can also switch from Gmail to the encrypted and secure email service called Tutanota. The entire Tutanota mailbox is encrypted from start to finish, so it is completely protected from anyone's eyes. Even developers can't read your email.
Due to encryption, Tutanota also can't collect your data for advertising. In fact, there are no ads at all in Tutanota.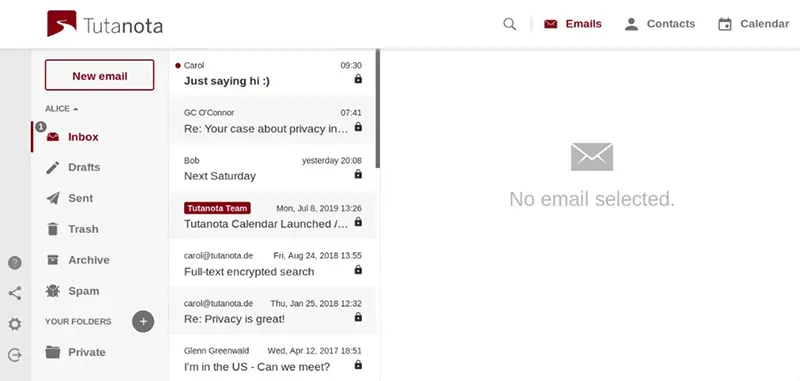 Advantages: high security, convenient web interface, ability to set emails to expire after a specific date, open-source code, reliable spam filter.
Disadvantages: only 1 GB of free storage, while other popular email services offer up to 15 GB for free; no support of POP3 and IMAP; many features can be used only with a premium account.
Price: free. If you want to send more than 300 emails a day, a premium email account will cost you €1.20 per month.
Posteo is an independent email provider based in Germany, Berlin. The vendor says they are highly concerned with sustainability, security, privacy, and usability. You might also like the fact that Posteo is 100% powered by green energy from Greenpeace Energy. On top of that, the service is completely ad-free.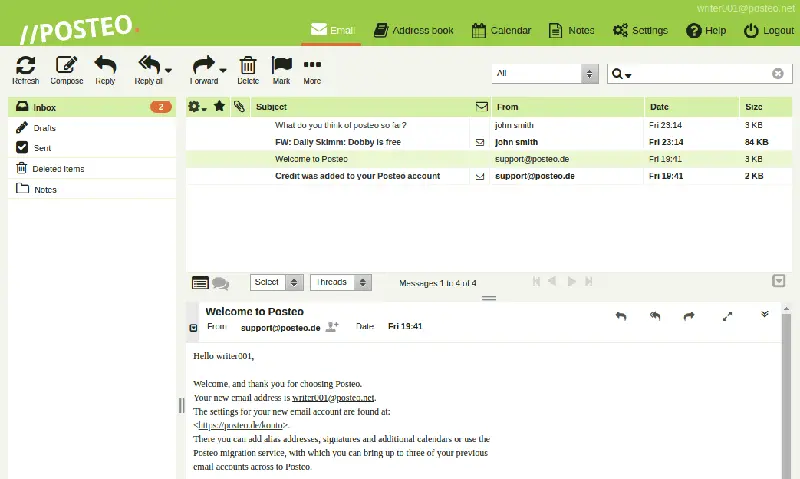 Advantages: high security, sign-up without entering personal details, anonymous payment, highly efficient spam filter.
Disadvantages: only 2 GB of free storage, while other popular email services offer up to 15 GB for free; no support of POP3 and IMAP; no spam folder (such emails are rejected by the server before they even come to the inbox).
Price: €1 per month.
Another great Gmail alternative is Runbox, which servers are based in a country that has strong data protection laws - Norway. Runbox has been launched over 20 years ago, meaning it has a long track record of providing reliable service to its users.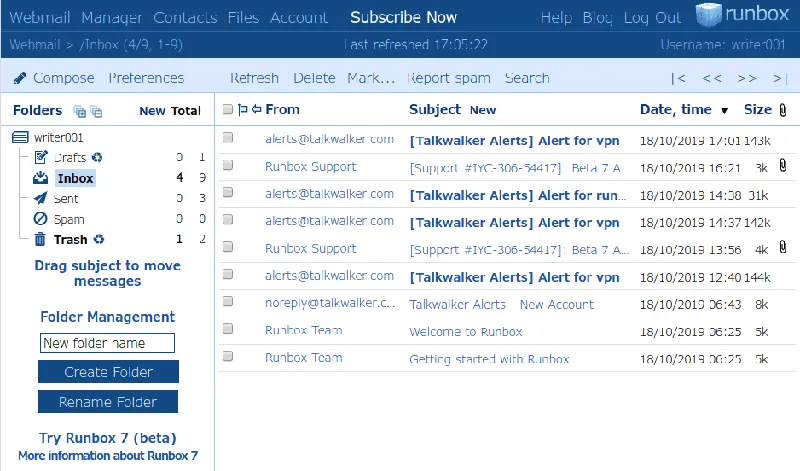 Advantages: synchronization with other email clients, GDPR compliance, free of ads, powerful virus filter, the ability to try a fully functional Runbox account for 30 days.
Disadvantages: it has a very dated user interface, only 1 GB of mail storage in the cheapest plan.
Price: from $19.95 per year.
Mailbox.org is a Germany-based, secure email client that offers a wide range of great features. The email client includes the contacts, calendar, and file storage applications that you can find in the leading email services. With Mailbox.org, you can also enjoy an ad-free inbox and your own domain name if you like.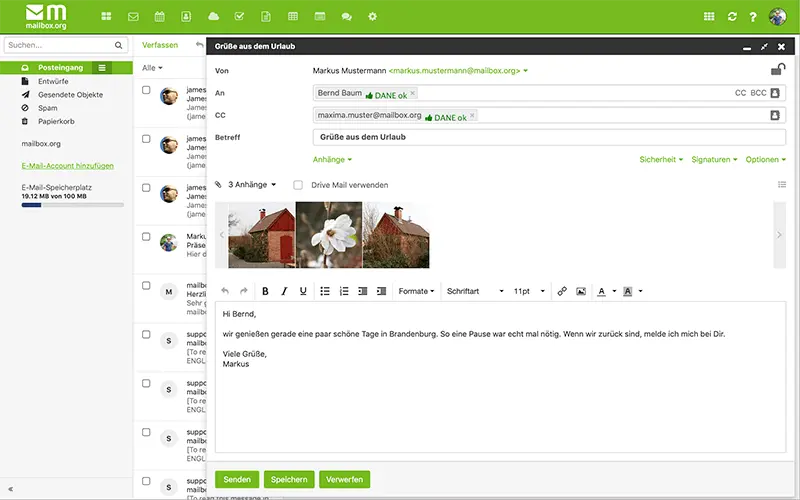 Advantages: great message and spam filters, clean user interface, a detailed, transparent privacy policy, top rating for data protection.
Disadvantages: the vendor has your PGP private key, so even if you encrypt your emails, they can still decrypt them. This also means no true end-to-end encryption.
Price: from €1 per month (2 GB storage and three email addresses).
Zoho Mail has a clear, user-friendly interface. With Zoho, you can enjoy sending encrypted emails (data is encrypted both at rest and in transit). If you use Gmail because it goes with your Google Drive, you will love Zoho with its own docs. Zoho Docs let you store your files securely, share them with colleagues and friends, and sync them across various devices.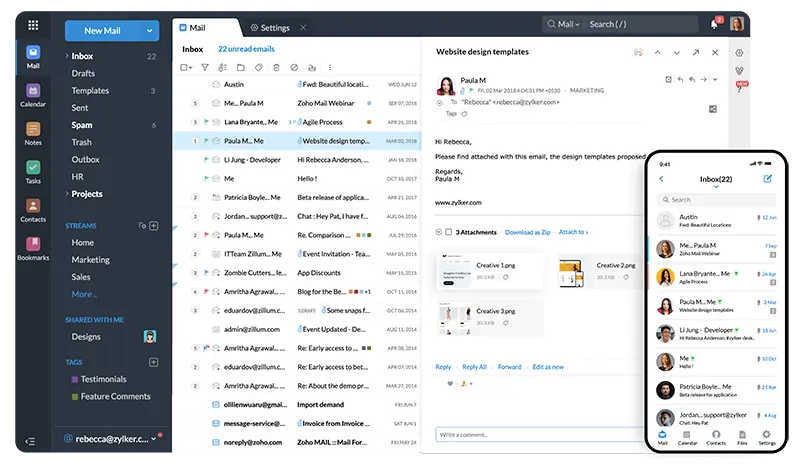 Advantages: folder-specific notifications, good integration with other apps, no ads based on the contents of your emails.
Disadvantages: limited spam filter, no automatic replies.
Price: free or from $2 per user per month when billed annually, or $3 per user monthly.
With the ability to send and receive highly-encrypted, secure emails, MailHippo is another best alternative to Gmail. MailHippo is compatible with almost any existing email address and also supports almost any email provider available on the market. The service is easy to use and doesn't require any setup or complex configuration. Simply sign up and start sending and receiving HIPAA-compliant encrypted emails immediately.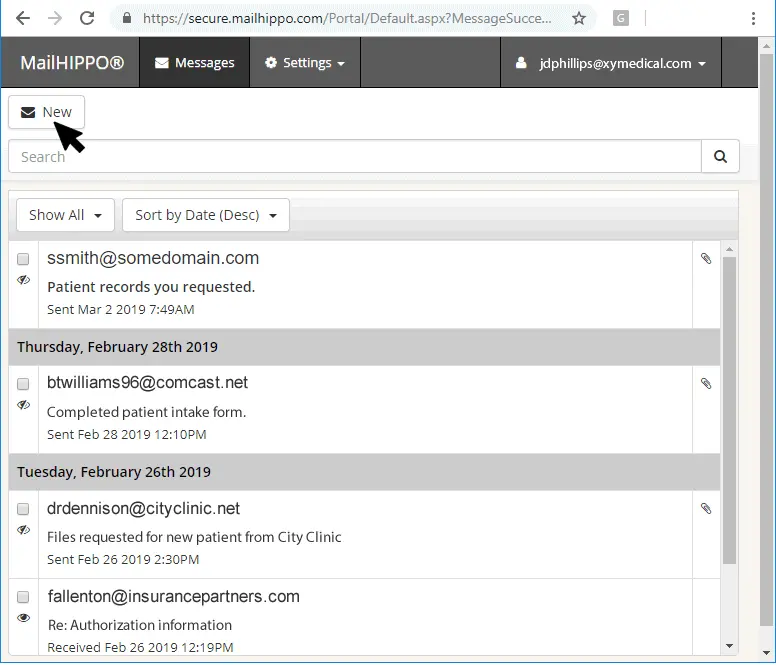 Advantages: the ability to use your current email address, message expiration, HIPAA-compliant (very important for healthcare providers), ability to send large files up to 100 MB in size, free 30-days trial version, end-to-end encryption
Disadvantages: you can send files only up to 20 MB in size in a free version, only 1,000 messages/month in a free version.
Price: free or from $4.95 per month.
AOL Mail, or America Online, is one of the best free email services for personal use. It's simple and clear, helping people to chat with others. It offers such features as unlimited email storage, virus protection, spell checker, and so on.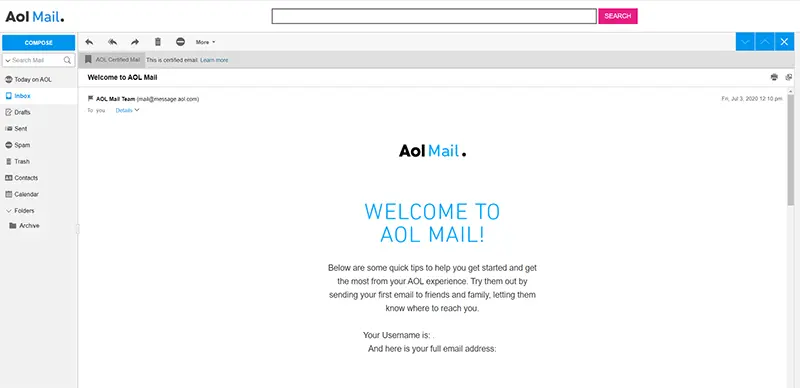 Advantages: simple and time-proven email service provider, easy to create a new account, customizable interface.
Disadvantages: as it is free, some email clients block messages from AOL Mail as possible spam.
Price: free.
Conclusion
Although Gmail is one of the most popular free email service providers, many users are looking for more reliable Gmail alternatives.
When it comes to email security, you can find not so many email clients that guarantee your communication is 100% private and safe.
Consider using any of the alternatives to Gmail listed above to keep your email correspondence as private as possible. If you know some other secure email providers that don't collect your personal information and don't spy on your emails to provide you with targeted advertisements, share them in our social media.