Key Factors of Effective Email Signature
1. Keep it informative yet simple
2. Make the signature visually attractive
3. Highlight the most important information
4. Focus on direct and clear messaging
5. Make it mobile friendly
6. Maintain consistency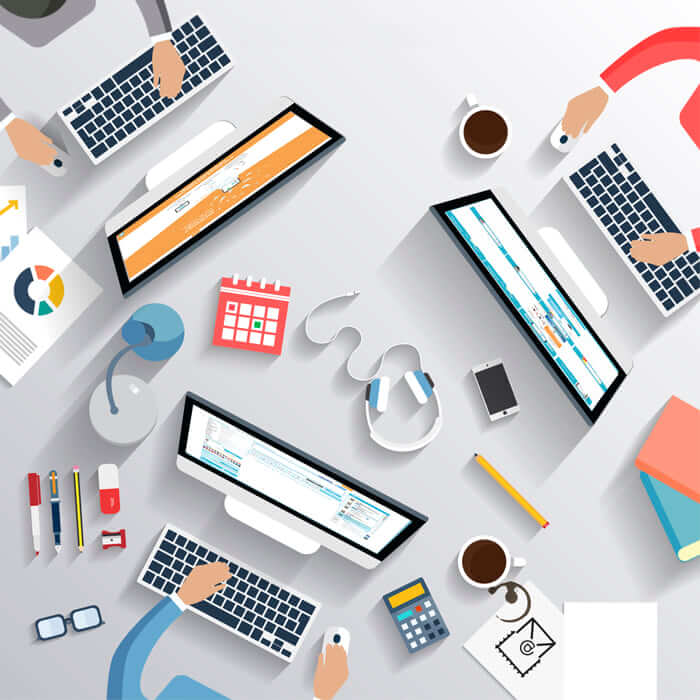 Learn how to drive traffic to your website and get more customers by creating an outstanding email signature.
In the digital transformation era, new means of electronic communication arise one by one, but the email keeps its strong positions. This extremely important tool of business correspondence allows holding various marketing campaigns, sending bulks of information, keeping track of online negotiations.
First Impressions are the Most Lasting
Email signature is a powerful but often overlooked marketing tool. Its main purposes are to:
Provide convenient access to your contact details

Make your brand and professional identity memorable
You email signature has much more influence on your brand identity than you may imagine. This online autograph drives the attention back to your brand and personality after everything being said in the email body. It shows how attentive to the details you are, thus, shows the level of your professionalism and competence.
Let's run over the key factors of strong attention-getting email signature:
1. Keep it informative yet simple
Don't fall into the common trap of turning your email signature into a small autobiography. Too many information blocks in your signature will make it bulky, noisy, and cumbersome. Throw away everything that detracts attention from your highlights, and focus on the most substantial things:
Your name and position

Company name

Phone number

Website

Skype id

Company logo or your photo

Social media icons
Tip. Avoid including social media that don't blend well with your professional activity. Set your private life apart.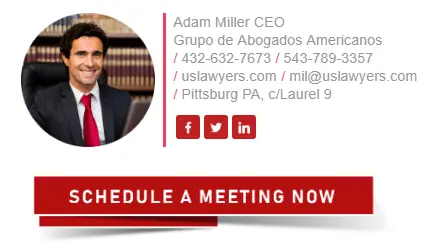 2. Make the signature visually attractive
Keep your design style minimalistic and elegant. Limit graphic elements in your signature to the company logo or your photo-headshot. Putting a face is an effective way to make your relationships with the recipient more personal.
Tip. Place photo that gives strong professional impression – well-shot professional photo-portrait. Avoid Facebook-style photos.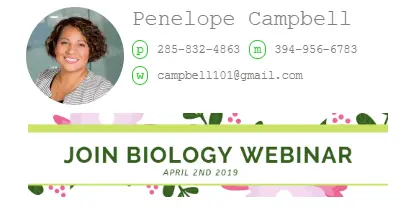 3. Highlight the most important information
Use the font size to visually signal to your recipients what should be read first. Color or bold some lines, e.g. your name or company name, to help guide the eye to an essential part of the signature.
Tip. Try not to use more than two colors while signifying some areas of your signature to avoid making it look kitschy. Same, don't outperform with the number of fonts you use. Limit this number to one main font complemented with an additional one.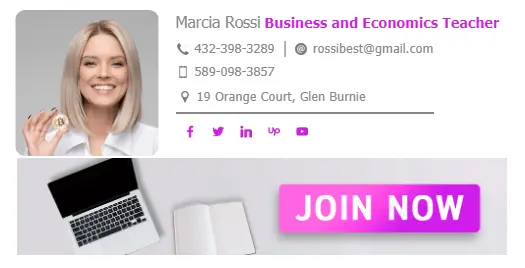 4. Focus on direct and clear messaging
If possible, avoid placing quotations, mottos, and slogans, unless it is a company tagline. Don't include anti-virus scanning verifications and a legal disclaimer, unless absolutely required.
Tip. Adding a company banner below the main part of the signature is a good idea to drive traffic, promote upcoming events or e-books.
5. Make it mobile friendly
Majority of recipients open emails on mobile devices. Scalability and responsiveness of your signature is of great importance. Also, make sure it is readable on small screens.
Tip. Make certain your imagery scales down very well, as well as social media icons are not too small to tap on.
6. Maintain consistency
Make sure all the employees in your company use the same email signature template.
Tip. Newoldstamp service provides a great possibility to create and control highly customizable signatures for the whole your team, add their personal details and send installation links from a dashboard. Also, the service provides a good selection of ready-to-use signature templates.

Email signature is a like an icing on your cake. Don't hesitate to use handy email signature generator to help you build another powerful tool for your marketing activity. Once you have an email signature well-done, you can be sure you make a lasting first impression on your prospects.