How to Write the Best Business Proposal for Investors
1. What is a business proposal for investors?
2. Preparing before writing a business proposal for investors
3. How to write a business proposal for potential investors
4. Structure your professional business proposal (top elements)
Useful tools:
1. Newoldstamp - Email signature marketing
2. Mailchimp - Email builder and sender
3. Hubspot Email Marketing - Marketing automation platform
4. MailerLite - Landing page builder
5. Canva - Online tool for making designs
How to develop a business proposal for potential investors? A lot of entrepreneurs come in with this kind of question, and many of them believe that if they don't have a business degree, they can't write a winning business proposal. However, they often forget that investors are not experts in all fields, they are generalists who want to see that you will be able to make them money. That is why your business plan does not have to be super complicated to get an investor interested in it and invest. In this article, we are going to guide you through the most critical things that should be included in your business plan. We will also tell you how to position everything to motivate investors to take action.
What is a business proposal for investors?
In the corporate world, most large projects, winning mergers, etc. begin with a very powerful and important document — a business proposal. In simple language, it is a written offer from a seller to a potential buyer. Its primary goal is to persuade the prospective client, answer all their questions, prove you are the best candidate to be chosen. And in order to create the proposal that will answer questions of investors, you must do your homework first.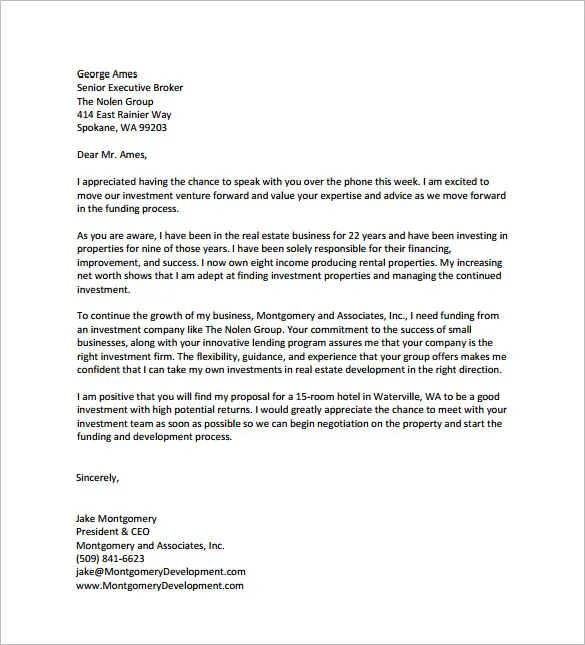 source: Template.net
Preparing before writing a business proposal for investors
Review your business goals and buyer personas
It is essential to demonstrate to investors that you understand your clients, know their needs and requirements and that your solution will satisfy these needs.
Research your market and competitors
Gather as much data about the market as you can ideally from investment advice websites because you need to make potential investors believe that this market is big enough to get excited about it. Along with information on the market size & potential, your ideal buyers picture, the ability of your product or service to satisfy your customers, you also have to inform your potential investors how you will prevent your competitors from taking away your clients.
Research information about investors
Ideally, the proposal should be tailored towards the type and needs of a specific investor, because different types of investors concentrate on different parts of a business plan. For example, bankers put more emphasis on the financial aspects of the proposal and pay less attention to the market. And angel investors stress both market and finance issues.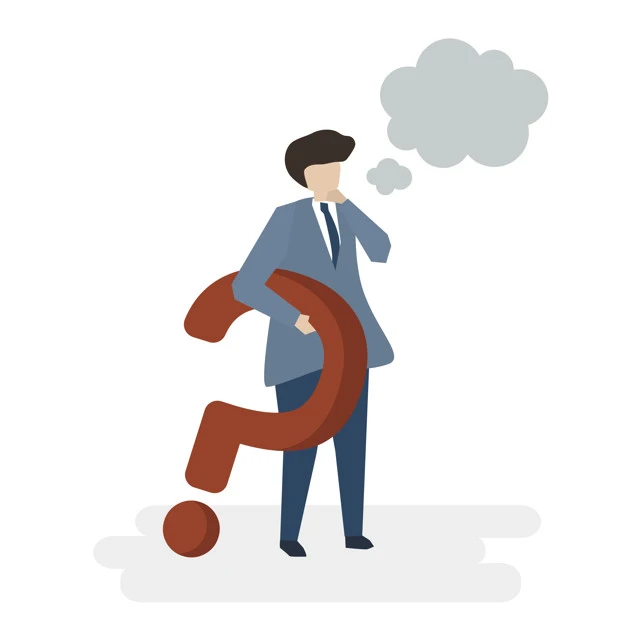 source: Freepik
How to write a business proposal for potential investors
Follow these tips to succeed in writing a business proposal for funding.
Tip #1: Make it correct and structured
Your proposal might serve as a representation of how you run your business. If it is well-thought out and structured correctly, you will be treated as a professional. Be sure to check if there are no spelling or grammatical errors in your documents. Ask someone you trust to proofread the proposal after you.
Tip #2: Make your proposal more convincing
Be persuasive. To increase your chances with a pitch, plan everything properly, show that you did considerable research, introduce your skilled and reliable team.
Tip #3: Be personal but not obsessive
Remember that your business plan shouldn't be like a tedious book report but an evolving document. So you can make it personal and informal.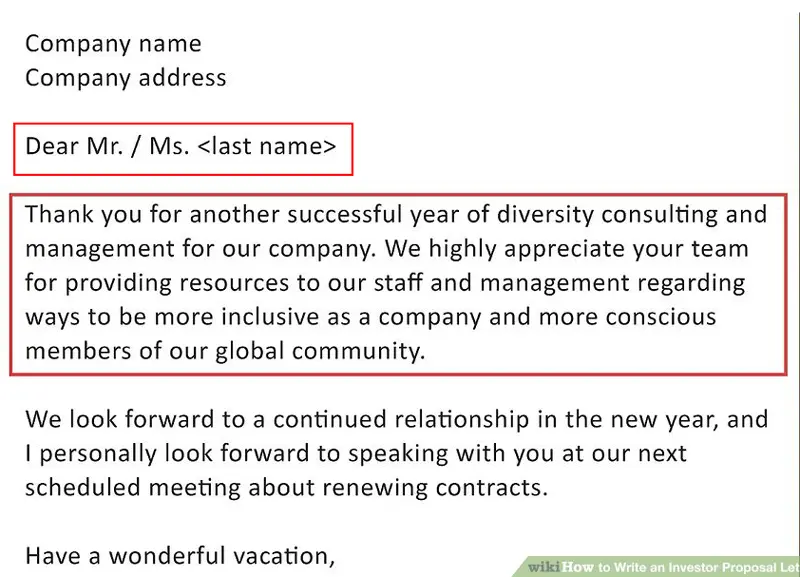 source: wikihow
Tip #4: Don't make it very long
Keep in mind that investors are usually short on time. Therefore, too complex and too lengthy proposal is almost never a good idea. 15-20 pages (excluding appendices) would be perfect.
Structure your professional business proposal (top elements)
Your proposal should include the following components: executive summary, introduction, project details, and conclusion.
Component #1: Executive summary
When working on your executive summary, keep in mind that it should be so easy to understand that your grandmother can understand it (no jargon, short forms, technical terms). It should be a condensed version of the more detailed proposal which you will explain throughout your plan. We suggest you make it 1-2 pages. Keep in mind that the executive summary section is very likely to be the ONLY chapter of the business plan that the investor will read in full.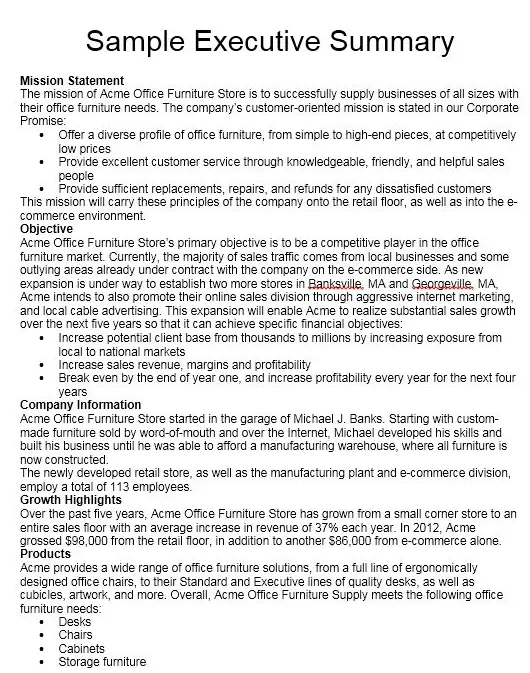 source: templatelab
Component #2: Introduction
The introduction paragraph should provide an overview of your business.
Opportunity —

Explain what you are selling and how your product or service can solve a problem;
Company mission —

Present your vision & mission;
Company goals —

Present company goals;
Team —

Introduce your team, describe their roles in the company;

Location —

Include your company location and any facilities that your company owns. Tell what your location means to your business.
Component #3: Project details
In this section, you need to describe how you plan to achieve the goals. Also, provide an overview of your resources such as staff and technology that will help you reach these goals. It is also essential to explain how you plan to measure your progress.
Information about a company or business

— Provide a detailed explanation of what you didn't include in the executive summary and introduction (technology, target market, competition, sales strategies, management, employees, and other goals of the company);

Financial plan

— It should contain the

income statement, the cash flow projection, and the balance sheet.

Resources like technology, staff, etc. —

Describe your current team, their expertise and background. If you need to hire more people, then explain who and why. Keep in mind that investors might be interested in a strong, creative team even more than in the idea because excellent execution is required to turn the idea into reality;

Measure your progress —

Prepare your plan for determining and measuring your achievements;

Milestones —

Present the core milestones that your team expects to achieve. For example, reorganize social media accounts (due date October 20, 2018), hire a project manager (due date October 25, 2018), launch a new website (due date November 10, 2018), launch a Japanese version of the software (due date February 2, 2019), etc.
sourcе: Freepik
Component #4: Conclusion
The conclusion section reviews what the business plan has stated. Include a specific call to action in this chapter.
How funds will be used

— Show the major areas where you will spend the investors' funds (short summary and key points);

Research your expenses —

It is essential to estimate the costs as accurately as possible. Find out what you will pay for rent, marketing expenses, insurance, and so on. Show that you've done the research and explain how you arrived at your forecasts of expenses;

Supporting documents and other information

— These may be a full business plan, income statement, balance sheet, statement of stockholders' equity, capital requirements, comprehensive document about the product or service, letters of support, reference, or credibility, marketing plans, credit reports, industry awards or customer letters, quotes or estimates from builders, contractors, etc.
Final words
To receive funding for your startup, you need to convince investors that your idea is worth investing in and that your team has all the qualifications and motivation to bring the concept to life. Before you start looking for the right people to support you, you need to have a viable business plan that explains how much funding assistance you need, what it will be used for, what the value of your solution is, and so on. When creating a business proposal for investors, be sure you follow these rules:
You keep your business plan short and clear;

The executive summary of an investment proposal clearly describes what your business does and why you are the best choice for investors;

You know your target market very well because you researched it;

You introduce your team in such a way to show them all in the best light;

You have a winning marketing plan to attract real customers;

You focus on your product's or service's benefits, not features;

You know how to measure your success.