9 Tips on How to Write a Review for All Cases - With Examples
Tip #1: Be honest and objective
Tip #2: Add evidence
Tip #3: Understand the audience
Tip #4: Keep your review short
Tip #5: Make you review personal
Tip #6: Stay calm when writing a negative review
Tip #7: Date your review
Tip #8: Be responsive when writing a review
Tip #9: Proofread
A review template
Useful tools:
1. Newoldstamp - Email signature marketing
2. Mailchimp - Email builder and sender
3. Reply.io - Personal email outreach, calls, and tasks
4. RocketLink - Your branded short linker
5. Canva - Online tool for making designs
I've had my eye on a lovely cafe in my city for months. All the banners and posters called me to taste a hot cream-soup with some crunchy toasts, fresh arugula salad, and yummy fried ice cream. And finally, the day has come. I got a table by the window, ordered a few dishes, and started looking at the interior. I was so excited by the moody lampshades that I haven't noticed the dirty table in front of my nose straight away. While that is the thing I can ignore at times, what I can't forgive is a tasteless food and poor service. Honestly, I've never felt so disappointed after having dinner in a restaurant. I was deceived by attractive banners. Duh. Since that day, I always write and read reviews.
Are reviews really helpful?
We are presented with so many options today. Therefore, making even minor decisions can be difficult and tiresome. Honest reviews help others make good decisions. Companies can improve their products or services based on customer feedback.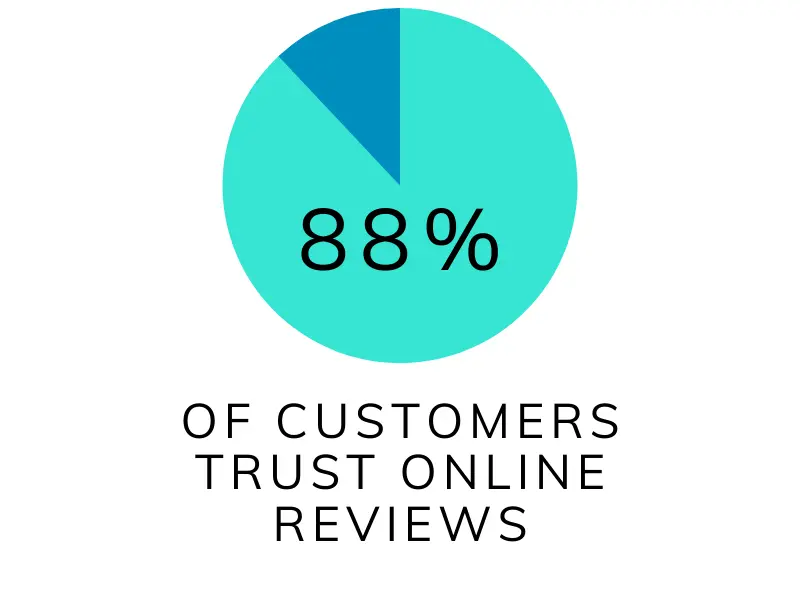 data source: invespcro
How to write a 5-star review
To provide useful and constructive feedback, you need to know what should and shouldn't be included when you write a review. We have prepared a simple structure you can stick to.
First of all, make sure you know the general message you want to bring to users' attention. Start with a simple thesis such as "I really liked the restaurant" and push your idea further basing on this thesis.
Write your overall opinion
In a couple of sentences or less, write your overall opinion about the product or service. For example, "The food at ABC cafe appears simple, but the flavors have remarkable depth."
Mention what you liked the most about the product/service/place. Try to keep it all brief but still informative. Pros like "great service" or "cool app" don't provide much useful feedback.

source: g2crowd
If you are not satisfied with the product or service, include dislikes in your review. Just like with the pros section, try to make the cons section clear and informative. Cons like "Terrible product" or "Not good value" don't help businesses improve.
Add recommendations to your review
Although most of the review platforms use a five-star review system, it would be helpful if you add your recommendation in your review. This way, you can, for example, explain why you gave someone four stars instead of five. You can also include a short explanation like «I would recommend this game only if you are a fan of games such as "Skyrim" and "Call of Duty."»
Mention price-quality ratio
Let people know if the product or service is of high quality and whether it's worth buying.
Add a rating in your review
In addition to writing a review, use the stars to score the product/service/place. However, this step can be optional, depending on the platform.

source: capterra
Want to develop a customer review system for your business? Here is how.
9 tips on how to write a review
If you don't know how to write a review article, follow these guidelines. They will help you make your reviews useful to both businesses and other customers.
Although you are writing from your own individual perspective, you should still be honest and stick to the facts.
If you don't have enough evidence to support a particular point, then it's better not indicate it at all.
Before writing your review, you need to think about those who will read it. If you are writing for a general audience, it won't be appropriate to use complicated technical terms. Or if your review is intended for gamers, you can refer to similar games they may know, etc.
Good reviews contain details and highlight specific things the business did or didn't do well. But it's important not to overdo with the length of the review.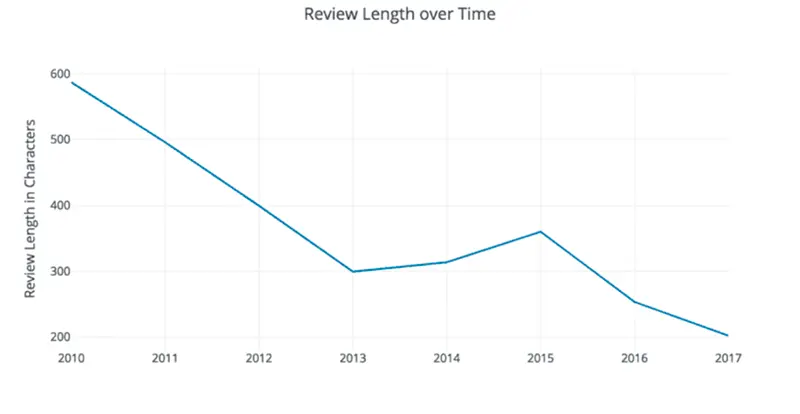 source: reviewtrackers
Make your feedback original and unique, infuse some personality. Tell people a story about how you used a product or service in your life.
Even if you have had a negative experience, use a calm and sober tone in your review article. This way, your feedback will look professional and credible. Moreover, businesses are more likely to engage with you to address the problem if you keep calm and friendly.
Indicate when your experience with the product or service was. Perhaps, the company has made considerable changes to its product/service since then.
source: tripadvisor
Write your review in a conversational manner. This way, you will let the readers respond and suggest their point of view.
Reviews with grammar and spelling mistakes are hard to read. They also lack credibility. That is why it is crucial to take some time to proofread everything carefully. Also, you can ask someone to read your review before you submit it.
Check out other useful content: "Email Signature Business Card Templates to Make Your Correspondence the Most Professional."
A review template
Now let's see in practice how to write a nice review.
A good review should include the product/service name, some pros & cons (if any), your recommendation, and a conclusion if needed. Here is a template that shows what a useful review should consist of:
Name of a product/service/place: Monica's Amazing Cafe
Pros: list of positives such as fast service, good prices, comfortable seats
Cons: list of negatives such as they ran out of the soup
Review content: describe your experience using facts. For example, friendly staff made me feel really welcome right after I entered the cafe. The atmosphere was warm and cozy. The prices were extremely reasonable (I got a smoothie, falafel wrap, and a few candies for less than $15.) The only thing that made me uncomfortable was that they ran out of the soup. However, the staff addressed this issue really quickly.
Review conclusion: One of the best meals I have had in NYC.
Here are some how to write a review samples for your reference: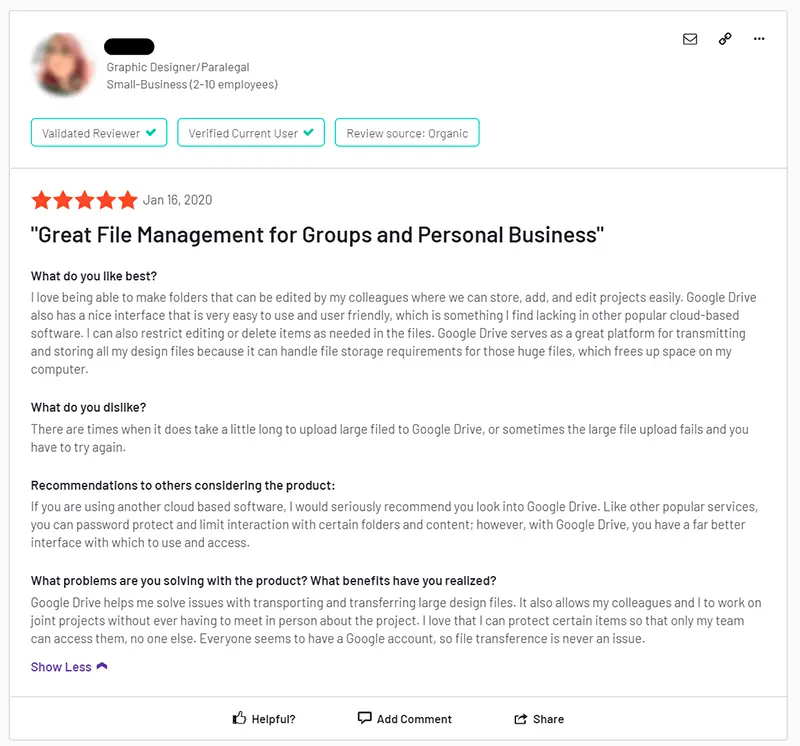 source: g2crowd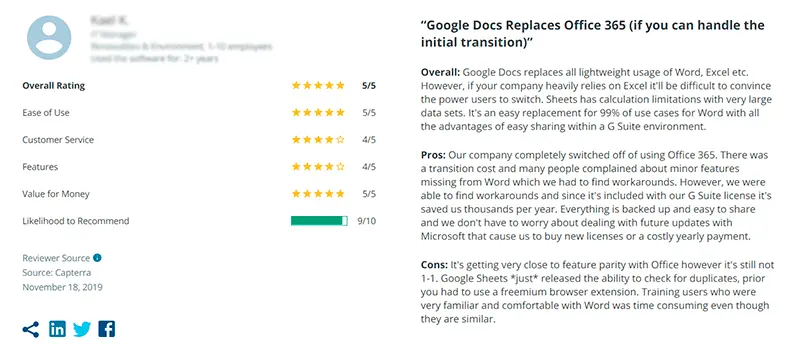 source: capterra
source: getapp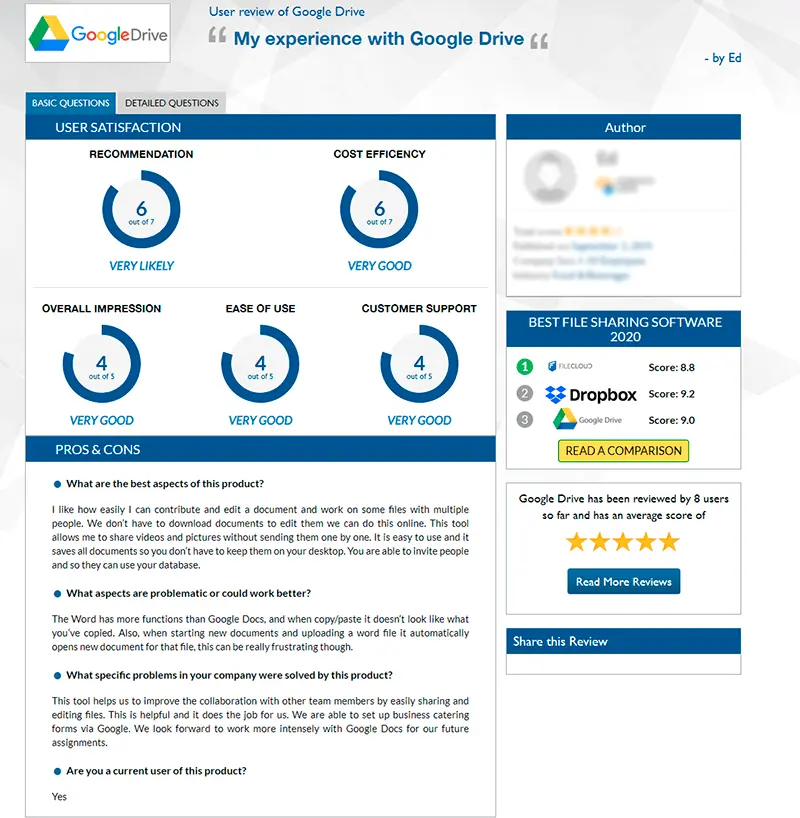 source: financesonline
Conclusion
Almost anything can be reviewed: music, restaurants, hotels, apps, books, hospitals, and even prisons (found some reviews on Yelp). If you want to make a recommendation to your audience, help others make better decisions when buying something or visiting some places, and provide valuable insights to businesses, you need to learn to write reviews well. The best review articles answer questions that a prospective customer might have. They are also as objective as possible, not too long, detailed, and contain accurate and honest information.