How to Get More Followers on Linkedin Business Page
LinkedIn is the largest social media business network in the world that connects professionals from nearly 200 countries to increase their productivity and help them reach success. Two new members join LinkedIn every second. In spite of its rapid development, most LinkedIn users don't realize its power and therefore miss an opportunity to grow their brand and business faster.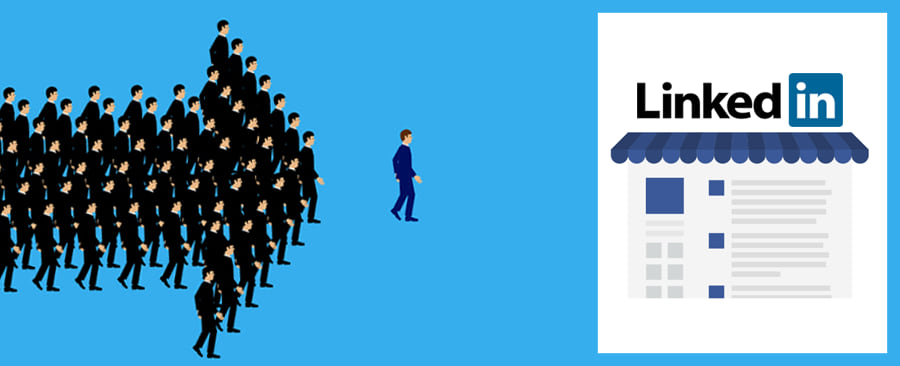 If you want to use LinkedIn for business effectively and get more followers, just keep reading this article. You'll learn how to get followers on LinkedIn and create a company page. We'll share certain techniques you must master to promote your products or services better.
LinkedIn Company Page Optimization
#1 Improve the Visibility of Your Company Profile
A company page is like a mini-website for your business, but as it is located on LinkedIn, it must be easier for LinkedIn members to find it. What should you know before starting filling out your profile?
Linkedin is a business-oriented social media and search engine. With that said, it works almost the same way as Google, Yahoo, or Bing. That is why you will need to include relevant keywords in your company page description and your posts. Try to use the target keyword phrases in the first two paragraphs of your description but don't overuse them too often — it's just useless. And don't forget to explore the profiles of your competitors and colleagues to analyze the content and keywords they use. To achieve better visibility in search, add up to 20 specialties in the "Specialties" section. This, as a part of LinkedIn marketing, would also contribute to finding your LinkedIn page by customers. Is this all you need to know about how to grow LinkedIn followers? No.
#2 Take Care of Your Company Profile Picture and Background Photo
Including your company logo and background, a photo is an important step on the way to bringing your LinkedIn page to life. Before you get started visually polishing your company page, ensure that your images are sized and formatted properly.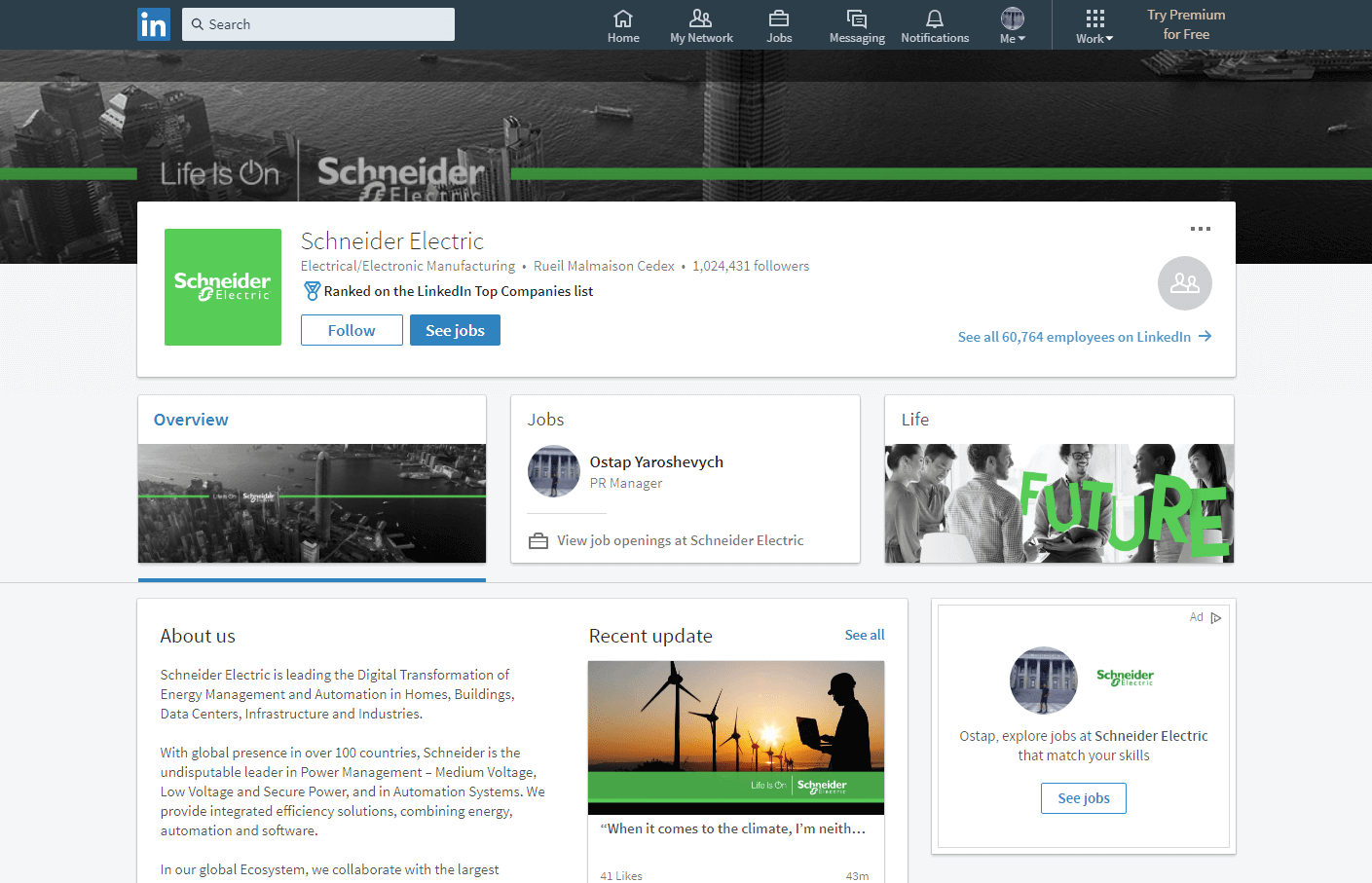 Image courtesy of Schneider Electric
Make sure to prepare high-quality images. Consider the following LinkedIn company profile picture sizes in 2023:
LinkedIn banner size/Cover Image (recommended): 1536 x 768 pixels
Minimum image size: 1192 x 220 pixels
Maximum file size 4MB
Image formats: PNG, JPG, GIF.
LinkedIn standard logo size (recommended): 300 x 300 pixels
Minimum image size: 300 x 300 pixels
Maximum file size 4MB
Image formats: PNG, JPG, GIF.
#3 Create an Informative Description
An appropriate company page description provides a clear image of your business and products or services you're selling and thus increases your chances to be found by clients. Select the right keywords to accurately demonstrate what you're dealing with. Pay attention to correct spelling and avoid the overuse of acronyms. Tell people what problems you solve and what makes your service unique.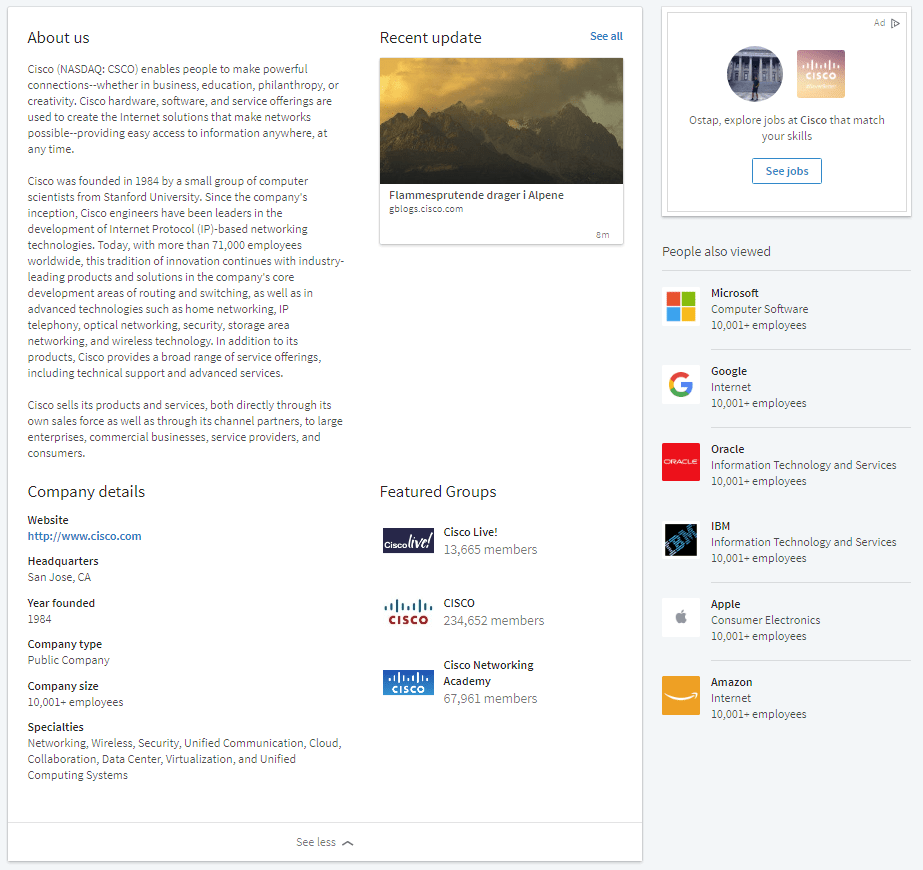 Image courtesy of Schneider Cisco
LinkedIn Business Page Essentials
Now, when you are done with your LinkedIn page appearance and SEO-friendliness, let's start attracting followers.
#1 Engage Your Employees
How to increase LinkedIn followers? A decent amount of followers not only increases your "views" potential but also creates a positive image and representation of your company. First of all, ask your employees to join LinkedIn (if they have not already done so) and encourage them to specify their current workplace. Once they are listed as employees of your firm, they will automatically start following you. And if you have the fortune to have employees who are active in group discussions on LinkedIn, they can benefit you by getting more eyes on your content and creating valuable audiences for your business.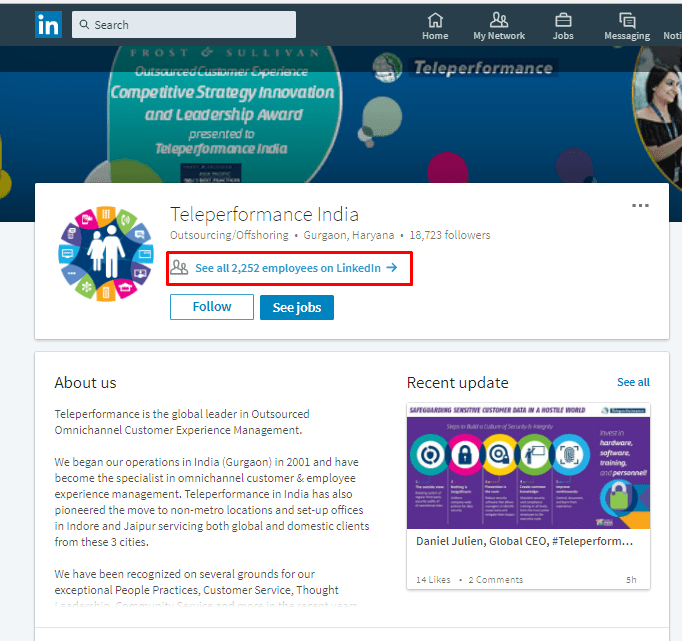 Image courtesy of Teleperformance
#2 Convert Customers Into Followers
In addition to staff members, a lot of your clients and business partners have a LinkedIn profile and might be interested in following you as well. Start following them and probably they will follow you back.
Have professional profiles on Facebook, Twitter, or Instagram? Wonderful! That is another great option to invite your friends and connections to follow your LinkedIn page.
#3 Add a LinkedIn Follow Button to Your Web Page, Blog, and Newsletter
When users click the "follow" button, they will become your LinkedIn page followers and receive updates from you. Isn't it one more great yet easy method on how to gain LinkedIn followers?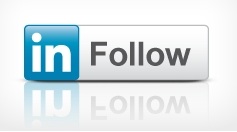 #4 Create Showcase Pages
Trying to draw customers' attention to some special offer? You may want to use LinkedIn showcase pages that work ideally if your business has various target audiences. They allow you to have the main company page, but still create individual pages for different products, services, or events and target different people.
#5 Add LinkedIn to Your Email Signature
Nowadays email is still one of the most common ways of communication with your audience. Sometimes it may take hours to create a perfect email that draws peoples' attention and, which is even more importantly, makes people actually read and take action on it. Focus on a reader, proper treatment, correct spelling, and grammar are essential but what about the ending? Including a signature in the email footer will make your message look more professional and complete. Furthermore, placing a link to your LinkedIn company page and a "Follow us" caption in your email signature may prove to be a winning move towards generating more visitors.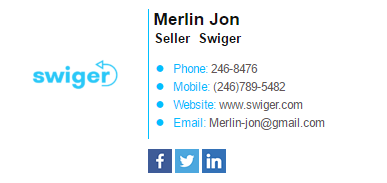 Click here to try a professional email signature generator for your business or company
Develop LinkedIn Content Strategy
Based on the eMarketer survey, 72% of US business people think that LinkedIn is a great place to exchange professional interests and ideas; 77% of the survey respondents joined the social network expecting to see professional content.
It is important to note, the posts you intend to share on your page should be creative, easy-to-understand, interesting, and provide your followers with such information they can't find anywhere else. Exclusive content can develop your relationship with your readers, keep them coming back over and over, and even encourage them to make business with you. With that said, let's take a closer look at 8 tips to help you develop nice and professional content.
#1 Optimize Your Content for SEO
As already mentioned, relevant keywords are of great importance if you want your company page to be shown in search and get traffic.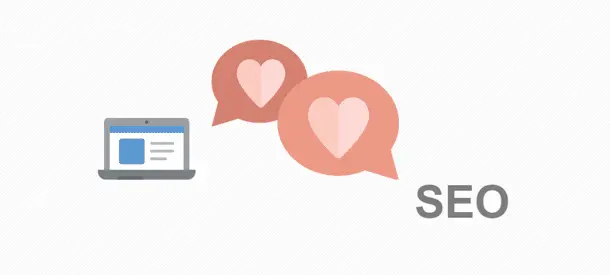 Before creating any content, do some research on keywords to find out which of them would suit your business and industry best of all. The selected words should be organically included all over the page. At the same time, it is necessary to remember who is your target audience. Write not only for search engines but for people! Your next step is optimization of your web address. You should agree that having your company name in the URL looks much more professional than having a bunch of confusing numbers instead.
#2 Let People Benefit From Your Content
Remember, good content gives the reader a sense of how to apply the information, answers questions, addresses pain points, and helps make his life better. To be convinced that your audience read your post, take care of a catchy headline. Note that most trending posts on LinkedIn usually contain the following phrases in headlines: "the future of", "of the year", "in the world", "X ways to", "how to get", "how to make", "science says", "make better". Use the phrases (naturally) in your headlines to awaken the reader's interest. To capture even more attention, add images along with your messages.
#3 Add Company News Regularly
LinkedIn recommends producing about 20 posts per month to be able to reach nearly 60 percent of your readership. So put a reminder to share updates daily or at least every other day as you post to your other social media accounts. How about the perfect time to post? Some believe that news posted in the morning usually gets the highest chance of reaching the largest possible audience, while others are sure that there is no best time to share news on LinkedIn and advise you to experiment to find out what works best for you.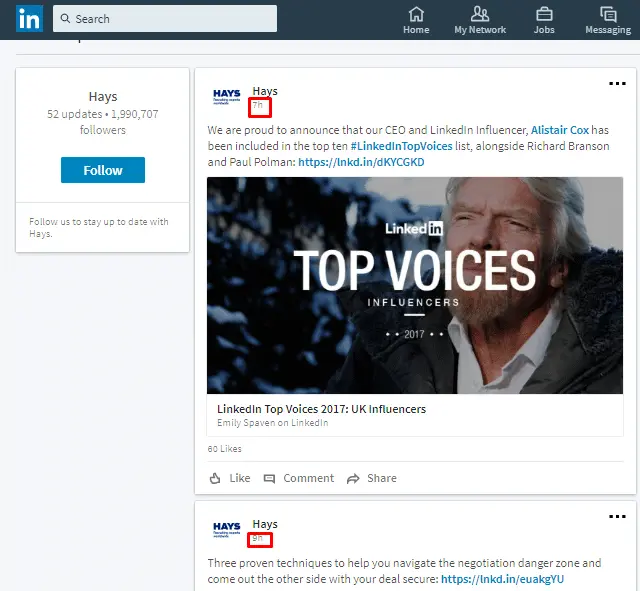 #4 Engage in LinkedIn Groups or Create Your Own
There is a huge amount of groups on LinkedIn covering different industries. They allow you to stay up to date on the latest news and topics in your line of business. Participating in group discussions and posting relevant content will attract group members to engage with your page. Similar to other social media, it's not enough to participate in established discussions. Setting aside time to post your topics, ask questions, and interact with your audience would also be useful. Additionally, you can create an industry-related LinkedIn group by yourself.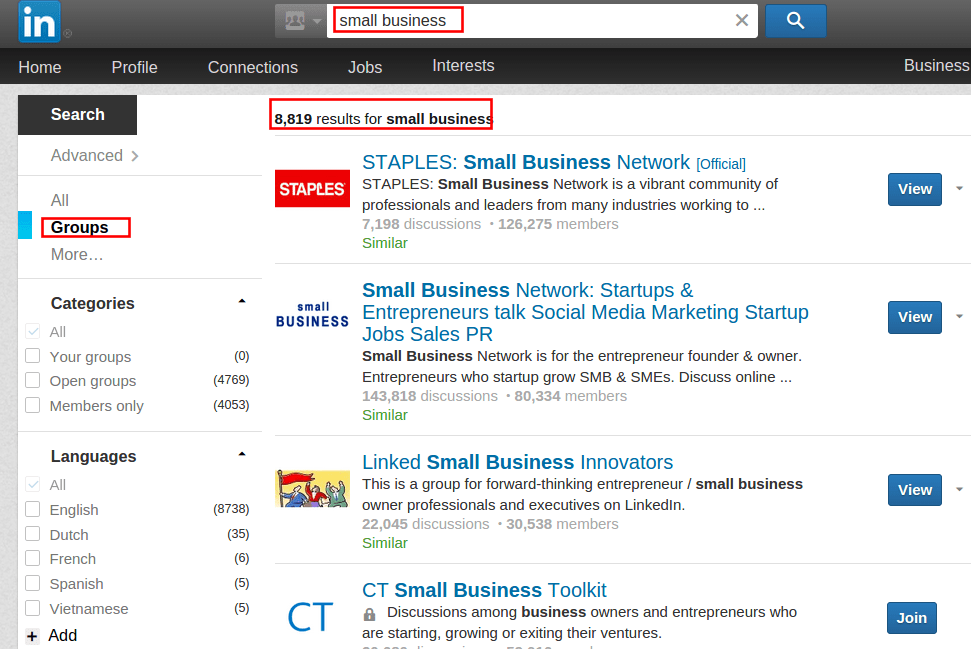 #5 Check out LinkedIn's Trending Content to Find Popular Topics
To keep your updates relevant and informative, regularly research trending topics on LinkedIn. The trending storylines feature allows a user to see stories related to his professional world. Incorporate these topics into your page posts. You can also post directly to your followers about some specific topics. LinkedIn will automatically assign a hashtag, so other users will know what you're posting about.
#6 Check LinkedIn Analytics
Monitor your LinkedIn analytics to understand what content your followers liked. Just go to the "Updates" section to check the detailed information about your recent LinkedIn posts. The information includes impressions, interactions (likes, comments, shares that your posts receive), and clicks. By analyzing these statistics, you will be able to understand if you are doing a good job in reaching your audience or still need to adjust your content to match the interests of the people who engage with you.
Image courtesy of sproutsocial
#7 Use Paid Ads
Advertising on LinkedIn is yet another way to attract more visitors to your page. You will be offered various ad types like Sponsored Content (ads will appear directly on the homepage feed), Texts Ads (you will be paid each time your ad is displayed or for each user who views the advertisement), Sponsored InMail (allow you to send personalized messages to relevant professionals), and others.
#8 Use hashtags

Don't forget to add up to five hashtags to your posts. This will help you to get additional visibility and bring more followers to your page. If you are associated with your company page, LinkedIn will send you notifications about activities with relevant hashtags. You can participate in the discussions on behalf of the business page.

Summary
LinkedIn is a perfect tool for making money, marketing, and connections. To generate more leads using LinkedIn, be sure you are using as many options as it has to offer. See below for instructions:
Create a powerful and memorable visual aesthetic for your page

Fill out your business profile from A to Z

Include a link to your LinkedIn in the signature of your emails

Encourage employees to embed a follow button or a link in their email signatures

Keep your updates relevant and highlight your strong points

Analyze your LinkedIn business page insights to figure out what you did right and do it again

Join and be active in groups relevant to your industry and interests

Reply to followers comments

Promote your business using paid LinkedIn Ads

Be passionate about what you're doing