How to Enhance Your Higher Education Marketing Efforts
1. Develop Buyer Personas Before Creating A University Marketing Plan
2. Work on Higher Education Marketing Strategies
3. Channels for Educational Marketing
4. Content Marketing for Universities
5. Offline events
Useful tools:
1. Newoldstamp - Email signature marketing
2. Mailstrom - Tool for cleaning your inbox
3. Reply.io - Personal email outreach, calls, and tasks
4. Mailtrack - Email link opens tracking
5. Shift - Desktop app for streamlining all of your email and app accounts.
Young people aged 16-24 (so-called Millennials and Generation Z) are digital natives; the Internet is fully integrated into their lives. With more than six hours a day spent on their mobile devices, young people use technologies not only for talking to their friends but also for building professional relations. Being prospective students, they are keen to engage with universities through social media channels, too. Therefore, using social media as a marketing tool has the potential to convert prospective students into the enrolled ones.
But it needs to be used in the right way. So, if you are looking to interact successfully with individuals interested in higher education, you need to pay attention to the following:
Develop Buyer Personas Before Creating A University Marketing Plan
The very first step on the way to creating a successful marketing plan should be to define your audience because you can't "do marketing" without knowing who you are marketing to. So, where do you begin with building your buyer personas?
Gather data. Check your website analytics to find out where your visitors come from, what pages of your site they visit the most, what keywords they used to find you. Talk to your current students (try sending out surveys by email, or using special forms on your site to gather some useful information). Participate in conversations in social media communities to discover the problems, questions, and priorities young people have.
Once you have gathered your potential enrollees' data, start building out profiles. You need to find answers to the questions like: "Where does your ideal student live?" "How old are they?" "What are their most essential goals?" "What kind of institution are they searching for?" "What are their possible objections to your institution?" Once you have the answers to most of these questions, use this data to create content to attract potential enrollees – inform them that your institution fits their needs.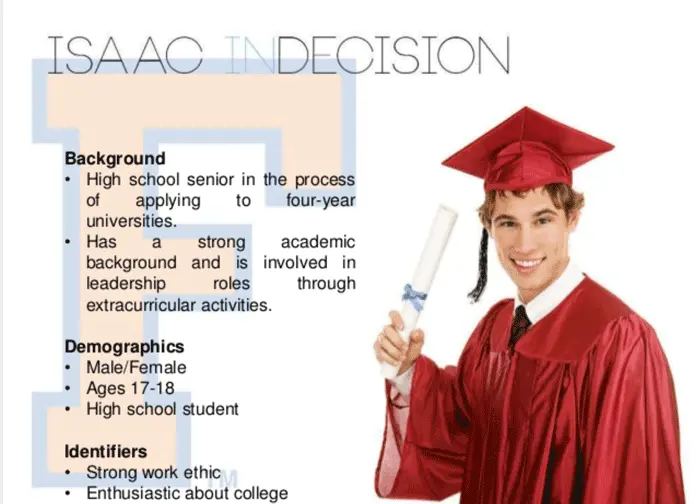 source: the-university-of-florida-buyer-persona
Keep in mind that it is critical to gather as much background and demographic information about your buyer personas as possible. Let us show you why.
Meet our persona: prospective student Liza volved in her high school and is a member of a cheerleading team. The girl usually spends her evenings studying. Also, she fonds of photography. On weekends, Liza spends a lot of time with her family and friends. She loves her hometown and would like to stay close to her family when she goes off to the college. So Liza plans to apply to two or three different colleges in the area, but her top choice is the College of the Arts, which is located 30 miles away from her city. Liza's father is willing to help her pay for college but wants her to do the research and make an informed decision herself.
Well, if you are a small college, you probably don't want to target young people who want to leave small cities and attend a large university. You also do not want to waste your time sending out tons of emails about your honors program to a prospect who prefers spending their evenings and weekends at the stadium or at the gym instead of hitting the books. Finally, you need to understand that some students
At first sight, it might seem that we gathered a lot of unnecessary information. Perhaps, you might like to understand: a) why you need to know whether she wants to stay in a small town; b) whether she likes studying and what are her after school activities; c) who is going to pay for her college education.
Liza is a junior at a small private high school in a small city. She is very inmight not bother applying to colleges or universities if they haven't enough money. So if you are familiar with such concerns of your prospects, you can create and distribute content that answers their questions about financial aid options.
Work on Higher Education Marketing Strategies
Once you are sure you are putting the right message in front of the right audience, take care of the development of an effective marketing strategy for a university.
Define a standout brand image that matches your potential applicants to get their attention;

Build trust by being transparent and having a consistent, up-to-date, and well-thought online/offline presence. Use statistics, testimonials, accreditations, and real-life photos;

Present quality marketing materials across the board;

Implement lifecycle marketing optimization (deliver different (relevant) messages to students at various stages of their decision-making journey);

Create a cross-platform multimedia communication plan.
Channels for Educational Marketing
In the era of technologies, it is critical to leverage the latest digital marketing trends to market your college or university successfully.
Use Snapchat to reach potential students
Being an excellent storytelling tool, Snapchat has huge potential to reach and influence prospective students, because almost half of its users are aged between 18 and 24.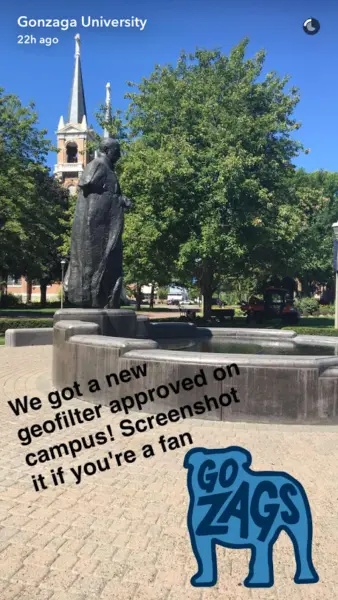 source: brazen
Tweet regularly from your university/college profile
Around 40% of Twitter users are aged between 18 and 29. And if you look, for instance, at the Twitter profile of the University of Colorado Boulder, you will see that they have almost 76k followers! You can run both official university Twitter and an additional channel for enrollees to answer their questions and provide info.
source: cuboulder
Use Instagram to share college life
Instagram is a useful tool for schools, colleges, and universities to promote themselves by sharing photos from events, activities, daily students life, etc.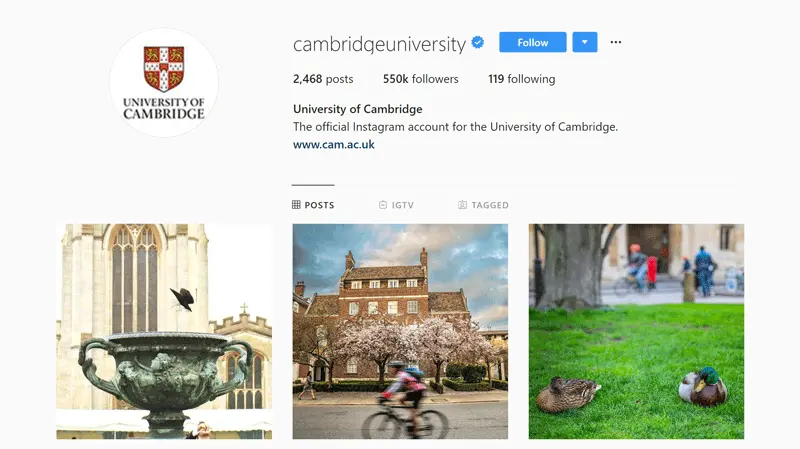 source: cambridgeuniversity
According to recent statistics, Youtube has 1.57 billion monthly active users watching, on the average, 40 minutes of content per day. The group of users aged between 35 and 55+ age is the fastest growing YouTube demographics. Also, millennials prefer YouTube two to one over traditional TV. That means that your target audience (both potential students and their parents) are active on YouTube. Explain how to apply to your institution, show student life, introduce your staff, upload videos of your current students, and much more.
Run email marketing for universities
To engage even more prospective students, don't ignore using email. To be sure your email marketing campaigns are as effective as they can be, don't forget to segment your audience (by stage in the enrollment process, by location, by interests, etc.) to provide only relevant content. Make email campaign content simple, easy-to-read, and compelling. Use subject lines that catch attention. For example, "You Are Invited to Next Week's Open House," "Five Reasons You'll Love studying in Munich," etc. Make sure your emails look good on all devices and don't forget to track the performance of your campaigns.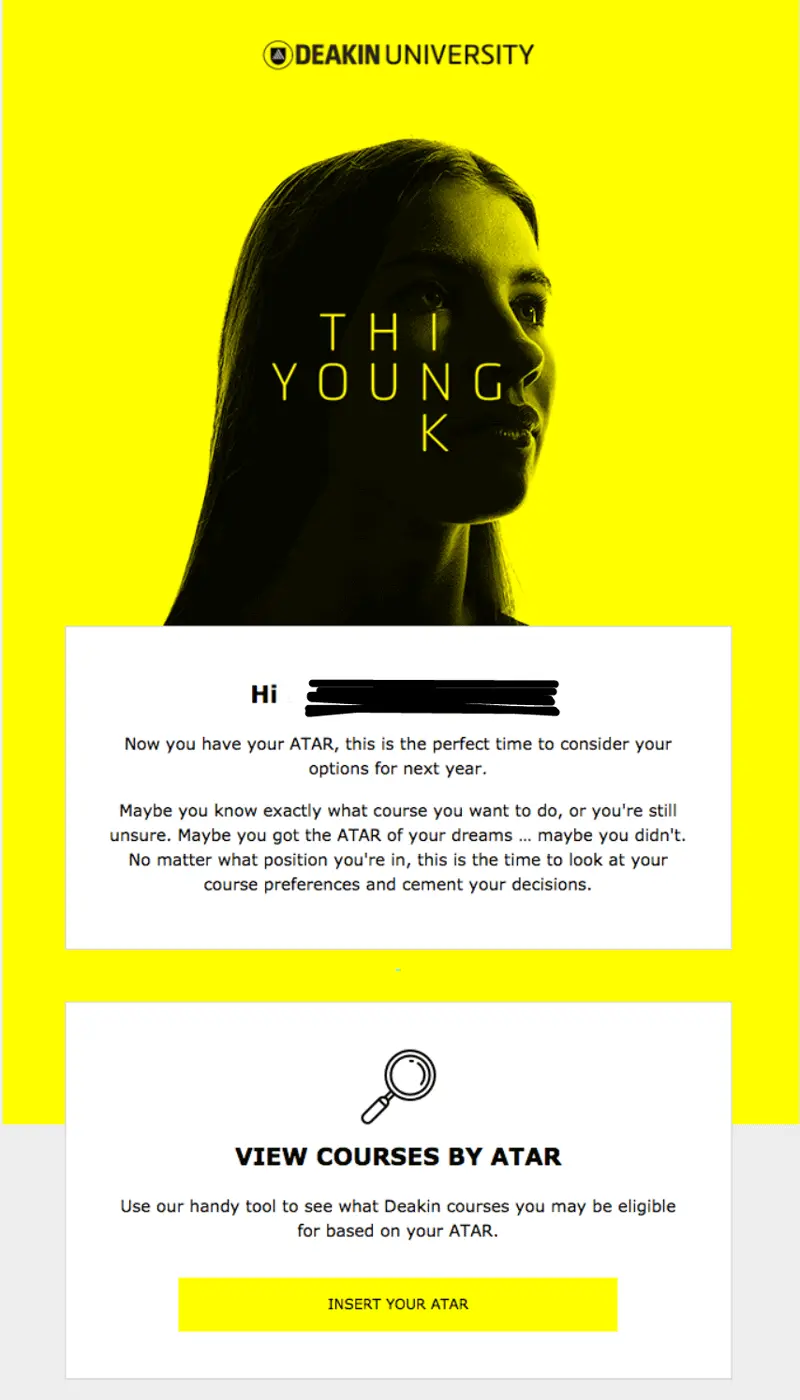 source: reallygoodemails
Launch PPC (Pay-Per-Click) campaigns
Today, search engines play an essential role in the research phase too. And in the highly competitive higher ed market, more and more universities and colleges are seeing the value of using PPC services to connect with prospective enrollees. So, to deal with the competition, you can not afford not to do PPC advertising. Advertise on Google Adwords (quite expensive), on Facebook Ads (less expensive), and on other PPC platforms.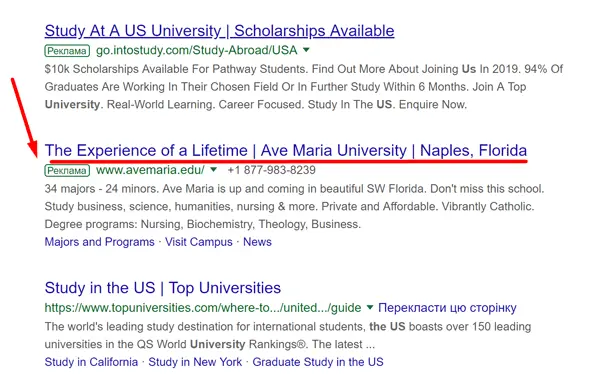 Facebook is not dead for Generation Z
You probably heard many times that direct mail is dead or that Generation Z and Millennials abandon Facebook. Is that true? According to the study, released in the February 2018 edition of Ripon, Gen Z and younger Millennials prefer to consume news from Instagram (29%), YouTube (22%), and Facebook (15%). So Facebook still continues to be one of the most important social platforms for colleges and universities.
Work on SEO (Search Engine Optimization)
For many prospective college and university applicants, their first point of contact with such institutions is through their websites. But unless a prospective enrollee already knows the university's URL or has already selected a particular institution, they are more likely to use a search engine such as Yahoo or Google to find many different HEIs that match their requirements. That is why you must get your site optimized to ensure your target audience can find you easily.
Make your website mobile-friendly
Because most teenagers use smartphones more often than PCs, universities and colleges should take care of their website mobile-friendliness. By the way, Google has a free mobile-friendly testing tool. However, note that is works on a page-by-page basis, so you will have to check each (or the most important pages) of your website.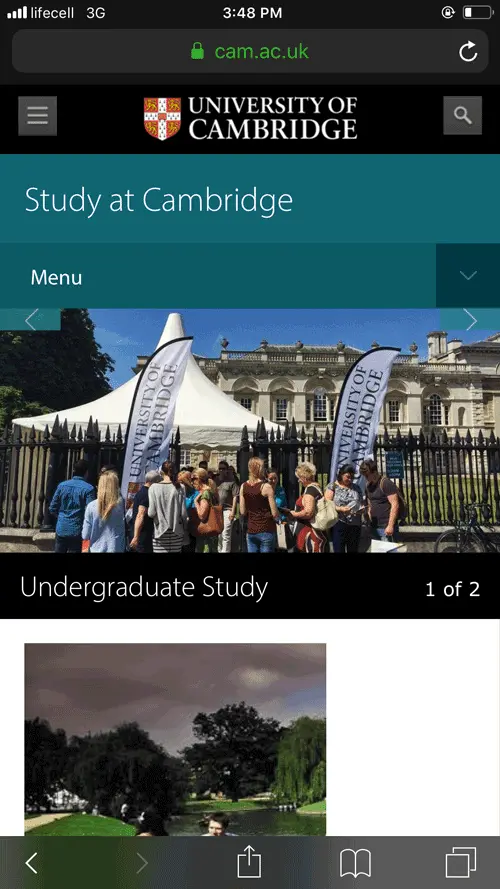 Add a live chat to your website
If you are searching for a way to connect with prospective students, their families, or mentors starting from the moment they land on your institution's web page, try adopting live chat software on your website. This will help you guide them through the complex admissions process easily.
You already know that your prospective students are on their mobile devices for hours a day. That is why you made your website mobile-friendly. If you want to go even further, you can invest in mobile app development. Imagine that a prospective student could install your app, tap a button that says "I'm visiting!" and get some useful tips for making the most of their visit. The app could tell them where the admissions office or the dining area are.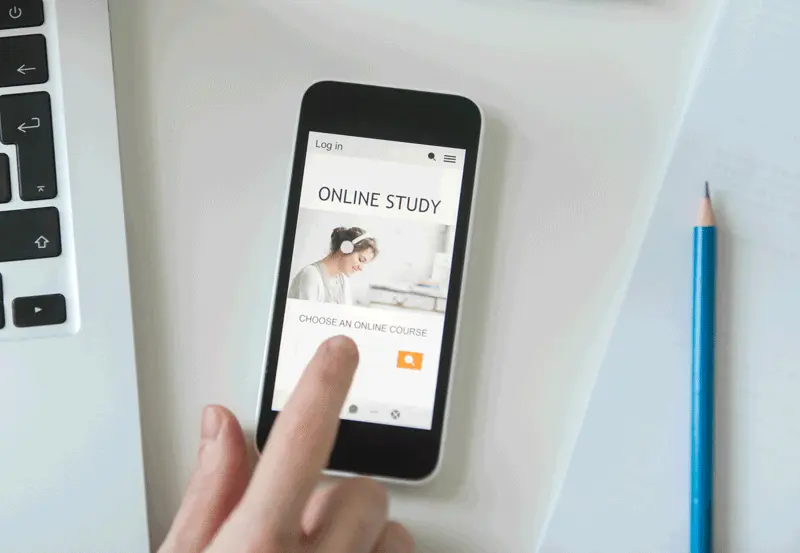 source: Freepik
Cooperate with public figures to share your products or services with a highly targeted audience. In the case of Gen Z and Millennials, they are more likely to listen to an influencer's message over those messages that come directly from colleges and universities.
Content Marketing for Universities
Although lots of universities and colleges have been trying to incorporate content marketing into their plans for decades, not all of them got it right. Many have produced numerous brochures, flyers, and other printed material that provide information about their institutions, wrote generic content for websites, posted links on Facebook, but content marketing is not just about publishing articles & posts and hoping for the best. Since you are "selling" to Generation Z and Millenials, which consume tons of content each day, you need to practice the right mix of modern, know-how strategies to get their attention.
A virtual tour is a great way to allow prospective students and their family members to explore campuses from home. This option is especially important for those who lack time and resources to visit you before admittance.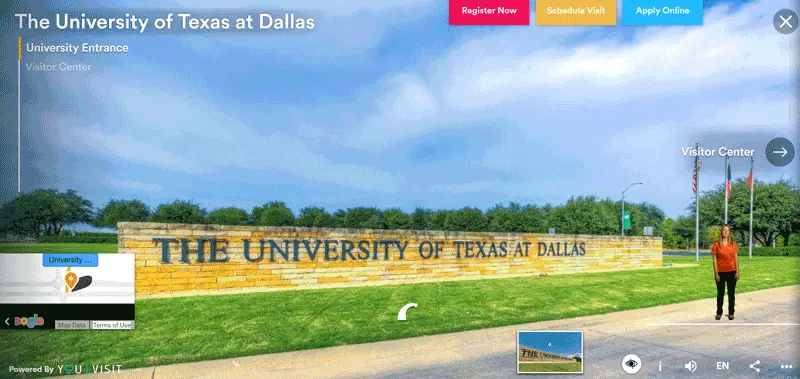 source: UTDallas
Record promotional videos
Video content is proven to have a greater impact than text. Be engaging, inspiring, unique, show prospective students the coolest things you have done, stand out!
Ask students to work on vlogs
Your existing students or even alumni are the best brand ambassadors. Encourage the most social-media-savvy students to document their everyday life and share their stories on your behalf.
Write a blog about university life
Prospective students and their families usually are interested in things like how students fare on the campus, how they are treated at the university, and how they become a part of a large community. Work on producing engaging blog posts that tell stories which will make prospective students feel that they will fit in.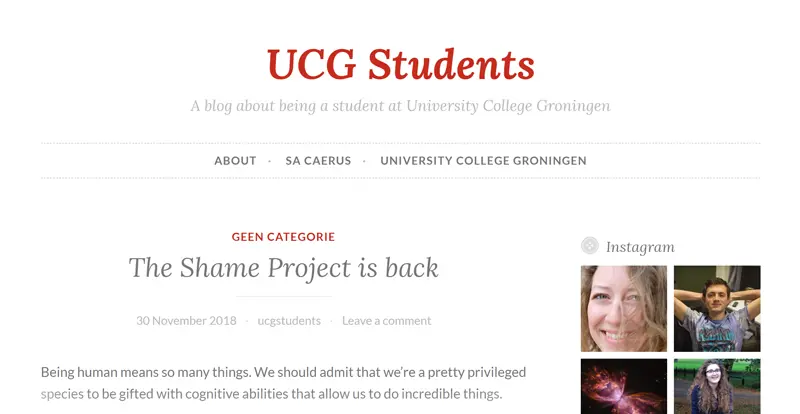 source: ucgstudents
Curate and control UGC (user-generated content)
According to statistics, 70% of consumers trust online reviews and recommendations of regular users more than content created by brands. As you already know, your students, their parents, alumni, and faculty are all spending significant amounts of time on social networks. So why shouldn't you get a little something out of it? For example, you can create a hashtag that students can use. Then send out email newsletters explaining your expectations and why it would be fun.
Launch webinars for enrollees
A student recruitment webinar is an excellent tool for enrollment marketing. To inspire prospective students to enroll, be sure to choose a killer topic, invite the right speaker, and give a boost to the webinar through all of your channels.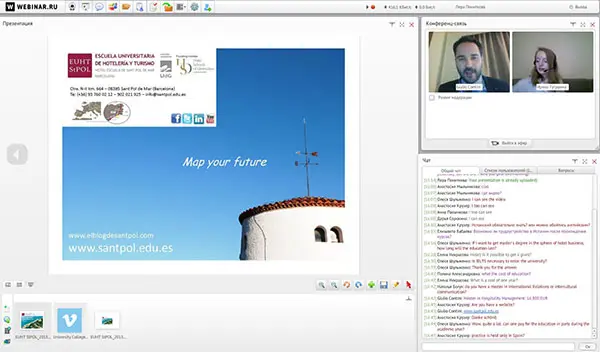 source: Begingroup
Create success stories of alumni
Put a form on your website asking alumni to share their success stories with you. Or you will need to dig deep into your alumni network and ask them personally to tell you about their success in their fields since graduation. Feature notable alumni on your website, write about them in your blog posts, produce alumni newsletters.
Offline events
Even if the higher ed marketing trends in 2018 show us that prospective students prefer to consume information online, universities can still benefit from organizing offline events. Here are a few examples of offline activities that may be of interest to enrollees:
An open day is an excellent opportunity to show your prospective students and their family members what student life feels like at your college/university.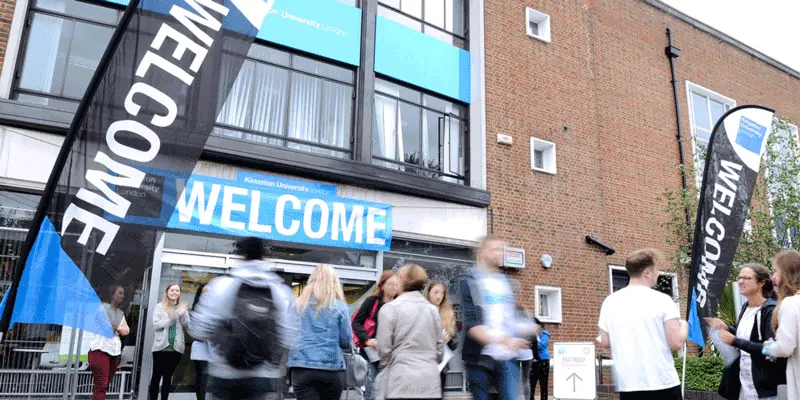 source: Kingston
Create special courses for enrollees
Develop preparatory courses and lectures giving prospective students a glimpse of various academic subjects.
Organize meetings with students, graduates, and alumni
Invite undergraduates and people who started their careers right after graduation to talk to prospective and current students.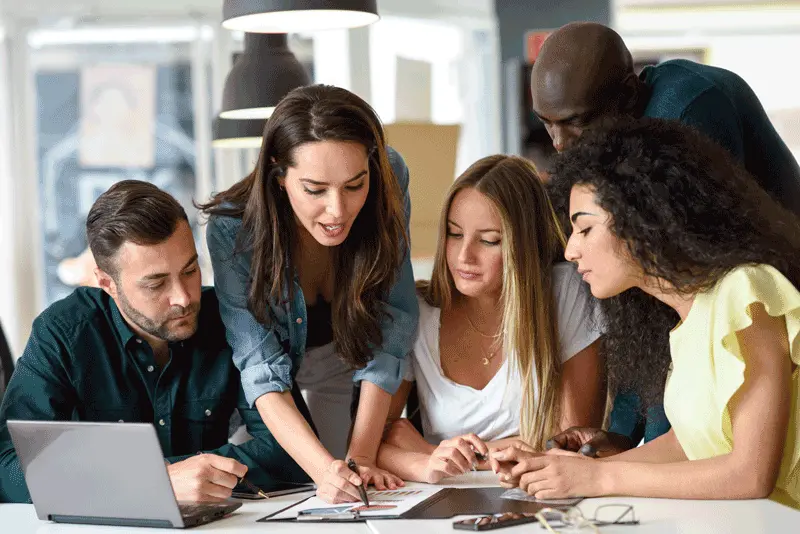 source: Freepik
Conclusion
The oldest members of Generation Z are just now entering colleges and universities. And since they are true digital natives, higher education institutions need to rethink how they engage with prospective students.
To market to Gen Z sucсessfully, be sure to:
Know where they spend most of their time (Snapchat, Instagram, etc.);
Produce easily consumable content;
Make your website mobile-friendly and optimize it for search engines;
Create mobile apps;

Involve influencers.
Good luck!