1. Why students need email signature?
2. The key elements of college student email signature
3. Tips for creating a perfect student signature
4. 10 examples of professional email signature for students
Although we talk a lot about the benefits of email signature for businesses, let's not forget about its primary use; as a means of self-representation. Student life sometimes requires the use of email communication not less than a company person does. Either you are in the middle of your studies, a research fellow or a graduate who is looking for a job – a robust email signature will come in handy.
Why students need email signature?

A college student email signature can be different, depending on the audience needs and the context of a situation. If your communication targets primarily internal audience – fellow students, lecturers, university officials it is better to keep it simple and concise. However, the email signature for a recent graduate should be filled in with some relevant details to catch the attention of the potential employer and earn yourself some credits for successful branding. Whichever your case is, you most definitely want to stand out and show a sign of professionalism. For regardless the stage of college life, you are in; it is essential to be ready to enter the external world.
Except for apparent personal branding reason, a proper email signature for students is a detail that can help to grow the professional network and communicate your academic achievements.
Moreover, email signature for college, university, and a school has some other advantages:
As we mentioned above, except for the fact that it gives an opportunity to make a good contact with many potential future employers,

university email signature

can also brand and promote your skills. However, be mindful of what information it should comprise.

The

email signature for students

is the best way to make a perfect first impression. You just need to include a few eye-catching details to attract attention.

Good email signatures for college students

can be a great touch point in an email. If you add some extra contact details and a website link with your CV, it will make you look more professional.




The key elements of college student email signature
Student signatures may differ from one another, but some common elements surely have to be included:

Your full name, including initials or middle name. Make sure you do not use any nicknames or names your friends call you.

Status. Here you can mention your position in any student activity/club/society if there is such.

Major. You also may want to provide some additional information like faculty/department, group number and/or student ID. If it is an email signature for an undergraduate student, make sure you are easily recognizable among your internal communication circle.

Name of university and year of graduation.

Key contact details (email, phone number).

Photo. It is optional, but a picture always helps to establish a positive attitude and increase the chance of getting a response. So, declare your personality. As an alternative, you can use the logo of the university.

Personal website or social icons, if appropriate. Also, many students have their blogs, which can also be included in the signature.

Links to appropriate social networks, such as LinkedIn or Twitter. It will be a useful detail for your prospective employer.

Awards and achievements. Use the signature space to enhance your professional look and show your skills. If you won a scholarship or received an excellence award in one of your college competitions – show off a little bit. By the way, this kind of information would look great in a banner. You can create or choose the one you like from graphic design templates

As a result, you want to make sure that your email signature explains who you are, what you do and how to contact you. Keeping the signature balanced with all three elements is the best way to do it.
Designing an email signature require a lot of effort, so here at NEWOLDSTAMP, we want to make sure your signature designing process is comfortable and enjoyable, to make your signature stand out from the crowd.
Tips for creating a perfect student signature
Check university requirements before you start building a signature. For your convenience, many universities have some guidelines to follow while creating one. This should be respected if you want your signature to be consistent.
Your signature is not your CV. It is important to remember; you cannot fit all of your accomplishments in your signature. However, featuring the most important highlights of your experience is probably a good idea.
Keep fonts and colors under control. It is essential that signature looks clean and easy to read.

You can use Arial or Sans Serif fonts, and all text is better to be black or you can fix text with dark colors. Your college, school or

university email signature

content should match color palettes.
10 examples of professional email signature for students
NEWOLDSTAMP suggests a wide range of combinations to create different email signature examples for students.
If you are in college and need to send emails on a daily basis to your internal contacts only, then the best option for you is to keep the signature simple. These are some excellent examples of such signature, and they contain only the most necessary information and have an appropriate design.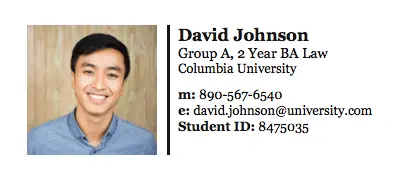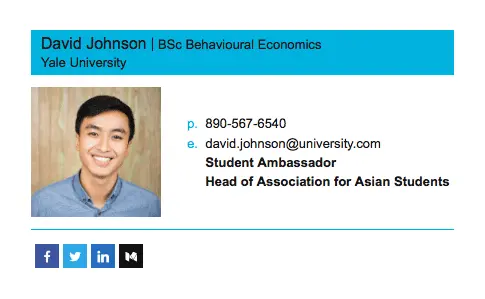 The template formats that are below could be designed to suit the university requirements for an email signature.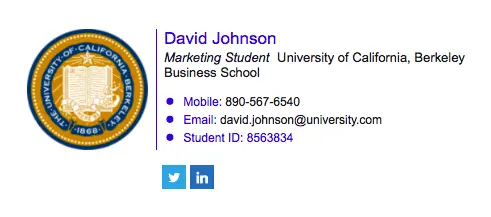 If you are a Master's or a Postgraduate student, you would want your signature to look more professional and bold. It is a good idea to add some of the achievements, social activity highlights or link to your blog.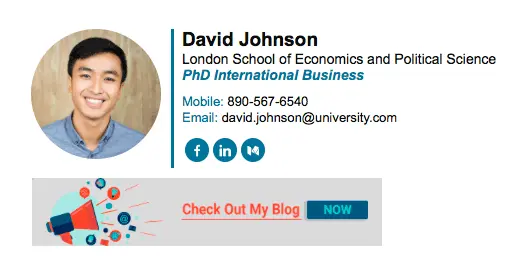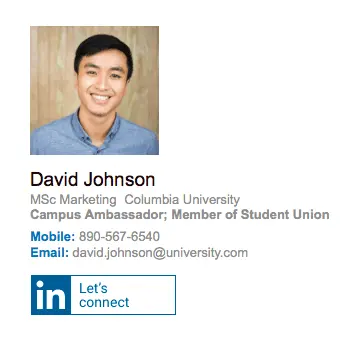 Graduates who are looking for a job, always try to present themselves in the best light to increase chances to be memorized by a potential employer. Ideally, your graduate student signature should catch enough attention of a receiver that he would want to take a look at your CV. Each of these examples has information either about work/volunteering experience, certificates/awards, portfolio and of course social media links. Easy, presentable, professional.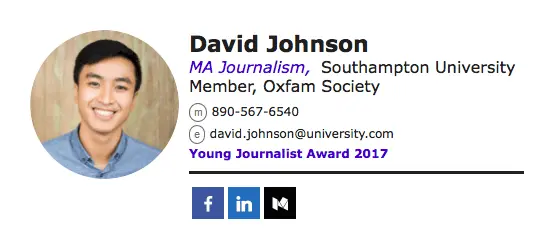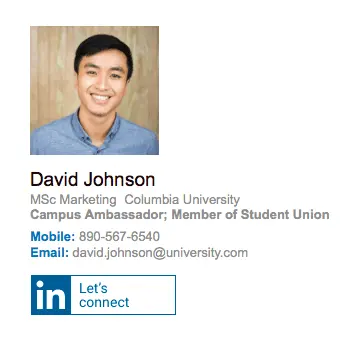 All in all, a professional signature is the perfect final touch of the email for any student.
Here are key takeaways to keep in mind while designing a student email signature:
Keep it short and relevant with a bit of personal touch to establish your branding identity.

Add appropriate social links and icons to expand your professional network.

Make it recognizable by including the highlights of your academic achievements, social activity involvement and/or work experience.
A relevant email signature can be useful at different stages of university life, both for internal and external correspondence. Moreover, it is a powerful helper during the job search process that makes your character look professional and confident. Every signature can be customized in a variety of ways, show some creativity and rock that visual branding of yours.
Get the NEWOLDSTAMP graduate student email signature – register today!