How to Effectively Use Autoresponders For Email Marketing
1. What is autoresponder email
2. Autoresponder email examples
3. How to write autoresponder emails
4. How to choose autoresponder
5. The best autoresponders
One of the biggest business mistakes is sending only occasional emails instead of running email campaigns. So let's think about the reason. Many of them send all their emails manually, turning such a simple task into a nightmare. That is where email autoresponders can help.
What is an autoresponder email and why do you need it?
The autoresponder automatically sends your subscribers an email X days later or based on the customer's actions. It can be an email with some helpful content, an offer, links to older articles, or just more information. A well-targeted autoresponder can help you build trust with leads and encourage buyers to get back to you.
What are the benefits of autoresponders?
Autoresponder email marketing can lead your users through the funnel
When used correctly, the email autoresponder series effectively turn prospects into paying customers without being too "salesy" or pushy. Your autoresponder sequence may consist of a welcome email, a couple of educational articles or videos, and finally, some sales content.
Email automation saves your time
Rather than writing and sending individual messages to your subscribers manually, why not create pre-written autoresponder series and set them for automatic delivery?
Autoresponder emails help identify better marketing leads
If you want your marketing efforts to be rewarded, take care of segmenting your list. With autoresponders, you have the opportunity to segment your database and target users only with information that interests them.
Using email autoresponder increases your conversions and marketing ROI
As we said before, auto emails can help you build trust with your audience. Focus on giving only relevant information and provide value.
Autoresponder Email Examples
1. Welcome email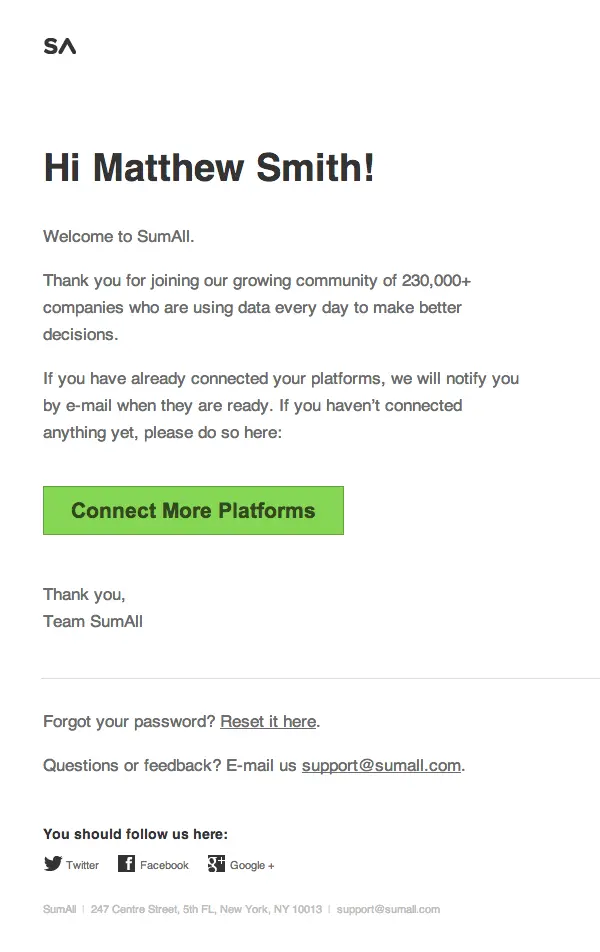 When someone signs up to your emails, they indicate their interest in your offer. Since a welcome email is the first thing that lends to the user inbox, you want to ensure it's your best hit.
Read our blog post on how to create an effective welcome email.
2. Lead Magnets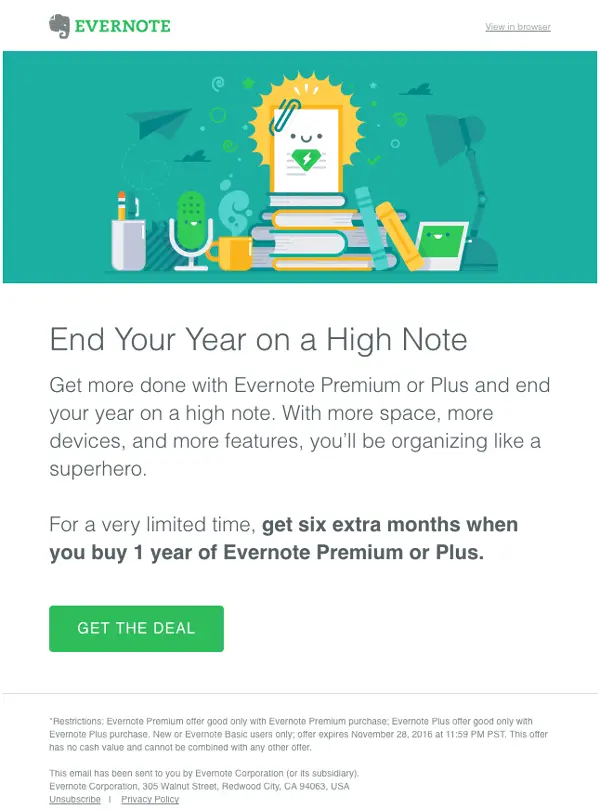 A lead magnet is a free offer you make to a prospect in exchange for their contact information. Keep in mind the thing that makes your free offer magnetic is RELEVANCE. Since your reader is looking to solve some problem, your first clue for what the problem is should come from the page the user is on.
3. Share your blog content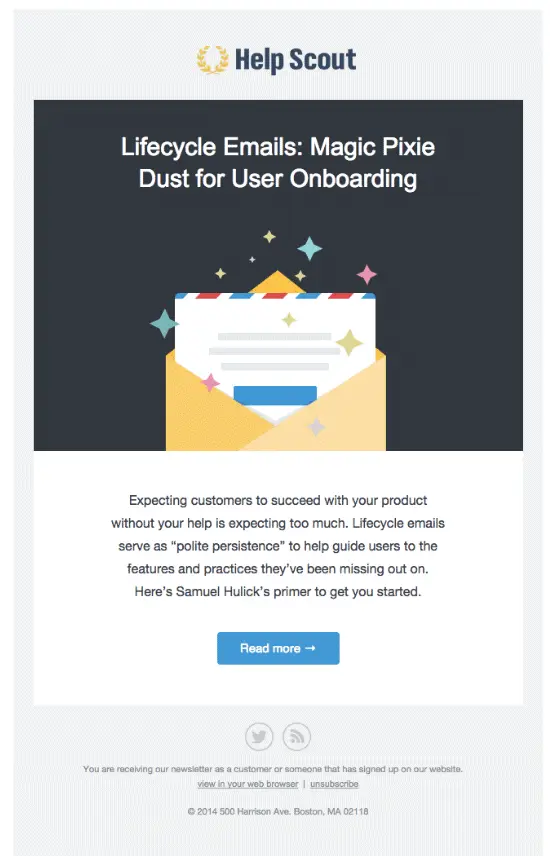 If you have many valuable articles from which your new subscribers would benefit, set up an autoresponder series and help people find your best content.
4. Auto emails for abandoned cart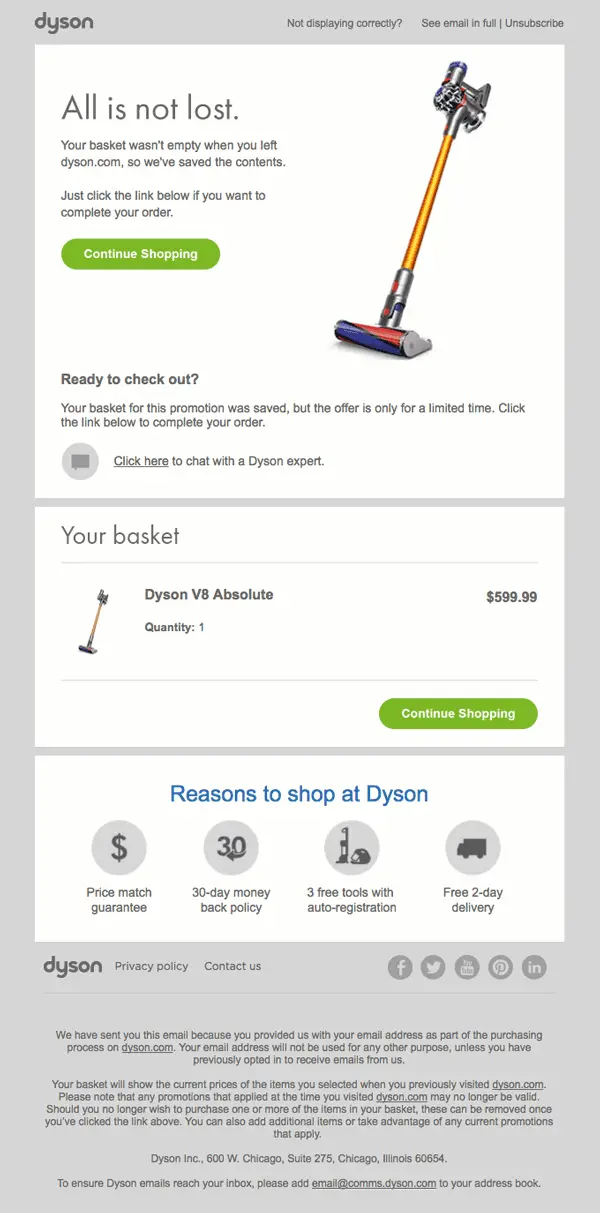 Even when a user adds a product to a cart on your website and leaves without placing an order, it signifies that they are interested in buying. So why not remind them they forgot something in the cart? In such cases, even a simple email can trigger the customer to seal the deal.
5. Use it for upsell/cross-sell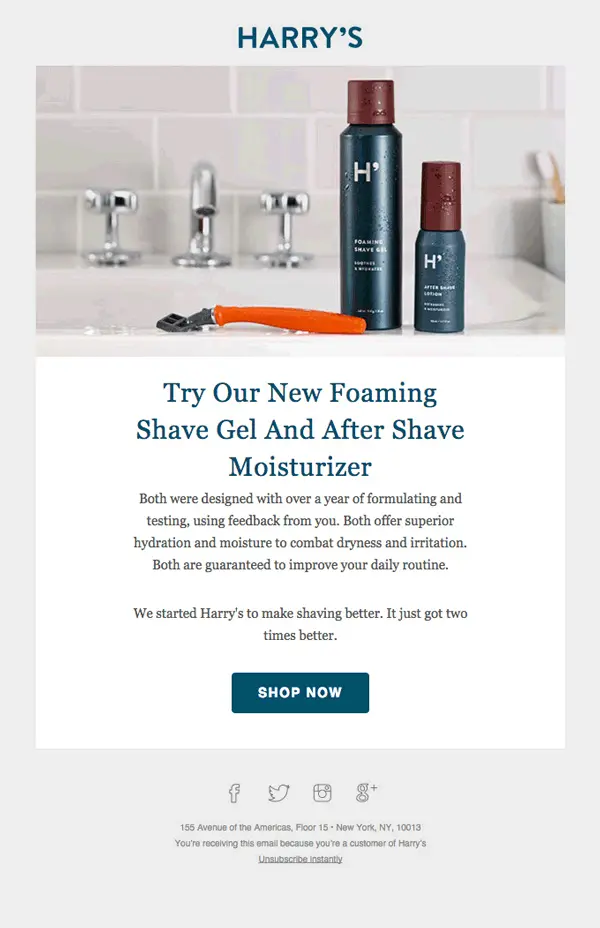 In addition to reminding about the products left in the cart, you can provide recommendations for other items the client might want to buy.
6. Sales and deadline reminders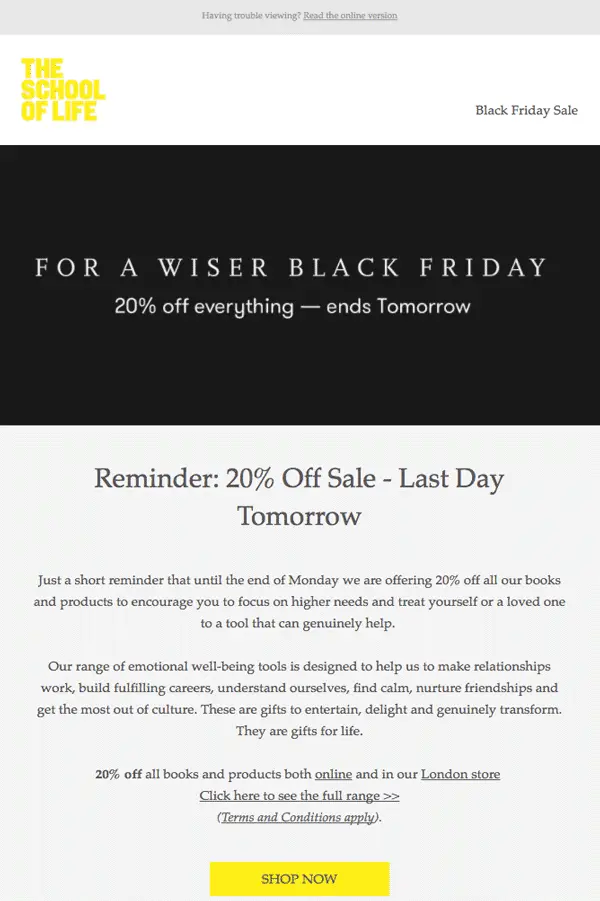 image courtesy of theschooloflife
Schedule an auto-response email around a deadline. It will make sense of urgency and arouse fear of missing something important.
7. Auto-response emails based on previous email activity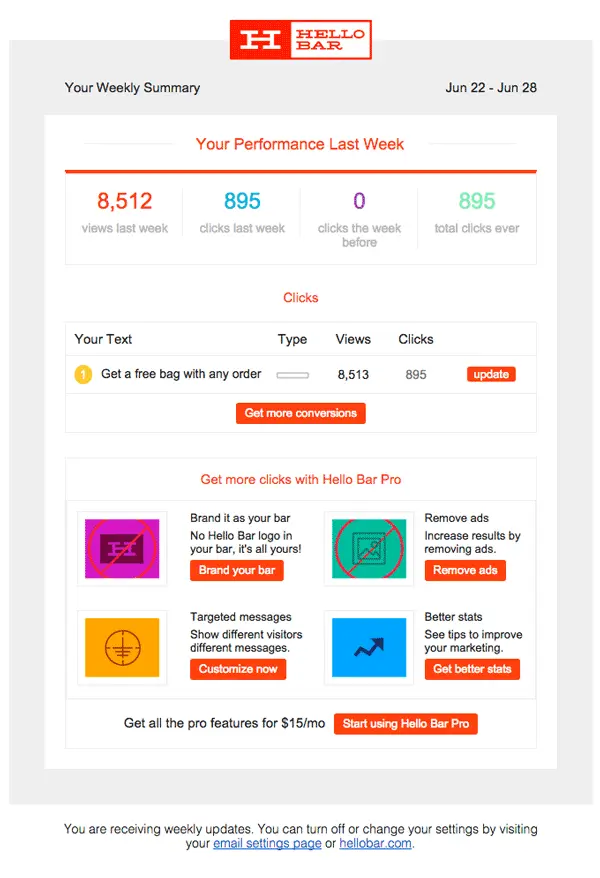 By sending targeted follow-up messages based on the interactions of your subscribers with your email campaigns, you create a personalized experience for them. Here are the primary triggers the autoresponders have:
Send email to those who opened your previous campaign.

Send emails to those who didn't open.

Send emails to those who clicked a link.
8. Ask for reviews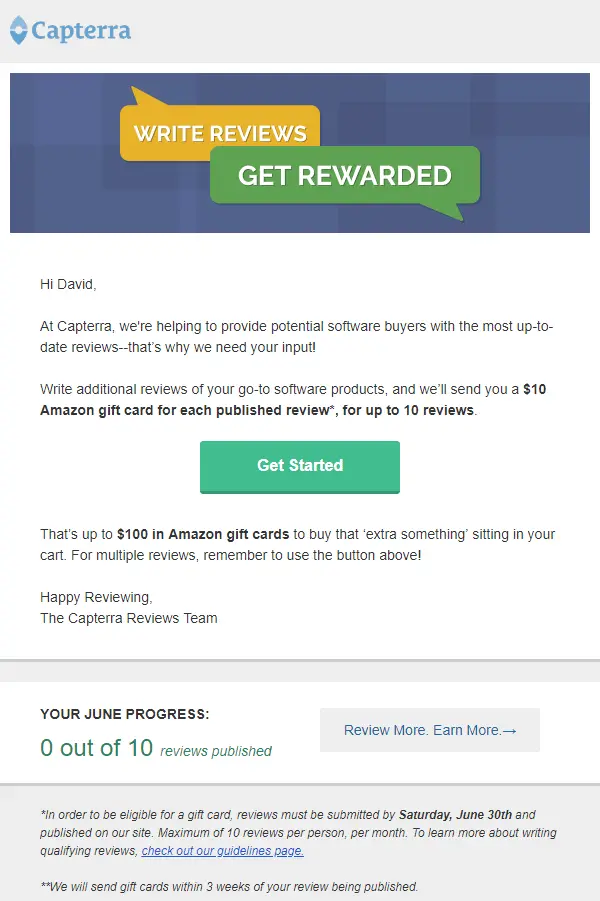 Set up an email autoresponder sequence to collect feedback following a purchase to understand what drove the sale and whether you satisfied a customer's need. Besides, it shows your recipients how much you care about their business and want to create a relationship.
Best practices on how to write autoresponder emails
You may feel stuck or confused when writing your autoresponder series. To help you a little, we prepared a clear list of email autoresponder recommendations
1. Set up frequency

Depending on your goal, you need to decide how soon your emails will follow each other. When determining the frequency, keep in mind not to overload your recipient's inbox. If possible, try to avoid days when you send out your regular emails like newsletters, new blog posts, new release announcements.
2. Frame your autoresponder sequences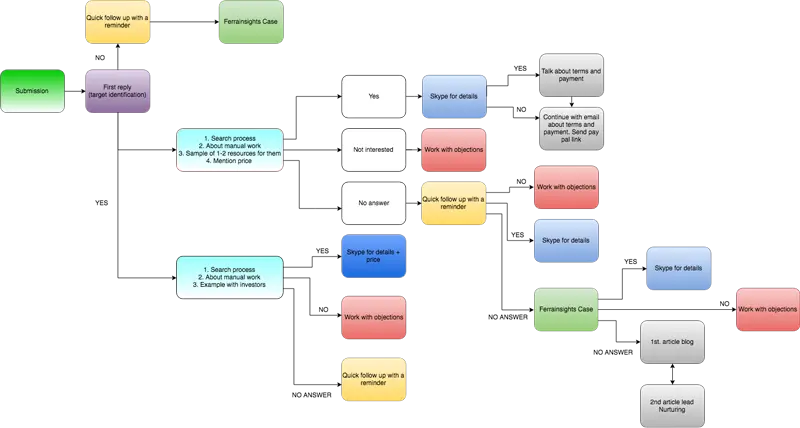 Do you know what days and time your emails will arrive? When setting up your email autoresponder sequence, remember that most people work from Monday to Friday. That means you should not send your messages on weekends because these days traditionally have terrible response rates. Also, do not send them around 5 PM-6 PM when a working day is over. Mondays are usually the busiest days of the week for business people. In general, the best times to contact your audience are mid-week on Tuesdays, Wednesdays, or Thursdays.
3. Educate more than sell
One of the biggest reasons for using an autoresponder is not to constantly sell to your list but also to build trust and continuously communicate with your audience.
4. Test the email length
Long emails often aren't getting read because people are busy. So after you write your email, you should edit it until every line is to the point and contains the value. Add the issue of email length to the variables you test and analyze.
5. Make your auto-responses more personal
One of the most common problems with email automation is that it often feels like a robot. While most savvy subscribers understand you are not contacting them individually, you still need to add a personal touch whenever possible. And here, we are not talking about adding names or companies. Personalization means your emails are about customers' interests, problems, or opportunities. Also, keep in mind that autoresponders don't need to be boring. You can easily spice them up by using your brand tone, humor, and personality. It's fantastic if being funny fits your brand. If you can't allow this, be interesting for your audience. Finally, emails with a well-designed email signature look much more personal compared to those without the signature.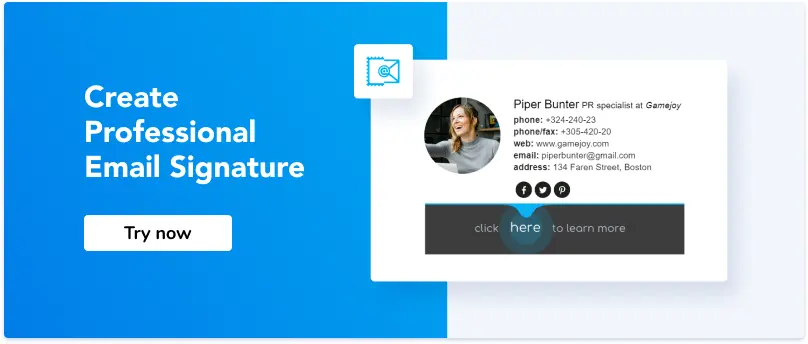 6. Don't stop after the welcome message
Suppose you choose to send a welcome message only and never continue your autoresponder series. In that case, you are missing a huge opportunity to:
a) promote your new/best content;
b) educate every new subscriber about your product or service;
c) build trust with your audience.
Send at least four messages and see the result.
7. Don't send more than one autoresponder in one day
When using autoresponders carelessly, you risk irritating your subscribers and make them move your emails directly to the spam folder.
How To Choose The Best Email Autoresponder For Email Marketing
Building a robust email list and sending email campaigns is an effective way to increase your marketing ROI. So, let's talk a little about choosing an autoresponder to build a quality list of subscribers and create email automation.
What you should consider when choosing an autoresponder
Whether you want to choose your first email marketing service provider or are willing to switch from an existing one, you need to consider some important aspects. Then, after a little research, you will be able to find an email marketing automation software that suits your organization's needs.
Define your goals
Understand your goal of emails. For example, do you want to send email sequences with delays in days or based on the user actions? Do you need new users to opt-in to your campaigns, or will these be simple monthly newsletters for your paying customer? Having this in your mind will help you choose the autoresponder with the right features.
Think about the budget
Of course, if your budget allows for it, you can start with paid services with advanced features. However, before you sign up, find out the total cost of implementing and running the platform. Because in addition to a subscription fee, a vendor might also have hidden fees or associated costs involved.
ESP reputation
Email sender reputation is one of the critical points of your deliverability rate. It consists of two main factors: autoresponder IP reputation, and it's domain reputation. You can use free tools like Sender Score to check it.
The user interface
Before you upgrade to the paid plan, pay attention to their website and application design. One of the key things to test and check is the email template builder. This one should be convenient for you to use. Creating email design must be quick and straightforward.
Use trials and free versions
Try before you buy. Most providers offer a free or inexpensive trial version that will allow you to test the functionality.
Important features to check when choosing email marketing automation software.
Now that you understand the main things to consider when deciding between different email marketing platforms, the next thing you need to find out is what features they offer.
List Builder and segmentation options
Mailing list segmentation is the process of dividing subscribers into smaller groups based on specific criteria, such as demography, customer personas, interests, the sales cycle phase.
By doing so, you will send more targeted and relevant autoresponders to each segment to achieve better results.
Integration with your CRM and other software
A good marketing automation platform will offer seamless integration with your CRM platform. It will help you save time because you won't need to manage any CSV files. Also, ask the vendor to provide you with a complete list of possible integrations for their software if this information isn't available on their website.
Subscription forms
Forms are an essential part of lead generation. For example, to collect email addresses and grow your list, you should add a sign-up form to your web page; and then introduce yourself to new customers and keep in contact with them using email automation.
Triggering options
A trigger is an action that starts automation. For example, when someone subscribes to your list, abandons a cart, or purchases a product from you, they receive an automated email. An ideal email marketing automation software should offer a wide selection of preset automation types with built-in triggers along with an option to create custom automation with your triggers.
Unsubscribe options
Although watching some of your recipients unsubscribe from your emails is never a pleasant thing, having this option is a must. You might want to create unsubscribe page with options. For example, users don't like to receive product updates, but they'd be happy to know about some discounts. The unsubscribe page builder allows you to make the unsubscription process smoother and more tailored to your audience.
Analytics
It is essential to measure your rate of success consistently. A quality email marketing platform can provide you with customizable reports which will help you evaluate the effectiveness of your campaign from different sides.
Templates
Look for a provider that offers modern, professionally designed, and easy-to-customize email templates. It will allow you to create and send beautiful emails without dealing with any HTML or CSS.
The Best Autoresponder Email Software
Now let's investigate some of the best email marketing service providers together.
MailChimp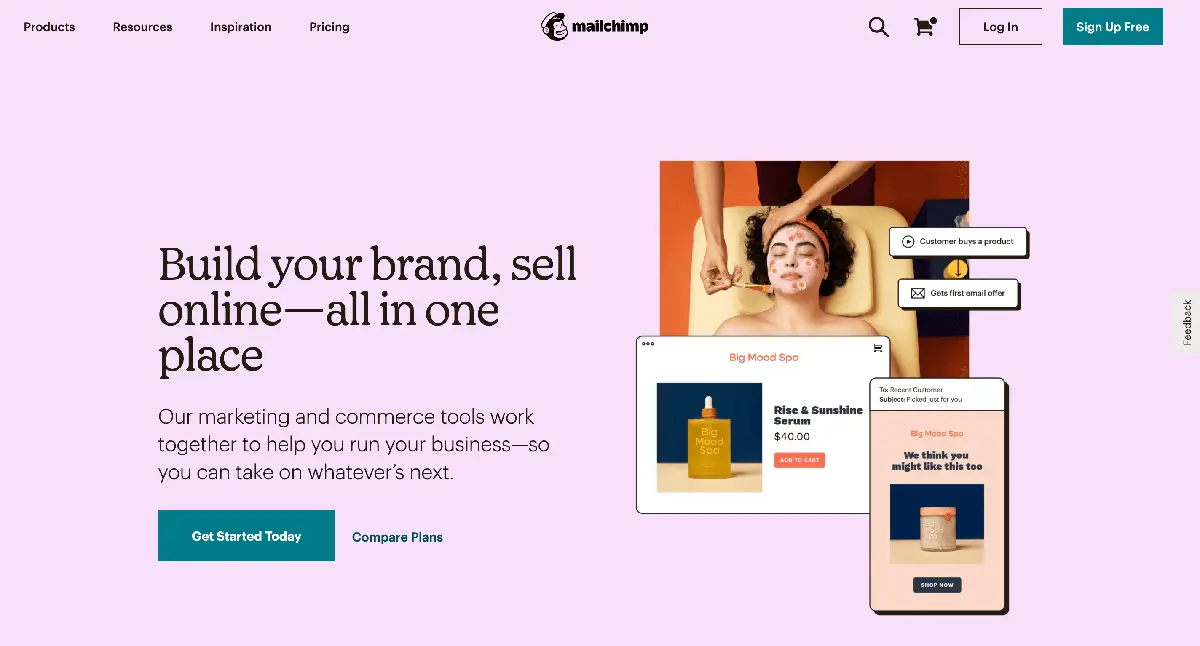 Price
This platform is free until you reach 2,500 subscribers on your list. However, many features are not included in a free version. If you decide to go for a paid version with all features enabled, consider that the price will be based on the number of subscribers. For example, if your email list contains up to 1,500 subscribers, you will have to pay $21 per month. For lists of up to 5,000 subscribers, you'll need $53 per month. For a complete price list, see the MailChimp website.
Features
List segmentation - yes;
drag and drop editor - yes;
email templates - yes;
unsubscribe page builder - no;
analytics - yes; autoresponder - yes;
integration options - integrates with hundreds of applications and services.
Customer Support
No support for a non-paid version. Email and online chat support for paid plans.
Drip
Price
You can try Drip for free and then choose from four subscription plans such as "Starter" (always free until you reach 100+ subscribers), "Basic" ($41 per month until you reach 2,500+ subscribers) "Pro" ($83 per month until you have 5,000+ people in your list), and "Enterprise" (for companies who have over 5,000 subscribers).
Features
List segmentation - yes;
drag and drop editor - yes;
email templates - yes;
unsubscribe page builder - yes;
analytics - yes; autoresponder - yes;
integration options - a wide range of integrations.
Customer Support
Starter Plan: 30 days of free email support, then you have to switch to another plan. All other plans: Monday to Friday email and chat support.
ConvertKit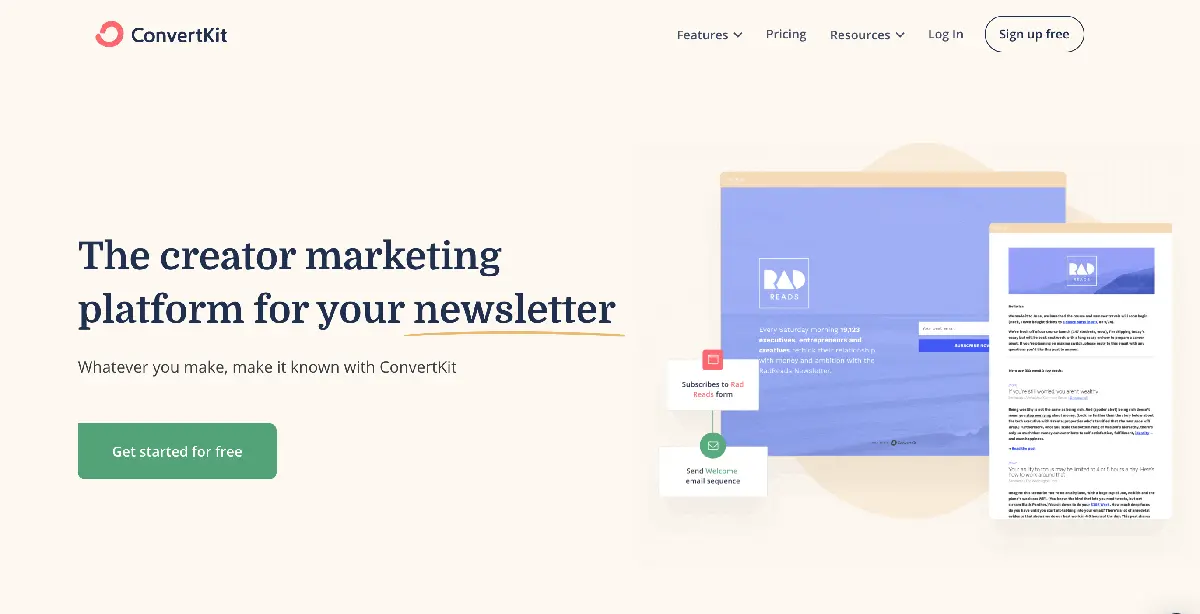 Price
You can test ConvertKit for free. To purchase the cheapest subscription plan (valid for up to 1k subscribers), you'll have to pay $29 per month.
Features
List segmentation - yes;
drag and drop editor - no;
email templates - yes;
unsubscribe page builder - no;
analytics - yes;
autoresponder - yes;
integration options - 70+ integrations.
Customer Support
Email and live chat support.
AWeber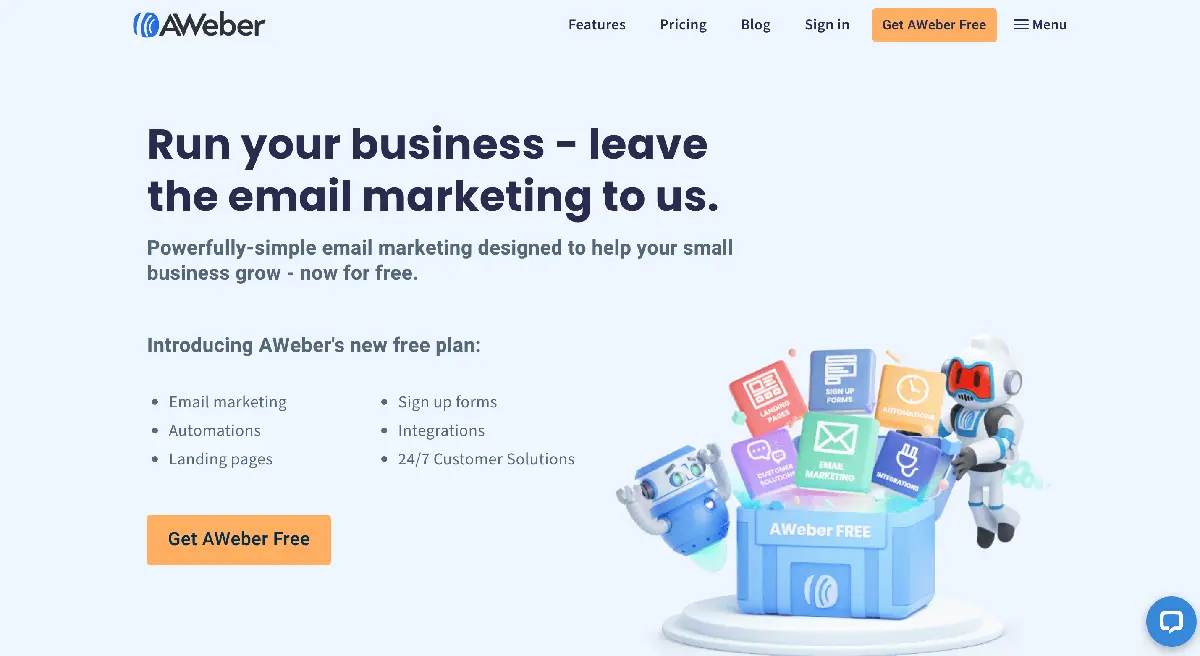 Price
30-day free trial available. You will have to pay from $19 to $149 per month depending on the size of your list.
Features
List segmentation - yes;
drag and drop editor - yes;
email templates - yes;
unsubscribe page builder - yes;
analytics - yes;
autoresponder - yes;
integration options - integrates with a huge range of applications and services.
Customer Support
Phone, email, and chat support are available seven days a week.
GetResponse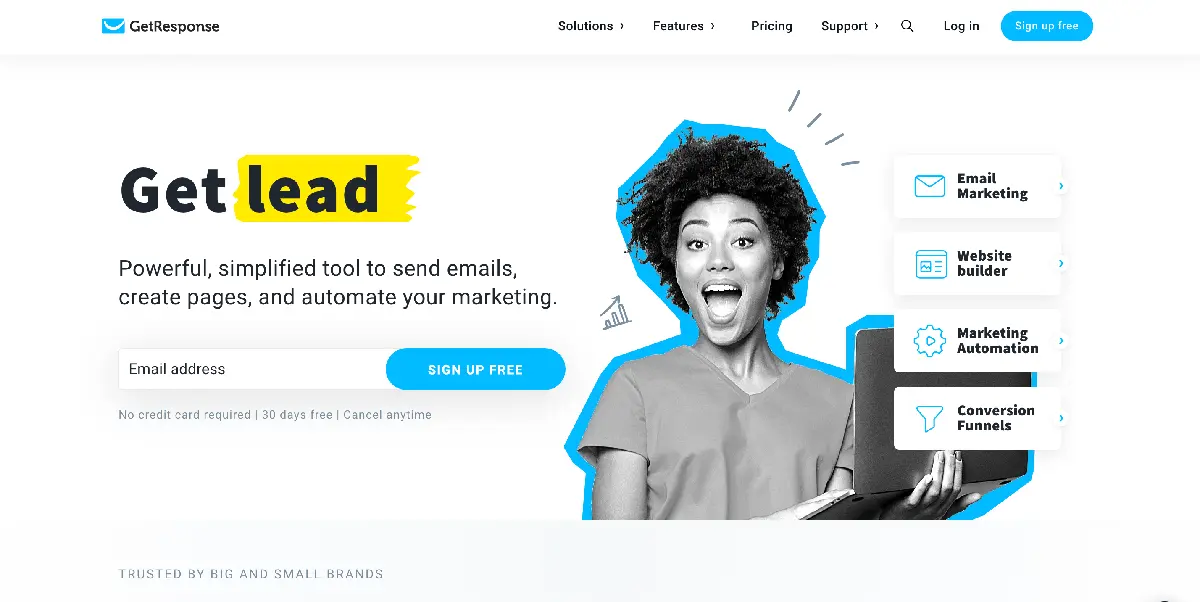 Price
You can start your experience with GetResponse with a 100% functional 30-day free trial. There are four pricing options to choose from: the "Email" plan for beginners (from $15 per month), the "Pro" plan for growth-focused marketers (from $49 per month), the "Max" plan for marketing pros (from $165 per month), the "Enterprise" plan (from $1, 199 per month). Moreover, a 24-month subscription allows you to save 30%.
Features
List segmentation - yes;
drag and drop editor - yes;
email templates - yes;
unsubscribe page builder - no;
analytics - yes;
autoresponder - yes;
integration options - lots of options.
Customer Support
Email support in seven languages, 24/7 live chat, and community support.
ActiveCampaign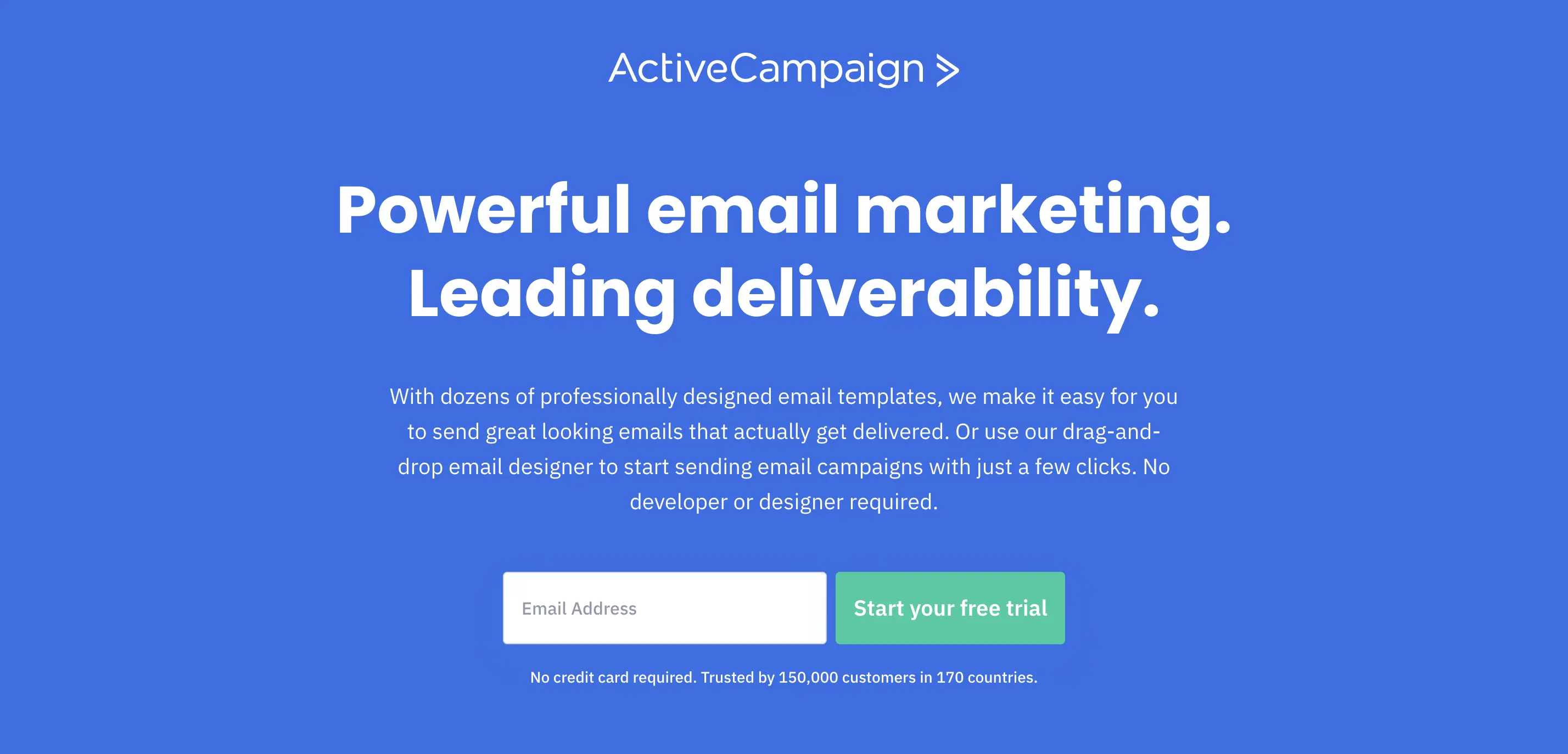 Price
14-day free trial with an option to request a one-time extension. ActiveCampaign offers four plans for different budgets from $17 to $229 per month. Visit their website for more details.
Features
List segmentation - yes;
drag and drop editor - yes;
email templates - yes;
unsubscribe page builder - yes;
analytics - yes;
autoresponder - yes;
integration options - about 150 apps.
Customer Support
24/7 chat support, phone support, one-time training (not free).
MailerLite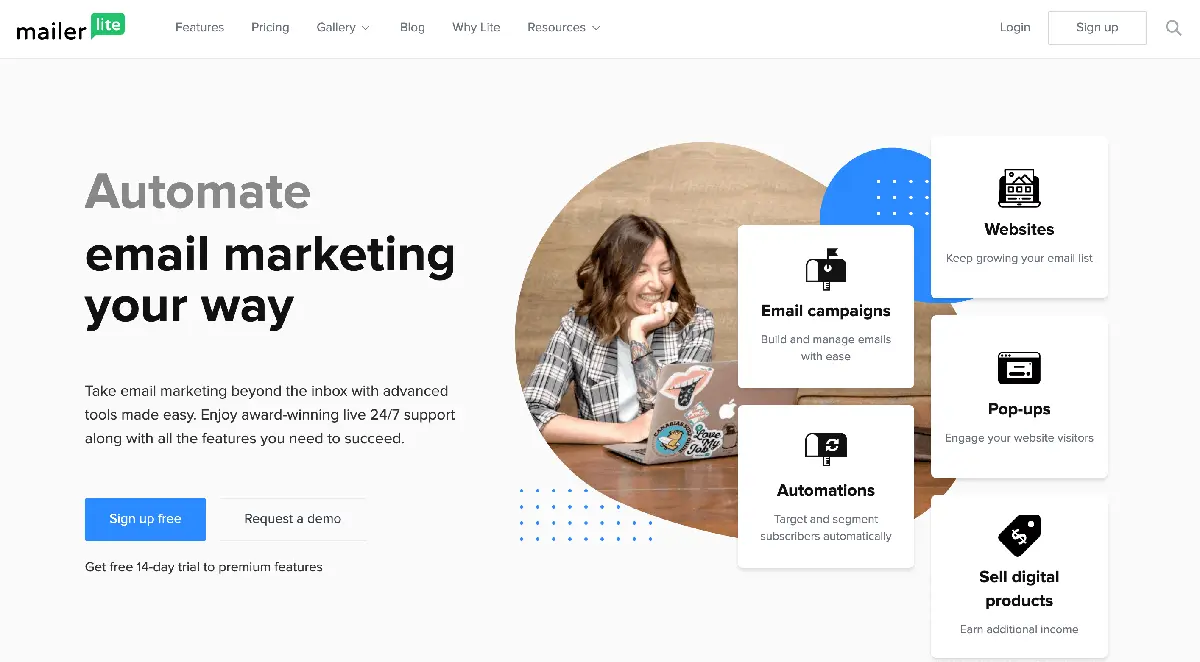 Price
It is forever free if the number of subscribers doesn't exceed 1,000. The cheapest subscription will cost you only $10 per month. It is possible to calculate the cost by entering the number of subscribers into the corresponding field on their website.
Features
List segmentation - yes;
drag and drop editor - yes;
email templates - yes;
unsubscribe page builder - yes;
analytics - yes;
autoresponder - yes;
integration options - about 45 integrations.
Customer Support
24/7 email and chat support
Conclusion
Often, we lack time and resources to regularly and efficiently keep in touch with our customers. Email automation is the one to help. Today, there is a crazy amount of autoresponders for email marketing like MailChimp, InfusionSoft, GetResponse, AWeber, ConvertKit, and many many others. The good news is that if you can't afford to invest money in your email marketing, you can start with a free version. Ideally, if a platform has a free trial version, list segmentation option, unsubscribe page builder, intuitive UI, triggering options, analytics, and excellent reputation. Choose wisely and good luck!