How To Create An Effective Welcome Email
1. Why you need to send welcome emails
2. Welcome emails stat
3. Types of welcome email for new customers
4. Welcome email best practices and key elements
Useful tools:
1. Newoldstamp - Email signature marketing
2. SendGrid - Email builder and sender
3. Boomerang - Tool for scheduling emails
4. Mailtrack - Email link opens tracking
5. Canva - Online tool for making designs
Even with today's emphasis on personalization, a lot of digital marketers and B2B owners are still sending undifferentiated, off-report, and generic marketing emails. This is because the majority of the channels used by various digital marketing agencies have a very low variable cost, i.e., it costs less to send over one thousand emails to different subscribers than to send one. As a result, this strategy of bombing customers with the same generic information is widely adopted as a 'can't-lose' approach.
But this is not. It has failed so many times. This is because every time a subscriber receives a message which fails to address what they need, they are less likely to open the next message, lose a bit of concern for the business, and even if it is significant to their demands, they are a little less likely to open the next offer. If you still send this kind of email check our post and learn how to make your email campaigns more successful.
A welcome email is an effective approach to keep your subscribers connected with your business or brand. Passing the right message, sharing the correct contents, aiming at the proper lists, and developing the right medium play an important part in breaking or making your business image through this great channel.
Above all, it is the strategy you choose to introduce your business to your customers and welcome them through email that is important to the ultimate success of your welcome email series. First impressions are the most lasting, says the famous proverb.
Why you need to send welcome emails
One of the most important components of lists building and email marketing is the welcome email. It builds the tone for the kind of relationship you wish to build with your new subscribers and helps them engage with your brand. Your welcome emails, when it is rightly done, lure your subscribers to get enticed with your brand and interested in supporting your mission.
source: Inretospect
In addition to increasing sales and awareness, a welcome email is also an avenue to reach out to your audience and build good relationships. However, it is important, however, not to see your lists as the way of making money but people who can improve your brand and help you grow. Consequently, it is vital that the emails you sent to your customers provide some benefits and leave a significant impression. It is important to see your list not only as money you can make but people who can help you grow and become better. It is important that the emails you send to your subscribers offer some benefit to them and leave a lasting impression, and you should do that from the first email.
Welcome emails stat
Different reports have revealed why we should prioritize our welcome emails. These emails, according to the director of Epsilon's Consulting group, have the largest open rates than any marketing emails: between 60-70%. Return path shows a different rate, estimated between 50-60% and 42% more than the average read rate of most marketing emails. Similarly, subscribers that open at least one welcome email read more than 50% of the email from the brand and are likely to engage for a long-term with the brand. About 75% of subscribers, other studies demonstrated, expect a welcome when they subscribe to it.
Types of welcome email for new customers
1. The general welcome email
Sincere and simple, this type of email aim at appreciating your subscribers for signing up and providing them the relevant information of the type of emails they will be receiving. One of the benefits of this type of email is to establish trust with your customers and make them feel valued.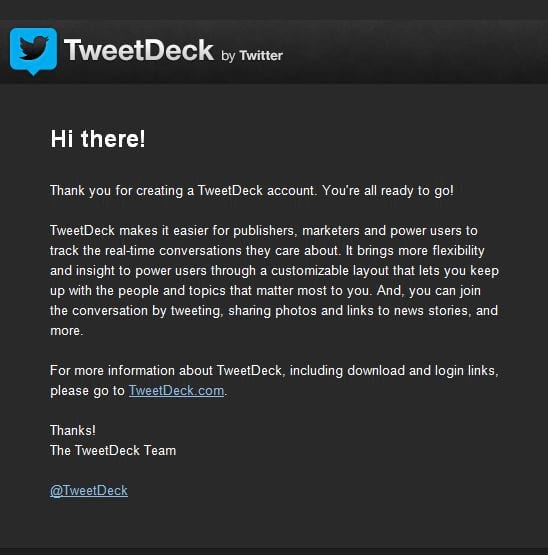 2. Welcome email with showcase
The welcome email with showcase is a common type of welcome email where what you offer your subscriber is showcased. This is great to engage customers who will like to see the benefits of signing up. It is important to make it significant adding irrelevant features to showcase can make the whole message useless. Because it is popular, it may not command attention like other email types. Most times, some minimalist features can be used when your subscribers are used to large volumes of promotional messages.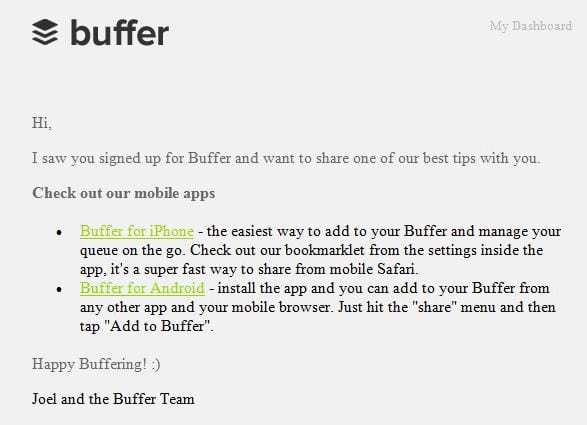 3. Welcome email with offer
This type of email, although, simple but effective, gives new subscribers an important offer to buy the brand's products while they gain their attention. Since most customers like getting a great deal, giving them a special discount for every product's purchase can be a perfect avenue to improve the conversion and click rates from your emails. Ensure that your offer is attractive and avoid formatting it as an image. More than 60% of subscribers block emails sent as images by default; therefore, if your offer is placed at the center of your welcome email, it might get blocked, and the results may be jettisoned.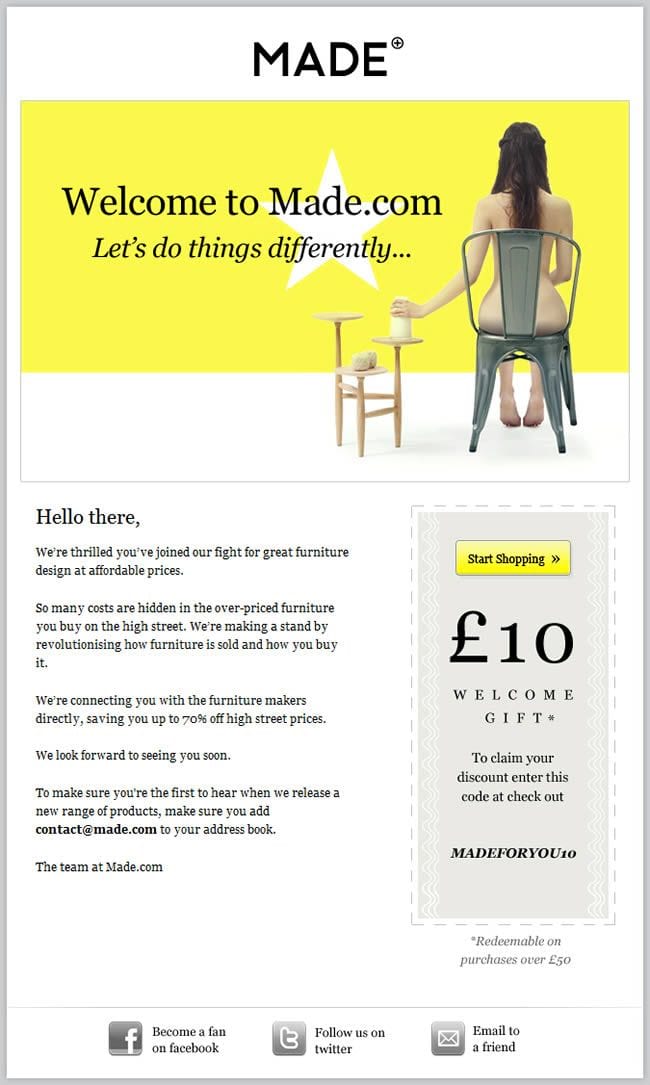 4. The personal welcome email
According to Experian, the personal welcome email is 26% likely to be opened. It is a type of welcome email with the relevant data of the subscriber, with the segmented details using where and how they signed up. This type of email is tailored to reinforce your subscriber's decision. Apart from using the subscriber's name, most of the information given when they signed up such as the business type, goals, interests, etc. can be used to personalize the message.
Welcome email best practices and key elements
Welcome emails are important to establishing a relationship with new subscribers: whether they are your customers or prospects who don't know you. A well-written welcome email series will keep your subscribers engaged and foster selling your products to them in the future.
Some of the key elements of an effective welcome email include:
Clear and enticing welcome email subject line
Your subject line must be compelling and enticing. In other words, make it attractive and engaging that everyone would like to click it. Consider the number of emails you receive in a day and the ones you delete without reading it. To make the email identifiable, some brands prefer using ''welcome'' in the subject line.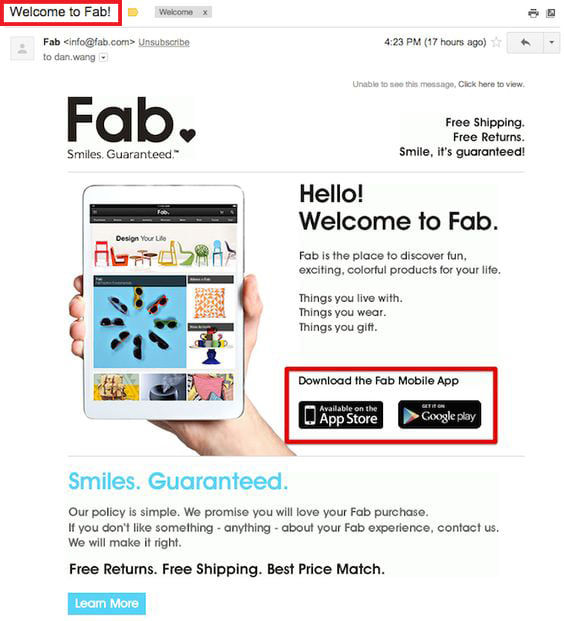 However, studies show that some of the most common words in subject lines that subscribers open are: new, alert, bulletin, thank you sale, weekly, and other words that indicate personalization. To prevent your email not to be marked as a ''spam message'', it is advisable to avoid the use of spam words like free in your subject lines.
Subscription Reminder
In reality, we all sign up for many things nowadays. Even if the welcome email is sent immediately after your subscriber sign up, according to Autosend, it takes about 2.5 days for an average email to be read. Given this, it is important to remind your subscribers what they signed up for. Also, this will tell them when and to what extent to receive any additional communications from you.
Say Thank You
It may appear too obvious, but it is an important part of the welcome email series. Through ''thank you'', you are creating a relationship with your subscriber and hoping to build a pattern of trust and engage with your company goals. This is often used to show how you value your customer and encourage them to help the growth of your brand. In the welcome email series, however, maintaining the subscriber for the long-term and reducing churn is an essential part of the success of your company: therefore, "thank you" seems perfect to begin the relationship.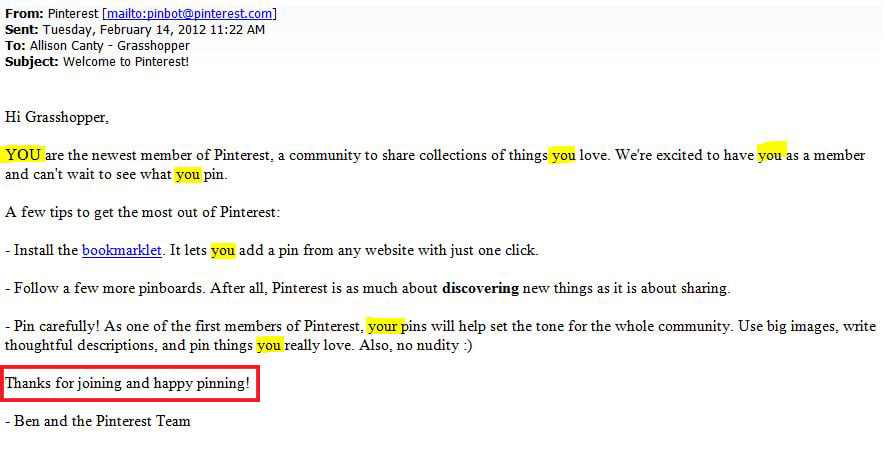 Set communication expectations
One of the essential elements of your welcome email is telling your customer when and how often they should expect emails from you. There must also be an option for your subscriber to on or off the frequency of your emails. When new subscribers sign up, they might not know that they are automatically signing up for email marketing series. Use this opportunity to ease the email marketing tension by creating some realistic inbox expectations. This transparency creates a positive relationship and helps to build trust with your subscribers.
Call to Action (CTA)
A call to action (CTA) is a key element of your welcome email as it helps to increase and improve the free trial conversions. In addition to saying "hello," every welcome email must have a particular goal and the CTA is meant to address that goal. As the welcome email CTA, some of the most common examples are "complete your first _____" or "complete your profile." In essence, some experts opined that a welcome email must have a single CTA and the Call to Action must directly lead the new subscriber into what they are supposed to do. With great visuals to invite new subscribers to click, the CTA must be clean and simple.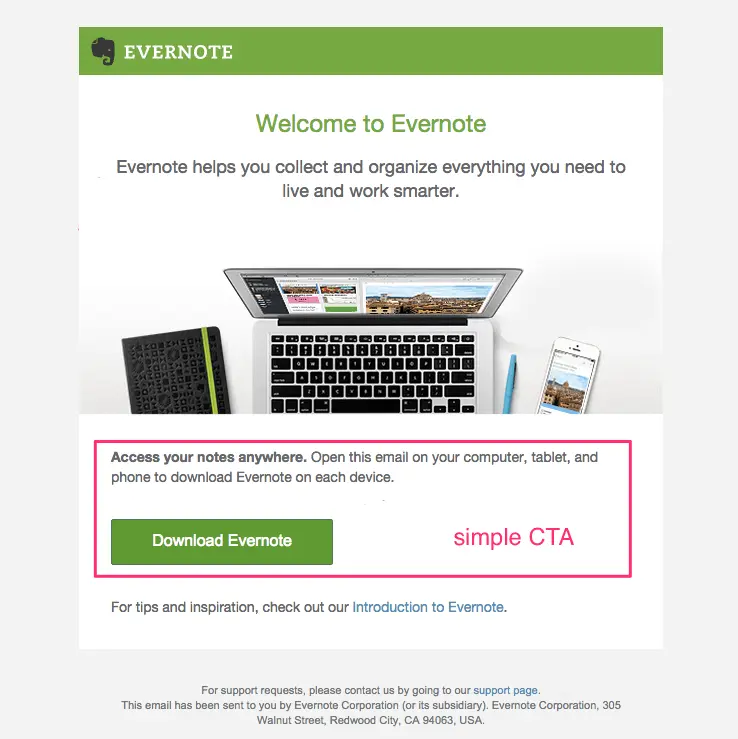 There are variants of opinions regarding the best CA, but the aim will be related to your subscribers and company goals.
Offer Support
Tell your new subscriber when and how to contact you if they want to ask questions or provide feedback. Unless you are satisfied with the initial customer communication, you may still need to provide the contact option for the company's customer support. Most experts suggest leaving the email with an open offer to help your subscriber.
In Conclusion
It is evident from this article that the aim is on having the proper elements in your welcome email. However, this isn't a chronological or all-inclusive list. You will find out if it is correct to have a very concise and simple welcome series based on your customer's feedback and the company's metrics and goals. Don't be scared of testing other alternatives whatever the type of welcome email you decide and leverage the data for the perfect welcome email series.