Building a robust email list is everything for marketers and business owners. The better they communicate with their audience, the more revenue they will generate. However, you might be surprised to know that a lot of people who have a business think that they can simply collect new email addresses and send out messages from any email client. But does it really work this way? If you are collecting and storing names and email addresses for marketing, you've got to be compliant with a number of anti-spam regulations like the CAN-SPAM (Controlling the Assault of Non-Solicited Pornography and Marketing Act), the CASL (Canada's Anti-Spam Legislation), the GDPR (General Data Protection Regulation), and others. According to these regulations, every marketing email needs to have an unsubscribe link; subscribers must have actively opted into your list; and so on. So, let's talk a little about what you need to do to build a quality list of subscribers, be legal and compliant, and do everything easily and with minimum effort.
What exactly is an autoresponder?
To manage your email list effectively, you need a good autoresponder software. What is it? It is the software that stores your email addresses allowing you to reach the inboxes of your subscribers and communicate with them 24/7. To choose the best autoresponder, first of all, you need to:
Define your goals
When I was looking for my first autoresponder email software, someone advised me to start with a quite expensive autoresponder company that offered a huge range of services. Soon I realized that even though it was an awesome company, I didn't use most features they provided. So if you are relatively new to email marketing, consider using some free autoresponder.
Think about the budget

Of course, if your budget allows for it, you can start with paid services with advanced features. Before you sign up, find out the total cost of implementing and running the platform. Because in addition to a subscription fee, a vendor might also have hidden fees or associated costs involved.
What you should consider when choosing an autoresponder
Regardless of whether you want to choose your first email marketing service provider or are willing to make the transition from an existing one, you need to consider some important aspects. After a little research, you will be able to find an email marketing automation software that suits your organization's needs.
Here are a few things to consider:
ESP reputation
How long the company is in business is a huge factor that needs to be considered. The longer they work in this field, the better relationship they created with ESPs like Gmail, Hotmail, Yahoo, etc. It means that the chances that your email will be marked as spam are pretty law. That is why it is preferable to choose the company that has been in business for at least the last seven years.

The user interface (UI)

Before you sign up, pay attention to their website. If it isn't appealing and easy to navigate, it is likely that you won't be able to create and send out nice, clean, and modern emails.
Use trials and free versions
Try before you buy. Most providers offer a free or inexpensive trial version that will allow you to test the functionality.
Important features to check when choosing email marketing automation software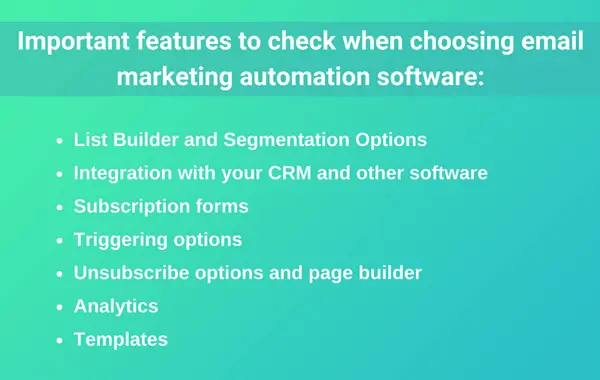 Now that you understand the three main things to take into account when deciding between different email marketing platforms, the next thing that you need to find out is what useful features they offer.
List Builder and Segmentation Options

Mailing list segmentation is the process of dividing subscribers into smaller groups based on specific criteria, such as demography, customer personas, interests, the sales cycle phase, etc.
By doing so, you will be able to send more targeted and relevant autoresponders to each segment to achieve better results.
Integration with your CRM and other software

A good marketing automation platform will offer seamless integration with your CRM platform. This will help you save a lot of time because you won't need to manage any CSV files. Also, ask the vendor to provide you with a full list of integrations that are possible for their software if this information isn't available on their website.
Subscription forms

Forms are an important part of lead generation. To collect email addresses and grow your list, you should be able to add a sign-up form to your web page; and then to introduce yourself to new customers, and keep in contact with them using email automation.
Triggering options

A trigger is an action that starts automation. For example, when someone subscribes to your list, abandons a cart, or purchases a product from you, they receive an automated email. An ideal email marketing automation software should offer a wide selection of preset automation types with built-in triggers along with an option to create custom automation with your own triggers.
Unsubscribe options and page builder

Although watching some of your recipients unsubscribe from your emails is never a pleasant thing, the unsubscribe page builder gives you the opportunity to make the unsubscription process smoother and more tailored to your audience. Customize any detail from the background image and content to buttons and links.
Analytics

It is essential to measure your rate of success consistently. A quality email marketing platforms can provide you with customizable reports which will help you evaluate the effectiveness of your campaign from different sides.
Templates



Look for a provider that offers modern, professionally designed, and easy-to-customize email templates. This will allow you to create and send beautiful emails without having to deal with any HTML or CSS.
The Best Autoresponder Email Software
Now let's investigate some of the best email marketing service providers together.
MailChimp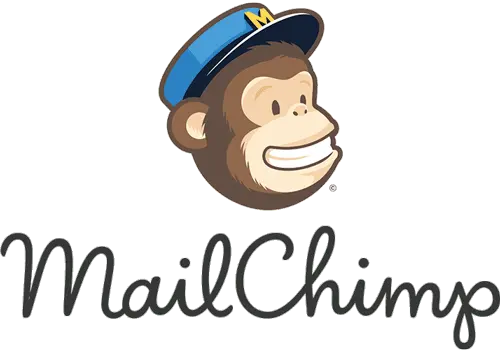 Price.

This platform is free until you reach 2,500 subscribers on your list. However, many features are not included in a free version. If you decide to go

for

a paid version with all features enabled, take into account that the price will be based on the number of subscribers. For example, if your email list contains up to 1,000 subscribers, you will have to pay $15 per month. For lists of up to 5,000 subscribers, you'll need $50 per month. You will spend $240 per month if you have up to 50,000 contacts in your database. For a full price list,

see the MailChimp website.
Drip

Price.

You can try Drip for free and then choose from four subscription plans such as "Starter" (always free until you reach 100+ subscribers), "Basic" ($41 per month until you reach 2,500+ subscribers) "Pro" ($83 per month until you have 5,000+ people in your list), and "Enterprise" (for companies who have over 5,000 subscribers).
ConvertKit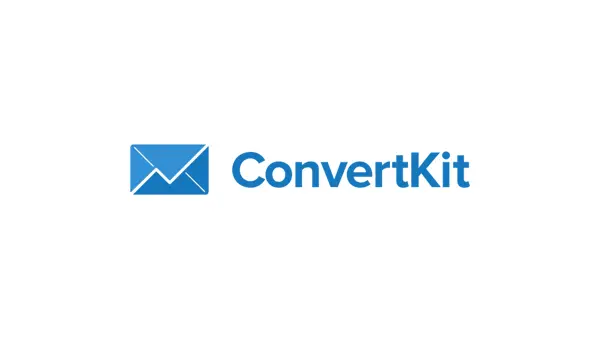 AWeber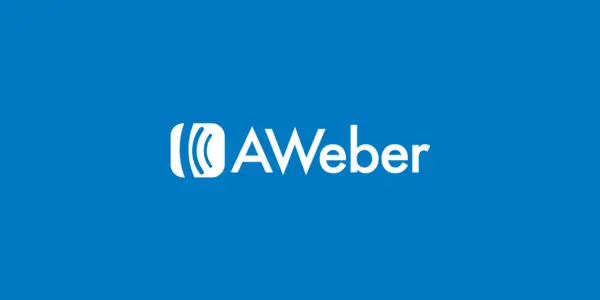 GetResponse


Price.

You can start your experience with GetResponse with a 100% functional 30-day free trial. There are four pricing options to choose from: the "Email" plan for beginners (from $15 per month), the "Pro" plan for growth-focused marketers (from $49 per month), the "Max" plan for marketing pros (from $165 per month), the "Enterprise" plan (from $1, 199 per month). Moreover, a 24-month subscription allows you to save 30%.
ActiveCampaign


Price.

14-day free trial with an option to request one-time extension.

ActiveCampaign offers four plans for different budgets from $17 to $229 per month.

Visit their website

for more details.
InfusionSoft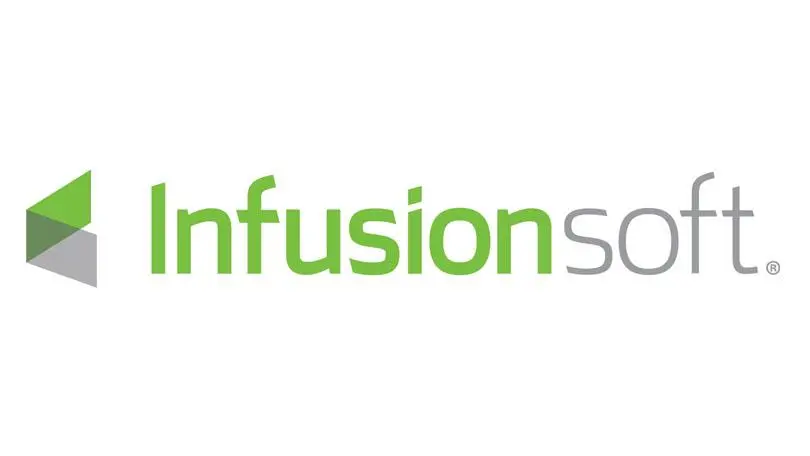 MailerLite

Price.

It is forever free if the number of subscribers doesn't exceed 1,000. The cheapest subscription will cost you only $10 per month. It is possible to calculate the cost by entering the number of subscribers into the corresponding field

on their website.
Conclusion
Today, there is a crazy amount of autoresponders for email marketing like MailChimp, InfusionSoft, GetResponse, AWeber, ConvertKit, and many many others. Good news is that if you can't afford investing money in your email marketing, you can start with a free version. Ideally, if a platform has a free trial version, list segmentation option, unsubscribe page builder, intuitive UI, triggering options, analytics, and excellent reputation. Choose wisely and good luck!
You might also want to read our blog post "How to effectively use autoresponders for email marketing."