5 Design Practices to Increase Landing Page Conversion
1. Landing Page Design: What You Need to Know
2. Your Landing Page's Layout
3. Your Landing Page's Structure
4. The Colors You Should Use on Your Landing Page Design
5. Visuals: The Show-Stopper of Your Landing Page Design
6. Responsive Landing Page Design Is Non-optional
Landing page design is a core tactic for lead generation and, eventually, conversion. As marketers, we know the power lead-gen tools like landing pages hold. We also know how helpful they are in expanding a brand's reach and building a healthy email list.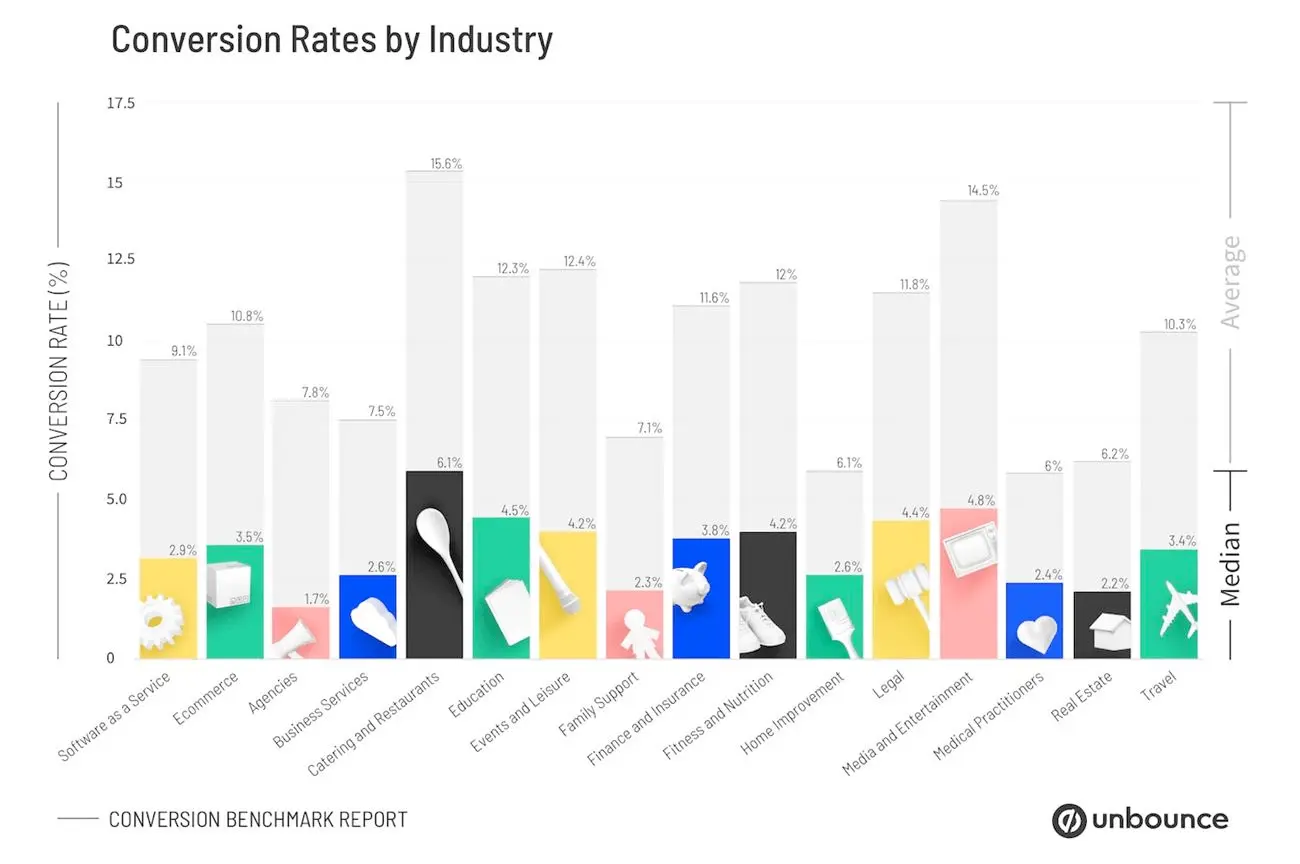 (Source)
Reaching the numbers above means something different for each brand, and it's all about how it can retain customers and gain new ones, making great use of inbound marketing by simply upping its landing page game.
But what tactics can a brand use to design a landing page that converts? Let's find out.
Landing Page Design: What You Need to Know
The best landing pages all have some things in common. These things go beyond a great headline or the perfect landing page copy and straight to the structure of the landing page.
Many marketers consider landing page design as another buzzword for branded colors and beautiful art. But this is not the case for landing pages destined to boost conversion.
Understanding the user's needs and knowing what to offer and how is one of the most overlooked skills in landing page design services. And yet, it's what makes a world of difference. In that case, design makes landing pages specific, gives them an actionable message to carry, and boosts their effectiveness.
Beautiful images and attractive colors are much-needed, too. Still, they differ from what will get users to act on your marketing message. Let's get more specific.
Your Landing Page's Layout
I'm sure you've heard the phrase "content is king". However, all marketers who know how to create a landing page know that most people skim through the content to reach the CTA button.
Most users don't have the time or the energy to read endless bouts of copy, no matter how good it may be. This is why the layout of your landing page is so important.
The first step would be to include crucial information above the fold. Prospects always need quick and easy answers, and you need to give those answers immediately. This will also make a difference in the event of a weaker internet connection, as the prospect will know what your landing page is about.
Secondly, design the landing page with as much white space as needed. White space helps users focus on your message, allowing you to improve the page's readability. Use bullet points and spaces between paragraphs, headlines, headers, and footers.
Ideally, you want the user to be able to read your landing page in the blink of an eye and understand your value proposition instantly. That way, they will engage with your content immediately as well.
Your Landing Page's Structure
The structure is just as important as the layout. You need to understand it before creating the best landing page for your marketing actions.
Your headline needs to be attention-grabbing and showcase your value proposition:
(Source)
As you can see in the above example, the headline shows what the brand and product can do for the consumer. This is all the users need to know to interact with your brand.
Your H2, or subheading, can include a brief statement providing additional information. In the example above, the subheading talks about saving time and energy. This supports the "effortless" statement.
After that, remember to create spot-on visuals. Users won't bother with something they don't understand, and your landing page is not the place to be too cryptic about your product. Show your benefit in action, and move on with your Unique Selling Proposition (USP).
Your USP will highlight the benefit of your brand, product, or service. It can be in the form of some clever copy or a customer testimonial that can help you boost trust and credibility.
Finally, your CTA button needs to be clear and actionable and allow users to understand what their next step should be.
Super Pro Tip: Use actionable verbs from start to finish. That way, you'll lead users gently down their journey. Just make sure your verbs create a logical course of action.
Remember to use trust indicators like security badges and a link to your Terms and Conditions, especially when asking your audience to give up their data. These can be part of your footer, along with any social links and contact details.
The Colors You Should Use on Your Landing Page Design
The perfect landing page design demands colors that are aesthetically pleasing and functional.
The colors you should use on your landing page are directly tied to your brand's identity. However, this does not mean they are not adjustable. Let me show you what I mean: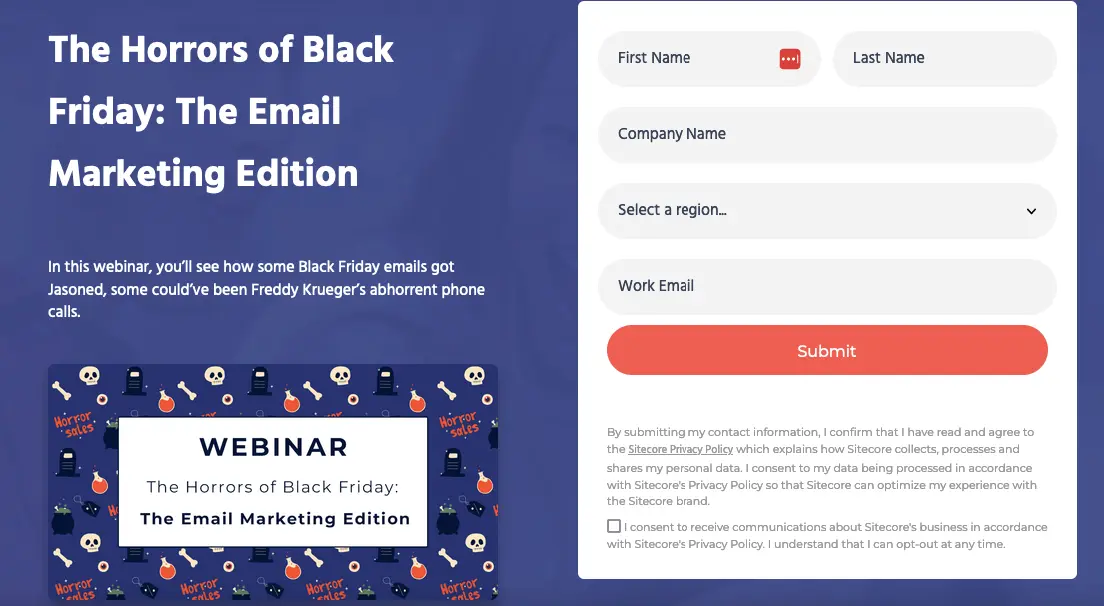 (Source)
For this landing page, we went for blue - a color that's part of our brand's identity - and adjusted it to be spot-on with our Halloween-themed webinar.
Use your branded colors to maintain consistency with your brand's identity and the personality of your business.
After that, ensure you've got the proper contrast of colors to make the page visually appealing and easy to read in a blink. Black and white can go a long way, but we cannot say the same for a combination of peach and yellow. This is not something a user will bother reading, as it's just too difficult.
When picking colors, you should also be mindful of the emotions they evoke and the different segments you're trying to attract. If you're a global brand, consider what each color means for other cultures. For example, while purple signifies wealth in North America, it can be associated with sorrow in South America.
Ensure you understand the standard associations and choose your color palette wisely. Consider what emotions you'd like to evoke, and act accordingly.
(Source)
As a marketer, you can also use colors to attract attention to something specific - like your landing page's CTA button. A bright red is perfect for urgent action, like purchasing an offer, while a calming blue can give your blog more traffic.
Of course, none of the above are set in stone. Your audience is unique to your brand. This makes testing imperative. Try different colors and combinations, and play around with the contrast. Then, notice how your audience interacts with them and gather data. That way, you'll understand what works best for them and can bring more conversion to your brand.
Visuals: The Show-Stopper of Your Landing Page Design
When talking about visuals on landing pages, we mainly refer to GIFs and images. But while GIFs and images can capture a user's attention, they can also harm your intended conversion if not used properly.

(Source)
But why would that be?
First of all, low-quality images or GIFs can lead to two things:
A lot of loading time will make the user click the "back" button
Loss of trust, as low quality is frequently associated with scammers
So, let's see what you should keep in mind when creating your landing page's images and GIFs.
First of all, create and use high-quality images. Low-quality, pixelated images and images that won't load will look unprofessional and "scammy". A visually appealing experience will earn you more inbound leads.
Your GIFs may be effective in capturing attention. Still, they can also distract users and slow down the loading time of your landing page. Be sure to use them when they add more value than a simple image, and always keep the necessary information on your first frame.
Your landing page design should have images relevant to your content and message. If, for example, you're looking to promote your whitepaper or ebook, opt for a relevant image or GIF instead of an image of your product.
Make sure to evoke emotions with your visuals and help users understand what your value proposition is. But let's suppose you're not sure what your users consider memorable. In that case, you can just include them in the landing page design process with a poll or a survey. A poll with three options would do the trick and give you some much-needed data to theorize and test out different landing page designs.
Also, always use alt-text to improve accessibility. Alt-text works beautifully with screen readers, and it's necessary for users with vision impairments.
All landing page design elements serve a purpose. But if your images and GIFs are not optimized and relevant, it would be best to omit them altogether. An image should show users what they can expect from your landing page.
Responsive Landing Page Design Is Non-optional
Optimizing your landing page for mobile use is crucial. Sometimes brands forget that step, not thinking that it can harm conversion.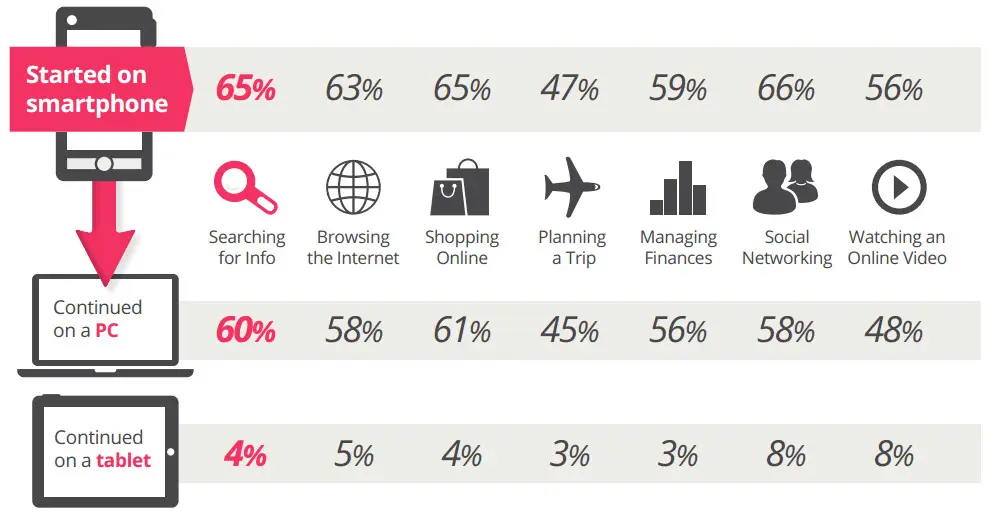 (Source)
However, statistics say otherwise. Having a responsive design will help you create elements that show on a mobile screen perfectly and create a consistent and trustworthy customer experience.
A perfect mobile landing page can also help you take advantage of the impulsive nature of a purchase if that's your goal.
Just create a simple design and remove unnecessary elements. Your landing page design should focus on your message, which should be clear and concise.
Prioritize larger fonts and vertical design. Both are quite easy to use on a mobile screen, as users are used to reading hastily and scrolling further down the page to access information.
For some extra customer engagement, make sure to create mobile-optimized images. Use compressed images, and don't overdo it. Just one should be more than enough.
The Takeaway
Marketers sometimes overlook landing page design that is functional and increases conversion rates. Sometimes they focus on creativity, interactive elements, and images too much. And other times, they don't give mobile optimization the time of day.
However, all of the above are crucial elements in creating a landing page that boosts customer engagement and conversion. So, always optimize for mobile, consult your audience whenever possible, and always remember to test your designs to create a landing page that converts.