Exclusive Research on Brand Positioning in 2023
1. Brand Positioning
2. What's the Goal of This Research?
3. Here's Why Our Question Was Vital
4. Here's What We Discovered
5. How to Benefit From Our Research Results
6. Brands Only Succeed by Upholding a Strong Position
The idea of branding your company basically involves aligning your business with the needs of your customers through your unique tone, messaging, personality, and goals. But, very few founders know how to tailor their business's brand to align with the values of their target demographics.
Several businesses like Juicero and Essential Products made the mistake of creating products that didn't address the needs of their target audience. And sure enough, these brands failed primarily because they couldn't solve a painful problem and build a solid connection with their core audience.
Just like during the early days of Netflix and Amazon, businesses that want to make a mark in their industry must offer outstanding products that solve unique problems. But to do that right, it's vital to understand who your customers are and how brand positioning can help your business become more appealing to them.
To help you achieve that, we've conducted comprehensive customer research that'd give you excellent insight into what type of companies attract what type of audience demographic so you can be more precise when targeting your core customer base.
But, first, what is…
Brand Positioning
When it comes to positioning your brand, many business owners are misinformed and confused about why the market cares very much about them and why their company needs to be carefully positioned.
Simply said, brand positioning is the place your brand occupies in the minds of your target audience. It is the way your brand stands out from competitors and how consumers interact and connect with your products. Brand positioning is one of the most critical components of a successful brand strategy.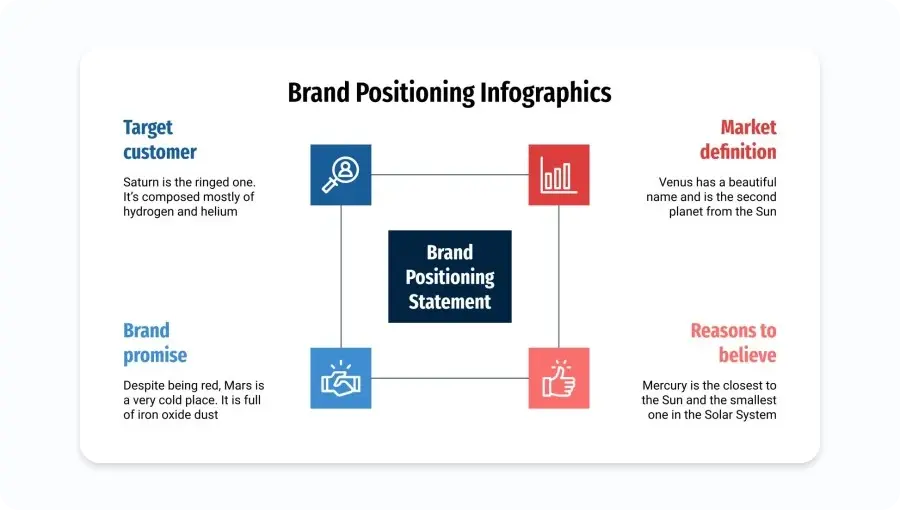 source: Slidesgo
The issue with positioning your brand is that it takes place whether or not you intend it to. Whether it's through pricing, tone, communication, packaging, shop design, domain name, or website design, your target audience always naturally categorizes businesses in their minds.
And this occurs because it enables people to decide whether or not your brand can meet their fundamental demands.
This explains why the Ford F150 trucks are targeted at the male audience in need of solid towing capability, while the Honda Civic and the Volkswagen Golf cabriolet are targeted at the female audience looking for excellent handling and refinement.
Brand positioning also plays a role in why most people would never switch from their blue iPhone to an Android device. These firms only succeeded in positioning their business in their customer's minds because their brand values aligned with the values of their core audience.
Now, every entrepreneur must deliberately develop their brand identity if they hope to avoid getting automatically positioned in the minds of their customers.
And once customers associate your brand with something that's not in line with your core values, you'll have to undertake the challenging and expensive task of repositioning your business away from whatever unfavorable association your customers have come to accept about your business.
It doesn't matter whether your business is new or old; having and maintaining a strong brand position is vital to your success.
Now that we've gotten a quick glimpse at branding and brand positioning, let's get back to the survey and see how you can make the most of them.
What's the Goal of This Research?
The fact is that a brand's ability to position itself successfully depends on how effectively you identify your target market and how you personalize your content to meet their needs. Only when your company's goals and those of your consumers are in alignment does effective brand positioning occur.
The study aims to pinpoint the kind of businesses that distinct demographics are more inclined to patronize as well as some trends that are sure to wow them.
To fulfill our survey's goals, we asked several Americans if they would prefer to do business with a well-known, established firm or with a new and innovative one.
However, this study not only examines how particular age demographics respond to your brand position but also how important creating a strong brand name is and how other supporting branding elements can go a good way toward satisfying your client's needs and desires, enhancing the chances of your firm's success.
As was previously said, building a strong brand position entails establishing your business so that all future growth is possible.
Here's Why Our Question Was Vital
You must realize that choosing an intriguing tone is among the hardest choices you'll have to make while beginning or growing your organization. To create a strong brand tone, you have to first comprehend your target market and the unique characteristics of your business.
An appealing tone is the bedrock of a well-positioned business. Your tone encompasses how you communicate with your audience and represent your business. Every business must select a proper tone since it will enhance its brand image and influence how people view it.
Your brand name shapes the tone of your business, which permeates everything about it. Because of this reason, it's crucial to pick a brand name that fits the personality of the target market you're trying to appeal to.
And when choosing a great name, there are three paths you can follow to choosing the ideal name for your brand.
The first option is to brainstorm great name ideas, and that fully depends on your naming skills. The second choice is to get help from branding experts. The third and arguably easiest method is to use an excellent company name generator to come up with catchy brand names.
The best part about using a company name generator is that you can easily find powerful domains for sale that'd make it easier to position your business.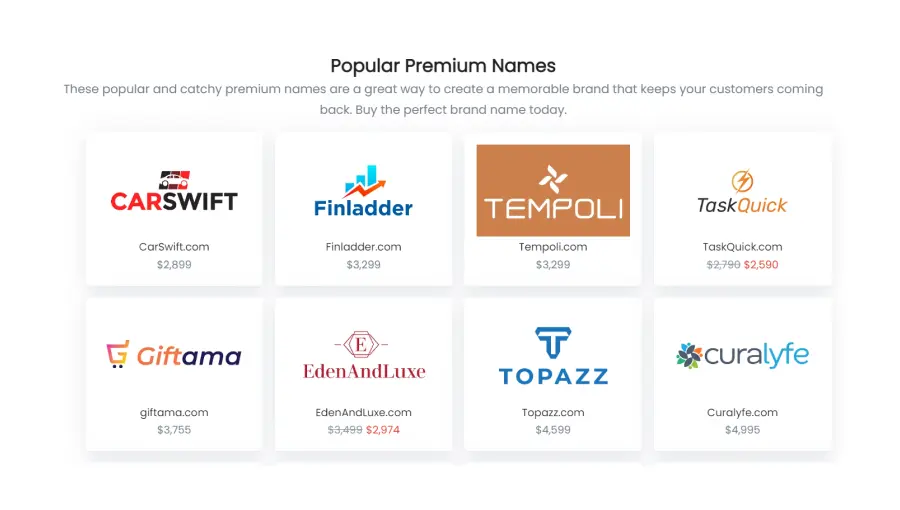 Keep in mind that the name of your brand and the elements that back them up influence customer preferences and your company's reputation. Remember, the position of your brand is determined by your tone, which is vital for creating your brand identity.
Here's What We Discovered
Despite the fact that our results weren't very special and earth-shattering, the feedback we got brought us great insight.
Come along with us as we explore what we learned from the 301 participants we surveyed:
People in their 20s and 30s are more likely to select cutting-edge, modern businesses over established, traditional ones.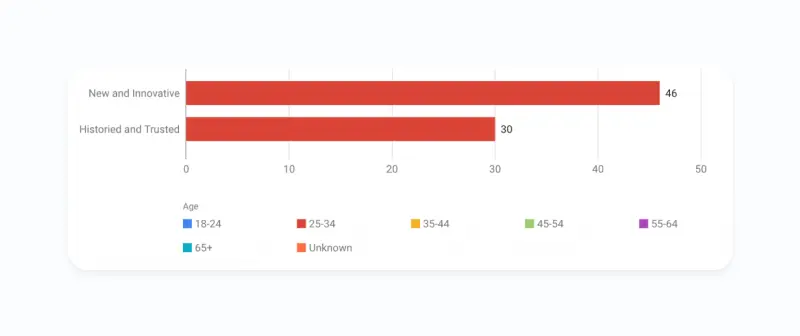 People between the age groups of 35 and 45 choose young, modern companies over historical and well-established ones. However, this age category is flexible and equally attracted to both types of businesses.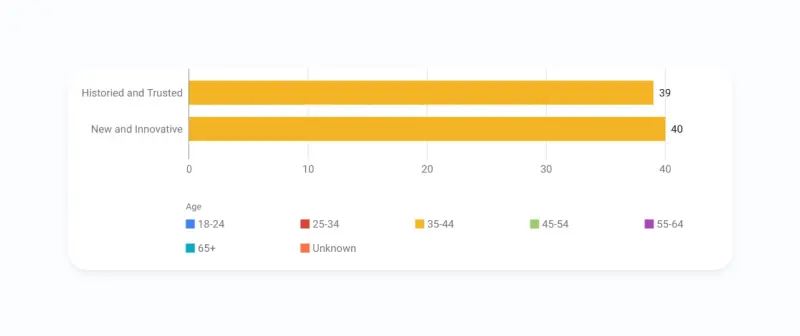 The 45-54 age group chose more reputable, long-standing companies.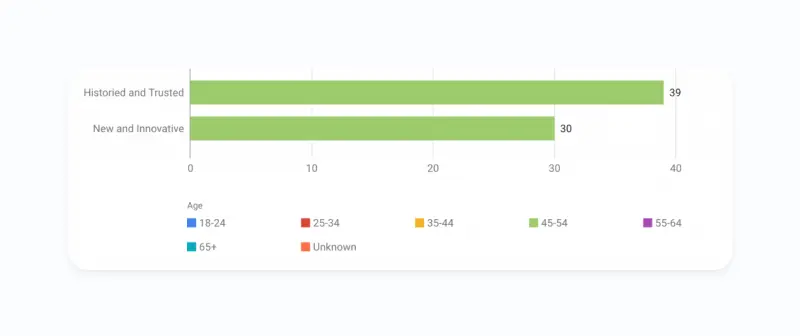 Customers aged 55 to 65 were drawn to classic and long-standing companies.
Our research shows that men have no preference for either classic or new brands.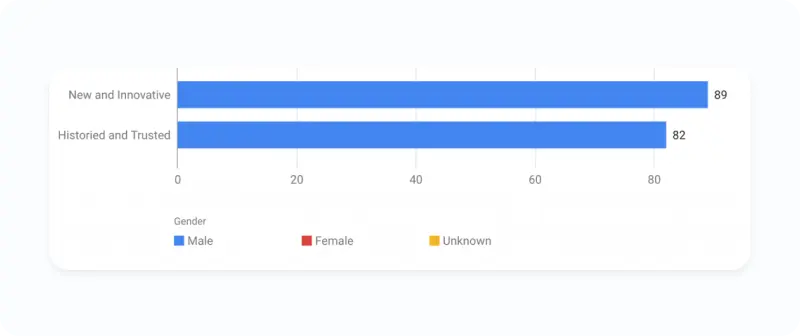 Women love well-known, traditional businesses over new ones.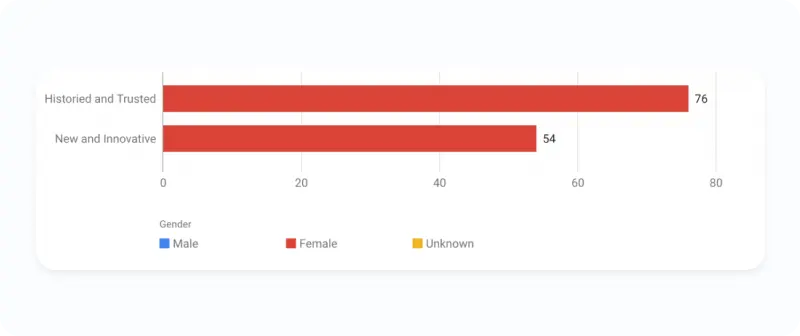 Of the 301 respondents in our survey, 148 of them preferred buying from new brands, and 153 preferred patronizing traditional and established ones.

According to the findings of our study, you're free to position your business as traditional or modern as long as it corresponds with the preferences and demographics of your target market.
How to Benefit From Our Research Results
It takes time, knowledge, and effort to build a captivating brand. And the best way to get it right is to gather crucial naming knowledge and put them to good use. Doing this would smoothen the process of creating a superb brand identity that your consumers would love.
In conclusion, our research demonstrates that millennials like fresh, modern, daring, and unique businesses, but Gen Xers and baby boomers favor well-established, reputable companies.
In light of this, be sure to project a vibrant, modern, and creative brand tone for your company in order to draw in a younger audience. But if you plan to appeal to an older audience, go with a solid, established tone.
Instead of investing time figuring out which brand elements would be the greatest fit for your customer's expectations, you could use this strategy to save time and money.
Brands Only Succeed by Upholding a Strong Position
Many companies looking to break into their industry have traditionally relied on focusing on their brand's position and leveraging it to fill in any gaps in the market.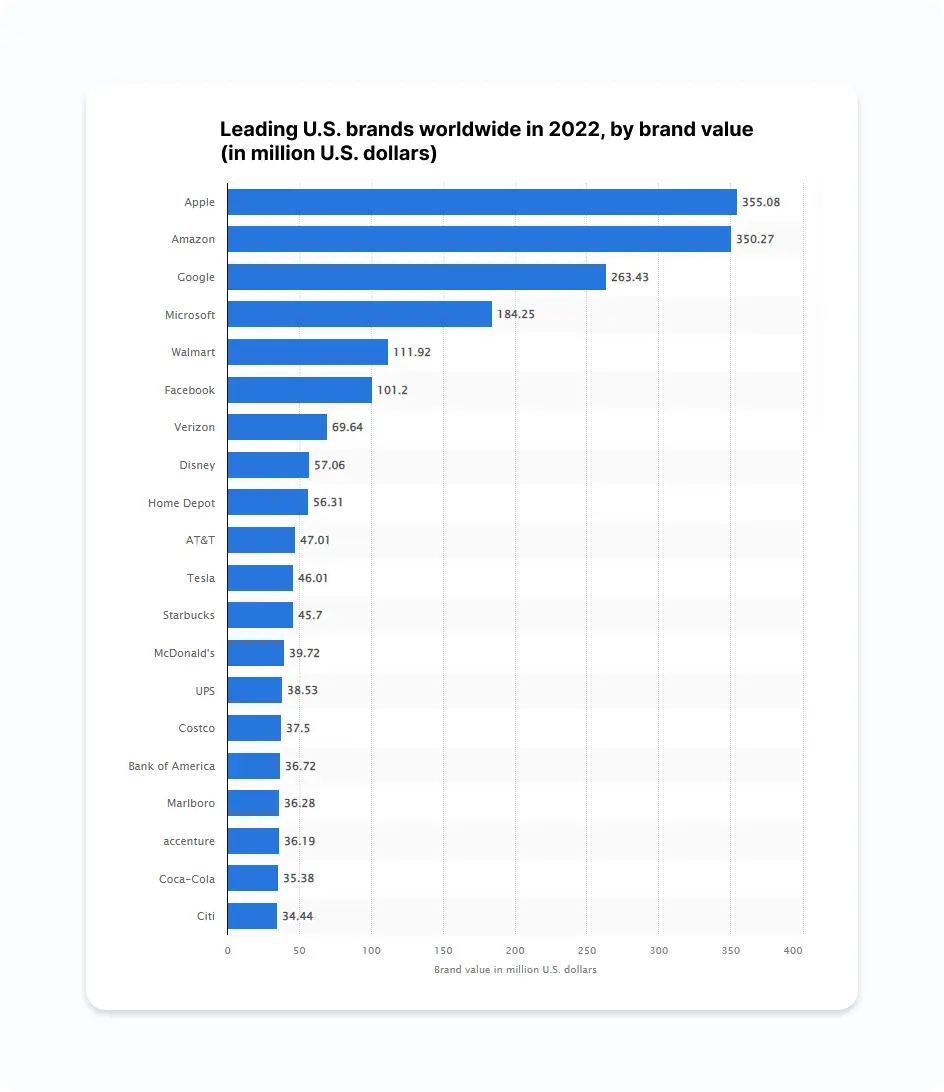 source: Statista
This story still holds true now, just as it did before the appearance of Nike, Google, Tesla, Coca-Cola, Target, Dollar Shave Club, and Apple. And undoubtedly, their strong brand position had a significant role in their extraordinary success.
By introducing the waffle shoes and cultivating the image of victory by supporting top athletes, Nike positioned itself as a visionary brand and embodied the idea of the "goddess of victory," after whom their company was named.
Nike recognized that its target audience consisted of young, aspirational athletes and sports fans who adored and idolized their favorite sports franchises and top athletes. As a result, Nike essentially would become the brand of champions by making these outstanding athletes its faces.
Unlike Nike, which decided to live up to its brand name, Tesla was forced to give its name meaning. This is how they did it.
Tesla created a distinct brand image for itself by using its unique position as a trailblazer in a completely new field. To begin with, developing high-priced autos with minimalistic looks allowed them to display their technology while also gaining free exposure from celebrities and dignitaries who used their cars.
That is, Tesla has skillfully positioned itself as a prominent, eco-friendly, and adored corporation backed by some of the world's most powerful individuals. This position, however, was insufficient for the brand's long-term goal. To maintain its position as an industry authority, it needed to connect to its middle-class clientele.
Tesla had to be more helpful and practical in order to entice this segment of buyers to pay top dollar for it. They got to work developing faster charging and a self-driving feature.
Tesla also used Elon Musk's powerful and prominent social media presence to increase client awareness of its products. As a result, the business has become the world's most successful electric car producer and the most valuable EV company.
Your brand will only find genuine success if it establishes and maintains a strong place in the minds of your customers.