9 Situations When You Need to Send Event Reminder Emails
Event reminder email is a necessity if you want all the people who registered for the event to show up. The key to a successful event is a number of people in addition. Also, to make your event email reminder stand out from the others, you have to create the content you and your customers will love.
Besides, the human mind has been designed to forget. Therefore, in the cases when people have been registered for the event like a month or two ago, you are required to send them event reminder emails to keep them updated and enthusiastic about it. And great shareable content could be another strong influence strengthener for your personal message. It will simply help to remember prominent posts.
This article will provide you with all the situations where you need to send pleasant reminder emails that are more of a reminder and less like a nuisance. We will also provide with all the information about event invitation email.
What are Event Reminder Emails?
Simple emails with a clear message about the event, regular updates, as well as optimized subject titles, lively pictures, and highlighted information are the essence of reminder emails.
These emails can also tell your audience about the new progress that is taking place during the preparation of the event. To increase the excitement among your invitees, you may also include some important people who are going to attend the event.
Such emails could be sent like once every week or once in every 2 weeks, but what's more important is that you should include relevant information and quality content for your audience.
Spreading the word and marketing your event reminder emails in the right channels and by using the right tools is crucial to the prosperity of your event. Luckily, you can use great tools and apps that will help you cope with the task.
To that end, the NEWOLDSTAMP email signature creator can help increase your event attendance through highlighting the most important information. Additionally, you can include an event banner with a clickable link and send it as a series of automated event reminder emails to registrants.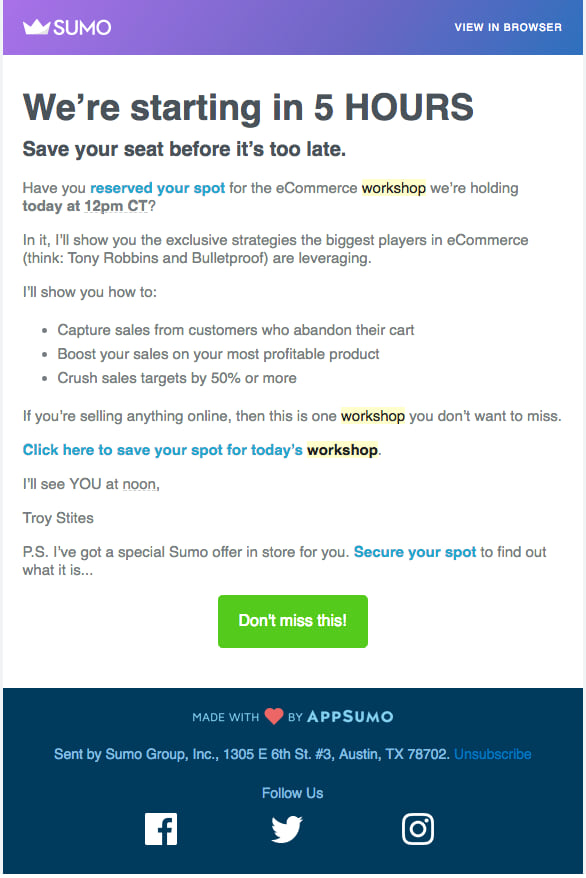 Why is Event Reminder Email Necessary?
Such emails are crucial for everybody, as they help recipients attend the event and it's simply the reason for the event campaign success. In the last few years, the advancing internet necessity of event reminder emails have grown tremendously and become one of the most efficient ways of event marketing.
This is a technique of viral marketing that helps to connect with consumers and generate buzz about a particular event, brand or product. It keeps the attendees anticipated and engaged for future events.
The email invitation emails are necessary to maintain audience's interest into the event in addition to reminding them about it. Sending such invites is a perfect way to show that your audience are of utmost importance for the event and that their presence is treasured. Moreover, it shows how your event is organized and systemized. It will help to promote other events organized by you in the future.
Finally, when the registered participants attend the program, make sure you send reminder mail at event to let them know that you acknowledge their presence and that you look out for them. Additionally, a post event thank you email is a plus point in making your target audience want to come to the event next year.
Email Checklist for Event Promotion
Promoting and advertising are like two legs of the body. Even if the content and theme of the program is outstanding, an event depends on audience and people who need to know about the event. People also need to believe these emails. Therefore, some of the important points which should not be missed and included in your event invitation email template:
Name, date, time and the period of time when an event will take place. You can add offers provided by the host organization, as well as links to the web-page in the case of online events.
Registration details with the most vital information. Plus, your event reminder email wording should be impersonal but professional. Note: cheerful wording helps to make even the most boring event look interesting in the eyes of the reader.
Lively pictures to convey the idea that event is not boring. You can include them in your email footer or email signature. HTML email signature and banner are the best way to attract attention.
The email signature design should be simple and classy and the email signature templates for event organizers should include a name of the event with contact information, social media links and link to the actual website of the event. The following are email signature examples: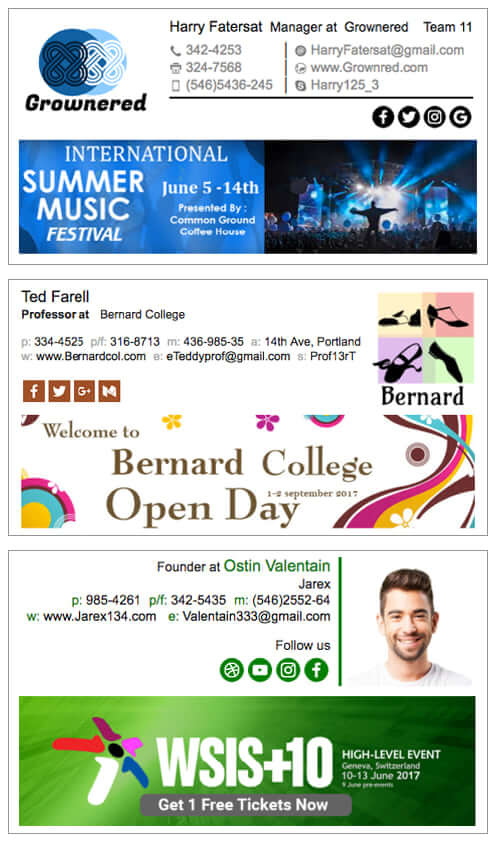 Email signature banner will highlight and show past achievements and honors. This could be great adds when branding the event. Here are some examples of great email signature banners:



Situations When You Need to Send Event Reminder Email
Although, emails could be sent for almost all events. However, for the following events, it is obligatory to send precise and brief reminder emails. For better understanding, we have classified the events into online and offline events.
Online events:
Interaction of people for different kinds of pieces of training or sessions over the web is called an online event. It could also include live-streaming of an event for some people overseas who cannot attend it.
Event Reminder Email for Webinars - recently, the number of webinars have soared high due to high-speed internet and easy availability. Any kind of workshop or seminar over the web is considered as a webinar. The following are a must for event reminders:
1. Date and title of webinar
2. Event email subject line should be appealing and professional
3. Brief explanation about chain of events in webinar
4. Details of organization who is going to conduct webinar in the form of HTML email footer
5. Uniqueness of the webinar must be explained in an intriguing manner
6. A link to attend webinar is a must
Live-Streaming Event - some websites such as YouTube, Facebook and Stream now allow users to share their thoughts and views in real-time with their target audience this process is called a Live-Stream event. Following are the "must have" points in the event reminder email.
1. Time-zone must be provided to make it easy for international audience
2. Brief description of the event should be included
3. A pre-event promotional video would be great
Virtual Events - online meeting to discuss various issues like trading, translation conferences, and others is called a virtual event. Workshops, training, departmental sessions could also be held virtually. For such events, the email should include:
1. Details about sessions like name and title
2. Information about what the audience will gain from the event
3. Date and time along with time-zone
4. A digital address must be attached in the email
Online Q&A in Communities and Chats - online questions and answers are one of the basic web tool which can be used to engage an audience in communities and chats. Online Q&A gives the freedom to ask anything the audience wants to know about the community. Tips to compose the best invite email for online Q&A are:
1. Aspects of Q&A, as well date and time
2. Relevance of the promotional event
3. A link to attend the Q&A must be provided
Offline Events:
Events which require physical presence of people gathered at a particular place are called offline events. Such program requires preparation in advance so an email reminder helps people to keep things ready and be prepared for the event.
Trade Shows - companies and industries use this platform to showcase their products, understand recent market trends and grab other opportunities. Some of the important points to consider while writing an email invite about trade show are:
1. Start sending emails 2-3 months in advance
2. Highlight opportunities attendees might get
3. Progresses in the planning of the trade show
4. List of companies and industrialists who are going to attend
Conferences - a place where the ideas are exhibited, and advancements and innovations are shown. Conferences have a wide variety ranging from medicine to business. Conferences are the best way to attract youth. The following points will be guaranteed full attendance in the conference:
1. Description which must include title, date, time and venue
2. Detailed breakdown of expenses of the conference
3. Discounts and offers, if any are provided by the host
4. Important people visiting the conference must be highlighted
5. Event follow up email in case of the follow-up programs
Meetups - meetups are events directed towards meeting new people and exchanging ideas in a specific field or profession. In order to host a successful meetup it is essential to gather audience and keep in mind the following points:
1. Designated people should be mentioned
2. Outline specifics of the meetup
3. Make brief description of distinctiveness
Seminar - it is an event where meetings are held to conduct training or simply discuss some issues related to a profession. It also focuses on a specific area in which attendees are having some issues. Seminars are mainly conducted to provide deep education and solutions. Email should highlight the following:
1. Concise description about the trainers highlighting their achievements
2. Include information about similar successful seminars held in the past
3. It's great if you add the number of people who will attend the seminar
Lunch and Learn - lunch-n-learn is a short training session during the lunch hour in which employees of an organization are motivated and trained in a period of 30 minutes to 1 hour. Employees of a particular organization must get to know the following information in the reminder email invitation:
1. Theme of the training, as well as date and place of event
2. Important data about trainer such as past sessions or experience
3. Other training initiatives provided by the host company
Examples of Great Reminder Emails
Following are images of some really good and engaging event invitation email sample. But it would be good if you can let your creativity flow through your mind into your hand. Being creative and professional at the same time is the secret to a great event email template: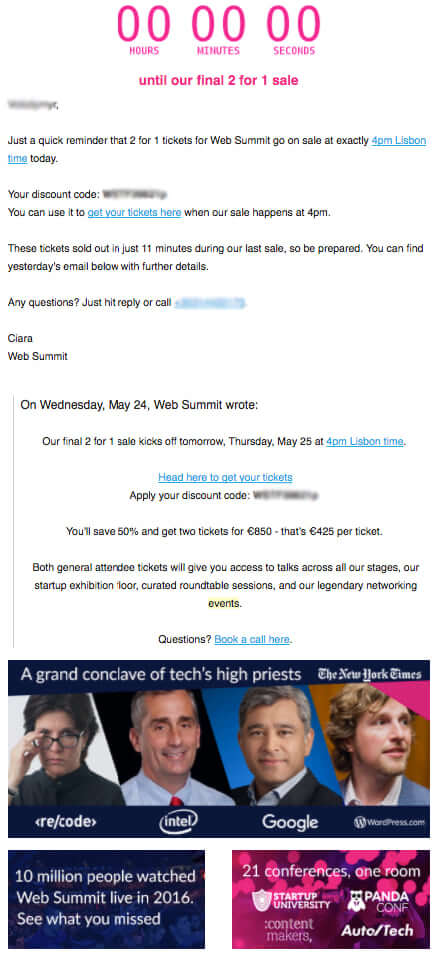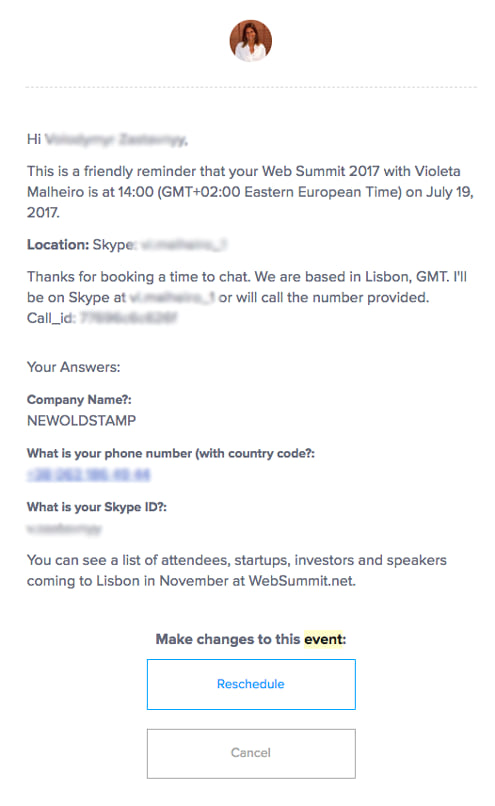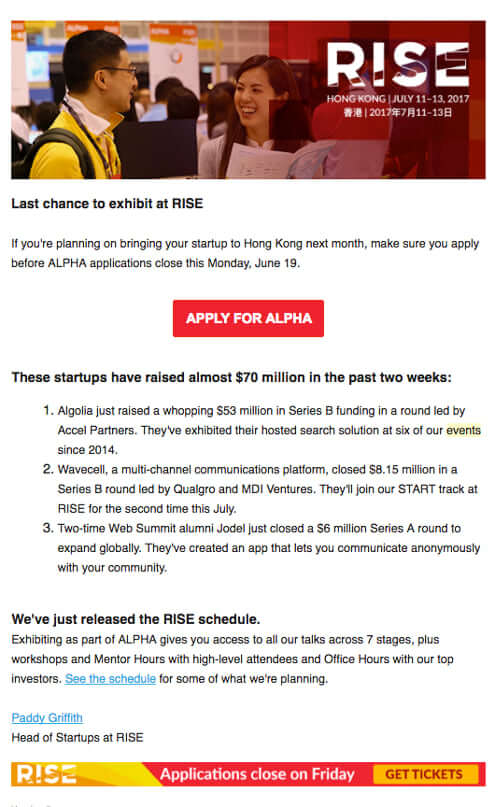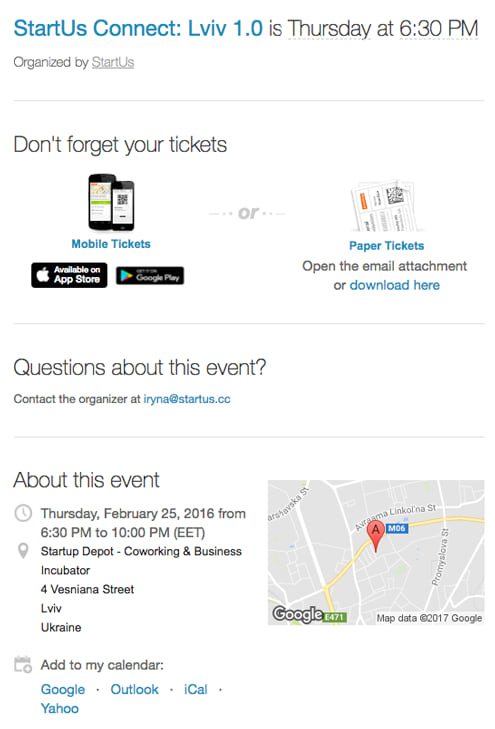 But Before You Sit Back and Relax:
You will need to create great email marketing strategy. With the expanding email marketing strategies, sending email reminders are imperative for a successful event whether online or offline. Rest assured that using the tips provided, your event will be one of the most sought-after event. Do not send emails too often, otherwise, it can turn out to be a nuisance and people might change their minds.
Precise, lively, informative emails about the events are something which people want to see and read. This can also lead to more people visiting the event or similar events in the future. Replying the emails from attendees and providing them with information needed is a good way to make your audience feel valued.
If you are still looking for ideas about how to advertise your event on which you worked so hard on, your search has ended. Emails are one of the best platforms to do event marketing. So, stop searching and start writing emails. You can use helpful tools like an email signature creator to promote your event banners. An email signature banner is a great place to share with your attendees this news.
Don't hesitate to follow us on the social networks and share your comments. If you have any questions or you want more tips on event signature banner, you can click here.