5 Tips to Use Linkedin Cold Messaging and Get Responses
1. Optimize your profile
2. Write your message based on common ground
3. Make it short and conversational
4. Save the pitch for some other time
5. Make sure you give them a reason to reply
Useful tools:
1. Newoldstamp - Email signature marketing
2. Mailchimp - Email builder and sender
3. Hubspot Email Marketing - Marketing automation platform
4. MailerLite - Landing page builder
5. Canva - Online tool for making designs
Mahatma Gandhi once said: "if you don't ask, you don't get". This could be applied in every aspect of life.
I remember those times when you liked someone but were afraid to approach them. Where I grew up, it's normal for a guy to approach a girl, and both sides knew that. It's rare that a girl is brave enough to approach first, so if I didn't approach her, our story would probably end there.
It's the same in business. Salespeople who wait for their customers to come to them will simply have less success and close fewer sales compared to those who go out there and seize opportunities.
The key question here is how to get quality leads. Many companies don't keep emails from decision-makers on their sites, so there are many difficulties in reaching them. Luckily, there is LinkedIn – one of the best platforms for outbound sales.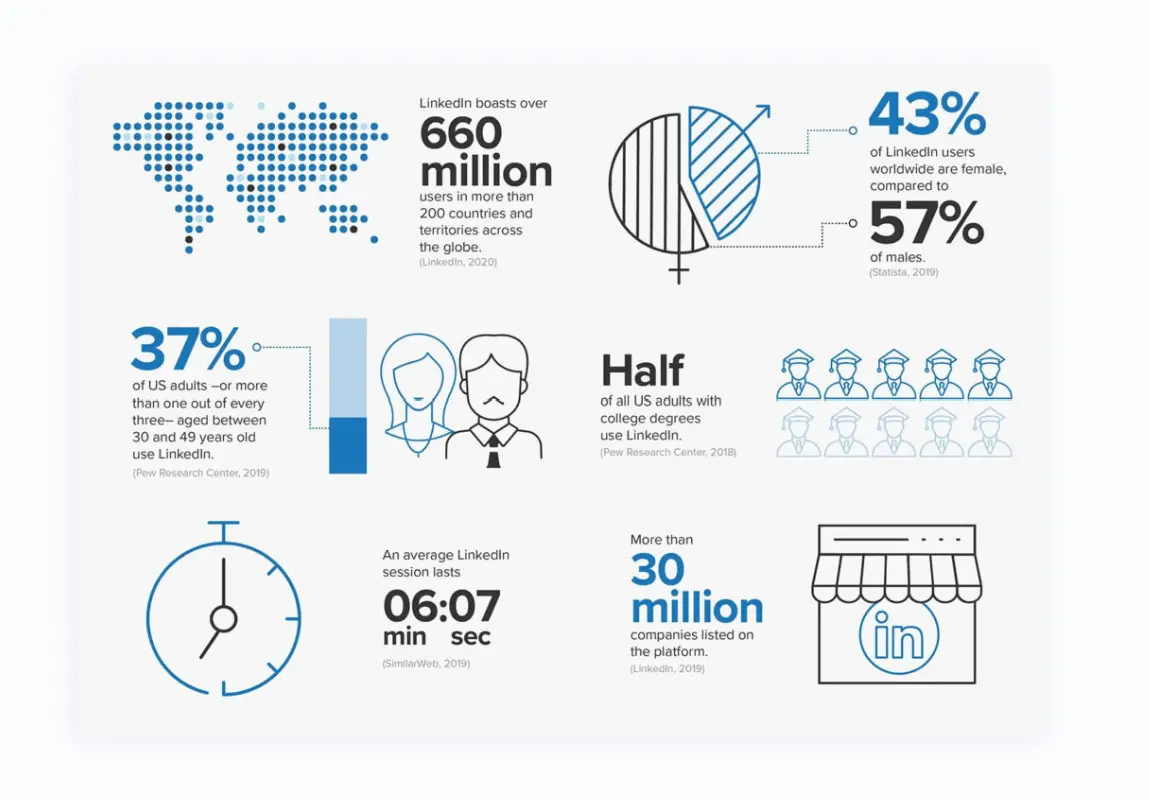 source: Neon
LinkedIn was created for B2B communication, and this network is full of professionals who will be interested in your product. The best option when LinkedIn prospecting is cold messaging.
However, there are certain obstacles:
Users who won't open your message if the subject line isn't attractive enough

Users who may think it's a spam message that has been sent to many addresses and might not open it

Users who will open a message but won't be interested enough to reply

LinkedIn registers those who send spam messages and often bans them
This might sound like a lot, but don't worry, because cold messaging is a tactic used by many salespersons on LinkedIn, with great success. In order to have a high open rate, get answers and avoid the ban, you need to systematically approach this problem. In this article, I suggest the following tips for a successful outreach strategy.
#1 Optimize your profile
The first impression is always important, both in socialization and in business. Since business communication in this case is transferred to digital, your LinkedIn profile is the one that makes the first impression.
Think of your profile as a landing page - you want your visitors to stay instead of bouncing right away.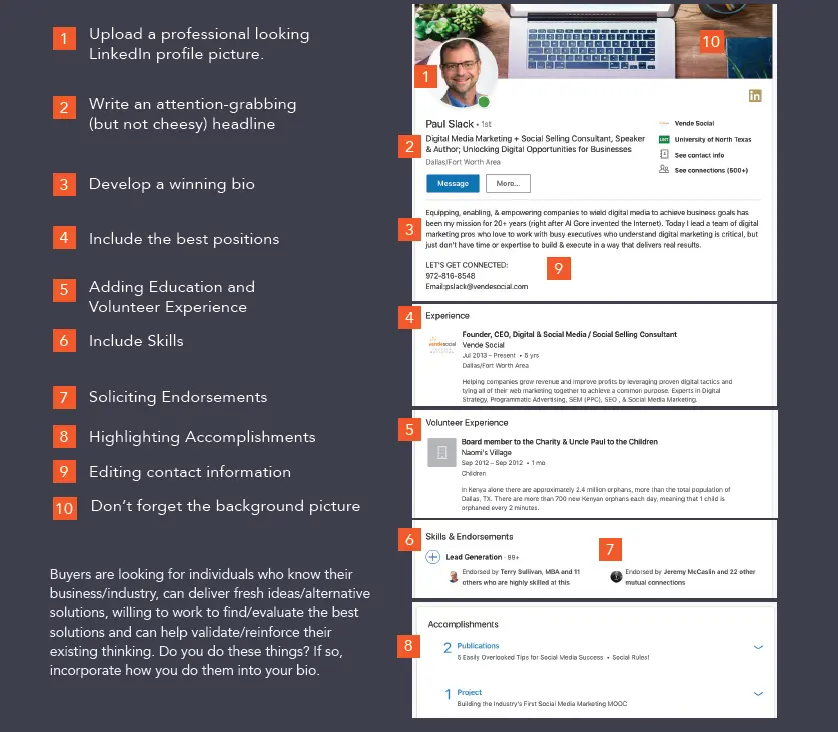 source: Vendedigital
When receiving your message and before opening it, many users first go to your profile to check if you're legit. In order to make a good impression, it's important to optimize your profile to look professional and verifiable.
Some of the steps to take are:
Both your profile and cover photo should be clear and professional

Have a lot of connections with industry experts and opinion leaders

Write a compelling headline, because it's something users first see, besides your profile photo

Join relevant LinkedIn groups where you can find the right leads

Posting valuable content regularly can make you seem like an opinion leader
#2 Write your message based on common ground
The best thing about LinkedIn is that you can find out a lot about a person from the information they put on their profile. With that in mind, you can find mutual interests to talk about.
Having a common topic allows you to initiate a conversation without seeming salesy right away. Look at what they're sharing and reposting and try to find something you're also interested in, so as not to sound fake during the conversation. People can recognize when someone is pretending, and that way you might lose a client forever.
If there is no common ground, it would be best to first educate yourself on a particular topic so that you can initiate a conversation. You should then build the first message accordingly because that increases the chance of getting an answer.
Also, make sure that the lead, and you do have a common connection that could introduce you.
#3 Make it short and conversational
The length of your messages has a huge influence on whether the receiver will reply or not. It depends on the person, of course, but most people today have a small attention span, so writing a long paragraph might make them instantly lose interest.
LinkedIn is more of an instant messaging than an email conversation. So make sure you spark the conversation by writing like you would write a friend or a colleague.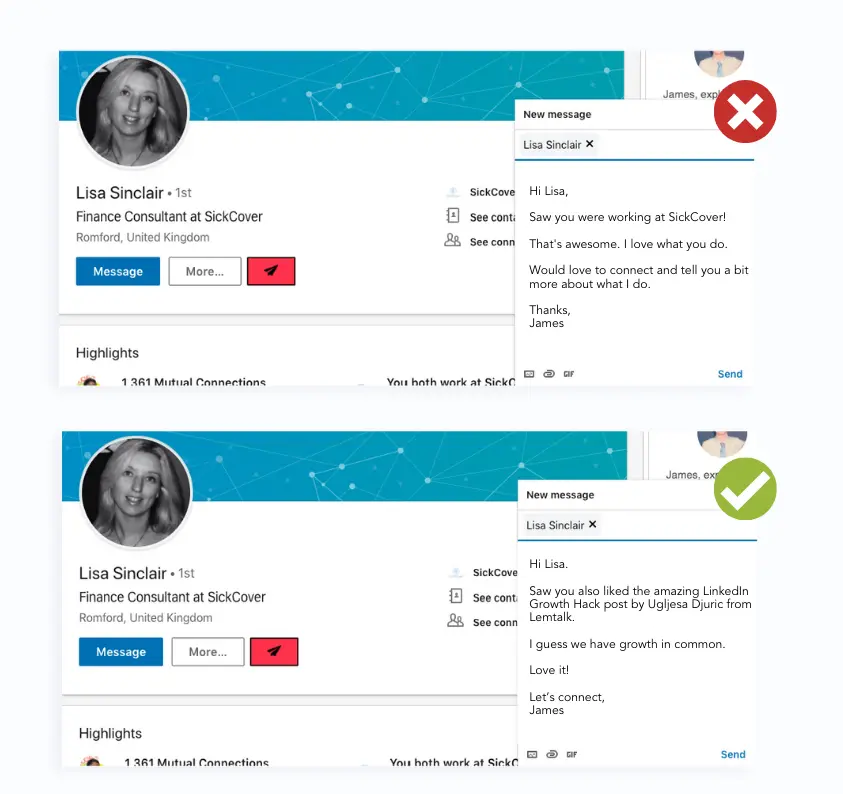 Keeping it short and concise will increase the chance that your lead will read the message and understand what it is about. If the message is long, confusing and harder to read, the receiver may even give up before they start reading, because they could assume it's a sales text.
#4 Save the pitch for some other time
I know you might be impatient to close a deal, but that's highly unlikely to happen at the beginning. It takes some time to warm up your prospect, so just make conversation at first.
It's not good if your goal is to make a deal right away, because that rarely happens, and that approach would be incorrect.
Even if you don't close the deal, you've made a new connection with a potential client and expanded your LinkedIn network, so who knows, they might change their mind at some point.
Also, you can try again, after a while. Following up on your messages can bring you success because users usually need more convincing, so be persistent.
#5 Make sure you give them a reason to reply
When you're messaging a stranger, you need to put yourself in their shoes. What would make you open and respond to a message? It's important that you're writing the kinds of messages that draw prospects to open and read.
I already mentioned that you should aim for making connections at first, but you still need to include questions to keep the conversation active. There needs to be an incentive for them to engage with you.
Ask them about their interests, your common topics, or something they've recently reposted. This should make them more invested in the conversation, since people love talking about stuff they like to do. Try to ask for advice only someone with their expertise could answer, so they would be inclined to respond.
Showing interest in their work and business can come off warmer than a blunt introduction and request for a connection.
Wrapping it up
Even the best outbound strategies have low % success. It's not that they could do better, it's that people are wary of strangers approaching them, so they tend to not open messages.
You need to write compelling messages to increase your open rates. Don't give up if you don't get replies for some time, this is a process best done through trial and error. You'll quickly notice what works and what doesn't.
Take care of your profile, so it looks legit because your prospects could check it out. Learn more about them before approaching them, and remember to keep your messages short and concise. Be friendly and don't try to sell to them right away. Keep these tips in your mind, and you'll be on the right track!