The Most Efficient and Engaging Networking Email Templates
1. Why is email the best networking tool?
2. How to write a networking email?
3. Setting proper expectations from networking emails
4. Professional networking email templates
5. Things to avoid when networking by email
Useful tools:
1. Newoldstamp - Email signature marketing
2. Mailchimp - Email builder and sender
3. Reply.io - Personal email outreach, calls, and tasks
4. Mailtrack - Email link opens tracking
5. Canva - Online tool for making designs
When I had just graduated from university and started my career in an IT startup, I once asked my colleagues what networking is. Our designer explained to me that networking is all about communicating with people in your field, exchanging information with them, asking for favors. And then I made a lot of mistakes, trying to get people to help me not making any progress.
In six months, I got a chance to meet with our CEO in person. We were talking a lot about marketing, business development, and NETWORKING. I finally found out what I did wrong. I asked busy people (who were strangers) to do me a favor, expecting immediate attention to my matter. That is just insane. Why should they care?
Marc (our CEO) explained that networking is not about exchanging information and doing favors. He emphasized that it's more about establishing and nurturing long-term & mutually beneficial relationships with the people you meet. Yes, it can be hard, especially when your calendar is overwhelmed with work appointments and family commitments. But you should remember that the most connected people are often the most successful. The good news: You don't necessarily have to join professional associations and attend every networking event in your field to be a successful networker. What is even more important is knowing how to write networking emails properly.
Why is email the best networking tool?
Email still belongs to the most effective tools to connect with people, especially when 91% of users check their mails every day. It works well for networking because people always receive it. Also, in contrast to phone conversations, emails allow recipients to respond at the most convenient time for them. You can add photos, useful links, etc. to emails.

source: Cognique
When does one use networking emails?
Emailing a complete stranger
Sending a follow-up email after live meetings

Reaching out to friends of friends
How to write a networking email?
For many people, writing networking emails can be awkward. Well, it shouldn't. This experience can become smooth and easy if you learn how to communicate well. Here you get some tips for writing great networking emails.
Use open email addresses only
You shouldn't try to network with people, getting their emails from somewhere they don't know. Make sure your recipient is aware you might have their email. So, use openly available emails only.
Make a clear networking email subject line
Don't make it vague. It is better to let your recipient know you need their help/advice or just want to get in touch.

Read our article: "10 Tips For Writing An Excellent Email Subject Line."
Write a short and friendly email body
If your goal is to contribute to friendly relations, make sure you don't sound too professional and formal.
Don't be afraid to tell the recipient that you contact them because you appreciate their work and want to learn from a professional.
Point out your similarities
Maybe you went to the same college or root for the same basketball team? Mention it! That's the answer to your question about how to start a networking email. Also, you can mention if you have both met before at some event. Adding your photo with participants of the event would be even better.
Ask for professional advice
People love to be treated as exceptional professionals. So you can try asking for expert advice instead of asking for help.
State how you can help them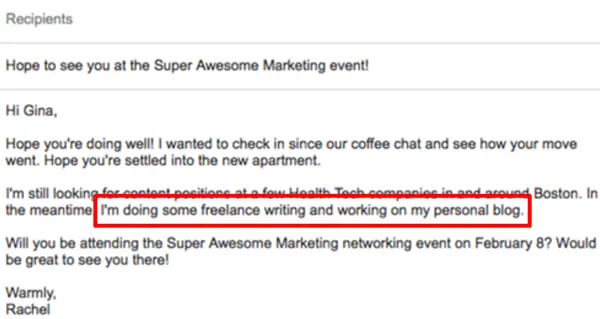 Remember Marc's advice about mutually beneficial relationships? So, be sure to provide value to the other person when possible.
Use a professional email signature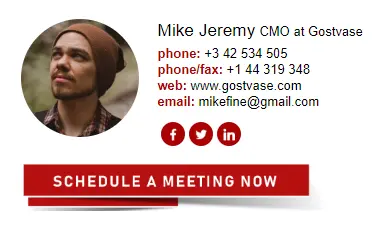 Create a professional email signature with your photo and contact details. This will help you build trust.

People are busy, and your networking email can simply get lost among hundreds of other messages. That is why it is important to follow up. Even if you don't need any help or advice and just discussed something, still consider sending a networking email after the meeting. Any connection is valuable. You never know when it's going to help.
You might also like: "How to Write a Follow-up Email After a Sales Proposal to Seal the Deal."
Don't forget to thank them
In your closing, don't forget to thank the recipient for their time and consideration. Also, after the meeting, even if the time spent networking with someone doesn't result in anything useful to you, be sure to still share your thanks for that person's time.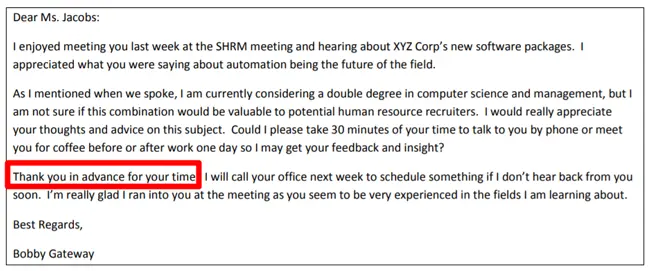 source: Template.net
Contact people from your networking list from time to time and congratulate them on major holidays.
Setting proper expectations from networking emails
You should understand that people don't respond to every single networking message they receive. And that's all right. Maybe your email wasn't relevant to them.
Invest in healthy relations, not immediate solutions
If you expect immediate solutions and network only to get some help, you will probably end up with a stack of business cards on your desk, and that's it. But when you build connections based on shared interests and goals, you will be more successful, because people choose to work with people they know and like.
Be ready to give help too
Networking isn't only about getting but also about giving.
You might also like: "The Best Tips for Cold Outreach Before Conference: Increase Your Network and Get More Leads."
Professional networking email templates
Here are a few good networking email templates to help you grow your network.
#1 Networking with strangers email template
Hi Karla,
I'm Dimitri Walker, and I'm currently a QA engineer at ABC. I found your email address after reading an article you wrote on Medium about time management you practice at XYZ Corp. I found the article amazing, and I've actually just started implementing your tips - each works perfectly for me.
I'm writing because I've been thinking about a career change into web development. It would be great to learn more about your work at XYZ Corp. and meet you in person. Monday and Wednesday afternoons work well, though I'm happy to be flexible.
Thank you!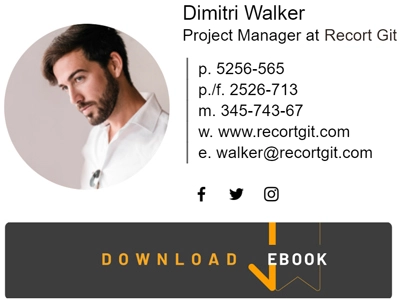 #2 Template for contacting people after meeting
Dear Ben,
So glad you took the time out of your busy schedule to meet with me. I really admire how you brought the company $300,000 in sales for such a short time.
At your suggestion, I emailed Mark Davis from the marketing team, and I will meet with him next month. Thank you for the contact.
I hope that you have a lovely time in Europe. And I am looking forward to speaking with you again when you return. I'll keep you informed on how things go.
Sincerely,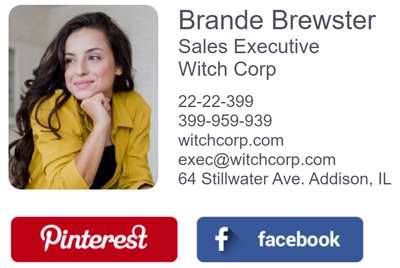 #3 Email template to connect with your friends' acquaintances
Dear Cristine,
Our mutual friend Brandon Wolf suggested I get in touch with you regarding one of my upcoming projects. He spoke highly of the work you have done with other clients. I took the time to do a bit of research on your background, and it seems that we could make up a great team together.
Are you available for lunch next Tuesday? If another day works better for you, I can work around your schedule. I'm looking forward to exploring how we can work together.
Best regards,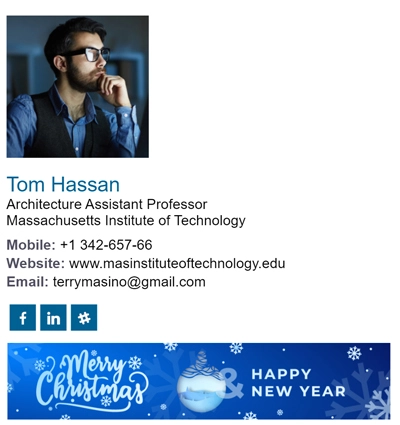 #4 Follow-up networking email template
Hi Angie,
How are you doing? I hope life at XYZ is treating you well! I just read this fantastic article about raw desserts, and it reminded me of you. I think you might like it. Would love to meet you for coffee when it's convenient for you.
Best,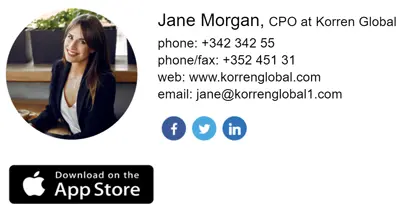 #5 Thank you email example
Dear Adrian,
Thank you so much for taking the time to answer my questions. I was really excited and nervous when I was assigned this new project at work. But hearing your experience managing such a large team was so helpful. Now I feel really confident about what I'm doing. And I wanted to share how much I appreciate your advice.
Thanks again,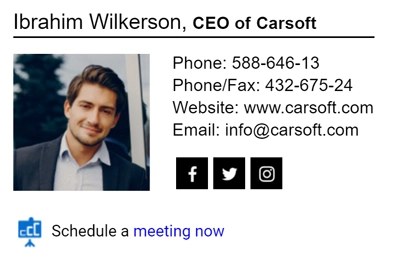 Things to avoid when networking by email
Here are the most common mistakes that people make writing networking emails and tips for how to avoid them:
Asking for help right away
It's not the best idea to ask for the connection, favor, or meeting first. Try to start with some basic question or ask for advice instead of a favor.
Don't make your networking emails look overly formal. Of course, it's not appropriate to write something like "Hey man" to those who you don't know well. Just try to be a little more formal than if you were addressing a friend.
Asking strangers to introduce yourself to strangers
People won't be willing to vouch for you if they don't know you well. So, build some healthy relations first.
Assuming your recipients are already your friends
Avoid requests that are far too grandiose to ask someone with whom you are interacting for the first time.
Conclusion
The key idea of networking is that it's not about collecting tons of business cards or building a large list of useful contacts. Networking is about establishing the relationships you and the other party can benefit from, not always immediately. Email plays an important role in starting and maintaining such relationships in the modern world of digitalism. That is why you need to learn how to write networking emails properly. In this article, you will find all the essentials along with examples. But even if the body of your networking email is written perfectly, the recipient may not even bother to open your note if your subject line is bad.
But how do you write a good subject line for your networking letter? First, you should avoid very short subjects like "Remember me?" or "A quick question." They are unlikely to survive the spam filter. Never lie in subject lines to only make the reader open your email. Avoid sarcasm and irony. Select up to ten words that pique interest, but don't annoy. Below are some examples of good subject lines for your networking emails.
Doing research in your area of expertise
Curious about your insights on _____________
Saw your interview/Read your article: Question on _______________
Follow-up on our meeting at _________________
Congratulations from a fellow [position] on ________________
Similar interests, let's connect on LinkedIn
Need your advice

Referred by Kristin Davis