5 Great Promotional Email Examples That Double Conversions
1. What is a promotional email?
2. Effective email marketing tips on how to create a promotional email
3. Five promotional email examples
To achieve the goal, salespeople leverage push notifications, phone calls, and email marketing.
Speaking of the latter one, it's getting harder and harder to get your audience's attention and action these days.
Nevertheless, email has the highest ROI over any other digital channel. So it's worth learning and mastering the art of sending great promotional emails.
So, in this article, we will share the 10 proven email marketing tips to follow to improve the performance of your email marketing campaigns and double the conversion rate.
Furthermore, we will provide you with 5 excellent promotional email examples to copy or get inspired by.
What is a promotional email?
The promotional email is exactly as it sounds: a marketing message written to your audience. This email includes information about a promotion you are running. These can be:
Limited offers;
exclusive deals;
seasonal or holiday sales;
software launches;
new drops;
contests and giveaways;
etc.
Effective email marketing tips on how to create a promotional email
Before you start writing your promotional emails, consider these simple yet effective tips.
1. Use a recognizable sender's name
People are more willing to open emails sent from a familiar person or brand. Try using the name of a person who communicates with customers on behalf of your business: a founder, a marketing manager, or a customer support representative. Make sure the sender's email address is meaningful and easy to remember. This will increase the chances of recipients whitelisting your email address and reading your messages more often.
2. Create a short and to-the-point subject line
A great subject line stands out in the recipient's inbox, highlights the core content of the email, and doesn't get cut off on mobile devices. To craft the subject lines that drive opens, use phrases that stir up curiosity and add a sense of urgency. Do your best to avoid cliches. However, don't get "too creative" to trick your customers into opening and ruin the trust they've already put in you. Keep your subject line relevant to the email content.
3. Address your customers by name

The easiest way to make emails feel more personal for every subscriber is to add subscribers' names to the emails, for example, using merge tags. Check the contact list carefully before you merge data into your email. A misspelled recipient's name or a merge tag that wasn't replaced by mistake can spoil your efforts of building a friendship or even offend the person.
4. Make every email you send feel personal
Collect data about your customers, ask them questions, analyze the data and use the insights to create highly targeted personal promotional emails. Create the copy in your messages, taking into account everything you know about the customer from your prior communication. A personal touch in your emails will let your customers feel that you really care about them.
5. Use a call to action that implies benefits for customers
Avoid using generic texts for a call to action. Try to replace the words that may cause friction, such as "download" or "buy" with words that imply a benefit, such as "get" or "learn." To reduce anxiety, support your CTAs with a piece of text that clarifies what will happen after clicking and addresses all possible objections and concerns.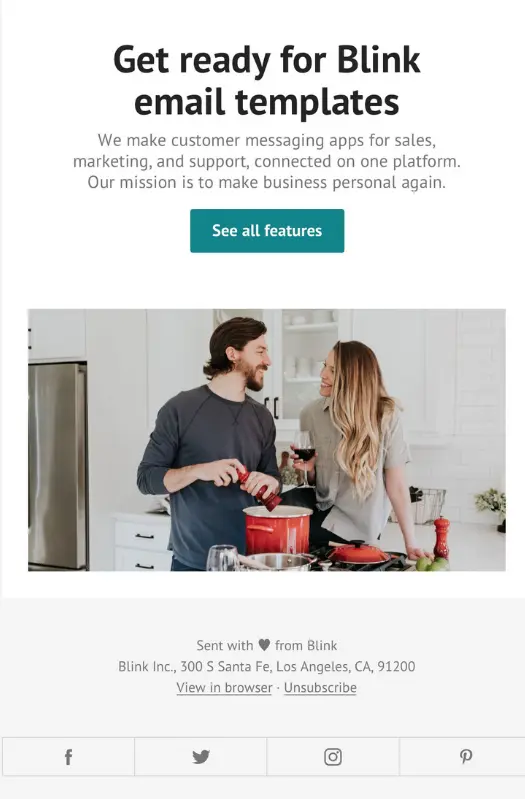 6. Make it clear from the first sight who the email is from
When you create your promotional email design, strive to tie your emails with your brand to make them recognizable and memorable. Your logo at the top of the email is a must-have. Also, use headlines, fonts, spaces, and pictures to add a logical hierarchy to the message content and attract the reader's attention to the main idea of the message.
7. Design responsive and mobile-friendly emails
Subscribers check email on different devices and expect their experience on desktop, mobile, and tablet to be equally excellent. Crafting responsive emails is all about the proficiency of an email marketing specialist and the tools they use. Some email software vendors offer their users email editors that simplify the creation of responsive layouts. For example, the drag-and-drop email editor by eSputnik allows building fully responsive emails without HTML coding. To get an image adapted to any screen size or hide some content on mobile devices, all you need to do is turn the responsive features on with a single click.
8. Double-check your email before sending
Always test emails before sending them to actual recipients to check whether everything works properly. Fonts, links, images, alt-tags, and email structure: everything should be in place and displayed correctly across different browsers. Also, remember to check how the message will look in the email clients that block images.
9. Always include unsubscribe and manage preferences links
According to the CAN-SPAM and GDPR regulations, every email should provide recipients with an opportunity to unsubscribe. That said, if a customer clicks unsubscribe, it doesn't necessarily mean that you lose them that very moment. The unsubscribe page can be used as a great way to prove the value of the subscription. Try to provide your subscribers with a link to your email preference center in addition to the unsubscribe link. This way, you'll let them adjust the frequency and topics of emails they want to receive rather than unsubscribe from all your emails. It's best that you use email services that don't let an email be sent without an unsubscribe link; so there is no chance to break the rules, even unintentionally.
10. Provide your full contact information using an email signature
Provide your full contact information in emails: address, phone, website, and links to social media. This will help you build trust and let your customers feel that you are reachable. Structure the contact information in the same manner in every email to make your email campaigns feel more consistent.
Email signatures also have great promotional value. Senders can promote anything from eBooks and sales to events and demos. See a few good examples below.
Five promotional email examples
Now, we provide you with promotional email template samples you can get inspired by or adapt for your own business promotions.
Promotional email example 1: Today Only: Free Shipping
How do you like the email from Everlane?
A lot of companies promote limited-time offers providing discounts. Everlane uses a no less powerful incentive: free shipping.
Utilizing the power word "free" and setting a deadline with a "today only" offer, the company makes this email subject line almost impossible to resist.
Tip: Consider explaining to recipients why you are limiting your offer by time. For example, Everlane says it's because they are celebrating fall.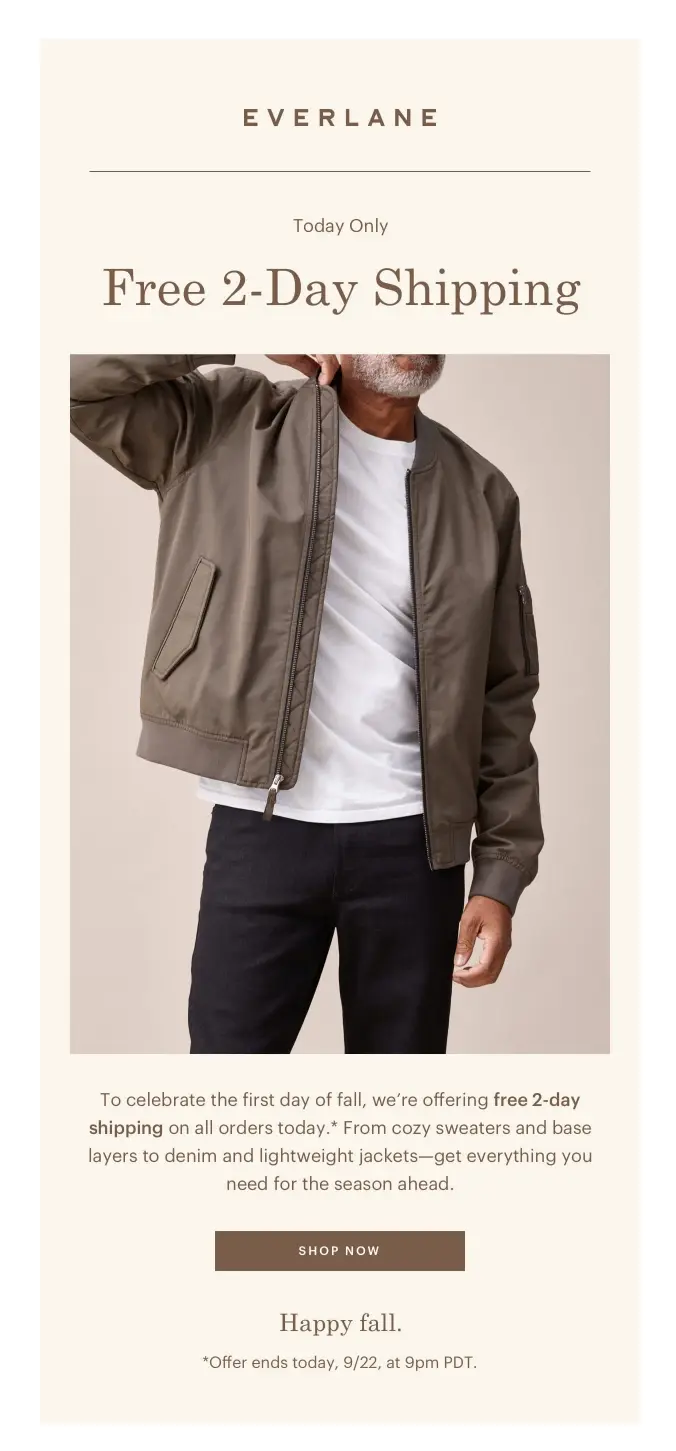 Promotional email example 2: 40% off. Offer expiring soon!
A generous discount, limited-time offer (three days), convincing testimonials, and a clear call to action make this email work. On top of that, we can see that Le Tote's team carefully selected images and contrasting colors so that recipients immediately notice the offer. Would you buy from them?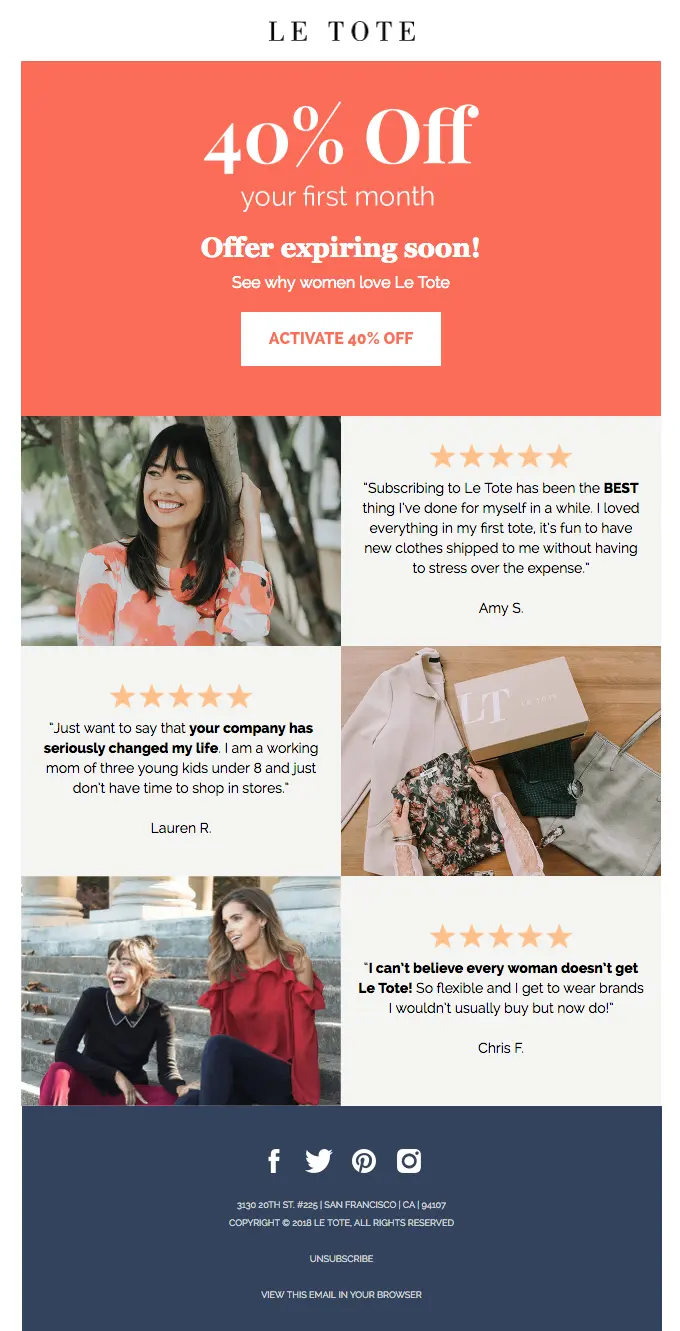 Promotional email example 3: Refer a friend and get free socks
Just look at how Bombas split up the copy of their promotional email. The first part, "Here's What We Know," briefly explains why their email subscribers received this email (because they like Bombas socks). And the second part, "Here's What We Think You Should Do," tells exactly what people should do.
The format Bombas uses is very simple and smart. It's easy for recipients to skim and digest the content.
Furthermore, the company offers a free pair of socks in exchange for a referral. We can see that from a clear call to action.
Great job, Bombas!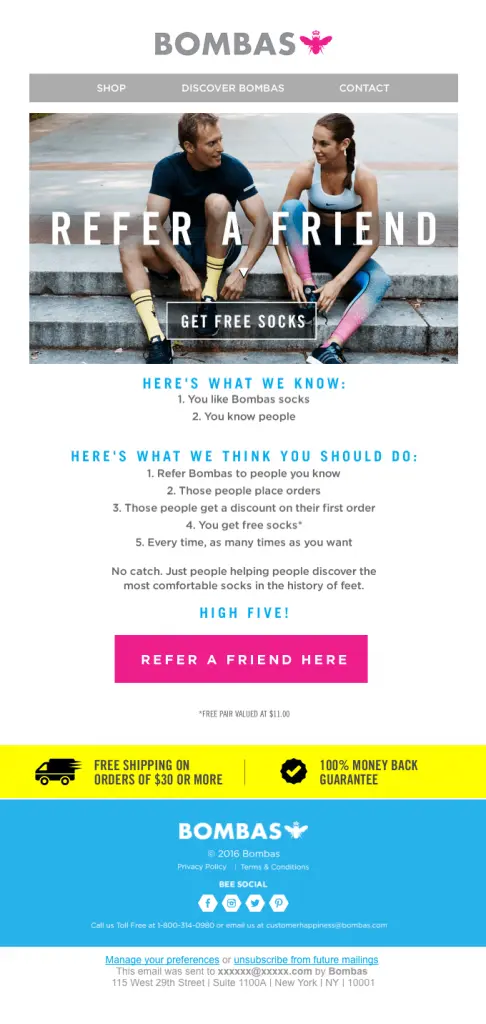 Promotional email example 4: Get the party started with 25% off
Know your customers' birthdays. This is an excellent opportunity to show your appreciation to people for being your supporters and make another sale.
Look at the birthday email from Nike. It's simple, with no distractions. The discount code is prominently placed in the center of the email.
Nike also uses a sense of urgency to prevent the recipient from forgetting to benefit from a special birthday offer.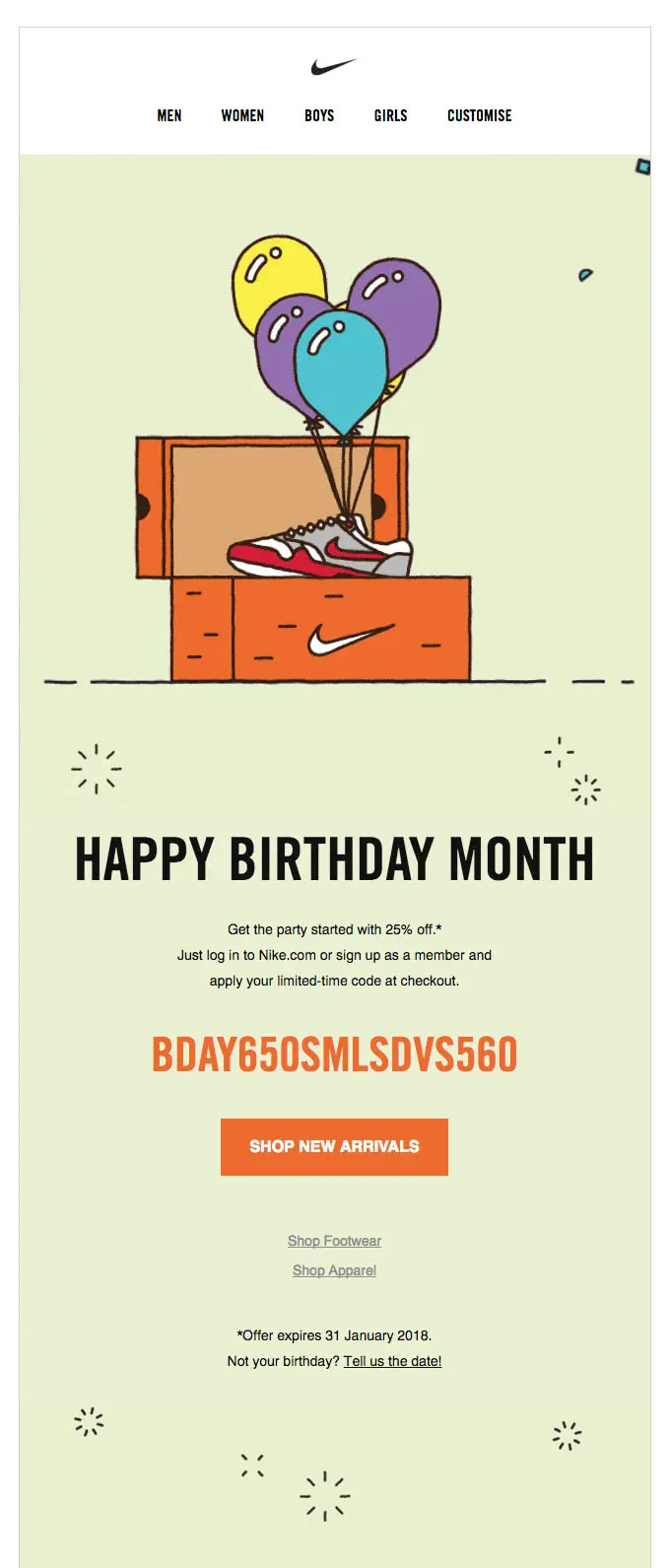 Promotional email example 5: Is your WI-FI okay?
Everyone has had WI-FI issues. So the phrase will definitely catch our attention. "Maybe your browser crashed when you were looking at the shoes?" The sender assumed a broken Internet connection could be the only explanation for not placing the order. That's a great, funny way to recover cart abandoners, isn't it?
Adidas also uses the shoe images to remind the recipient how their dream model looks like. Then the company adds testimonials to confirm the product is worth buying. Clear calls to action, relevant images, and a short message: perfect!

Takeaway
Using email marketing to communicate your special deals, limited-time offers, and promotions is definitely worth trying. Especially taking into account the fact that email has the highest ROI over any other digital channel. For every $1 spent, email marketing generates $38 in Return On Investment.
So, if you want to achieve success with your business's promotion emails, be sure to follow the tips we provide in this article. Here is a recap of what we covered:
By using a recognizable sender's name you increase the chances of your email being opened and acted on;

Create a short and to-the-point subject line to get recipients' attention;

Address your customers by name;

Use a call to action that implies benefits for customers (for example, "get," "learn");

Make all your emails feel personal (don't write for a crowd of people, write for a specific customer);

Make your email recognizable (with the help of design, imagery, etc.);

Design responsive and mobile-friendly emails;

Double-check everything;

Always include unsubscribe and manage preferences links;

Use a professional, attractive

email signature.
Now when you know how to write promotional emails, it's a perfect time to create your next successful offer. Good luck!