The Ultimate Remote Work Communication Guide
1. Changing your daily routine on remote
2. How difficult remote work communication really is
3. Why your remote work communication needs an email signature
4. Email signatures as a marketing channel for external communication
Useful tools:
1. Newoldstamp - Email signature marketing
2. Zoom- Enterprise video communication tool
3. G Suite - Gmail, Docs, Drive, Calendar, Meet and more for business
4. Slack - Company messenger with a lot of features and integrations
5. ProofHub - One tool for remote work
6. WebWork Time Tracker - Task Management, Team Chat and Workflow Tracking

No matter how much you like or dislike working remotely, all of us are in the same situation here. As it's no longer up to you to decide from where to work, it can get really hard adjusting for a new work- and lifestyle.
This is especially true of a dedicated development team, if they are starting to work in this area for the first time, then it is necessary to think more clearly about the communication connection through remote access.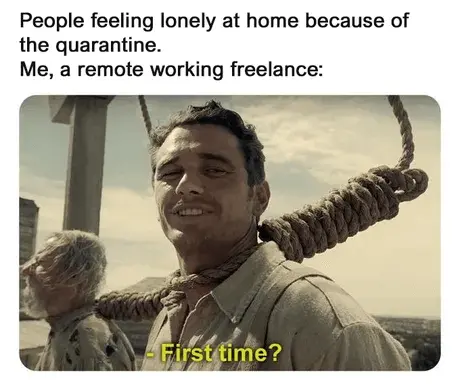 source: 9gag
While you may have some fun in your own way, the work-related things are not that flexible. Especially for remote business communication. So, it is high time to organize all the channels to communicate efficiently. For example, create a professional email signature, set up Google Meet calls or chats, etc.
But before you do that, make sure other remote-work variables are adjusted perfectly. Let's gradually sort things out together.
Changing your daily routine on remote
Suddenly having to start working from home might be a huge stress for your mind. You might not notice it at first, but remote work is a lot different from the regular office-based hustle.
There is usually a pretty much scheduled routine all of us follow. A cup of coffee in the morning, a little jog, getting to work, small chat with a colleague, and so on. Understanding that it won't be like that for a couple of months is tough.
So, I advise sticking to this schedule of yours as much as you can. You can do some workout at home, talk to the colleague via video chats, etc.
The necessary thing is making the transition to working remotely easy and smooth. Do not jump into totally different time management habits. In the long term of quarantine, it may end in huge stress.
Also, remember that the most productive time of the day is from 9 am to 12 pm. So, set an online timer and try to do the most important stuff in these 3 hours.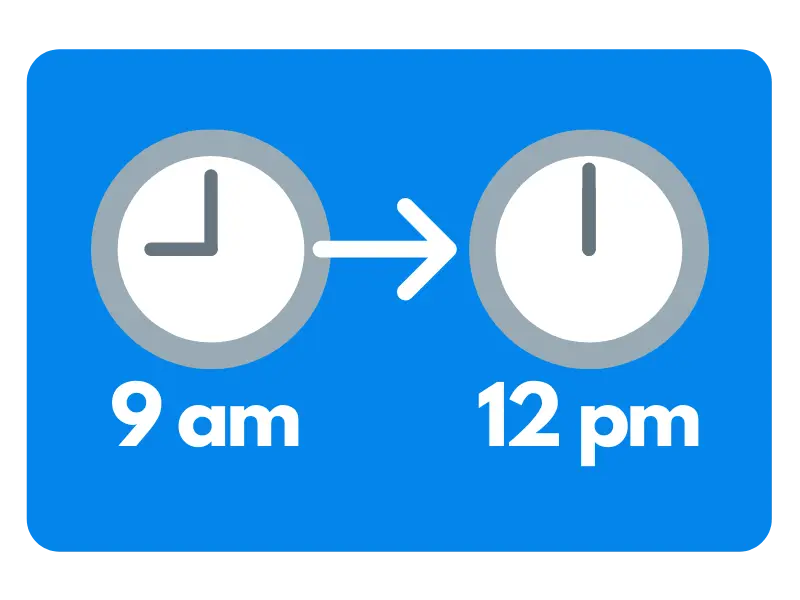 Leave some time for rest as well. Both during the day and when you finish working. It's OK to unwind for a few minutes every hour. Especially when you can't do that by visiting Jack in his office room.
As for the evening routine, make sure you know when the working time ends. One of the biggest problems with remote working is the merge of home and office. If your brain knows that it's always rest and family time after 7 pm, it will be more productive.
As you've got your time arranged properly, look at where you're about to sit for the next unknown period of time. It might not look like that, but creating a comfortable workplace at home is crucial.
Here are the most important things you need:
Dedicated desk and a comfortable chair

Quite and secluded space

Strong Wi-Fi connection with a good VPN.

Proper lighting

Headphones

Coffee maker and snacks. Don't overuse it :)

Notebook for all the ideas

Little design elements to make you feel calm and comfy (family pictures, plants, or other desk decors).
But if you feel like it, change the seat. It's hard to stay at the same place all the time during the quarantine. So, seat in an armchair during the meeting or go to the sofa when you're watching an educational video.
In general, make your workspace comfortable. Don't think that if it's temporary you need no extra effort in arranging it. Even a few days working at a dull desk in a solid chair may affect both physical and mental health.
How difficult remote work communication really is
Remote work does affect communication, both external and inside the company.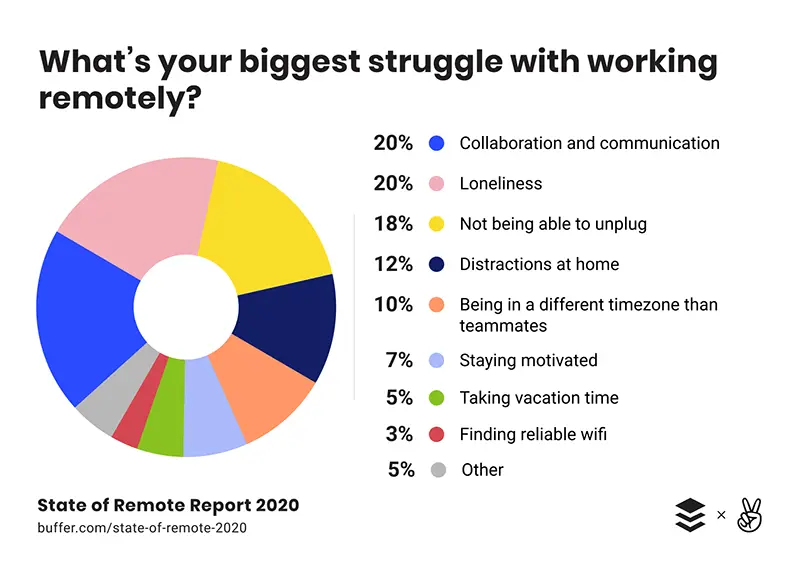 source: buffer
As you see from the chart, communication is the biggest struggle of remote-work jobs. And if it is that hard for people who usually work from home, it gets even harder for those who are used to office routine.
There are different aspects of business communication that you need to adjust when working remotely. Let's talk about each of them.
Whether it is a daily stand-up or a dedicated discussion, you can't do that in the meeting room anymore. Therefore, it's really important to schedule these meetings over a cloud phone system in a convenient conference calls app.
Here's a short checklist:
Discuss the best meeting time with attendees beforehand.

Create a calendar appointment and invite all your teammates.

Create a dedicated link/virtual room for the meeting, so that people don't have trouble finding it.

Remind people about the meetings. Also, some calendar appointments might go to spam, so keep that in mind.
It is important to do this for each meeting you have. Proper organization will help you and your colleagues adjust the time for everything. And don't forget to decide on the remote work communication tool the whole company is going to use.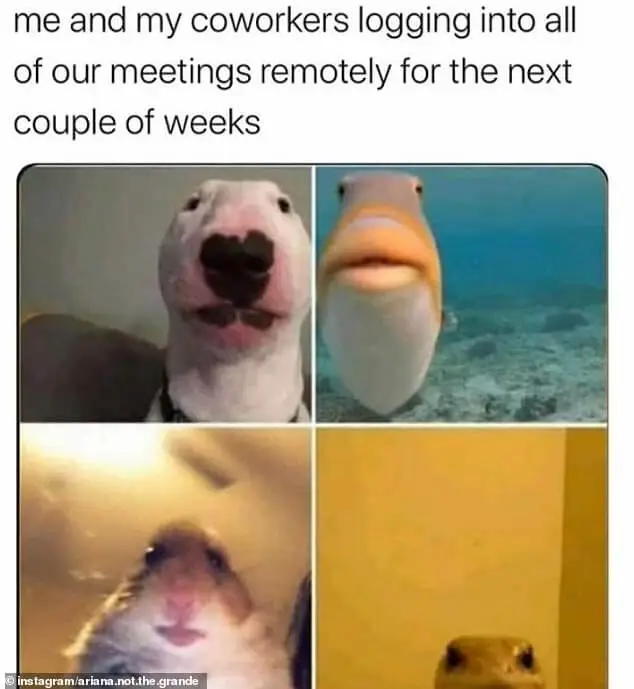 source: facilityexecutive
You can't just discuss the desired feature with your developers during a coffee break. There are different variants of how you can organize this process. No matter which one you choose, make sure it fits everyone and the issue. Here they are:
Use task management software for discussions. If you still don't use Trello or Jira, quarantine is really the time to start doing so. Discussing each task in its dedicated card on the board feels natural and obvious.
Create specific channels in Slack or any other software you use for communication. If you have a huge functionality to add or want to separate SEO channel from content marketing, do so with different chat groups.
Arrange video conference meetings on the go. If there are just too many things to discuss with a lot of people, there's no better way than this. For example, use Google Calendar.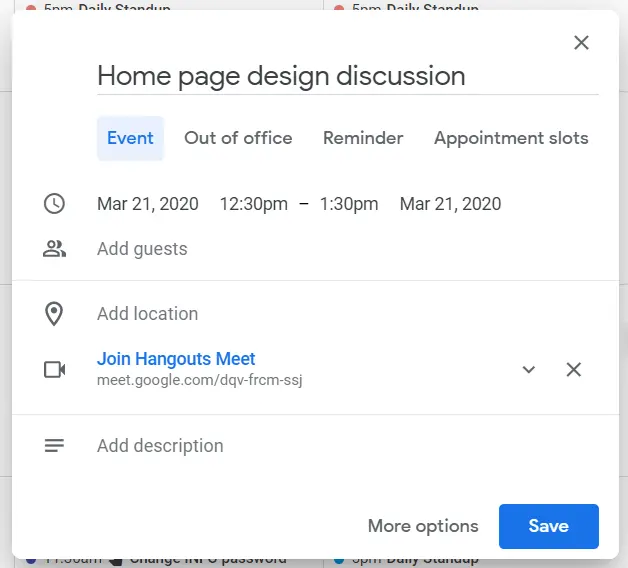 Those of you who use Slack know that there's a channel named '#random' set by default. During the quarantine, anyone could use a bit of non-work-related communication.
A dedicated channel used for thoughts sharing or sending some memes will help all the team let the steam out and socialize better.
Apart from that, organize weekly calls with everyone just to joke around and talk about anything. During the lockdown, it's really helpful.
You may even call Jeff or Jessica from time to time during the day to imitate office kitchen talks. Or you could have lunch together online.
Could that meeting actually have been an email?
There's long been a meme going around about long pointless meetings that, you guessed, could have been emails. Jokes aside, some people underestimate the power of email communication. The problem may be a lack of consistency and smart usage.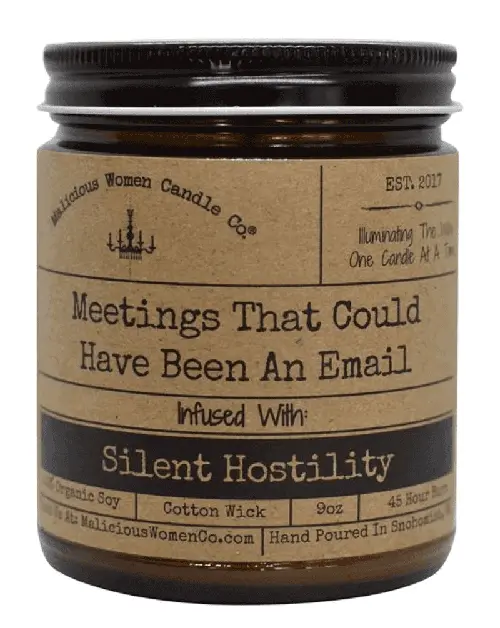 source: maliciouswomenco
Moreover, external communication is usually limited to email only. So, it is yet another reason to perfect this channel.
Whoever you're going to send an email to, follow some rules.
Make your subject line specific and clear. Limit it to the max of 6-8 words.

Use salutations. Just to be friendly.

Don't make the body too long. Mention only the essential things. After all, there are chat apps to ask Frank how his day is.

If you add any attachments, mention them in the body, so that nothing gets lost.

Use an email signature for internal and external communication. This is where things get interesting, so let's discuss it thoroughly.
Why your remote work communication needs an email signature
"Best regards, Monica from Marketing."
Is it enough for your colleague to understand who they've got an email from? If your company has less than 10 people, probably, yes. If you have more than 300 people working with you in 15 different departments, not so much.
Moreover, three words are not enough to make the recipient notice the signature. They will have to look for it in the email. Of course, it won't take more than two seconds, but the receiving side might get distracted.
All these things are really minor. But when it gets to answering 10, 20, 100 emails daily, every minute counts.
On average, people send about 40 emails every day. Many of those are inside the company. And this number grows a lot bigger with everyone switching to the remote.
To make sure each email is not only opened but also replied to, you need to implement a professional corporate email signature.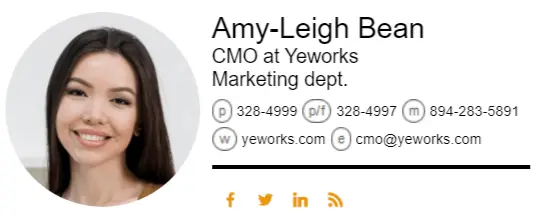 How to set up email signatures for all employees
In order to eliminate any misunderstanding and make email communication as intuitive as possible, all email signatures should be similar inside the company.
However, it's almost impossible to make people create their own signature according to brand guidelines. So, you need an email signature management software.
Central management means setting up an email signature template for the whole company or every department. Then, the administrator can send this template to their colleagues, so that they can fill in their names, positions, and some contact data.
Apart from that, email signature management tools let you build high-quality designed HTML signatures. So, you can add call-to-action buttons and social media icons. These signatures will look the same in every email client or on every device.
For example, the Newoldstamp email signature generator allows creating separate departments and setting up a master email signature (template for all the employees) with an editor.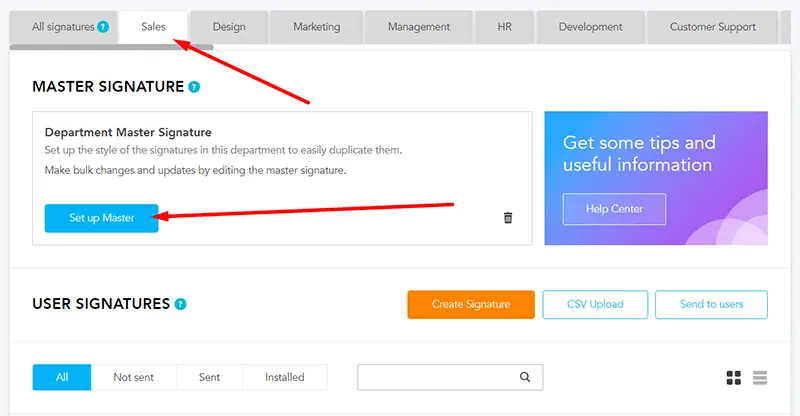 source: newoldstamp
The master email signature can look like this. When your colleagues receive an email to install the signature, they'll only need to update the fields you let them to.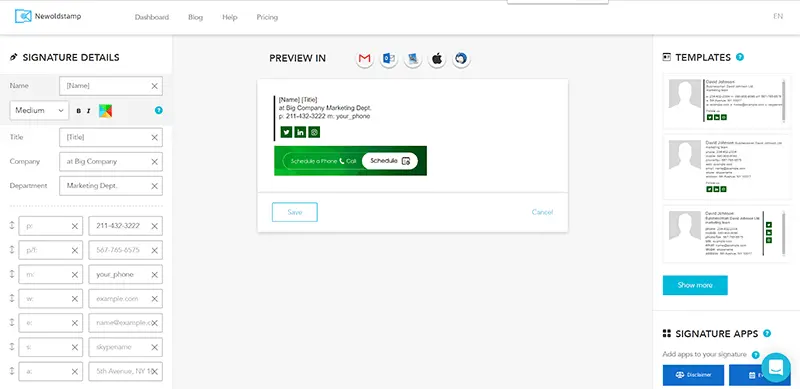 source: newoldstamp
It takes a few minutes to create a responsive email signature template for your colleagues. And the time they could have spent would cost a lot more than that.
Email signatures as a marketing channel for external communication
If you have been using an email signature for external communication before, you know how beneficial it is for various reasons. Increasing the email response rate, adding personalization, boosting brand awareness, getting more conversions, and so on and so forth.
Email signature marketing is named one of the most cost-efficient and converting channels.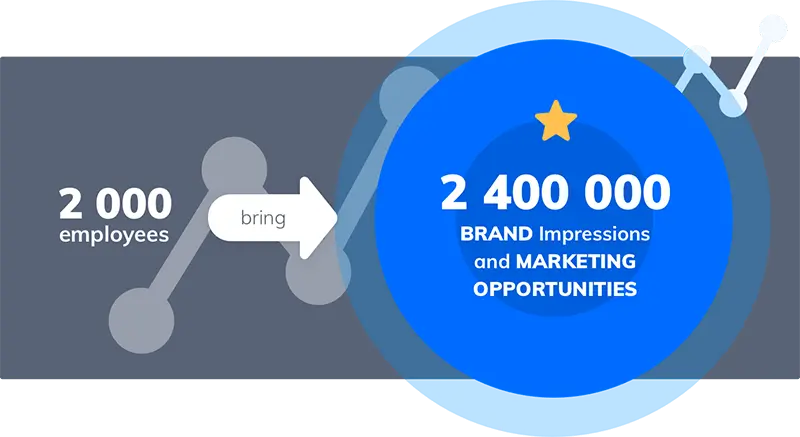 As almost all the world is on quarantine, my forecast is that people will open emails more often. The open rate increase is awesome, but if you want your campaigns to be successful, imply more effort.
Standing out in hundreds of emails
Once you get a recipient to open your email, there's not much time you have to catch their attention. An email signature that contains everything a person might need to know about you is one of the things that can prevent clicking away.
These are the essentials of a nice email signature design:
Your full name, company, and position. So that the addressee knows who you are.

All the contact details people can use the get in touch with you. Email, phone number, Skype ID, etc.

Social media icons linked to your company. It will save your recipients some time looking for these manually. And of course, you might get more followers.

Marketing elements, such as CTA buttons and banners. This is 80% the reason to use email signature marketing. You can promote your blog, let people know about a sale, help them get in touch with you, etc.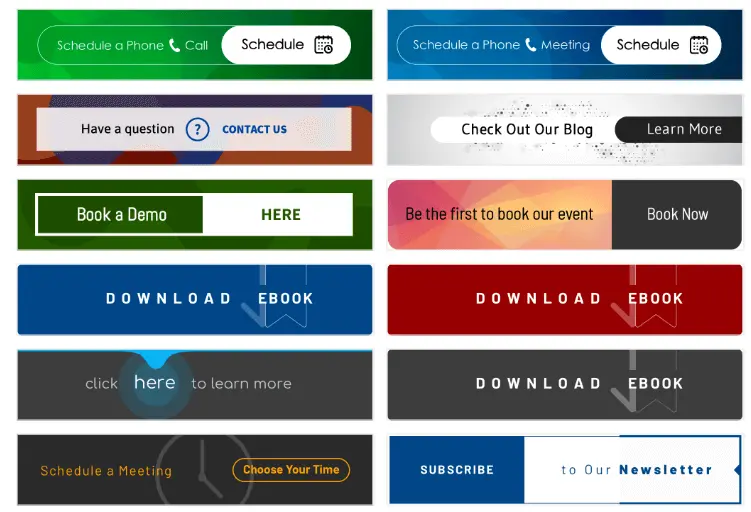 source: newoldstamp
If you want to learn more about creating and using email signatures, check "Ultimate Guide: How to Make the Most of Your Business Email Signatures."
If used properly and efficiently, email signatures can help you improve both internal and external communication during the quarantine. As email is the most business way to get in touch, people will use it a lot (now that live meetings are no longer available).
Conclusion
Working remotely is difficult for many of us. Especially when the circumstances force you to do so. That's why making your remote experience as smooth as possible is extremely important.
As online communication is practically the only kind of communication available, you should make it convenient and comfortable for yourself. I hope that some of the tips mentioned above will help you and your colleagues overcome the anxiety and make this experience a bit easier.
Keep yourself healthy, don't panic, stay home. And make your remote work a pleasant experience in life.