16 Most Popular Tips and Tricks for Yahoo Mail Which Make Your Day Easier
Earlier this summer, we discussed a new, big revamp of Gmail. Now let's see what its smaller competitor Yahoo Mail has prepared for its users. Yahoo launched a significant set of updates, covering both faster performance and new personalization features. So here are 16 most popular tips and tricks for Yahoo Mail to improve your productivity:
1. Clear the backlog
2. Block email address
3. Create Yahoo Mail filters for your inbox
4. Use the search for finding files
5. Use email signature
6. Try quick actions for mobile
7. Make notes in Yahoo Mail
8. Use images for backgrounds
9. Yahoo Mail storage
10. Use integration with social networks
11. Keep all of your accounts in one place
12. Optimize your Yahoo menu bar
13. Use Yahoo Mail notification
14. Yahoo Mail shortcut keys
15. Extensions for Yahoo Mail
16. Make your Yahoo account more secure
Clean up and organize your Yahoo inbox
#1 Clear the backlog
The recent update for Yahoo Mail added the ability for users to select multiple emails. You can press and hold a message to activate the multi-select mode. From there, you can then click on additional emails in the trash or archive them in one fell swoop. This will let you get rid of a backlog of emails in one go.

image source: Yahoo
#2 Block email address
If you are getting messages from people you'd rather not, you can easily block them not to see even a single email from those senders again. However, keep in mind that you can not block unwanted email addresses in the mobile version of Yahoo Mail. So far, this can work for the desktop version only. To block email from specific users in Yahoo Mail, click on the Settings Gear icon, select More Settings from the drop-down menu, then look for the Security and Privacy tab, click the + Add button, and then type in the email address you want to block in the Address field. Click Save and you are done.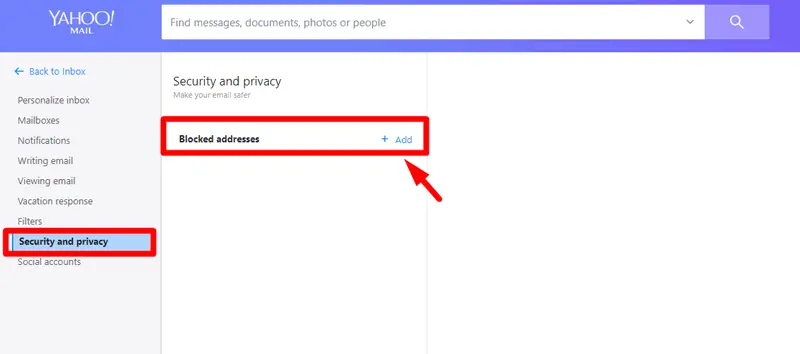 image source: Yahoo
#3 Create Yahoo Mail filters for your inbox
If you get a lot of emails every day, you are more likely to suffer from the endless mess in your inbox. Fortunately, Yahoo Mail has an advanced filtering system that allows you to group incoming emails automatically to keep your inbox organized. Here are a few sample filters you can create: emails from a certain sender, messages with the word "urgent" in the subject line, emails where you are not a direct recipient (CC/BCC), and many others. If you want to set up such filters in Yahoo Mail, click on the Settings Gear icon at the top right, select More Settings from the menu that appears, click Filters in the left sidebar, and then click Add new filters to Your filters.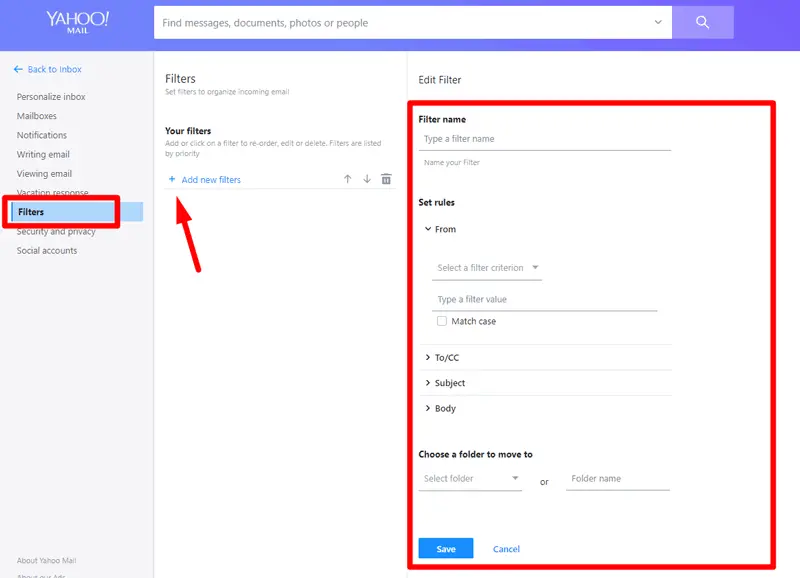 image source: Yahoo
#4 Use the search for finding files
Most people don't know that Yahoo Mail has some useful search operators that make it easier to find a specific email even if you can't remember the details about it. They just blindly wander around their inbox until they find their desired message by pure luck or get tired of searching.
For example, when you want to find messages from a specific person, use the from: command. In the Search box at the top, type from: dad to find all messages from your dad;
If you need to find messages containing a specific word in the subject line, use the subject: command. For example, subject: urgent;
The command to: should be used in case you need to find emails you sent to a specific recipient. For instance, to: larry@newoldstamp.com. If you can't remember the entire email address, that's OK. Try searching by a partial name such as to: Larry or to: Newoldstamp;
The has: attachment operator will include only emails that contain attachments;
You can also combine search operators like this: to: Larry folder: Sent.
image source: Yahoo
#5 Use email signature
If you are still not aware of the email signature, its benefits, and its importance in professional communication, please read our blog post here. To change the signature in Yahoo Mail, go to the Settings icon in the upper right corner, click More Settings, then select the Writing email section. In this section, you will see the option to set up the signature. In the text box that has shown, type the signature you want to be appended to each email message you send using this Yahoo email account. However, keep in mind that not every email sig will look great. That is why we recommend finding a proper software to create your ideal signature for emails.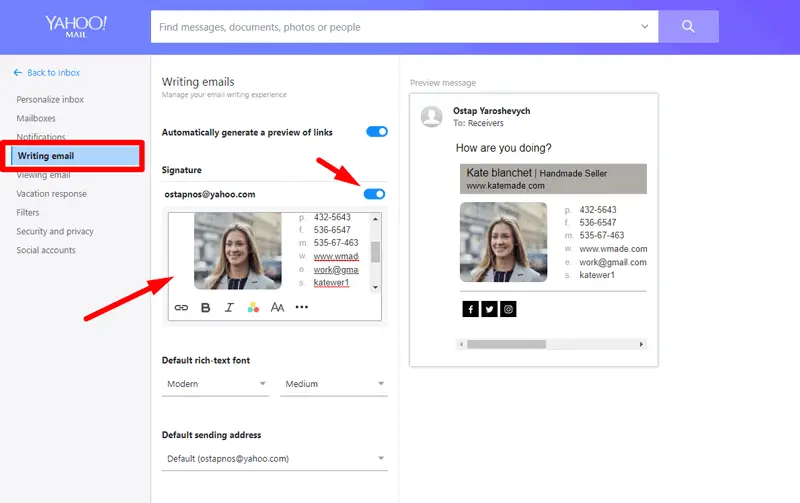 image source: Yahoo, a signature created - NEWOLDSTAMP
#6 Try quick actions for mobile
In the Yahoo Mail mobile app, you can easily manage your email with quick actions. For example, swipe left to delete a message within your inbox or a folder; swipe right to mark an email as read or unread; Tap and hold to open the menu with bulk actions like deleting or moving multiple emails.
#7 Make notes in Yahoo Mail
Keep track of your thoughts and reminders by using Yahoo notes which are available under the little notebook icon tab.
#8 Use images for backgrounds
The new Yahoo Mail update will also let you change the appearance of your account. You can customize things like layout, color scheme, font size. To do so, click on the Gear icon in the upper right corner of the screen, choose Themes from the menu that appears. You can also select the background images in the iOS and Android apps, but keep in mind that they don't sync between devices.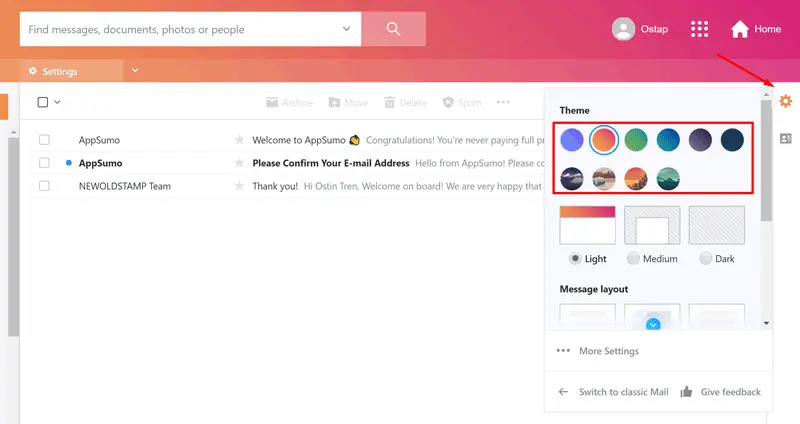 image source: Yahoo
#9 Yahoo Mail storage
Did you know that you have 1TB (1000 GB) of storage space available in your Yahoo Mail? If you wish to find out how much storage you are using and how much is left, click on the Gear menu icon, select Settings, click Accounts.
#10 Use integration with social networks
Yahoo messenger gives you an option to integrate with Facebook, Windows Live Messenger, and SMS.
#11 Keep all of your accounts in one place
If you own more than one email account (e.g., Outlook.com, Hotmail, AOL, Gmail, Yahoo, etc.), the revamped Yahoo Mail will allow you to keep them all in one place.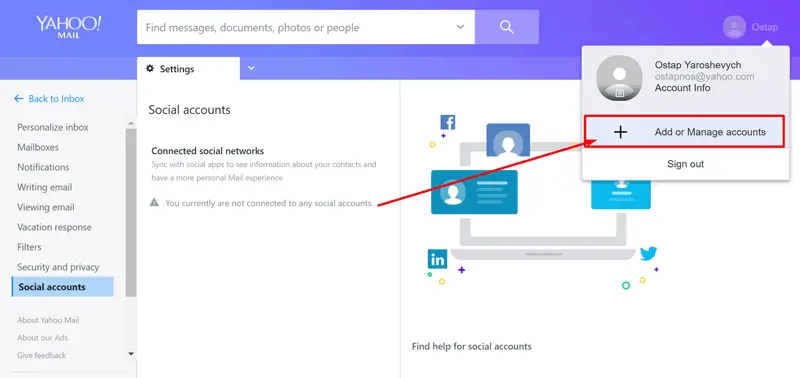 image source: Yahoo
#12 Optimize your Yahoo

m

enu

bar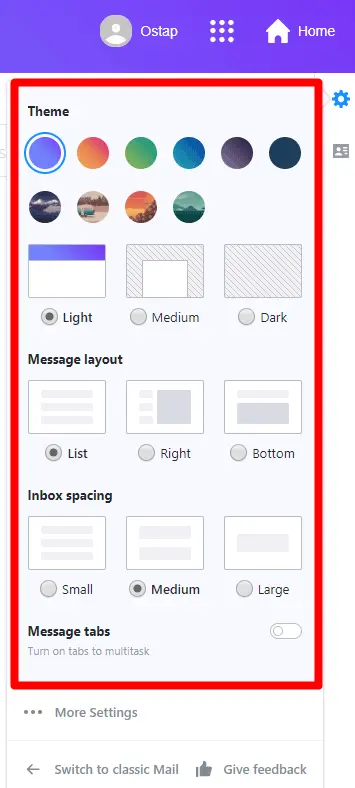 image source: Yahoo
Multitask in your inbox with Tabs. You can compose, search, and read emails all at once, without opening new windows. To make Yahoo Mail let you open messages and search results in tabs, do the following: click the Gear icon -> Settings -> Viewing email -> select Tabs under Multitasking -> Save.
Change your inbox spacing
With the new version of Yahoo Mail, you can easily adjust the spacing between your messages in the inbox for a comfortable fit. Click on the Gear icon, select Inbox Spacing, and you will see three different options to choose from. Those are Small, Medium, or Large message spacing.
Choose your message layout
When you click on the Gear icon and select Message Layout, you will be offered various options like Show message on the right, No preview pane, etc.
#13 Use Yahoo Mail notification
Ensure you never miss important emails. Enable notifications to get alerted as new messages arrive. To turn on the notifications, click on the Gear icon, scroll down to find More Settings. On the left, you can find the Notifications section and enable Yahoo Mail notifications on the desktop.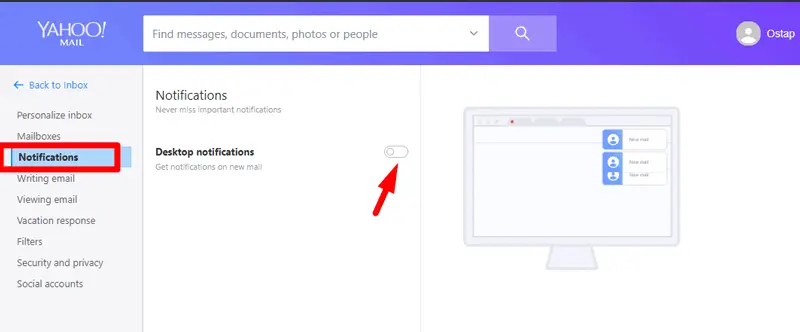 image source: Yahoo
#14 Yahoo Mail shortcut keys
Use keyboard shortcuts in Yahoo Mail to get through your mailbox faster.
Here are some useful commands:
M - check mail
Shift+M - check all mail (includes POP accounts)
N - create a new message
Shift+N - create a new message in a separate window
Ctrl+A - select all emails
R - reply to an email
A - reply to all
K - mark as read
Shift+K - reply as unread
F - forward a message
Ctrl+S - save email as a draft
Ctrl+Enter - send a message
For more keyboard shortcuts, go to the Yahoo Help.
#15 Extensions for Yahoo Mail
If you want to make your mail even more powerful, try the extensions we will be talking about in this paragraph.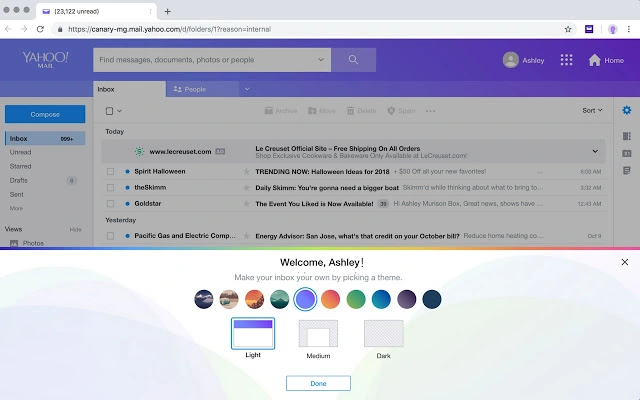 This free addon provides you with a wider view of your inbox. Pay attention that this extension will set Yahoo as your default search engine.
The Search and New tab extension will fill each new tab page with beautiful images from Flickr, a popular photo-sharing service. It also will change your default search engine to Yahoo.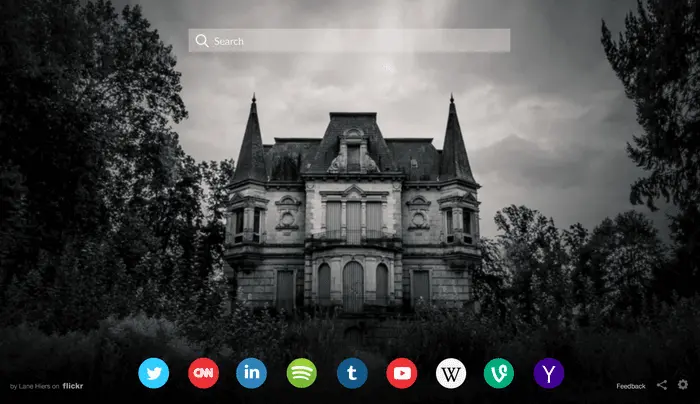 Use this extension to set Yahoo.com as your new tab and homepage.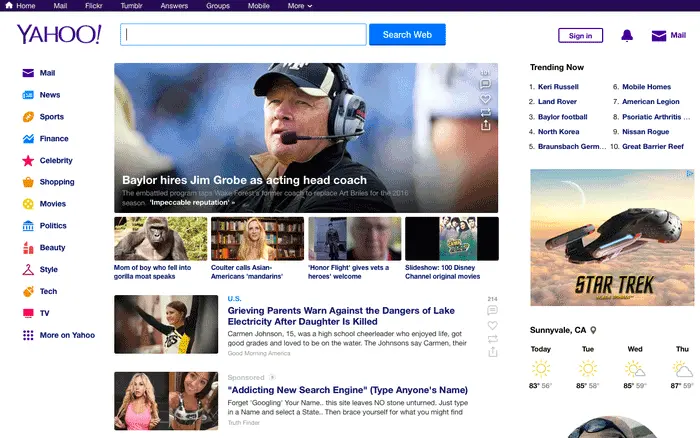 #16 Make your Yahoo account more secure
If you think somebody may be using your Yahoo Mail account, be sure to apply extra layers of security. Here are some signs that someone else may be using your mail: your friends/colleagues/partners/ complain about receiving spam from you; There are emails in your Sent folder that you never sent; You send messages but don't get any replies; Your account log shows strange login activity. To prevent any Yahoo Mail security issues, follow the steps below.
Try to use 2-step verification
A password is not always enough to secure your Yahoo email account, so be sure to set up a 2-step verification. Once you enable this option, Yahoo Mail will notify you by phone or by another email address about a login from a new device, and you will need to confirm it is you trying to access your account. To turn on the 2-step authentication, click on your name in the upper right corner of the screen, then click on the Account Info link, select Account Security, and turn on the Two-Step Verification feature.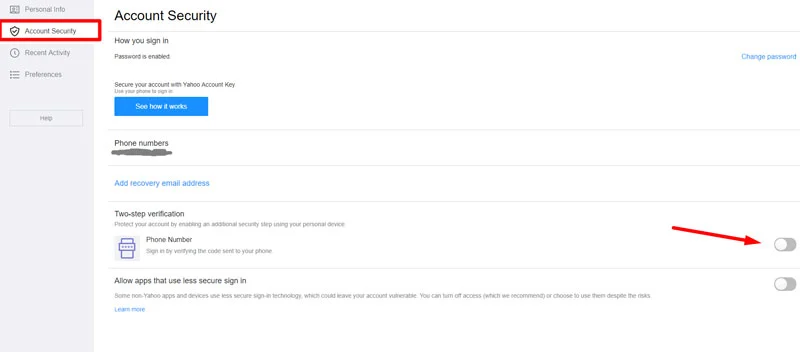 image source: Yahoo
To make your emails not easy to hack, be sure you are using a secure password. Pay attention that passwords with symbols and numbers like, for example, 0yt$xyz13h7j are hard to remember but very easy to hack (using various applications or programs.) To protect your account better, take from four to five random words and put them together. For example, beautiful sausage in Hawaii.
Use Yahoo Mail account key
Another great way to secure your Yahoo account it to use the Account Key feature that lets you access your mail without entering a password. Yahoo will send a notification to your phone, and you'll need to either approve or decline the request. To enable this feature, click your name in the top right corner of the screen, go to Account info, then select Account security. From there, you can appoint the device on which you want to be notified and enter your phone number.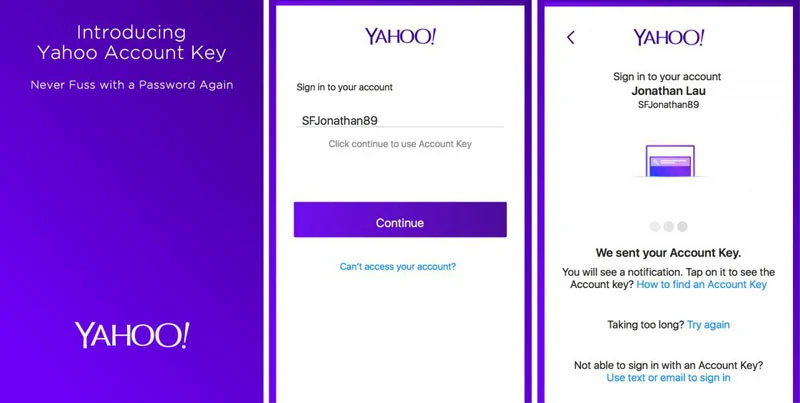 image source: Yahoo
Conclusion
With its 227.8 million monthly active users, Yahoo Mail belongs to one of the most popular free email services in the world. However, many users aren't aware of the improved new Yahoo Mail features they can use to their advantage. Let's try these features out together!
You might also like our blog posts "Mastering Thunderbird or 20 Tips to Become Thunderbird Pro" and "How to use Outlook to skyrocket your Productivity. The best tips and tricks."