Kind Regards: Missed Sales Opportunities or Using Email Signatures as a Pro
1. Email Signature as a Part of Company's Branding
2. Email Signature: Basic Information
3. Promote Your Discounts, Free Consultations or New Product Features in Email Signature
4. Add Case Study to Your Email Signature as a Proof of Good Services
5. Use Email Signature to Inform About Upcoming Events You'll Visit or Organize
6. Share Relevant Blog Post or eBook in Email Signature to Increase Engagement
7. Promote Your Social Media to Show Brand Loyalty
You, virtuously trying to perfect an email message and put together the company event while still stuck at drafting your email closing. Since you put so much time and effort into your writing, you want to see appreciable results. You know that it takes a long way to making a courteous and nice message. All things in context and etiquette. And basically, badly written copy and mass produced texting, as well as uncertain email closings, are all sure ways to missed sales opportunities. Not to mention the annoying customers.
Sure, when writing an email, someone may also think the ending is the last thing to worry about. Whether you choose the "Kind Regards", "Thank You", or "My Best" potential sign-offs, it's just an email closing that you probably do not give even a second thought. However, an outgoing email can be both a letter and a great way to communicate your message to a receptive audience. And putting in the right closing clearly works. For example, email closings with an expression of gratitude deliver higher response rates.
The same kind of thing applies to an email signature. To avoid deal-breakers early in your relationship, you need to follow some basic rules, think about information to include, branding, sign-offs and all the other things that usually delivered through an email signature. The following tips should assist you in creating an effective signature.
Email Signature as a Part of Company's Branding
Branding is about so much more than a great font and logo. Branding is a visual representation of your business, as well as the experience, tone of voice in email messages. It's a way you engage with your potential customers and leads, your co-workers and peers. Even if you are a startup or a beginning entrepreneur, managing your personal brand is essential during career changes. It can surely make a great difference to your startup.
You should consider all the details and methods to make and improve your branding. And a corporate email signature is one of the efficient methods that can help generate more branding opportunities. Interactive pieces of content in your email signature can make a connection with your potential leads and build relationships. The right email signature can get your users engaged from the very beginning.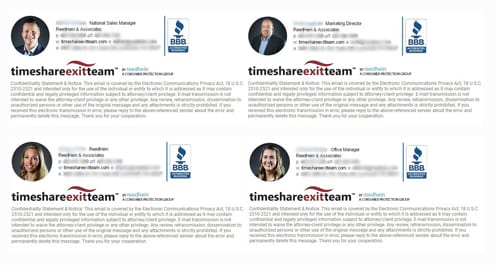 It is important to note, an effective message should always contain the signature in the email footer. However, before making a signature online, you have to think about what a signature can do for your business and how it is going to appear. For example, to outline your company branding, you can add your startup's logo. And including a consistent branding to all coworkers email signatures will show that the company is a profit-making enterprise.
To make your signature look more professional and stay on-brand, you can include an elevator pitch to spark interest. It is one line that that can turn a stranger into an investor; it helps to explain in an informative and precise way what product or service you provide, what your business do. And if you include a bit of personality and charm, not to sound like an automated message, this could be a nice fit for every email message and signature you send.
In addition, to efficiently brand your business, you can include an email signature in other marketing places. This may include:
All business email messages

Email clients like Gmail or Yahoo!

In the footer of articles or posts

Ads and digital newsletters

Testimonials you give for others
This is not a full list. Let us know if you have any other suggestions though where email signature can be added, we love to hear from you. You can share your thoughts on our social media presence.
Email Signature: Basic Information
Either you're a self-taught photographer or you're heading into a laid-back new startup, you need to make sure you look professional and make the best impression. When completing your signature with some basic information, you have to show your writing skills, marketing deftness and baseline level of decorum.
First, you have to connect with your recipients on an emotional level. After you greet them with the most respectful means of addressing, make the rest of the email message clear and succinct – and, of course, end the email with the "thank you" order, you should leave your contact details and personal info to connect with your audience further.
You can simply do all these by crafting an engaging signature for your correspondence, including the following details and adhering to the next email signature format:
Name, title and company name – consider filling in your first name, middle name (optional), and last name. You can design them with a larger font, bright colors or simply underline the text. If you are working on the startup that includes different departments, you can add the department you are associated with or just write the full name of a company.
Phone or mobile number if applicable – write the phone number or skype name at which you can be reached easily. Do not forget to add the right country prefix, so you can get international calls. It's crucial to not overwhelm your signature, so do not add more than two numbers. One number is actually enough.
Email address – when you'll create an email signature, try to include a professional email address. The easiest way is to use your first name and last name with your @mailservice.com. You can write your startup name or title. Try to avoid nicknames.
Personal blog or website – as a business owner, it is really important if you have a website or a blog to promote your product. People will be able to find information about you and your services more easily if you include your site link in the signature.
Onsite hours if necessary – you can add a link to your calendar and allow your recipients to schedule with your appointments. Or you can simply mention that you have a new 9-to-5 job.
Photo or personal logo (optional) – if you want to be taken seriously, don't add animated pictures or selfies. Learn more about photos in email signatures here.

The reason you are putting together all these information, contacts, and personal presentation, is that you want to attract your new leads to grow your business. With that in mind, here are some other details and content below that you can provide and you should share to generate sales opportunities and more. However, try to choose things that matter the most and not overload your signature
Promote Your Discounts, Free Consultations or New Product Features in Email Signature
Except the basic details, contacts and personal information, you may include promotional discounts into your signature. It's also a good idea to include your new product features, schedules with consultations, links to the events.
Make sure you prioritize your content and give each section or promotional part the relevant placement. For example, you can highlight your offers in a manner that stands to your recipient's first and foremost. If you include a calendar with free consultations, make sure you display the different ways you can be contacted: your telephone, Skype, email address. Once more, make sure it is relevant to your startup.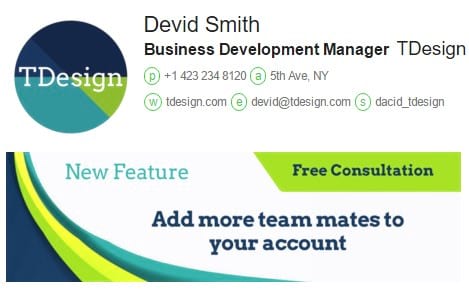 When you show a promotional banner in email signature that offers new features, make sure that all links are clickable; the banner is responsive and is suitable for mobiles and other devices. You really can't afford to lose business because your banner is not tailored for these mediums. Email signature banner should be clean and simple. You want to provide your potential customers with enough information to understand what you are offering and also make it look appealing.
Add Case Study to Your Email Signature as a Proof of Good Services
New opportunities may arise from the most unexpected places. Simply adding case studies with interactive content, alongside updating your portfolio can help to engage a target audience and potential leads. Including case study links or a portfolio, promoting webinars with a professional looking email signature, as well as adding your LinkedIn profile with posted articles - all these will display a specific piece of marketing content to make things easier for your clients.
A current case study link in your HTML signature will help to show your startup campaign to clients and generate more leads. With an email signature platform like NEWOLDSTAMP, you can easily upload a template for your startup which can include the case study link. This way, your marketing team will profit through the use of the email signatures. When marketing materials such as case studies are shared with clients via such platforms as NEWOLDSTAMP, the promotional content will be definitely showed to a larger audience. Finally, your employees can benefit with leads and sales opportunities.
Use Email Signature to Inform About Upcoming Events You'll Visit or Organize
With the NEWOLDSTAMP email signature generator, you can include a banner with the business marketing slogan or current specials and events offered by the business. It's always nice to inform about corporate plans or personalized events. By using the email signature templates, you can add a banner with the business marketing slogan or opening lines promoting events.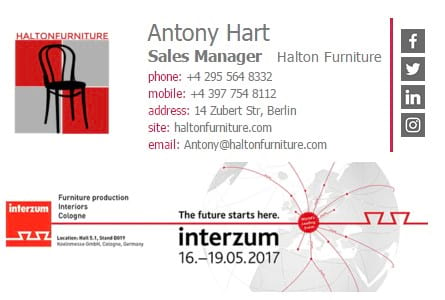 When using an email signature marketing platform, you can stay focus on prospecting and closing business. You can simply add a wide variety of interactive content and choose from many different templates. You can even add logo and banners with your own entertaining campaigns or links to handy features, specific to your audience. It's a great way to capture attention right from the start.
Share Relevant Blog Post or eBook in Email Signature to Increase Engagement
A new blog post and a relevant eBook can simply help increase audience engagement and build a loyal active user base. Advertising an upcoming eBook or even showcasing blog posts can turn your recipients into potential clients. You can also include a call-to-action when designing an email signature. The signature call-to-action, or so-called CTA, is an easy and good promotional sales pitches that can help to advertise different marketing campaigns.
After you've designed a signature that shows all your important blog posts and eBook links and includes CTA, you need to determine if recipients really clicking on them. You should think how to make your URLs trackable. Here comes GoogleAds in help. You can add UTM parameters or simply tags that you can include into the links. Also, you can test out standard email signature format and email signatures that contain interactive content to check which ones are generating more clicks.
Promote Your Social Media to Show Brand Loyalty
When you are establishing your startup brand, it's a great idea to link to your corporate social media channels. You can create HTML email signature social media icons to humanize your brand and represent your company loyalty. But make sure that the accounts do not contain any embarrassing posts or images.
People like to talk to people, especially in business context. Users like to know who you are talking to and dealing with when you want to hire someone's professional services. By using social media, you are like a real person to potential customers; you naturally humanize your brand and business. Minimizing the distance and communicating one-on-one also helps to form a friendly relationship that can reinforce that there is a human behind the email.
On the other hand, adding every social media website is overkill. The more accounts you link to, the less likely the recipient clicks on any of them. So add only the most preferred social channels to connect. If you are working as a creative artist, graphic designer, illustrator or photographer, we think it's essential to put in your signature an Instagram account with illustrated works.
Bottom line: If you want a response to your email, end it with a professional email signature and an expression of gratitude. Thanks for reading!