How To Politely Write An Email To Decline a Sales Offer
1. How to politely decline an offer?
2. Tips to write a decline offer email
3. Templates to reject an email
Useful tools:
1. Newoldstamp - Email signature marketing
2. SendGrid - Email builder and sender
3. Boomerang - Tool for scheduling emails
4. Mailtrack - Email link opens tracking
5. Canva - Online tool for making designs
Although saying "no" is often daunting in itself, I'm sure no one wants to be stuck in a situation where they will have to say it during a call or god forbid, in person. The better marketing practice would be to decline sales offers through email. One of the main reasons why it is wise to do this is because of the sheer volume. It's impractical and just not possible to dedicate that much time to each and every sales pitch. Another main reason you should opt for an email instead of a phone call is that it lets things remain professional between your respective businesses. And finally, an email is a better option because of the amount of control you have over it. With phone calls or personal encounters, it's easy for conversations to go south really quickly, but with an email, you get the opportunity to carefully craft the content that touches all the right sentiments without compromising on professionalism.
How to politely decline an offer?
While declining a sales offer through email sounds more comfortable than making calls, the task isn't an easy feat. In fact, there are numerous ways you can go wrong with this. Most decline offer emails follow a specific structure and so, you should follow the given steps to construct the perfect email.
1. Start with an appreciation of time and work
While you might feel like the salesperson is showcasing a product that is useless to you or your company, you need to be aware that it requires a lot of guts to present the offer. Being rejected can be devastating in every situation, be it a rejection from your prom date, or rejection from your dream college, it always puts a toll on you. Letting the person down easy will assure that their confidence doesn't dwindle and the person will have an easier time getting over your rejection. One way of doing so is to show your appreciation by thanking them for their time and work they presented.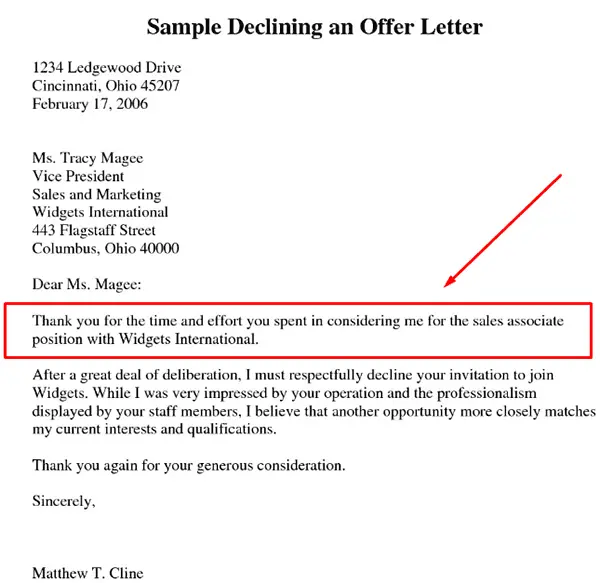 image courtesy of newerasolutions.Co
2. Deliver the news
Giving the news of rejection might seem daunting at first, but breaking the news as soon as possible is the best you can do. Leading the salesperson on without an answer will bring their hope up. Delivering the news as fast as you can, will help the person get over the rejection quicker while also giving them more time to look for more opportunities. Also keep in mind that when you do reject them, you have to insist that your mind's made up and you will not be changing your decision.
3. Give the explanation
Rejection without a proper reason can be confusing for the salesperson, and it will be of no help for them trying to figure out where or why their product fell short. While you may have your own reason to reject their proposal (you already have a superior product or, their product doesn't align with your company's policies or, your company might not want to invest in their product), it's always better to let the salesperson know what stopped him or her from closing that deal rather than leaving them to second-guess themselves.
4. Suggest other ways of partnership
Sales representatives can be very persistent. You might have to be clear that their product doesn't interest your company. But rather than just cutting all ties with them, it would be wise to see what else they can bring to the table. You can suggest future partnerships with them in context of their other products or services. In a way, this can encourage them to come back with a stronger pitch next time.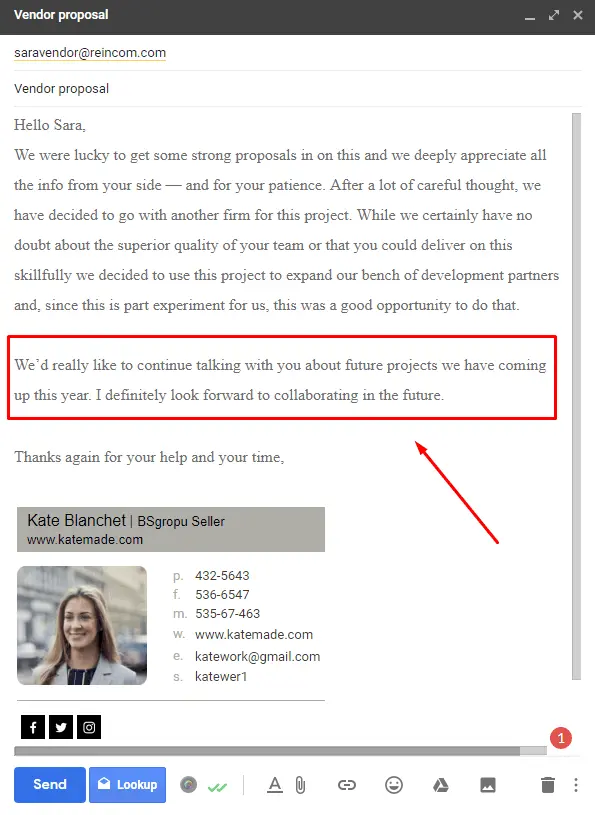 5. Close your email
With all business emails, it's a must to close it properly. A proper closing might have a favorable impression while a clumsily written closing will have a negative impression. To draw up a proper closing, you'll need to evaluate your relationship with the recipient. Common professional endings are "Yours sincerely, Best regards, Thank you." If you are close to the recipient and have conversed with them before, you can opt to use "Cheers, Faithfully, Yours truly" instead. These closing remarks have to be followed by your email signature, your full name, your position in the company and your contact information.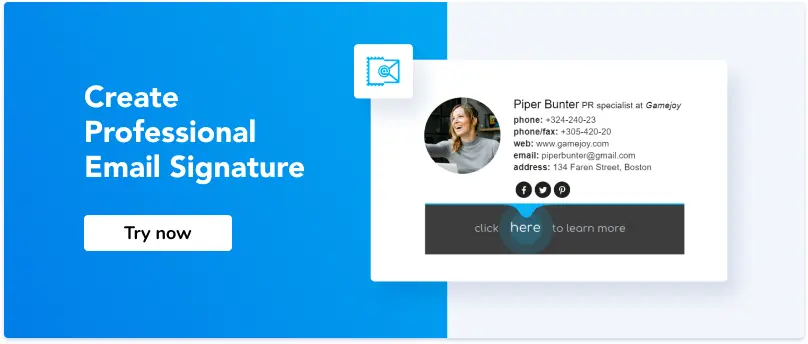 Tips to write a decline offer email
Now that you know the components that go into a decline offer letter, it's time to focus on how to deliver the blow. Read on to understand the best ways to decline an offer politely.
1. Use a professional tone of voice
No one particularly enjoys saying no, but when the job demands it, you have to do it. And while doing so, you have to remember to use a professional tone of voice. It's easy to be extra nice and friendly to soften the blow of turning down someone or to get agitated when someone doesn't take the news well, but you have to remember not to get carried away. Maintaining a professional front at all times is important.
2. Stay clear on your decline offer letter
You have to be very clear while dealing with sales representatives. You will have to elucidate that you won't be doing any business with their company and explain the reasons why. This way, they can move on to another opportunity, and you won't have to waste your time dealing with them when they come in with a counterproposal or try to cut you a deal on the existing one. With a clear rejection, they can focus better on a client with whom they still have a chance.
3. Keep your email short
Remember that you're running a company and that you don't have to write an entire essay detailing what you thought of their product and why you chose to reject it. However, keep in mind that a little courtesy will never hurt anyone. When writing an email, keep it short by only including the most important information on their presentation and where they lost you. This gives them a chance to improve for their next client and also helps them better pinpoint the red flags of their products.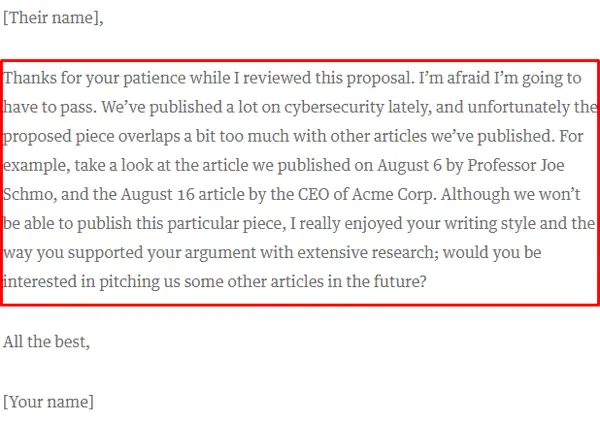 Templates to reject an email
Here are some templates that you can use and fiddle around with to craft the perfect decline offer letter for your company.
Template 1: You can use this if you would like to decline that current offer but still receive offers for other products or services.


Dear [name],
Thank you for your email regarding [the product being pitched].
Unfortunately, we are not looking for [the product being pitched] in the market right now as we are already working with [another company/business you are working with] and are happy with the results.
However, we will get in touch if circumstances change and because your other services to align with our company's interest, we would appreciate if you kept [your company] in mind for future partnerships.
Sincerely,
[Your name and designation]
[Your Email signature]


Template 2: Contrary to Template 1, this template declines offers but seems unwilling to look at future offers unless their offer includes a money-back guarantee.


Dear [name],
[You company] has given careful consideration to your offer for [the product being pitched]. I write to inform you that because of the number of impressive offers we receive, we have to turn down your sales proposal.
Please understand that this does not reflect that your product will not strive under our company. Our company decided on going with another offer that gives us a money-back guarantee. In the future, we will only be considering offers with a money-back guarantee. If that does not align with your company's policy, we would appreciate it if you could take off our email from your mailing list.
Thank you.
Best Regards,
[Your name and designation]
[Your Email signature]


In the marketing industry, it is normal to turn down offers. In fact, it is very much a culture. It's better to know how to politely decline an offer rather than to be stuck in a situation that you don't want to be a part of so you should get used to writing such emails.