How to Create an Awesome Digital Fundraising Strategy for Nonprofit Organizations
1. Why can digital fundraising be a game changer for your NPO?
2. Where to start your digital fundraising strategy?
3. Build an online presence of your nonprofit organization
4. Build a clear fundraising plan
5. Always make annual and monthly reports
6. What are the digital fundraising trends in 2019?
Useful tools:
1. Newoldstamp - Email signature marketing
2. Mailstrom - Tool for cleaning your inbox
3. Reply.io - Personal email outreach, calls, and tasks
4. Mailtrack - Email link opens tracking
5. Shift - Desktop app for streamlining all of your email and app accounts.
6. Jotform Donation Apps - Donation apps, forms and reports
With the development of Internet technologies, the collection of donations for NPOs has become simpler and more complicated at the same time. On the Internet, it is easier to reach a large target audience, and NPOs are not limited by geographic boundaries. Digital tools enable nonprofit organizations to reduce costs associated with the process of seeking funding and open up new opportunities for creative solutions and experimentation. This is also the natural environment for attracting philanthropists among younger generations: Millennials or Generation Z.
At the same time, digital fundraising imposes increased demands on the organization, sometimes extending far beyond its comfort zone, especially in terms of technical skills. Attracting funds online, NPOs face severe competition for the donor - their digital voice can easily get lost among hundreds of other voices.
Why can digital fundraising be a game changer for your NPO?
Reason #1: Allows you to have omnichannel engagement with potential donors
Nonprofits benefit when donors are well-connected to the organization. With the help of online fundraising, NPOs can reach their audience easier and distribute their message across various channels from social media, crowdfunding sites, and email to direct mail, physical events, etc.
Reason #2: Allows you to educate and entertain your audience simultaneously
Digital fundraising projects can serve as a fun way (interactive quizzes, online competitions) to introduce a nonprofit's case for support and help charity givers learn about facets of the NPO they may not have been aware of previously.
Reason #3: Make donors participate in several campaigns simultaneously
Effective non-profit fundraising strategies help NPOs to continue engaging donors throughout the fundraising process in ways other strategies can't. Once one campaign is finalized, nonprofits can create new campaigns to move donors up the pyramid.
Where to start your digital fundraising strategy

for nonprofit organizations

?
Verify your target audience
Often, when launching digital fundraising campaigns, nonprofit organizations have no idea who their potential contributors are. But as soon as they answer this question, it becomes clear how their crowdfunding websites and promotion should look like. As soon as you create a portrait of a potential donor, you will understand what emotions your campaign may cause. Answer the following questions. What social networks is your target audience active in? How old are your potential donors? What do they do? What emotions does your campaign evoke? What kind of internal goal do your supporters solve by supporting your project?
Set realistic and explicit goals
You must have a goal. Any fundraising campaign has a goal, so you need to decide how much money you plan to raise. We know you are smart, but how about your goals? They should be SMART too.
S - Specific. What does your NPO want to accomplish? Who is involved? Which resources are needed?
M - Measurable. You need to learn to measure your progress throughout the campaign. You should know the number or percentage you want to reach. For example, we need to raise $20,000 to help rescued animals until Thanksgiving.
A - Achievable. Your fundraising goal also needs to be realistic and achievable. Answer the questions: How can I accomplish my goal? How realistic is my goal, based on other constraints, such as time or financial factors?
R - Relevant. Why are you setting this charity goal? Are you the right person to reach this goal? Is this the right time?
T - Time-bound. You should always have a deadline you are trying to reach.
Create your story
Also, you need to tell the audience who you are, what you do, and why they should give you money. When writing your story, bear in mind that it should be NOT about the nonprofit, but about the donor, because donors don't give money to support your organization, they give to express their values.
Let's compare the two stories.
The first story is about the organization. The message of the story may be interpreted by people as follows: "We (our organization) do awesome things. Here is our story to show you."
"The little puppy shivered in the winter cold. In his short life, he's never eaten anything but garbage, and nobody had ever said a kind word to him. Until we came along, picked him up, wrapped him in a blanket, and took him to our shelter for nutritious food and medical care."
The second story is about the donor. Its message to donors is simple: "You are awesome. Let us show you."
"A little puppy is shivering in the winter cold not so far from your home. In his short life, he's never eaten anything but garbage, and nobody had ever said a kind word to him. Until you decide to help him. Your kindness will pick him up, wrap him in a blanket, and take him to our shelter for nutritious food and medical care."
Which story do you think is best to get into the hearts of your audience?
Build an online presence of your nonprofit organization
Online fundraising goes hand in hand with having the ultimate online presence strategy. You can stay in front of your potential donors' minds by following these fundraising strategies for nonprofits:
Create or update your website
When it comes to online fundraising, a good website can help a charitable organization to achieve its goals faster and more efficiently. Ideally, if the site is suitable for both, accepting donations and offering valuable information. Here is a list of things to consider.
#1 Create specific landing pages to support digital fundraising campaigns
It is advisable to create landing pages following the corporate style. As a result, the page will look more credible in the eyes of donors. Keep in mind that the emotional component also influences people's choices. Use various human-centric photos that connect to donors' hearts.
#2 Make the "Donate" button easily reachable
NPOs have been using the "Donate" buttons on their websites for almost thirty years. Today, this button still remains one of the core elements of successful digital fundraising campaigns. If the button is placed prominently on the page, the chance of users making donations increases. For instance, the "Donate" button is the main element on the home page of the NY NPO organization 'charity: water.'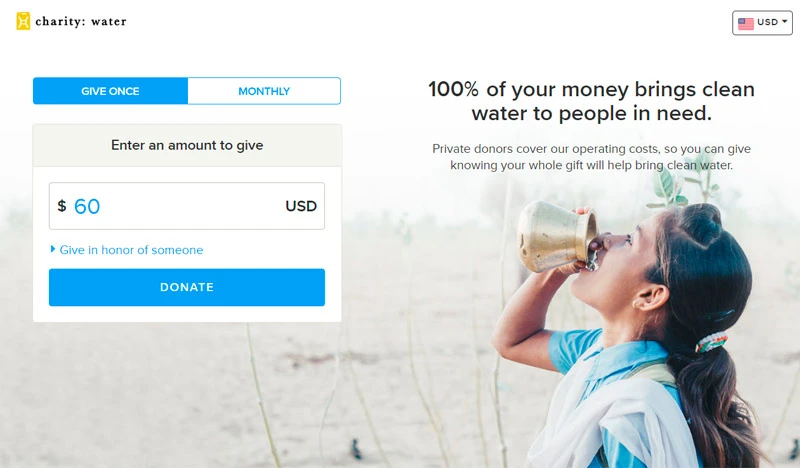 source: charity:water
#3 Make a simple multi-step donating form
Multi-step donation forms break up the complex process into simple chunks. This should result in great user experience and higher conversion rates. As a rule, such multi-step forms are far more mobile-friendly and visually attractive than single-step forms.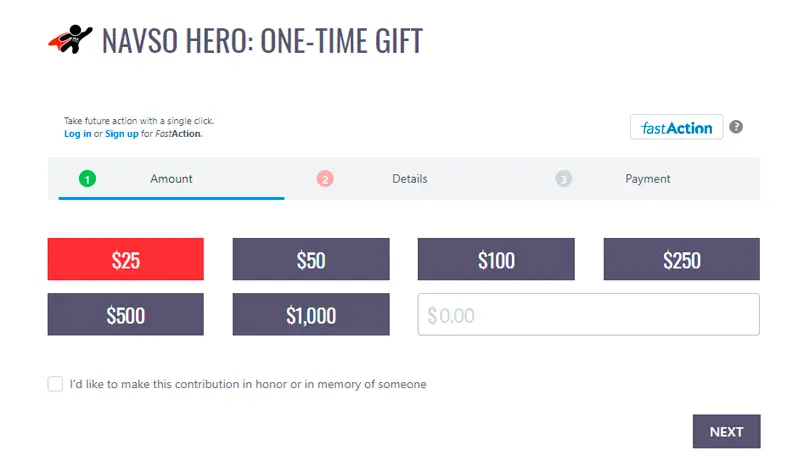 source: navso
#4 Don't forget to say "Thank you."
NPOs should not forget about the importance of feedback and the power of the word "Thank you" addressed directly to the donor. They should also be transparent about how the collected funds are spent. For example, the British organization Breast Cancer Now, which holds the #WearItPink fundraising campaign every year, put a lot of work into saying thank you to all of their supporters by name. They posted almost 300 thank you videos on Twitter, telling about the people who supported the hashtag.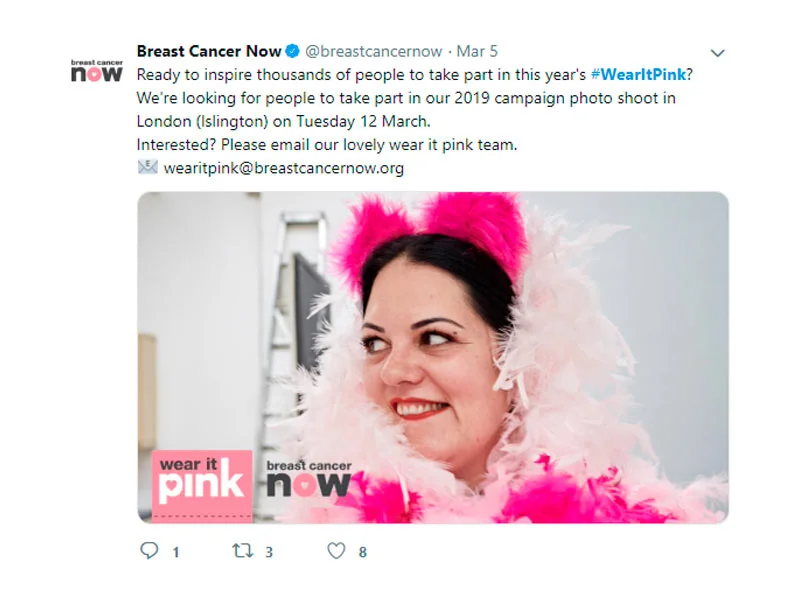 source: @breastcancernow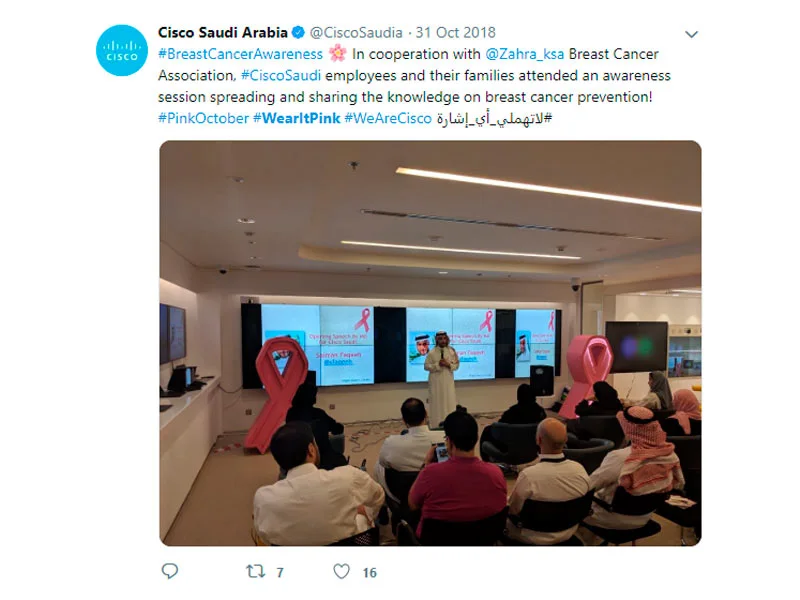 source: @ciscosaudia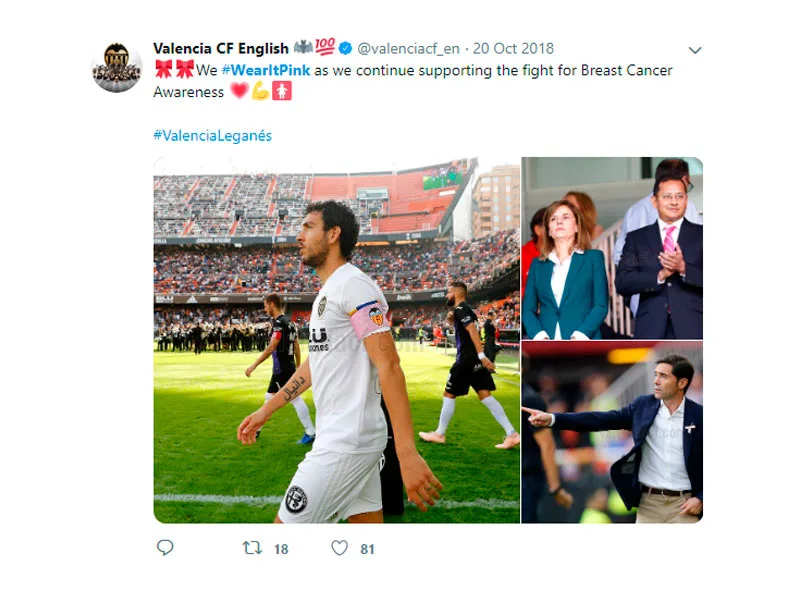 source: @valenciacf_en
Social media accounts
You've built a crowdfunding page; now, how do you make sure your target audience sees it? The answer is social media, of course. It's not necessary to manage and maintain a page on every platform because it takes time. Simply choose the social media channel most relevant to your organization. For instance, if you produce a lot of video content, YouTube would work for you. If you want to share stunning photos regularly, Instagram, Pinterest, and Snap Chat would be good choices. As a minimum, you should take care of a presence on Twitter and Facebook. By the way, Millennials are most inspired to make online donations by social media. Gen X and Baby Boomers prefer email.
Create profiles on digital fundraising platforms
NPOs can also raise money with the help of digital fundraising platforms like Causes, Fundly, GoFundMe, GlobalGiving,
Build a clear fundraising plan
Some NPOs think that a good landing page and posts in social networks are enough to draw attention to their campaigns. But that's not true. NPOs need a clear step by step fundraising plan which should include the following items:
Set a default donation value
When reaching out to potential donors, include 4-5 suggested donation amounts paired with the option to enter a custom value.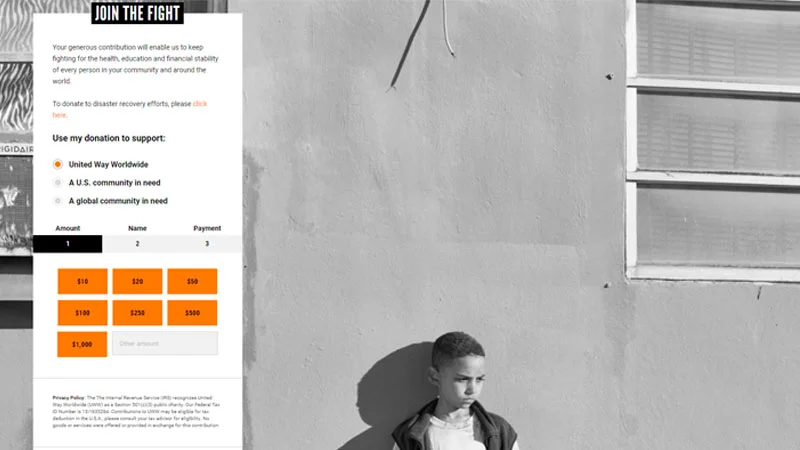 source: unitedway
Choose key communication channels
At a minimum, it is advisable to utilize the following channels to spread your nonprofit's mission:
#1 Website
#2 Email
#3 Donation forms
#4 Direct mail
#5 Social media
And if your budget allows, consider using digital advertising and broadcast.
Partner up with influencers
Influencers can be valuable partners for NPOs. Keep in mind that the influencers don't necessarily have to be huge celebrities. Look at your existing donor base. The supporters who have donated the most money to your nonprofit will most likely love the idea to advocate for your NPO or to connect you with other influential people in their network. Also, there is a wide selection of tools available to help you find influencers. These are just a few: BuzzSumo, TweetDeck, Klear, Brandwatch Audiences, FollowerWonk.
Keep donors up to date via email
Keep in touch with your supporters with the help of email. Send welcome messages to validate the importance of donors' support. Send emails with personal stories, share your achievements, re-engage with inactive donors, invite people to attend events, ask for another donation or feedback. Find more tips for nonprofit email marketing in our blog post here.
Automate the possibility of regular donations
Finding new donors is essential for nonprofits, but bear in mind that lapsed supporters can be a big win for your organization. These people already know you as they have helped you before, so don't give up on them just yet. Automating your email marketing can keep your subscribers engaged while helping you juggle the rest of your tasks. The easiest email messages to automate are welcome, thank you, and retention emails.
Set a proper timing
Proper timing is the key to maximizing donations. Ideally, NPOs should keep their campaigns timeline short (a week or two). If the campaign lasts too long, people may think "Oh look, I have two months! I'll donate next month," and then forget about it and never come back. Also, pay attention to the fact that about one third of donations are made in December. That is why over 50% of nonprofits start planning most of their campaigns in October.
Work with email campaigns
Whether a nonprofit is running a fundraising campaign, preparing a thank you email, or sending a monthly newsletter, it's important to have answers to the following questions:
"Who should I email?" — If you think that it's everyone on your list, be sure to read our blog post about list segmentation for nonprofits to avoid common mistakes nonprofits make.
"Where should I send the recipients?" — Don't forget to provide them with clear direction as to what you want them to do next. This might be a call to action with a link to your blog post, a donation form, etc.
"What is the best time to send out emails?" — In some cases, the best days to send out charity email campaigns are Monday or Tuesday. But it is best to know your audience well and check corresponding reports to determine what days of the week receive the best open and click-through rates.
"What can I do to improve my email campaign?" — We all know the elements that make up a good email. These are an attention-grabbing & personalized subject line, concise & valuable content, clear call to action, high-quality images, and, of course, a professional-looking email signature with your contact information. These are the essentials. But as a nonprofit that wants to get and keep attention you can also run banner campaigns, add social media icons, call to action buttons, and your personal touch (for instance, share your organization's story). All this is possible with an email signature generator tool NEWOLDSTAMP.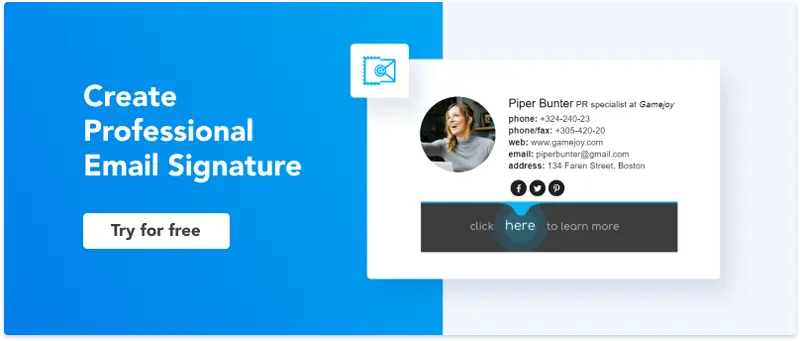 You might also like our article about the best amazingly cheap and free marketing tools for nonprofits.
Always make annual and monthly reports
Be sure to create compelling monthly/annual reports to draw the attention of potential donors and show current supporters how their money is helping your NPO to make an impact.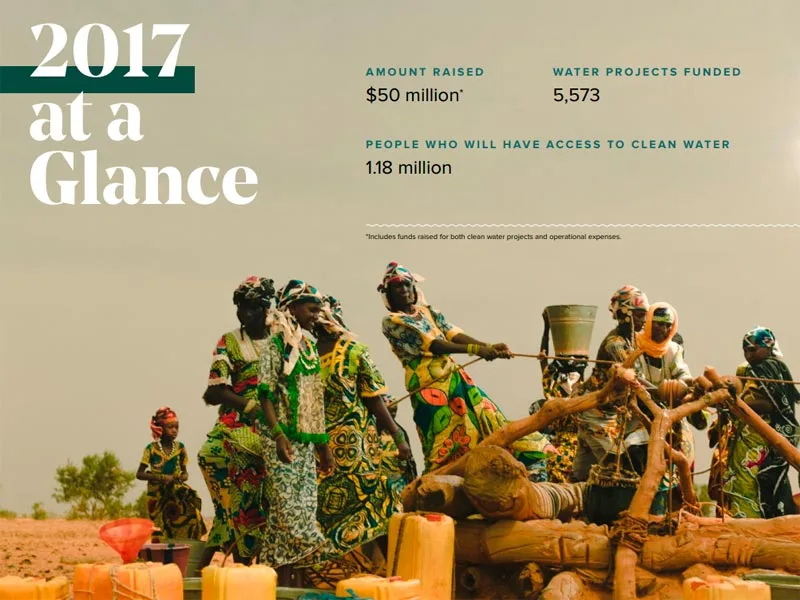 source: charity:water
What are the digital fundraising trends in 2019?
Every business that wants to be successful in today's digital world needs to keep pace with technology development and be able to use it to their favor. Nonprofit companies are no exception. Here are several digital fundraising trends for NPOs to boost their organizations' goals and spread their missions in 2019.
Trend #1: Amateur video content
Did you know that people like amateur video content more than professional one? And this is quite understandable because we are all tired of unnatural beauty, too much perfection, and gloss. Authenticity and transparency are the key to the hearts of your audience today.
Trend #2: Live streams in social media
Take advantage of using Instagram Stories for your nonprofit. This feature is an excellent opportunity for you to post multiple times per day without spamming your followers' timelines. Since Instagram Stories are usually far less polished than posts, people like them more. The audience also responds positively to live streams on Facebook because of the immediacy and engagement they create. Facebook Lives also allow you to answer any questions of your viewers real time.
Trend #3: Facebook fundraising
Animal care organization "The Humane Society of The United States" has collected 680k dollars from the competition on their Facebook page in just three years. According to experts, the reason for such a success of this Facebook fundraising project was that people love sharing sweet and kind moments from their lives and the Humane Society gave them this opportunity. Besides, Facebook and Google also contributed to online fundraising development by refusing to charge a 5 percent transaction fee on online donations.
Trend #4: Birthday donations
Every day, more than 45 million people share their Facebook greetings on the birthday of their friends. To support fundraising organizations, Facebook came up with a new Birthday Fundraising feature which allows users to help their friends to raise money for charity instead of birthday presents. According to TechCrunch, more than $300 million in donations have been collected with the help of the feature just in a year.
Trend #5: Educate Generation Z as possible future donors
Marketers are continuously seeking to learn more about the habits of their target audience. What do they like? What do they believe? What influences their decisions? When it comes to digital fundraising for nonprofits, they are often in the same boat as they strive to engage new donors and motivate them to action. Today, knowing the habits of Generation Z (those born between 1996 and 2010) is becoming increasingly important because they are now graduating college, starting to enter the workforce, and exploring the ways by which they can make an impact on the world around them.
If your NPO is looking to connect with Gen Z, consider several most important statistics:
You have just 8.25 seconds to present something to Gen Z, so make your ads short and snappy.

59% of Generation Zs are inspired to give money for charity by a message/image they saw on social media. 45% by attending a fundraising event. 14% by an email received.

Generation Z prefers YouTube, Facebook, and Instagram over other social media and email.
Final tips
Say "Thank You!" to all donors even if they only give $1. Everyone matters. Maybe next time they'll donate $100.

Create the option for a recurring donation alongside your one-time donation.

Gamify your efforts. For example, look at the Ice Bucket Challenge that raised more than $115 million for the ALS Association.
Good luck!