How to add a signature to GoDaddy
An email signature is a valuable communication channel and an elegant way to add a personal touch to your business correspondence. If you are an active user of the GoDaddy Webmail email client, and you still don't have an email signature attached to your emails automatically, you are in the right place.
Here are several simple steps to follow to add an email signature for your GoDaddy Webmail account. All you have to do is follow the instructions and set up an email signature once to make it appear automatically at the bottom every time you compose a new email.
Step 1
Log in to your GoDaddy workspace email account. Ensure you are in the Updated View, not the Classic view, as installing the email signature is much easier.
Step 2
Click the Email tab and select the 'Settings' option.
Step 3
Select `More settings` from the menu that appears.
Step 4
Go to the General tab.
Step 5
Ensure that the 'Automatically add signature to new messages` option is ticked under the General tab in the Email Signature section. It's also recommended to tick the `Include Signature in replies` to avoid ambiguity and misunderstanding in some cases.
Step 6
Paste your HTML email signature into the text box and click Save.
Consider creating your HTML email signature with the help of our Newoldstamp email signature generator. Create a tailored signature according to your taste (including colors, fonts, image shapes, social media icons, links, and banners) in a few clicks.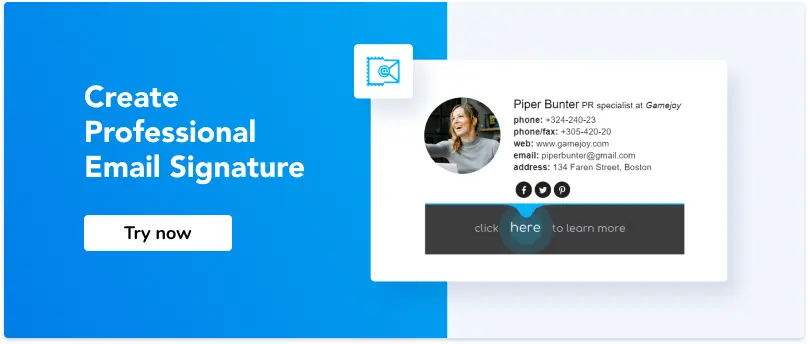 Step 7
Your new email signature is now installed. Test it out by composing a new email to make sure it looks correct.
Besides, consider writing a reply to yourself or one of your friends to make sure the signature is attached to answers as well.
How to set up an email signature in GoDaddy Webmail Classic?
Remember that email signatures for GoDaddy webmail and GoDaddy Classic webmail are stored and set up separately. To add an email signature to the GoDaddy Classic webmail, adhere to the following instructions:
Step 1
Log in to your GoDaddy workspace email account.
Step 2
Select `Personal settings` on the Settings tab.
Step 3
Click `Signature`.
Step 4
Enter the desired information or paste your HTML signature in the `Signature` field.
Step 5
To have the signature automatically inserted in all new messages and replies, check 'Automatically insert the signature in compose window.'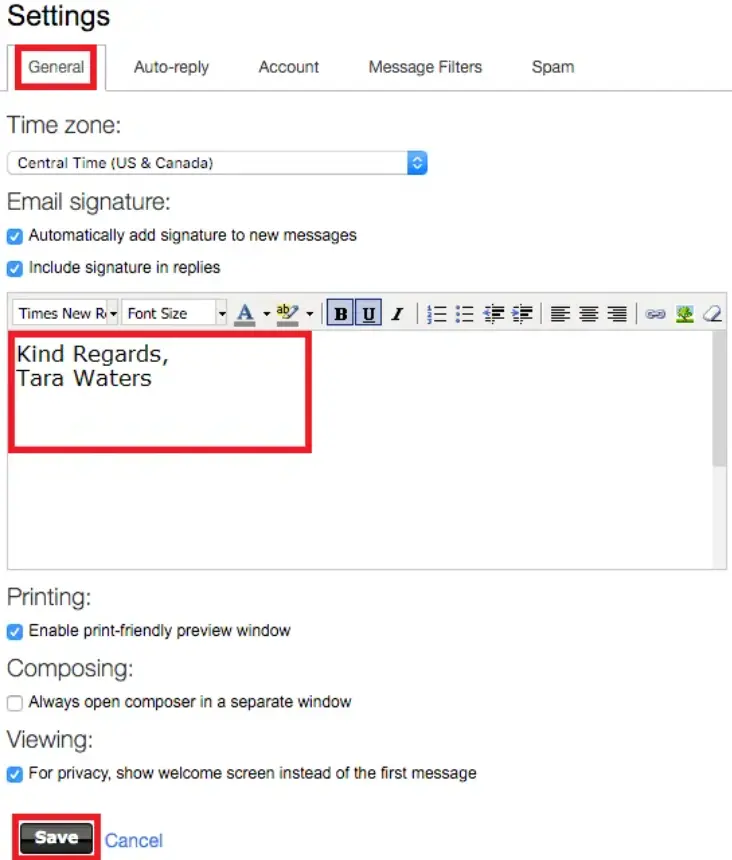 source: Gimmio
Step 6
Click OK.
Standard GoDaddy configuration allows you to have a classic text signature containing a link to your website, a social networking profile, or your address appended to all your messages. Having created your HTML email signature using the Newoldstamp email signature generator, you will broaden the functionality of your email signature and use it as a powerful marketing tool as well.