How to Create and Add Signature in Outlook
1. Outlook Desktop
2. Outlook Web
3. Outlook Mobile App
When it comes to email signatures, Outlook is one of the most flexible apps you can get. If you want to know how to add signature in Outlook and use it as a marketing channel or just to make your emails look better, let's learn how to do that.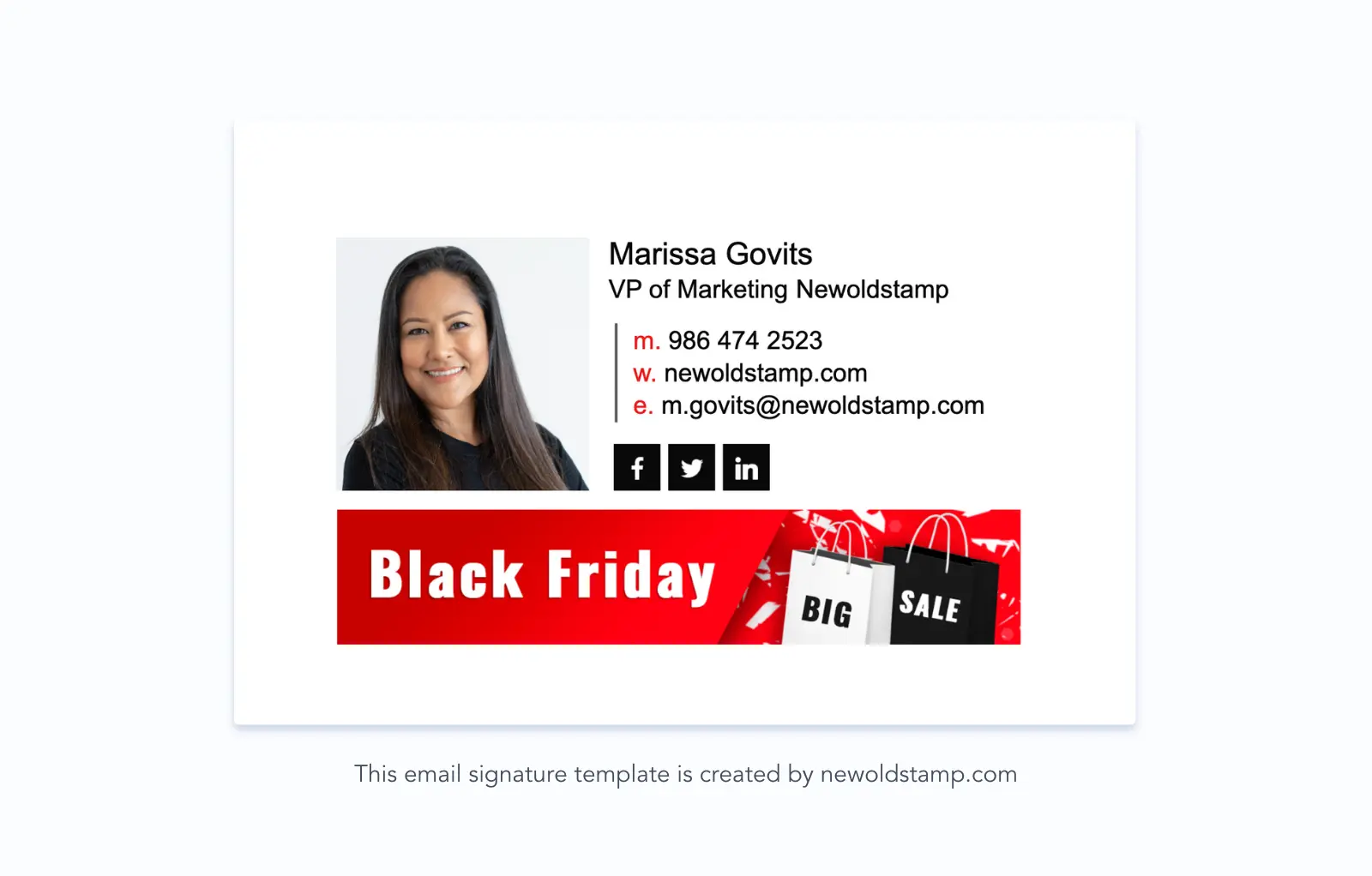 How to add a signature to Outlook
There are three ways to use Microsoft Outlook: a desktop application, a mobile one, or a web version. All of them allow you to create Outlook custom signature.
Creating an email signature in Outlook on desktop
Option #1
Open your Outlook application on PC and press 'File.'
Go to the 'Options' menu that is located in a list on the right.
Click on the tab 'Mail' and press the 'Signatures…' button.
This is the main signature editing tool you can use in Outlook. You can manage existing email signatures and connect them to different accounts that you have logged in.
If you want to create a new email signature, click 'New' button in the area at the top right corner.
Fill in the name you want to give your new signature. Only you will see it, so choose whatever you want.
Hit 'OK,' and the signature is added. You can see it in the area designated for existing email signatures.
You can modify any signature that you have there. The tools below allow you to do so for the signature highlighted with a blue color. Now let's learn how to set signature in outlook in an alternative way with desktop app.
Option #2
Let's take a look how to set up a signature in Outlook in another way. In the Outlook app, click on the button 'New Email.'
In the tab 'Include' there is a button 'Signature.' Click it and choose the last listing 'Signatures…'
The window 'Signatures and Stationery' will pop up, just like in the first option.
Everything else you should is the same as we have mentioned above.
Using a web browser to create your email signature
The process of adding an email signature to your Outlook account on the web is not much different from a desktop application one. Firstly, go to outlook.live.com or outlook.com.
Then click on the gear icon at the top left corner of the page.
The 'Quick settings' tab will appear, but you need to follow the link in the bottom that says 'View all Outlook settings.'
Click on the tab 'Compose and reply' where you will find an 'Email signature' working area. All you need to do now is fill in the text and content you need and click 'Save' at the top of the window.
Making an email signature in Outlook on mobile devices
If you want to add an Outlook email signature using mobile app on iOS, firstly open it and press on the icon of your account.
Then click on the gear icon to enter settings. You will find a 'Signature' section there.
Now you can add any text you want to your signature. However, as you might have noticed, there are no editing options.
Note that Android application does not support HTML email signatures.
How to adjust your signatures in Outlook
As we have mentioned before, the desktop version of Outlook has the most efficient interface for email signature editing. After setting up your signature, Outlook give you an opportunity to change it whenever you want. Let us learn how to edit signature in Outlook!
Customizing Microsoft signatures text font
You can customize the text of your signature with all the basic stuff like font type and size using Outlook signature settings. It is the same features you are most probably familiar with.
Adding your business card to a signature box
As you have probably noticed, there is a 'Business card' button in the Outlook signature editor. If you have some contacts added to your Outlook email, you can input them in here. Basically, this may work like an actual creative signature.
To add new contact information to Outlook, click the 'New Items' button on the home page and choose an option 'Contact.' This will open an editor.
Inserting images and hyperlinks to email signatures
Lastly, you can add images and hyperlinks to the Outlook email signature. Just click the icon you need and select the content you need.
How can you make your signature in Outlook 2016 default?
If you want to add signature to Outlook and set up signature as a default for some email address, you can do so in the 'Signatures and Stationery' window as well. Choose an account you want your signatures attached to and select when to add them. There are two options: 'New messages' and 'Replies or forwards.'
Can you manually modify your email signature?
Outlook allows its users to access signature files manually. All your signature are saved in .htm, .rtf, and .txt formats. In addition, all the files you include are stored in a special folder. Go to 'File' > 'Options' and Ctrl+Left Click the button 'Signatures…' in a 'Mail' tab.
All the Outlook signature files are stored in the opened folder. You can freely edit, delete, or back up any of them.
Editing signatures as a plain text
If you want to edit signature in Outlook as a text without formatting, open a particular .txt file. This will allow you to modify the text only, and no images or hyperlinks can be added here.
Using HTML to create an email signature
If you wonder how to make a signature in Outlook more than just text in your signature, you can edit a .htm file in the folder. For instance, you can add a table there, as well as different pictures or hyperlinks. If you do know HTML coding, right-click the file and open it via 'Notepad.'
Utilizing alternative tools for signatures in Outlook
Using HTML allows you to add almost anything to your signature, the whole process is rather time-consuming. But you cannot make your signature truly professional without HTML. That is why we recommend using special email signature generators.
Click here to avoid all massive work and create your Outlook email signature in a few clicks.
Why use NEWOLDSTAMP to create a signature?
Simple editor

Superb design

No need for an HTML specialist

Central management

Banner campaigns

Analytics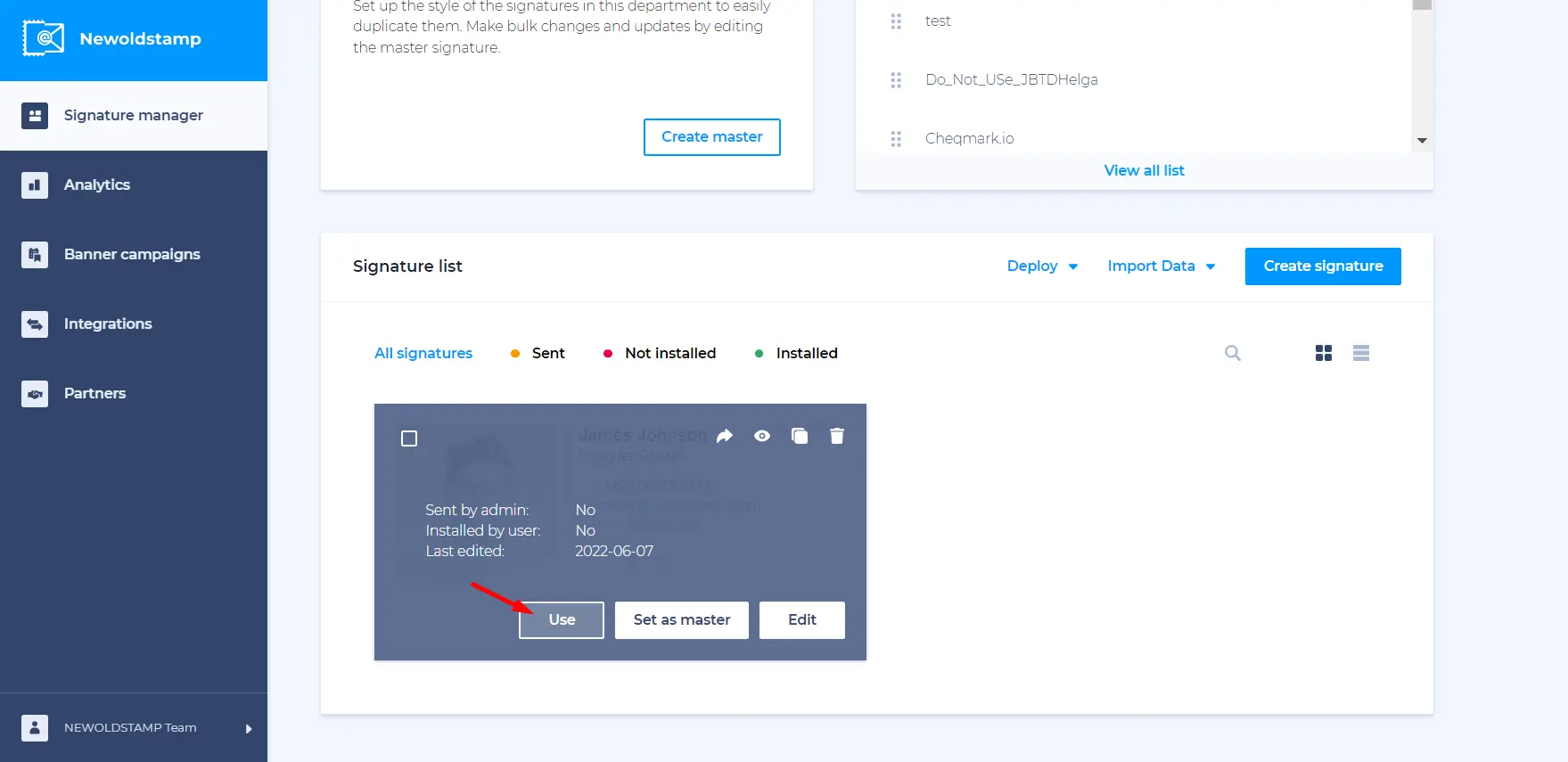 Once you are done editing your signature in NEWOLDSTAMP, you may want to know how to set up signature in Outlook. Click 'Save and Install'. The button will redirect you to a page with a brief tutorial on how to add a signature in Outlook. Make sure you choose the right application, though.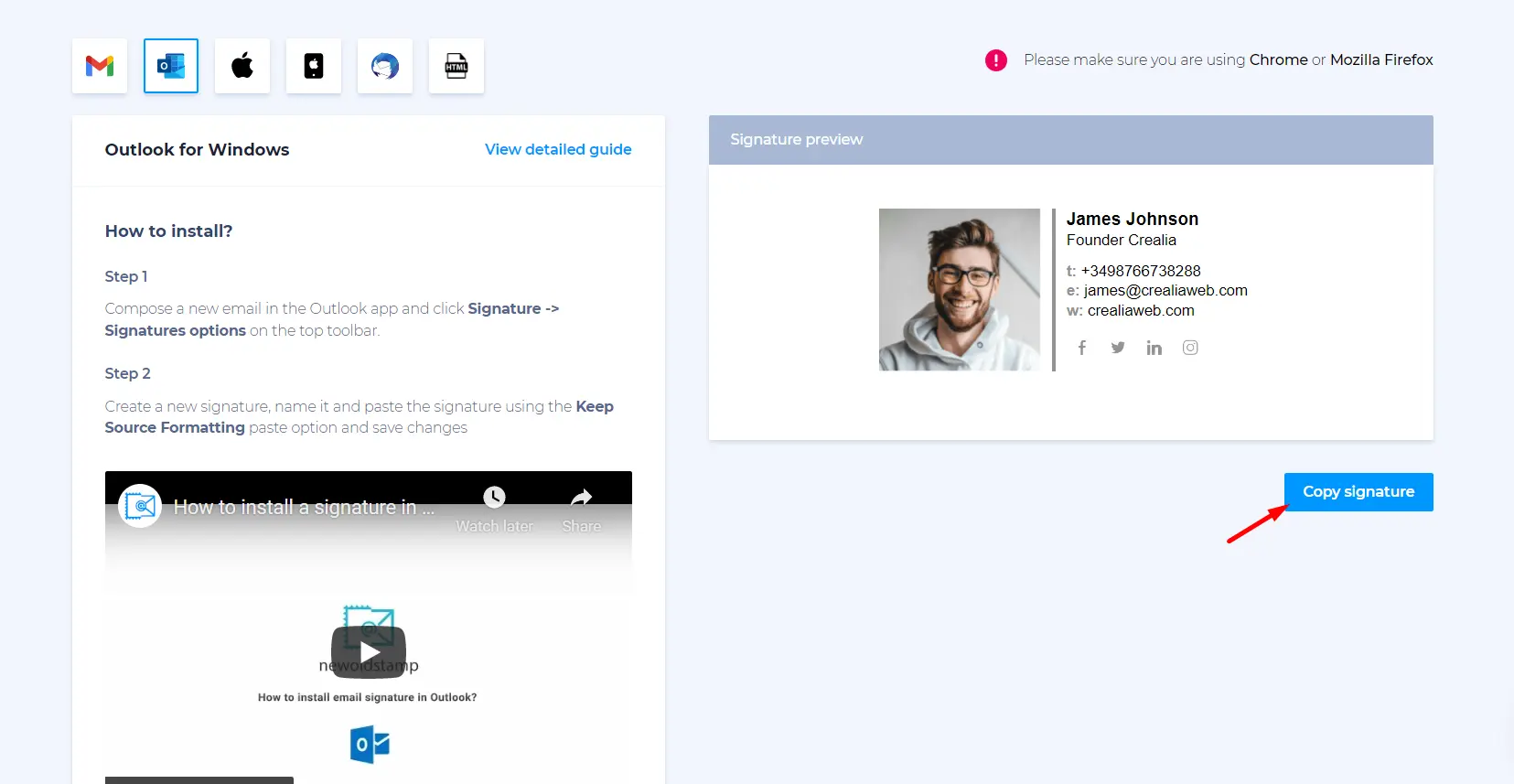 As you see on the screenshot, you can both copy the signature or just save it in a file to the folder where signatures are stored in Outlook.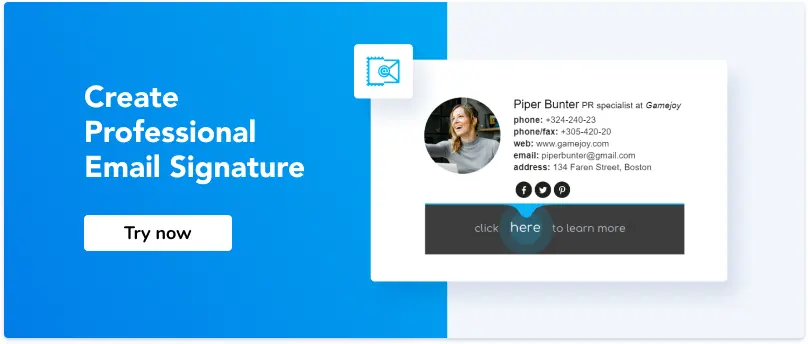 Conclusion
Outlook email signature editing and management are rather difficult. Especially if you don't have a lot of experience in the app. If you are wondering "How to create a custom signature in Outlook?", the best way to do so is by using an external generator. It allows you to get rid of all the unnecessary steps of creating email signature for Outlook while spending time on things that really matter.