5 Ways to Successfully Get into Your Prospect's Inbox and Draw Attention
1. Clean and Declutter Your Email List
2. Write a Clever and Personalized Subject Line
3. Start a Conversation with a GIF
4. Tell Them Why They Should Care
5. Cultivate a Relationship
Useful tools:
1. Newoldstamp - Email signature marketing
2. SendGrid - Email builder and sender
3. Boomerang - Tool for scheduling emails
4. Mailtrack - Email link opens tracking
5. Canva - Online tool for making designs
6. Right Inbox - tool for email follow ups
Many companies pour valuable resources into ineffective email marketing campaigns. The idea of engaging with customers directly isn't the problem. The problem is the mass influx of emails that your prospects receive every day.
The internet handles the exchange of about 269 billion emails per day. Getting into your prospect's inbox is the easy part; now you have to stand out, and grab their attention.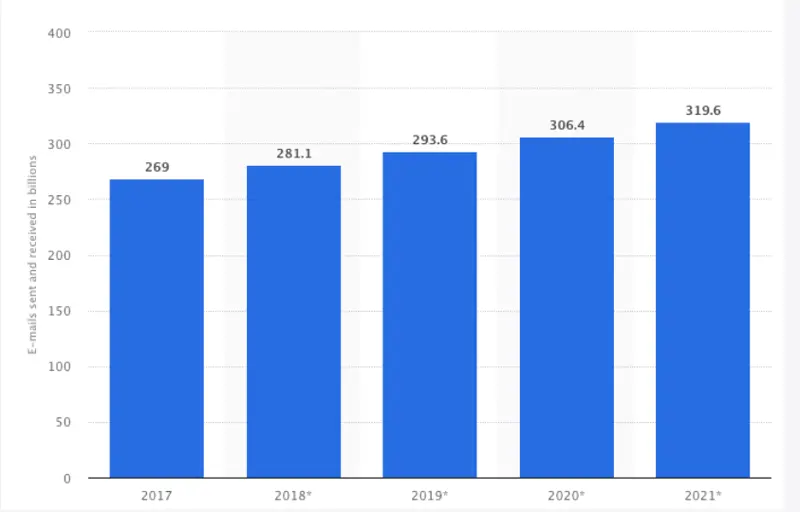 Source: Campaignmonitor
1. Clean and Declutter Your Email List
The days of using the "shotgun" method are over, having excess or unresponsive prospects on your email list is a waste of resources. You once sent these people a welcome email when they joined your subscriber list. Now, send them a goodbye email.
Cleaning your email list has many benefits:
Increase the accuracy of your campaign data

Reduce your bounce rate

Reduce costs on email validation

Specify your target

Higher conversion rates

Higher ROI
These benefits make cleaning up any email list worth it. Email campaign data is vital. Track your email stats closely, not just your email list.
So, why do companies avoid cleaning their lists? It's all in the hope of making one more conversion from an unengaged subscriber. But an untidy email list can bring more risk than eliminating unengaged recipients brings opportunity.
To clean your email list, you can use count-based pruning or time-based pruning. Count-based pruning puts a specific number into a place where you remove anyone who hasn't opened the last 5, or 8, or 10 emails. Time-based pruning uses the same concept but with time frames such as 6 weeks, 3 months, or 6 months.
You can change the parameters, but you should always send a "goodbye email" to give your recipient the chance to stay on your subscriber list.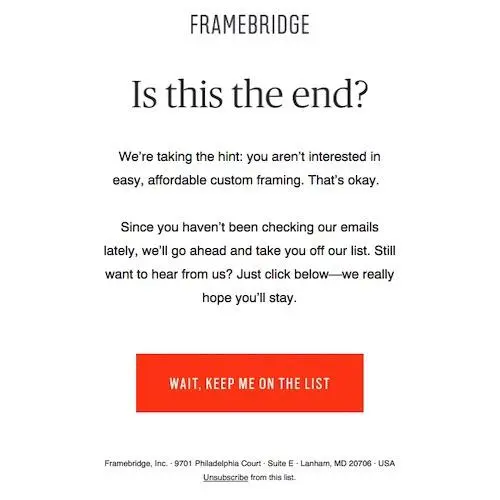 Source: Really Good Emails
When it comes to decluttering or tidying your email, there's a different problem: a company subscribed with a junk email address. If you're having trouble finding the right contact information for your email campaign, there are simple tools that solve this problem.
2. Write a Clever and Personalized Subject Line
You already know that the subject line is your chance to catch the eye of your prospect as they scroll through their inbox. Consumers have also learned the old marketing tricks.
They see a catchy title or apparent click-bait, and they don't just ignore it; they mark it as spam. Purely based on the subject line, 34% of recipients will mark an email as spam.
When it comes to subject lines, catchy just won't do it anymore, but something clever and personalized is proven to draw attention. Additionally, using personalization in subject lines can also keep an email out of the spam folder.
Personalized subject lines have shown to increase open rates by 29.3% and boost transaction rates by 49% as well.
You can make this happen with a few established techniques:
Keep it short, typically 8 words or fewer

Make it directly relevant to your prospect – use your brand

Write conversationally

Make your offer

Give a time frame

Source: Pieology Pizzeria
Using these techniques doesn't have to lead to worn out subject lines such as "Act now for a big discount." Aim for something that reads like one friend talking to another.
To get your creativity going, here are a few examples:
Johnny, your eye prescription expires soon.

We know you hate shopping on Black Friday.

Yes, you can afford (insert product)

20% off for staying subscribed!

Out of the box – an unmissable unboxing event
3. Start a Conversation with a GIF
People love watching videos, and GIFs are perfect for email. They're generally small, fitting into different formats well, and are usually funny.
Embedding GIFs or videos can come with some trouble at first, but the learning curve is worth it because having video in emails increases click-rates by about 300%.
If you're looking for engagement and a way to grab attention, this is the way to go. People spend more time reading emails with video elements and follow through on the CTA more often.
How do you let your prospects know that there's a video in the email? Due to Google's recent changes to email formatting, not everyone sees the email preview anymore. You can include an abrupt "video/Gif – " label before your primary subject line.
Finally, tie your GIF into the context of your message. Make a joke or start a genuine conversation as if you were speaking to a friend.
Don't introduce yourself such as, "Hi, I'm Anne…" Instead, jump right in with personalization, "(prospect's name), don't let a cat video distract you from this great deal on pet supplies."
There are a few important things to note when using GIFs in emails. First, be sure the GIF is high-quality. Second, ensure that it will work seamlessly with most major email providers. Finally, make it clickable; allow the video to serve as a link to your deal or product.
4. Tell Them Why They Should Care
Not everyone is lining up to open your emails or engage after they take a quick glance. Don't just give them something to care about, tell them why you know that they care.
The industries with the highest open rates are hobbies and government. It's clear that the people who are opening these emails are active in those industries regularly. At the opposite end of the spectrum, e-coupons and advertising have the lowest open rates.
Even if your email is related to e-commerce or is an advertisement, you can appeal to your prospect. Focus on your product or service and what initially catches your subscriber's attention.

Source: Really Good Emails
You can deliver high impact statements in the subject line or in the first few lines of your email. Discuss how your prospect can start taking an active role in events related to your industry or showcase charities that your company supports.
If you run a charity, you can use digital marketing basics to create an amazing digital fundraising strategy.
5. Cultivate a Relationship
Cold calling and cold emails are losing their touch. Social media marketing, high-engagement, and one-on-one contact have made consumers want relationships.
To cultivate a relationship through email marketing, create a dialogue. For those sending emails every day or multiple times a week, focus on one theme for the week. If you send emails less often, send them as notices or updates.
Going beyond the customer-focused approach, create a conversation, even if it's one-sided. Send emails when you're not running a sale, giving them information about your business. If your company doesn't run a blog, these emails can be a great way to deliver high-value information straight to your email subscribers.
Answer customer questions, address their concerns, and build your brand all at once. Some examples include introducing your staff to your prospects or addressing a recent complaint from social media.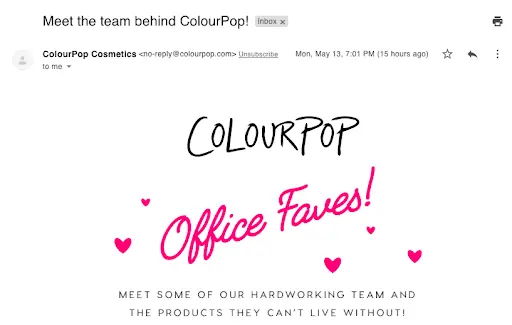 Source: ColourPop
Conclusion
Email marketing can have a huge impact on your company and deliver considerable ROI. To make that happen, you need to land in the right inbox first and then promote engagement.
To get into the right inbox and grab attention, remember to:
Keep your email list tidy

Write personalized and clever subject lines

Use GIFs

Give prospects a reason to care

Build a relationship
Best of luck with your marketing campaign!