Email Signature: Everything You Need to Know About Using Email Signatures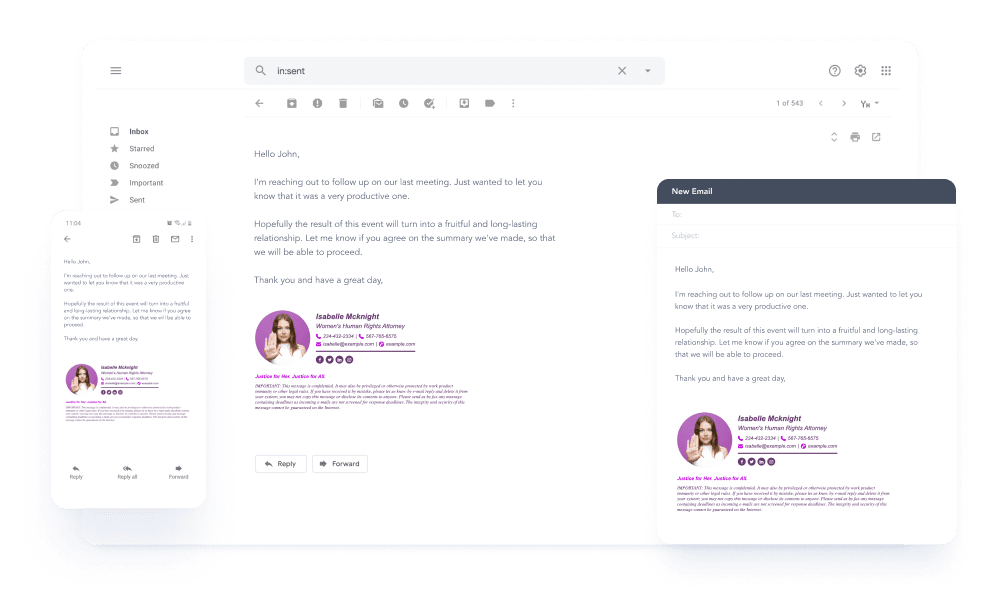 Email Signature: Everything You Need to Know About Using Email Signatures Just 52% of professionals have an email signature. Of those with it, only 28% include their cellphone number, and only 58% add the organization they represent.
These statistics show the huge benefits of using email signatures for conveying essential business information are still unknown to many professionals. As a result, many fail to include even the essential information such as their contact details, social media links, or basic info about what they do.
And that's a costly mistake that deprives countless professionals of the incredibly simple and easy-to-set-up avenues for growth.
The email signature is not just a signoff; it's almost like a summary of the entire message or even the communication. It provides context that allows the recipient to quickly understand how to take the next steps, helping them form opinions about who you are, what you can offer, and what they can do to take full advantage.
Some of the most prominent minds in marketing tend to agree on the importance of a compelling signature. And those who fully utilize its potential will be able to reap the most considerable benefits.
But what is an email signature, exactly? What can it offer? And how to use it? In this article, we'll be diving deep into the subject and answering every question you are likely to have.
"Your email signature… huge opportunity for a call-to-action. I change mine depending on what's most important to me. The email signature is the easiest place to get full exposure continuously because you're always using it and you're interacting with business people and… there it is."

Gary V.
What is an Email Signature?
An email signature is much more than just the closing remarks at the end of your email. Even though many people rarely use it for more than a cordial "Kind Regards" or a more informal "Cheers" next to their name, the possibilities for using the real estate below the email body extend much further.
In fact, forward-thinking professionals have recognized the potential that a well-crafted email signature can have. They have turned the unremarkable email footer of the past into a professional email signature that carries a strong message, provides valuable information, and serves as an indispensable marketing tool.
Modern email signatures can contain not only your name and job title but also an image, helpful links, call-to-actions, and even promotional banners; basically, any other information you would like to include. Since email signatures can be used for many purposes, their design, structure, and content can vary greatly, but understanding the possibilities can be immensely helpful in getting the most of the powerful benefits that a professional signature can offer.
Importance of an Email Signature
The importance of email signatures is hard to overstate. They can become an integral part of all your communications and offer various ways to help you get closer to your business goals.
At the most basic level, an informative email signature provides more information to the reader about you, your business, and the critical details about what you do. But that's just the tip of the iceberg in terms of what you can add.
You can also use an email signature to educate people about your brand, showcasing your core value proposition and brand values, which help build trust and encourage people to connect with your brand.
At the same time, an email signature can serve as a way to keep people in the loop about your products, activities, and special offers. When you have something you want people to know about, putting an eye-catching banner in your email signature is a great way to spread that message with every email communication.
And ultimately, a strong email signature can result in business growth. Creating a compelling email signature can become a powerful method for generating leads and new business through targeted CTAs and deals you include in the message.
Why It Works
An average marketing or sales department employee at small and mid-size companies sends from 11 to 25 emails daily . And when you have dozens or even hundreds of employees, that's thousands of emails every day, which could be used as powerful branding opportunities that propel your business forward. And that's why it's hard to argue against the potential of something that can be automatically added to each email without requiring any additional effort from the sender.
Let's look at a specific example of how that might look. We added a simple CTA of 'book a demo' to our sales manager's email signature. 20% out of 216 people who actually clicked on a link booked a demo. Having to pay about $50 per year for a signature, we generated 341 times more revenue. That is roughly $17000! Can you think of a sales tool that can return 34100% of investment?
When you invest in a professional email signature maker, you pay a fixed fee per year of around $50. But then, there's no limit to how many emails you may send that will automatically create new business opportunities for you all year long.
At the same time, you will also provide a better experience to every recipient of emails from your company. By enabling more ways to learn about your business and reach out, you will help people find the answers they are looking for and drive sales on multiple levels.
Email Signature Formats
You can use multiple methods to create email signatures for yourself and your employees. But four main ones are used in the majority of cases:
Make it in text, write a simple signature on your email service provider, and save it.
Design it in Microsoft Word, Canva, Photoshop, or any other graphic editor.
Code it with HTML and CSS.
Use an online email signature generator.
The problem with creating a text-based signature is that it might not draw as much attention. It can also make it harder to fit all the information you want to include.
But suppose you use visual editors or upload an image. In that case, the problem is that you won't have a reliable way of knowing how it looks on different devices and whether it won't make the entire email unreadable because of poor formatting.
Then there's the HTML coding option, which provides a ton of customizability options but takes a lot of time and knowledge on how to do it.
Because of that, using an email signature generator will usually prove to be the best option, which gives you access to a variety of email signature template options, customization, and consistent formatting on all devices.
Email Signature Management
The benefits of using an email signature are clear. But you might be unsure how to manage your email signatures and create consistent designs that align with your brand, goals, and core messaging.
And since using a basic image or a text-based email signature can be limiting, your two viable options are using an online signature generator or manually creating the signature using code HTML & CSS.
To help you understand both options, let's explore them below.
Using an Email Signature Generator
When using an email signature management system like Newoldstamp, you can take advantage of a refined process to provide top-quality designs, seamless management, and powerful features that allow you to implement effective signatures on a company-wide scale.
Customizable Templates to Match Your Brand
When getting started with using email signatures for marketing and lead generation, you may be unsure of how to create signatures that get noticed and clicked on. And that's why we provide a range of beautifully-designed templates that will allow you to add professional-looking signatures much faster and with more confidence.
When you know your signature's purpose and the context it will be used in, you can then utilize the templates to their full potential, taking a working framework and customizing it to match your brand, voice, and goals.
Manage Email Signatures Centrally
Keeping track of the different signatures for various situations is not easy. And when you have dozens or even hundreds of employees, that process seems almost impossible to manage.
But with Newoldstamp, you have a central place where all of your email signatures are stored and can be quickly edited. Instead of having to painstakingly track what signatures your employees are using, you can utilize a centralized database where you can instantly make changes.
Deploy and Install Email signatures in One Click
Getting your employees to actually use the email signature designs you create can be challenging. But with Newoldstamp, sending out and deploying signatures is a process that takes little more than a single click.
Whether you want to send email signatures individually, in bulk, or invite people to create their own, you can do it from one place where you have complete control over how the signatures look.
Automatic Signature Updates
Finally, when you need to update the signatures to correspond with the most recent changes, you can also do that automatically, without making separate changes in each instance.
For instance, when an entire department is using a similar signature format with the same basic information, you can update it for everyone at once and inform them about the changes quickly.
Automatic Signature Updates
If you don't want email signature management systems, the best alternative is to code an email signature using HTML and CSS . And for many people, this can be a viable approach to consider.
But if you don't have much experience with HTML or CSS, you will probably find that the process takes too much effort. Moreover, making changes manually at scale if you want to implement email signatures across your company can be tricky.
When designing an email signature, the steps you need to go through are relatively similar to creating a website. First, you'll need to understand how to use various HTML commands to make it look how you want and appear professional in multiple formats. And that takes a lot of time that could be used more productively, especially when more convenient alternatives (hint: a solution designed for this specific function) are available.
As HTML adds lines of text or visual content one below another, you should use tables to organize everything. In this way, your email signature won't get torn apart when sent to different email clients. And if you would need a signature-wide banner, just add another table below.
Any visuals, like your photo or a banner, are added through links. Use 'a href' and 'img src' commands to insert the image's link itself and alt tag. Doing so instead of uploading images straight to a signature will save your emails from spam filters. However, you will need to use some style adjustments through special commands.
But as mentioned before, you can avoid all of these tedious steps if you use an online email signature generator instead. You can utilize an intuitive generator that will help you quickly organize your visuals and the message, converting everything to responsive and adaptive HTML that will look great on any screen.
How to Create a Professional Email Signature
Choosing the suitable method for designing your email signature is essential. But at the same time, you need to understand the fundamental email signature formatting principles that determine how effective your signature is and how people respond to seeing it.
These principles are based on the best practices that have been working for a long time, utilizing design concepts that make the email signatures blend with the rest of the email, have a clear structure, and accentuate the critical parts of the message.
Email Signature Design Size
The size of your email signature plays a significant role in how it looks next to the email. Choosing the right size also helps visualize the information in a more appealing way, which is crucial when you want to grab and maintain the reader's attention.
The email signature should generally be easy to notice but not too big to become overwhelming. Typically, you'll want to use a 3:2 ratio (width and height, respectively) for horizontal orientation and 1:3 for vertical.
The size of the signature also relates to the file size. You want the signature to load instantly, so make sure you limit the file size to less than 50kB. An email signature generator can help resize your images while maintaining their quality in the signature.
Email Signature Colors
Another crucial part of email signatures is the colors. You can use colors to direct attention to important details and highlight the unique design elements of your brand.
Generally, it's better to limit the number of colors, using no more than two to maintain clarity. At the same time, consider not using too bright colors to not oversaturate the email body.
Email Signature Width & Height
You should limit your email width to around 600 pixels and the height to about 400 pixels. For vertical alignment, the height limit should be 600 pixels as well. For mobile devices, these dimensions should be reduced by half.
How to Present Your Personal and Business Details
Another key consideration when designing your email signature is how to present the information to convey it effectively and make the signature look visually appealing.
Technical details aside, the primary function of a good email signature is conveying a message, so the structure and templates you choose will determine whether people respond to your CTAs and core messages.
And there are actually quite a few different ways to structure the essential details such as your name, position, visual elements such as banners, and links.
How to Present Your Contact Information
Contact information is perhaps the most impactful part of writing a professional email with a signature . You want to provide people with multiple options to reach out, and the way you present that information can make a big difference in whether they take notice and decide to click through.
When you structure your email signatures , it's crucial to consider which information will have the most impact. And that goes for contact information as well. For example, adding more options to contact you might make the signature cluttered and unfocused, confusing people instead of helping them. To avoid that, only add the contact details that you actually want them to know and get in touch by.
When it comes to corporate email signature best practices , a fundamental rule is to arrange the information in a logical hierarchy. That means that your phone and website should be prominently visible, and other things (such as the social icons) should come near the bottom.
Finally, you should utilize dividers and colors to help the reader differentiate between different contact details at a glance. That will help avoid the information becoming crowded, preventing the reader from finding what they're looking for.
Making an Attractive Email Signature
Making an attractive email signature is not always a simple process. Combining the different elements into a signature that looks good and conveys the message effectively requires a good understanding of the best practices as well as your audience and situation. At the same time, it's important to understand each element and how they interact. That includes choosing the right size of the signature , sizing the image , figuring out how to use the image , adding the logo , just to name a few of the steps.
At the same time, when it comes to the images in email signatures , you need to be aware of their pros and cons. Sure, they help grab attention and draw the reader's eye towards the signature message. It can also provide more personality and help establish a stronger connection with your brand. But at the same time, an image comes with risks of bad formatting and can contribute to making the readability not as good.
If you want to take the visuals of your email signature to another level, you could also consider using animated GIFs in your email signature . It can attract more attention and make the signature even more engaging.
Finally, you shouldn't neglect the potential of using various fonts to make the email signature more cohesive and beautiful. However, when choosing fonts, make sure you use "web-safe" fonts compatible with all devices, such as Arial, Calibri, Georgia, Comic Sans MS, Helvetica, Times New Roman, and other classics.
How to Use a Call-to-Action (CTA)
Any marketing campaign aims to get the person you're targeting to take action. And since email signatures are also designed to get people to respond, the CTA is a vital component that will largely determine your success.
However, many people who have sign offs fail to consider the best practices for creating impactful email signatures , resulting in subpar performance and missed opportunities for lead generation, marketing, and sales.
But how should you design your CTAs for maximum impact?
Well, one of the main principles of effective email signature CTAs is personalization. 44% of consumers say that personalized interactions make them more likely to buy again, and it's important to utilize it when creating compelling CTA messages in your email signatures.
If you want to increase the likelihood of getting someone to click, you must ensure that the signature is relevant to the person reading it. And that means personalizing the signature based on the person receiving the email, their current priorities, and the topic of your communication.
That doesn't mean that you need to personalize each signature, as that would take way too much time. But it does mean that you should consider how to engage different types of prospects or clients through appealing CTA messages.
Whether you're persuading someone to complete a purchase, promoting a special offer, or even encouraging engagement through high-value content, the relevance of the CTA can make a big difference in your results.
And then, it comes to the way you utilize the core elements of a good CTA in any situation:
Purpose. The purpose behind your CTA is the thing that drives the recipient to take action. We already talked about personalization, but it should also be based on a promise to get something the person already wants.
Copy. You need to utilize the crucial copywriting elements to make an irresistible CTA, including a substantial benefit, a sense of urgency, curiosity, and power words that draw attention.
Design & Placement. The way that the call-to-action is designed and placed matters as well. Compelling copy or relevance won't matter if the CTA does not stand out and gets lost in the overall signature message.
Add Social Media Icons
Continually growing your social media presence is a great way to expand your reach in the market. And adding them to your signature is an excellent low-effort method for getting people to check out your social media pages and become followers you can engage further.
At the same time, having social media icons is an opportunity for the recipient to learn more about your personality, brand, business, and offers, all of which contribute to them getting closer to getting a purchase.
Pronouns
An often-overlooked part of email communication is using the correct pronouns . But when you want to let people know how they should refer to you when addressing you or talking about you, it's good to include the pronouns in your signature to clarify any confusion.
Adding a preferred pronoun is also a sign of respect that shows others you recognize and respect everyone's gender identity, which is vital for building relationships based on trust and compassion.
Here are the gender pronoun options and their use cases:
He/him/his can be used for those who identify as male.
She/her/hers is for those who might identify as female.
They/them/their is for those who might not strictly identify as either male or female. They are considered gender-neutral and refer to a single person, not multiple people.
Ze/hir/hirs can replace both he/him/his and she/her/hers.
Ey/em/eirs can replace both he/him/his and she/her/hers.
Legal Requirements
Making sure your email signature complies with the legal requirements is easy to overlook, but very important. Luckily, it's easy to add an email signature disclaimer that limits your liability and informs the reader.
You can add disclaimers to emphasize confidentiality, disclaim the formation of a contract, protect copyrights, and a variety of other situations. Newoldstamp makes the process very simple, allowing you to add a customizable disclaimer to every signature you create quickly.
Professional Email Signature Templates You Can Use
When creating an email signature for yourself or your business, you want to make it distinct and unique according to your brand, purpose, and style. But at the same time, you need to utilize the best practices of email signature design to ensure people actually notice the important information and click your links.
And that's where email signature templates can be handy.
When you use a tool like Newoldstamp, you get access to beautifully-designed templates that can be customized according to your needs. In fact, we even have a range of exclusive email signature templates for professionals, including marketers, realtors, lawyers, and many others that are based on the email signature best practices .
Email Signature Examples
To help you find the right email signature templates and design them for your needs, let's look at some email signature examples that you can utilize when you work with Newoldstamp.
Email Signatures for Marketers
An email signature can be the perfect tool for increasing the reach and effectiveness of your marketing campaigns.
And with Newoldstamp's email signatures for marketers , you can turn your employee email signatures into compelling marketing messages that reach your target audience and get them to take action through captivating CTAs.
Email Signatures for Sales Managers
And an email signature template for sales managers is a perfect way to highlight the key sales closing lines in email sales scripts to keep the best offers in the mind of the prospects.
You can add your contact information, headshot or brand logo, style the signature according to the company's design elements, personalize your email marketing messages by uploading a banner to drive people to take the action you want them to take.
Email Signatures for Realtors
As a realtor, you need to provide prospects with essential information in every email communication. And you also need to utilize every sales opportunity, which includes creating compelling realtor email signatures that sell .
Our email signatures for realtors help convey a professional image, allowing prospective clients to reach you in multiple ways, learn about your services, and click the links you want them to view. It can even become one of the most powerful real estate marketing tools at your disposal.
When you design your email signature using our realtor templates, you can upload the banner to showcase specifically tailored listings relevant to the recipients of email marketing messages. Over time, as you develop more real estate marketing ideas , you will likely discover even more ways to utilize the signature to grow your business.
Email Signatures for Non-Profits
For non-profits, every opportunity to raise awareness is essential. And at the same time, you need to consider the most effective marketing methods to get responses to the cause you're promoting. Compelling and engaging email signatures for non-profits can be a big part of success.
When you utilize our email signatures for non-profits, you can create a more professional look for your organization, highlighting your core message, ways to reach out, and showcasing a banner with a call-to-action that urges people to donate.
You can also use the banner to recruit volunteers, answer common questions, and encourage people to reach out to learn more.
Email Signatures for Startups
Being in the tech world ensures most startups understand the importance of using the essential SaaS tools to become more effective. And with startup teams sending out thousands of emails to build relationships, share value offerings, and drive people to take action, it's clear that a convenient solution for enhancing the process is necessary.
Being a part of 500Startups Accelerator helped us refine our email signature templates for startups to help you get the most out of your communications with investors, partners, and customers.
ou can use the signature to increase signups from various marketplaces, raise awareness about your stand at an upcoming conference like Web Summit , share valuable resources and data that position your products and help convince prospects to try out your solution.
Email Signatures for Lawyers
As a lawyer, you want to maintain brand consistency with your firm and highlight the credibility and reliability of your services. A professional email signature for lawyers is a great way to boost the trust of your prospects.
Using our best email signature examples , you'll be able to save time and quickly utilize the branding and visual elements that align with your firm. At the same time, you can add a banner with a strong CTA to encourage action and provide clear steps prospects can take right away.
Email Signatures for Event Planners
For event planners, maintaining a professional image is absolutely essential. And our email signature designs for event planners can provide frameworks with extensive customization options that event professionals require.
You can use the event email signatures to allow your brand and personality to shine through, using the messaging and the design to highlight what makes you different and why people should want to work with you.
And you can combine our powerful email signatures with engaging free event email templates to run branding campaigns, generate leads into your funnels, and boost the sign-ups for your events as part of your event email marketing strategies.
Email Signatures for Personal Assistants
As a personal assistant, it's part of your responsibility to set a communication bridge between your boss and other people.
And our email signatures for personal assistants are designed with that in mind, making it very easy to add contact information, important CTAs, and branding details, with no coding required.
You can use the templates to both represent yourself and be an extension of the person you're working for, to make communications more effective.
Email Signatures for Designers, Bloggers, and Photographers
People in creative professions such as designers, bloggers, and photographers rely on a strong and professional online presence for success. And that means that if you're in one of these fields, you need to maximize all of the opportunities to promote your personal brand, grow your audience, and drive sales.
For one thing, an email signature for designers, bloggers, and photographers enables you to provide the recipient with the main ways of reaching out. At the same time, you can use the signature to showcase your best work and convince prospective clients that you're the person for the job.
Finally, by adding your social media links, you enable your audience to see how you interact with your followers and let them see some of the raving reviews that your best clients have left you.
Email Signatures for Teachers
Email is probably a significant part of your communications if you're a teacher. And when you're reaching out to parents, colleagues, or even vendors for school trips, you need to ensure they have all the contacts to reach you. That's where adding an email signature can be handy.
Newoldstamp's email signature templates for teachers make it easy to include contact details and links to helpful resources for students or parents to reduce the number of back and forth emails.
Email Signatures for Students
Many universities require their students to format their email signatures according to the guidelines. At the same time, universities might want to create a more unified student signature system that makes writing and receiving emails much more convenient and clear.
Our email signature templates for students make it easy to customize the design based on your school, while at the same time providing a proven framework that will allow you to quickly fill in the blanks with the important information you want included.
Students can even add various awards and certificates to their email signatures to showcase their achievements, making it easy to set up impactful and informative student email signatures that are in-line with the school's requirements as well as your personal goals.
Email Signature Integrations
Depending on how you create a signature, adding a signature to an email client can vary. Using HTML and CSS coding requires manual work and adding a signature to your email client settings.
And one of the best things about using the Newoldstamp email signature service is its simplicity. You can utilize our email signature integrations to simplify the process.
Here are some of the integrations you can utilize when creating signatures for yourself and your teams using Newoldstamp.
Microsoft 365
Microsoft 365 is one of the most popular platforms for managing business data and communication, and the Newoldstamp email signature marketing platform seamlessly integrates with Microsoft 365 to offer you powerful features and a central hub for overseeing all of your signatures.
You can automatically update signatures, deploying them with a click of a button, and can have different signature templates across company units. And you can do all of that and more without needing to involve the IT team.
After the system is set up, you and your team can create, update, and manage signatures quickly without coding or complicated steps.
Google Workspace
Integrating Newoldstamp with Google Workspace will be a simple process for you and your team. You can streamline the entire process of adding brand-consistent signatures on Google Workspace, customizing them to fit each department or even employee, and quickly making changes in a central dashboard.
Our Email Signature Manager for Google Workspace features a simple and intuitive setup process, automatic updates, countless templates for various departments, high-end security measures that protect from unauthorized access, and the ability to deploy beautiful and effective signatures with a click of a button.
Microsoft Exchange
Finally, you can easily manage and create email signatures through Newoldstamp if you're using Exchange Email. By simplifying your signature management process, you can turn your email signature into a branding and marketing tool that can be customized for each department and even communication type.
After a one-time integration with our Exchange signature manager , you will have complete freedom to design and quickly deploy beautiful signatures without the need for third-party apps or browser extensions, gaining instant access to our extensive collection of easily-customizable templates.
How to Add a Signature to Your Email Client
You can also easily add your email signatures to other email clients. Let's look at the process for each below.
How to Create Email Signatures in Gmail
Creating an email signature in Gmail using Newoldstamp is intuitive and simple. Instead of wasting hours crafting the perfect signature on your own, you can utilize our templates and go through a few quick steps to help you set up the signature much faster.
While you can do it manually , it makes much more sense to utilize the proven designs of Newoldstamp and then upload the signature you create with a single click instead of having to upload the image or add social media icons separately. You can even have multiple signatures in Gmail that you can use according to the situation.
How to Create and Add Signatures in Outlook
Outlook is an excellent app for creating beautiful signatures , especially when you utilize the templates and customization options offered by Newoldstamp.
Simply go to the 'Options' menu, select the 'Mail' tab and press the 'Signatures' button. Then, you can either create a new signature from scratch or simply paste the created signature into your Outlook to start using it in all your email communications.
How to Create a Signature in Apple Mail
If you're using Apple Mail, the process of adding an email signature is similar to the previous apps. You will need to click "Preferences," go to the 'Signatures' tab on the pop-up menu, and then choose the account for which you want to create the signature.
Once you name it, you can either create the signature from scratch or use the signature you've made through Newoldstamp to simply paste it and start using it immediately.
When setting up your signature on an iPhone or an iPad , you can go to 'Settings' -> 'Signature' and paste your link to the created signature. You can also easily add an image to your iPhone email signature by going to 'settings', creating a signature template, and then copying and pasting the image you want from your phone.
How to Add a Signature in Yahoo Mail
Even though the heyday of Yahoo seems to be in the past, it's still used by millions of people as a primary email service provider. And if you're one of those people, it's a good idea to figure out how to add an email signature to all of your future communications.
When creating a signature for Yahoo Mail , you'll need to 'Settings,' 'More Settings,' and navigate to the 'Writing email' tab from the menu. Then, you can either create the signature from scratch or paste the signature you generated with Newoldstamp and save it.
How to Add a Signature to Thunderbird
Thunderbird is a convenient app for managing your emails, so it's not surprising that many people still use it. But how can you set up an email signature for Thunderbird ?
The first step of adding a signature in Thunderbird is selecting the account you want to add the signature to. Then, you will need to go to 'Options' and 'Account Settings.' Once you open the new window, tick the 'Attach the signature from a file' and upload the HTML file you downloaded from Newoldstamp. Alternatively, you can create the signature from scratch manually, but that would take a lot more time.
Other Email Clients, Email Service Providers, CRMs, Outreach Platforms
Even if you didn't find your email provider, CRM, or outreach platform on this list, that doesn't mean that you can't have professional signatures. Newoldstamp strives to support all major providers and ensure that you have an easy time creating engaging signatures that bring results for you and your business.
Here are some of the other email clients Newoldstamp works with:
1&1
163
Airmail
AOL Mail
Canary Mail
eM Client
FastMail
Mail Pilot
Mailbox
Mailbird
Newton
Nine
Postbox
ProtonMail
QQ
Rackspace
Roundcube
Spark
Sparrow
Unibox
Windows Live Mail
Zoho Mail
Email Signature Marketing
Email signature marketing is the process of using the signoff part of an email for marketing purposes. Instead of using a quick signoff like "best regards," you can turn an email signature into a well-crafted and thought-out marketing element to reach your business goals. Considering how expensive some marketing campaigns can be, setting up a compelling email signature can be one of the most cost-effective channels that offers a range of benefits for marketers and salespeople.
Email signature marketing is one of the most underutilized methods to grow your business, generate new leads, build brand awareness , and drive sales with every email you send out. But while it's incredibly beneficial and simple to set up, many companies and entrepreneurs still haven't utilized the email signature to its full potential.
Goals of Email Signature Marketing
When utilizing email signatures for marketing purposes, it's essential to understand what you can potentially accomplish. And the good news is that there are many marketing campaigns you can run through email signatures, each helping you achieve specific goals for your business.
Here are just a few of the main goals you could consider:
Build Brand Awareness and Credibility. Your email signature can become a powerful representation of your brand and strengthen the overall message in the eyes of your customers, partners, and prospects.
Drive Traffic. Driving traffic to your offers and landing pages is an integral part of maintaining a consistent flow of new leads. And the email signature is the perfect opportunity to insert a compelling and highly-visible banner with a CTA that directs people to your websites and social media sites.
Content Marketing. Content is crucial for developing relationships, educating customers, and establishing your brand as an authority in your field. And an email signature can be beneficial for inserting links to your new content that prospective or current customers can explore.
Lead Generation. If you want to drive leads to a landing page, an engaging banner in your email signature will help you increase traffic without spending on paid ads.
Increase Sales or Revenue. When you consistently promote your best offers on an eye-catching banner in your email signature, you will inevitably see an uptick in sales.
Promote New Products or Services. Have a new product or service you want to introduce to your prospects and customers? Add it to your signature and get in front of everyone in your communications and your email lists.
Retain Existing Customers. Keeping your brand and your products in your customers minds is a crucial for getting them to buy again. Adding an email signature banner that draws their attention to your offers and reminds them of your value is a great way to retain them longer.
Get More Customer Testimonials. Providing a great customer experience to every person in your audience is a big part of building a loyal following that not just buys from you but also promotes your brand. And even something as seemingly simple as an email signature can go a long way in making people more aware of what your brand stands for and why they might want to support you. You could even send emails to your best customers asking them for a review in your signature, which would help you gain more social proof while also helping them verbalize why they enjoy your brand. You can also add a CTA to your email signature encouraging people to leave a review for your services.
Email Signature Banner Campaigns
Banners have been used in a variety of marketing campaigns for a long time. They can help you showcase your brand, draw attention to offers, and get people to take action on your offers and messages. bring out a reaction that you want from the reader.
And because of these reasons, banners can also be a perfect addition to your email signature. You can add banners to your email signature templates, allowing you to quickly insert an appealing and eye-catching visual element into the signature that entices people to take action.
The advertisement, strategically placed in the email signature, makes it easy for people to visit the landing page, blog or social account.
Advantages of Using Email Signature Banners
Here are a few reasons why using email signature banners makes a lot of sense for your business.
Banners are an indispensable part of online marketing campaigns. And online audiences are used to them, too. By adding relevant and eye-catching banners to your email signatures, you can boost click-throughs and get your email recipients to notice your key offers.
Email signature banners are very easy to customize and personalize, allowing you to quickly add an appealing visual element that informs the recipient about your products, upcoming events, company features, case studies, and more.
A big part of capturing attention online is doing something unusual. Banners in signatures are still relatively uncommon, so they are much likely to be noticed.
Email Signatures as a Sales Tool
You can utilize email signatures for building highly-effective sales funnels for your business . In fact, sometimes all that's needed to get a person to take action is a well-crafted CTA that leads them to a compelling offer.
You can use email signatures to insert demo request buttons that encourage people to try out your products and see them in action. You can also share the current promotions with especially effective limited-time offers.
Finally, you can nudge people to buy by showcasing client testimonials that introduce different aspects of your product's effectiveness.
Measure Email Signature Success
Even though email signatures can be incredibly useful for marketing and sales, tracking performance is the only way to know that they're delivering actual results. And the good news is that tracking clicks in your email signatures and measuring campaign performances is very easy.
You can connect the link to Google Analytics, insert it into your signature editor, and check that everything is working in your Google Analytics dashboard. Then, you will receive real-time information about how many people are clicking through, which will allow you to perform split tests and consistently improve performance.
To track clicks using Google Analytics, simply go to Google Analytics and use the URL Builder Tool to create an URL with UTM parameters that can be tracked. Then, insert the URL into your email signature editor and you will be able to check the analytics data on your Google Analytics dashboard.
Newoldstamp also has its own analytics feature , which can be used to track the traffic your signatures bring you. Our analytics allow you to track each link on your signatures so that you can know exactly how many people clicked through your social media icons, website links, banners etc.
Since our analytics are tracked by Departments, you should create different signatures for each, and then you'll be able to track performance individually as well as collectively. You can also check performance during specific periods and find out the number of impressions, clicks, and the CTR for each clickable link in your signature.
Other data you can access includes clicks by platforms and devices, clicks by countries, unique clicks, and click rate by weekday.
Takeaways
Email signatures are no longer just a place to give a quick signoff. Instead, they can become an integral part of your branding, marketing, and sales strategies. Utilizing Newoldstamp's powerful email signature management system, you can create compelling signatures that will drive traffic and inform the recipients of your emails, driving revenue and growing your following in the process.
In this article, we've covered:
What is an email signature, and how they're the perfect opportunity to provide the recipient with your details and contact details, as well as share offers, content, and other relevant information.
Email signatures work amazingly well because they are a low-effort way to generate powerful results. By placing a signature at the end of every email, you can gain new followers, schedule appointments, and make sales without having to do anything else, completely on autopilot.
There are many ways to create an email signature, from writing it in text to complex coding using HTML and CSS. But today, the by-far simplest method is to use a comprehensive email signature marketing system like Newoldstamp.
How the process of creating and managing signatures looks like when using Newoldstamp versus coding with HTML and CSS, and how the former can provide you with powerful automation and customization possibilities.
The fundamental principles of designing an effective email signature, including the width & height, colors, presentation, and other factors. We also went through a few of the more popular email signature templates you could use.
The different elements of email signatures, such as the images, call-to-action, social media icons, and others, need to be combined in a logical way that directs attention and highlights your branding elements.
Various email signature templates that are specially designed for different professionals such as marketers, startups, sales managers, lawyers, teachers, and others.
How to add email signatures to your client and the way to simplify the process using Newoldstamp.
Why email signatures are the perfect tools for enhancing your campaigns, and the different ways you could utilize email signatures for marketing and sales purposes.
If you want to learn more about how to fully utilize email signatures in your business, Newoldstamp is here to help. Sign up and try Newoldstamp now, or reach out if you have additional questions.
Create signatures for your team