How to Write a Professional Email
1. How to start an email
2. How to write the main body
3. How to close an email
Useful tools:
1. Newoldstamp - Email signature marketing
2. Mailchimp - Email builder and sender
3. Reply.io - Personal email outreach, calls, and tasks
4. Mailtrack - Email link opens tracking
5. Canva - Online tool for making designs
Did you know that there are around 100 billion emails sent daily? If you are going to accomplish one of them right now but still hesitate how not to fling a bullshit, we want to share out tips on how to write an email. How to start, what to avoid in the body and how to close your email - this article will tell you the core principles of effective business email writing.
How to start an email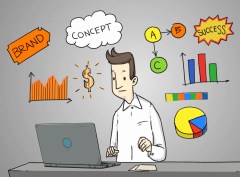 Writing an email is similar to speaking with a person. You are still talking to your friend, companion or boss, but through a computer. And how any conversation starts? Yes, with greetings.
There are two common email greetings - "Hello …" (or "Hi") and "Dear …". The first option is great when you write an email to Americans. However, it should be taken into account that such beginning may contribute to indexing an email as spam by many checkers - especially if you are in used to sending mass-emails or have an unreliable domain. In business email, writing to start with "dear" is more polite "British" way, and it's better to use it when you message a person for the first time in your life.
If you do not know your addressee, it's OK to start with "Dear Sir or Madam" writing a professional email, not with something like "To Whom It May Concern".
Also, you could try more creative greetings. There are some rules, but who prohibits you to be cheerful? "Kind greetings" - or "Good day" may also work.
How to write the main body
Writing a business email, it's nice to be clear and up to the point. Mainly busy people just glance at your text for a few seconds - if something has captured their attention, they may read more attentively. Therefore, if you are wondering how to write an email, my answer is just to be sincere and not bother your reader with unimportant information.
There are many common ways to compose the body, but the most efficient is to do it in three steps: tell a problem, show a solution, and establish the call to action.
So, say about a need of your reader in the first sentence. He or she should understand why it's beneficial to pay attention to your message. People like to talk about themselves, so more things about their advantages you provide - more chances to be listened you get.
Then writing a professional email it's fine to say why you are in a good fit to talk about that need - or how you can solve it. This is also a place to introduce yourself - if you are not acquainted with a person. Some people put it in the first sentence, but it's aim is to capture the attention. If you are Bill Gates or Barack Obama, your name may perform that function, but actually think much if it makes sense to start with introducing yourself.
Finally move to the call to action. When you write an email, you probably have some goal. After describing a problem and your solution, appear to something. To buy a product, to vote for something, sign up a petition, or maybe simply message you back? This should be described in the third part of email.
In addition, business email writing requires personalization. Always better to say "you" than "a man" - and communicate with a person. Questions are also a good idea.
Writing an email, always keep in mind that it's a conversation - use clear and simple sentences, be polite, smart and amiable. Some people think that writing professional emails means using complicated vocabulary - like you are composing a new legislation, however, what are the chances that reader will be so persistent to read to the end?
Moreover, some other tips: try to tell a story, describe benefits, or use impressive facts. For the best perception, also separate paragraphs with empty lines or use simple formatting while writing emails.
How to close an email
Closing is no less significant comparing to a greeting. If you think how to write an email, the body tells your message, while closure and beginning tell what kind of a person you are. Therefore, the best way to close is smart greeting ("Kind regards" or "Best regards" are among the most widespread) and signature. Sometimes warm things like "Have a nice day" also work.
Writing a business email, it's better to create a visual email signature with all significant information covered - your company, website, contact information, social media profiles. If you insert links or logotypes, your signature becomes a powerful marketing tool. NEWOLDSTAMP can assist you with that, just start from creating a free signature promoting yourself now.
This are the main tips on writing an effective email. Try them in your next messages - and develop your skills.