Follow-Up Email Subject Line: Kick-ass Tips
1. Why you need a perfect subject line for your sales follow-ups
2. Tips to make a good follow up email subject for sales
3. Follow-up subject examples
4. Mistakes you should avoid in your subject lines
Useful tools:
1. Newoldstamp - Email signature marketing
2. Mailchimp - Email builder and sender
3. Hubspot Email Marketing - Marketing automation platform
4. MailerLite - Landing page builder
5. Canva - Online tool for making designs
Why you need a perfect

subject line for follow up email
Do you know what the number one secret to writing effective sales emails is? People must open them! Because prospects' inboxes are usually too overwhelmed today, we need to find some way to prevent our emails from simply disappearing in them. To filter out unnecessary or irrelevant email messages, most of us evaluate only subjects. If the subject line doesn't immediately capture our attention, we move on to the next email in the inbox without checking what's inside. So, in fact, without a good subject, the content of the email doesn't matter.
Tips to make a good follow up email subject line for sales
Are you stuck when it comes to writing subjects for follow-ups? We have prepared several tips that you can use to craft an impactful subject that makes people open your email.
Tip #1:

Make your follow-up sales email subject line personalized

The number one rule when it comes to email subject lines is always to use the name, preferably the first name of the person that you are sending an email to. For example, "Jeremy, have you checked out our software yet?"
Also, you should always do your research. What does that mean? You should always do your research on the lead before you reach out to them. First of all, check their LinkedIn profile to see if there are any updates. Maybe they just got a new job or promotion. That's something you can include in the subject. For instance, "Hey, Mark! Congrats on a new position as a marketing manager." Checking their company website or personal blog might be useful too. Maybe it has some sort of announcement like they just raised a new round of funding. Also, do a quick Google search on them.
Tip #2:

Best follow-up email subject lines reflect the email copy
Be careful with what you write in the subject and what you are going to deliver in the body of the email. If there is a too big disconnect, people will feel cheated, and this won't reflect well on your response rates.
Tip #3:

Write your follow-up sales email subject lines like a human

Make the subject line read like it was written by a human, even a cold email one. Anything that will make an email subject sound like a marketing email or like something that was automated or sent to multiple people at once will dramatically decrease your open rates. We'll give you an example of that. So imagine that somebody writes a subject line that says: "ABC company is #1 source for quality leads." Does that really sound like the sender wrote it specifically for the recipient? People will not open it. Now look at the following example:
"Jessica, I wanted to see if ABC company might work for you." Think, which of these emails would you open? Another great tip is not to capitalize all words or the beginning of each word. Ask yourself, when I send an email to my friend, would I capitalize every single word in the subject?
Tip #4:

Put two and two together in your subject line of follow-up
Showing a connection between the sender and the recipient helps overcome the initial mistrust of sales email messages. This can be a mutual connection, joint participation in a charity event, or membership in the same golf club. People usually look for familiar names and words when scanning their mailboxes. Why not get their attention this way? And, of course, we have a few sales follow-up email subject line examples for you: "We met at the Collision conference in New Orleans" or "Time for coffee after Barcelona Half Marathon?"
Tip #5:

Be creative in your follow-up sales email subject line
So do you know what a great subject starts with? Obviously, it starts with a little bit of creativity. How about these: "[Name of a competitor] is marketing very well," "We like being used," "It's really lonely out here," "Cheryl, I am disappointed...:" ... that we weren't able to connect yet (continue in the email body)? Still, be careful when using creative and humorous subjects because there has to be a balance.
Tip #6:

Try emojis in your follow-up email subject lines

In today's text-based world, using emojis may be an excellent way to stand out in a clogged inbox. However, keep in mind that this tactic works best with younger people. By the way, according to statistics, 56% of brands that use emojis within their email subject lines have a higher open rate.
Tip #7:

Ask a question in your follow-up subject line
The next effective hack to use in subjects is a question mark. Now, how do you find the relevant questions to ask? Again…Do your research. Here are some examples:
"Thinking about [specific goal]?" "We still on for Friday?," "Does your landing page pass this test?"
Tip #8:

Refer in the follow-up subject line to the previous email
If it's not the first time when you are reaching out to a person, point that out in a subject field. Perhaps the recipient read your previous email and meant to reply, but something distracted them. For example: "As promised, here is more info about our reseller program," "To continue our conversation from...," "Here's the quote we discussed," "Angela, thanks for your time yesterday," or use "Re:" as the subject.
Tip #9:

Use preview snippet as a part of your subject
Although the email preview is a valuable piece of property, many salespeople ignore it or let it get filled with garbage text. Don't overlook it.
Tip #10:

Show benefit in a subject

To give a recipient a reason to open your email, highlight a benefit right in the subject field. You can also try sweetening the deal with a coupon code, discount, or limited time offer. Here are some good examples: "A new HR strategy for XYZ company," "Save on 50% when you subscribe now."
Follow-up email subject line examples
You are probably using some form of tracking and analytics on your emails. If you're not, believe us that you have to. With the help of such software, you can see who has opened your follow-ups, who has clicked on the information you have proved, and who ignored your effort. Knowing this will help you determine what type of follow-ups you need to choose to retarget prospects in different ways. So get an email tracking tool and continue reading.
If you send a follow-up after opening
Once your email was sent, it's time to chill until the recipient opens it. However, you need to understand that just because a person opened your email doesn't mean that they care about what you wrote them, that they are interested, or that they read the whole thing. Many people open a message only to delete it. If this happens to your emails too often, they are probably too generic, and you need to improve your sales pitch email templates.
Subjects to use in such cases:
"Several things you may not know about [company name]"

"One more thing before I forget"

"Happy to help out with [problem/solution]"
Follow-up subject line after clicking the link
Using your knowledge about whether they clicked the link you provided, you can increase your chances of getting a reply.
Subjects to use in such cases:
"10 steps to improve your marketing strategy" (or any other relevant article that might help the recipient to make their life easier)

"Dr. Rob, are you ready to discuss our next steps?"

"Do you want more information about ... ?"

"I see you're interested in [company name/product name]"

"How are you enjoying ABC white paper?"

"Your new website almost there"
Subject line to follow-up email after sales pitch
Send a follow-up after you sent a sales pitch to increase your chances of hearing back.
Subjects to use in such cases:
"Mike, thanks for your time yesterday"

"Save on 50% when you subscribe now"

"10 ways we can help"

"We're flexible"

"500,000 reasons to join the ABC company clients list"
Follow-up sales email after no response
Did you know that around 80% of sales require at least five follow-ups? So if you haven't got any response yet, don't be discouraged. Here are a few subjects to use in "no response cases":
"Wanted to let you know about our 25% off offer"

"Jim, here's your next steps"

"Several things you may not know about [company name]"
Final follow-up subject line
Sometimes you need to threaten to end the relationship to hear back from the prospect finally.
Subjects to use in such cases:
"Should I cross you off my list?"

"It's really lonely out here"

"We want to hear from you"

"Final reminder from XYZ company"

"Did you change your mind about partnering with XYZ company?"
Mistakes you should avoid in your subject lines
Mistake #1:

Clickbaiting subjects lines
Of course, subject lines with click baits usually get more people to open the email, but your subscribers are not dumb. If the content isn't interesting, they will be more likely to mark the email as spam.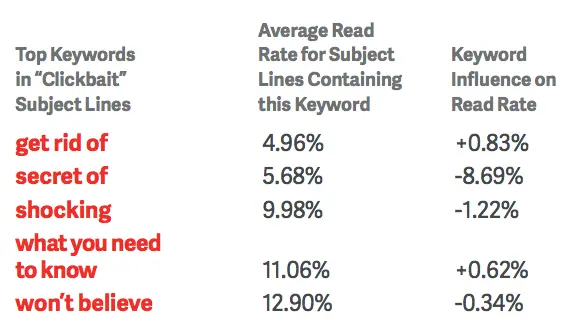 source: marketingland
Mistake #2:

Irrelevant follow-up subject lines to the content
Same as above, never try to trick your readers into opening up messages from you. A subject of a good follow-up sales email should always match the content of the body.
Mistake #3:

Using Re: if it's not the follow-up email
Don't put Re: in your subject lines manually. If you're not replying to an incoming email but starting a new email thread with Re:, email services may mark your message as spam.

Mistake #4:

Standard and overused email subject lines
Your potential customers receive tons of promotional emails on a daily basis, and they are sick of seeing the same generic phrases in their inboxes every morning. Here are some examples not to use in your follow-ups: "I need 5 minutes of your time," "Are you available for a 10-minute call on Friday?," "Trying to connect," "We've got a lot in common,' "Request," "Should I stay or should I go?"
Mistake #5:

Use CAPS in your subjects
Stop YELLING IN ALL-CAPS; it's not polite.

Mistake #6:

Turning your subject line into a poem
And the last thing, remember that short, informative subjects are more effective than the ones in which you are trying to demonstrate your writing skills in the first place.
Conclusion
Convince&Convert found out that the decision of 35% of recipients to open an email depends on the subject line they see. To get noticed in clogged inboxes, try to avoid standard and overused subjects, so your message doesn't look like just another newsletter. Also, do not use long or misleading subjects. Instead, be creative, show benefits, and write like a human. If you're still wondering how to subject a follow-up email, check our blog post on how to write eye-catching subject lines for newsletters.