Why You Should Consider Email Signature Marketing As a New Communication Channel
1. What is an email signature?
2. And what is email signature marketing?
3. The ways to use email signatures in your marketing strategy
4. Email signatures as a part of your brand awareness strategy
5. Email signature banner campaigns
6. Email signatures to cover the goals of each department
7. Email signatures as a channel to support your ongoing marketing campaigns
8. Email signatures as part of your sales strategy
9. Tips on using email signatures as part of your marketing strategy
Do you get the most out of your business email signature? Do you include it in all your emails? Have your employees set up a signature of their own? Does your company use it to achieve its marketing goals?
The sad truth is, a lot of people tend to overlook the importance of email signatures and their role in your brand's success. As our recent research states, email remains the most used means of business communication. 66% of businesses use email as a primary channel for interacting with their customers and prospects and 46% employ electronic letters for workplace interactions. So why not utilize all its elements to the full?
In this article, we'll explain why you should add email signatures as another tool in your marketing arsenal. We will overview ways in which you can utilize sigs and provide you with some tips to pick the best way to use them.
What is an email signature?
An email signature is a part of your message right after the closing line (such as "Regards" and the like) which states your name and provides some more information about you, your brand, along with the ways to contact you.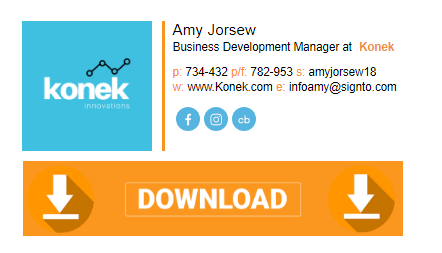 Using signatures is a subtle way to make a lasting impression on your contact. It can be a powerful marketing tool. It is not just a quick shortcut to your contact details, but also an instrument for branding and achieving your marketing and business goals. What's best, it won't cost you much.
Let's see some handy things that a mail sig can do for you and your business:
It informs others about you and your company

It educates about your brand

It generates traffic to your company website

It notifies your contacts about your product, your activities, and deals

It encourages people to connect with you and your brand

It builds trust

It helps you generate leads

It enables you to get new customers

etc.
And what is Email Signature Marketing?
In short, email sig marketing refers to various practices of using email signatures as a marketing tool. In other words, as long as you utilize sigs to achieve your marketing goals, you are doing Email Signature Marketing.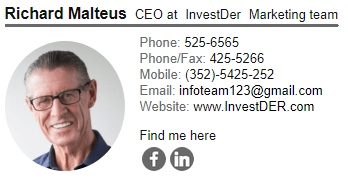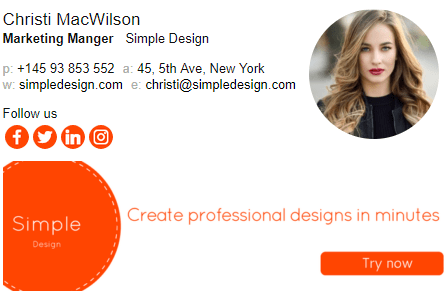 Now let's see how you can efficiently implement email sigs into your marketing strategy.
The ways to use email signatures in your marketing strategy
Here, we'll talk about email signatures in the context of marketing and sales campaigns. Below are several different ways of using sigs for marketing purposes:
As a part of the brand awareness strategy

As a channel for banner campaigns

As a tool for achieving specific department goals

As a supportive marketing instrument

As a part of the company's sales strategy

Email signatures as a part of your brand awareness strategy
Most people use their signature to make their contact information easily accessible to their recipients. Why not use it to increase your brand awareness as well? It can include not just your company's name and address. It can also comprise what the business is about and what it stands for.
The following elements of an email sig will help your business grow brand awareness:
Company's contact information

Link to your website

Company's logo

Company's slogan

One-liner about what your business does

Link to the latest content

Link to your social media profiles and invitation to connect
In any case, try to keep the email footer as concise as possible. List only the most important info.
Email signature banner campaigns
You can try to complement your email sig with a banner. Here are some interim goals that you can accomplish with the help of banner campaigns:
Advertise the latest content

Advertise new products or services

Advertise deals (giveaways, coupons, discounts, trials)

Advertise events

Generate leads

Generate new sales
There are a few things to keep in mind when using banners in signatures.

Firstly, your entire sig must look consistent. Don't use banners that are too bright or too colorful. Pay close attention to your email signature banner size. They should not dominate.
Secondly, you need to be creative. Your banners can be static or animated, horizontally stretched or side-aligned. The only requirement: make them clickable.
Email signatures to cover the goals of each department
You don't have to limit the use of sigs to your Marketing Department only. Each department can reach its specific goals with sigs. Here are some examples of what information can different teams in your company include in a business signature of their employees.
Marketing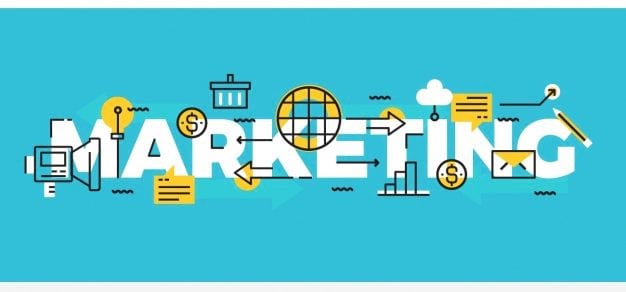 Links to social media

A link to the latest content

Links to webinars or conferences which you are attending

Newsletter subscription link
Sales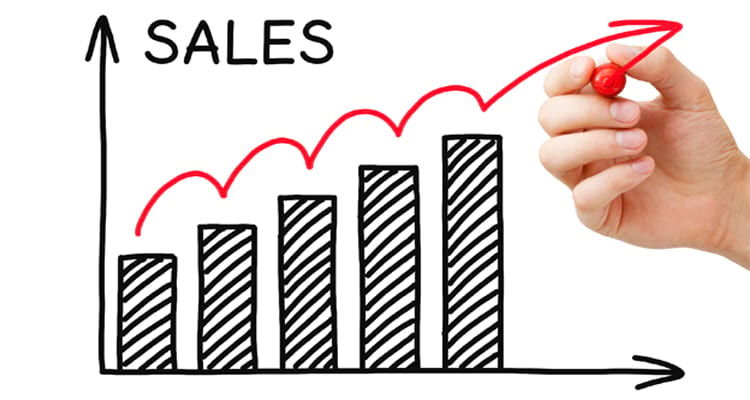 Clickable images of your products

Your current deals

Seasonal promo banners

Freebies promotions
Client Relationships/Account Management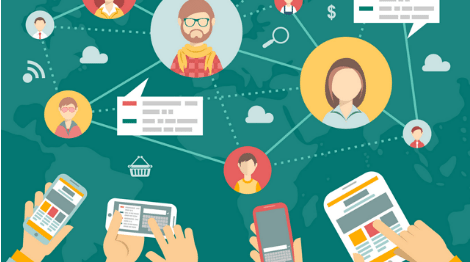 Info about your company along with contact information

Links to a landing page with the mission statement and services

Client testimonials

A link to the corporate video
HR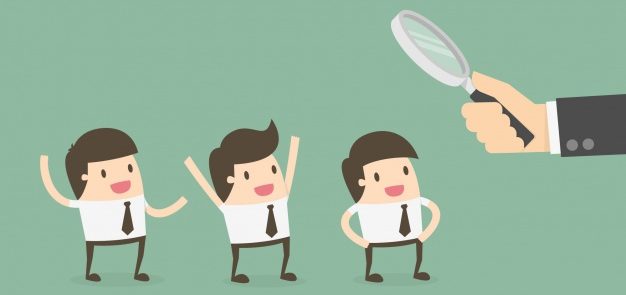 Contact information

Link to the careers page

Job ad banners or links

A link to the corporate video

An image of the team
Email signatures as a channel to support your ongoing marketing campaigns
You must understand that email signature marketing should not be your only marketing channel. Also, signatures alone won't drive business results. However, as a part of a purposeful marketing strategy, they can add value and improve your overall results.
It all works best together with other channels: email, social media, blog, and so on. For example, you are having a sweepstake on Facebook and want to have more participants. By adding a link to your Facebook campaign at the end of your mail or placing a banner, you can actually make a number of your email recipients join the sweepstake.
Email signatures as part of your sales strategy
An email sig is not just a handy tool for your Marketing Department. Your Sales Team can benefit from it hugely as well.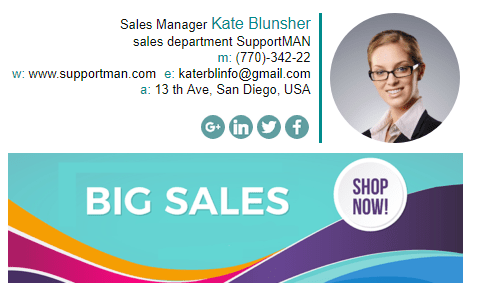 Rather than trying to boost your sales by encouraging purchases with sales-y emails, try to create value. Leave the CTA to the signature. Make your message useful and informative. It will also make it more human. This way, you won't likely scare away your prospective, new, or at-risk customers. You are not forcing them to anything. You are giving them a choice instead (to pay attention to your signature or not; to take action or not).
Moreover, you can customize your closing part according to the specific customers' groups and their needs. You'll be creating an even greater value when addressing those needs at the right time.
Tips on using email signatures as part of your marketing strategy
What should you consider when working with email signatures? How do you utilize them most productively? What are some best practices worth knowing? Enjoy some tips that will help you get the most out of email sigs.
1. Plan your email signature strategy.
You can start by counting how many emails you and your each team member send every day. How many times did you miss an opportunity to tell others about your company and its products? How many of the recipients could you have converted into customers or advocates by directing them to the right place with your signature? Estimate a desired increase in engagement, take the specifics of your email contacts into account, and craft your signatures accordingly.
2. Create a signature template.
Create a standard email signature in line with your brand book for all employees. Then ask each department to customize it according to the specific goals. Or change the mail sig or email signature banner template with each campaign that is currently running.
3. Turn your employees into brand ambassadors.
Every company team member can — and should — be your brand ambassador. Teach them to use their signatures to raise the brand awareness among their contacts.
4. Use promotional banner campaigns.
Let a promotional banner be your email signature marketing tool. Add it to your email signatures to drive your business and marketing goals. Use them to grow followers, promote services and products, advertise events, and engage people with your latest content. However, make sure that your email signature banner size is in line with your entire sig. Update your banners on a regular basis.
5. Create different signatures for each department.
If you are practicing signature banner campaigns, it makes sense to customize them for every department. Let your Marketing, Sales, HR, and other teams create their own messages that they can use
6. Promote your content with signature links.
Sharing your latest content with your following is always great. Try promoting your blog updates and major company news with your contacts as well. Let your Marketing department come up with effective CTAs for better results.
7. Showcase your achievements to build trust.
Add your awards, user ratings, or customer testimonials to your signature. It will help you to gain credibility and build trust with new contacts.
8. Enable signature links tracking.
Create the UTM codes and track them in Google Analytics. In your GA menu, go to the Campaigns tab and see how your links perform. Use the results to see what's working best for you and to make further improvements.
Never underestimate the role of email signatures in your marketing campaigns. Learn to use them effectively and get the most out of them. Experiment with banners, links, and content to promote. Add a splash of color to your footer, but keep it humble still. Finally, track how your sig campaigns perform and never stop improving them.