Why You Should Consider Email Signature Marketing As a New Communication Channel
Do you and your team get the most out of your business email signature and include it in all emails? Does your company use signatures to achieve its marketing goals?
The sad truth is that many professionals overlook the importance of email signatures and their role in your brand's success. As our recent research states, email remains the most used means of business communication. 66% of businesses use email as a primary channel for interacting with their customers and prospects. 46% employ electronic letters for workplace interactions. So why not utilize all its elements to the full?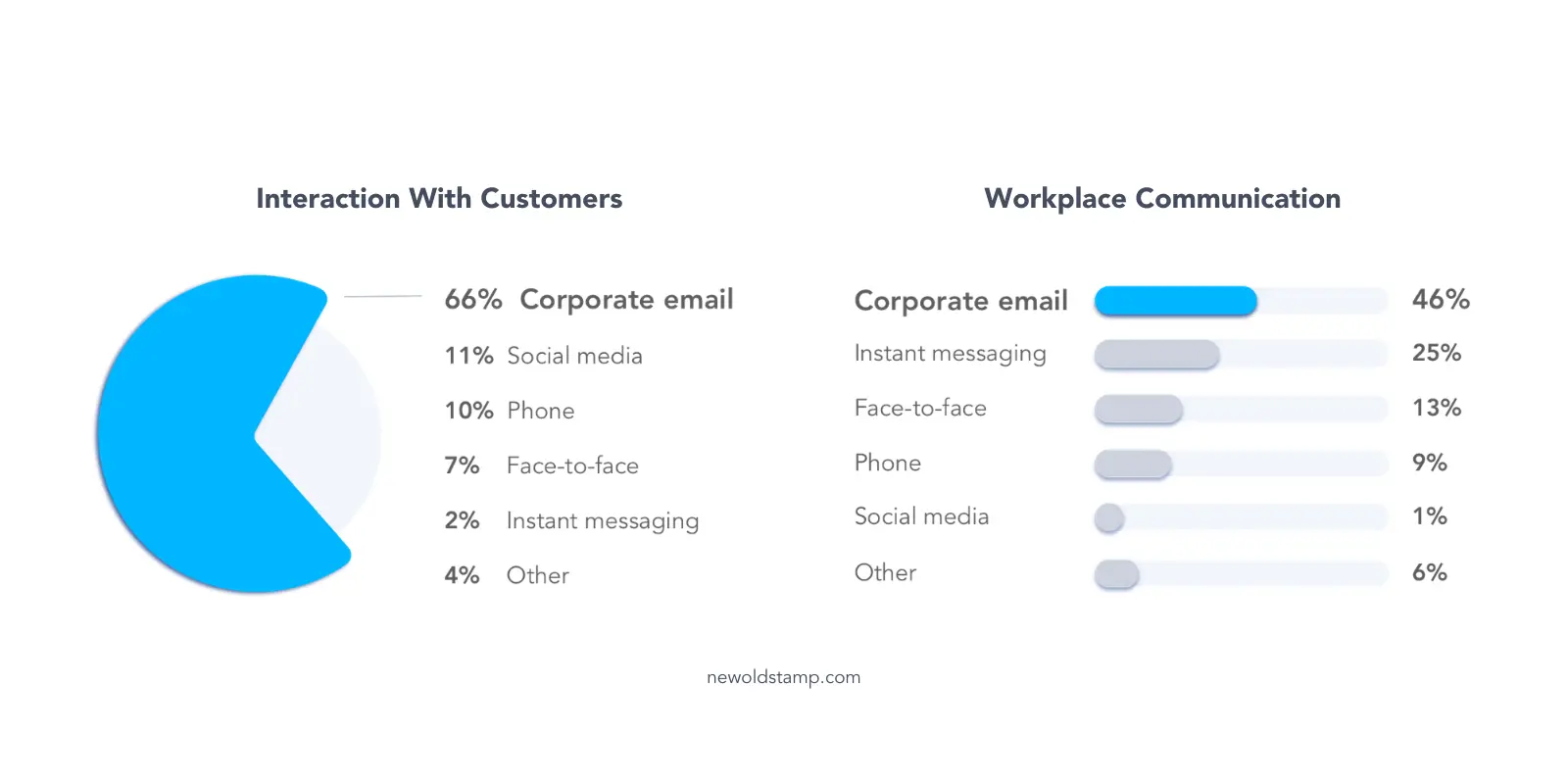 This article will explain why you should add email signatures as another tool in your marketing arsenal. We will overview the best ways to use signatures.
What is an email signature?
An email signature is a part of your message right after the closing line (such as "Regards"), which states your name and provides some more information about you, your brand, along with the ways to contact you.
Using signatures is a subtle way to make a lasting impression on your contact. It is not just a quick shortcut to your contact details. It can be a powerful marketing tool for branding and achieving your marketing and business goals. What's best, it won't cost you much.
Let's see some handy things that an email signature can do for you and your business:
it informs recipients about you and your company

it educates about your brand

it encourages people to connect with you and your brand

it builds trust

it generates traffic to your company website

it notifies your contacts about your product, your activities, and deals

it helps you generate leads and get new customers.
Previously, we covered the pros and cons of each of the ways to create a professional email signature. Using email signature generators like Newoldstamp resulted to be the most effective one. Online services allow you to easily design sign-offs for all of your team members without having to code, test for compatibility, or create and duplicate templates by yourself. Sign up for a Newoldstamp account, select the design you like, customize it according to your brand guidelines and start using branded email signatures right away.
And what is email signature marketing?
Email signature marketing refers to adding to your signature promotional banners and various call-to-actions to support your ongoing marketing campaigns and achieve your marketing goals.
Based on our report, 40% of marketers and sales reps send 18 personalized business emails daily. Multiplied by 20 workdays, an average employee at small and mid-size organizations participates in 360 personalized email conversations monthly. That's more than 4.000 targeted messages per year per team member. By not using workplace communication for promotion purposes, companies lose potential customers and branding opportunities.
Now let's see how you can efficiently implement email signatures into your marketing strategy.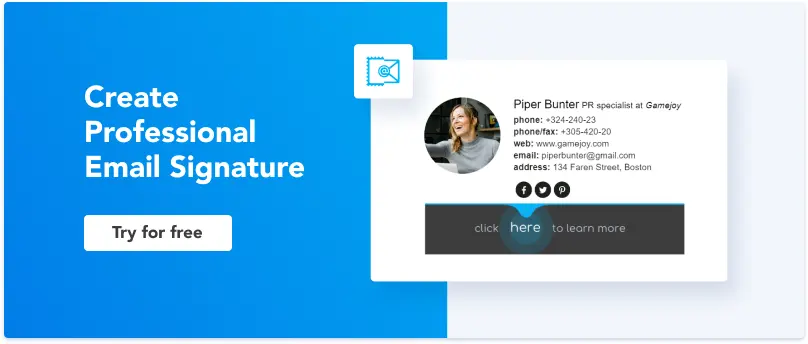 You might also like : "How to run an email signature marketing campaign"
Email signature banner campaigns
You can try to complement your email signature with a banner. Here are some interim goals that you can accomplish with the help of banner campaigns:
There are a few things to keep in mind when using banners in signatures.
Firstly, your entire signature must look consistent. Don't use banners that are too bright or too colorful. Pay close attention to your email signature banner size.
Secondly, you need to be creative. Your banners can be static or animated, horizontally stretched, or side-aligned. The only requirement: make them clickable.
The ways to use email signatures in your marketing strategy
Here, we'll talk about email signatures in the context of marketing and sales campaigns. Below are several different ways of using signatures for marketing purposes:
as a part of the brand awareness strategy

as a tool for achieving specific department goals

as a supportive marketing instrument

as a part of the company's sales strategy
Email signatures as a part of your brand awareness strategy
Most people use their signatures to make their contact information easily accessible to their recipients. Why not use it to increase your brand awareness as well?
According to our research, 62% of businesses use sign-offs to give additional visibility to their businesses.
The signature can include not just your company's name and address. It can also comprise what the business is about and what it stands for.
The following elements of an email signature will help your business grow brand awareness:
Company's contact information

Link to your website

Company's logo

Company's slogan

A one-liner about what your business does

Link to the latest content
In any case, try to keep the email footer as concise as possible. List only the most essential information and apply best email signature practices when designing your business sign-off.
Email signatures to cover the goals of each department
You don't have to limit the use of signatures to your Marketing department only. Each department can reach its specific goals with signatures. Here are some examples of what different information teams in your company can include in their employees' business signature.
Email signatures as a channel to support your ongoing marketing campaigns
You must understand that email signature marketing should not be your only marketing channel. Also, signatures alone won't drive business results. However, as a part of a purposeful marketing strategy, they can add value and improve your overall results.
It all works best together with other channels: email, social media ads, retargeting. For example, you are having a sweepstake on Facebook and want to have more participants. By adding a link to your Facebook campaign at the end of your email or placing a banner, you can make many of your email recipients join the sweepstake.
Here are some ideas for marketing teams to consider:
Email signatures as part of your sales strategy
An email signature is not just a handy tool for your marketing department. Your sales team can benefit from it hugely as well.
Rather than trying to boost your sales by encouraging purchases with sales-y emails, try to create value. Add the call-to-action to the signature. Make your message useful and informative. It will also make it more human. This way, you won't likely scare away your prospective, new, or at-risk customers. You are not forcing them to anything. You are giving them a choice instead (to pay attention to your signature or not; to take action or not).
Moreover, you can customize your closing part according to the specific customers' groups and their needs. You'll be creating an even greater value when addressing those needs at the right time.
Take a look at these signature examples for sales teams:
Client Relationships and Account Management department signatures
Customer relationship, success, and support teams actively communicate with existing customers. They have the closest relations and often help customers with some tech issues or support them when adopting new features. Having personalized signatures with photos will be a huge benefit. You'd agree that it's always great to know the person who helps you out.
The best signature marketing ideas for customer relationship teams
Product updates
Email signature marketing for HR departments
You can compare the HR department and especially recruiters to sales reps. They send hundreds of emails to potential employees, "selling" job offers. An email signature is a great way to make email more friendly and increase a candidate's trust in the offer. Moreover, the email signature is a great way to share internal company updates.
Here are some ideas for HR email signatures:
Contact information

Link to the careers page

Job ad banners

A link to the corporate video

Invitation to participate in an internal event

Information about upcoming corporate party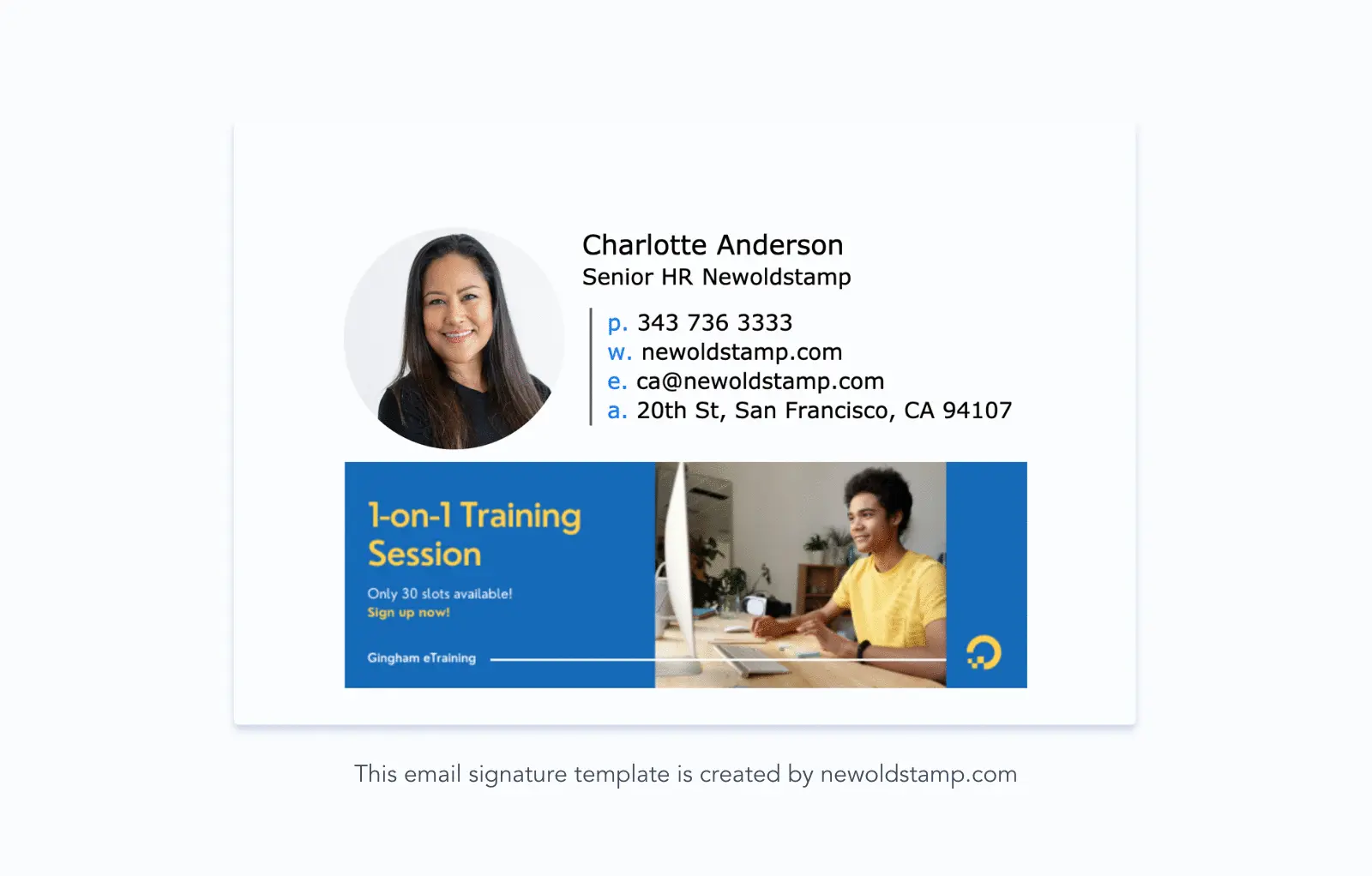 Tips on using email signatures as part of your marketing strategy
What should you consider when working with email signatures to utilize them most productively? Enjoy some tips that will help you get the most out of email signatures.
Plan your email signature strategy.
The easiest way to start is to use an email signature as a tool to increase your brand awareness. Having implemented this part, you can consider going deeper:
add promotional banners that will support your ongoing marketing campaigns

segment signature messages based on your sales and marketing pipeline

share just occasional offers for your potential customers

created different email signature campaigns to support departments' goals
Create a signature template to turn your employees into brand ambassadors.
Every company team member can and should be your brand ambassador. Create a standardized email signature template in line with your brand book for all employees. Teach them to use their signatures to raise brand awareness among their contacts. Then ask each department about their goals to customize it accordingly by adding banners or call-to-action buttons.
The easiest way to create email signatures for the entire company would be using email signature management solutions like Newoldstamp. It will save you days of manual work. Most of these solutions have central management and automatic updates of employees' signatures without involving them.
Use promotional banner campaigns.
Let a promotional banner be your email signature marketing tool. Add it to your email signatures to drive your business and marketing goals. Use them to share offers, grow followers, promote services and products, advertise events. Update your banners regularly. It's not rocket science to update banners in personal signatures. However, when we talk about company-wide campaigns, it would be tricky. If you consider running regular email signature marketing campaigns, using the signature software with banner scheduling would be a great option.
Promote your content with signatures.
Use the power of signature for content distribution. Sharing your latest content with your subscribers is always great. Try promoting your blog updates and company news with your contacts as well. Let your Marketing department come up with effective calls-to-action for better results.
Showcase your achievements to build trust.
Help your Sales team to build trust and gain credibility from the first emails. Add company awards, user ratings, or customer testimonials to their signatures.
Enable signature links tracking.
Create the UTM codes and track them in Google Analytics. In your GA menu, go to the Campaigns tab and see how your links perform. Another option is to check analytics in the signature software. Newoldstamp tracks clicks on the signatures elements and views, providing all the necessary information to measure the performance. Use the results to see what's working best for you and to make further improvements.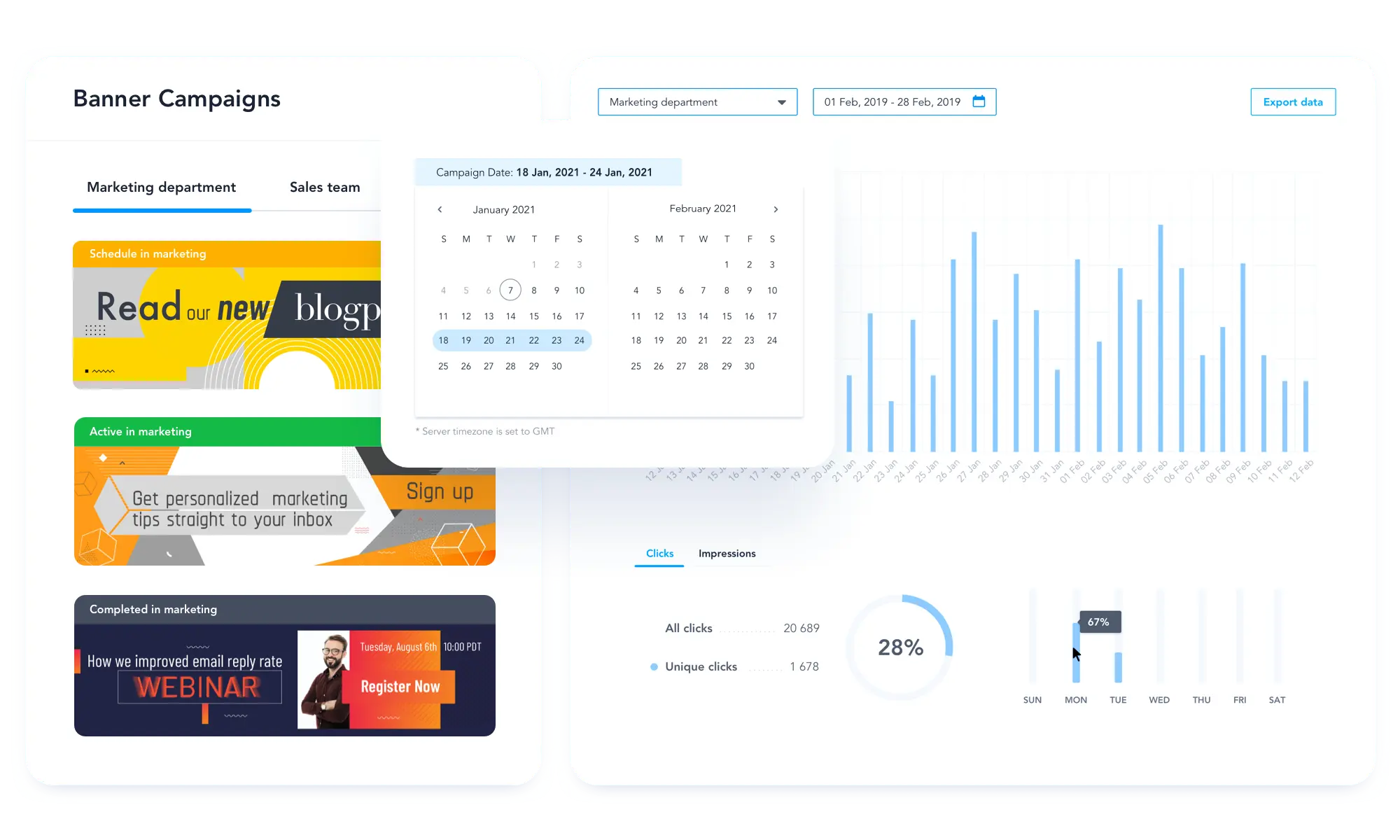 Many professionals forget to 'marketize' highly personalized business emails while chasing the personalization in marketing newsletters.
Never underestimate the role of email signatures in your marketing campaigns. Learn to use them effectively and get the most out of them. Experiment with banners, links, and content to promote. Add a splash of color to your footer, but keep it humble still. Finally, track how your signature campaigns perform and never stop improving them.