How to Leverage Video Content to Boost Your Email Marketing Campaign
1. Start by Picking the Right Type of Video
2. Include the Word "Video" in the Subject Line
3. Use Autoplay Wisely
4. Avoid Embedding Your Videos Whenever Possible
5. Use a Thumbnail or GIF that Invites People to Click
Even today, emails remain one of the highest converting marketing methods online. However, some email-powered strategies still fall short of what they could be due to a lack of a personal connection with your target audience.
Since open and engagement rates are crucial for an email strategy to be successful, pairing your emails with videos can do wonders and help boost those rates and foster such a connection while effectively communicating your message. Win-win, right?
Well, sort of.
Ask any talented company in the niche, and they'll all agree that it takes more than just adding any ol' video to your mailing list to impact its effectiveness - which is what we wanted to talk about today!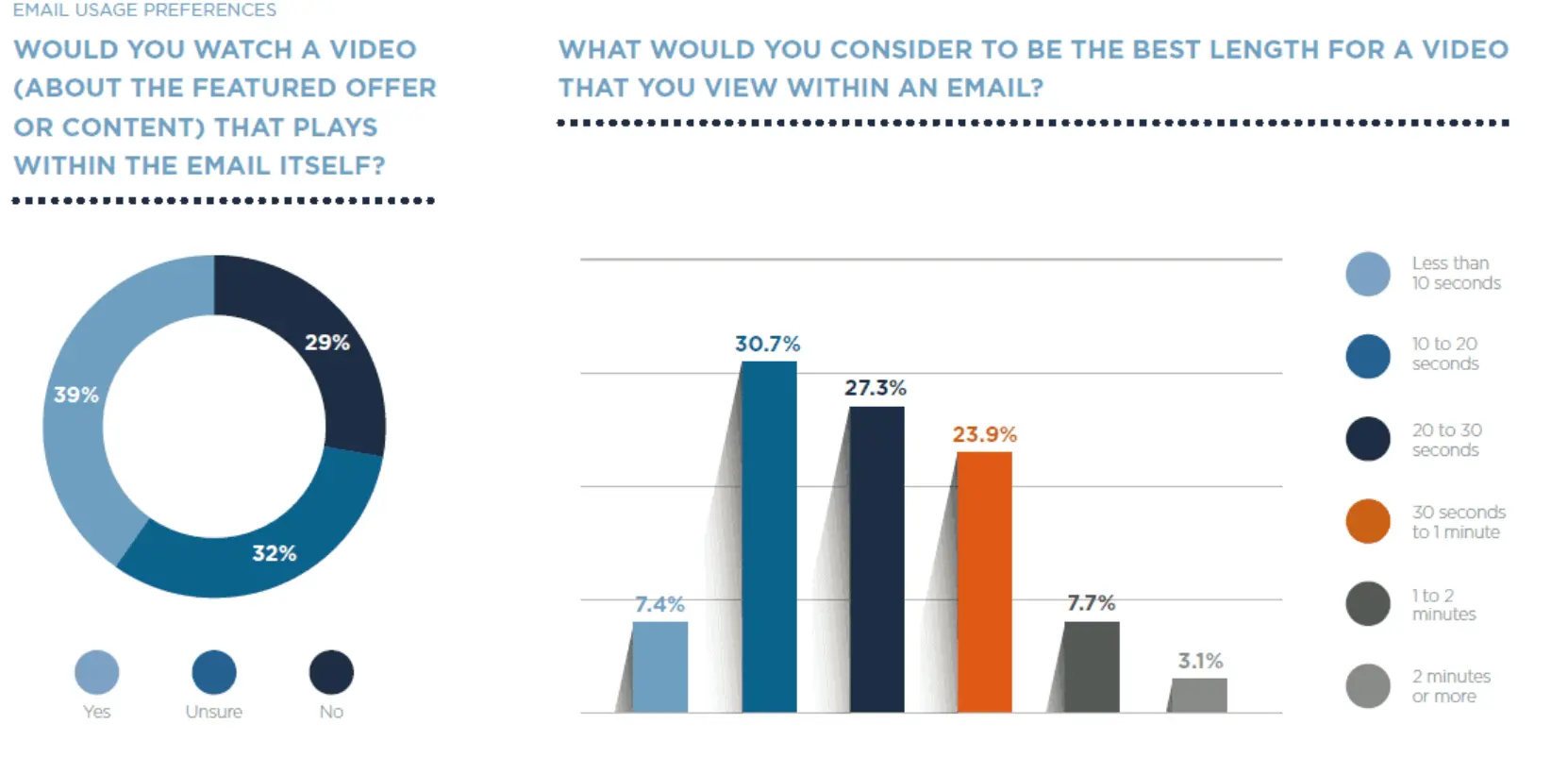 Source: Reply.io
In this piece, we will share with you some of the best tactics you should apply to leverage the combination of video in email to drive increasingly better results.
Start by Picking the Right Type of Video
The possibilities are endless when it comes to video content, but not every type of video will work for the same purpose.
With so many options out there, though, choosing the right type of video for your email marketing campaign can be a bit overwhelming at first. To help you make the best choice, here are some of the most effective types of videos when it comes to email marketing integration, from the perspective of the marketing goals they are best suited for. And, to boost the impact of your videos, consider using After Effects templates which can help you create professional-looking videos with ease. The possibilities are endless when it comes to video content, but not every type of video will work for the same purpose.
To Increase Brand Trust
Most of the time, people look for the opinions and reviews of existing customers to decide whether a brand is trustworthy and reliable enough to buy their product or hire their service. Thus, trust is one of the most valuable assets when doing business online, and it's usually what ultimately motivates someone into making a purchase or subscribing to a newsletter.
Testimonial videos are definitely one of the most effective ways to build brand trust. By showing your potential customers how another person with similar pain points benefited from your product or service, you're giving them a real story they can relate to.
Happy customers talking about their experiences in a candid setting and in an honest and genuine manner can do all the heavy lifting for you, improve your brand's reliability, and encourage your viewers to take action.
And what better way to deliver these customer testimonials than by sending them directly into your qualified leads' inbox?
To Educate Your Audience & Subtle Promotion
Videos can be a fantastic educational tool that subtly promotes your offerings when used right. Not only do people understand new and complex information better when they consume it through video, but they are also far more likely to respond to branding cues when engaging with valuable content.
So, if you want to educate your audience on a particular problem they might be experiencing and how your product or service can help them solve it, you should go for a how-to video and break the process down into clear step-by-step instructions.
For simplifying concepts that can be difficult to understand, like what your product or service is about, what your company does, and why your customers should choose you, you can harness the power of explainer videos.
These videos come in many forms, like motion graphics, whiteboard animations, live-action, and so on, and every style can be a boon to an email marketing strategy that's looking to convert an audience to a later stage of a funnel or provide customer delight.
Include the Word "Video" in the Subject Line
With billions of emails sent daily across the internet, there are plenty left that go unopened, so you need to stand out from the rest! A compelling subject line is a deciding factor on whether your recipients open your email, so why not increase the open rates by adding the word "video" in it?
While it might seem simple and rather obvious, you have to tell your audience in advance that you have a great piece of video content waiting for them - which will immediately improve the chances of them opening your email.
There are two ways you can do this. The first one is to just introduce the word in the subject line in an organic way, like this: "Learn with this Tutorial Video how to use an angle grinder in 5 steps". The other option is to add the term between square brackets at the end of the line: "Learn how to use an angle grinder in 5 steps [Tutorial Video]," which could arguably be more easily noticeable.
Whatever your choice is, no doubt making it explicit that there's a video inside the email can encourage a bigger percentage of your audience to open it.
Use Autoplay Wisely
Autoplay can be an unpleasant surprise when your audience is not expecting it, but that's not the case when it comes to email marketing. Viewers will click on your thumbnail in the email, fully expecting the video to play as soon as it finishes loading.
If you take them to your website and make them click again to play it, you run the risk of them getting frustrated or losing interest.
By enabling the autoplay option instead, your audience can start watching the video right away, in a seamless transition.
But what about audio? You see, when marketers say that autoplay usually annoys the viewer, nine times out of ten, they actually refer to the sounds that suddenly start playing and startle unexpected viewers. So, the sound is the feature you want to keep off by default.
In essence, enabling autoplay without sound gives your audience full control over how they prefer to watch your video without asking for unnecessary extra steps from them, which makes for a more comfortable viewing experience and improves engagement.
Avoid Embedding Your Videos Whenever Possible
Once your video is nice and ready, you have to decide how it will be included in the email. While embedding might be your first choice, bear in mind that not all email providers will allow users to do so. In fact, some of the most used email services like Gmail, Outlook, and Thunderbird don't support embedded videos due to spam and other security reasons.
When that happens, the recipients will see a broken image error or what's known as a "fallback image", a still image that looks like a video but redirects the user to another page. The problem with this is that people can find it misleading and even suspicious when a new, unexpected window opens. To avoid such a negative user experience, you can check which email providers your audience uses the most and decide whether embedding is worth doing.
If you want to be on the safe side and get past the spam filters, avoid embedding and go with the best alternative to include videos in your email instead: thumbnails and GIFs.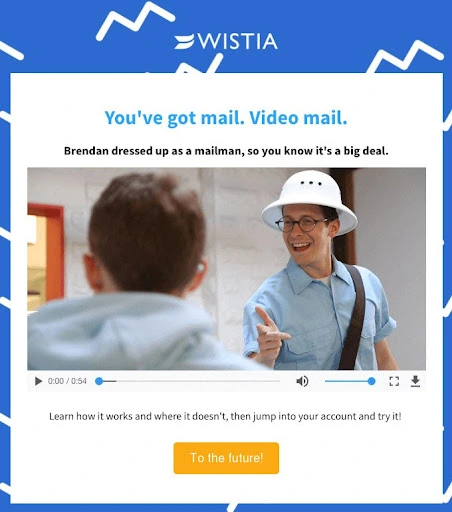 Source: Wistia
Use a Thumbnail or GIF that Invites People to Click
As we've mentioned before, many email providers don't allow for videos to be embedded. So, you have to get more creative to get people to actively decide to watch your video.
A great alternative is to create an eye-catching thumbnail and attach the video link to them.
Thumbnails should be colorful, attractive, and informative, but since they're the presentation image of your video, they should also be carefully selected. It's always best to have them custom-made, rather than simply using stock photos so that you can represent the content of the video more accurately.
If you want to take it one step further and encourage your viewers to hit the "play" button even more, use a custom-made GIF as a thumbnail. GIFs are short animations or a small section of a video played in a loop that can be easily embedded in all email services.
Animated graphics can be even more representative of what users will get if they click than static images. Moreover, GIFs are short, fun, and engaging, which makes them perfect for grabbing your audience's attention and building curiosity around your video.
Whether you choose to go for a thumbnail or a GIF, make sure to place a play icon on it so that your audience knows it's a video.
Overall, thumbnails and GIFs can spice up your emails and subtly motivate your users to watch the video.
In a Nutshell
By incorporating video into your email marketing campaign, you can have the foundation for a reliable outreach strategy your audience will enjoy. But for it to be successful, there are certain elements and factors you need to keep in mind to deliver your message in a way that actually reaches your prospects.
Hopefully, the five tips we shared with you today will help you leverage video to boost your email open and engagement rates and improve the overall results for an outstanding marketing strategy.