7 Outlook Clues You Probably Didn't Know About
It's no longer enough to know how to synchronize the email service with the calendar or set-up desktop notifications. Email services have many various functions to help you cope with your tasks better and achieve your business objectives. Usually, the use of those functions is very straightforward. However, working in Outlook can be pretty challenging, that's why you need to know a bunch of tricks to manage your time correctly and become more productive.
1. Adjust attachments size limit
I'm sure all of you faced the issue of attachments' size limit. You've been working hard on that sketch, but the email service provider doesn't allow you to send it and you're struggling for another hour trying to zip the file or reduce its measurements. Comparing to other email services, Outlook email attachments size limit is only 20MB of the attachments. But you can change the mail's server default settings and adjust this number. Here are several simple steps:
Go to 'Start Menu'

Type "regedit" in the Run Dialog box and press 'Enter.'

If you receive the 'User Account Control' notification, click 'Yes' button to proceed

When the 'Registry Editor' window opens, click on 'Preferences' folder and select one of the following registry keys, depending on the Outlook version you use:
Outlook 2016:
HKEY_CURRENT_USER\Software\Microsoft\Office\16.0\Outlook\Preferences
Outlook 2013:
HKEY_CURRENT_USER\Software\Microsoft\Office\15.0\Outlook\Preferences
Outlook 2010:
HKEY_CURRENT_USER\Software\Microsoft\Office\14.0\Outlook\Preferences
Outlook 2007:
HKEY_CURRENT_USER\Software\Microsoft\Office\12.0\Outlook\Preferences
After that, go to Edit -> New -> DWORD Value and name is as "MaximumAttachmentSize".

Double click on the value you have just created and under the 'Value Data' enter the attachment size limit you want. The number should be in KB, so here are some hints for you:
1048576 = 1 Gigabyte
102400 = 100 Megabytes
51200 = 50 Megabytes
1024 = 1 megabyte
It's done! You're good to go, but before that, there are some things you have to consider. Although you can modify the size limit of attachments, there is still could be a size limit set by your email server administrator or ISP. Hence, the only thing you can do is to split large files and send them using cloud services.
2. Create a folder for searches
The Search Folder is a useful feature not only to save all your unread emails in one place but also to set specific custom criteria. For instance, Outlook search folders allow you to collect all emails which contain the word 'invoice,' are from a specific mailing list and have one attachment. It's a great way to save some time, as search folders are automatically updated. It's easy; you have to find a 'Folder' tab on the Ribbon and click on 'Create New Search Folder.' In the opened window you can see some predefined folders that you can use if they suit your needs. Or you can create a custom one. Click 'Ok,' and it's all set up!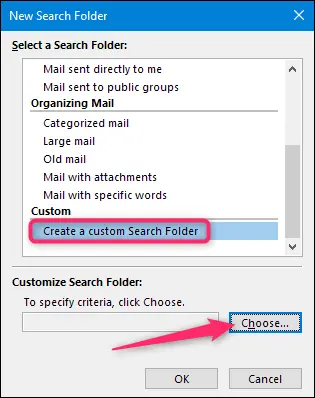 3. Switch time zones
As the business communication develops, we often deal with international team meetings or even calls with a partner who lives on the other side of the planet. That's why arranging your time zone settings is crucial for the company of any size. Outlook can help you to keep your events planning updated, no matter what time zone you're in. It synchronizes the Calendar with a time zone on your laptop and updates the first one accordingly, so you don't have to worry about changing it manually or missing an important call/meeting.
Another option how you can use a times setting in Outlook is to add a second time zone to your calendar, so an event displayed with two or even three different times. Here are simple steps how you can do that:
Find 'Options' in your 'File' Tab menu.

Select 'Calendar' from the sidebar, then go to 'Time Zones' section.

Check 'Show a second time zone' and add a suitable option from the dropdown list. Click 'Ok' to save the changes.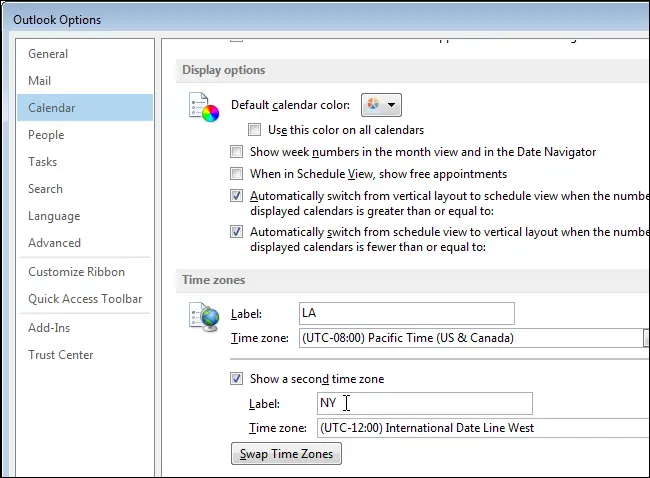 4. Edit quick steps
Outlook Quick Steps is a feature that allows you to take your multiple common actions simultaneously in just one click. How convenient it that? You can move emails between folders, forward them and create team emails. Start off by clicking on the Quick Steps box on the Ribbon and select 'Manage Quick Steps.' In the open window, you'll see some default settings for the most common filters people use. Although, you can customize them according to your specific needs.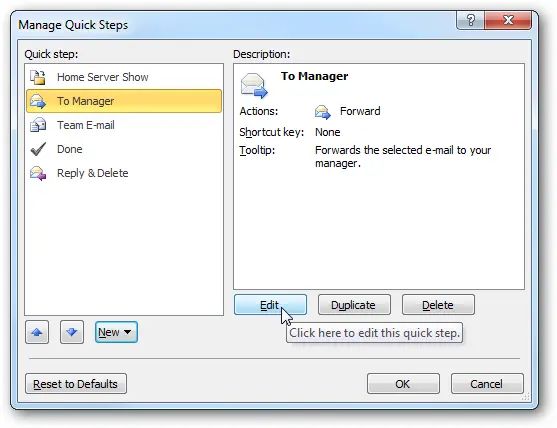 5. Use Outlook tasks
This feature is ideal for those who use to-do lists to keep track of their daily routine. Outlook tasks is an integrated function that allows you to interact with the list of tasks you have, set reminders, group them into categories, etc. Therefore, it's a useful productivity tool that saves time and manages all your activities, personal and business ones. Here we want to show you how to create and some tips on how to handle them effectively.
Go to your 'Home' tab on the Ribbon. Click on 'New Task.'

In the open window set the task name, its start and end dates, the priority and, if you want a reminder.

Save the task and close the window.
Now that you filled in your tasks list, you can modify and update them at any times.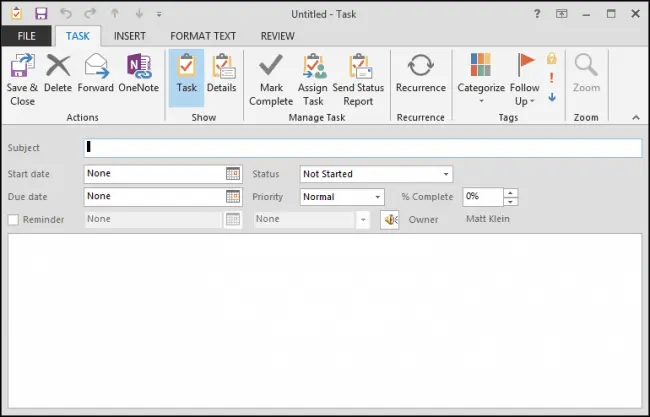 However, Outlook prepared some additional functions to make the use of Tasks more valuable. Tasks can be categorized and labeled to keep them tidy and structured. Select 'Assign Task' at the top of navigation of the opened task to share it with your teammate. In the 'Details' tab you can add 'Total work' and 'Actual work,' to track time; what is more, there are fields to specify billing information and company name, which is a useful element for freelancers. Another aspect of Outlook Tasks is that you can recur them to trigger the automatic update with a suitable pattern.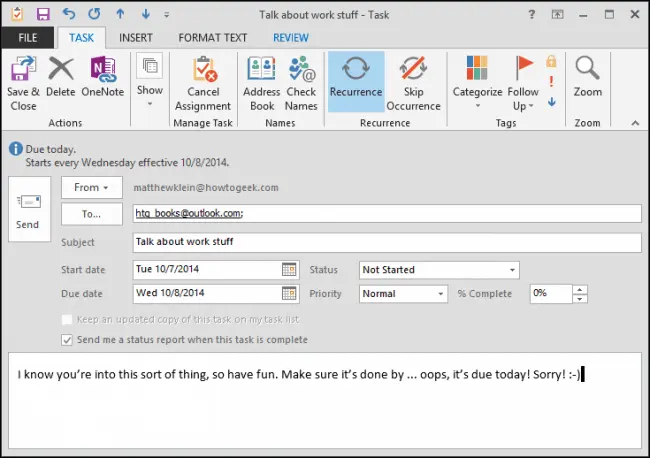 6. Set Outlook distribution lists
Distribution Lists are the list of recipients in your Outlook email that you can use to send one email simultaneously. The process of creating one is slightly different for different Outlook versions.
Outlook 2003 and Outlook 2007:
Go to 'File' -> 'New' -> 'Distribution List'.

From the drop-down menu of the Address Book, select members you want to add. Create a name for the 'Distribution List' and Save the changes.
Outlook 2010 and later versions:
On the Home tab select 'New Items' -> More Items -> Contact Group.

Click 'Add Members and from your Address Book select all the contacts you want to be on the list. Name the group and save the changes.
When you send an email and want to add the distribution list to the recipients, just type its name. If you're going to add the distribution list you received from an email, right-click on the 'To' field and choose 'Add to Outlook Contacts.' Distribution lists are an easy and efficient way to send out emails for a big group of recipients with much less effort.
7. Set up aliases inside Outlook
Did you know you can create multiple different email addresses and still receive letters to the same inbox? Outlook Aliases is an alternative email address which is linked to the existing one, and that may come in very practical for various reasons. In fact, you can create as many aliases as you want and still use them within the same Outlook email account. Here is why creating aliases could be so useful:
Sort out your incoming emails, for instance, newsletters. They will go to a separate folder, and your main inbox will stay clean and easy to navigate.

Create an alias for your online shopping, gaming, job hunting or forums that you like to read.

If you want to change the name of your email address, but want to keep the contacts and letters, creating an alias might be the thing! And when you decide to stick with the new address, you can always delete the original one.

Respond to different people with different email addresses. In that way, you can separate the formal emails and make use of a more professional email address alias.
Isn't it great? Create an Outlook alias in two steps and get much more benefits:
Go to the 'Settings' icon and select 'Options' and then 'Create an Outlook.com alias.'

Type in the name for your new address and click on 'Create an alias.'
You can make up to 10 aliases for different purposes.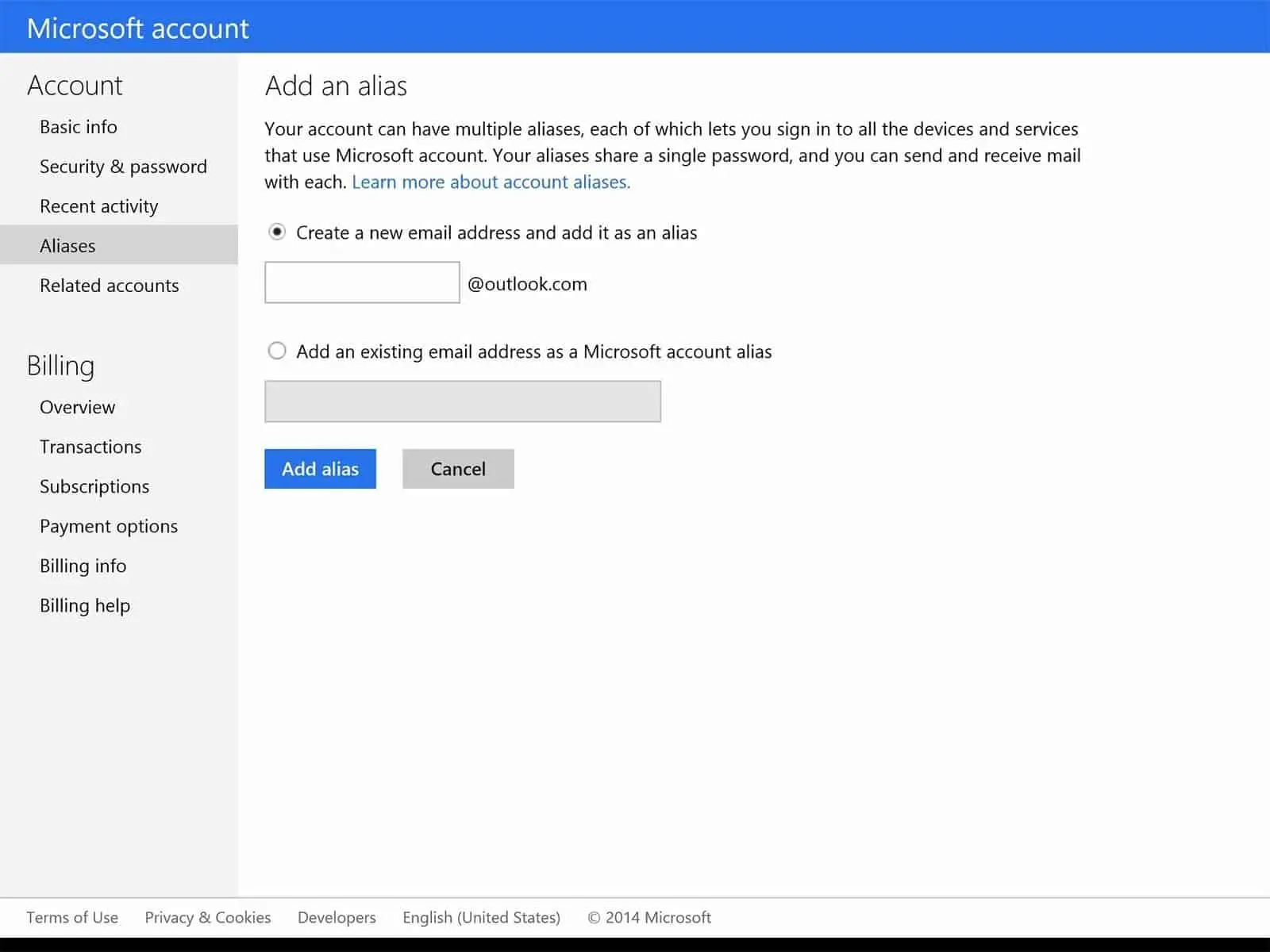 To sum up, Outlook could be a very convenient email service if you know how to use it properly. Although, many of the characteristics we featured in this article take a certain amount of time and effort to set up; in perspective it's only an investment in your productivity and perfectly structured email correspondence.