How To Choose The Best Marketing Strategy When Launching Your Business
1. Understand your target customer
2. Map out your target customer's buyer journey
3. Hire a marketing team to help you
4. Focus on your top business goals
5. Play the long-term game
6. Get serious about email marketing
7. Develop a social media strategy
8. Don't forget about SEO
9. Create a marketing strategy guide
You're at the beginning stages of launching your new brand.
After choosing the best LLC state, you've incorporated your business with a registered agent, signed up for a work management platform, and hired an assistant.
The next step?
Choosing the best marketing strategy to launch your business with.
You know you need a social media plan and an SEO plan, but you're not sure how to string it all together. You know who your target customer is, but you're not sure how to reach them. You know you need a team to help you, but you're not sure who to hire and why.
Luckily, you've come to the right place.
In this article, we'll answer all of those questions and more. By the end, you'll have all the tools needed to design a custom digital marketing strategy for your new startup.
Let's get to it.
Understand your target customer
Every move you make in your business should be centered around the one most important thing: Your target audience.
Knowing and understanding your target audience is the thread that holds your marketing strategy together.
To start the process of knowing and understanding your target audience, narrow down your target customer.
Then, create a buyer persona based on the following questions.
Who's your target customer?
Grab a Google Doc, digital planner, or journal and jot down everything you know about your target customer.
For instance:
Are they married or single? Parents or childfree?

What do they do for work?

What are they interested in?

What do their buying habits look like?

What do they need?

How old are they?

Where do they live?

What's their personality like?

What brands do they love and why?

What pain points do they have?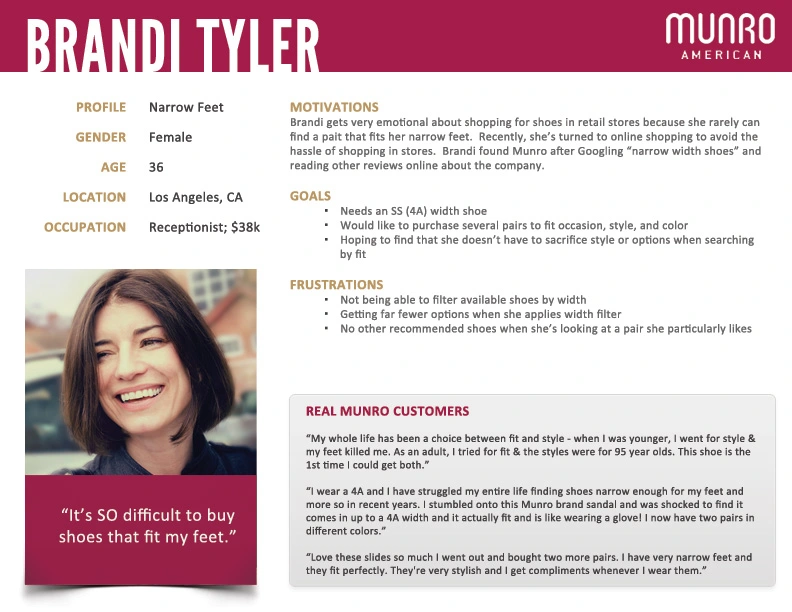 source: Alexa
How can you serve them?
Next, jot down ways you can serve your customer like no other brand can.
Can you promise them a monthly subscription rate within their budget? Do you have a software feature they've been yearning for? How can you save them time, money, or stress? What value are you going to give them, and why should they care?
How can you nurture them?
Imagine your buyer persona is a new customer. What are some ways you can build trust and connection with them from the start? How can you nurture them before expecting them to make their first purchase?
For instance, if you're opening a new resort, can you give them a free week's stay before asking them to become a resort member?
Next, imagine your buyer persona is an existing customer. How can you nurture them consistently, so they become a loyal, lifelong customer?
For instance, do they qualify for a special VIP program? Or, can you promise to implement their feedback to personalize offers just for them?
Why should they pick you?
Why should your target customer choose you over anyone else?
Use this section to create your value proposition.
Here's an example:
My target customer will choose us because we're the only brand that offers personalized features. With our latest product launch, our customers can login to their app anytime to add feature recommendations. At the end of each month, we promise to look over their recommendations and implement as many as realistically possible.
Where are they?
Where's your target customer, and at what times are they there?
Note where they live, work, and whether they work remotely. Also, determine which tools, apps, and social media platforms they use and at what times.
What are their passions?
What does your target customer care about and why? How can you show them their passions are important to you, too?
Map out your target customer's buyer journey
At this point, you know your target customer like the back of your hand. But do you know what their buyer journey might look like?
It's not always possible to curate an exact replica of what steps your target customer will take, but you can still create a few examples.
Don't have experience mapping out buyer journeys? Ask your marketing team for help (we'll discuss hiring teams in the next section).
For instance, one journey map may look like this:
Customer sees freebie offer on Instagram

Customer clicks to download freebie offer

Customer gets added to email list and receives a welcome email

Customer receives a series of emails marketing your upcoming webinar

Customer signs up for the webinar after the 7th email

Customer invests in one of your packages after the webinar


source: Bright Vessel
Hire a marketing team to help you
After you've created a few customer buyer journey maps, consider hiring a revenue operations manager to oversee your marketing and sales efforts.
A revenue operations manager acts as a bridge that connects your marketing and sales teams. By removing information silos between these two vital departments, your teams have the tools to co-create seamlessly.
Some other roles you should consider hiring include:
Sales operations specialists

Sales reps

Director of sales

Marketing operations specialists

Director of marketing

Social media marketing manager

Digital marketing assistants

Director of editorial

Content writers

Copywriters
Though it may be tempting to DIY your marketing strategy, you're better off hiring a team of experts to help you run sales and marketing. Not only does this save you loads of trial and error, but it also optimizes your time so you can focus on growing your business.
Hiring a marketing and sales team can help you:
Decide which specific digital tactics to focus on

Understand when marketing efforts need to be revamped

Develop and run a customer engagement strategy
When set up well, these two teams can run your entire sales and marketing efforts.
Focus on your top business goals
A brand is truly successful when it sees its goals come to life.
In this section, spend some time documenting your top business goals.
Would you like your brand to expand into a franchise? Would you like to increase your customer base from 100 to 100,000?
Decide on two to three major goals to start with. Then, set a meeting with your marketing and sales teams to create micro-goals that complement your business goals.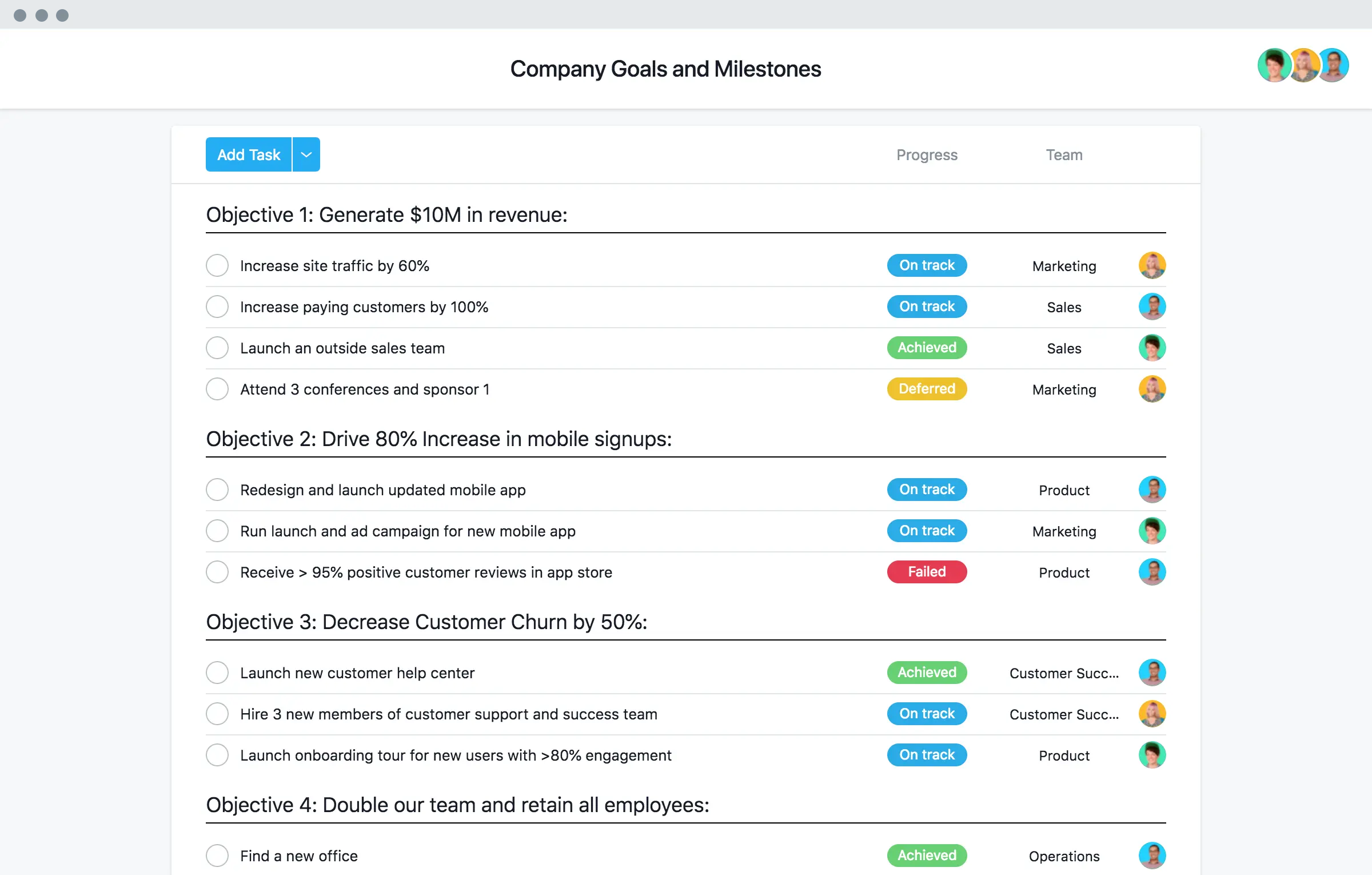 source: Asana
For instance, if you'd like to increase your customer base from 100 to 100,000, then your marketing team may suggest increasing your social media followers, too.
At the marketing and sales meeting, make sure to go over:
Your budget for paid ads, brand elements, design, and custom images

A description of your brand voice, brand mission, and end goals

Any serious questions or concerns

Sales metrics and KPIs to track (your directors can help you decide these)

Campaign ideas

Ad plans

Monthly, quarterly, and annual micro-goals
Play the long-term game
Ads and flash sales may help you gain customers now, but focusing on long-term growth leads to a lifetime of loyal fans.
In other words, Instead of focusing your efforts on landing quick sales, focus on building connections and trust over time.
Meet with your teams to decide the best course of action for long-term nurturing.
Here are a few ideas to get the juices flowing:
Know your competitive advantage well and use it whenever you can

Create VIP programs and use loyalty program software so that your target customer is happy to come back

Engage with your customers daily through social media, email marketing, and/or in-app experiences

Focus on delivering consistent, high-value content in the form of blog articles,

web videos

, guides, and freebies
Get serious about email marketing
Email marketing is alive and well — and the best part? It's one of the only ways to get as close to your customer as possible. (Unless you count sending them pesky instant messages, but who likes those these days?)
To get serious about email marketing, meet with your marketing team to develop an email marketing plan. Start by creating three months' worth of email content and expand from there.
When deciding what kind of email campaigns to focus on, hone in on your target customer. Remember: What do they need? What do they crave? And how can your emails nurture both?
We also recommend using our handy email signature software to help you add beautiful signatures at the end of each email.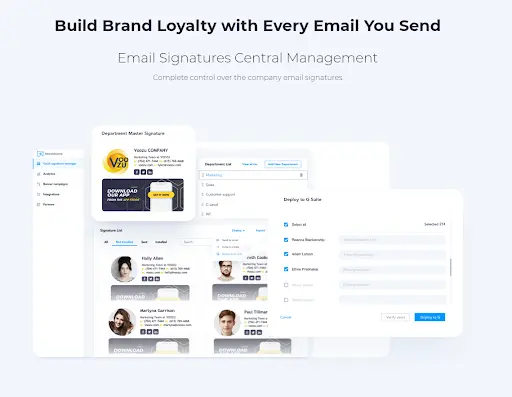 Develop a social media strategy
Every marketing channel needs it's own recipe to succeed to its fullest potential.
In this section, meet with your social media marketing manager to craft a social media strategy that compliments your business goals.
Consider creating a different strategy for each social channel, including:
Facebook

Twitter

Instagram

TikTok

YouTube

Pinterest
Or, focus your social media efforts only on the channels your target customer frequents most.
Then, design a three-month calendar outlining the posts you're planning on publishing and when.
Influencer marketing is another important aspect to consider. Influencers have a tinged hand at curating content that speaks to ideal audiences. You can ask a trusted social media influencer to:
Take over your social media accounts for a period of time

Run promotions, contests, and specials

Help you design strategies your audience will love
Don't forget about SEO
Search engines aren't going away anytime soon — so you want to make sure that you're taking SEO seriously.
Here are some ways to take advantage of SEO marketing:
Optimize every blog article for search

Optimize your website

and landing pages for search

Use competitive hashtags and SEO keywords in social media copy
Have no idea what any of this means or don't care to know? Hire an SEO strategist to help you come up with an SEO plan.
Plan your ad campaigns
To stick to your ad budget, meet with your marketing director to plan out your ad campaigns three months at a time.
Not only will this give you a better picture of what you'll spend, but it'll also help you stay ahead of ad marketing.
In other words, planning your ad campaigns ensures you're not left planning campaigns at the last minute. Nothing's worse than trying to launch a Christmas ad days before Christmas. With a plan in place, you can make sure your Christmas promos (and other important promos) are live and ready to roll well in advance.
Create a marketing strategy guide
You've hired your team, planned your email and social media strategies, and everything in between. So, what's left? Adding everything you've created into a unified database.
In other words, take everything you've planned in the previous sections and combine them into one big marketing strategy guide.
Preach the content in your guide to all team members at your company. Ensure managers know it like the backs of their hands. And, most importantly, treat it like a living, breathing document. Add to it when needed — make changes, tear out pages — the whole nine.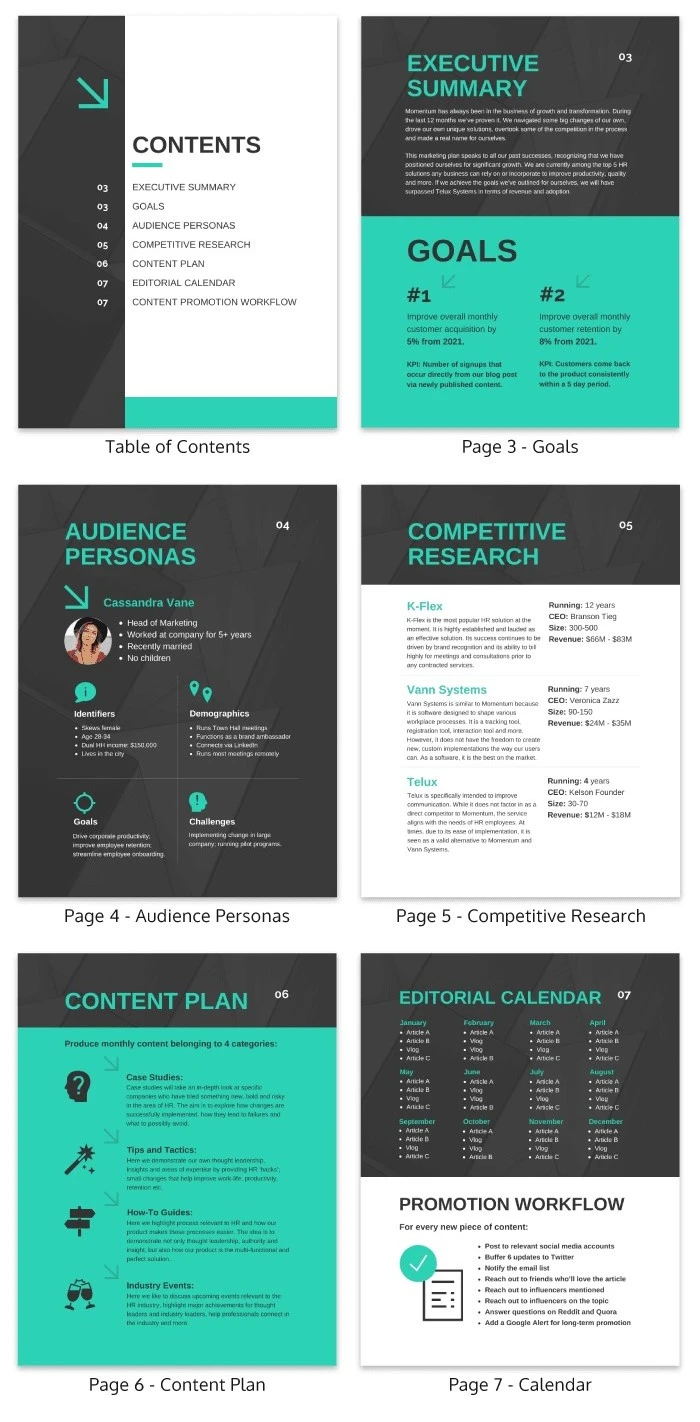 source: Venngage
The beauty of having a marketing guide? It eliminates unnecessary information silos. With a marketing guide in hand, everyone from copywriters to ad specialists will remain on the same page.
Wrap up
Choosing the best marketing strategy to launch your business with can be tricky.
Without the right team, the right plan, and the right tools in place, you might feel stuck in trial-and-error limbo.
Luckily, we've saved the day with our tried-and-true techniques. We truly hope these tips help you design a custom marketing strategy that will help your new business soar.