How to Kick off Your Conversions with Email Signatures
1. Use email signature to support your marketing efforts
2. How to use email signature banner to drive conversions
3. Additional CTA in your email signatures
4. Email signature design tips
Did you know that an average office worker receives 121 emails daily and sends about 40 business electronic messages per day? It means that if your organization has 100 employees, they will send out 4,000 emails in just one day! Some of your employees interact with prospective and current customers, job candidates, partners, distributors, vendors, and industry influencers regularly. It means they already have valuable relationships with a range of important contacts.
That's why employee email can be used by marketers as a channel to distribute content and drive conversions. Wait. But how? With the help of email signature, that's how.
Use email signature to support your marketing efforts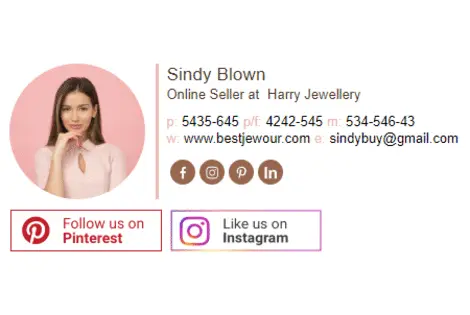 In this post, we've already explained why you should consider email signature marketing as a new communication channel. Check it out so as not to miss the excellent piece of advice.
How to use email signature banner to drive conversions
Modern inboxes are noisy, overcrowded, and highly competitive. So your emails should do something unique and special to stand out in the inbox. Adding promotional banners can be effective in making your email signature more appealing to your email recipients. So let's take a look at a few steps you can take to optimize email signatures for conversions.
#1 Share content updates
Linking your latest content to your signature can drive more web traffic and social shares. However, do not just say "Read our latest blog post." This rarely makes the recipient click. Provide something that can educate, inform, and bring value. For example: "Best Tips And Practices For Abandoned Cart Emails," "Top 16 Must-Attend Conferences in 2018 for every SaaS Startup", etc.

#2 Offer to download an ebook or a guide
If you don't aim to promote any specific product or service to your email recipients, you can still build trust, credibility, and brand awareness with the help of your email signature. Provide a link to download a free ebook or any other piece of useful information.

#3 Share a case study
If you or your colleagues are talking to potential customers, you can practice sharing stories of successful ones in your email footer. For example, you can mention how customer XYZ increased their sales with the help of your product or service. Provide a link to a recent case study.


#4 Promote offers and open positions
Because every individual you send an email to is also a prospective customer, a potential hire, or a referrer, it makes sense to include links to your recent promotions or open hiring positions in your signature.
For example: "SALE: Get 25% off for my new book," "HIRING: Marketing and sales assistant wanted for our Lisbon office."

#5 Offer a demo
Use your email signature to generate leads. For instance, you can include a "Request a demo" link to make it easy for prospects to connect with a sales representative.

#6 Invite to an event
If your company regularly attend trade shows, conferences, and other public occasions, you can spread a word about the upcoming event in an email signature banner. For example: "Visit our booth #4137 at RSNA 2019." Do not forget to update your sig after the event has passed. By the way, modern email signature managers will prevent you from having an email signature containing inaccurate information or old branding.


#7 Ask for a review
You may also want to request reviews from your customers by adding links to your online review profiles in your signature.

Additional CTA in your email signatures
#1 Add social buttons to grow followers
With a properly designed email signature, you can increase your social media following, too. Whether you are on Facebook, YouTube, Twitter, Instagram, Pinterest, Google+, LinkedIn, Snapchat, or other platforms, including clickable icons to them in your signature is an excellent opportunity to encourage prospects to follow and like you. However, keep in mind that we recommend limiting the number of links to a maximum of five not to overcrowd your signature.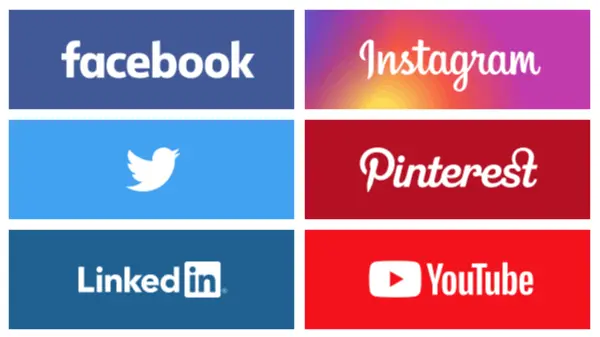 #2 Add buttons to your marketplaces
Selling products on Amazon on eBay? Allow your email recipients to access your online store in one click.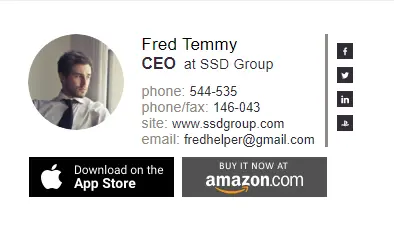 #3 Add call-to-action buttons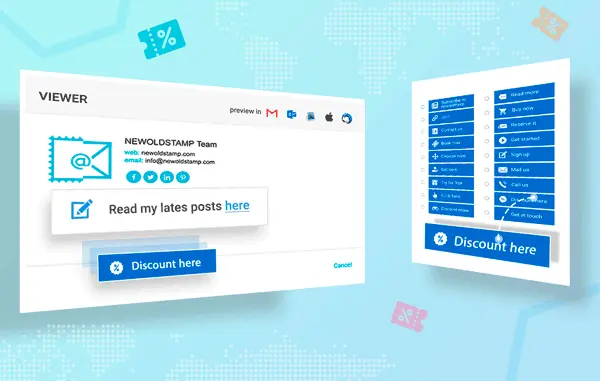 Email signature creators like NEWOLDSTAMP allow for adding different types of calls-to-action to your email signature. For instance, you can offer the recipients to take a specific action in one click.
Examples:
"Create my account."
"Get free advice from our experts."
"Start now."
"Shop now."
"Schedule a free demo."
Email signature design tips
Your email signature should be both informative and attractive. Your reader will more likely want to respond when they see a professional, well-designed, not overcrowded signature on the messages you send. So let's dig into the next four design tips you might want to follow.
#1 Use contrasting colors
By using different colors, you can make certain elements of your email signature pop. Contrasting colors are blue and orange, violet and yellow, red and green, and others. To know what color is complementary to another one, you need to look at the opposite position on the color wheel (see the image below).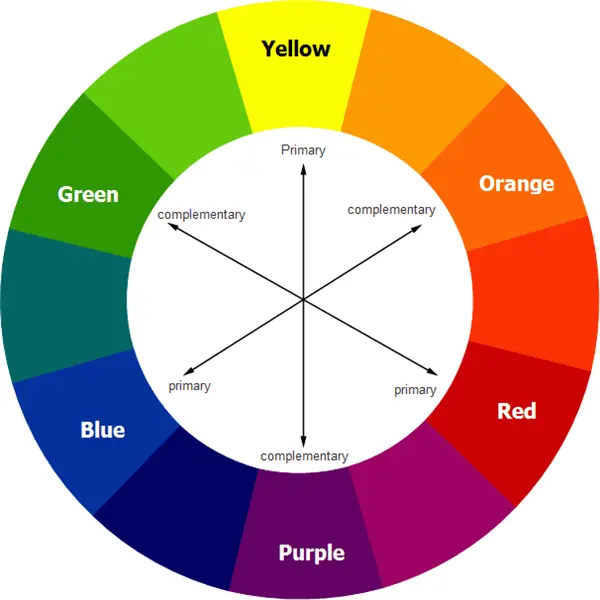 image courtesy of webdesignledger
Important: Too many various colors can make your signature look distracting or even unreadable.
#2 Add fewer lines
When it comes to design, remember that 'less is more' – a good professional email signature should be short, clear, and sweet. Include your name, title, company, contact information. Optionally you might want to add points of professional interest. Ideally, you will have three or four lines of text.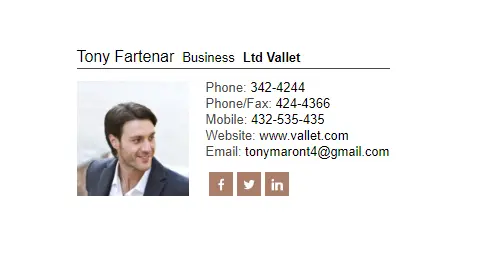 #3 Delete disturbing elements
Keep your font and color palette small enough so as not to overwhelm your signature and not to make it difficult to read. Also, remember that you shouldn't treat your email footer as a mini-autobiography. So be sure not to include too much information. "But what if all the information I include is important?" you may ask. In case you have a lot of content, try using dividers to fit a lot of info into a compact area without making things appear too complicated.
#4 Make it mobile-friendly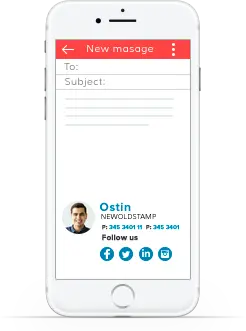 The number of people who prefer reading their emails on mobile devices is increasing as time goes on. If you don't want your signature to become obnoxiously big, small, and even unreadable on a mobile screen, be careful with graphics that have small text – they may not scale well. Pay attention to your social media icons. Be sure to take care of a finger-friendly design. What does it mean? Put some space between the icons or make them large enough to be tapped by a finger.
Conclusion
Your email signature itself is a small, yet one of the simplest branding and lead generation tools, at an organization's disposal. You or your employees sent out hundreds or even thousands of emails daily. Why not use them to get more traffic towards your website/blog/YouTube channel/etc., and to contribute to the overall tone of your business correspondence? Let's have a little personality, remove your email client's default signature and create your own one!